Ultimate Makeover
How an Interior Designer Renovated a Two-Bedroom Unit Into a One-Bedroom Japanese-Industrial Home
IDr. Madelaine San Jose utilized the 30sqm space to create a minimalist and comforting haven complete with a spacious work area Photography: courtesy of IDr. Madelaine San Jose, PIID Interior Designer: IDr. Madelaine San Jose, PIID
Those who purchase bigger condo unit cuts more or less have a plan of how to maximize the space they own. From setting up a home gym to turning it into a walk-in closet – it varies depending on the needs of the owner.
This 30sqm condo unit used to be a two-bedroom space which interior designer Madelaine San Jose turned into a one-bedroom home to meet the owner's requirements. "He wants to prioritize his working area. We decided to incorporate an edgy industrial vibe with refined modern aesthetics and a dash of Japanese minimalism to create a relaxing, contemporary living environment," shares the designer.
READ: Things to Remember When Creating a Minimalist Home
Check out the unit's transformation below:
Foyer/Entrance
BEFORE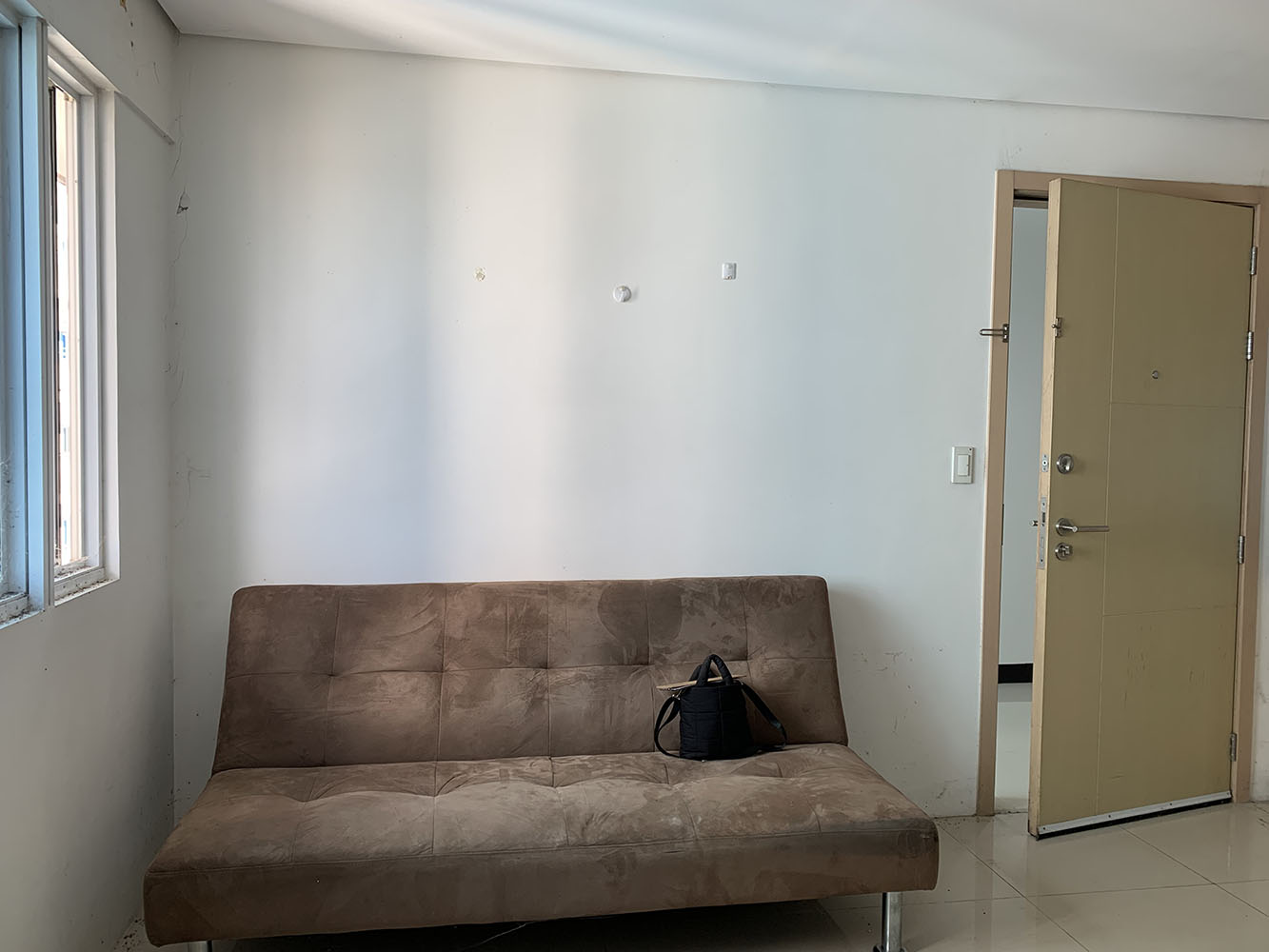 According to Madelaine, they didn't have a hard time renovating the entire unit as it wasn't properly furnished yet and it only had existing finishes upon turnover.
ADVERTISEMENT - CONTINUE READING BELOW
AFTER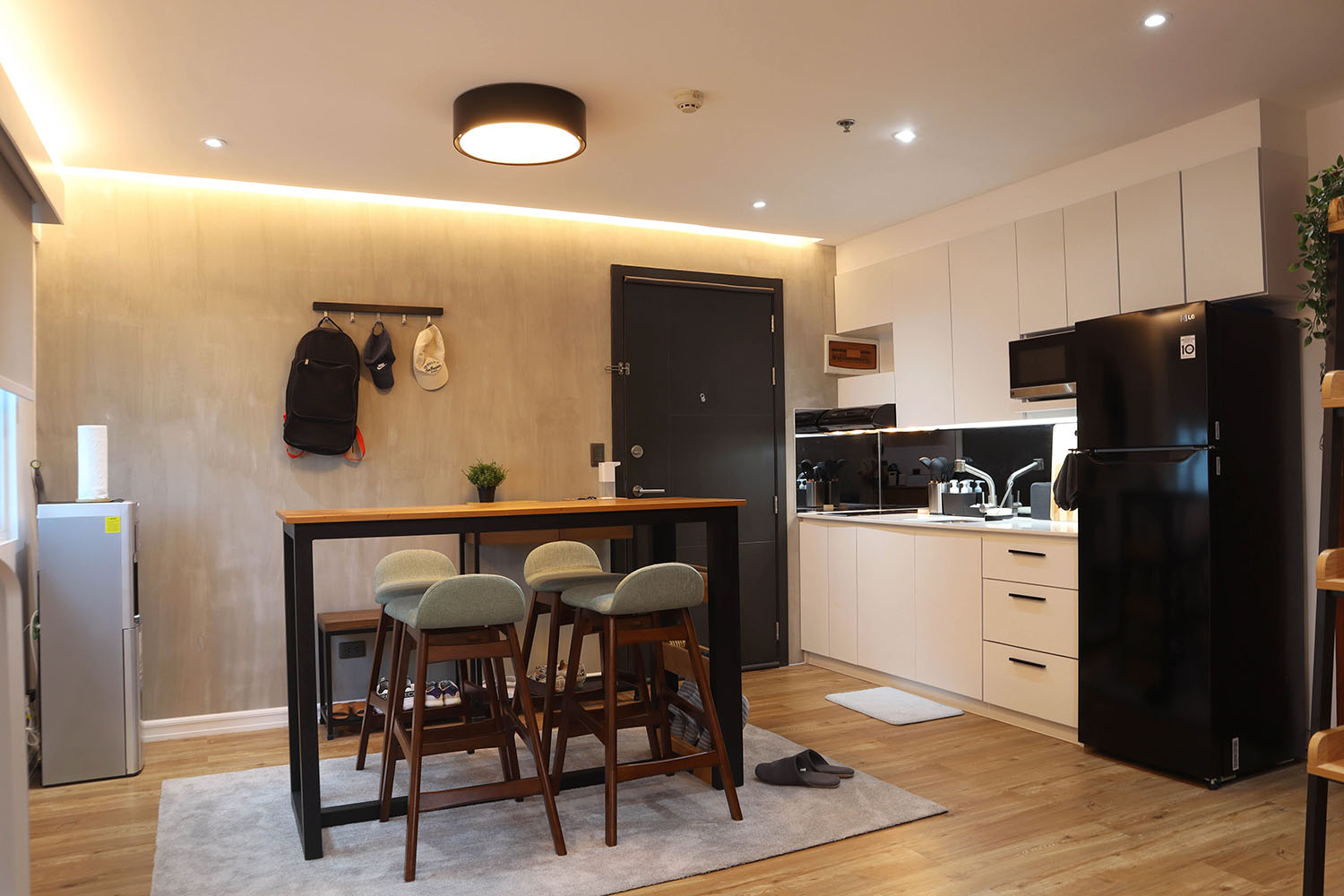 From having an uninviting vibe, the unit now has a captivating and welcoming appeal – with neutral earthy colors dominating the space. The main door was repainted in dark gray to work in contrast with the concrete-finish accent wall.
The flooring was also changed from ceramic tiles to a stone plastic composite flooring that looks like wood. "We have added a wall-mounted rack with knobs as additional storage where the owner can organize his jackets, caps, bags, and accessories," adds the designer.
Dining Area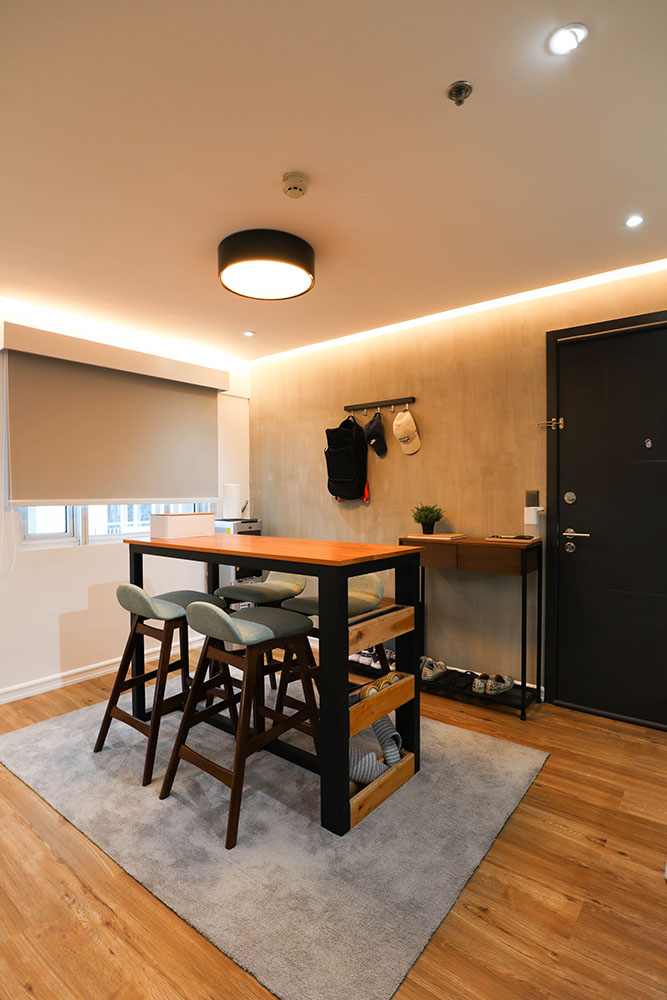 Most of the pieces in the unit are custom-made to make sure they complement each other. They opted to furnish the dining area with a bar table and bar stools. "The table has three shelves on the left side near the kitchen to make sure there's enough storage where the owner can keep essential items. It can also work as an extra prep space when cooking," says Madelaine.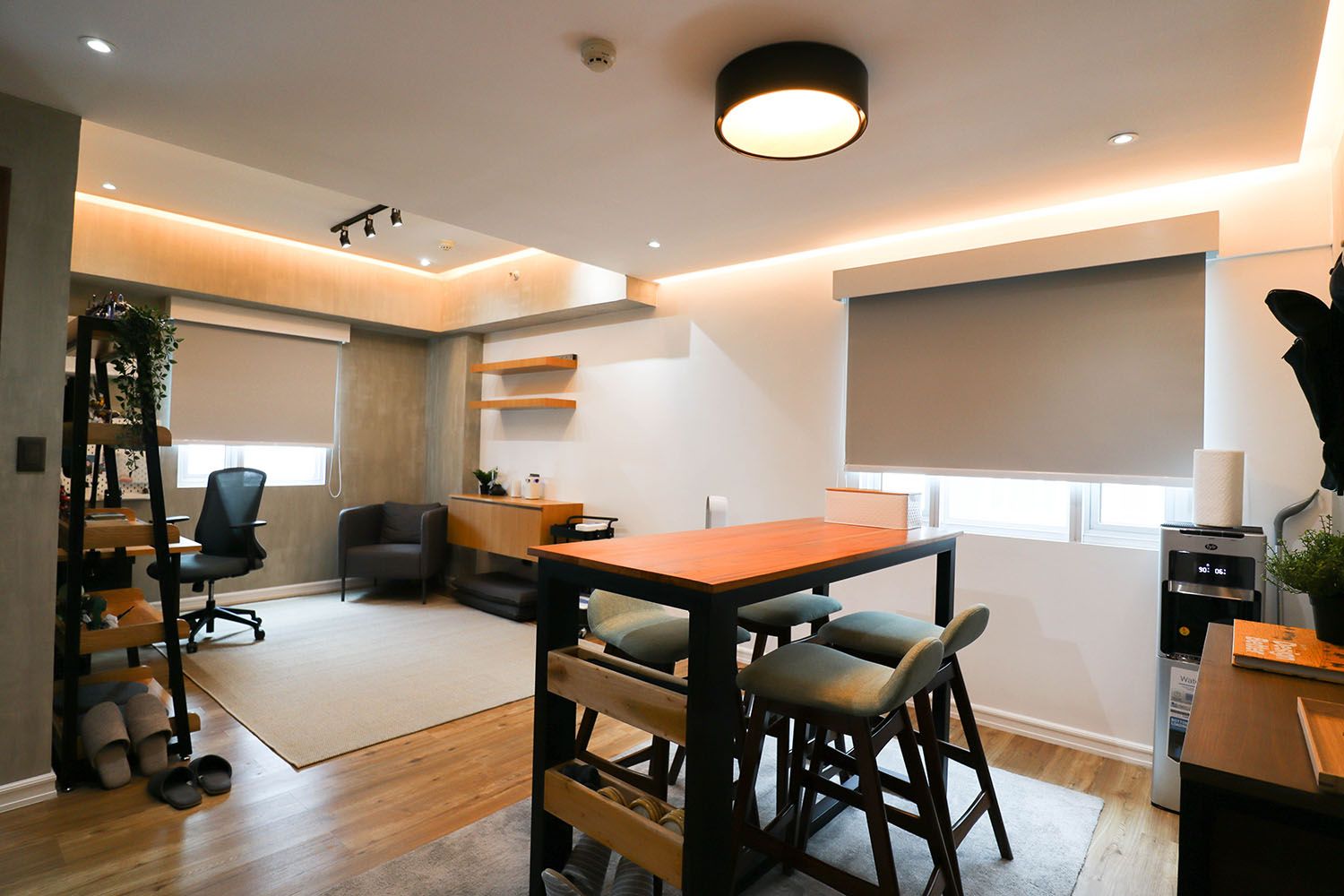 "The wall finishes in the common areas of the unit feature a mix of plain white walls and concrete finish accents while the furniture pieces are rustic, conveying the precision of minimalism and charm of asymmetry," the designer adds.
READ: All The Finishing Materials You Need For a Modern Minimalist Home
Kitchen
BEFORE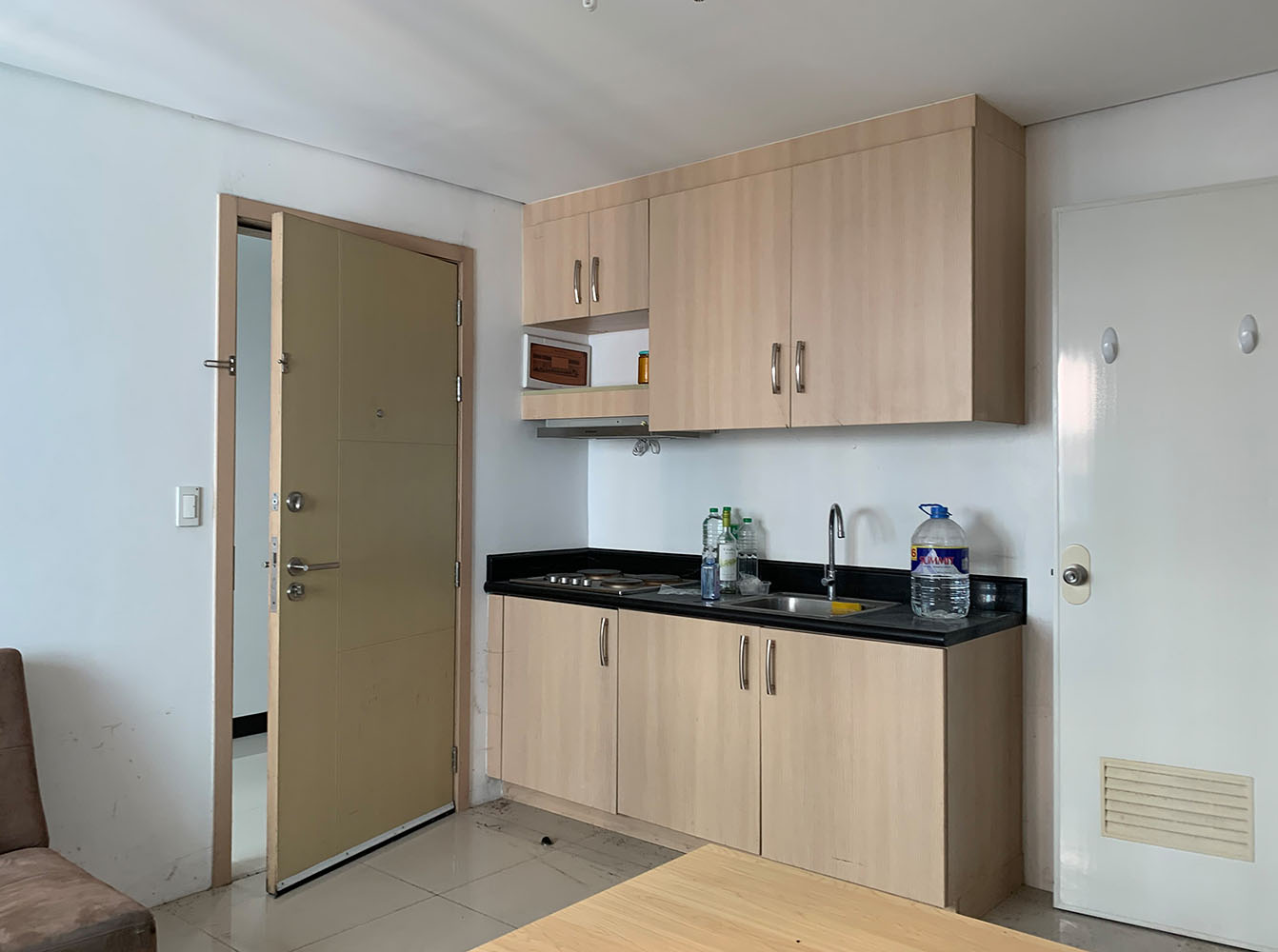 ADVERTISEMENT - CONTINUE READING BELOW
The entire layout of the built-in cabinets was changed to accommodate the new look of the kitchen as well as to maximize the storage that can be added.
AFTER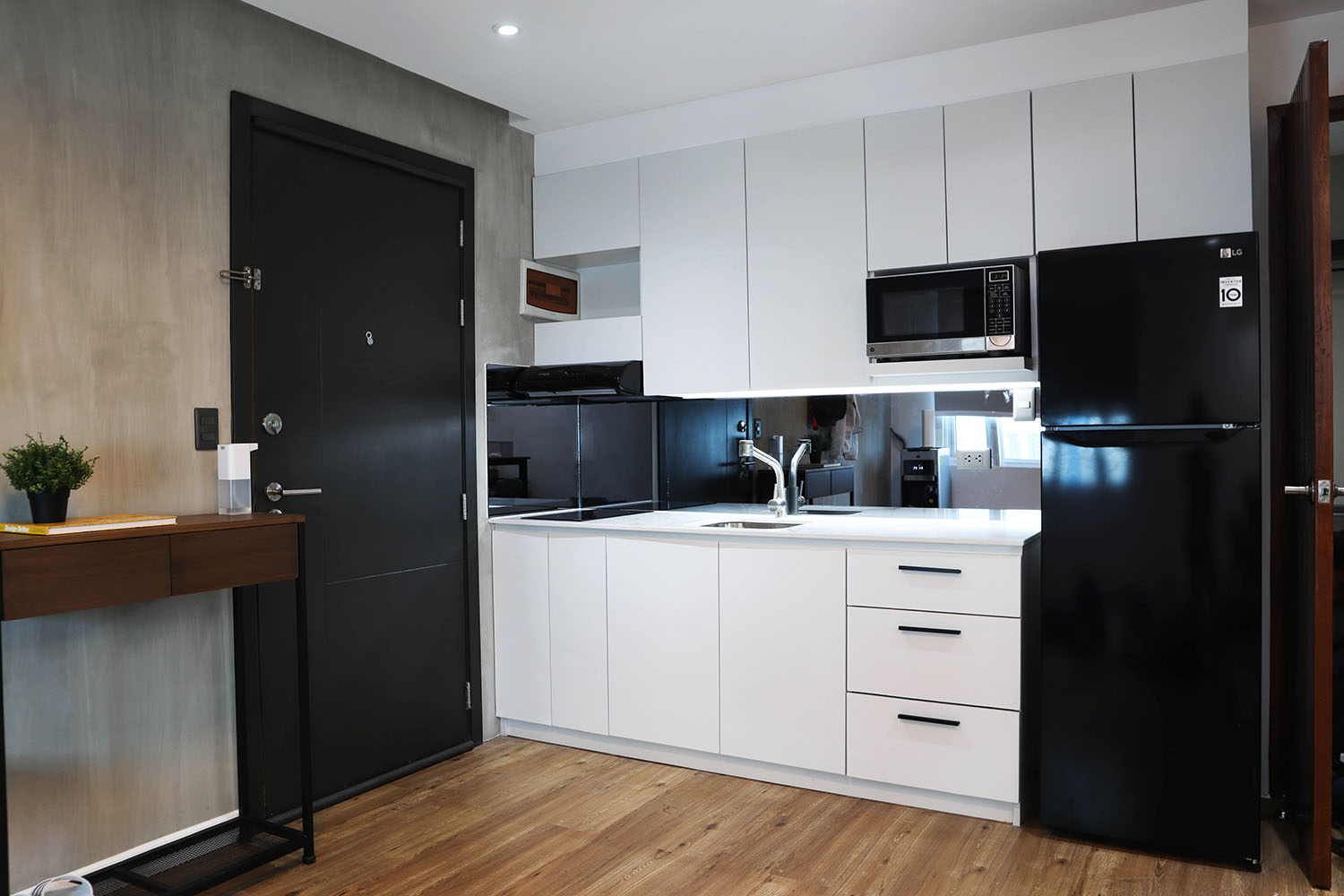 Completing the new look of the kitchen are mirrored backsplash to create an illusion of space, a solid surface countertop with marble finish, and plain white laminated kitchen cabinets.
BEFORE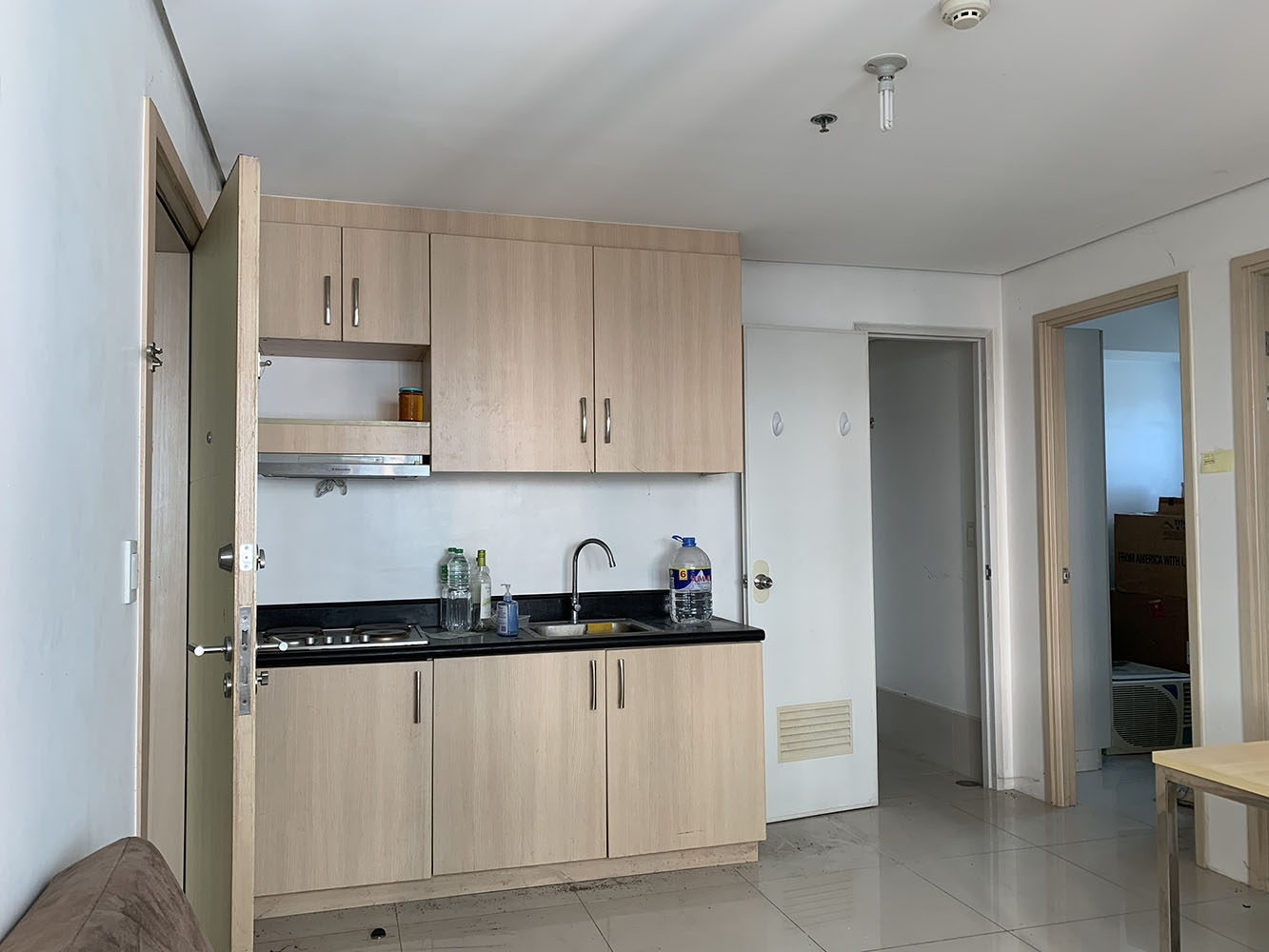 "We made sure to choose appliances and fixtures that match the color scheme of the entire unit," shares Madelaine. Opting for a monochromatic palette for the cooking area creates a neat and modern look as well.
AFTER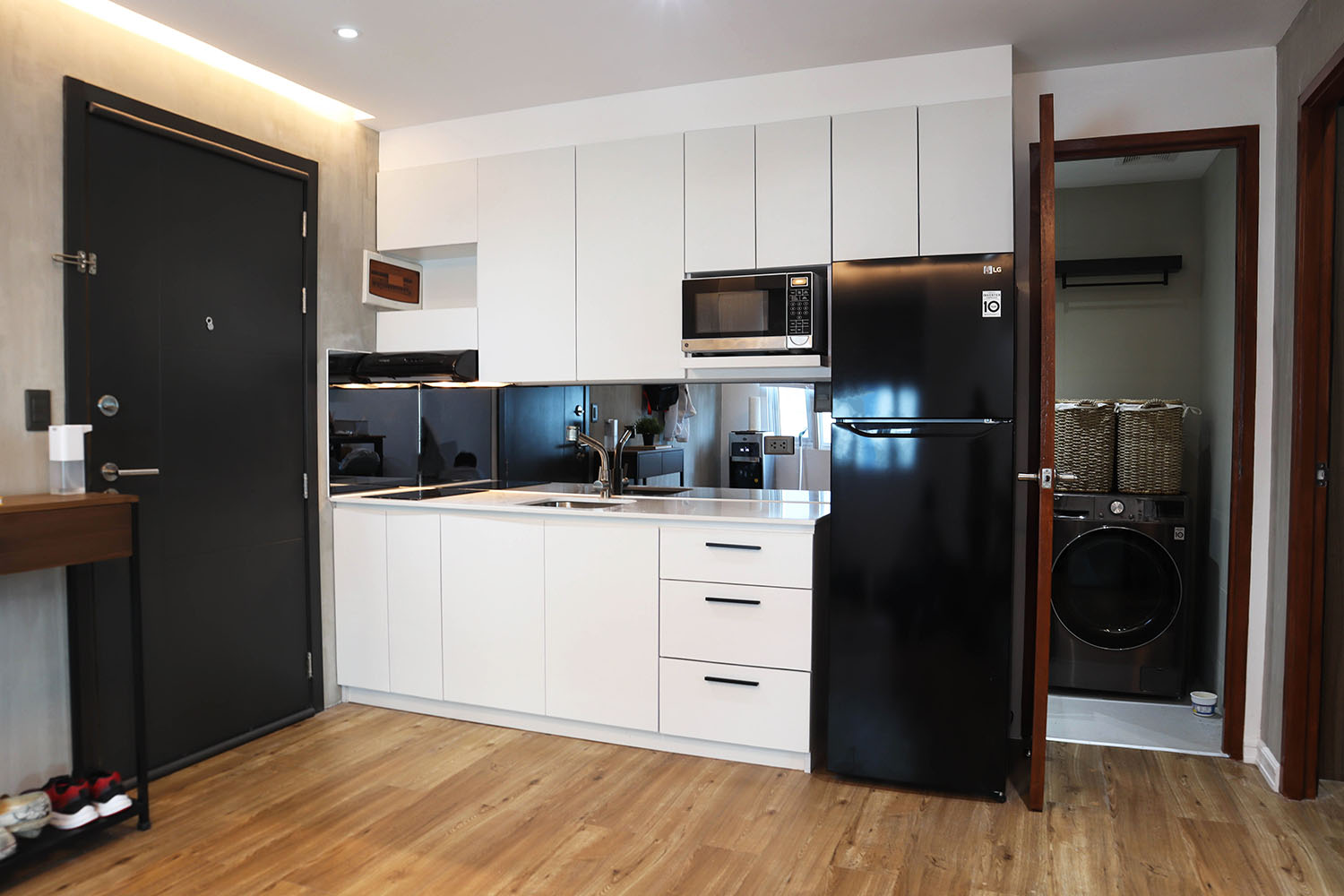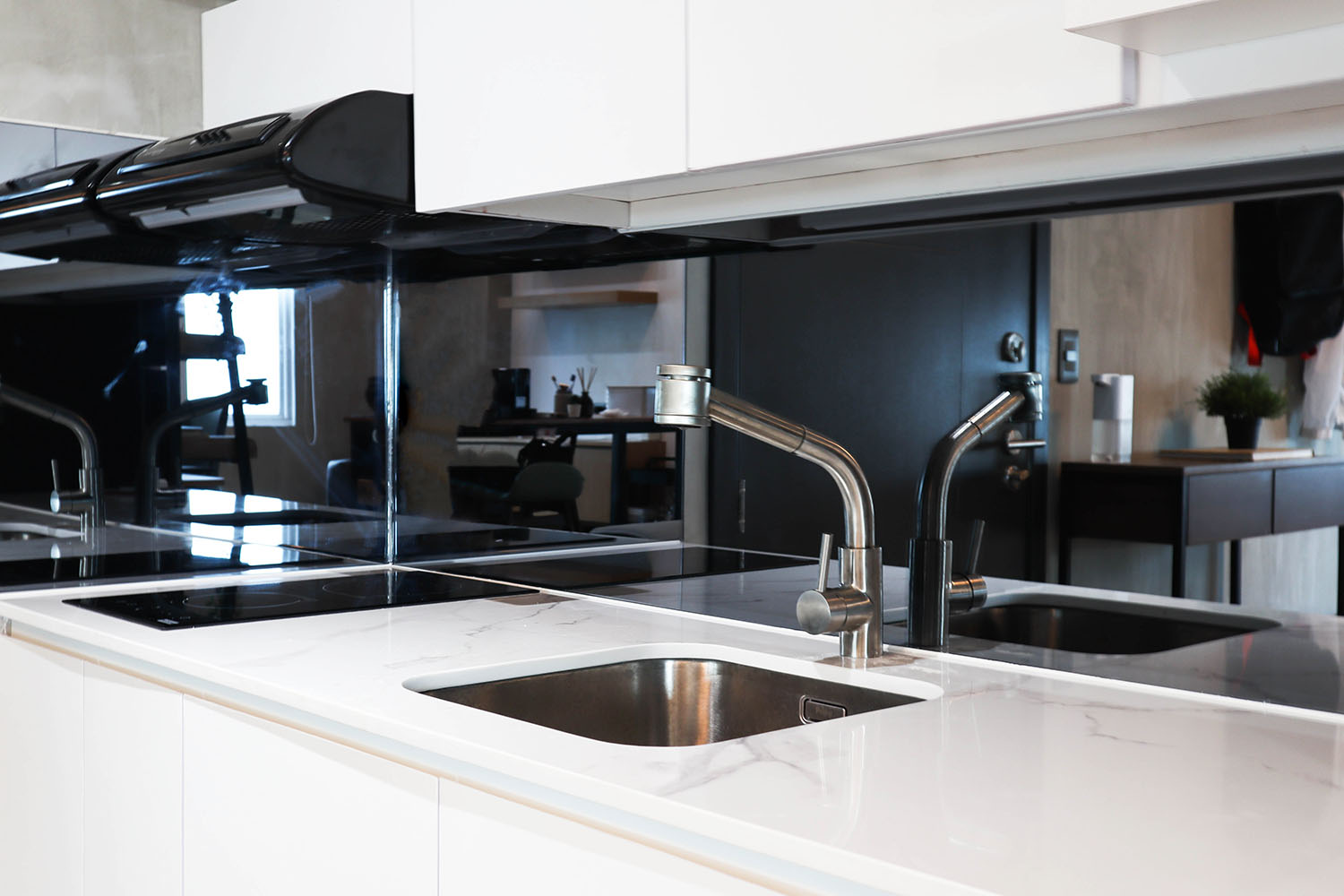 ADVERTISEMENT - CONTINUE READING BELOW
Work / Studio Area
BEFORE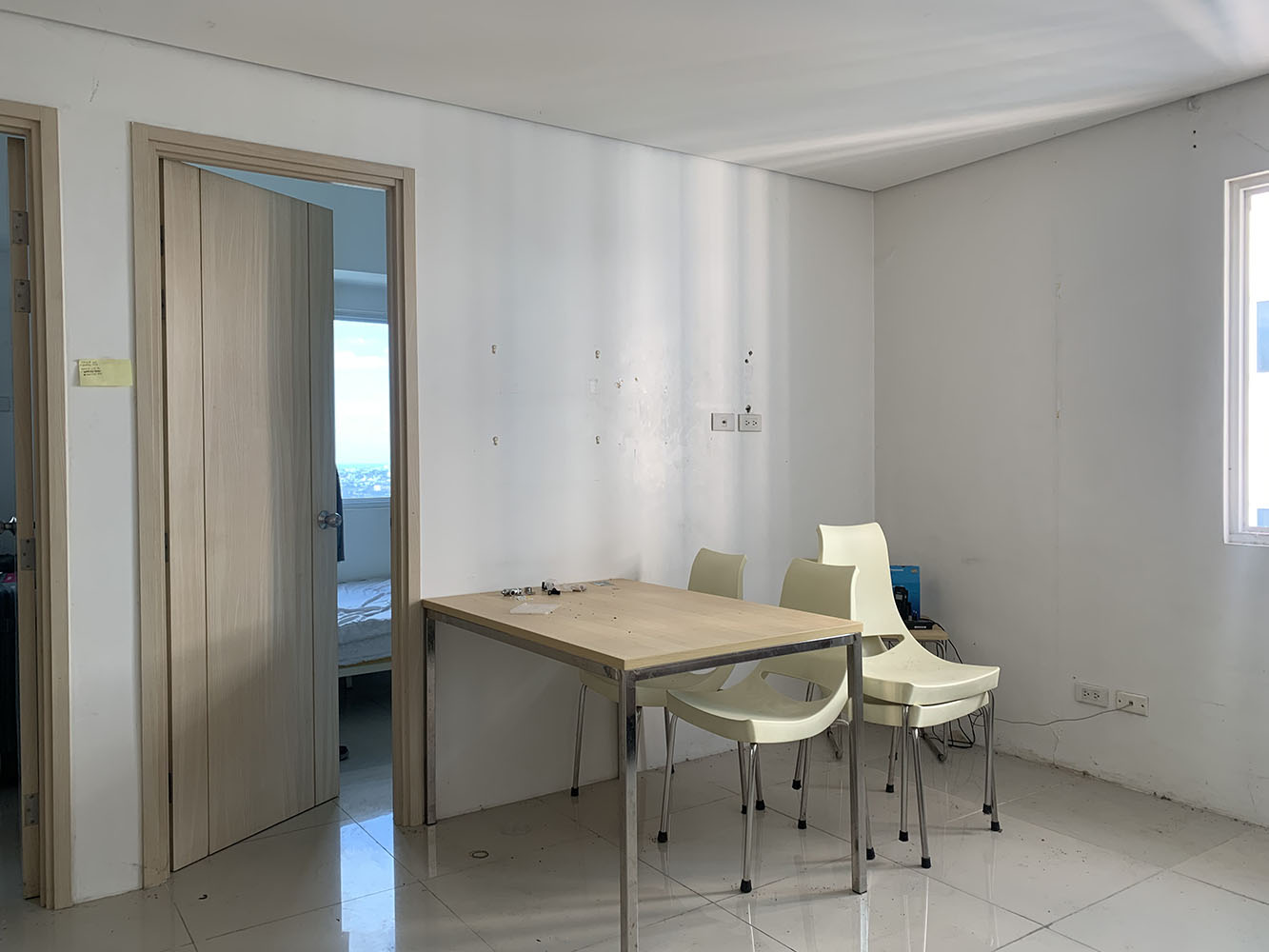 Prior to the renovation, there used to be a wall defining one of the bedrooms, separating it from the living area. This was torn down to make way for a spacious work area as requested by the owner.
AFTER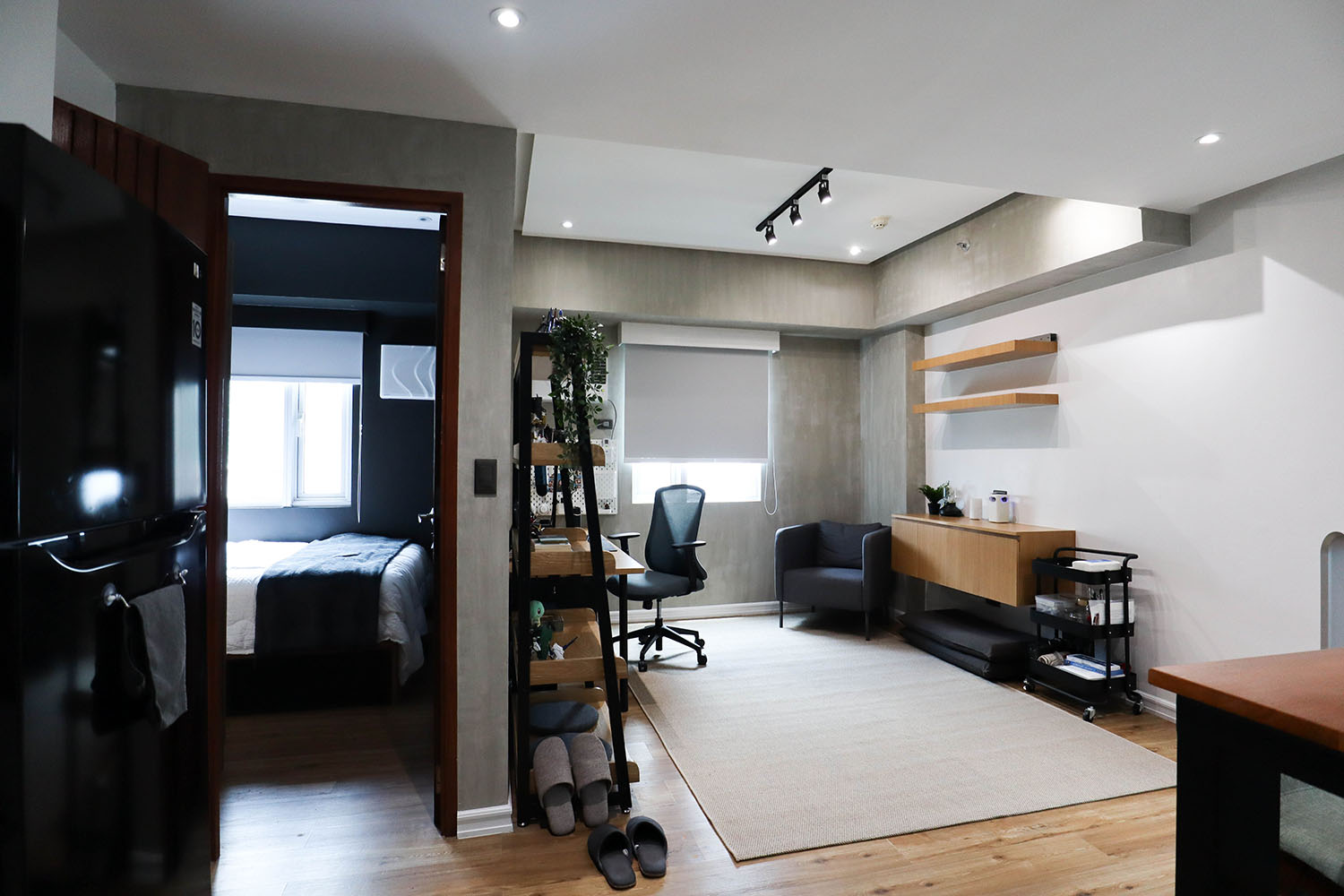 The owner has an envy-worthy workspace, to say the least. He has a desk, an office chair, a reading corner, and a small lounging area where guests can relax.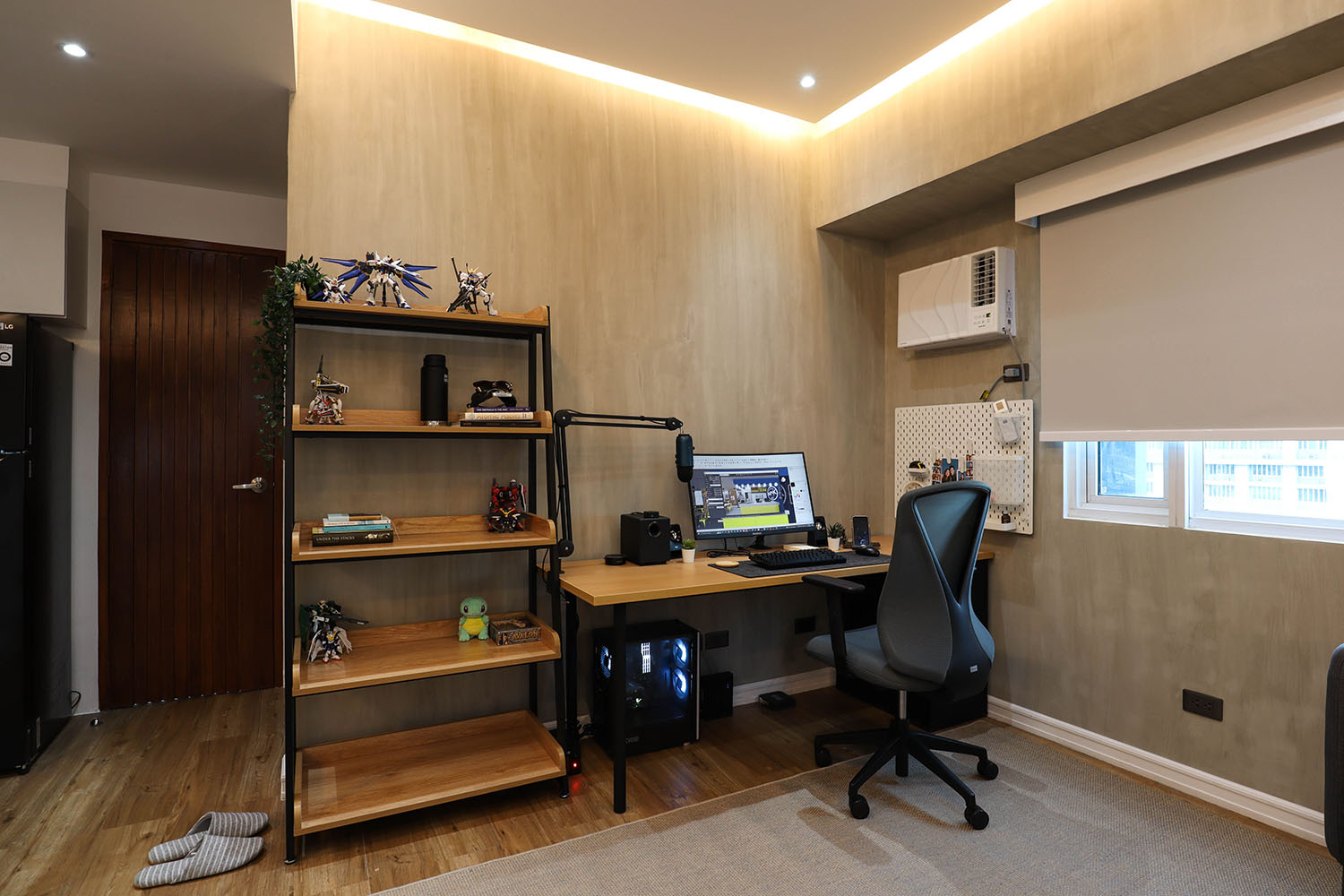 There are also multiple storage options where he can display collectibles as well as a wall-mounted pegboard.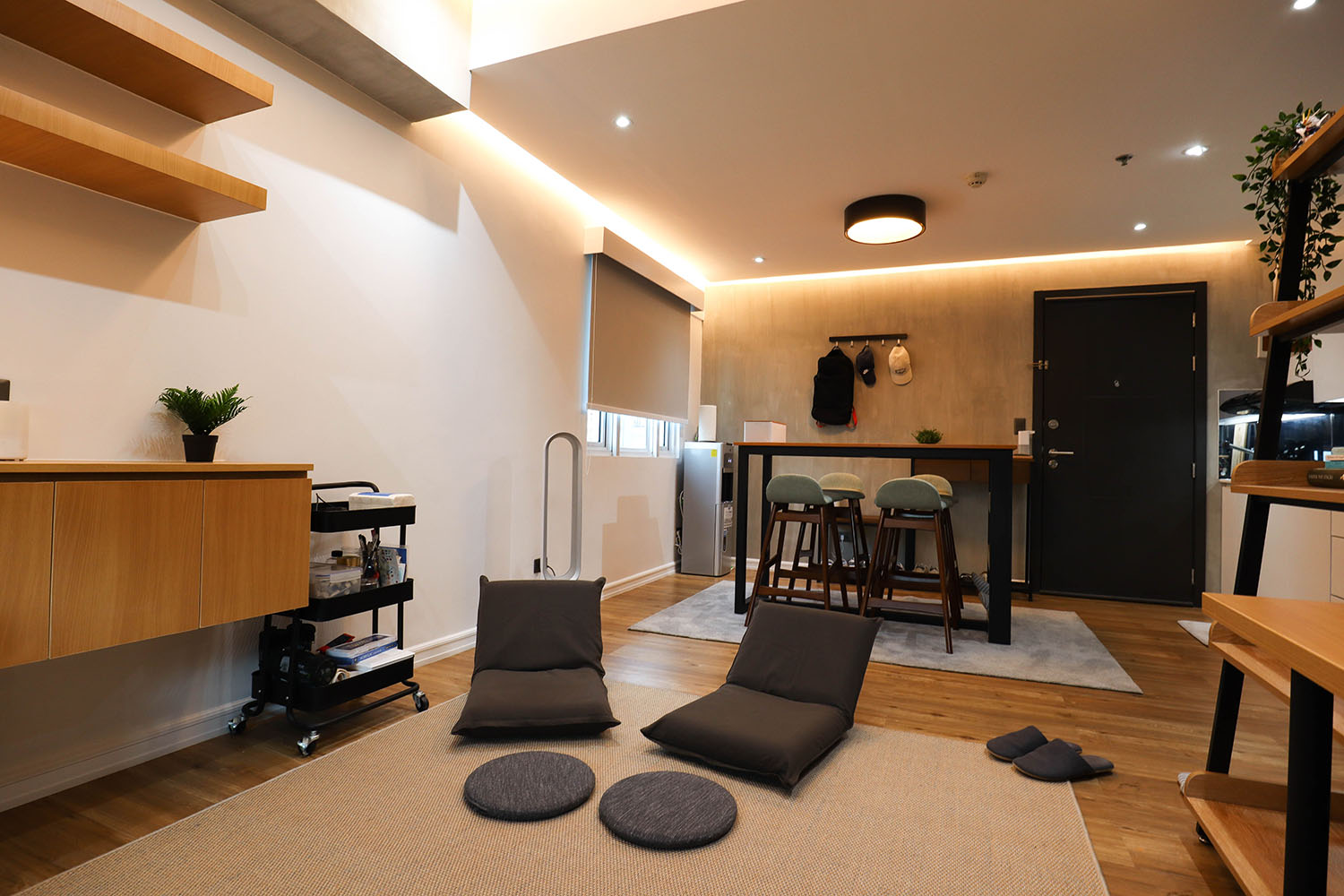 ADVERTISEMENT - CONTINUE READING BELOW
"We added an outdoor rug in the middle to incorporate a Tatami-inspired accent also known as a straw mat that is usually laid in rooms as opposed to the general flooring," Madelaine explains. Completing the look are the foldable Tatami chairs that can be easily folded away when not in use.
READ: What is Japandi Style and How Can You Achieve It?
Master Bedroom
BEFORE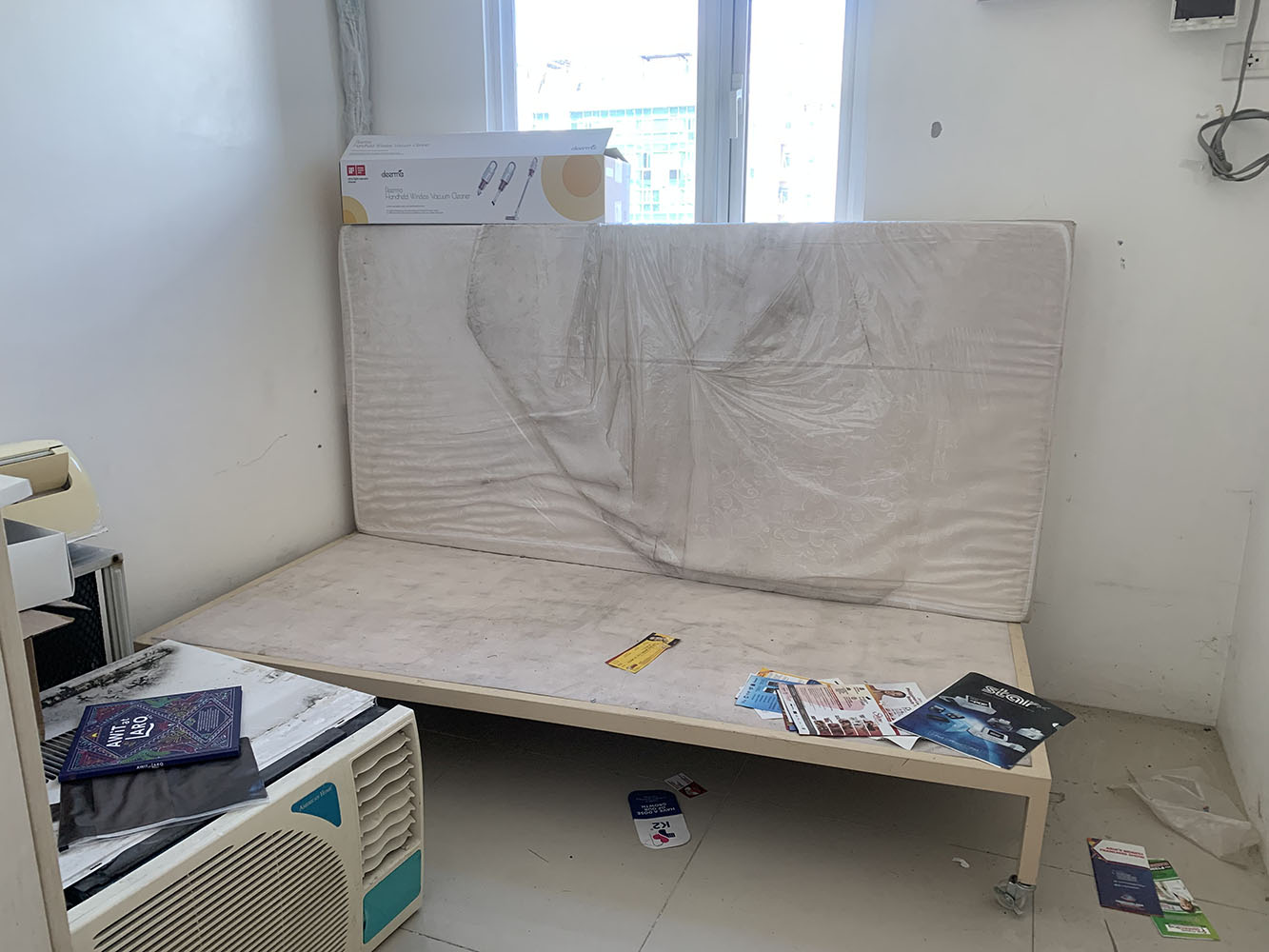 The bedroom could use some warmth and storage which Madelaine was able to deliver.
AFTER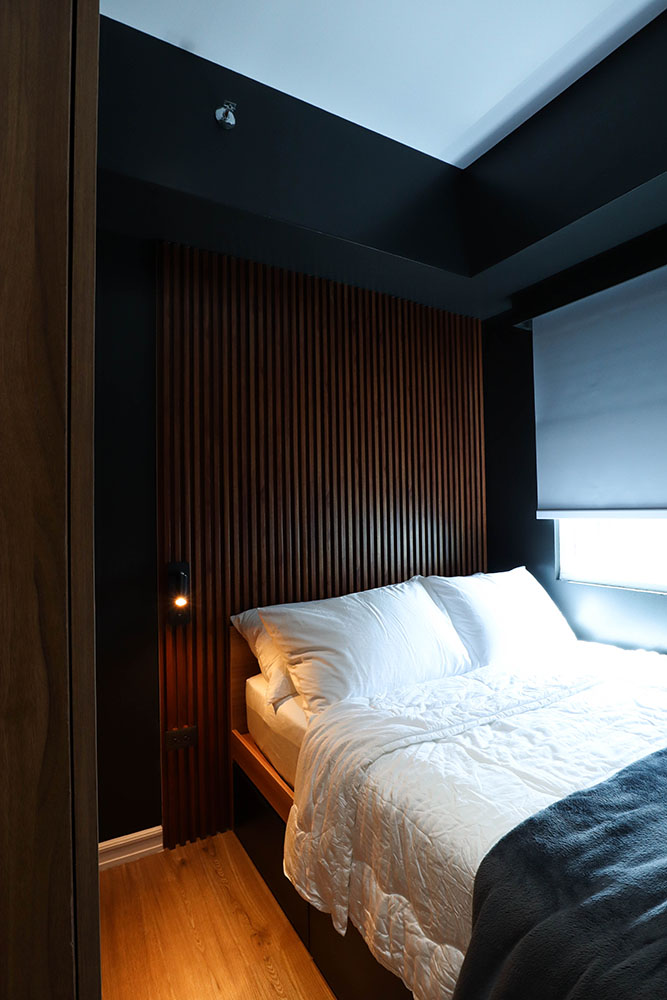 The walls are painted in dark gray to create a calming and inviting sleeping area. Madelaine added wooden slats that double as accents. "We carefully selected the furniture pieces since the space is tight. We opted to use a full-sized double bed with drawers underneath," says the designer.
To create extra storage, built-in shelves were likewise installed below the wall-mounted TV. Meanwhile, the mirror helps create an illusion of a taller space.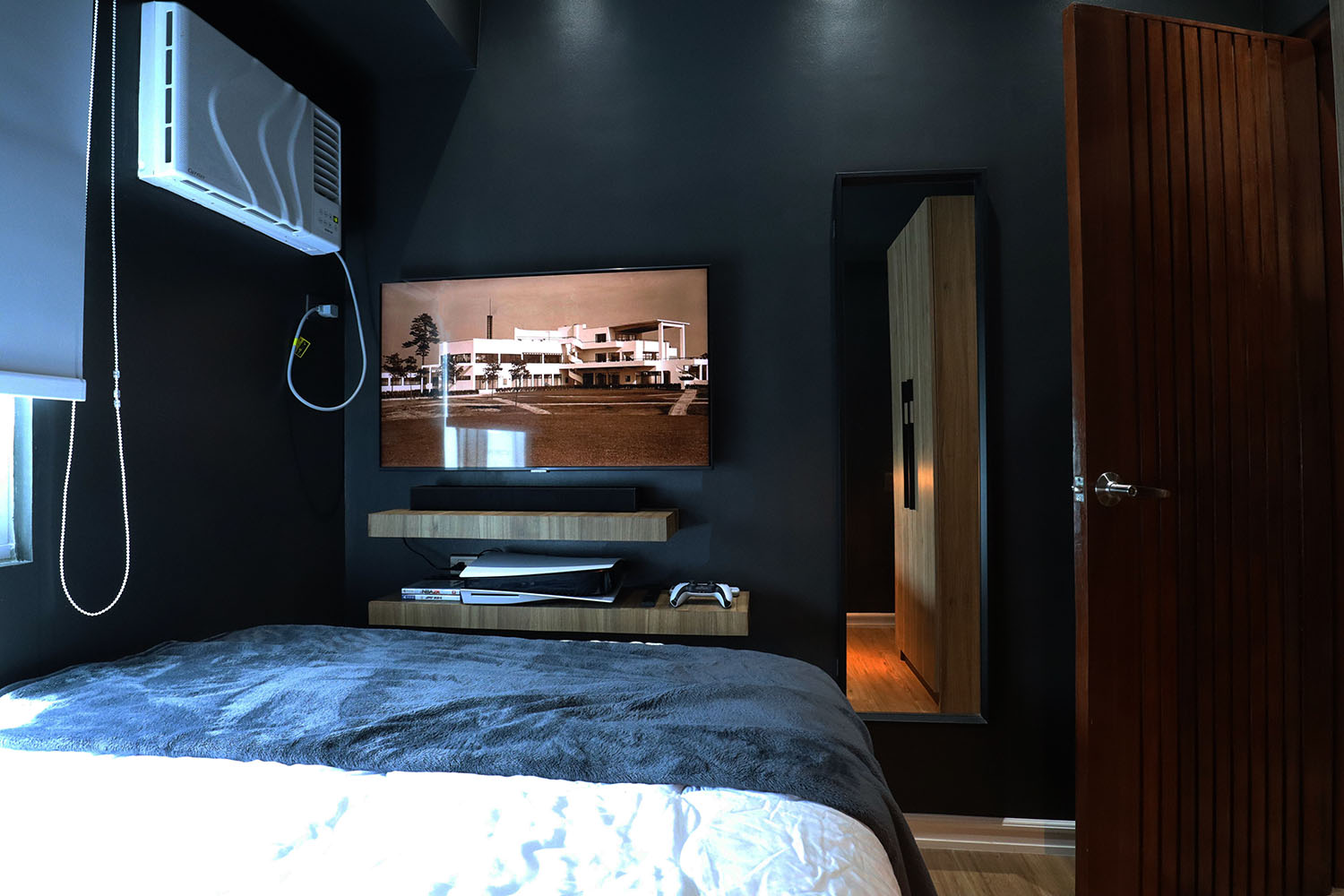 BEFORE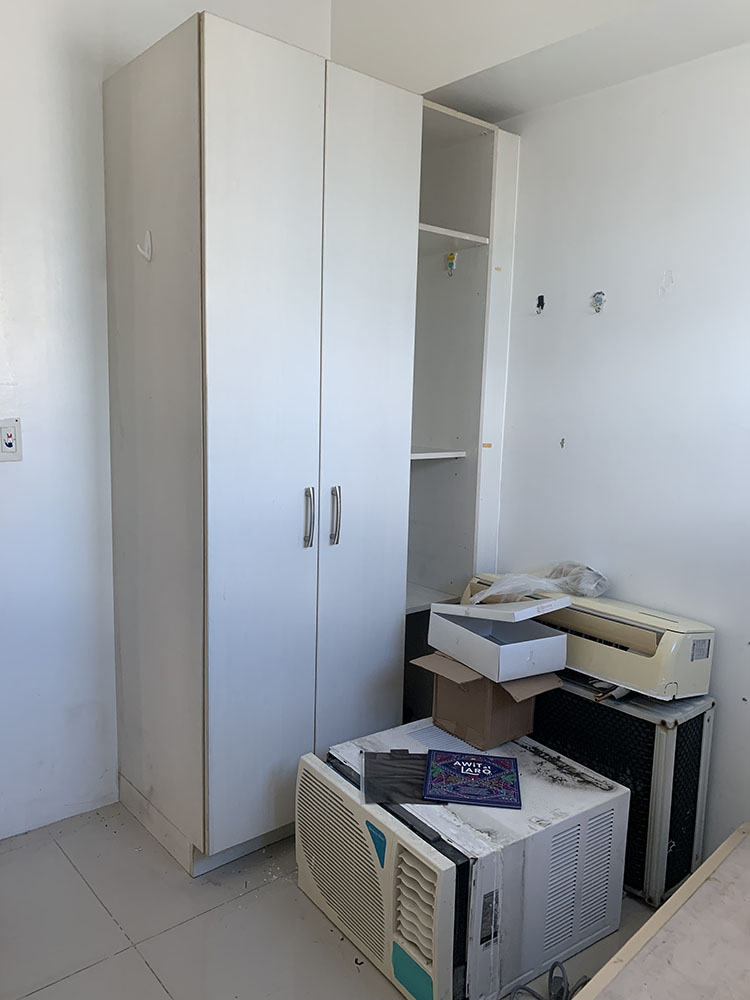 ADVERTISEMENT - CONTINUE READING BELOW
AFTER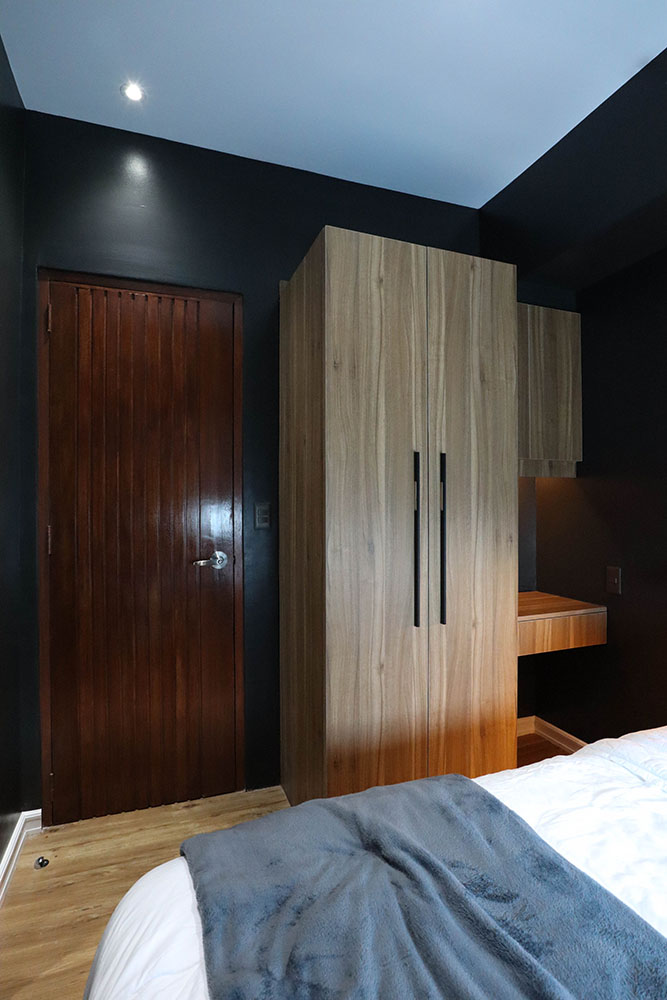 The closet near the door is another custom-made piece, built with an overhead cabinet and a built-in desk with drawer that serves as an alternative working area. The existing master bedroom and T&B doors have been replaced with custom-made doors that feature a wood slat detailing with a stained finish to serve as extra accents while also allowing the designer to create a cohesive look.
READ: What is Japandi Style and How Can You Achieve It?
Bathroom
BEFORE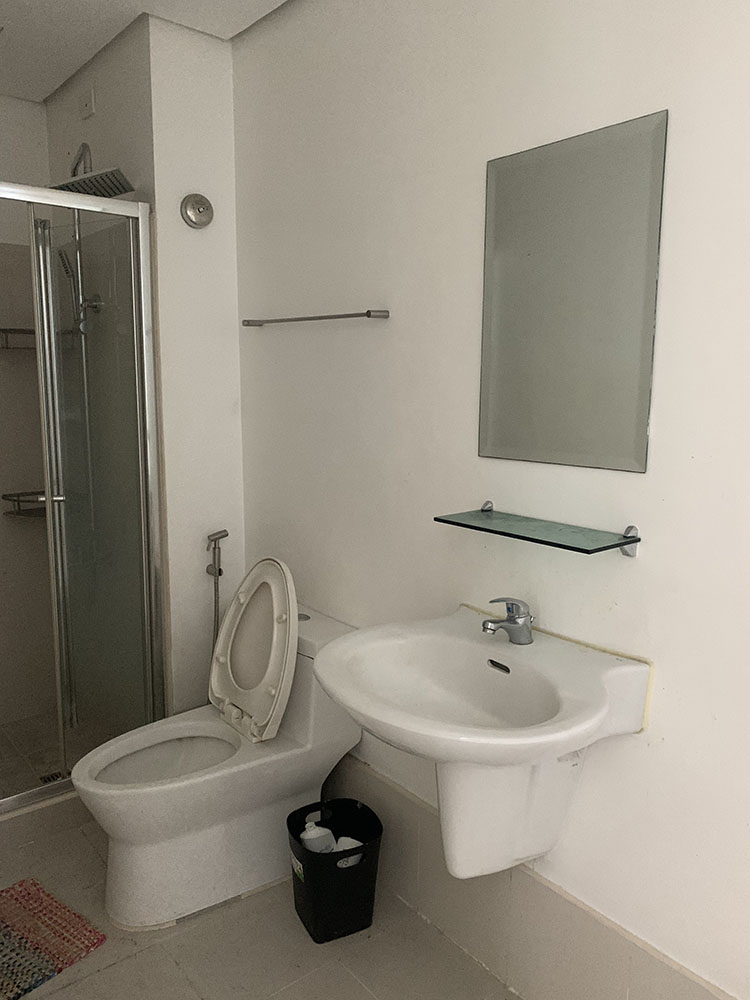 "The T&B has been completely transformed by installing light gray wall tiles and replacing all existing bathroom fixtures," says Madelaine.
AFTER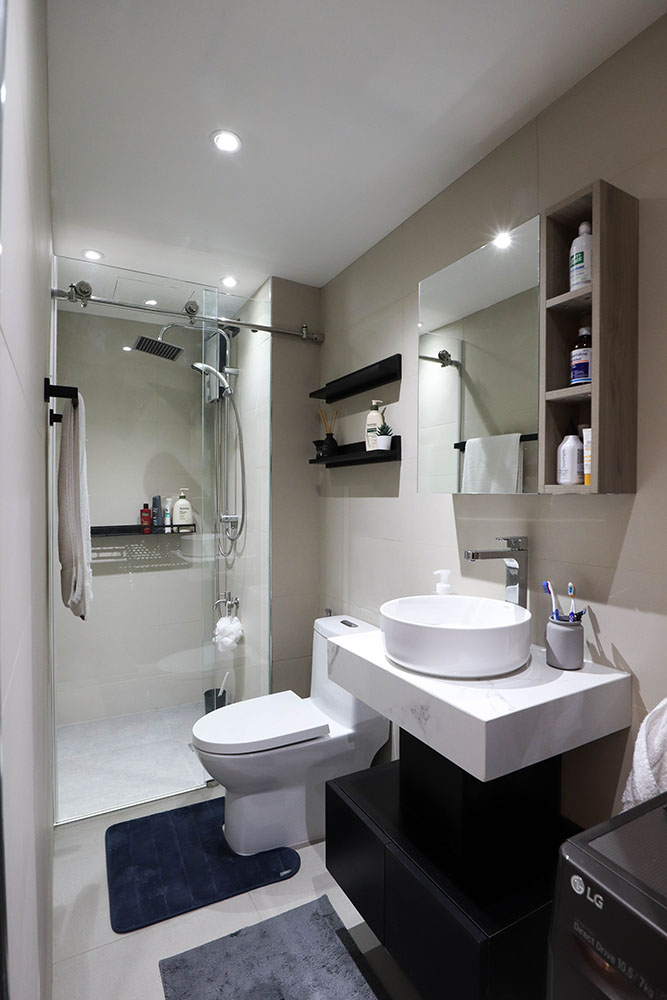 The flooring features two shades of gray to differentiate the toilet area from the shower area. There are also pin lights to keep the space well-illuminated. Above the lavatory counter, the designer placed a wall-mounted mirror that has a built-in cabinet and an open shelf to allow the owner to keep his essentials within reach.
BEFORE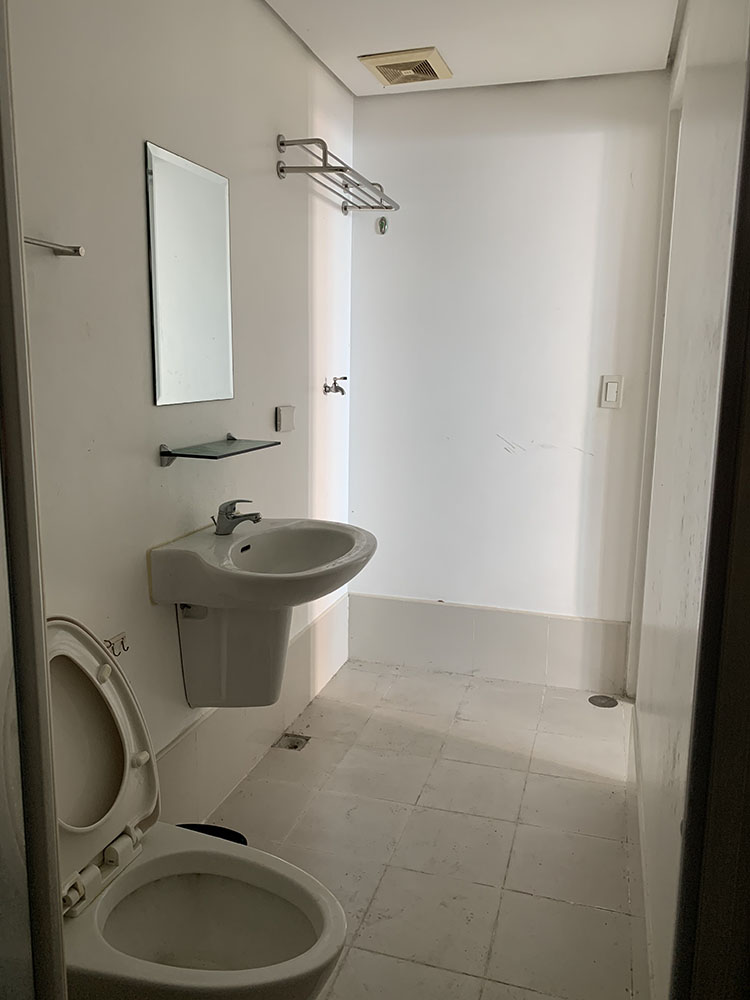 ADVERTISEMENT - CONTINUE READING BELOW
AFTER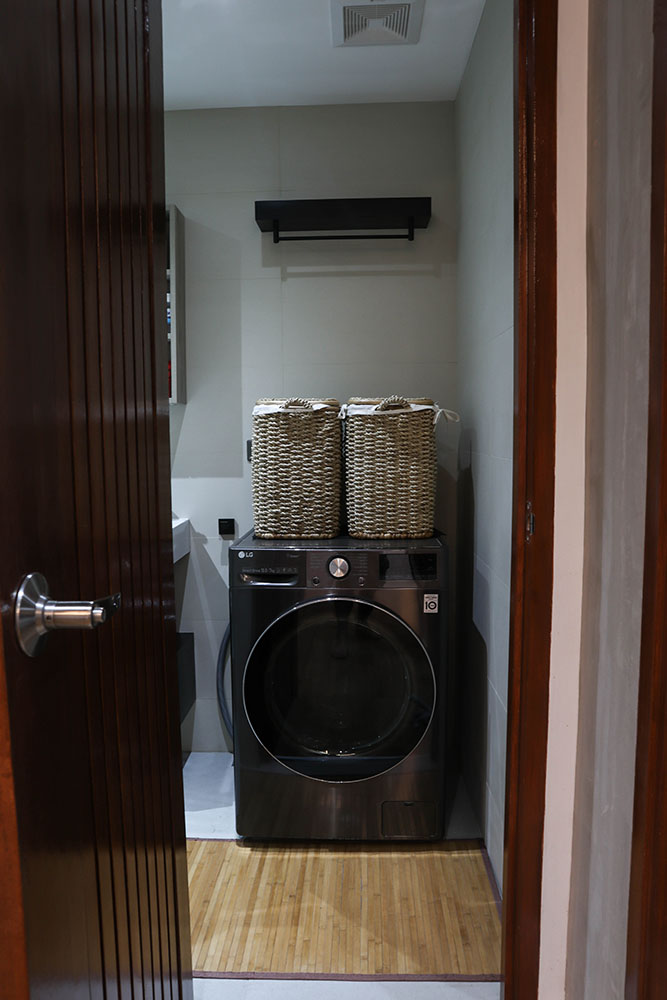 By the door is a compact laundry area complete with a washing machine, baskets for clothes, and a wall-mounted shelf storage for towels.
Interested to work with IDr. Madelaine San Jose, PIID? You can get in touch with her via email at designgonemads[at]gmail.com. You can also follow her on Facebook and Instagram: @designgonemads to see her finished projects.
More on Realliving.com.ph
Load More Stories