Makeovers
See How This Mom Transformed Her Family Bedroom for Only P37,000
To save on costs, Anna utilized online shopping from Facebook Marketplace and Shopee. Parents would dream of a home renovation but it's hard to set a budget especially with the growing expenses of a family. With the community quarantine confining us indoors, however, a simple makeover can have a big impact on making us more comfortable and relaxed in our personal space.
This is what inspired Anna Katrina Ramos-Marcos, 36, an online English teacher, custom doll artist, and mom of one, to finally push through with their bedroom makeover. For two years now, she and her husband, Jan, and their 7-year-old daughter, Ysabella, had been sleeping on a mattress in their living room.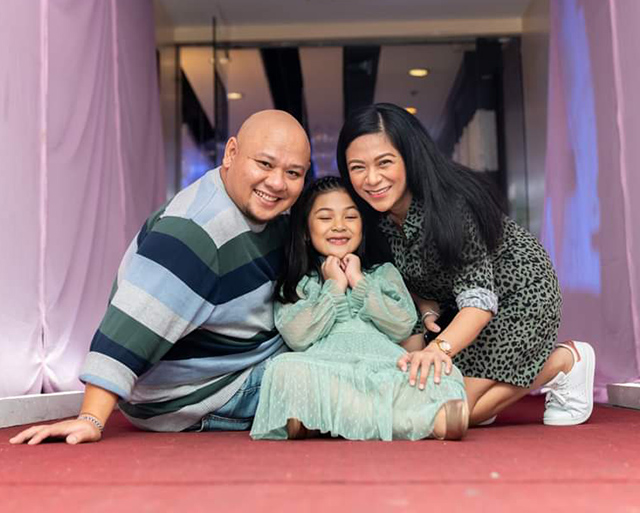 "We turned the bedroom into a playroom and my workstation since I work with dolls. My husband and I both got so busy that we never talked about renovations since then," she tells SmartParenting.com.ph in an email interview.
But when the pandemic happened and their family had to spend 24 hours, 7 days a week inside their house, Anna realized their bedroom was in need of an upgrade. "We spend most of our day inside the bedroom because that's where I work and where the playroom is. The chipped wall paint, wall cracks, uneven granite, and multicolored walls started to bother me," she shares. "I would sit inside looking at that one big worn-out box we call our room."
She adds, "I happened to scroll past a picture of a pallet bed on Instagram and remembered seeing pallets for sale on Facebook marketplace. I couldn't get it out of my head and that's when I knew I should make this my 'quarantine project,'"
ADVERTISEMENT - CONTINUE READING BELOW
How to do a minimalist chic bedroom on a budget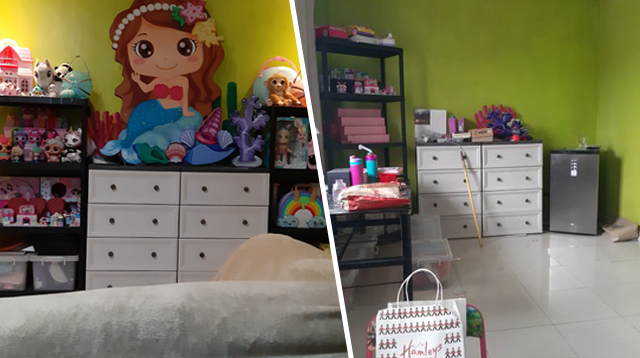 Since Jan was checked-in at a hotel for work during the enhanced community quarantine (ECQ), Anna started the project on her own. It was no problem since she majored in Interior Design, but she had to work on a tight budget. "I have always worked on freelance interior design projects blessed with a big budget, so I thought I would also need a huge amount to be able to execute the design I had pictured in my head," she says.
It turns out, you can achieve a minimalist chic bedroom for under Php40,000 if you're a savvy shopper. To save on costs, Anna utilized online shopping from Facebook Marketplace and Shopee.
It took her two months to source furniture and accessories. She initially planned on DIY-ing the renovation, but after assessing the damages in their bedroom, she knew she would need to hire professionals. Luckily, Jan found construction workers who were being tested regularly in their workplace. "But we still had to do safety precautions when they entered the house," Anna stressed.
Take a look at how Anna transformed their bedroom!
Bed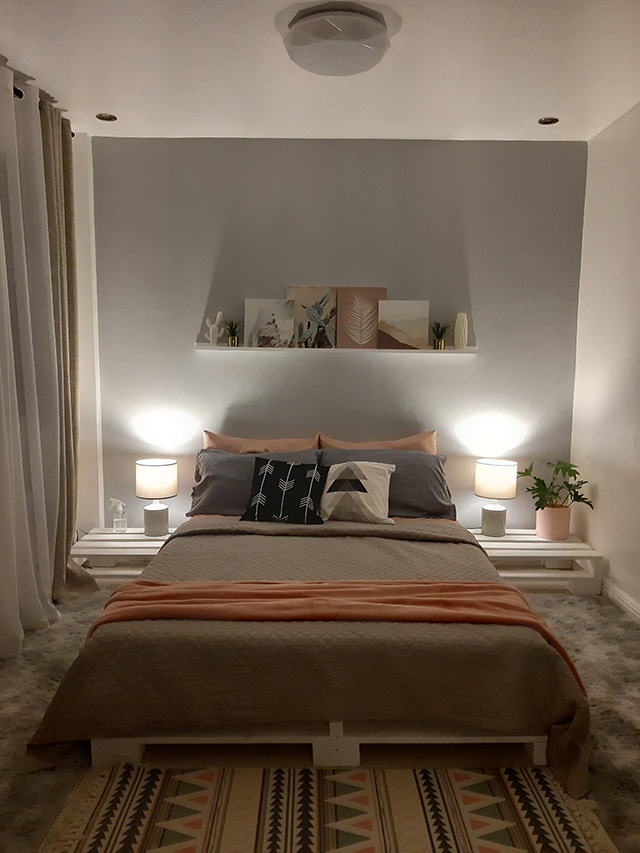 ADVERTISEMENT - CONTINUE READING BELOW
Her bedframe and side tables, made of paleta or wood pallets, were customized by an Facebook marketplace seller because she couldn't find a ready-made on that would fit their mattress and room. "It cost more but I was happy with the outcome," Anna shares.
The carpets, rugs, beddings, pillows, and cases all came from Shopee and Facebook marketplace. Lighting and accessories were bought from SM home world when the enhanced community quarantine was lifted.
TV rack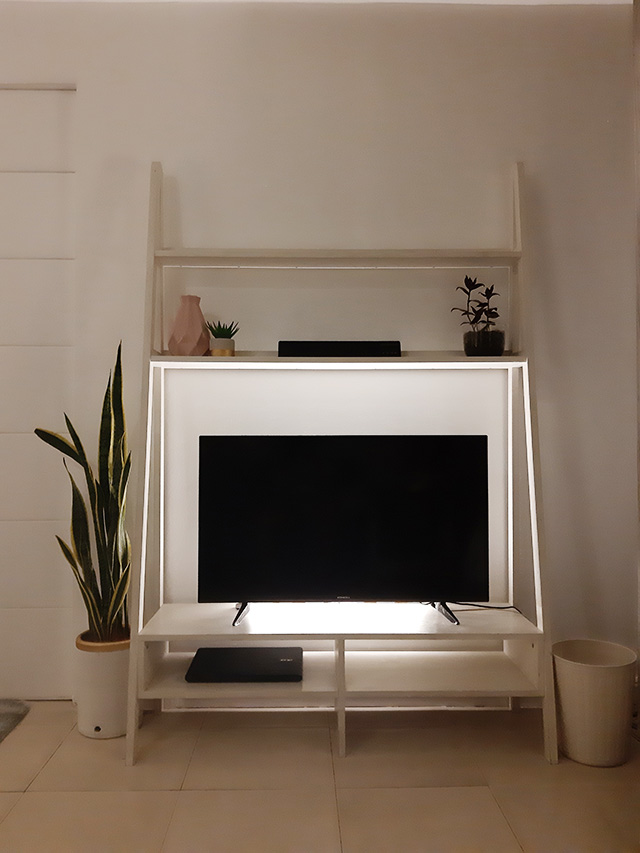 ADVERTISEMENT - CONTINUE READING BELOW
This TV rack was posted for sale on a Facebook furniture group. "For this one that is in excellent condition and for its size, Php2,800 is a steal. Plus, it's made of real wood," Anna shares.
Vanity area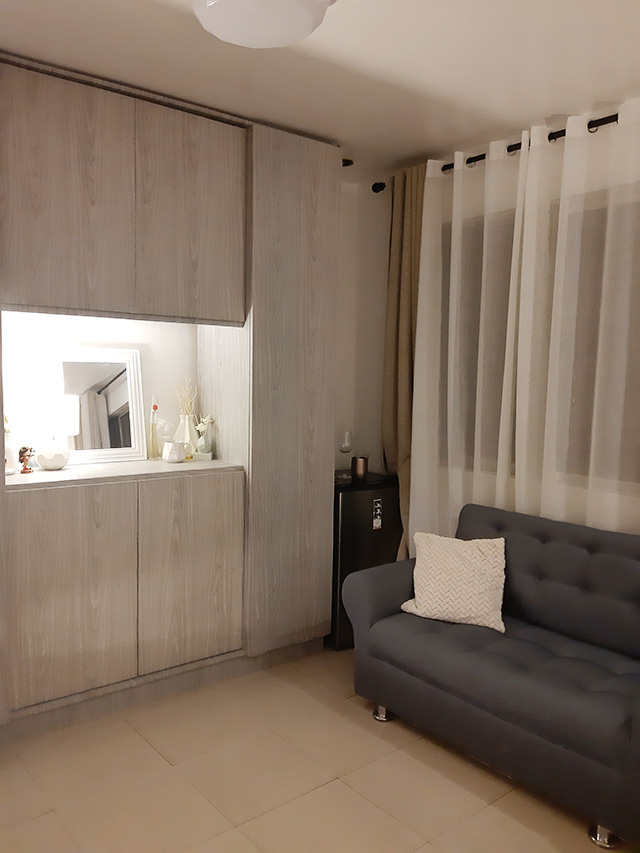 Before the renovation, this closet doubled as a TV rack. Anna repurposed the space and turned it into a vanity. The couch was also custom-made from Facebook marketplace.
ADVERTISEMENT - CONTINUE READING BELOW
The total cost of the renovation? Php37,000! Anna offers a breakdown:
Php7,300 for the workers and paint materials
Php2,800 for the TV rack
Php4,500 for the bedframe
Php1,000 for the floating shelf
Php650 for the canvas
Php1,200 for décor
Php1,020 for the wallpaper
Php4,200 for the lights
Php1,480 for the beddings
Php5,200 for the couch
Php2,000 for the potted plants
Php700 for the mirror
Php2,600 for the custom, 8-feet curtain
Php2,400 for carpets and rugs
Anna admits that she initially challenged herself to do the makeover for Php20,000, but she ended up spending more on décor and accessories. Still, the outcome looked similar to her big-budget projects but for a fraction of the cost. And the whole family was so happy with how it turned out!
Click here to read the full interview on Smartparenting.com.ph.
This story originally appeared on Smartparenting.com.ph.
* Minor edits have been made by the Realliving.com.ph editors.
ADVERTISEMENT - CONTINUE READING BELOW
More on Realliving.com.ph
Load More Stories