Living room
An Old Ice Cream Factory Becomes A Cool Home
Grace Moslares works her magic on this one-of-a-kind makeover that you must see! Original Article: Bubbles Salvador Photography: Kurt Alvarez Styling: Paula de Guzman Design Consultant: Grace Moslares
When the Real Living team received the Ultimate Makeover Contest entries of 2015, one entry stood out—it was the home of Katherine Castillo, and it was a former ice cream (sorbetero) factory, with old, colorful ice cream carts (karo) strewn about. Katherine and her family had been living in this four-story home for over 40 years, with the ground floor serving as their ice cream factory, and the third and fourth floors housing their workers until 2006. The second floor served as the family home.
The RL team knew this would be an extra-special (and unusual!) makeover, so they called on Grace Moslares of Magara Designs to tackle it, just in time for Katherine's birthday. "Yung money na dapat ilalaan sa pag-repair sa house, palaging nagagamit sa iba," admits Katherine, who says her mother Emma had tried to find ways to renovate their home, but the plans never pushed through.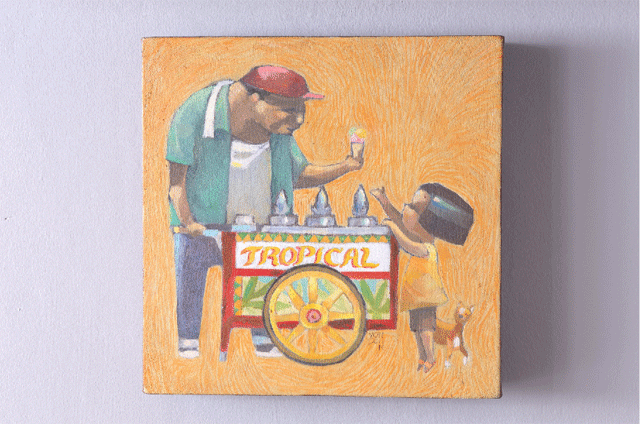 Emma showed Grace a painting of a sorbetero (above), a treasured gift from a friend. Moved by this, Grace and her team set to work, reorienting the furniture pieces in the home, making it more efficient and spacious. She moved a cabinet that separated the kitchen, and turned it into an entertainment center in the living area. The family's existing sofa was reinforced and resized to be more proportionate to the space.
Grace's inspiration for the color scheme are—you guessed it right—ice cream colors. The pastel palette is inspired by the traditional chocolate, strawberry, and cheese ice cream flavors. This makeover is a delicious treat, indeed!
Kitchen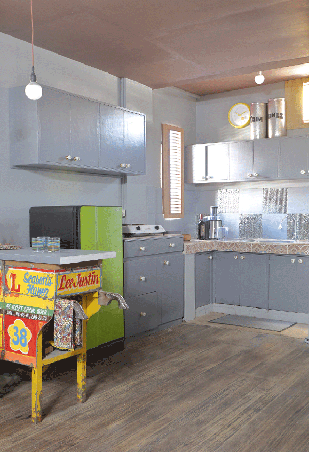 Grace opened up the formerly cramped kitchen (which was obscured by a cabinet divider) by removing the cabinet divider and painting both walls and cabinets a seamless gray. Katherine eagerly awaited to see what would become into their old ice cream cart—it was transformed into a quirky kitchen counter. "Dito nanggaling lahat ng kulay ko," says Grace.
RL Tip: Assess which pieces can still be used. The focal point of the entire space is the karo or ice cream cart, which Grace transformed into a bar counter that alludes to this space's former use as an ice cream factory.
Dining Area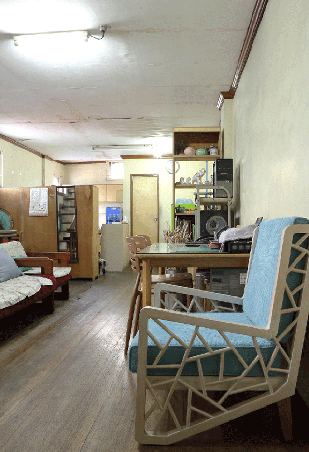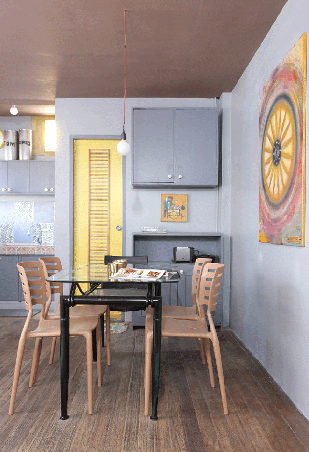 The old dining area shared space with a computer table and an unwieldy display cabinet that was neither appreciated nor used. Grace removed both pieces to create a more pleasant and spacious dining area. All the wood materials, panels, and doors are from Handyman. Jason Bongat created the artwork, which is a stylized painting of an ice cream cart wheel.
RL Tip: Determine the purpose of each space. "If you'd like to retain it as a work area, think of the furniture pieces that can do double duty," says Grace. "For instance, the dining table can also serve as a working table."
Living Area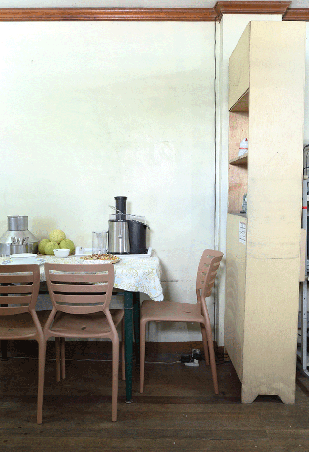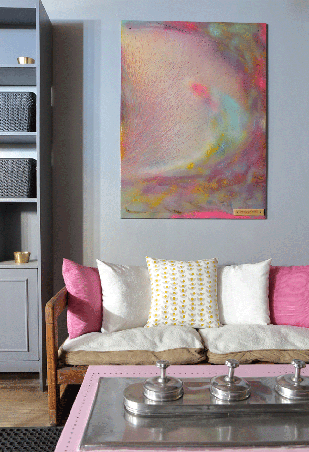 Grace reoriented the furniture pieces to accommodate a more spacious layout. "Although gamit na gamit ang area, parang ang sikip ng space," she says of the old layout. Since they were on a tight budget, the decorator used the old sala set and reupholstered it in lighter fabric from Townes, Inc.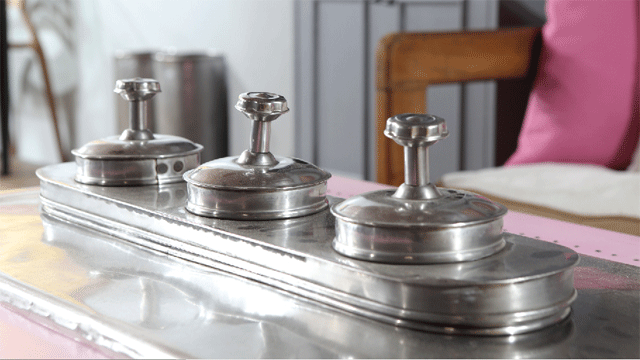 One of the standout pieces in this makeover is the coffee table that is made out of the ice cream cart's lid, which foreman Arnel Lozano customized using pakong bakya. "Hindi ko ineexpect na puwede pala ipangdisplay yung takip ng karo. Pag may dumating na bisita, alam na nila na ang hanapbuhay namin ay ice cream," says homeowner Emma Castillo. The lid can be opened to reveal storage within the coffee table.
RL Tip: Get rid of old things to make room for the new. Part of the renovation was purging the family's old items. "You know it's time to let something go if you haven't used it for months," says Grace.
Read the original article ("Sweet Surprise") in the February 2016 issue of Real Living Magazine. Download your digital copy of Real Living on the Real Living App. Log on to summitnewsstand.com.ph/real-living for more details.
Ed's Note: Final cost does not include designer's fees
How Much It Costs:
Handyman Do It Best
Dining table, seat cushions, kitchen organizers, assorted building materials - P 30,000
Townes Inc.
Pillows and fabrics - P 5,000
Labor etc.
Labor and assorted construction materials - P 25,000
More on Realliving.com.ph
A Major Overhaul for a Standard Condo Unit
Load More Stories
---