Kitchen & dining
From Makalat to Maaliwalas: How This Pinay Gave Their Family Home's Kitchen and Dining Areas a Makeover
Despite the size of the common areas, the owners still found it difficult to get chores done efficiently. The solution? A renovation that involved decluttering. Photography: courtesy of Tin Cura
When Realliving.com.ph first met Tin Cura, we talked about her neat compact kitchen in her Dubai apartment which many also found inspiring. In the said feature, Tin shared how she keeps her cooking area organized and functional despite the limited space.
However, when she goes home to her family home in Laguna, she finds it challenging to find things around the home even if they have a bigger space. "It's very challenging to cook because you won't be able to find the stuff you need easily. I guess sometimes, having bigger space could be a blessing or a curse as we tend to fill it with things," she shares.
CHECK OUT MORE KITCHEN and DINING MAKEOVERS:
A Farmhouse-Inspired Makeover for a Drab Kitchen
See How This Homeowner Transformed Her 'Tambakan' Room Into an Organized Pantry
From 'Dirty' To Chic! This Pinay Transformed Her Kitchen With DIY Decor
ADVERTISEMENT - CONTINUE READING BELOW
Since the kitchen is cluttered and Tin often finds broken kitchen tools in the area, she decided to save up for a kitchen renovation. "It's the only way I can get everyone to declutter and dispose of the things we don't need. Plus, I know everyone will benefit from it," Tin says.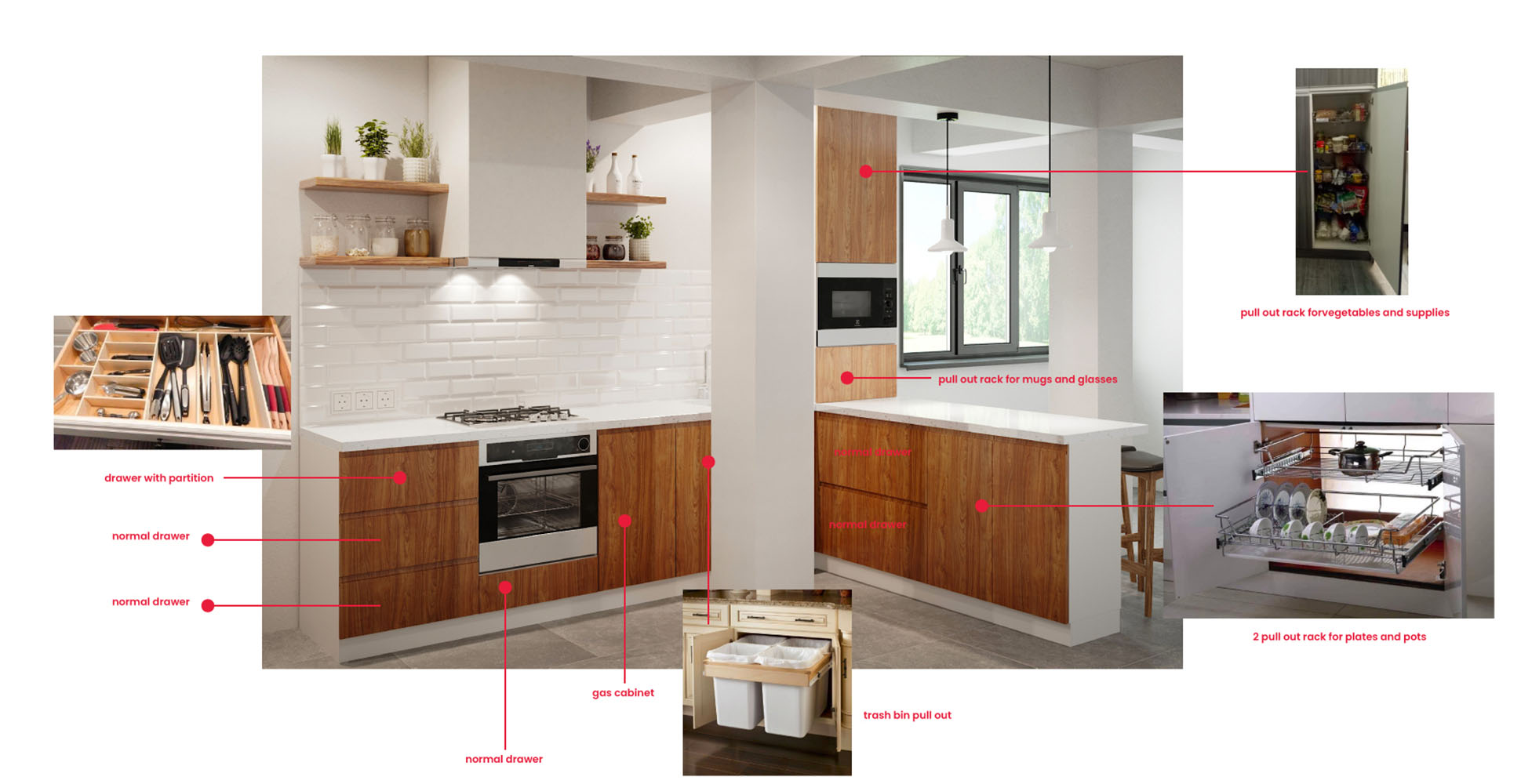 In photo: Tin's rendered plan for the kitchen which also details the kind of cabinets she wants for the space.
Inspired by her learnings from living in a smaller space, she was determined to apply proper organizing in her family home. In just one month, the once cluttered and uninspiring space became more maaliwalas. Cooking and sharing meals will surely be delightful as Tin also decided to revamp the adjacent dining area.
Check out the transformation below: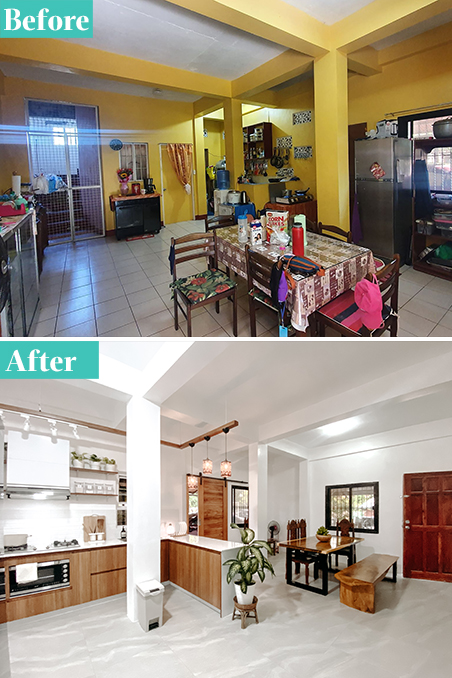 ADVERTISEMENT - CONTINUE READING BELOW
Prior to the renovation, the kitchen and dining areas look uninviting, with the yellow paint adding to the cramped feel. There were also columns in the space. "Before it became a kitchen, it used to be a garage. As much as we'd like to remove the columns, they are part of the foundation of the house so we had to work our way around it," relates Tin.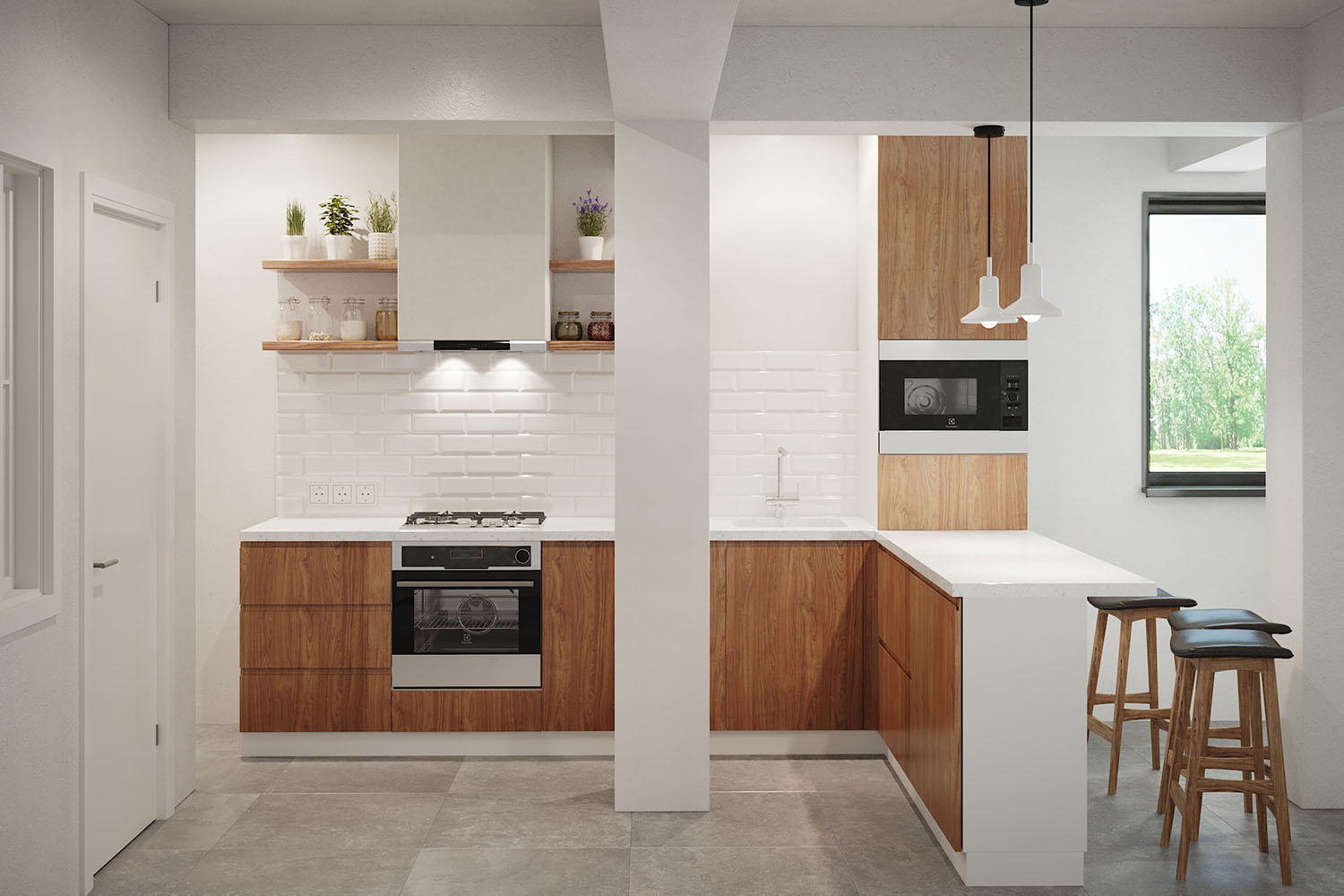 ADVERTISEMENT - CONTINUE READING BELOW
In photo: The rendered version of the revamped kitchen
To transform the kitchen and dining areas, Tin looked for pegs and hired a freelancer to work on the renders. She then tapped RRAG Modular Cabinet Trading to turn the design into reality. They worked on everything including the modular cabinets and refurbishing the family's decades-old wooden table.
READ: After an Anay Infestation, This Family Went for a DIY Kitchen Makeover
Since clutter is the number one problem, Tin convinced her family to dispose of the things they no longer need. After editing their belongings, finding a place for each essential was the next step.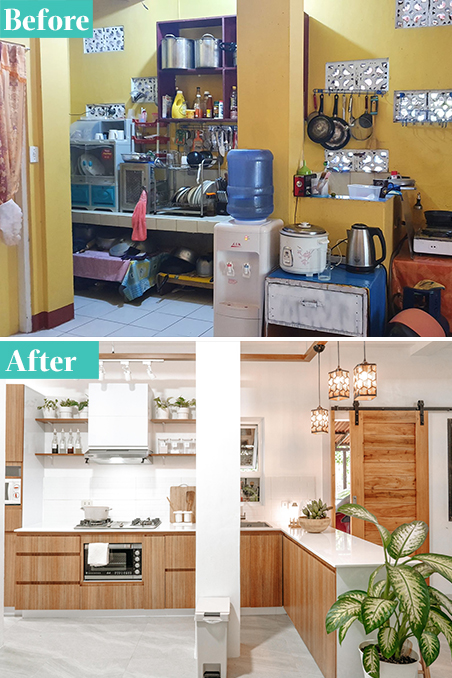 ADVERTISEMENT - CONTINUE READING BELOW
The revamped kitchen has a mix of modular cabinets and open shelves. Tin insisted on having open shelves not only to save on costs but also to encourage her family to commit to keeping the area organized. "I know for sure that the more enclosed cabinets we have, the higher the change that people in our house will fill them with things again," she explains.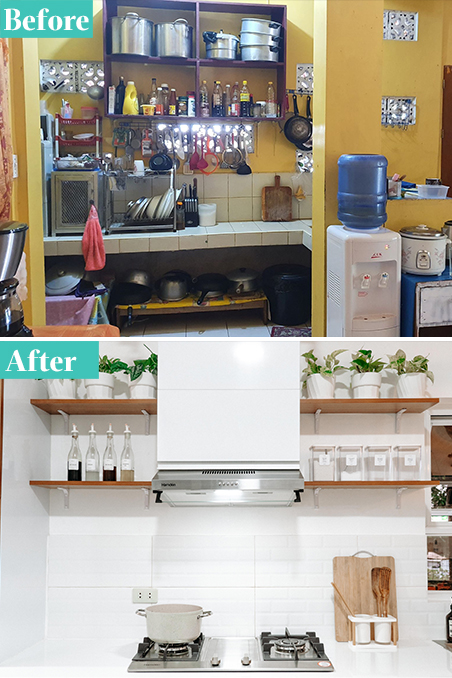 ADVERTISEMENT - CONTINUE READING BELOW
To keep within the minimalist theme, the countertops are kept tidy, with only the essentials on display. Similar to what she did in her Dubai kitchen, Tin chose uniform containers. "Instead of buying décor, I highly suggest investing in good quality airtight canisters instead to prevent ants or any insects from coming in," she advises.
READ: A Small and Cluttered Kitchen Gets a Functional Makeover
The size of the kitchen is 36sqm, which allowed the family to extend the countertop.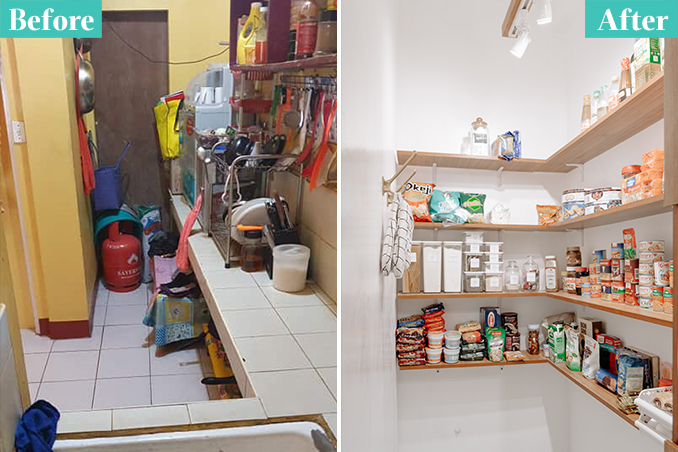 ADVERTISEMENT - CONTINUE READING BELOW
After the renovation, they carved out a pantry completed with wall-mounted shelves and properly organized supplies.
Within a month of working on the renovation, Tin decided to remove the old tiles and countertop.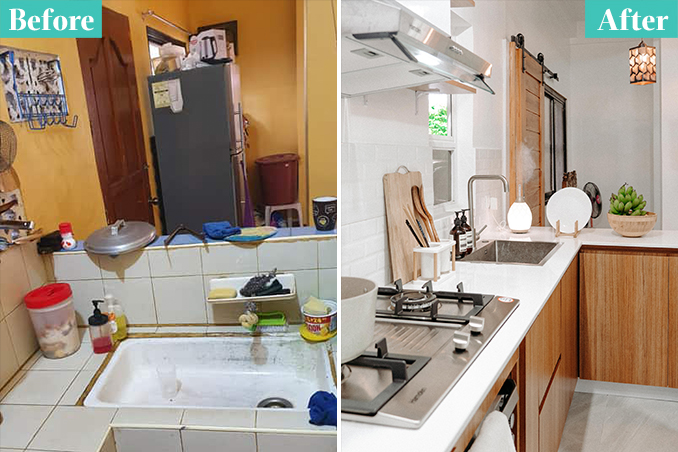 She settled on all-white look, which perfectly complements the wooden cabinets.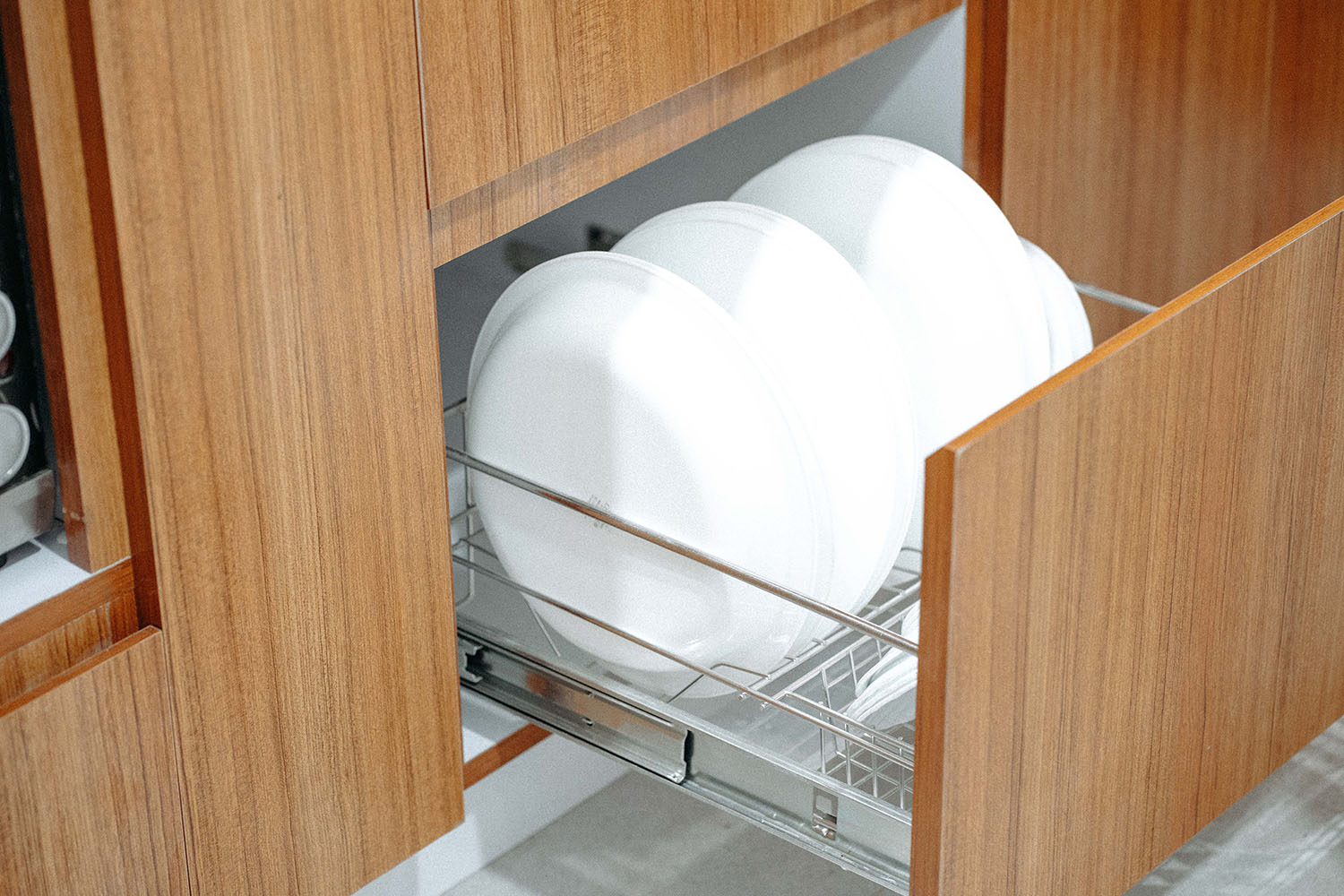 ADVERTISEMENT - CONTINUE READING BELOW
Each cabinet in the kitchen serves a purpose. While some are regular/ordinary cabinets were cooking essentials are kept, Tin made sure there are specific compartments for utensils, the gas tank, and mugs to name a few. Seen above is a pull-out rack for plates.
Tin had the countertop extended to create an L-shaped kitchen. To maximize the space and to create a breakfast bar, three wooden stools were also put in place.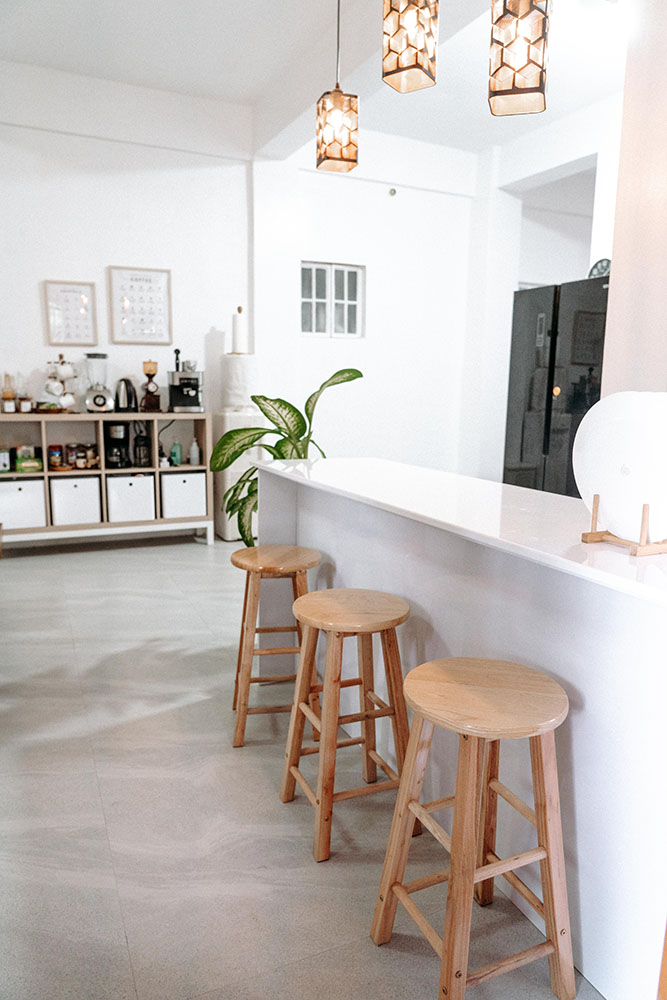 ADVERTISEMENT - CONTINUE READING BELOW
READ: 6 Inspiring Tiny Dining And Kitchen Makeovers
To match the new look of the kitchen, Tin also gave the dining area a new look.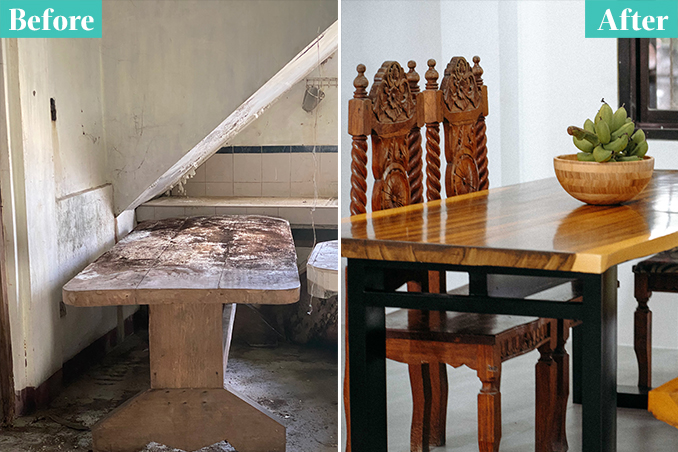 The star of the space is the refurbished Yakal table which RRAG Modular Cabinet Trading also worked on.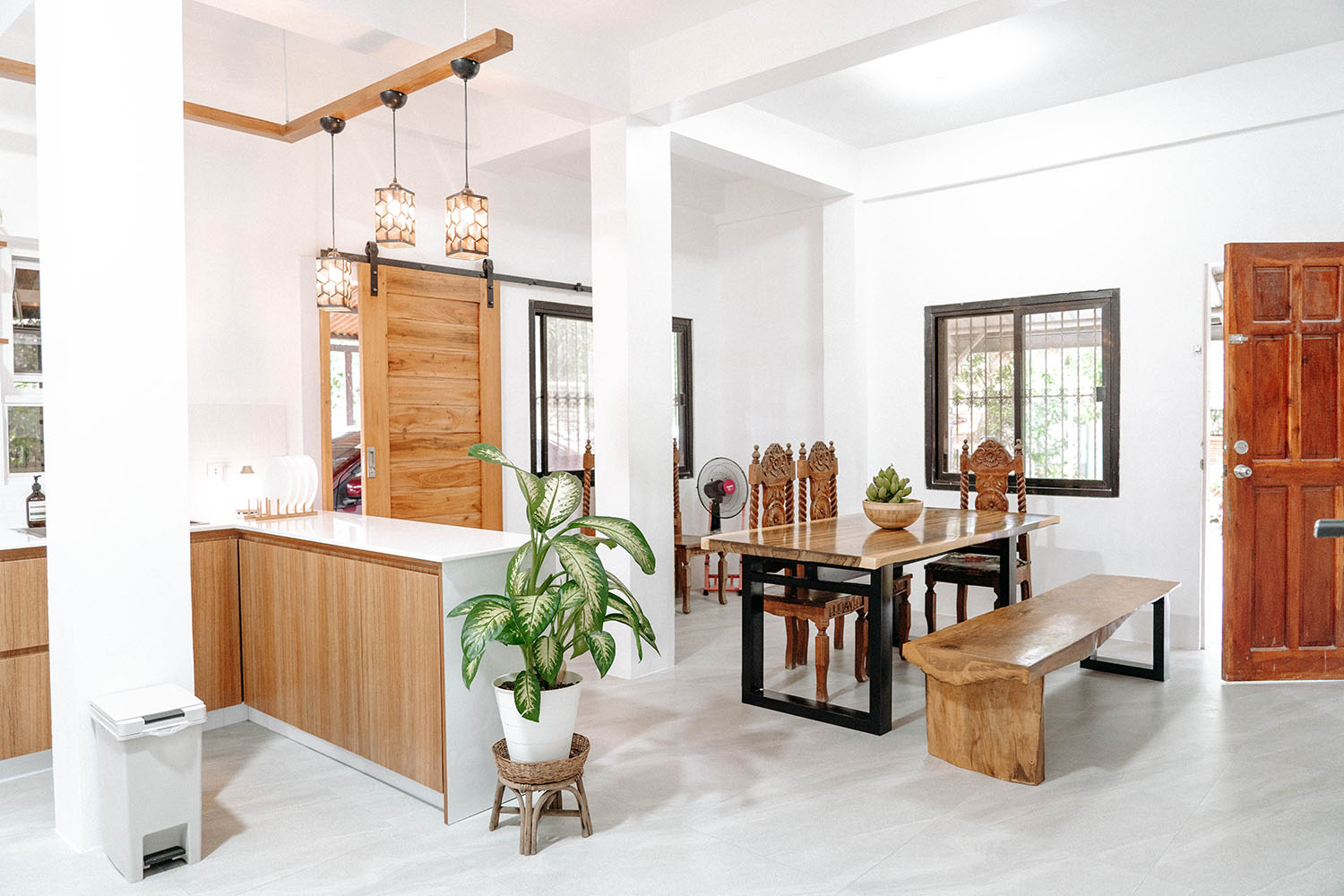 ADVERTISEMENT - CONTINUE READING BELOW
She opted to pair the table with wooden matching chairs and a bench to accommodate the family during meals.
Situated near the dining area is the coffee station featuring the KALLAX shelf from IKEA.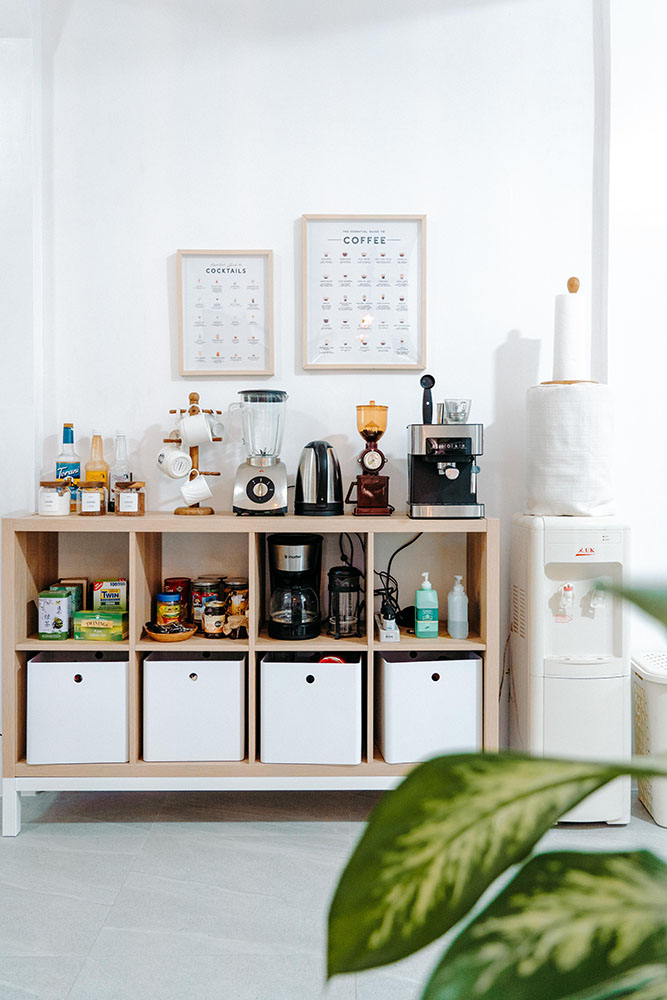 "We DIY-ed the cocktail and coffee posters," says Tin.
Tin shares that after working on the renovation, cooking is now more efficient and everything is accessible. "I like how it's more 'maaliwalas' compared to how it was before so now cooking can be really therapeutic," she muses.
ADVERTISEMENT - CONTINUE READING BELOW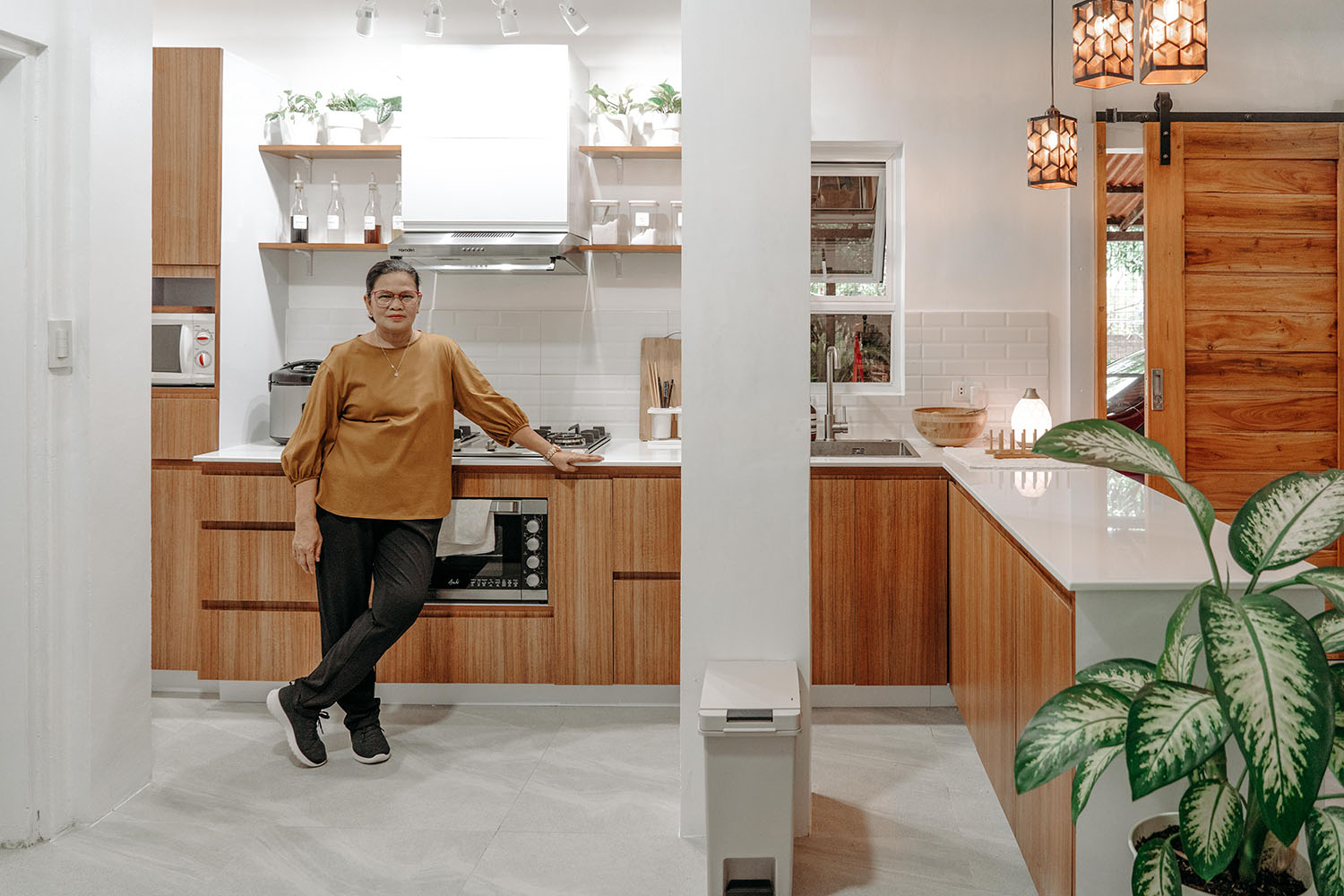 In photo: Tin's mother loves the new look of the kitchen and dining areas, too.
For fellow homeowners who want to improve their own cooking areas, Tin suggests skipping décor pieces that will just accumulate dust. "The less things you have, the less time you'll need in cleaning and organizing. If you want some color in your kusina, add plants. They aren't just aesthetically pleasing to the eyes, but they help absorb odors and removing toxins from the air," she suggests.
ADVERTISEMENT - CONTINUE READING BELOW
Have you recently worked on a makeover or renovation project? Send clear photos (with your full name, city address, and accompanying kuwento) to r[email protected], and we may just feature your project!
More on Realliving.com.ph
Load More Stories