Makeovers
How Much Does It Cost to Renovate A Bare 50sqm Condo Unit?
Interior designer Vera Villarosa-Orila shares a budget breakdown you can use as reference Photography: Jek Orila (Before) and Kurt Alvarez/ACME Visual Productions (After)
Anyone who has worked on a makeover project can tell you that it generally costs around P15,000 to P20,000 per square meter to renovate a given space. This amount covers construction, furniture and accessorizing, and in some cases a design fee can be part of that budget as well. Keep in mind that this amount varies depending on the specific style or look you're going for, the quality of materials, your chosen appliances and furniture, and which designer or contractor you're planning to hire, to name a few. If you're looking at a mid-range renovation—may it be your first, second, or third, this is a good budget to set and follow. Using existing interior finishes, appliances, and furniture can help you reduce renovation costs. After all, not everything has to be brand new! Consider bringing in existing items like your well-loved TV set, perhaps?
In renovating our condo unit, I wasn't looking at spending so much. But even before my husband and I bought the space, I knew that it had to be done because no amount of DIYs, repainting and styling will be enough to maximize the potential of the small 50sqm space. The layout of the unit was a good rectangular shape with areas (kitchen, bath, bedroom, and laundry) branching out. I knew I wanted three things out of it: a home office, a bigger bathroom, and a walk-in closet. As an interior designer, I had no problems with space planning, but things like tearing down and moving walls, changing the kitchen completely, transferring door openings and swings, not to mention the intense electrical works—these entailed professional help. Some homeowners would opt to manage workers on their own, but the logistics of it is tough so I just went and got a trusted contractor.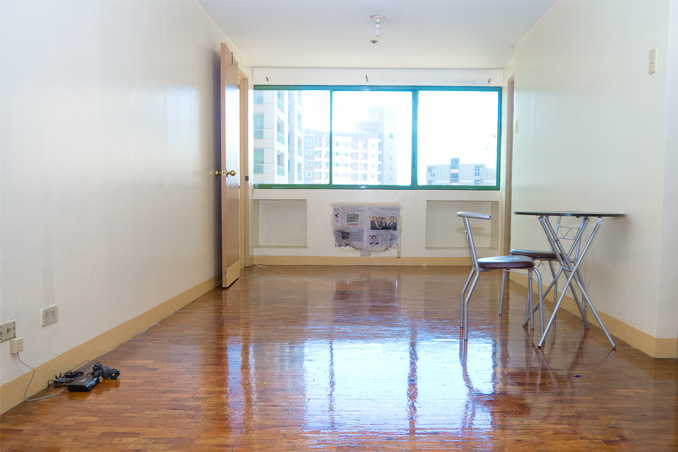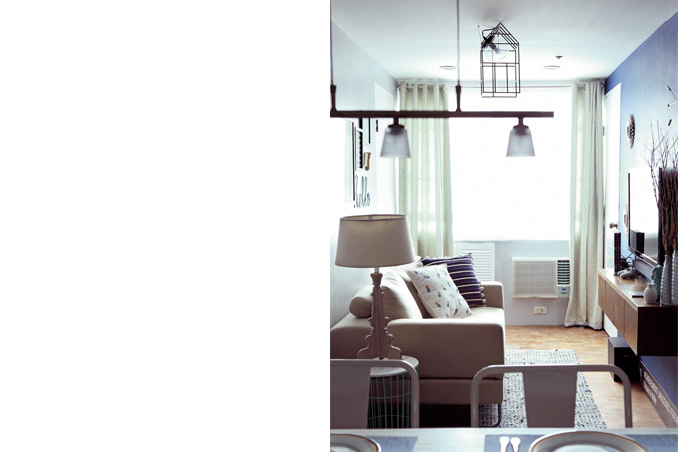 Here's a rundown of how much we spent:
P375, 000—Construction Costs (general materials, labor costs)
- At P7, 500 per square meter, for basic partition, plumbing, electrical, general light fixtures, painting, built-in furniture works (excluding contractor's management fees, insurances, and other charges)
- Does not include general flooring and ceiling works—this depends on existing finishes available in your condo like the parquet flooring and dropped ceiling (which we were lucky enough to have)
Let's go into the specifics, here are the particulars with corresponding costs:
Demolition Works and Hauling—P12, 500
Flooring and Tiling Works—P20, 000
Partition Works—P18, 500
Plumbing Works—P12, 000 (includes waterproofing)
Doors—P20, 000 (2 pcs. sliding louver doors for walk-in closet)
Mirrors—P12, 000
Electrical Works—P40, 000 (includes all outlets and wiring, recessed lighting fixtures)
Painting Works—P60, 000 (walls, ceiling, existing doors)
Furniture Works—P180, 000 (All built-ins—shoe cabinet, study, shelves, kitchen base and overhead cabinets, bathroom counter and open storage, TV console, built-in bed with 2 drawers, open cabinets for the walk-in closet, bench box, dining table, doors for existing wall niches and storage)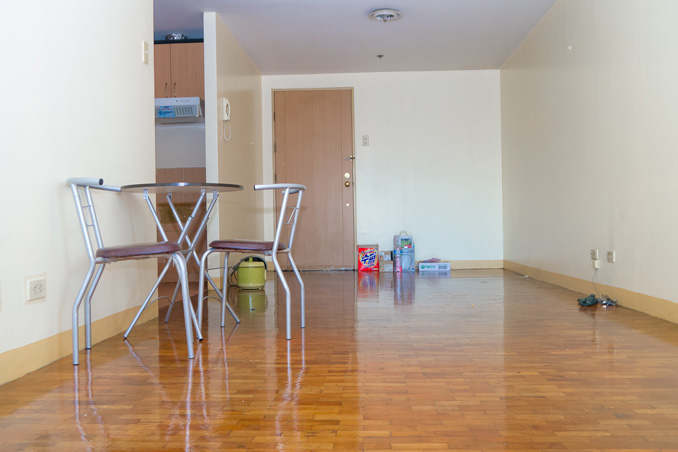 P20, 000—Construction Bond
As in my experience, chances are, you won't be able to get the full amount after project completion because of accumulated violations (like paint smells, unscheduled noise, improper use of elevator, etc.). This varies depending on how strict your condo admin is.
P50, 000—Plumbing Fixtures
- This includes the kitchen sink and faucet, bathroom fixtures, shower enclosure, stainless laundry sink
P20, 500—Lighting Fixtures
- This includes drop lights, wall lights, table lamps, and all bulbs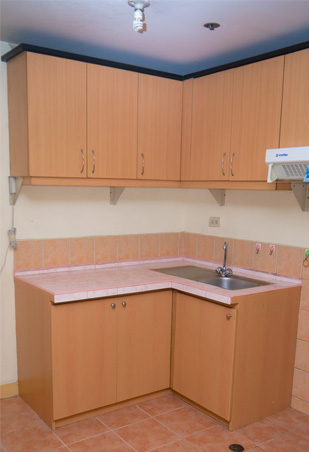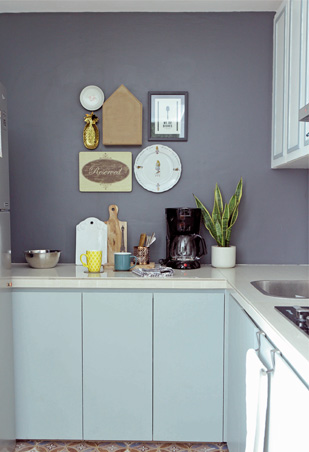 P25, 000—Tiles
- Tiles were used for the bathroom floor, walls, countertops, and kitchen floor, countertops and backsplash only
*I got to save on costs for general flooring because I retained the wood parquet for all dry areas.
P5, 000—Special Finishes
- This includes the grass wall in the dining area and the mouldings
P100,000—Design Fee
- This covers the plans, detail drawings, project management, site visits, and minimal styling at P2, 000 per square meter
*I got to save on this because I did the design myself, but for others who aren't in the field of design, you will probably spend around P1, 500 to P2, 500 per square meter for something of this size—depending on who you will hire.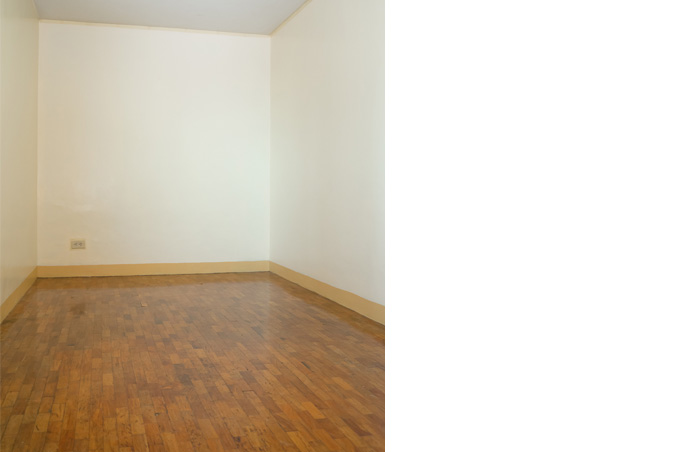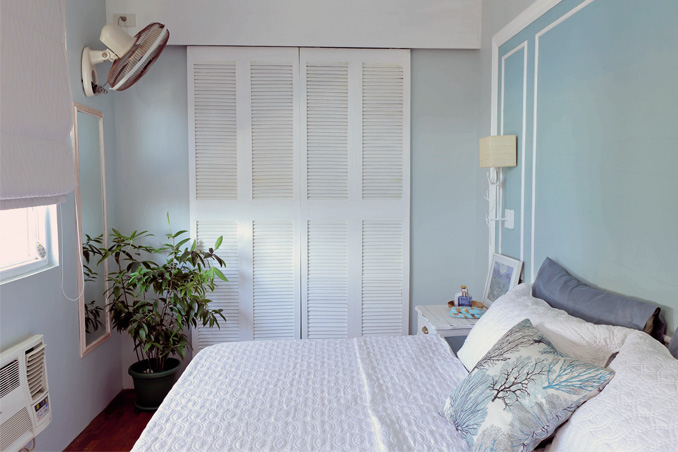 P117, 000—Appliances
- Our unit has kitchen appliances, two window-type AC units, one wall fan, and a washing machine
*We brought in our old TV and some small appliances (some are wedding gifts!) so I got to save a little on appliances as well. For the furniture and appliances, we got a couple of hand-me-downs too so this helped us save on costs.
P65, 000—Furniture
- This includes the dining bench, two dining chairs, accent chairs, sofa bed, and side tables
*I was always on the lookout for sales when I was furnishing the condo. It helps to ask any store if the item you're eyeing will possibly go on sale. You can also buy furniture from surplus shops, just make sure to have these refinished and reupholstered.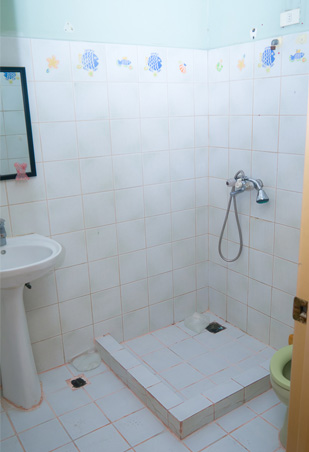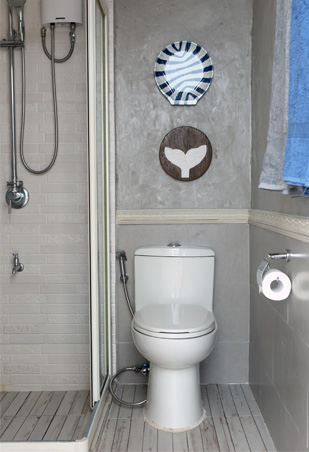 P35, 000—Soft Furnishings
- This includes window treatments, a queen size mattress, sheets, and pillow cases
P7, 500—Artwork and Minimal Decor
*Try to collect these over time from different stores so that your decor pieces won't look as if it were pulled from a showroom.
Click here to see more photos and view the complete home tour of Vera's condo unit.

Interior designer Vera Villarosa-Orila is an alumna of the University of the Philippines and is one of the go-to designers for the Real Living Makeovers. You can get in touch with her through e-mail: vera.villarosa[at]gmail.com.
Do you have questions or concerns about your home's layout, furniture, and color scheme? Send your questions to reallivingonline[at]gmail.com with the subject: Expert Advice. We might answer and feature your queries online.
More on Realliving.com.ph
A Delightful Condo Kitchen Makeover
5 Reasons Why Renovating Costs Go Up
Load More Stories
---