Bedroom
This Pinay's All-Pink Bedroom Makeover Cost Around P20,000 Photography: Courtesy of Niña Kiana Tallado
By now, you've probably already noticed that we just can't get enough of space makeovers. You've read stories about a boho-inspired apartment, a quirky room for a cool girl aesthetic, and a DIY project that helped a Pinay with her mental health.
Our recent discovery? This cute all-pink bedroom makeover by 23-year-old entrepreneur Niña Tallado. In an exclusive e-mail interview with Cosmopolitan Philippines, she shared what it was like to express her love for design and transform her sister's bedroom into a comfy, and stress-free space that she'll love. Keep reading to know more.
What made you decide to give the bedroom an all-pink makeover?
Nina: "Since room makeovers are the hype nowadays, we decided to have our bedroom redesigned. At first, we wanted an all-white wall but our parents did not want it to be plain. Since I planned to make the bedroom simple but chic, I added a touch of color and found pink to be the best. My sister and I are obsessed with pink! I've always wanted to release my love for designing and thanks to Pinterest, I used it as my inspiration to give my sister's bedroom an all-pink makeover."
What changes were made to the bedroom?
Nina: "It was actually hard for me to decide what the final theme of the room would be since my sister loves cute anime (One Piece and Studio Ghibli), and my plan is to make her space minimalist, comfy, stress-free, and aesthetic.
Before, she would always stay and study in our parents' room because her workspace was super masikip. I made it my main priority to give her a study area and bedroom that's relaxing. Sobrang excited kami na matapos mapinturahan ang bedroom ng white and pink kasi ang hirap mag-plan kung saan ilalagay yung bed, yung table, etc. It took us about five days to finish!
ADVERTISEMENT - CONTINUE READING BELOW
The first step I did was purchase home decor. One thing I learned is that it's actually hard when you don't have the items IRL. I had to wait for the parcels to arrive before I could start on the renovation. I realized it's still better to buy items physically, because you can check their sizes and appearance, and see if there are any damages. But since we are currently here in the province, we don't really have that much stores to shop from, as compared to being in Manila. In fact, most of the items in my sister's bedroom were bought from Shopee and Lazada. I'm just so happy that they fit her all-pink bedroom aesthetic."
Bed
"The bed was customized and at first, it did not have a headboard. As I was scrolling on TikTok one day, I saw a recommendation of a bedside cushion which costs around P2,122 to P2,591. I bought it, and super ganda ng quality—worth the price! Then, I designed the bed for it to have ~princess vibes~, LOL. I bought a three-in-one silk bedsheet which cost P480, a velvet throw pillow cover (one in white for P89 and another in pompom pink for P160), and a mink solid pink fur as a bed accent for only P379. Of course, I couldn't forget the fairy lights! For only P162, they immediately added beauty to the room."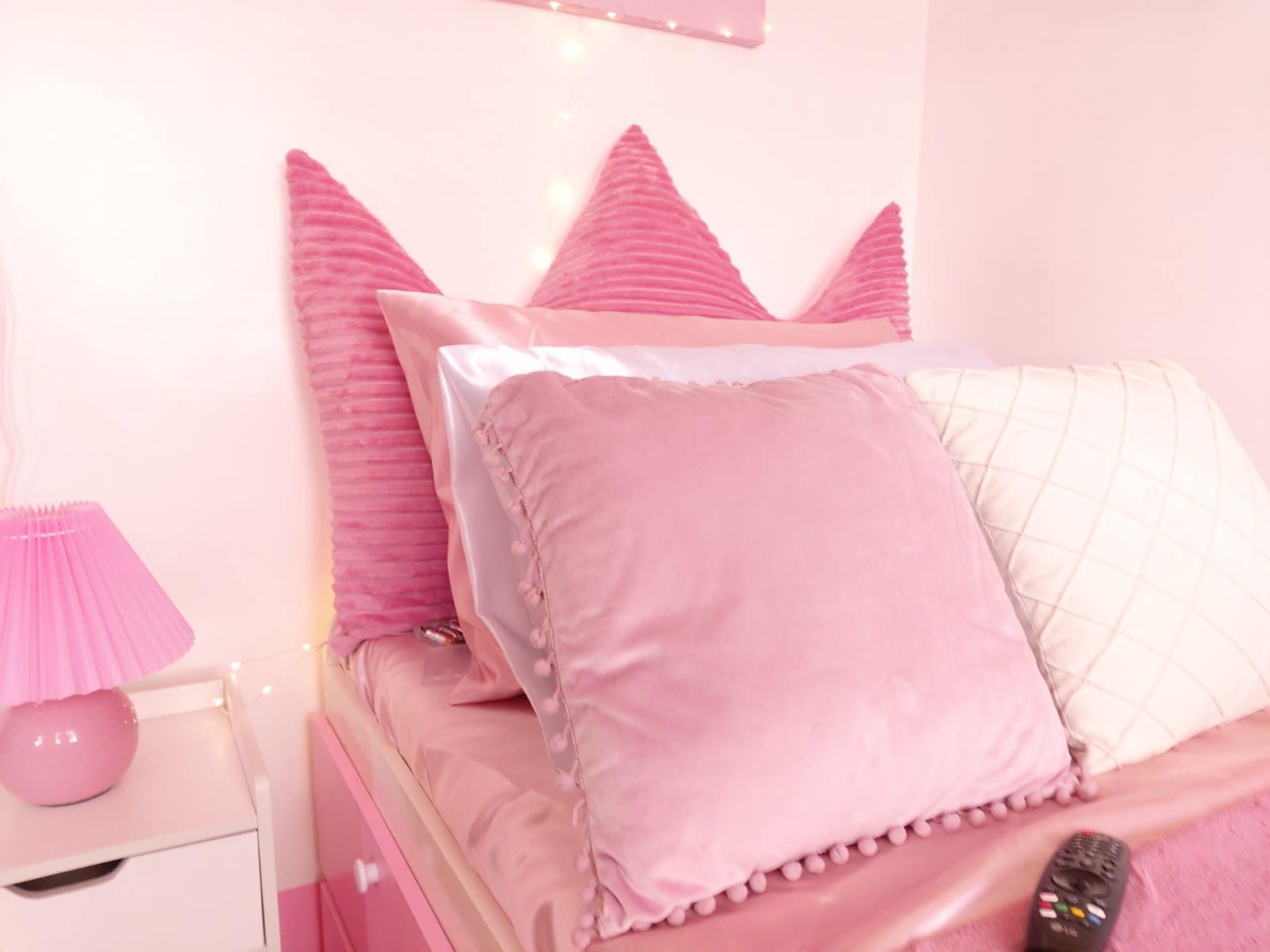 COURTESY OF Niña Kiana Tallado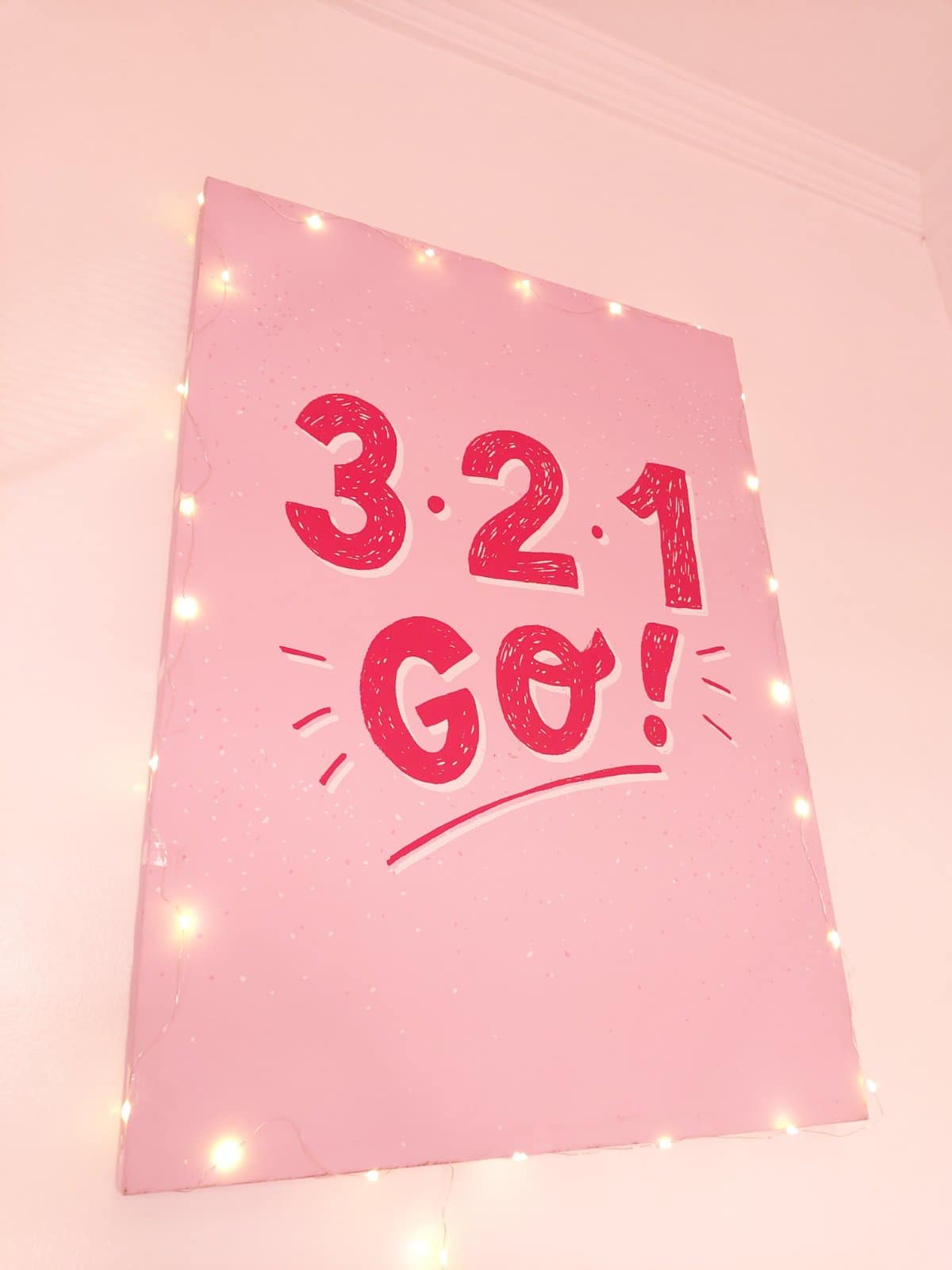 COURTESY OF Niña Kiana Tallado
Bedside table
"We kept looking for an aesthetic bedside table and I'm so happy I found this one that's IKEA-inspired. For P988, it's super durable and easy to install. It really matches the bed, plus I decorated it with a pink table lamp which costs P1,221."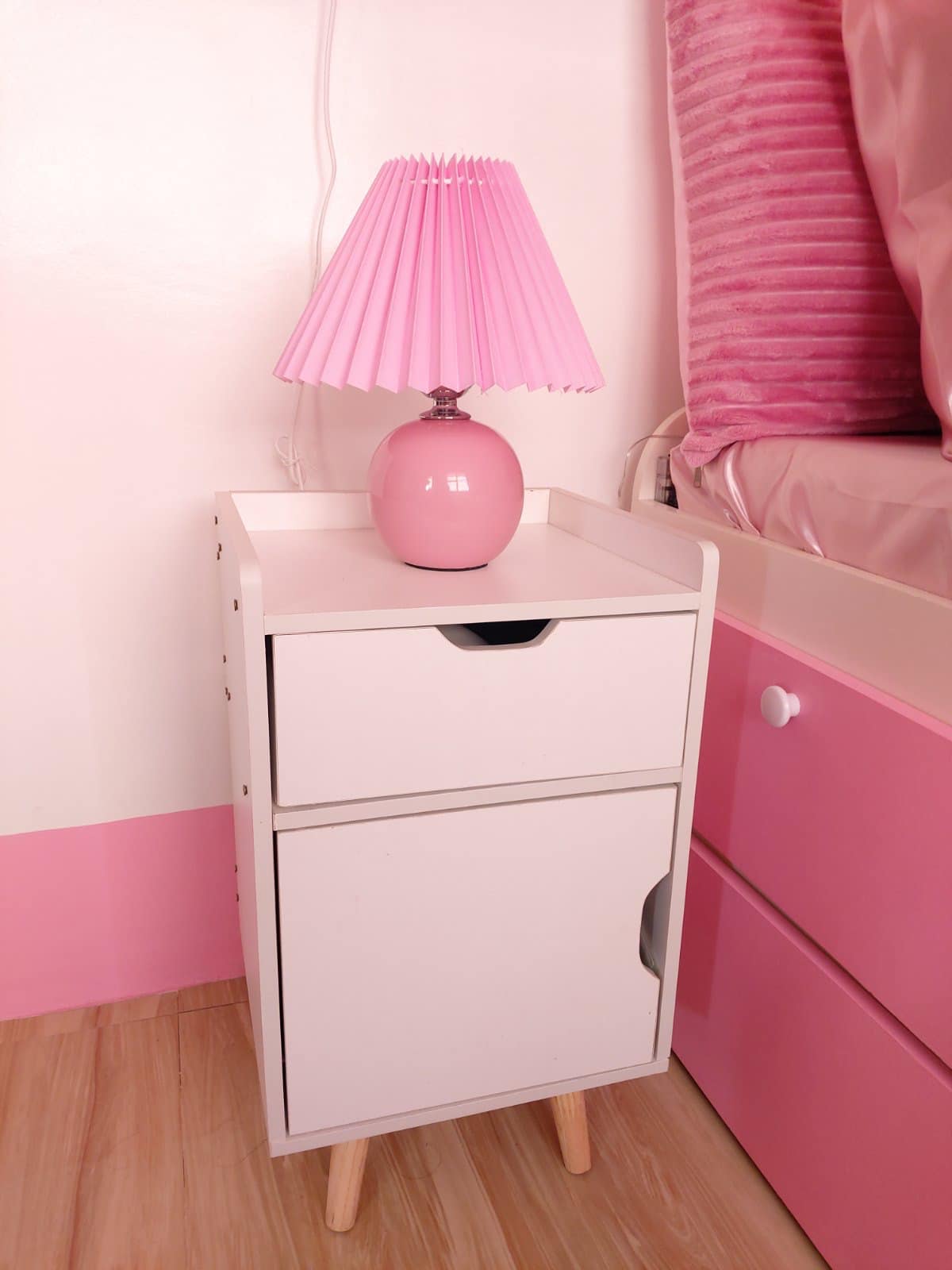 COURTESY OF Niña Kiana Tallado
ADVERTISEMENT - CONTINUE READING BELOW
Shelf
"Another exciting part of the room is the pink shelf. It has tulips, vases, scented candles, a projector, pastel shoulder bags, pink checkered organizers, and more. Since my little sister loves watching anime, I bought the projector (P3,329) as a gift for her to make her room more relaxing. I also added a macramé tapestry on one corner as well as two A4 wall frames with pretty wallpaper. The pink window blinds were customized from a shop here in our province—it makes this corner look so perfect!"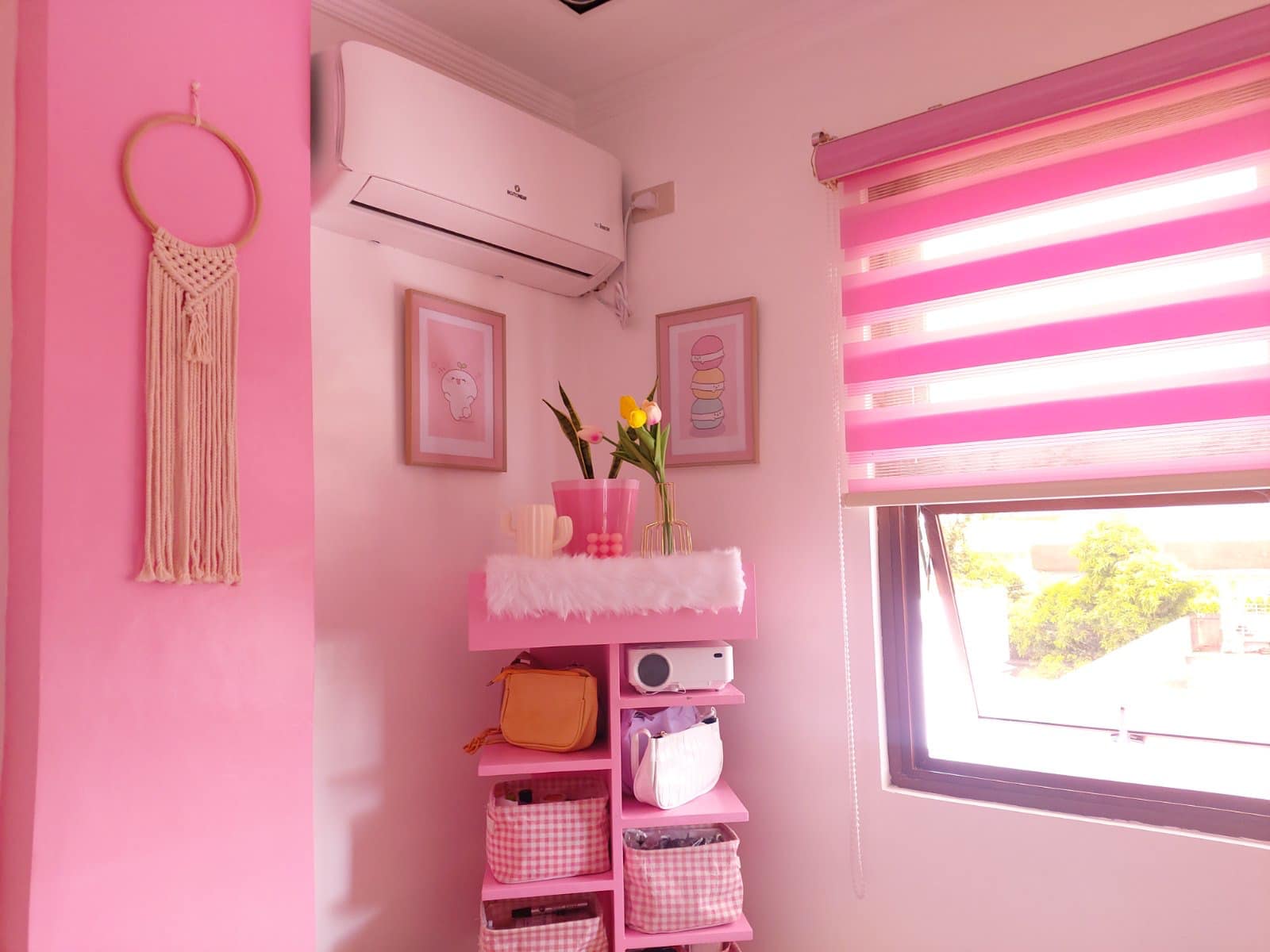 COURTESY OF Niña Kiana Tallado
Study area
"The Korean-inspired workspace is my favorite part. Technically, it's not ALL pink unlike the other sides of the room, but at least it still looks trendy with the pastel colors! It gives a minimal look and I believe this will make my sister productive with her studies since she'll be facing a lot of ~inspiring~ stuff, haha."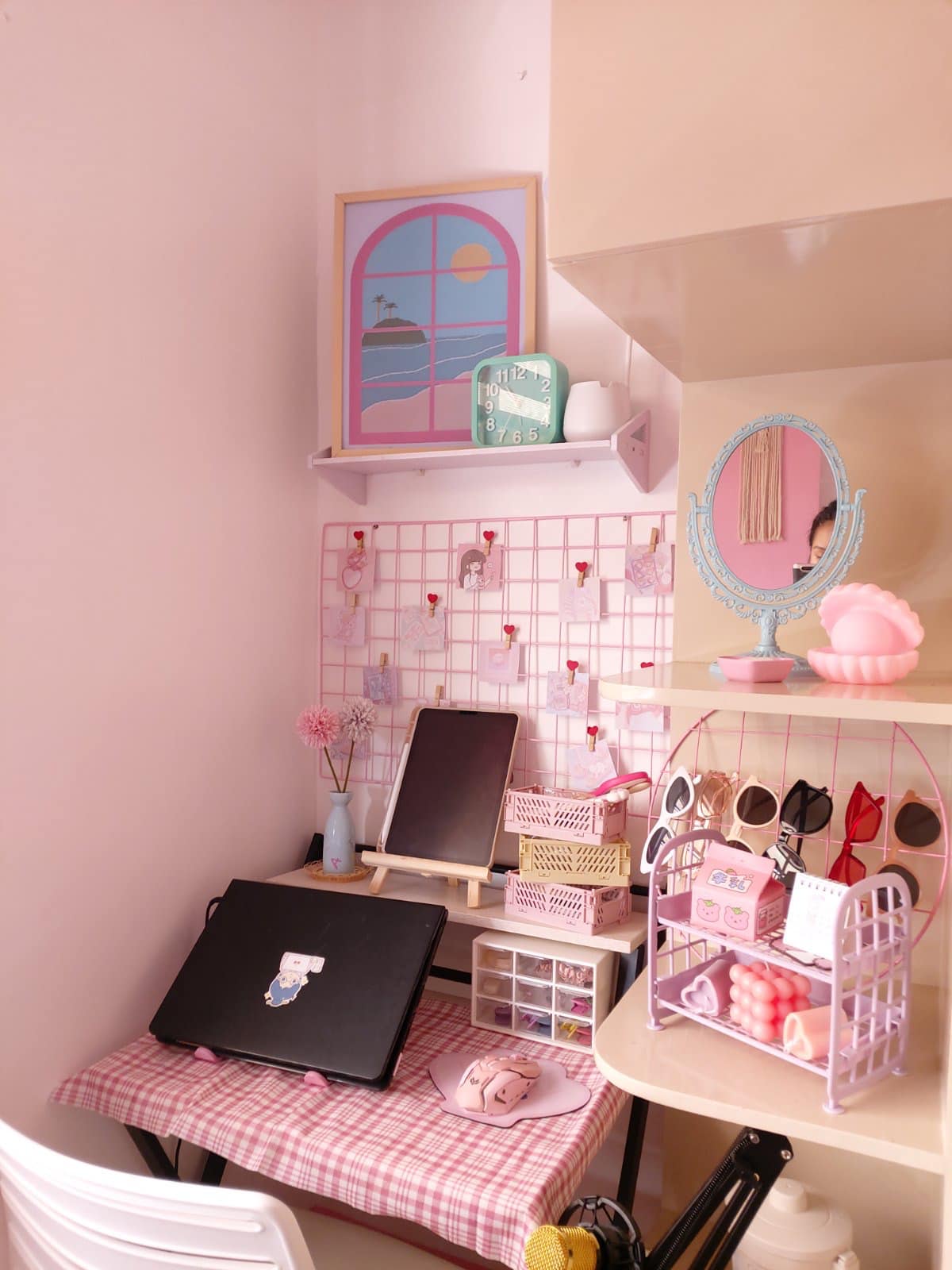 COURTESY OF Niña Kiana Tallado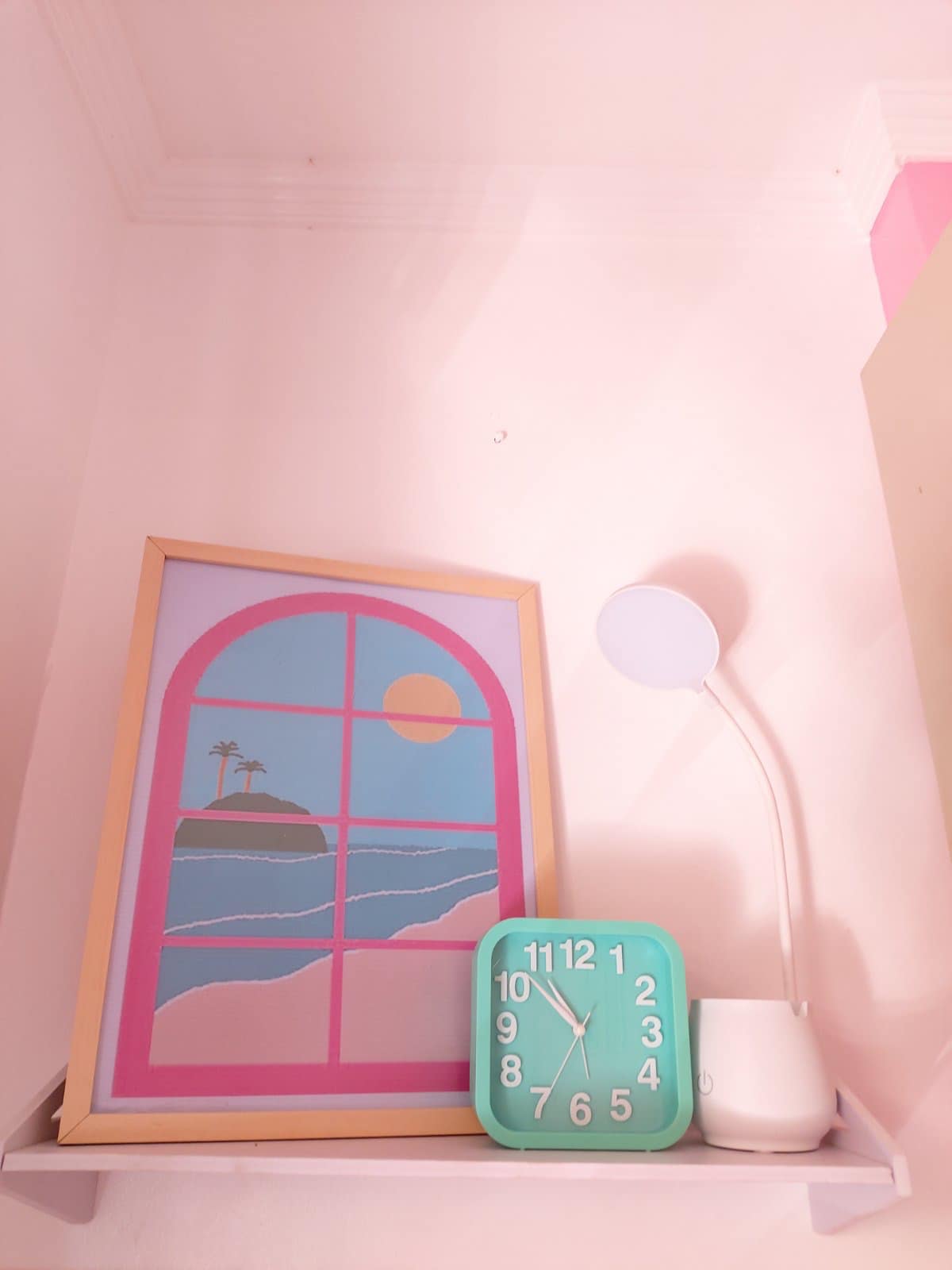 COURTESY OF Niña Kiana Tallado
"The most challenging part for me was choosing the right theme for the bedroom. It was difficult to decide because there are just so many themes to choose from! Getting inspo from the Home Buddies Facebook group alone, it could be #TeamKahoy, #TeamKoreanBedroom, #TeamPuti, or more. Happily, we ended up being on #TeamPink!"
ADVERTISEMENT - CONTINUE READING BELOW
Around how much have you spent in total on the bedroom makeover?
Nina: "We spent around P15,000 to P20,000 in total. Purchasing online really helped me get a lot of good buys and I was able to compare prices, too. We did not plan to budget our makeover but we are still happy with the result! It's really satisfying when you have a very aesthetic and trendy space."
Overall, what are your final thoughts on the bedroom makeover?
Nina: "To be honest, it was really stressful at first! It was actually my first time to showcase my inner ~design skills~ so it was hard for me to start. My dream before was to be a designer—be it fashion or interior, so this makeover really gave me the feeling of becoming one. Making my sister happy with the result made me feel glad, too! It's really satisfying when your space is neat and comfy. Achieving the goal of having a simple but chic bedroom for my sister is really fulfilling. It feels like we're 100 percent at home."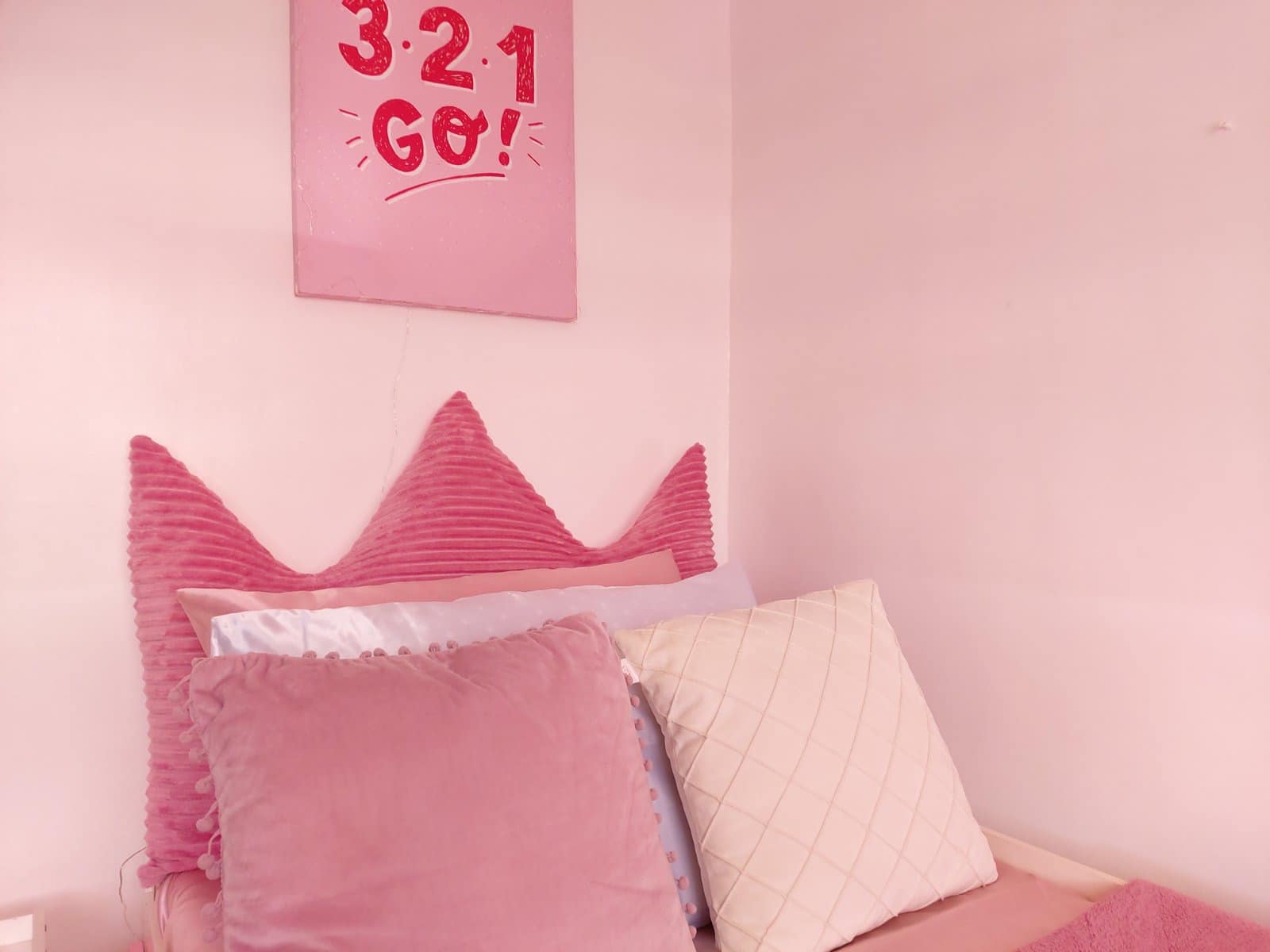 COURTESY OF Niña Kiana Tallado
* * *
Do you have a DIY project that you're proud of? Share it with us! Send an email to [email protected], and we may just feature it next!
* * *
This story originally appeared on Cosmo.ph.
* Minor edits have been made by the Realliving.com.ph editors.
More on Realliving.com.ph
Load More Stories