Bedroom
3 Bedroom Makeovers to Inspire You: K-Drama, Natural Mid-Century, and Scandi-Style
Thinking of giving your bedroom a bit of an upgrade? These beautifully renovated spaces will give you an idea of where to start. Products and services recommended on our websites are independently selected by our editors. If you buy something through our links, Summit Media may earn an affiliate commission at no extra cost to you.
Dreaming of a bedroom makeover? In this article, take a tour of three real-life bedroom transformations. From a K-drama-inspired design to a natural mid-century revamp and a Scandi-style makeover on a budget, these transformations prove you need creativity and resourcefulness to create a dreamy bedroom space that won't break the bank. So, dive in and explore these bedrooms. Watch this:
Say "Annyeong!" to a K-Drama-Inspired Bedroom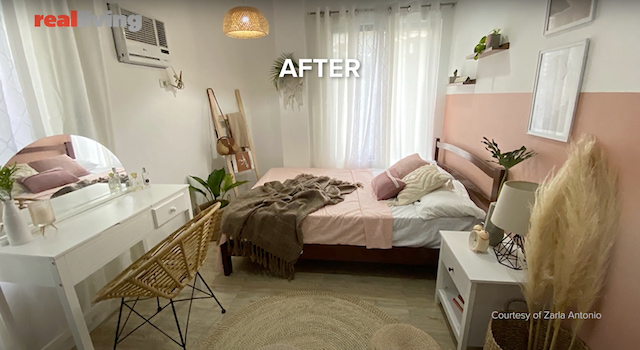 For fans of Korean dramas, this bedroom makeover by interior stylist Zarla Antonio is a dream come true. Zarla transformed the cramped and cluttered bedroom of her sister, a military nurse, into a calming space that looks bigger than it really is. 
The makeover features salmon, a pinkish-orange shade, as the main color. It's used on the walls, bedsheets, and other soft furnishings. The finished bedroom now looks cleaner, easy on the eyes, and more spacious. Zarla worked with white walls and furniture to add to the airy vibe, creating a refreshing and serene space that any K-drama fan would love.
Shop the makeover: Place a plant basket (available online for P450—P1,250 each) by your bedside.
Read also: 5 Gray and Beige Bedrooms to De-stress You
East Meets West in This Mid-Century-Style Bedroom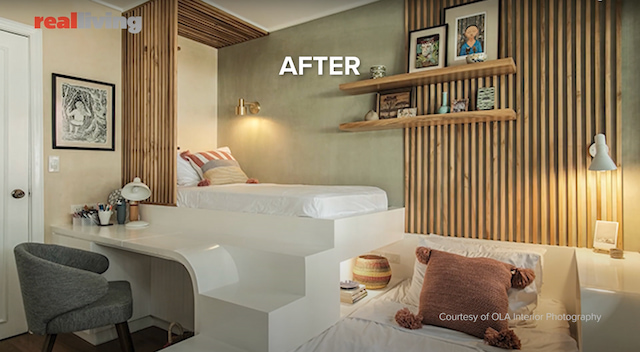 ADVERTISEMENT - CONTINUE READING BELOW
Interior designers Kimi Manuel and Athena Maramag took on the challenge of revamping a 13sqm bedroom shared by sisters. The designers started with the clients' keywords—"natural", "mid-century", and "Japanese"—and made their own interpretation. 
The goal was to make it brighter, more organized, and perfect for sleeping andstudying. They picked a soothing color palette featuring sage green, beige, white, and light-colored wood, which makes the space look and feel bigger. And to address the need for storage, the designers incorporated hidden nooks, showcasing the power of clever design in maximizing space and functionality.
Shop the makeover: Use a white metal goose-neck lamp (available online for P600–P680 each) for that mid-century aesthetic.
Read also: 5 Bedrooms Perfect For Lazy Weekends
A Scandi-Style Bedroom Makeover on a Budget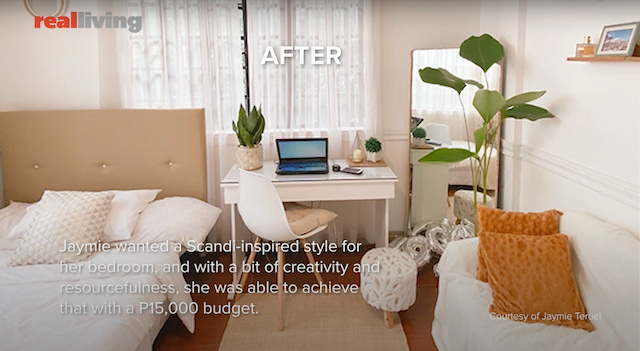 Homeowner Jaymie Teruel achieved her dream of a Scandi-inspired bedroom makeover with a budget of just P15,000. 
Jaymie bought most of her room decor online and scored a lot of affordable finds from the Dapitan Arcade. Other furnishings were DIY-ed by her father. The result is a bright, clean, and cozy space that reflects the simplicity and functionality of Scandinavian design. 
Shop the makeover: Corral your tchotchkes in a rose gold metal basket (available online for P952).
Whether you're a fan of K-drama, love the natural and minimalist aesthetic of mid-century design, or are drawn to the simplicity and functionality of Scandi style, these makeovers provide plenty of inspiration for your next home project.
These makeovers also showcase the power of creativity, resourcefulness, and personal style in transforming a space. A bedroom makeover doesn't always require a big budget. With a clear vision, a bit of creativity, and some DIY spirit, you can create a space that you'll love to come home to every night.
ADVERTISEMENT - CONTINUE READING BELOW
Read also: RL Makeovers: Two Bedrooms transformed into Colorful Spaces
FAQs
Can I do a bedroom makeover on a budget?
Yes, with creativity and resourcefulness, you can achieve a stylish bedroom makeover on a budget. Consider DIY projects, online shopping, and second-hand finds to save money.
What are some tips for doing a bedroom makeover without spending too much?
Start by planning your budget and deciding where you want to invest the most. Save money by repurposing existing furniture, doing DIY projects, or shopping second-hand. Choose a timeless style that you won't get tired of, rather than following short-lived trends.
How can I incorporate my personal style into my bedroom?
Your bedroom should reflect your personality and taste. Start by identifying your personal style. Do you prefer a modern, minimalistic look or a cozy, rustic style? Once you've identified your style, choose colors, furniture, and decor items that reflect it. Don't be afraid to mix and match different elements to create a unique look. 
ADVERTISEMENT - CONTINUE READING BELOW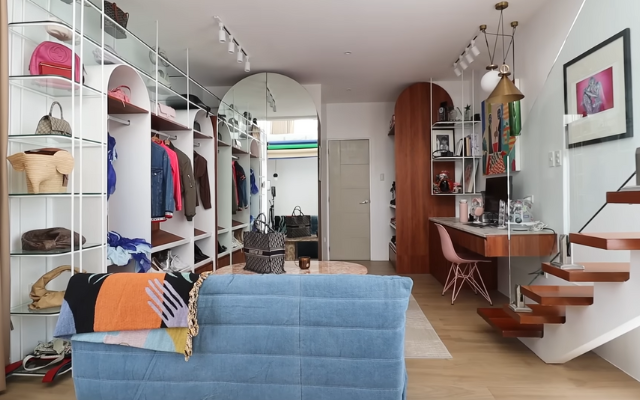 What are some key elements of a K-drama-inspired bedroom makeover?
It often features calming and airy vibes, with soft colors like salmon and white dominating the space.
What color schemes work best for a K-drama-inspired bedroom?
Soft and calming colors work best. Shades like salmon pink, beige, and white can create a calming and serene atmosphere. It's also common to see a mix of pastel colors in K-drama-inspired bedrooms.
ADVERTISEMENT - CONTINUE READING BELOW
How can I create a natural mid-century bedroom?
A natural mid-century bedroom often features a soothing color palette with natural elements and hidden storage nooks for functionality.
How can I maximize storage in a mid-century bedroom?
Use furniture pieces that double as storage, like beds with drawers underneath or nightstands with shelves. Incorporate hidden storage nooks wherever possible, such as in a headboard or a bench at the foot of the bed. Make use of vertical space by installing shelves on the walls.
What is a Scandinavian-style bedroom?
A Scandi-style bedroom makeover is characterized by simplicity, functionality, and a clean aesthetic. It often features white walls, minimal decor, and a mix of textures for coziness.
What are some affordable decor options for a Scandi-style bedroom?
DIY decor, thrift store finds, and minimalistic yet functional furniture pieces can be affordable options for a Scandi-style bedroom. You can also consider online marketplaces for second-hand furniture or decor.
ADVERTISEMENT - CONTINUE READING BELOW
Links are updated regularly and as much as possible but note that products can run out of stock, discounts can expire, and listed prices can change without prior notice.
For more discounts and deals, check out Real Living's exclusive vouchers.
More on Realliving.com.ph
Load More Stories