Makeovers
An Empty Condo Unit Transformed into a Scandinavian Dream
To turn the 40sqm space into a beautiful home, a young interior designer worked with neutral colors, small space ideas, and chic furniture pieces Photography: courtesy of the Designer Interior Designer: Claudine Medina
What's not to love about the Scandinavian-inspired aesthetic? It's easy on the eyes and you have the freedom to work with neutral colors, wooden touches, and furniture pieces with clean lines. For interior designer Claudine Medina, the Scandinavian theme proved to be a perfect choice for a rental unit. "It's modern, neutral, and not too costly to execute because there are plenty of Scandi and mid-century pieces available in the market," she says. Since the owner of this 40sqm studio unit plans to have the space rented out, Claudine knew that there's no room for a major construction and that the final look must be gender-neutral. "I was very inspired by modern Scandinavian apartments. They're clean and ultra-chic. I figured this would be a perfect theme and solution for the client's requirements for the unit," the designer adds.
After the makeover period, the unit became a picturesque space with Pinterest-worthy nooks. Beyond creating a space that's functional and homey, Claudine holds this achievement close to her heart as it's her first interior design project right after graduating from the Philippine School of Interior Design. "I'm passionate about transforming spaces, so to convert an almost empty unit into a Scandinavian-inspired home on my own and with the help of trusty workers and suppliers was a dream come true for me," she shares.
Open Layout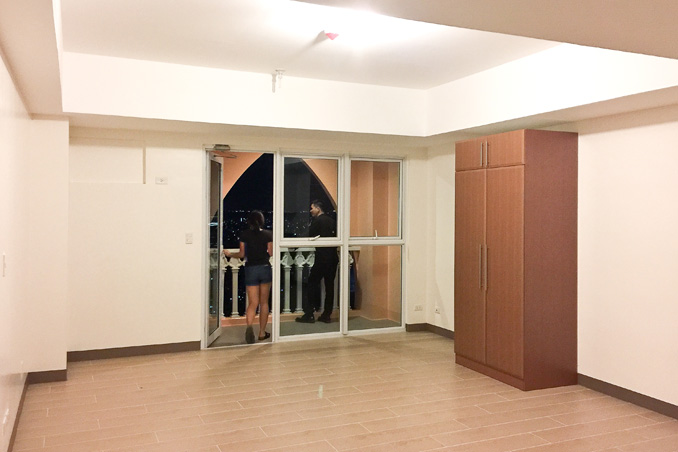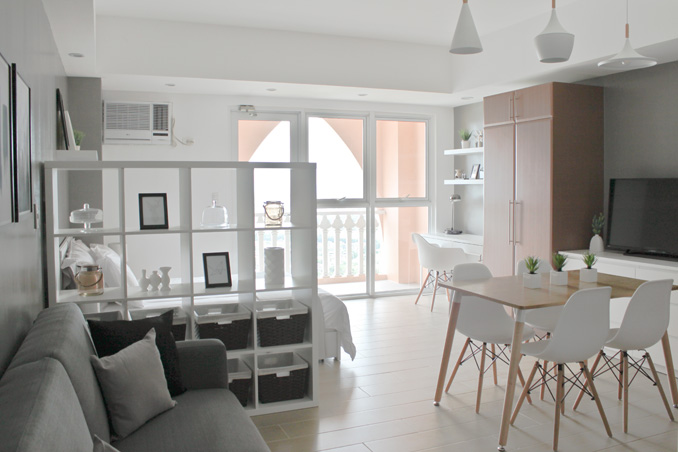 Given the 40sqm space, the designer chose an open layout to achieve a bright and spacious feel. There are no walls separating the living, dining, and kitchen areas from the sleeping space. Claudine used a bookcase to serve as divider/storage piece.
The unit's muted color palette adds to the cozy vibel. "To make it different, I painted the walls gray instead of the usual Scandinavian white. I believe grays can be used to create a clean, serene space," shares Claudine. Complementing the gray walls are light-colored furniture pieces and accessories.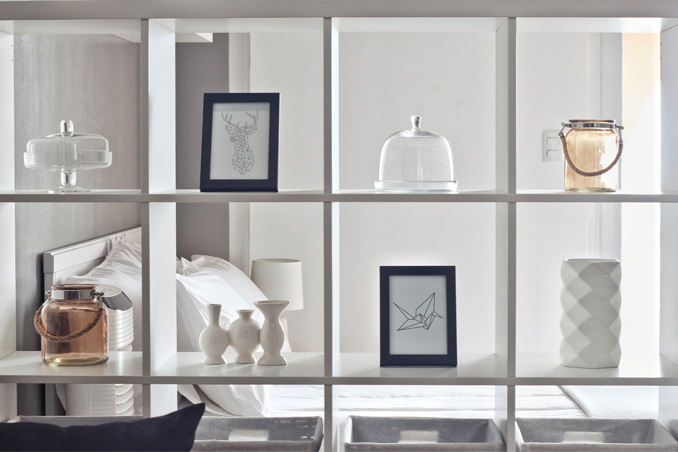 The bookcase may well be one of the unit's focal points. It gives the occupant some privacy without making the unit look cramped. "It's one of my favorite pieces in the unit because it's multifunctional," says the designer. Aside from using it to store books, it can also hold accessories and baskets used as extra storage.
Find a similar bookcase at SB Furniture. Shop for home accessories and frames at SM Home.
Living and Sleeping Areas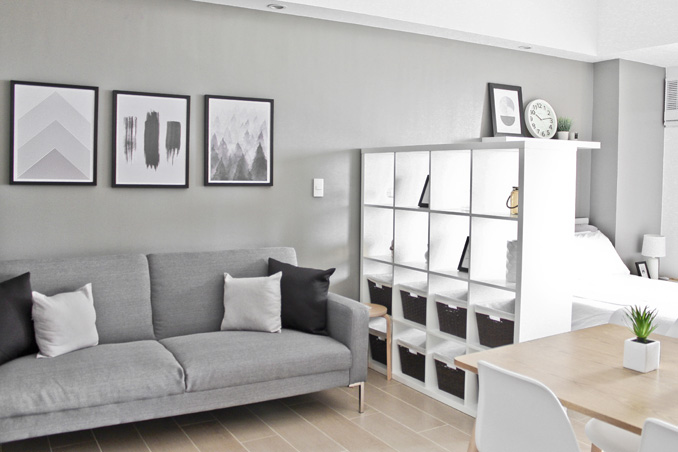 The mix of neutrals makes the unit even more relaxing. In the living area, Claudine placed a sofa bed and a wooden stool that can function as a side table and extra seating. "The sofa bed's fabric is polyester so it's easier to maintain than the usual fabrics," she shares.
Look closely at the bookcase and see how it's cleverly divided. The upper compartments are meant for décor and potted plants, while the lower niches hold the matching baskets.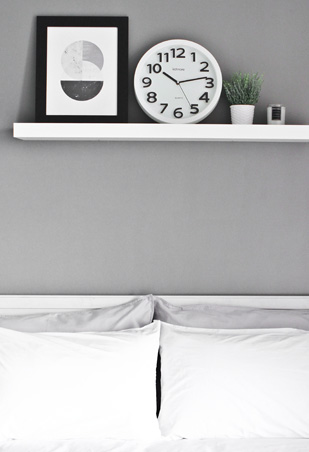 In completing the sleeping area, the designer chose a double size bed with hidden drawers for storage. "I furnished the bed with white and light gray beddings to achieve that clean Scandinavian feel. Instead of using a comforter, I used a duvet so that the occupant will only have to wash the duvet cover every week," Claudine shares.
Find a similar sofa bed at SM Home.
Dining and Work Areas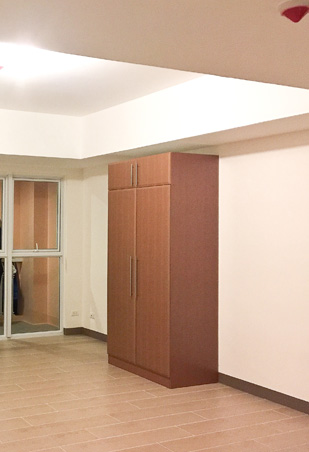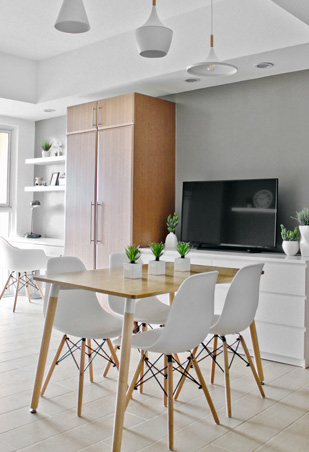 According to Claudine, the unit came with a laminated built-in wardrobe upon turnover. Since it would be costly to remove it, she had to incorporate it seamlessly into the final look. Fortunately, the cabinet blended well with the new colors and pieces.
"I placed the TV beside the cabinet so that all areas have easy access to it. I used an IKEA chest of drawers as a stand for the TV and additional storage as well," explains Claudine. To complete the dining area, the designer opted for plastic chairs as these are easier to clean in case of spills. "I decorated this area with mismatched Tom Dixon-inspired pendant lamps to break the symmetry and to add some character to the space," she adds.
Find similar chairs at EDIA. If you're looking for similar pendant lamps, visit Illumitech at MC Home Depot, Taguig City.
Work Area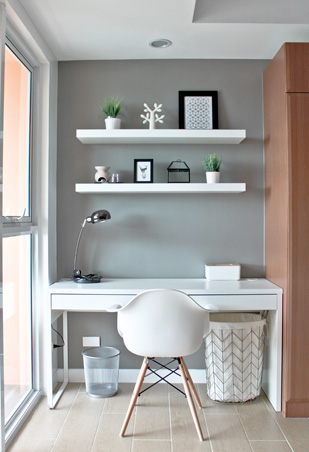 Claudine's favorite nook in the unit, the work area looks straight out of a Pinterest board. "This is the first thing you'll see from the bed so it has to be maaliwalas. I used white furniture and shelving units to achieve that. I filled the walls with floating shelves instead of ordinary picture frames for added storage and character," shares Claudine.
Floating or built-in shelves are functional accents you can add to your space. Aside from using these to display your collections, it can also hold catchalls for gadgets, bins, and other essentials to keep clutter at bay.
Ready for your own home makeover? Get in touch with interior designer Claudine Medina through email at claudinemedina[at]me.com or mobile number (0917) 830-0897.
More on Realliving.com.ph
A Studio Unit Makeover by a Real Living Reader
A Tiny Studio Unit Becomes A Hotel-Style Home
Load More Stories
---