Makeovers
6 Fantastic Small Space Makeovers
How can you deal with cramped cooking corners and tiny bedrooms? Let these transformations teach you a trick or two. Photography: Dairy Darilag (Before) and Kurt Alvarez/ACME Visual Productions (After) | Main Photo
When it comes to improving the different areas at home, many homeowners are quick to assume that it requires a huge amount of money. While the cost depends on the extent of work that needs to be done and the materials you wish to use, you can still turn bland spaces into inspired and functional nooks without draining your savings account.
To inspire you to take that first step toward an improved home, we've rounded up a few makeovers you can use as pegs. In these delightful transformations, the experts worked with paint, wallpaper, and smart furniture picks. With these essentials in their arsenal, they were able to turn areas that have seen better days into envy-worthy parts of the home.
A cool color palette can make a bedroom even more inviting.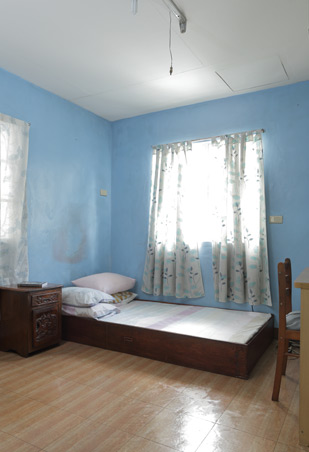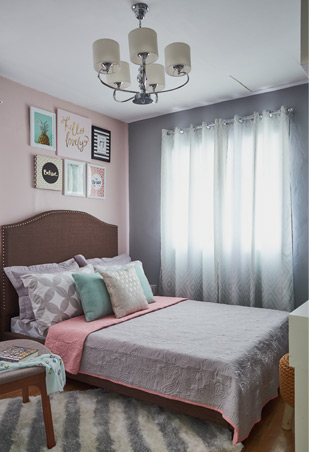 After a traumatic experience that left her bedroom plain and filled with salvaged furniture pieces, the owner was more than ready to turn the page and start anew. To create a functional space where she can relax and feel inspired, interior designer Vera Villarosa-Orila worked with cool colors like blue, gray, and blush pink. This combo makes the room calming and perfect for rest, too.
Since the room follows an irregular contour, the designer had to incorporate built-in storage pieces and even created a wall extension to make the most of the space. Pieces from Wilcon Depot completed the look, while the accent wall above the bed makes for a charming touch.
Click here to see the complete makeover.
Your chosen wallpaper can make a difference.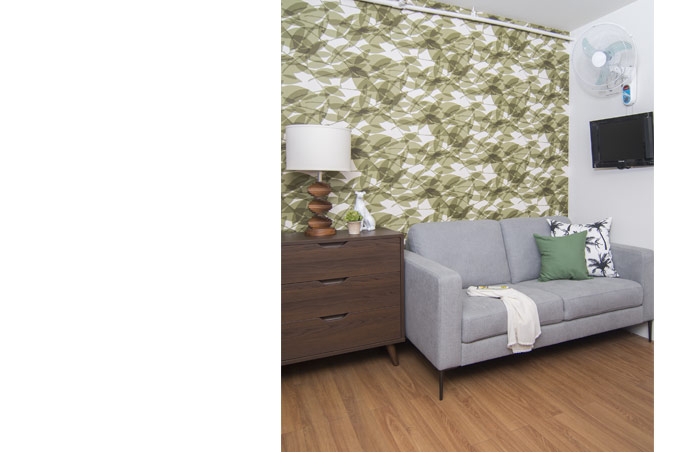 Given the limited area, it's a must to keep studio units neat and organized. For this makeover, interior designer Van Acuna-Solana addressed the clutter, lack of storage and an area for meals, and the tired vibe of the home. To give the owners and their guests a proper place for bonding, Van spruced up the living area with a three-seater sofa and enough storage pieces. Working with neutrals helped achieve the calm and minimalist look the owners wanted as well.
To keep the unit from being plain, Van used a refreshing wallpaper to define the living area. Working with wallpaper allows you to liven up plain walls with the color and pattern of your choice. The best part? You can easily change it when needed or if you're looking into having a new theme for your space. Studio Eleven has a wide array of products you can choose from.
Click here to see the complete makeover.
You can depend on unexpected storage solutions.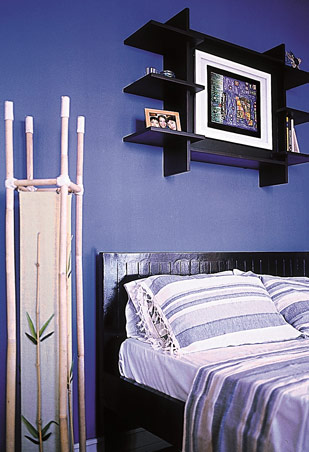 If you have a small bedroom, it's best to keep your things organized to prevent clutter from taking over every inch of space. A group of students transformed this cramped bedroom by opting for unique storage pieces and maximizing the shelves they added. Since the owner has a lot of things to keep in place, baskets were utilized to properly segregate her belongings. The new wall-mounted shelves help her put a few dear pieces on display, too.
Notice the color change? While you can play it safe with neutrals and light colors, experimenting with darker shades can add a punch of personality to your space. For this bedroom, the design team chose periwinkle blue, a color that adds depth and a soothing feel to the space.
Click here to see the complete makeover.
Invest in accessories.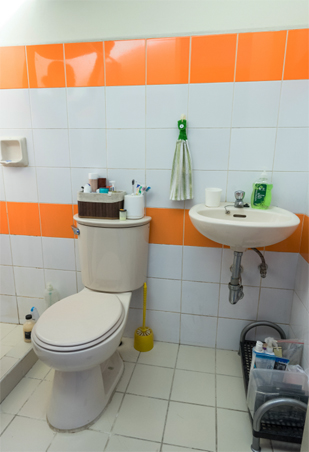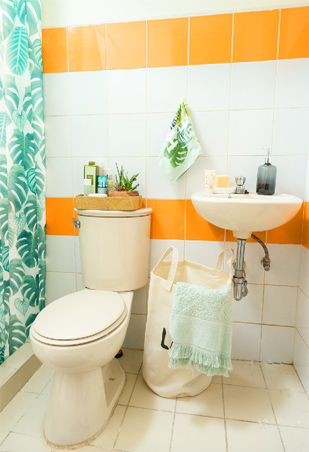 Believe it or not, tiny changes—may it be a new potted plant, a tray of scented candles, or even a cute shower curtain in the bathroom—can give refresh a space. Take your cue from this mini makeover done by interior designer Tala Singson. With a budget of P5,000, she was able to transform a drab and dark T&B into a bright and tropical-inspired loo.
Tala chose a sophisticated color scheme highlighting white, green, and beige. She also grouped the essentials in one catchall, then transferred the toiletries into pretty containers. By simply bringing in a new bathmat and a hamper, the designer was able to achieve a space the homeowners would love to use.
Click here to see the complete makeover.
Maximize every inch of space.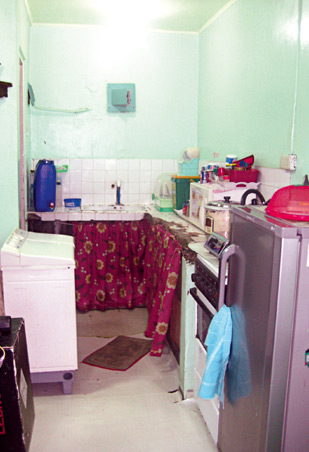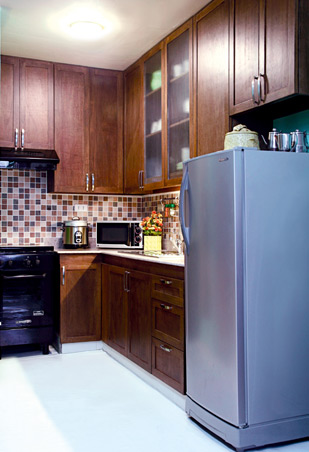 No one wants to prep meals in a messy corner with broken tiles and unsafe electricial connections. For one of Good Housekeeping's most inspiring makeovers, architect Mia Quimpo turned a cluttered cooking corner into a country-inspired kitchen. By opting for an open, free-flowing layout, Mia was able to define the different areas on the ground floor, while allotting enough space for the kitchen.
Since storage is important in the cooking area, cabinets were incorporated into the final look while a stunning backsplash adds a luxe feel. Mia also prioritized safety by making sure there are enough outlets installed to accommodate the appliances. With this new look, the homeowner doesn't need to use the dining area as extra prep space when cooking.
Click here to see the complete makeover.
Maximize natural light and declutter regularly.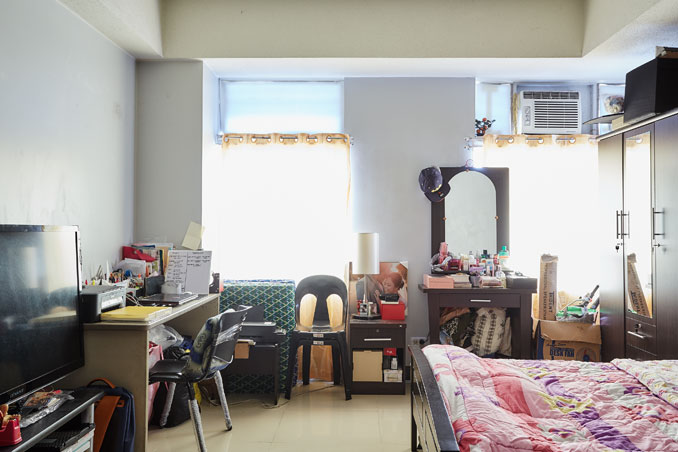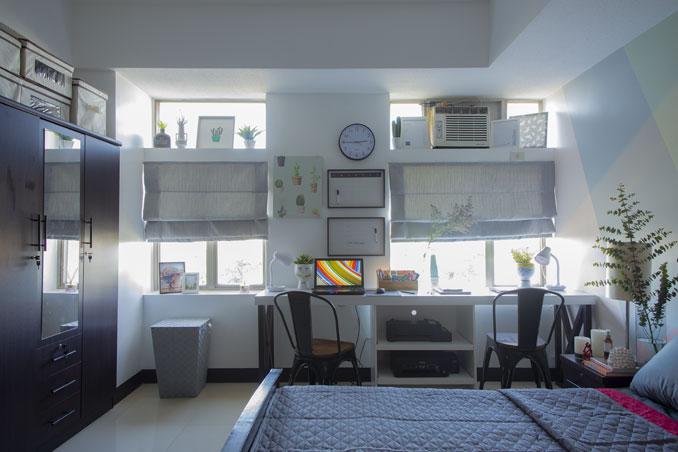 While the unit is small, the big windows let in natural light that keeps it bright and inviting. With the use of pastel colors, interior designer Nikki Audine was able to create a charming and homey space the owners will love. By carefully studying the unit's layout, the designer was also able to allot space for a relaxing sleeping area, enough storage, and a place where the couple can work.
To make small spaces work, Nikki notes the importance of decluttering and letting go of items you no longer need. By donating some of your essentials or discarding pieces that are beyond repair, you get to make space for things that matter.
More on Realliving.com.ph
Your P2,000 Budget Can Afford A Mini Makeover
Load More Stories
---