Travel
7 Beautiful & Peaceful Staycation Spots in Tagaytay
From cozy B&Bs to luxurious hotels, we give you a roundup of some of the best places to stay in for your next trip to this vibrant city Photography: Narra Hill on Facebook (Main Photo)
Tagaytay has always been a popular vacation spot because it offers a plethora of serene getaways and a quick and easy respite from the busyness of the city. If you're planning on spending a couple of relaxing days off in Tagaytay, here are some spots you might want to visit.
The Stay at PLANT
Sometimes, you just want to get away from the noise of the city. If you're looking for a relaxing retreat, The Stay at PLANT is the perfect place for you. This incredibly private property offers rustic country-style accommodations perfect for couples or solo travellers, as well as access to serene amenities such as a garden, a breakfast nook, and a patio. You can also feast on healthy, plant-based dishes in their in-house restaurant.
Location: Vito Belarmino St., Brgy. Bucal, Tagaytay City
Learn more about The Stay at PLANT here.
Joaquin's Bed and Breakfast
Have you every fantasized about living in the country and waking up to a view of mountains and pine trees? This B&B will let you live out that fantasy. Its rustic, country-chic interiors, oversized beds, and weathered-looking furniture pieces will truly make you feel like you're in a charming cottage deep in the forest.
Location: KM 58 Aguinaldo Highway, Tagaytay City
Learn more about Joaquin's Bed and Breakfast here.
Pura Vida Rooms & Villas
Taking its name from the Spanish phrase that means "pure life," Pura Vida Rooms & Villas will truly provide a pure, laid-back stay in Tagaytay. Here, there's plenty of space to unwind with the people you love most, while basking in a breathtaking view of the world-famous Taal Volcano and Lake, as well as the Batangas Forest.
ADVERTISEMENT - CONTINUE READING BELOW
Location: 5795 Sampaguita St., Lakeview Subdivision, Crossing Mendez, Tagaytay
Learn more about Pura Vida Rooms & Villas here.
T House Tagaytay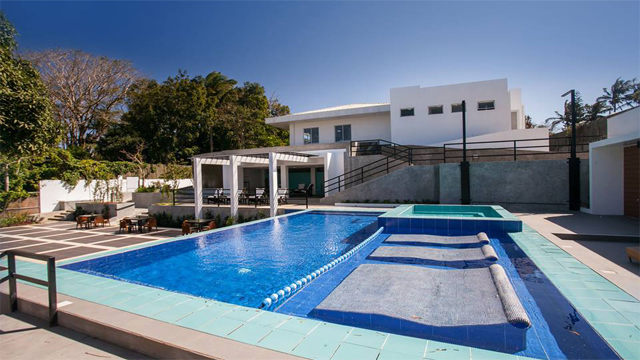 If you want to use your time in Tagaytay to be one with nature, take a trip to T House Tagaytay. With its clean architecture, spa and saltwater pool, and abundance of greenery, every moment here will make the stress of daily life melt away.
Location: 3195 Calamba Road, Tagaytay City
Learn more about T House Tagaytay here.
Narra Hill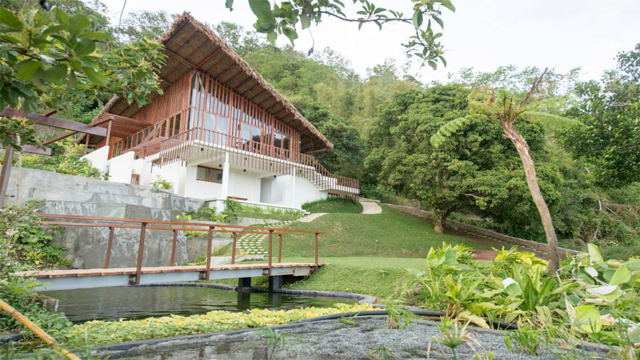 ADVERTISEMENT - CONTINUE READING BELOW
You may have already heard of Narra Hill as a wedding destination, but did you know that it also operates as a bed and breakfast? The rooms in this B&B are made of natural materials like bamboo and nipa, and the rooms boast of enormous glass windows that offer an unobstructed view of Taal Lake, as well as the verdant greenery outside.
Location: 4123 Laurel, Batangas
Learn more about Narra Hill here.
The Carmelence View
Another luxurious staycation spot Tagaytay has to offer is The Carmelence View, which features a contemporary Filipino design style, cutting-edge amenities, and a stunning view not just of Taal Volcano and Lake but also of Makiling, Makulot, and Banahaw mountains. It is only a short distance away from popular tourist spots like Sky Ranch and Orlina Museum.
Location: 117 Villa Carmelence 2, Maharlika West, Tagaytay City
Learn more about The Carmelence View here.
Anya Resort Tagaytay
When you feel tired after working so much, it's great to just escape to a place that will help replenish your energy—just like Anya Resort. This tropical-themed vacation spot, with its relaxing color scheme, well-appointed facilities, and rich greenery, will definitely provide the perfect backdrop to your restful getaway—and supply the energy you'll need when you go home.
Location: Buenavista Hills Road, Brgy. Mag-asawang Ilat, Tagaytay City
Learn more about Anya Resort Tagaytay here.
More on Realliving.com.ph
Load More Stories
---