Travel
10 Scenic Restos Near Manila Worth the Drive
Picturesque views and great food worth the long drive. It's that time again—that time when many of us city-slickers start to feel that itch to drive out and stretch our legs in scenic Anywhere But Here. And while that latter half will never not sound good with the cramped little lives we live, it's often the driving that conjures up headaches prior to getting to your destination—the rain before the rainbow, if you will. The harsh truth is there's not much we can tell you to do about, well, infrastructure, but what we can tell you is where to go so the trip—whatever its duration—at least feels worth it.
Also read: You Can Book This 84sqm Glass Cabin in Batangas For Your Next Vacation
Looking for a restaurant with a view near Manila? Drive out to these dining spots:
Casa Marikit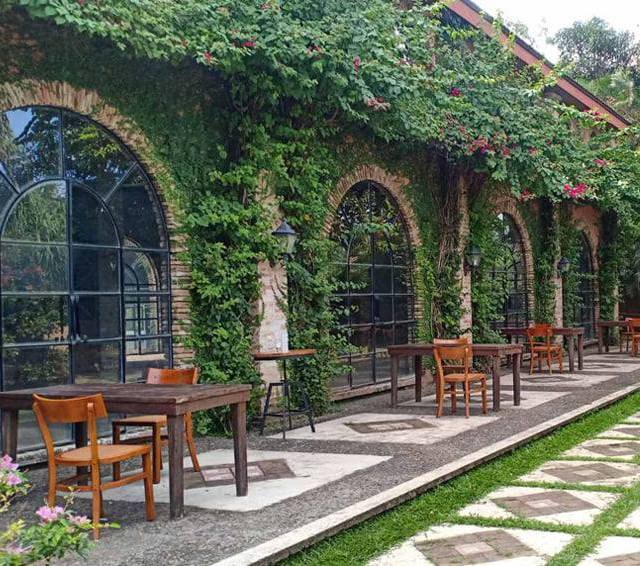 PHOTO BY Facebook/Casa Marikit Ristorante Italiano
ADVERTISEMENT - CONTINUE READING BELOW
Finding a higher-end Italian restaurant in the middle of Lipa is one thing, but knowing that it's considered an old favorite—a go-to for locals and local-adjacents for weddings and the like since 2011—is another mental trip altogether. The gorgeous garden isn't the only draw, though. It's a whole atmosphere, inside and out; pretty much an entirely different world once you step through the gate, complete with terra cotta and wine storage and sunshine through the trees. But all that doesn't outshine the food, or vice versa.
Casa Marikit is at Banay Banay, Lipa City.
Farmer's Table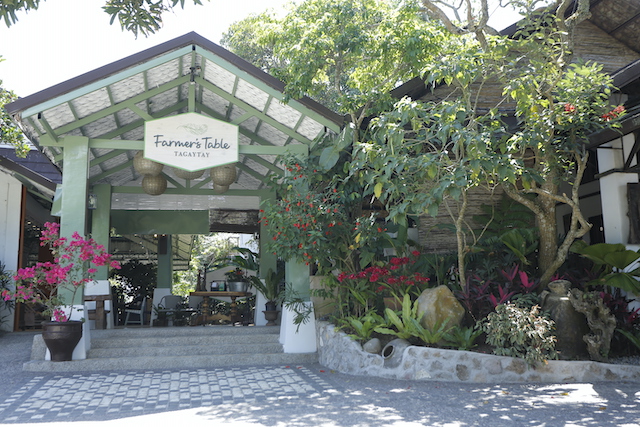 PHOTO BY Farmer's Table
Divided up into three sections—the Boutique Market, the Artisanal Bakery, and the Al Fresco Garden Bistro—Farmer's Table is a destination to take your time in, more so than your Tagaytay stopovers of old were. The place itself is far from difficult on the eyes, but the main visual attraction is their own garden, where you might occasionally see someone from the kitchen run out and gather fresh ingredients. It's not the lake, but it is a sight to fully soak in.
Farmer's Table is at Nurture Wellness Village, Pulong Sagingan, Barangay Maitim II, Tagaytay, Cavite.
Prism Restaurant Café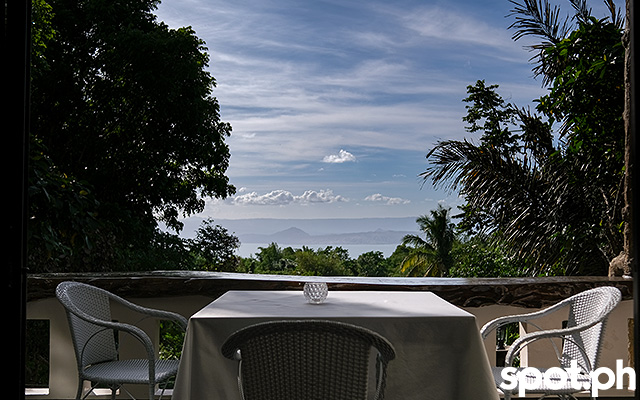 PHOTO BY Majoy Siason/SPOT.PH ARCHIVES
ADVERTISEMENT - CONTINUE READING BELOW
Look; if Taal Lake is what you want, then it's the lake you'll get. The view from Prism is basically a postcard from dawn 'til dusk, and even after the sun has set, the garden has such romantic lighting that it's hard to leave the place. And as we all know, great atmosphere can be ruined by subpar food or service, but you'd be hard-pressed to be in danger of that here. This place isn't quite a year old yet (at time of writing), but we feel it's safe to say that Prism is a must-try and must-repeat gem of Batangas.
Prism Restaurant Café is at El Madero Farm and Resort, Bagong Pook, Lipa City, Batangas.
Takao Studios Coffee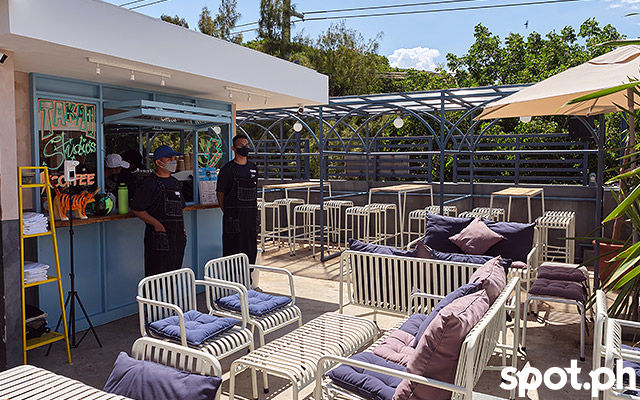 PHOTO BY Hans Fausto/SPOT.PH ARCHIVES
ADVERTISEMENT - CONTINUE READING BELOW
Takao Studios Coffee lives on the rooftop of Cabins by Eco Hotel, along Nasugbu Highway. On a map, it doesn't look like it should have a glorious view of the lake, but it does, and that's not even the best part. Some places on this list balance the benefit of the visuals with that of the menu, but the thing about Takao Studios is that the different elements almost violently pull you every which way—look at the volcano, dig into your udon, breathe in that fresh air, sip your latte, like what do you do first? But it's the sort of confusion we'd be happy to live with.
Takao Studios Coffee is at Cabins by Eco Hotel, Tagaytay-Nasugbu Highway, Silang Junction South, Tagaytay City, Cavite.
Via Von Joy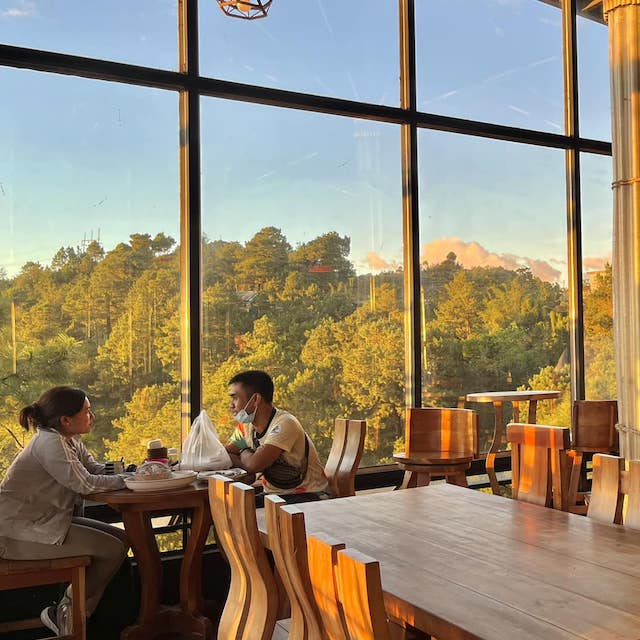 PHOTO BY Facebook/Via Von Joy Restaurant & Cafe
ADVERTISEMENT - CONTINUE READING BELOW
Humble though its exterior may be, you get your own humbling when you look through the glass and steel and into the sun-drenched forests–or, at night, the twinkling Baguio city lights. Whether the goal is romance or soul-searching, there's room for everyone thanks to their recently renovated (extended!) viewing deck that really shows off those mountain ridges and puts things in perspective. If you haven't already been, Ambuklao Road awaits.
Via Von Joy is on Ambuklao Road, Sabkil, Loacan, Itogon, Benguet, Baguio City.
Gourmet Farms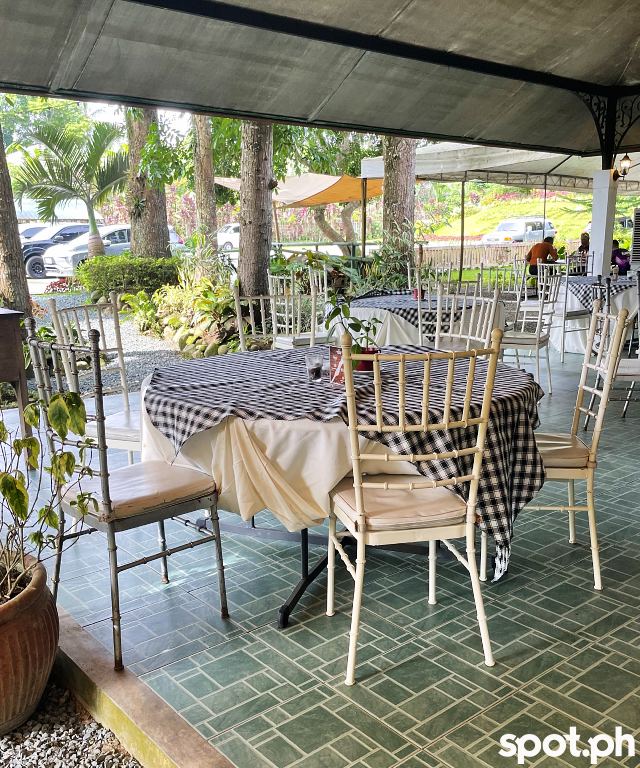 PHOTO BY Patricia Baes
ADVERTISEMENT - CONTINUE READING BELOW
From a 12-hectare farm established in 1987 to your grocery shelves, Gourmet Farms is no newbie to Manila consumers, but their al fresco concept is something to behold. More than being surrounded by nature, exploring the grounds gives you a much better picture of where your food comes from—it sounds a little hokey, but it does add to the experience, and you leave with a greater appreciation for your food and the people who work to put it on the table. We could all use a little bit of that.

The Dining Room at Gourmet Farms is located at Gourmet Farms, KM 52 Aguinaldo Highway, Silang, Cavite.
Mrs. Saldo's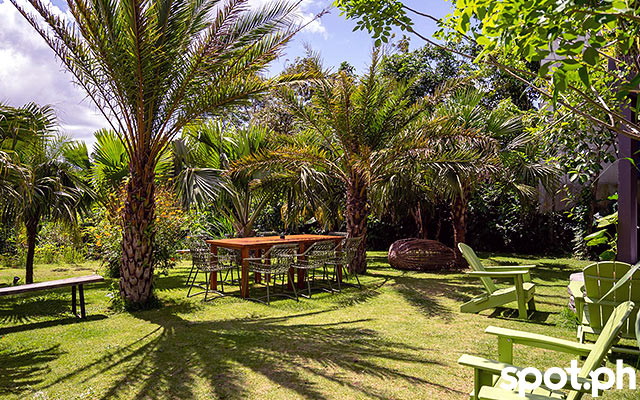 PHOTO BY Toto Labrador/SPOT.PH ARCHIVES
ADVERTISEMENT - CONTINUE READING BELOW
It's rare that creative visions turn out the way one hopes, but the satisfaction of seeing a lifetime of passion and study pay off beautifully is truly something else. But that's not the only thing you get to feast your eyes on at Mrs Saldo's; indoors and outdoors, this Cavite hotspot is gorgeous, which is great because you get to take your pick of just how outdoors-y you want to be. From the trellis-shaded walkway to the spillover seating, there are a million things to ooh and ahh at, not the least of which is the food.
Mrs. Saldo's is at Barangay Malabag, Silang, Cavite.
Samira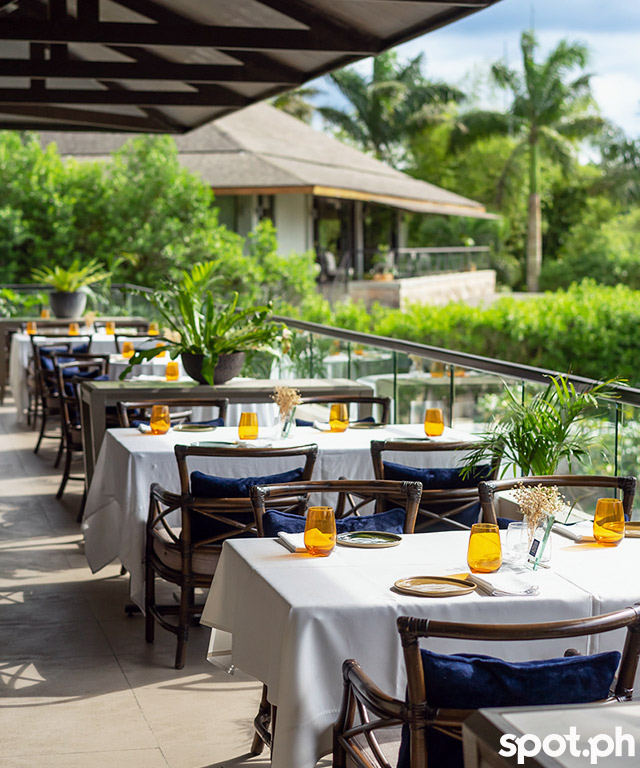 PHOTO BY Toto Labrador/SPOT.PH ARCHIVES
ADVERTISEMENT - CONTINUE READING BELOW
It's weird to say, "Chef Chele Gonzalez does it again," but that is the truth with Samira. The interiors—as usual—take inspiration from wherever the chef sees fit, while also fitting in with the rest of Anya Resort. The menu matches the thoughtful landscaping, which is nothing short of breathtaking, especially for first-timers. But the experience is always worth a repeat and the drive.
Samira is at G/F Anya Resort, Buenavista Hills Road, Barangay Mag-Asawang Ilat, Tagaytay City, Cavite.
Silang House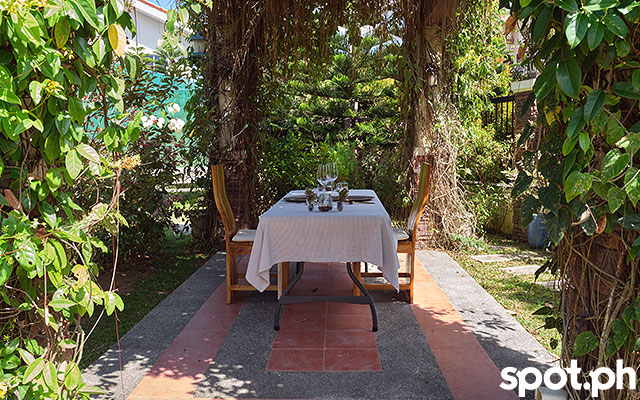 PHOTO BY Hans Fausto/SPOT.PH ARCHIVES
ADVERTISEMENT - CONTINUE READING BELOW
So we've loved a lot of fine-dining places this year, big deal. Like the road trips you'll be taking, it's an occasional treat, and we might as well diversify the options. What we love about Silang House (formerly Sa May Silang) is that its field-to-table, out-of-town nature forces us to be thoughtful about what we're enjoying, even as we're enjoying it. Here in particular, we're focused on getting to the destination, sitting down, and being in the moment; the layout of lush greenery and the careful plating all facilitate these acts of mindfulness. And in the end, we don't seek out beauty for beauty's sake, but for how it makes us think and feel and observe the world around us; Silang House certainly does not come up short on that front.
Silang House is at Tagaytay Road, Silang, Cavite.
Tatung's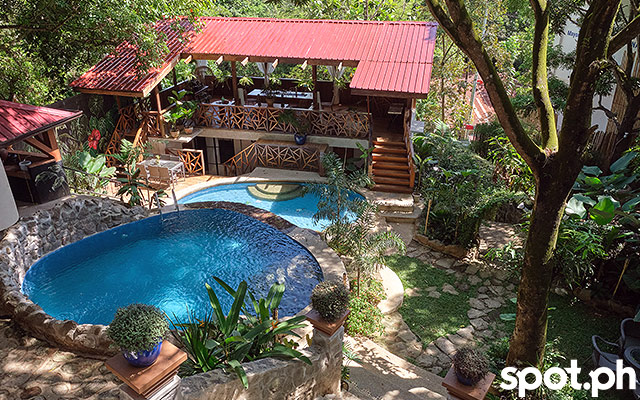 PHOTO BY Hans Fausto/SPOT.PH ARCHIVES
ADVERTISEMENT - CONTINUE READING BELOW
We can all relate to Chef Mike Tatung a little bit—with the work-from-home or hybrid work setup, our homes feel like our offices, and it can get a tad stifling. Getaways are a necessity, and don't let any workaholic (even yourself) tell you otherwise. And yet, here comes the chef, bringing his work on vacation… but we're here for it. His eponymous concept in Antipolo also takes the private dining route, complete with water features, upcycled materials, and of course that serenity that so many of us chase when we make the drive up to this area. And it truly is a home away from home, with the menu being proudly, unapologetically local.
Tatung's is in Antipolo, Rizal.
Hey, Spotters! Check us out on Viber to join our Community and subscribe to our Chatbot.
This story originally appeared on Spot.ph.
* Minor edits have been made by the Realliving.com.ph editors.
ADVERTISEMENT - CONTINUE READING BELOW
More on Realliving.com.ph
Load More Stories