Lifestyle
Get Premium Views of Breathtaking Sunsets at This El Nido Hotel Lime Hotel and Resorts El Nido
Sitio Lugadia, Barangay Corong Corong, El Nido, Palawan
Rates start at P6,500. May vary during peak dates.
At a Glance

Room: You can have the sea or the mountain as a morning view depending on what you book.
Food and drink: They have their own restaurant and a rooftop bar. If you want more variety, there are several dining outlets around the corner.
Staff: Kind and accommodating. They might greet you with lime juice upon arrival, aptly enough.
Why you should stay: You get sublime views from their Sky Lounge. Pictures can't do it justice but you might as well try to capture the moment.
Depending on where you live in the Metro, chances are you wake up to well, shall we say, lackluster views. If you live in the highly urban areas, like a central business district, you most probably wake up to views of tall buildings or your neighborhood's off-putting electrical wirings. Granted, you'd have to actually take the time to look outside your window because you swear all your eyes bore into now are your screens for work, work, and more work. We say take a breather; get a 360-degree shift of scenery, preferably one with breathtaking island views—kind of like what you can get at Lime Hotel and Resorts in El Nido, Palawan. Yep, on one of the best islands in the world, no less.
Here's everything you need to know about Lime Resorts and Hotel in El Nido: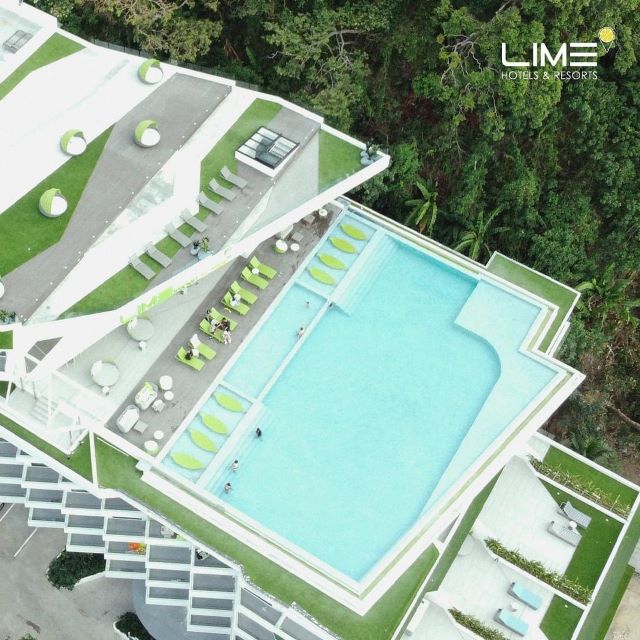 PHOTO BY Lime Hotel and Resorts
ADVERTISEMENT - CONTINUE READING BELOW
The ride to Lime Hotel and Resorts from Lio Airport is a short one. It's hard to miss the huge establishment; it might be relatively easier to miss its green and yellow sign upon entering the corner if you don't pay attention in the morning, but it sure does make itself known at night. The resort stands not by the road, but by the shore. Lime Hotel and Resorts has rooms divided into four types: Superior Room, Deluxe Room, Junior Suite, Premiere Suite, Sky Suite, and Sky Villa. Rooms are good for two persons.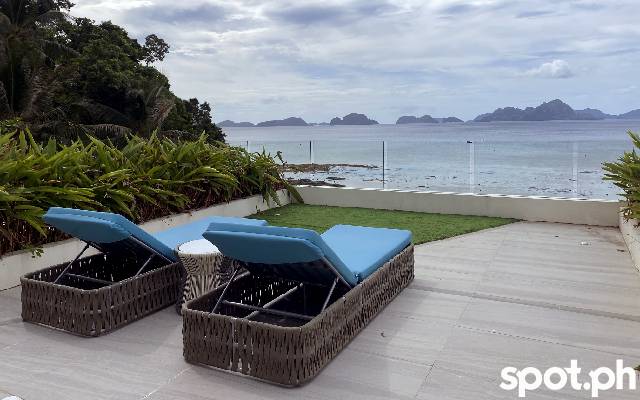 Sun bathe on Sky Suite's balcony with a sprawling view of the sea. You can even do yoga sessions here. PHOTO BY Louise Lizan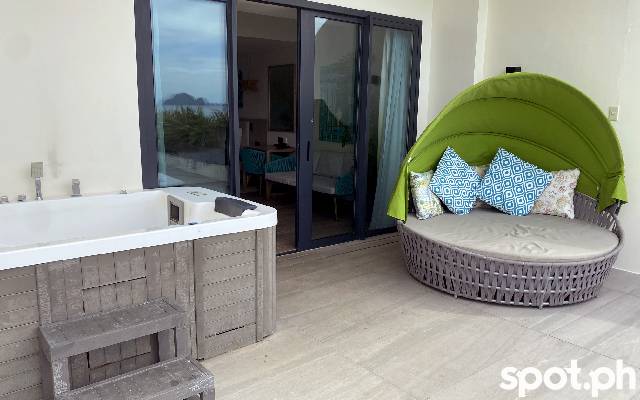 Sky Suite's jacuzzi. PHOTO BY Louise Lizan
If you want that stunning sea view plus a few islands on the horizon, book the ones with the balconies a.k.a the last three options. The Sky Suite and Sky Villa, in particular, have spacious balconies with sunbeds and jacuzzis if you want to relax or take a dip more privately. If you want bathtubs (because who doesn't?) in your lodging, we suggest the Junior and Premiere suites. All rooms have a mini coffee and tea nook, and are complete with essentials like soaps, towels, et cetera.
We got to have the best of both worlds in the Premiere Suite. Imagine lounging in the bathtub with a view. Chill vibes only.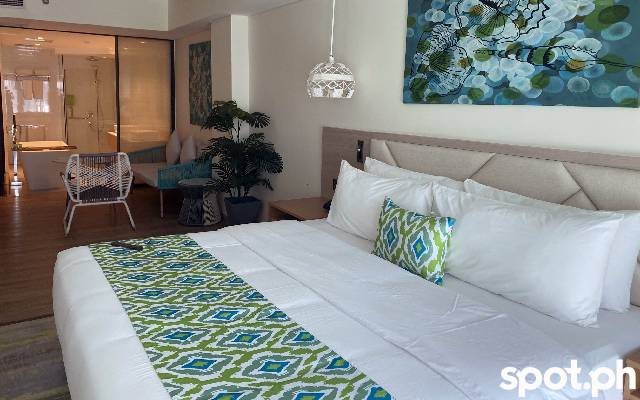 You wouldn't want to get out of this ultra-comfortable bed. PHOTO BY Louise Lizan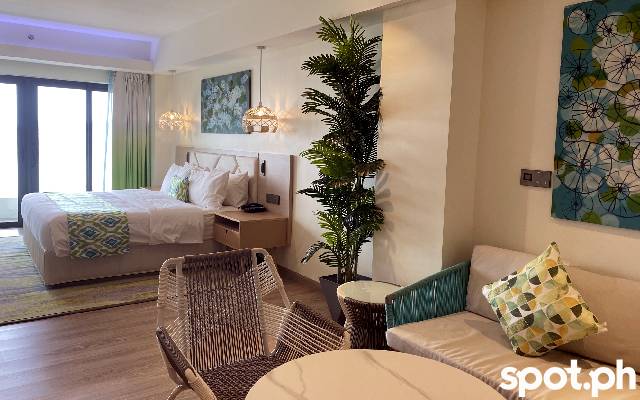 Said bed is located just beside the glass door. You're blessed with a beautiful sea view every waking morning. PHOTO BY Louise Lizan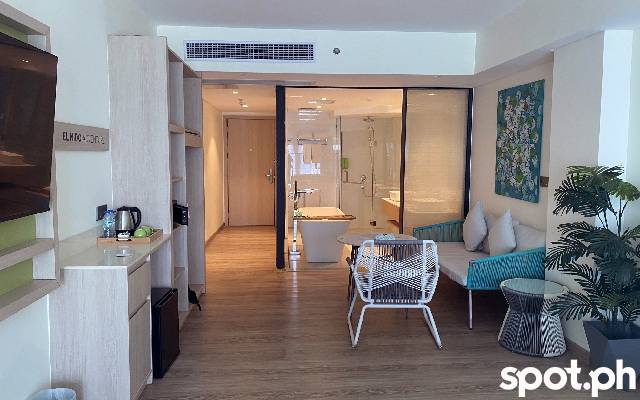 It's true when we said you can soak in the bathtub while enjoying the view. You can just leave the sliding doors open. PHOTO BY Louise Lizan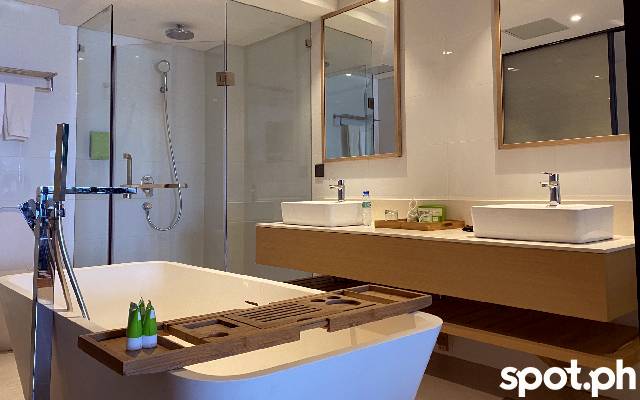 Run a nice, hot bath on this tub. PHOTO BY Louise Lizan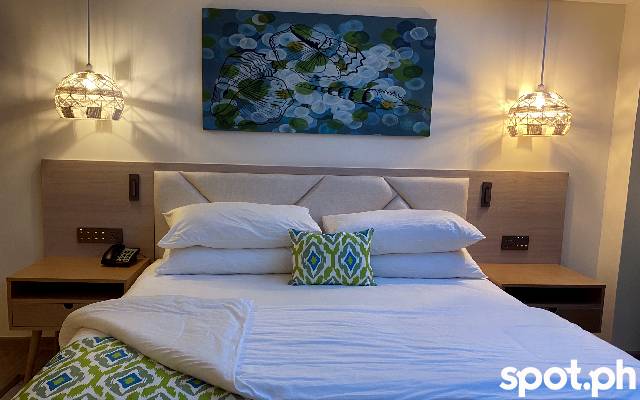 Bury yourself in pillows. You can also easily choose a mode for the room lighting. PHOTO BY Louise Lizan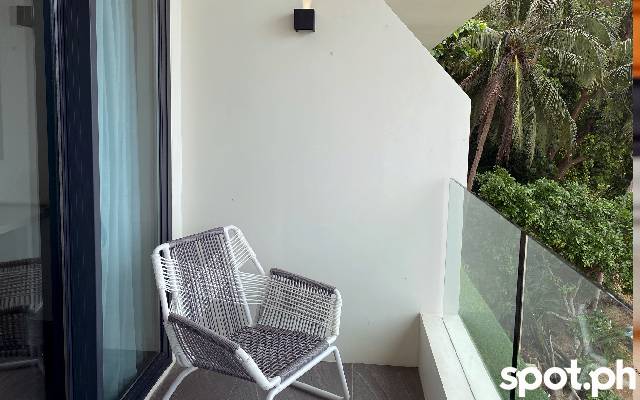 Have your morning coffee, or, you know, just inhale the salty sea breeze on the veranda. PHOTO BY Louise Lizan

The morning and evening views from the Premiere Suite. PHOTO BY Louise Lizan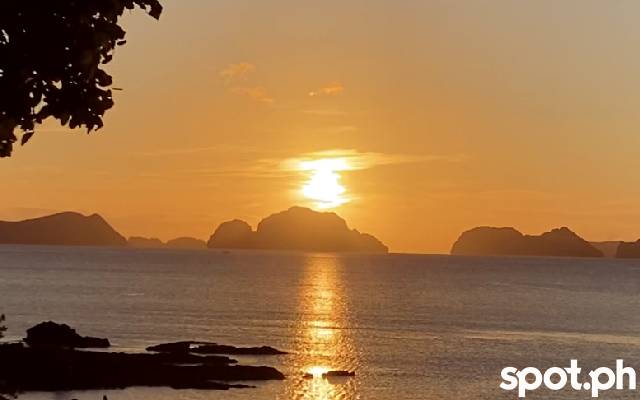 PHOTO BY Louise Lizan
ADVERTISEMENT - CONTINUE READING BELOW
As for the amenities, the Sky Lounge tops the cake—and it's most definitely because of the infinity pool situated so that it looks like its stretching out into the sea. You can have a beautiful, IG-worthy backdrop while you plunge or swim laps in the pool. Or, you know, you can just marvel in the beauty of the sunset (and nature) while you soak in the rooftop pool. We said it's by the shore, and it is. You can get down via a shortcut just a short walk from the hotel. They don't have direct access to it yet, but they will soon, they tell us.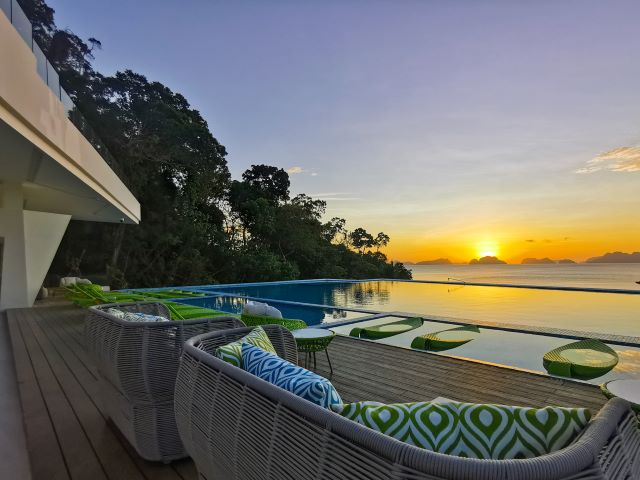 Located on the seventh floor is the Sky Lounge. PHOTO BY Lime Hotel and Resorts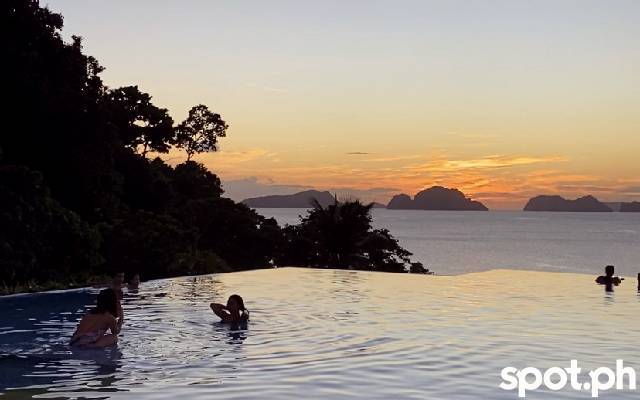 You don't get to swim with this view every day. PHOTO BY Louise Lizan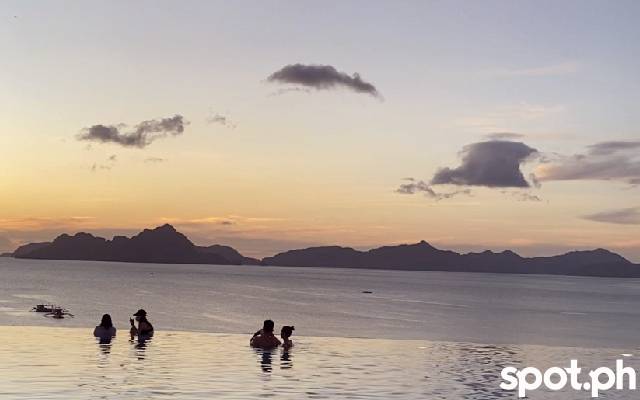 The view from the Sky Lounge as the sun is setting from the horizon. PHOTO BY Louise Lizan
Where to eat
The restaurant is just a few steps from the hotel's entrance on the ground floor and is where you can head to for breakfast buffet. You can also go seven floors up to the rooftop bar, which serves great pizza and pastas, if you not only want to feast on food but on sights, too from 11 a.m. to 9 p.m. daily. If you're up for a walking exercise, there are other places around the hotel's corner where you can settle in: Blue Mango for when you're in the mood for Mediterranean-Asian cuisine or do some catching up in-between great bites and cocktails at Chica Chica.
ADVERTISEMENT - CONTINUE READING BELOW
What to do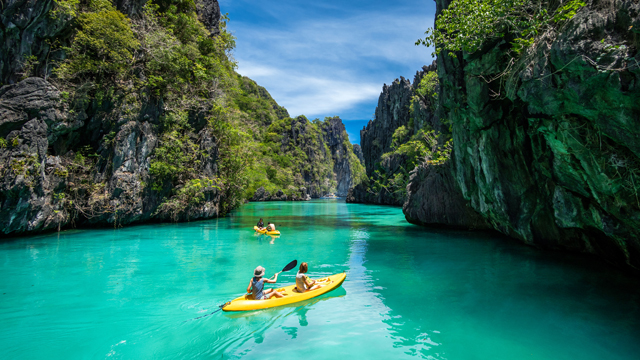 You won't get tired of seeing the beautiful El Nido again and again. PHOTO BY Shutterstock
Come on, we're talking about El Nido here—home to stunning, white-sand beaches, one-of-a-kind lagoons, snorkeling spots, and we could go on and on—so we can't get enough of it. Island hopping should be the first thing on your to-do list. It takes a whole day to explore four to five sites, so you have to choose which highlights to visit. Or if you have the means to do it all, why not? You can go kayaking in the Small and Big Lagoon; bury your toes in Nacpan beach, or enjoy fresh coconut juice in the Seven Commandos.
If you're into some thrilling adventures, as if being in the middle of the sea isn't, you can challenge yourself on the Canopy Walk. They say cross the bridge when you get there, but can you really when it's a 75-meter bridge suspended 30 meters above the ground? The sweaty hands and feet will be worth it once you get to the top, though. If both activities aren't your cup of tea, you could always just drive to town and enjoy yourself looking through souvenir items—maybe even get a tattoo—and cafe-hop. There's Kalye Artisano, which is also a short drive away from the resort and the airport, too.
Lime Hotel and Resorts is located at Sitio Lugadia, Brgy, Barangay Corong Corong, El Nido, Palawan. Rates start at P6,500. May vary during peak dates. For more information, check out their website.
This story originally appeared on Spot.ph.
* Minor edits have been made by the Realliving.com.ph editors.
More on Realliving.com.ph
Load More Stories