Arts & Culture
Catch a Glimpse of Negrense Design Flair at the 32nd Negros Trade Fair
Don't wait until these furniture and decor finds run out Photography: Negros Trade Fair | From the exhibitors
The Negros Trade Fair is one of the events we look forward to each year. Since 1985, the Negros Trade Fair has consistently—and successfully—showcased the ingenuity of Negrenses by putting on display the best of Negros products and services from the Association of Negros Producers.
This year's theme, "Food for Thought," is telling of what you can expect: booths where you can savor, experience, and taste the authentic flavors of the island. Of course, the trade fair also features furniture, décor, and houseware items, among others. So mark your calendars for September 27 to October 1, 2017 and head to the Glorietta Activity Center in Makati for some shopping.
Here's a rundown of what you should keep an eye out for:
Art Energy
This entertainment console from Art Energy is reminiscent of wooden TV cabinets from the 1960s, giving any living room a retro vibe.
Artisana
These dainty garden sticks were made by combining ceramics and handmade woven natural fibers such as pandan and nito. Also available in standout designs are napkin holders, salt and pepper shakers, and baskets, among others.
Golden Arts and Furnishings
Artisanal pieces smartly designed to be durable and functional are always a must-have, such as this table with a glossy laminated top, as well as these serving tray and coasters made from indigenous materials.
Hacienda Crafts
This "envirosocial" design company utilizes indigenous and natural materials to craft furniture and accessories, such as this imprint hanging lamp, turning each of them into a masterpiece.
Handmade by Princy
Nature-themed floral collection paintings are showcased in these resin art pieces.
Martinex Art Haus
This decorative hand sculpted artwork by Bacolod-based artist Rodney Martinez is inspired by his spirituality and emotions. He combines resin and wood to make the pieces more durable.
MJD Handicrafts
These handcrafted and painted leather wine holder and coasters are sure conversation starters when you entertain at home.
Momsie's
Classic, elegant tassles made in Dumaguete City come with ceramic accents and wooden beads. These are 100 percent handmade.
Noah
This bookend is among many gifts, décor, and houseware items from the Negros Oriental Arts and Heritage or NOAH, which crafts these from beautiful stones or gems found on the island.
Negrense Volunteers for Change (NVC) Foundation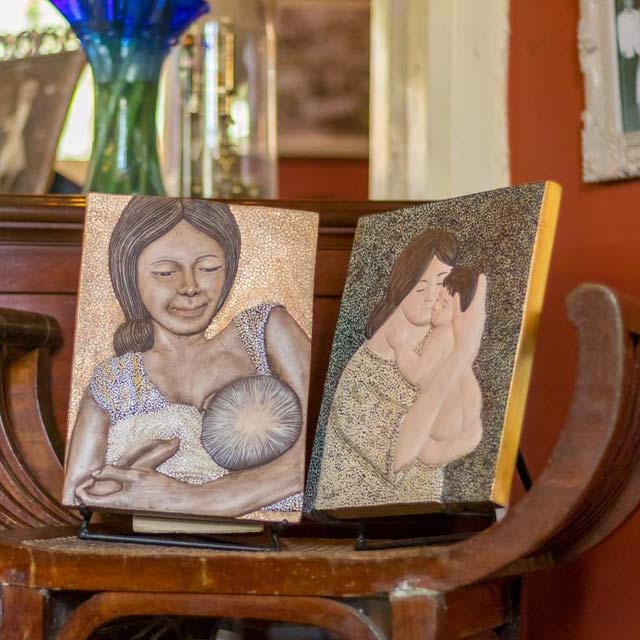 Eggshells are used to create mosaics for various pieces such as a tabletop and this mother and child artwork. These are products of NVC's livelihood programs in various parts of the country.
Saturn Arts & Crafts
These woven bread baskets are made with pandan leaves, adding an organic feel to your breakfast setting.
Silay Export
Using cogon grass, natural leaves like mango and fern, as well as rattan and resin, this company produces lovely homeware items such as trays, wine coolers, bread baskets, cheese trays, plates, and ice buckets.
Tumandok
The craftsmanship in this mother and child wall décor and golden coco twig mirror frame is inspired by the country's heritage. Bamboo, nito vine, and banana bark are among the native materials used.
Yssa's Crafts
The bottles are actually medicine bottles that were flattened and strung together to form chimes. You'd be amazed to know that other bottles are transformed into beautiful cheeseboards, candleholders, and vases, among others.
Domesticity
Part of the proceeds from these functional and decorative appetizer tray and ceramic bowl benefits a Gawad Kalinga community in San Carlos, Negros Occidental.
Don't miss the 32nd Negros Trade Fair at the Glorietta Activity Center from September 27 to October 1, 2017. For more details, follow The Negros Trade Fair on Facebook.
More on Realliving.com.ph
11 Eclectic Filipino Furniture and Accessories Starting at P300
Load More Stories
---