An Artist Converts a Mandaluyong Condo Unit Into a "Secret" Gallery
A condominium building on a busy street becomes an unexpected venue for some serious pottery art
by
Rachelle Medina
Aug 9, 2018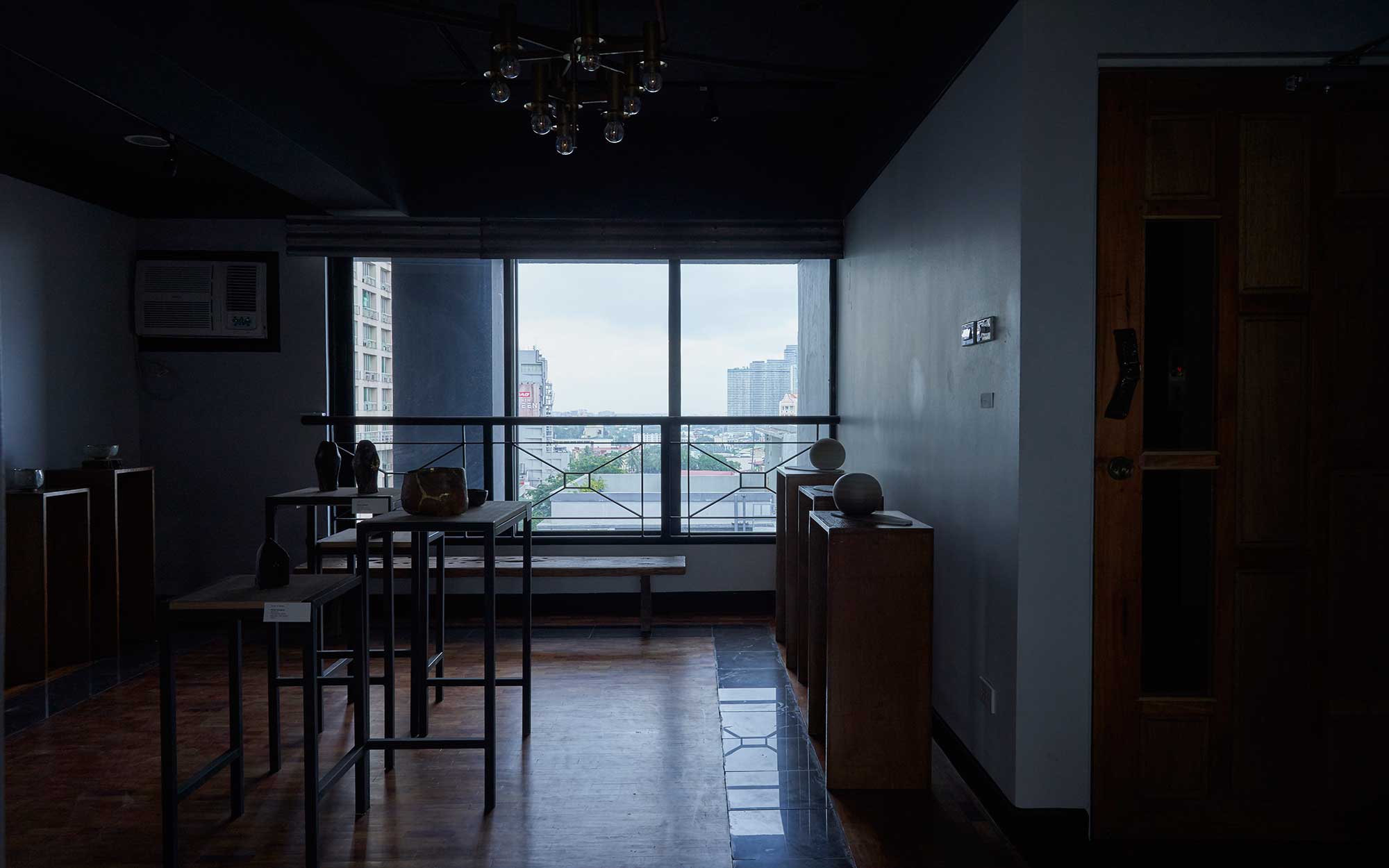 "If the passion is strong, it doesn't matter where you are."
The gray, low-rise condo building is located in perhaps one of the most crowded areas of Mandaluyong City—noisy jeepneys jostle for space with dozens of tricycles on the narrow road, and pedestrians make their way to work, walking past the public market and up the stairs leading to the MRT. It seems like the most unlikely venue for art, but art does exist on this busy street.
You can find that art inside the NCC Building, a structure that is as unassuming and as low-key as Joey de Castro, the artist who resides and runs the art gallery here. The art itself is not your regular collection of run-of-the-mill, oil-and-acrylic paintings. This is the Sierra Madre pottery gallery, where everything on show is three-dimensional, tactile, and oftentimes useful.
An elevator opens to a standard residential apartment floor and you would half-expect the door to open to a kitchen bustling with activity from a family meal, but instead, it opens to reveal the gallery, an entire condo unit that is so quiet and visually serene that you tend to fall into a Zen-like state while looking at the pieces before eventually resting your eyes on the city skyline outside the window.
ADVERTISEMENT - CONTINUE READING BELOW
CONTINUE READING BELOW
Recommended Videos
Sculptures by Krista Nogueras greet visitors in the main gallery. Joey de Castro made this accent wall out of wood scraps from his friend Buddy Lagdameo.
PHOTO: Dairy Darilag
The condo potter's journey
For years, Joey has been affectionately referred to as the "city potter" or the "condo potter," as he is one of the very few pottery artists who do not work and reside in the province. "Most potters live in the provinces. Yung yapak nila nakatapak sa lupa. But if the passion is strong, it doesn't matter where you are," he says in an earlier feature of his home, which is located just a few floors above the showroom.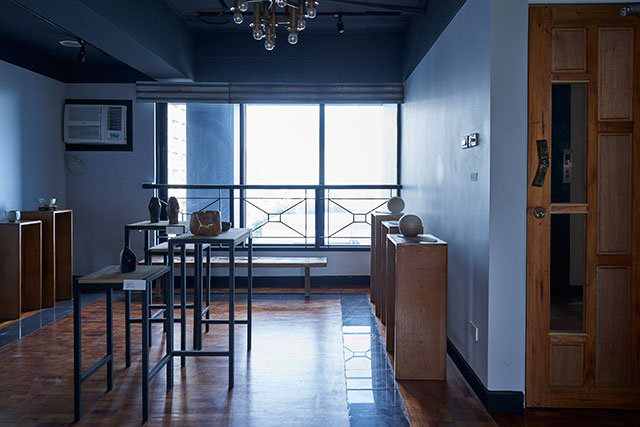 ADVERTISEMENT - CONTINUE READING BELOW
It is in this building that Joey creates and fires his works, and then now exhibits them. "From making clay, to forming it, to firing it, until the gallery setting, hindi na ako umaalis sa tatlong floors," the artist shares. "Yung kulang na lang sa cycle was the gallery." Below his family's living quarters is his pottery studio, where he has several potters' wheels to form his pieces, and where he occasionally holds workshops for "serious students." On his roof deck is the kiln, burning bright most of the day, surrounded by bags of clay and dozens of pieces that are ready for firing.
In the red gallery: On the wall - Mountains in My Mind by Rosa Mirasol.
PHOTO: Dairy Darilag
A place to bring pottery artists together
Initially, this gallery was intended as a showroom merely for Joey's works, which he used to sell to collectors informally from his studio or house. "Ang gulo before, so I thought of setting up a proper gallery setting for my works, but then the movement took over, something that was bigger than me," he recalls. "The cause was for ceramic art to have a place permanently, even for other potters. Especially that we are just a small group, and mostly we are friends, we can all have shows here. Because I cannot fill this space all up by myself."
ADVERTISEMENT - CONTINUE READING BELOW
Sierra Madre Gallery may be one of the very few pottery galleries in the Metro; another one is Aphro Gallery at the Karrivin Plaza in Makati, and another would be the as-yet-to-be-opened Quezon City gallery of Rita Badilla Gudino, another pottery artist.
ADVERTISEMENT - CONTINUE READING BELOW
The current show is the group exhibit "Score and Slip," which will run another two weeks from this post's date. "Score is a pottery technique," explains Joey. "You get two pieces of clay, and you score it to rough it up, and attach it. Slip is a slurry of clay and water."
ADVERTISEMENT - CONTINUE READING BELOW
Three pottery artists from Thailand joined four Filipino artists in this show (curated with help from gallery owner Albert Avellana), and it is an extraordinary display of how one medium can be interpreted in myriad ways. There are Rosa Mirasol's whimsical and child-like pieces, Chatchaiwat Chungchoo's spindly yet elegant vases, and Krista Nogueras' figurative works. Joey keeps the prices at a modest range by asking the artists to help him in setting up.
ADVERTISEMENT - CONTINUE READING BELOW
In the next gallery: spindly vases by Thai artist Chatchaiwat Chungchoo.
PHOTO: Dairy Darilag
Beautiful design details in a mixed-use space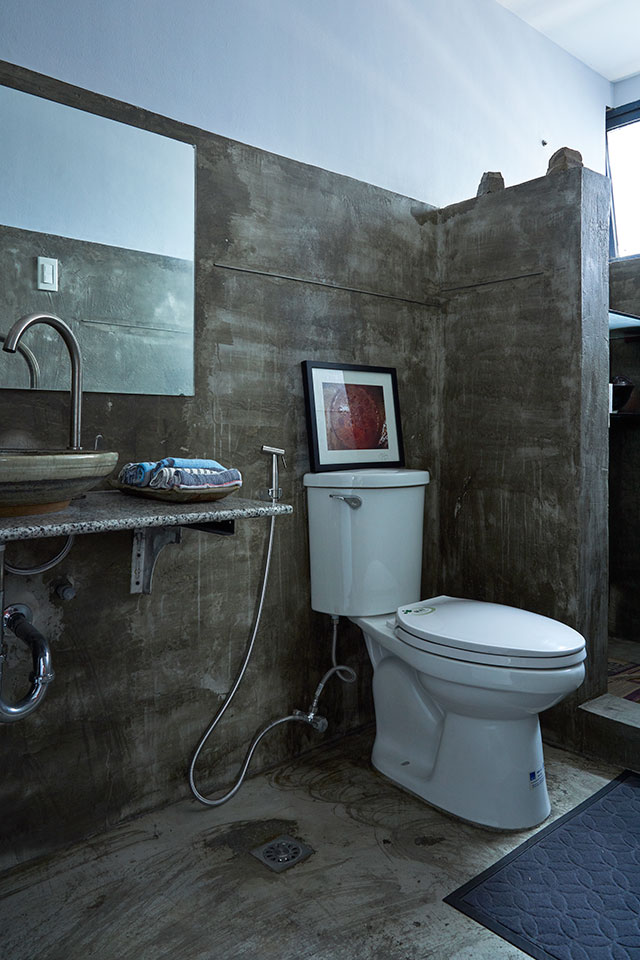 Another aspect we could not ignore is the tranquil elegance of the gallery's spaces, which is chock-full of creative touches that we can use in our own condo homes. The door handles are made out of glazed ceramic pieces by Joey, and he explains: "Once you enter pa lang, you are touching the art already, it's very tactile."
ADVERTISEMENT - CONTINUE READING BELOW
This 100-plus-square-meter condo unit lay vacant for a couple of years. "This unit has three rooms and three bathrooms, and initially it was designed by my brother who was an architect." Open-base pedestals are used for an airy look, and glass is inserted into the doors so guests could see through to the other galleries. Joey's touches are the retaso accent wall (which he had made out of wood scraps from a friend in Shaw Boulevard) in the main gallery, and the unusual window valances made out of GI sheets and driftwood.
ADVERTISEMENT - CONTINUE READING BELOW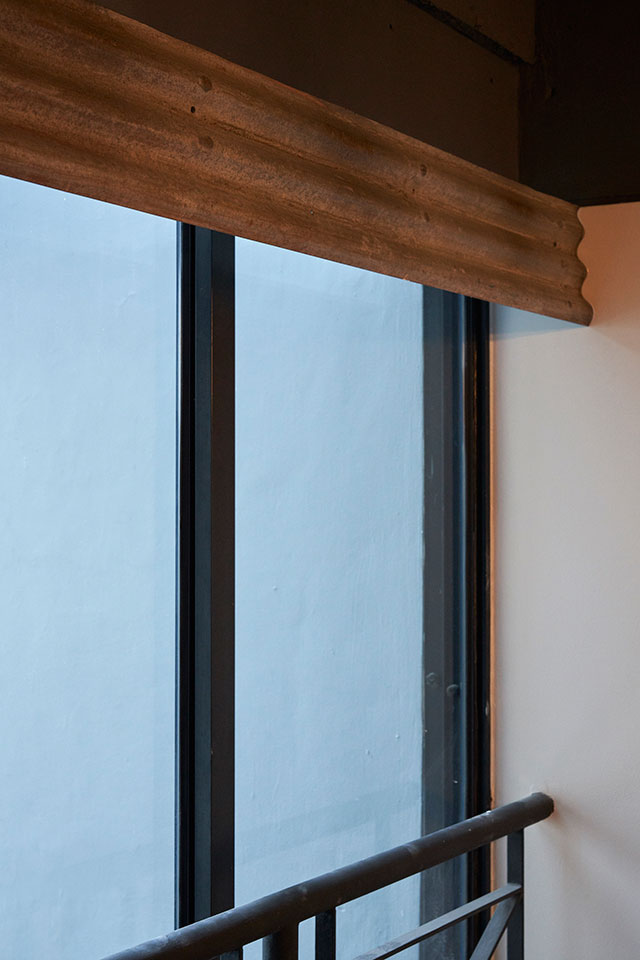 The gallery spaces are divided into white, red, and gray rooms, and the dining room is treated as such—as a room next to the kitchen with a dining table, and shelves full of beautifully crafted glazed dishes, bowls, tumblers, and mugs for sale.
ADVERTISEMENT - CONTINUE READING BELOW
Joey de Castro's works in the kitchen area (peppered with rough-hewn shelves anchored with GI pipes)
PHOTO: Dairy Darilag
This gallery is also about building a community
A community of pottery artists, that is. Joey is keen on keeping the gallery to help promote their works. "Dito, uphill ang battle namin, e. We are still on the fringes of the mainstream art scene. We're struggling. It has to change."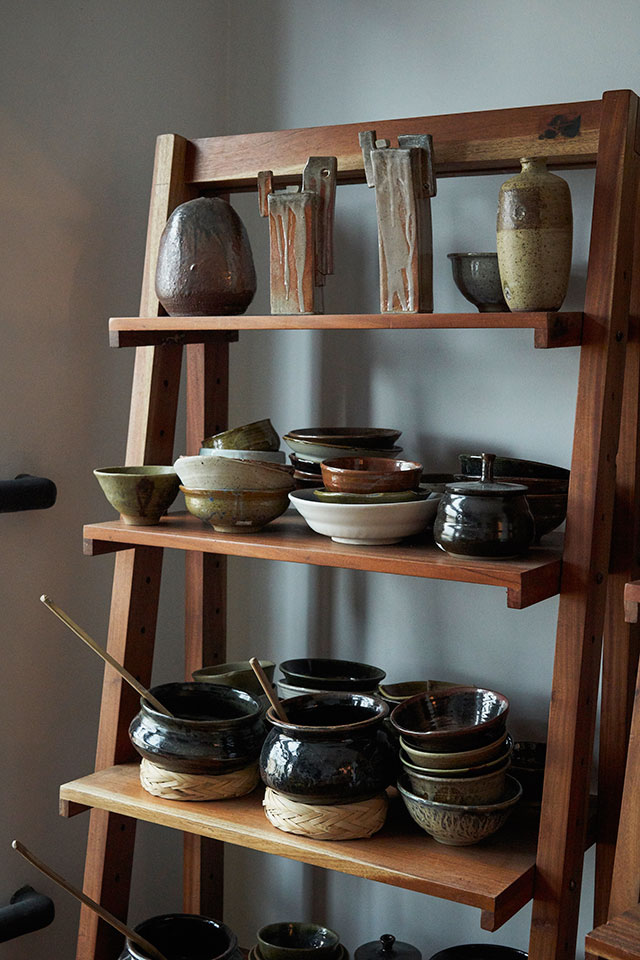 ADVERTISEMENT - CONTINUE READING BELOW
Another community that the gallery seems to uplift is Mandaluyong City itself, which lacks a proper art scene, unlike the other busy areas of Quezon City, Manila, or even Legazpi Village. "Dinadaanan lang ang Mandaluyong. But I want this [gallery] to be the best-kept secret pa rin," Joey enthuses.
Sierra Madre Gallery is open by appointment only from Mondays to Saturdays, 9am to 12nn, and 2pm to 5pm at NCC Building, 586 Sierra Madre St., Mandaluyong City, mobile 0908-895-2958, or follow Joey de Castro on Instagram at @joeydc_pottery
Joey de Castro will also be selling his pottery art at the MaArte Fair, which will run from August 10 to 12, 2018, from 10am to 8pm at the Peninsula Manila, Makati City.
PHOTOS Dairy Darilag