Arts & Culture
5 Ways To Achieve Filipino Style
An amazing exhibit of the works of architect Francisco "Bobby" Mañosa reveals the secrets to efficient and beautiful Filipino design Filipino design has undergone many changes to become relevant in modern times, and many local designers have claimed to be purveyors of this movement. But the true champion of Filipino design is the multi-awarded architect Francisco "Bobby" Mañosa.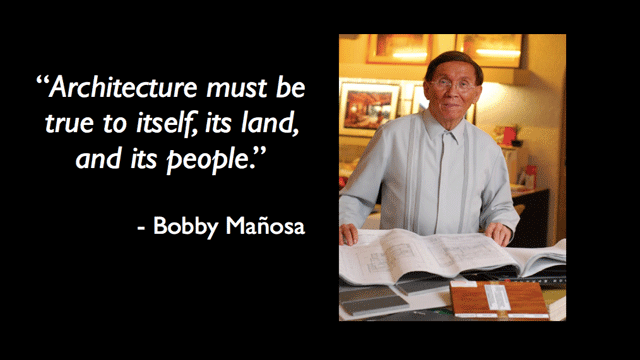 Both Mañosa and Filipino design are celebrated in the exhibit Mañosa: Beyond Architecture, currently at the National Museum of the Philippines. Curated by architect Gerard Lico with help from Patrick Flores and Timothy Ong, the exhibit brings together a body of Mañosa's work that spans more than 50 years, with rare photographs, product prototypes, sketches, and scale models—some of projects that were never built. There are no residential projects on display, however, except for Mañosa's own family home (in main photo above), which he built as an example of all his design principles.
At the launch last February 12, architect Gelo Mañosa, who continues his father's legacy alongside sister Bambi and brother Dino explained how they dug through their father's vast archives of projects: "We decided to look into materials that we felt were tipping points in dad's career…some of these were never seen by the public, and some of the items are dad's favorite projects and we thought it would be nice to share them with the public." [To see Gelo Mañosa's modern Filipino home, click here.]
The exhibit is divided into six sections, namely: Buhay na Gawa (A Life in Architecture), Likas at Likha (Materials and Processes), Diwa ng Anyo (Design), Danas ng Aliwalas (Experience of Space), Tagpuan ng Ugnayan (Settings of Social Interaction), and Lugar ng Laro (Place of Play). In the Lugar ng Laro section, museum-goers get a glimpse of the whimsical side of Mañosa, who designed wooden toys (his playrooms and bedroom for children are always delightful), played in a jazz band, and even designed the erstwhile Playboy Club in Manila.
Mañosa: Beyond Architecture will run at the 4th floor of the National Museum until May 12, 2017, so drop by this weekend. Entrance is free. Get a sneak peek of Mañosa's iconic projects here, and find out how to achieve Filipino style at home with these design ideas:
Return to the roots.
Mañosa has always been a nationalist, and thus incorporated the structural and decorative details of the traditional bahay kubo (hut) and bahay na bato (stone house) into the basic tenets of his designs, be it a small house or an entire building, as he deemed these appropriate for our country's harsh sun, strong wind and rains, and warm climate. These details included high, pitched roofs, wide windows and door openings, and tukod (supports or posts).
Use local materials.
Mañosa and his firm's architects and designers championed the use of indigenous materials such as bamboo, coconut, rattan, cogon, shell, adobe, and even ash from the Pinatubo volcano eruption. The Coconut palace—literally, an entire palace made out of coconut wood and the tree's byproducts—is one of his most popular projects that use local material.
Be true to the land and its people.
The architect combined state-of-the-art building technology with vernacular elements and indigenous materials that were adaptable to Filipino culture, land, and climate. It is no surprise then, that his works extended from residential and commercial commissions to ecclesiastical works (like the iconic EDSA shrine seen above), mass housing, and public transportation hubs (the original LRT stations).
Harness our climate.
Mañosa's works were all designed to work with, and not against, our tropical climate, and most were fine examples of green architecture even before the catchphrase was even created. Ceilings were high in pitch to make air circulate, windows were left wide open—and sometimes they were non-existent—to allow for natural cooling and lighting. These were best seen in beautiful tropical resorts such as the Pearl Farm (in photo) and Amanpulo.
Address the Filipinos' changing lifestyles.
To address the growing need of condo dwellers who didn't want to live in cookie-cutter buildings, Mañosa Group recently launched Mañosa Properties, Inc., which creates urban communities and developments with eco-friendly innovations and the trademark Mañosa Filipino designs. Some of their developments include Lantana Lane, Ylang Lane and Campanilla Lane in New Manila, and Tagô in Tagaytay. [To see more of Tagô click here]
Accompanying this exhibition is a series of lectures on Filipino design and theories by noted guest lecturers; many of these are ideal for architecture and design students and practitioners, and design enthusiasts, too. Admission to these lectures is free; for more information, go to the exhibit's Facebook page. Here is the schedule of the speakers and topics for the next few months:
March 4, 1:30-5pm: Filipino Design Aesthetics; speakers are author Elmer Nocheseda and interior designer Leo Almeria
March 18, 1:30-5pm: The Mañosa Legacy; speakers are his children Dino, Bambi, and architect Gelo Mañosa
April 1, 1:30-5pm: The Filipino Vernacular Form; speakers are architects Ning Encarnacion Tan, Markel Luna, and Rosette Santos
April 8, 1:30-5pm: Space of Identity; speakers are Joey Ayala and Rino Fernandez
April 22, 1:30-5pm: Filipino Creative Industry; speakers are Ino Manalo and Medilen Singh
May 6, 1:30-5pm: Materials of Tradition; speakers are Christian Salandanan and Felipe de Leon
See Mañosa: Beyond Architecture at the 4th floor of the National Museum of the Philippines until May 12, 2017. Watch the video below for a roundup of must-see pieces:
PHOTOS courtesy of the Mañosas; Pearl Farm photo from their Facebook page
More on Realliving.com.ph
A Two-Storey House with Proud Filipino Design
8 Things to Love About Architect Gelo Manosa's House in Alabang
Load More Stories
---