Houses
This Quaint House in the Middle of a Rice Field Has a Swimming Pool
To be surrounded by nature is truly a gift enjoyed by the owners Photography: courtesy of Iris Mae Ubas
Stumbling upon the location where your future home will stand can be likened to love at first sight – you'll know it's the place to be the moment you step foot in it. Take it from Iris Mae Ubas, who immediately fell in love with a 956sqm piece of land found in Tantangan, South Cotabato after just one visit.
"It's part of a rice field, specifically the front and side parts, which we acquired before the pandemic," she shares. Among the places she visited, this one stood out. "Eto talaga 'yung may vision ka agad on what your house and property would look like," the owner adds. The best part? They can pay in installments within two years.
With the help of an engineer, Iris brought her Bali-inspired design to life. Despite the challenges brought about by the pandemic and transporting materials to the location, the charming 100sqm home came to fruition. Neutral colors, glass doors, wooden touches, and rattan pieces complete the space which perfectly complement the surroundings.
ADVERTISEMENT - CONTINUE READING BELOW
Take a peek inside the house below:
Pre-construction-construction phase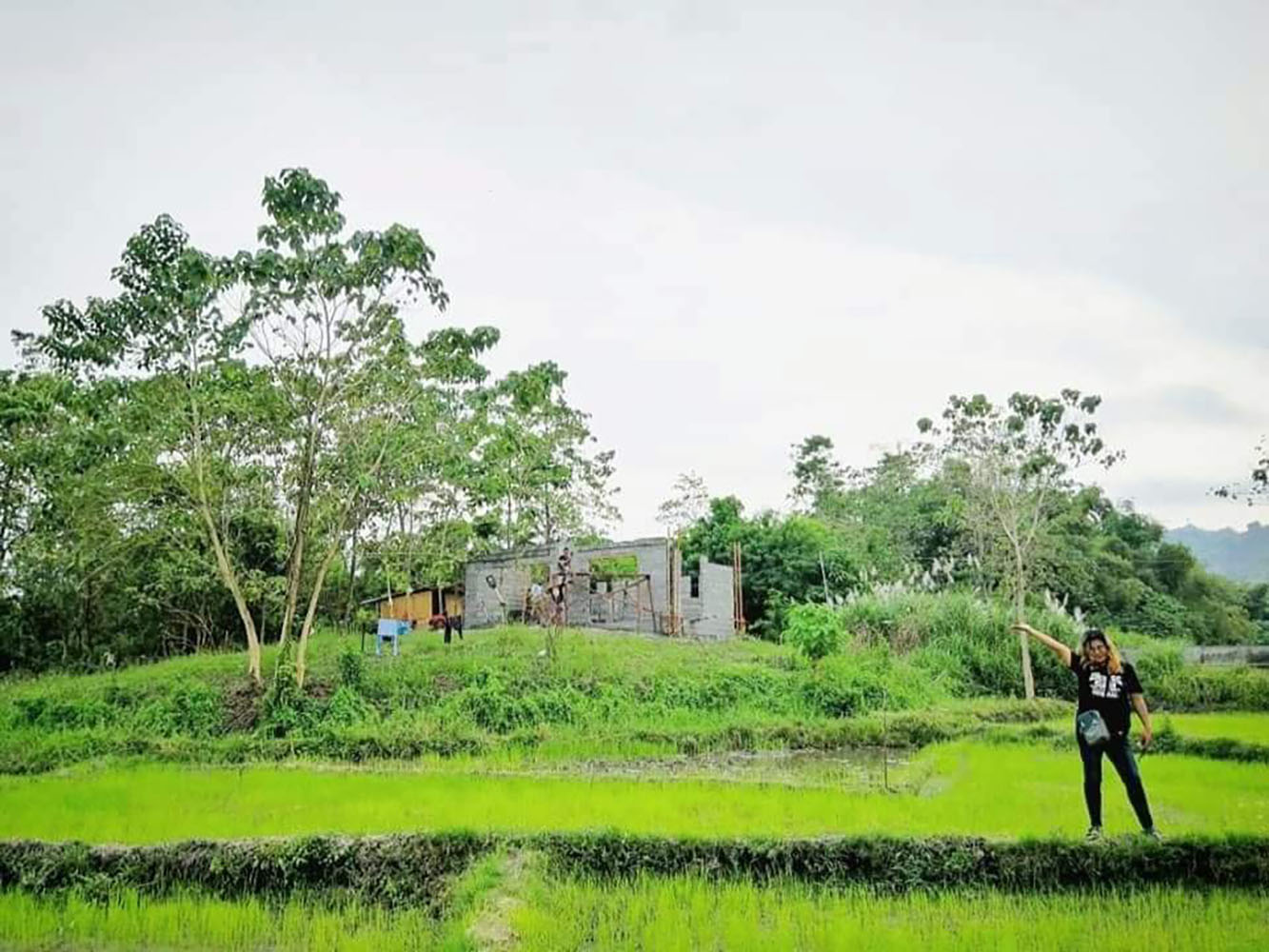 ADVERTISEMENT - CONTINUE READING BELOW
Recommended Videos
A month after finding the land, construction immediately began. However, due to different reasons, it was halted for a period of time before work resumed. "Wala pang farm to market rood noon. It was really a challenge to transport materials but after we resumed, we finished in three months," recalls Iris.
ADVERTISEMENT - CONTINUE READING BELOW
Outdoor Lanai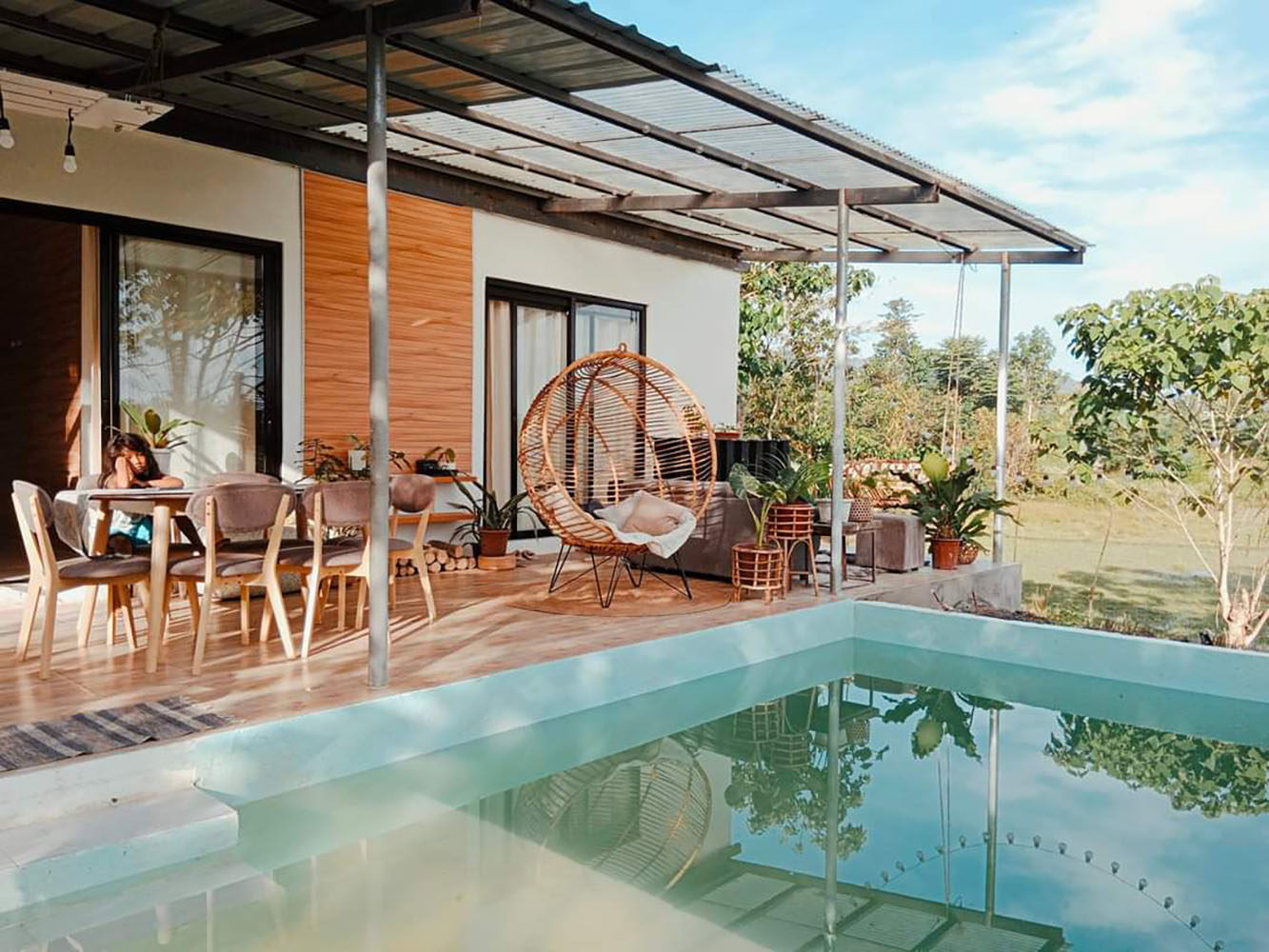 The outdoor area is reminiscent of resorts, with plenty of seating space and a dining area where meals can be enjoyed. If you look closely, you'll notice that Iris located the dining and living areas here.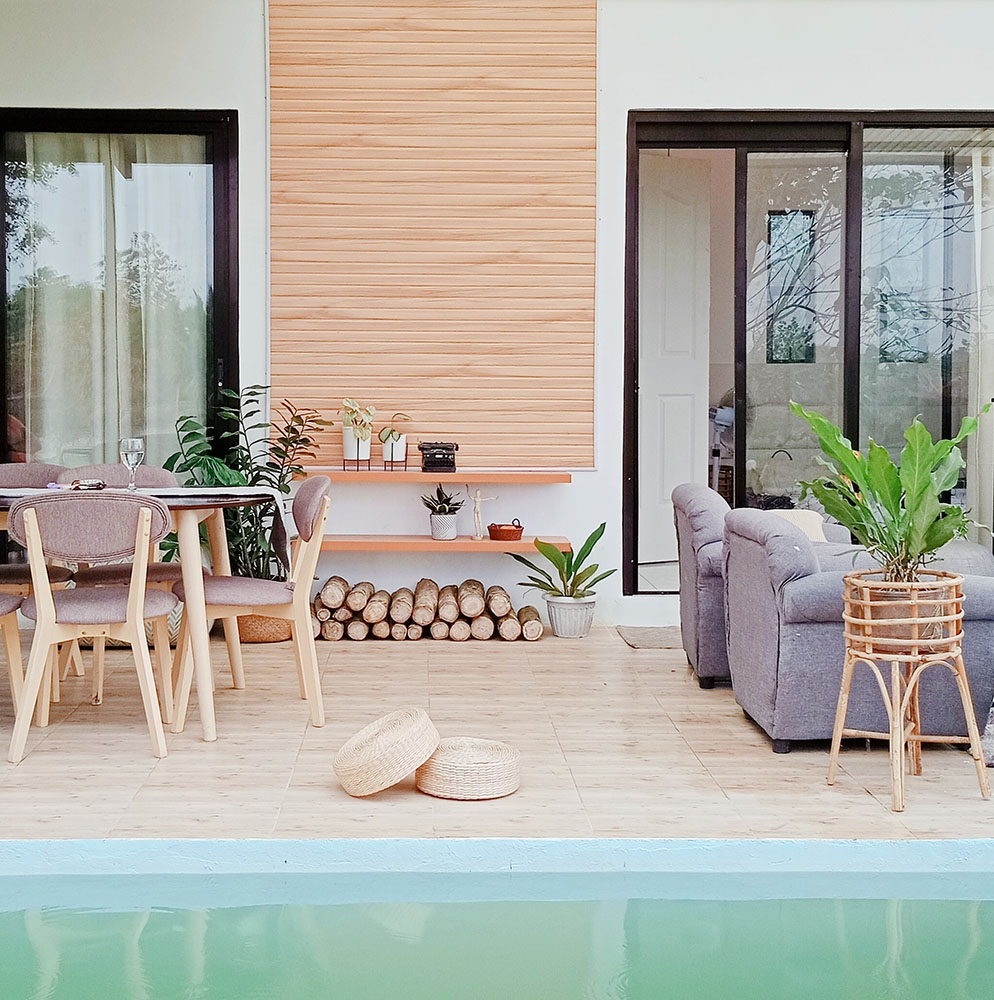 ADVERTISEMENT - CONTINUE READING BELOW
Iris made sure the furniture and accents work well to create a cohesive aesthetic. By placing the living and dining areas next to each other, she can entertain guests easily. "The al fresco feel is more conducive for conversations given the space and view. It's very nice for lounging during afternoons as well, just before the sunset, as there are tons of birds and you get to see farm animals every now and then," she shares.
Kitchen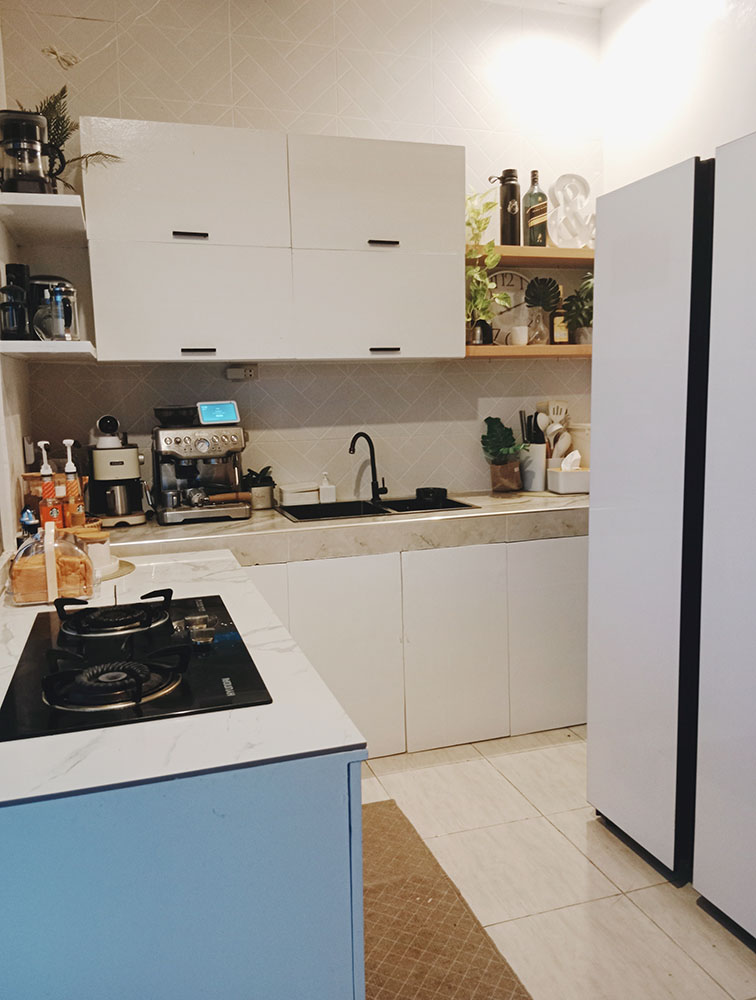 ADVERTISEMENT - CONTINUE READING BELOW
Completing the house are two bedrooms, a bathroom, a laundry room, and the kitchen. The compact cooking area features an L-shaped countertop and enough storage units to avoid clutter. "It's tight but I make sure it's always clean. The space got smaller when my partner bought a refrigerator with a French door as a gift.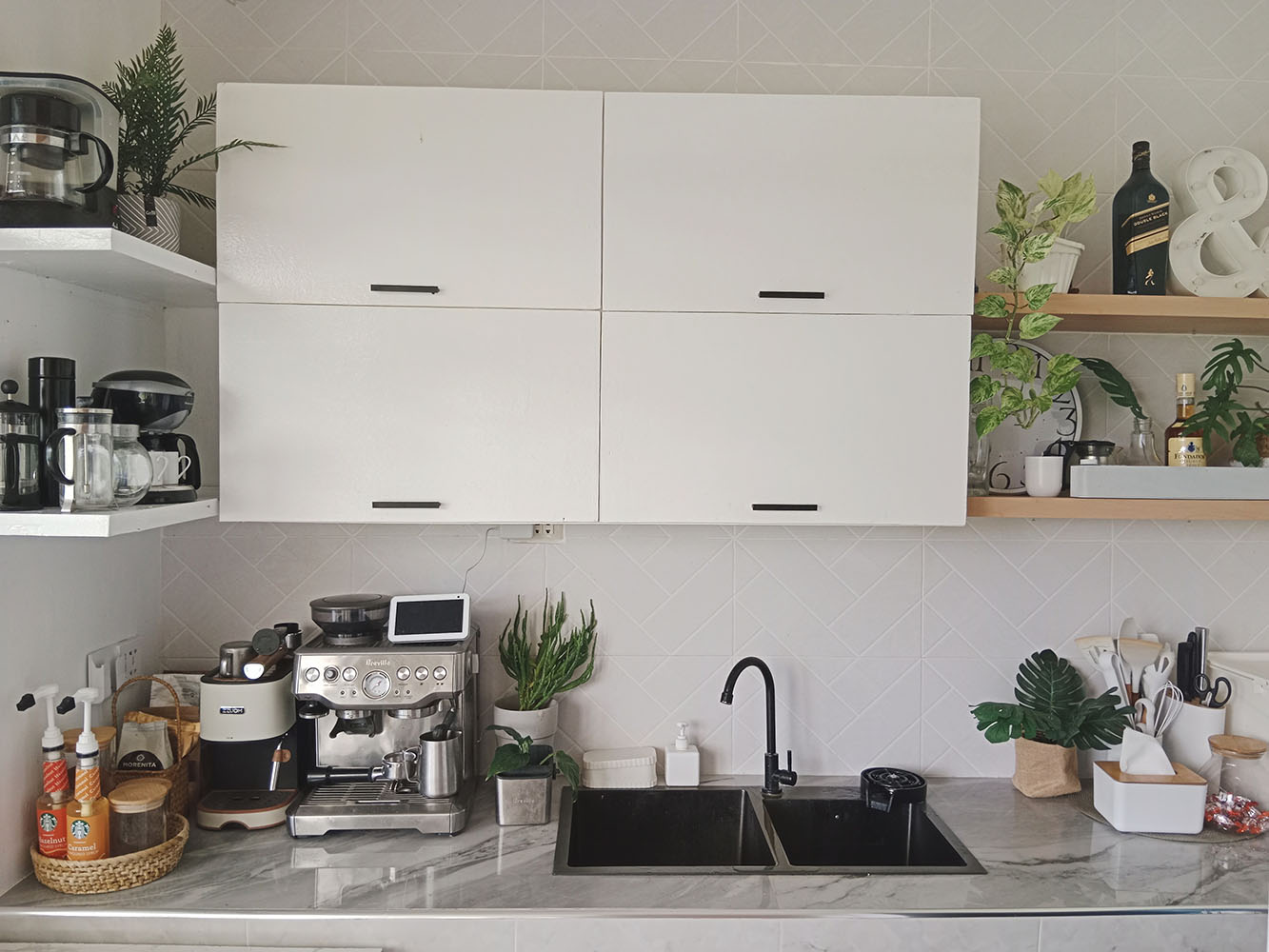 ADVERTISEMENT - CONTINUE READING BELOW
Potted plants liven up the neutral kitchen, with the herringbone-patterned backsplash serving as an extra accent. Some grocery items are kept inside the cabinets.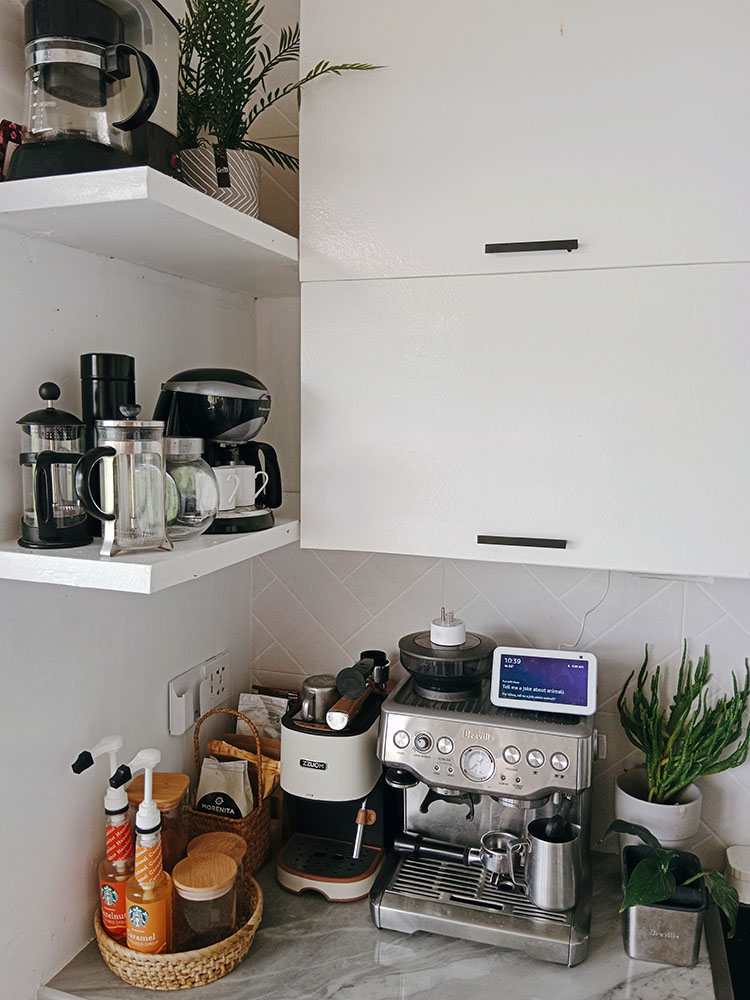 The kitchen is Iris's favorite part of the house. Since she loves coffee, she made sure she has a coffee corner complete with different essentials that can be used to brew a steaming cup.
ADVERTISEMENT - CONTINUE READING BELOW
Master Bedroom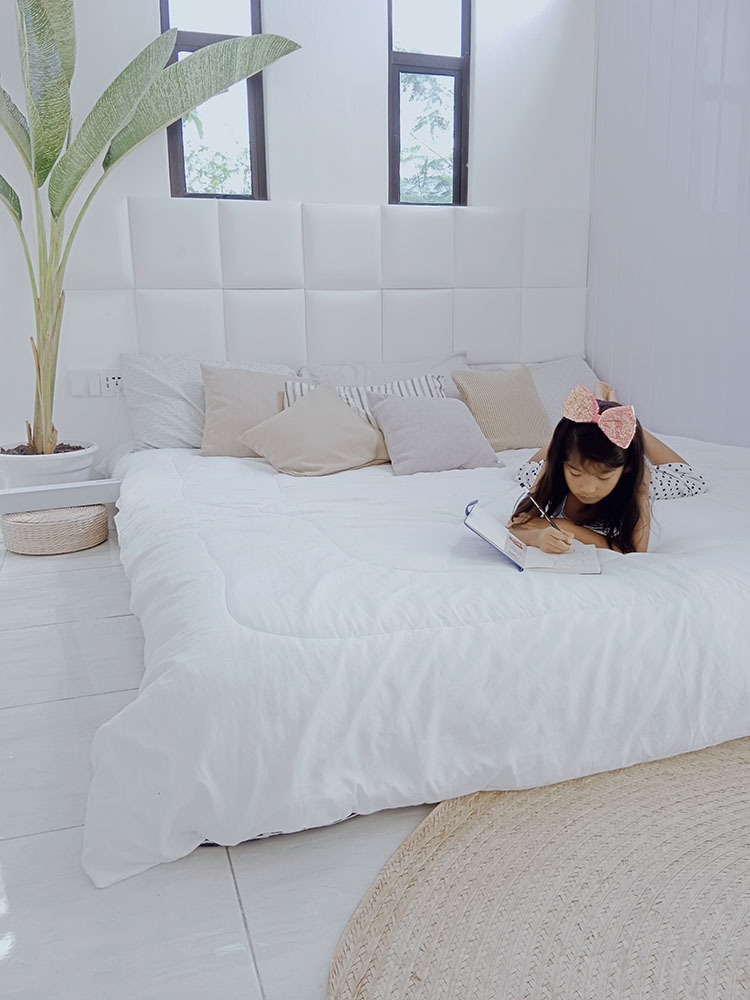 The master bedroom features an inviting low bed with a padded white headboard. Opting to paint the walls white makes the space even more calming, especially with a big plant serving as an accent piece. Iris's daughter sleeps in the same room as well.
ADVERTISEMENT - CONTINUE READING BELOW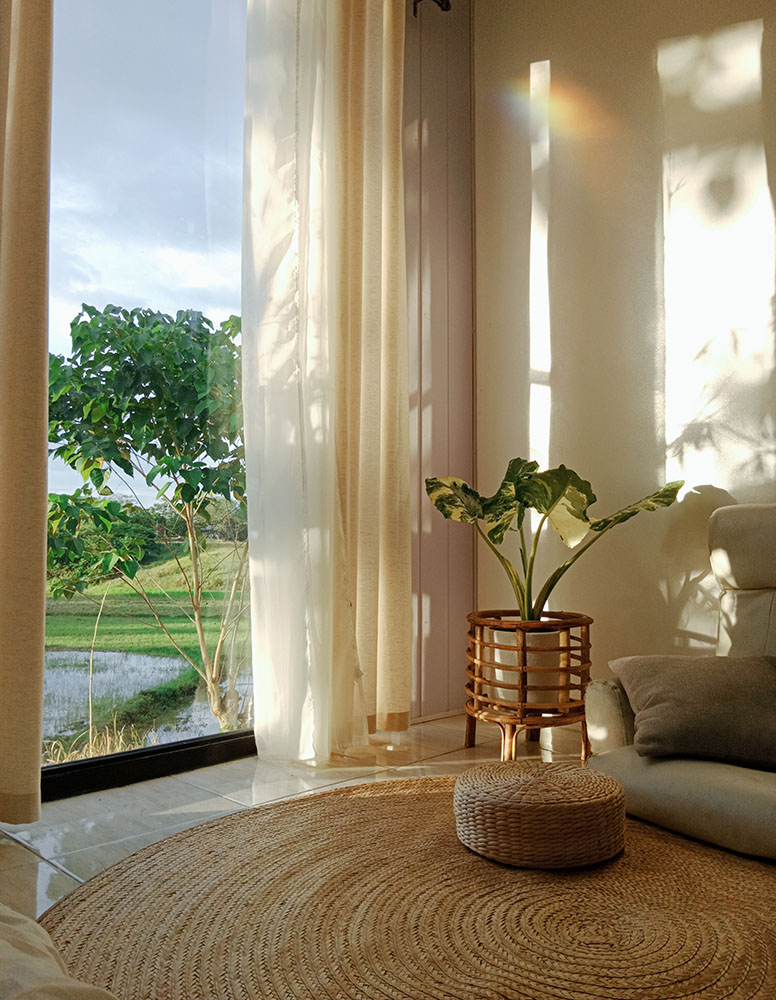 "The room also has this huge glass window dressed up in light curtains. When you draw the curtains, you will get a spectacular view of the mountains and rice field," the owner says. At the foot of the bed is a round buri rug paired with a tatami chair. Iris often sits here with a cup of coffee, especially when it's raining outside.
ADVERTISEMENT - CONTINUE READING BELOW
Bathroom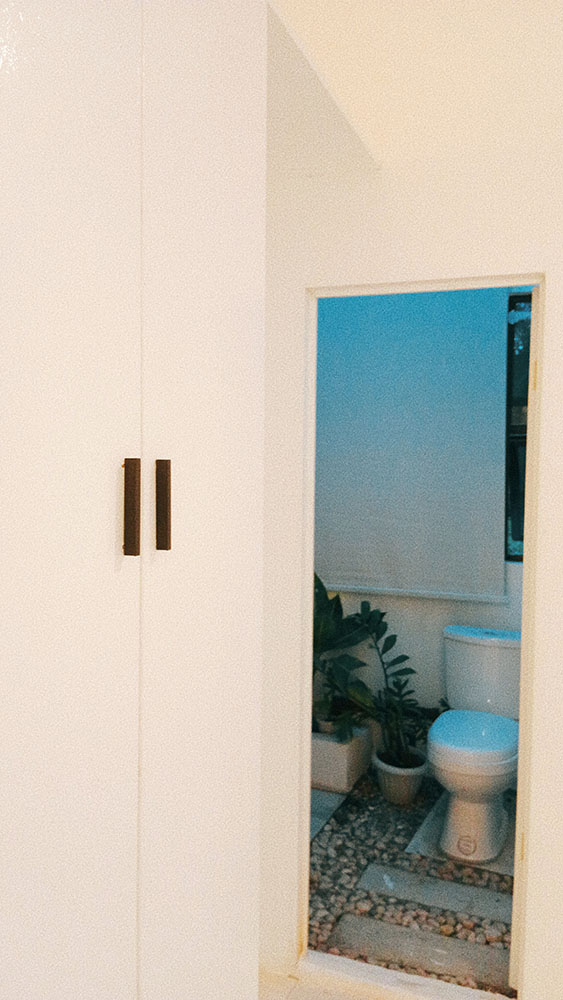 A  narrow entryway leads to the bathroom found inside the bedroom. Iris says the toilet can be likened to a throne as there are cement slabs leading to it, with pebbles and white stones completing the look.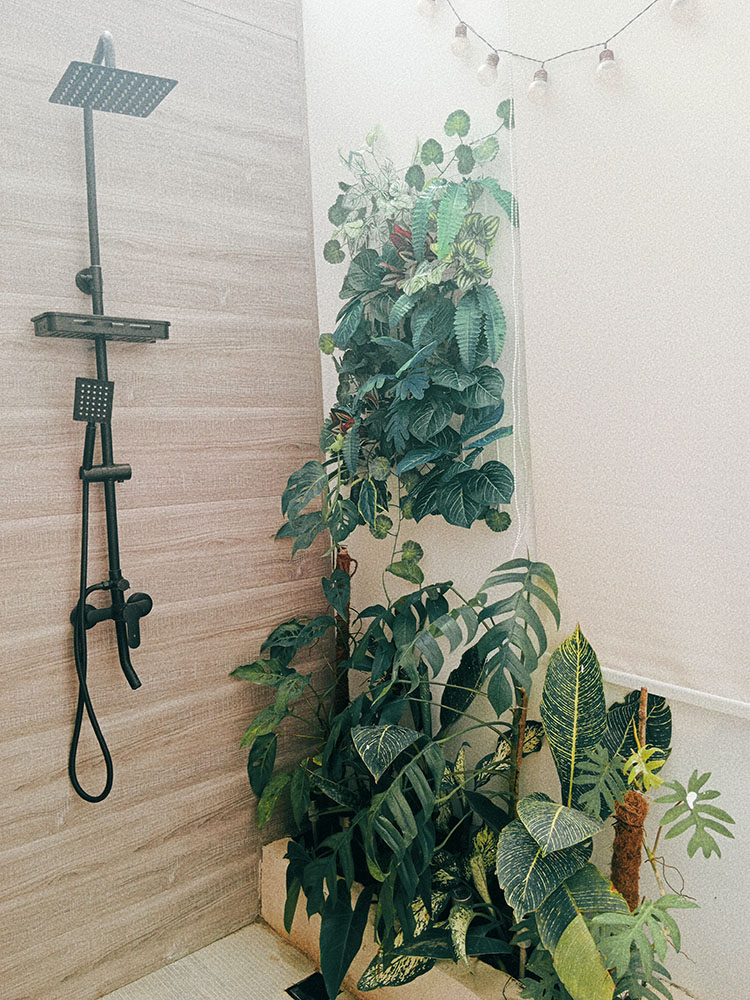 ADVERTISEMENT - CONTINUE READING BELOW
"It's a nature-themed bathroom," she says. "I have plants inside the T&B so I chose to have a transparent roof to make sure they can get enough sunlight.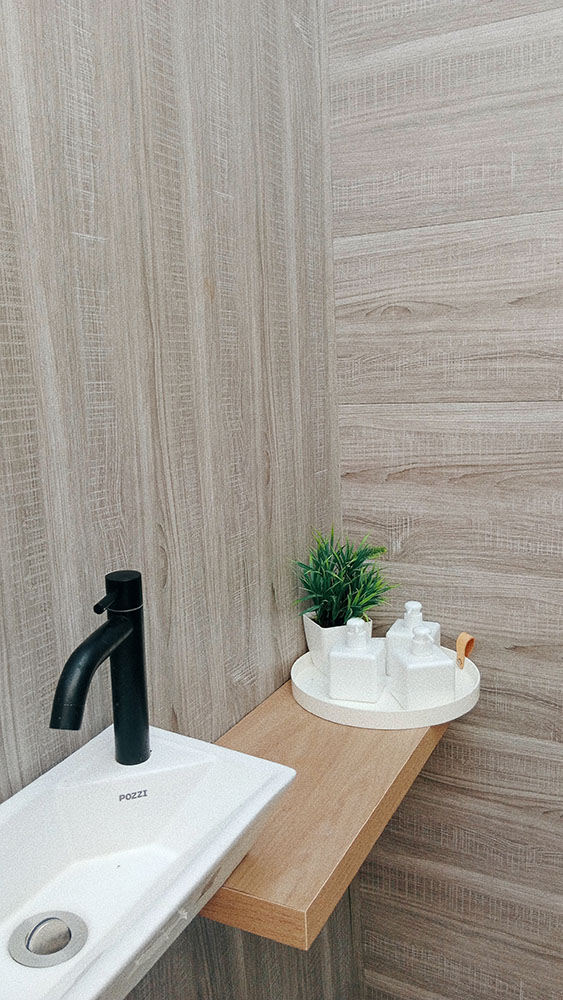 Iris made sure to invest in quality fixtures as well as allotting enough space for shelves where essentials can be kept.
ADVERTISEMENT - CONTINUE READING BELOW
Outdoor Area Detail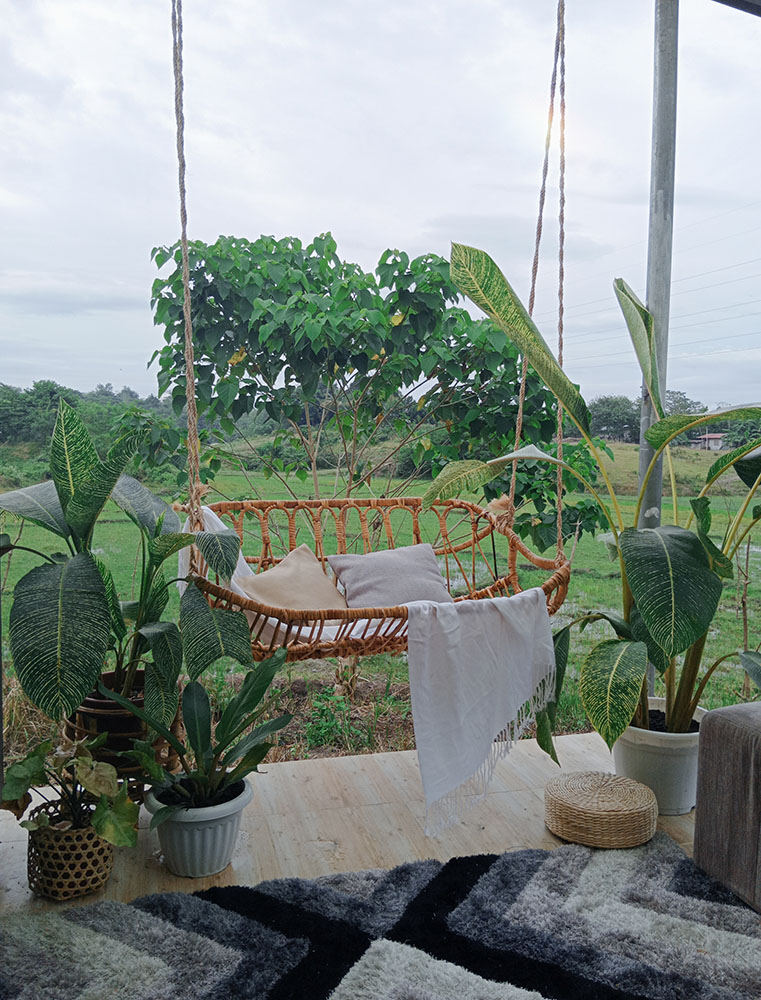 A swing adds magic to the outdoor area, giving Iris and her daughter another spot to relax. They can pass the time here and just marvel at the view.
Swimming Pool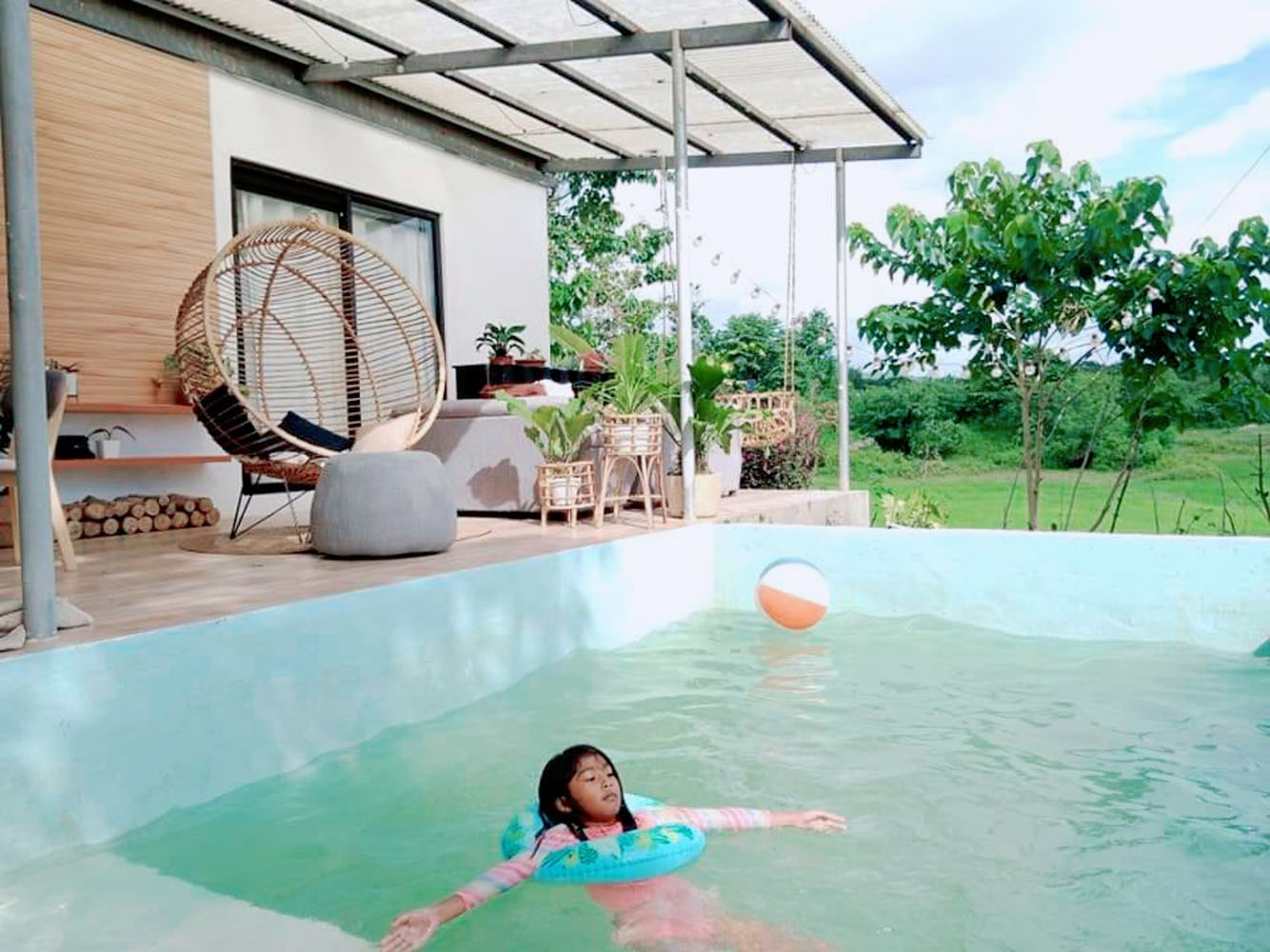 ADVERTISEMENT - CONTINUE READING BELOW
The swimming pool is definitely one of the house's special features. However, according to Iris, it's not yet completely done as tiles still need to be installed. "We drain the pool after three days and the water goes straight to the fish pond that's why we don't use chlorine and other chemicals," she explains.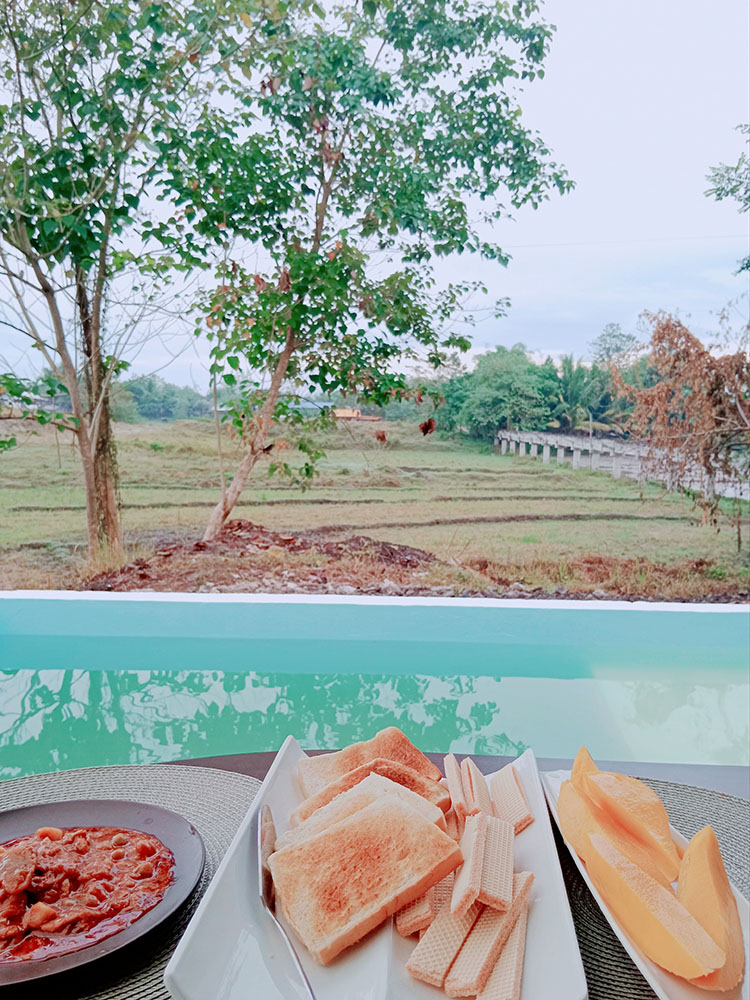 ADVERTISEMENT - CONTINUE READING BELOW
From this angle, you can see how they can enjoy meals with a view of the pool and the rice fields. Having a pool meant a lot to Iris as her daughter loves to swim. Now that they have their own pool, they don't need to venture out just to be able to get some laps in.
Outdoor Activities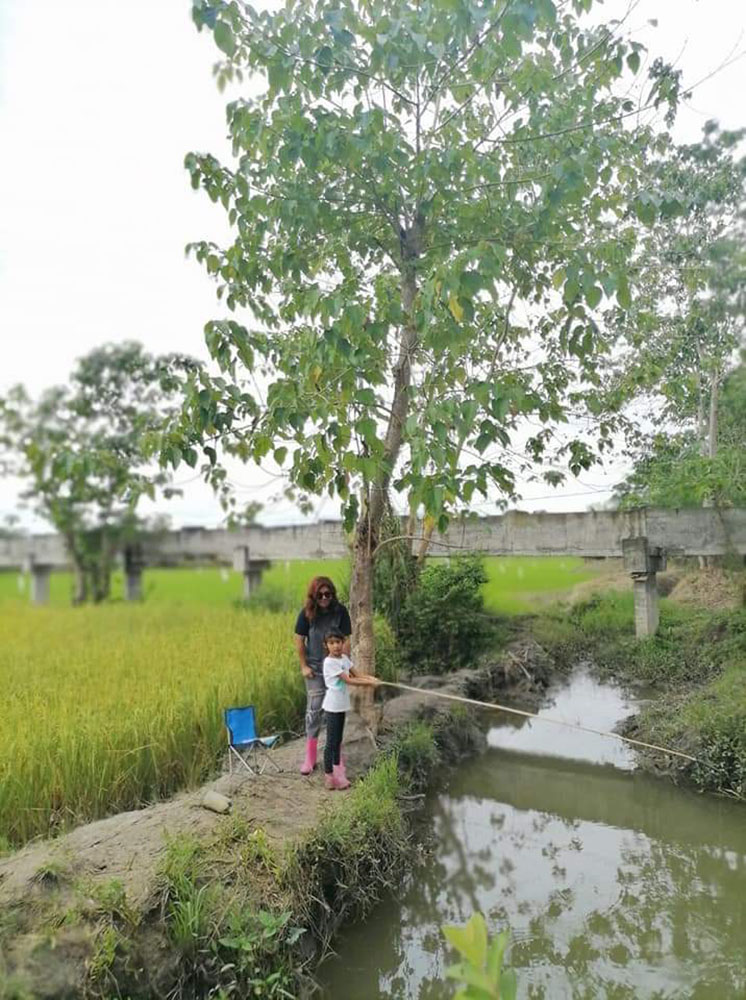 ADVERTISEMENT - CONTINUE READING BELOW
Iris and her daughter love bonding outdoors. They hope to create an income-generating fish pond in the future.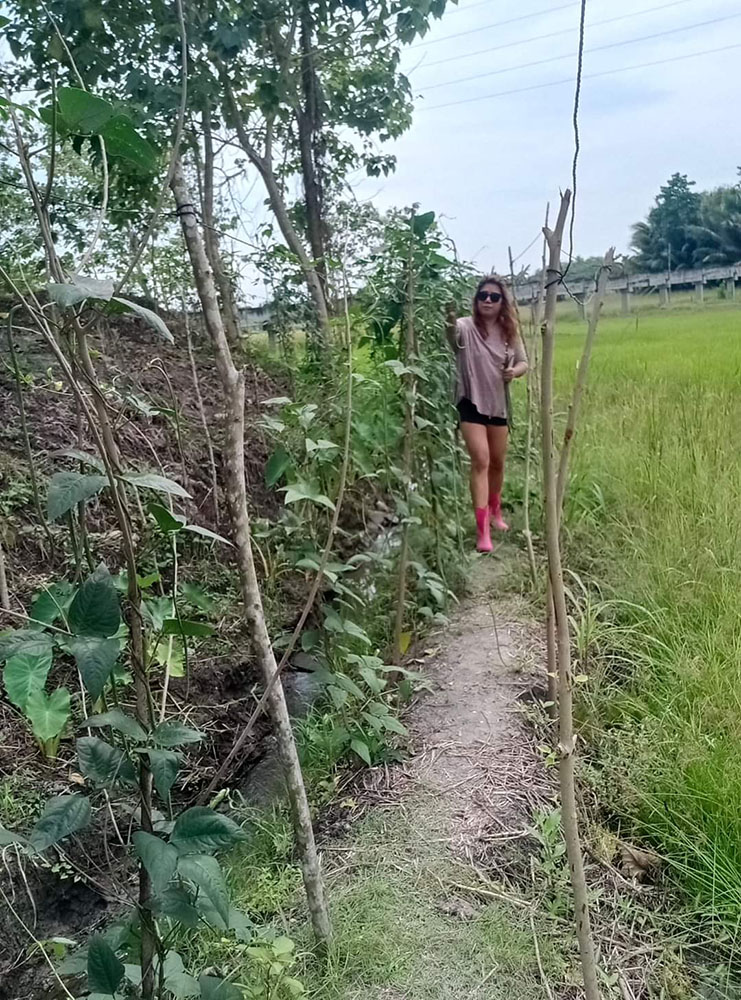 According to the owner, they have a thriving veggie garden where you can find okra, tomatoes, sitaw, and pechay, among others.
House at Night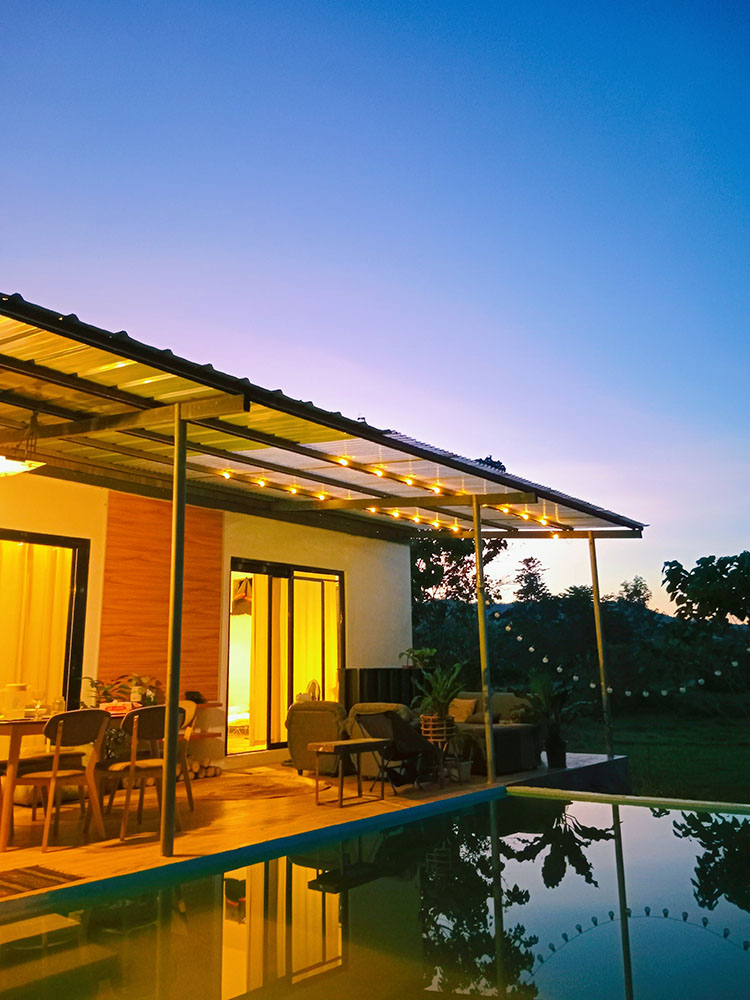 ADVERTISEMENT - CONTINUE READING BELOW
Aside from the small light bulbs that cast a warm glow at night, there are also solar lights in the house. As for improving the home further, Iris has big plans.
"We are going to extend the house to make it an L-shaped house. We plan to add more rooms, an enclosed living room, and a full-sized kitchen, to name a few. We hope to finish the bonfire and outdoor movie area as well. We're currently working on the garage," she shares.
Did you recently build or renovate your home? We might feature you on Real Living next! Send photos and a short story about your home to reallivingonline[at]gmail.com and we'll review your email. Looking forward to seeing your home soon!
More on Realliving.com.ph
Real Living is now on Quento! Enjoy more of our stories by clicking here to download the app.
Load More Stories