Houses
This Unique Pavilion Home Looks Like Both a Tropical Resort and a Modern Condo Unit
This interesting blend of "inside" and "outside" gives Raia Dela Pena-Landicho's home a one-of-a-kind lay-out. Photography: Courtesy of Raia Dela Pena-Landicho
For most people, the open spaces of Raia Dela Pena-Landicho's pavilion home in Laguna are unusual; common areas have little to no partitions and everything is at eye level. "People find our house weird because it's a pavilion," she says. "But we love how it is now."
This unique set-up makes for a tropical look that has a calming, airy vibe. Everything is easily accessible and every spot has a view of the outdoors—just the way Raia wants it.
Creating the space with a tight budget, she knew that a clear concept was important for efficient spending. "It's a simple rectangular home with not too many frills, but we were sure we wanted a tropical house, one that showcases an open pavilion with good cross-ventilation and lots of sunlight for our bonsai collection."
For the common areas, Raia decided against covering her floor-to-ceiling windows with curtains or blinds. "Everybody says we need more privacy and security, but believe it or not, in the beginning, we couldn't even afford the sliding doors so the pavilion was open air." But since the home was located inside a 7,000sqm farm with seven dogs in a close-knit community, she and her family didn't have anything to worry about.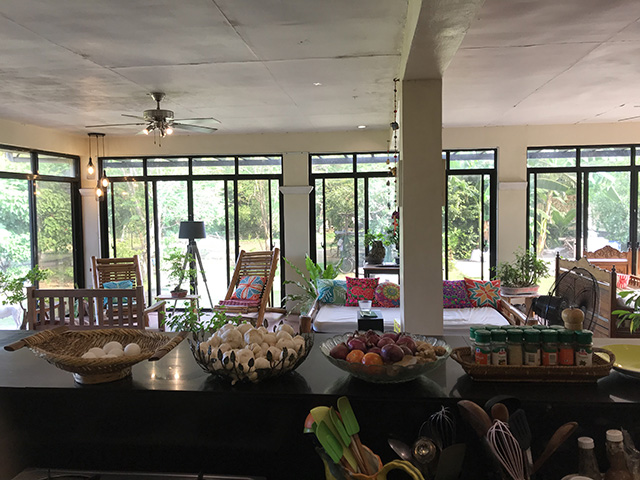 Living areas
"We have two living areas, one more formal and the other more for lounging and relaxing and it faces the open field and amihan breezes," she explains.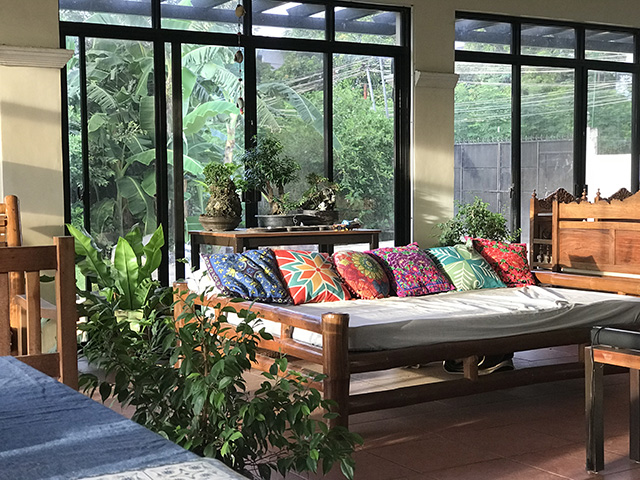 ADVERTISEMENT - CONTINUE READING BELOW
An interesting feature at the center of the pavilion is the papag which residents and guests can both enjoy. "It is the best spot for afternoon naps or for guests staying overnight."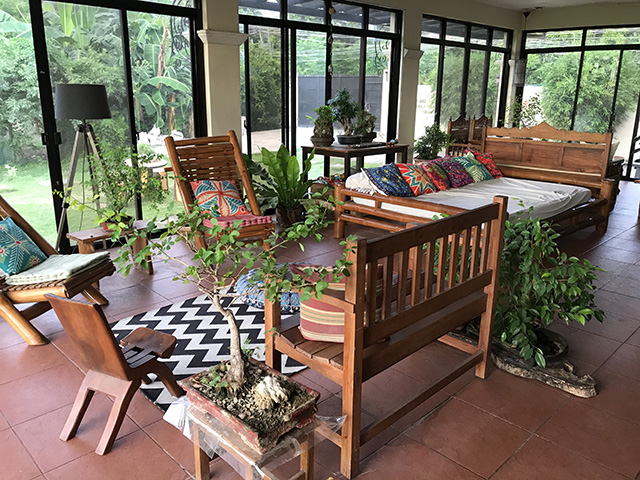 Kitchen
A must-have for both Raia and her husband Ruel is a functional kitchen. "We wanted a working kitchen. We didn't want a kitchen like other typical Filipino homes where there was one kitchen where things were neat and then another, the so-called 'dirty kitchen' where the real kitchen work is done."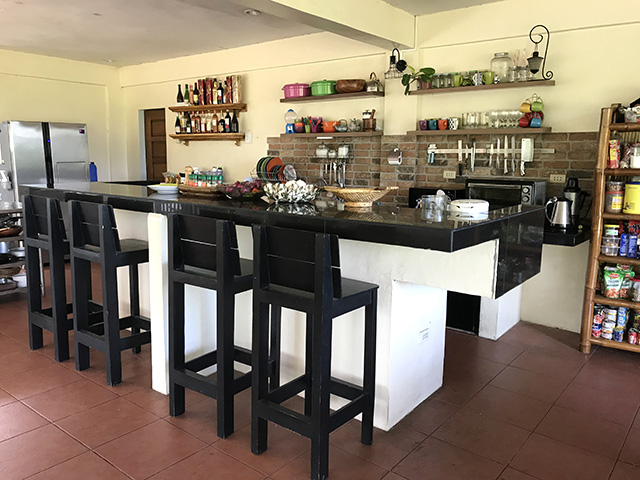 They ended up with a hard-working set up. "We have a galley kitchen with a bar. On one side of the kitchen is the long dining table for events and guests and then on the other side is our stainless metal prep table, like the ones used in professional kitchens." The prep area also serves as a breakfast nook, a storage area, and even a laundry corner.
ADVERTISEMENT - CONTINUE READING BELOW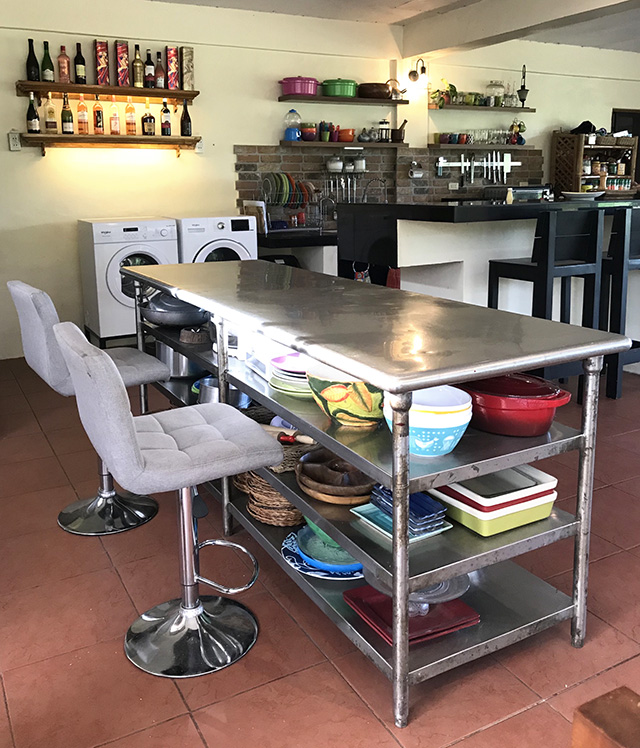 Private areas
While the living, guest, and kitchen areas have an open, resort-like feel, a part of the house has been kept private, and it sports a more modern design that effectively contrasts the pavilion's tropical look.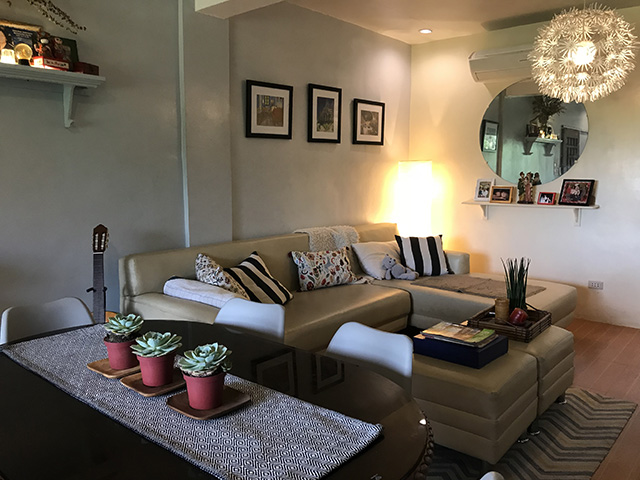 ADVERTISEMENT - CONTINUE READING BELOW
"We have our sala with TV and a small dining area, as well as a home office with my books," she says. "The color palette is lighter."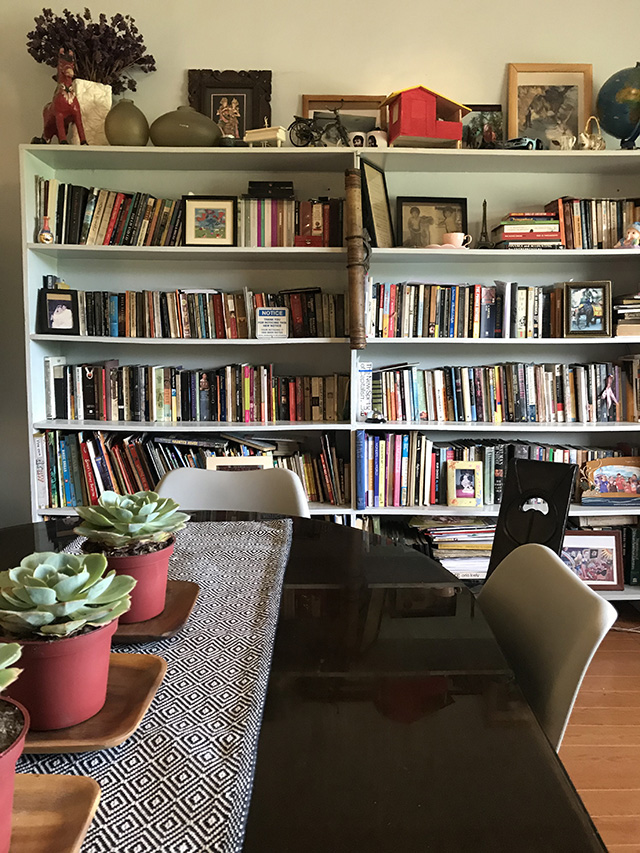 A play of light blue, cream, light gray and black are prominent in walls and pieces of furniture. "A lot of people say the pavilion is so different from our family room—parang tropical resort daw ang pavilion, tapos inside parang condo unit."
ADVERTISEMENT - CONTINUE READING BELOW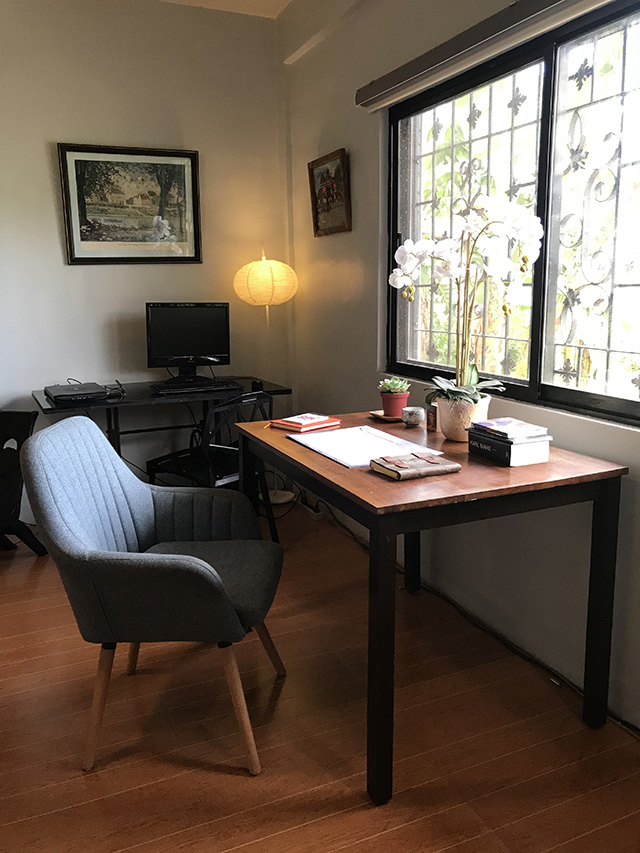 Interesting pieces
Raia's home has a wonderful collection of hand-me-downs and garage sale picks.
A long narra dining dining table and yakal benches were inherited from her father.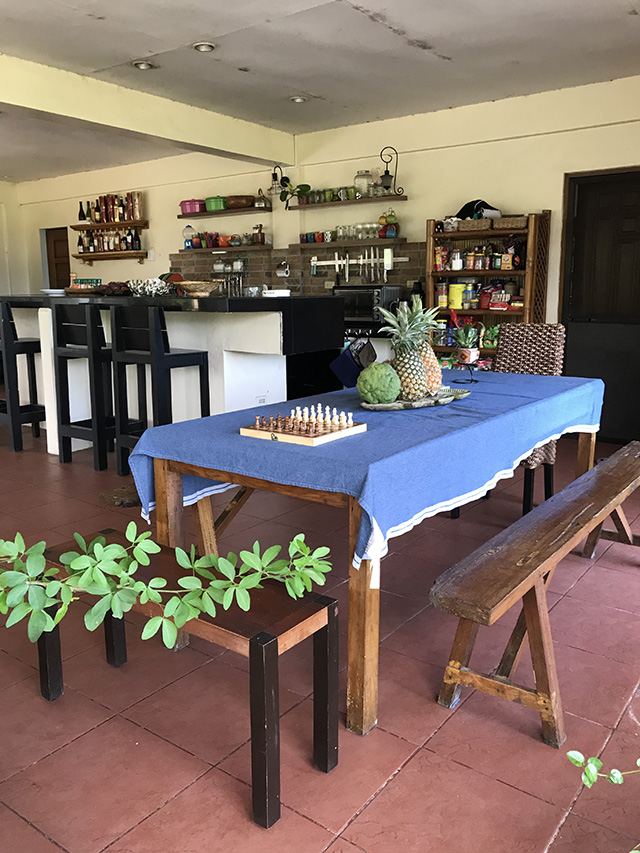 ADVERTISEMENT - CONTINUE READING BELOW
Her stainless steel kitchen prep table was from a restaurant that closed down.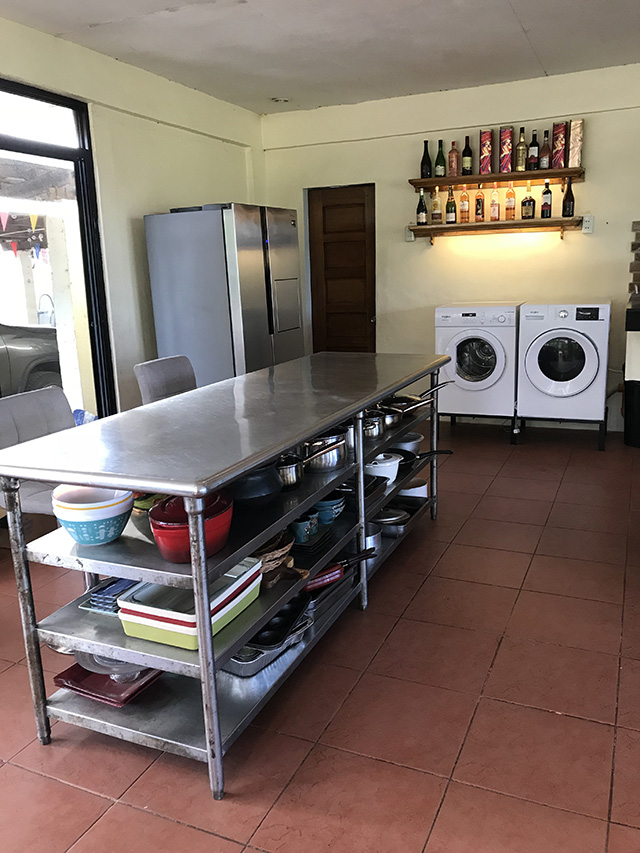 Her father's old gallinera sala set was restored and accented by cushions.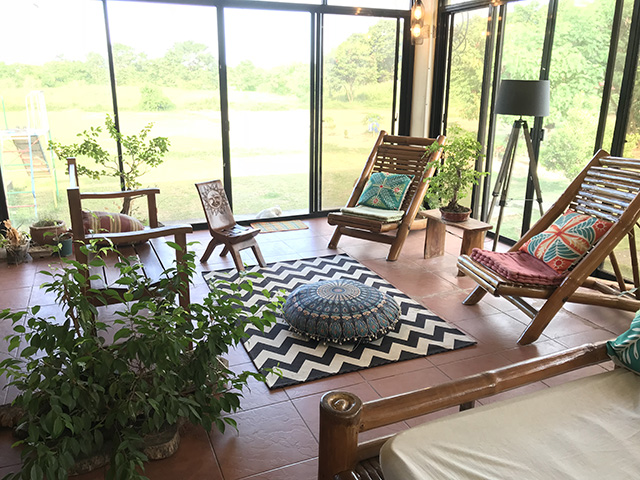 ADVERTISEMENT - CONTINUE READING BELOW
As her home was entirely DIY, Raia shares that there's no really end in upgrading and sprucing up one's space.
"Every home is a work in progress. In our home there is always a new project or another plan or something that needs improvement or tweaking," she says. "Lagi kaming restless ng asawa ko sa kung anong susunod na home improvement project namin. So tingin ko [ang] mga homeowners dapat gan'on din, lagi malikot dapat ang utak kasi it's a creative process e, decorating one's home. Tapos dapat your home and its décor should reflect who you are and your interests. Each piece should have meaning and/or have a story to tell.
"And also decorate for the sheer joy of it. There is nothing more satisfying than a beautiful home made with love."
More on Realliving.com.ph
Load More Stories