Couple Builds a House Among the Trees in Cebu
As tree-huggers, the architect-interior designer duo built a structure that fully embraces nature Living in uncertain times has taught us to trust in God's timing and as the saying goes, "what's meant to be will always find its way to you." For design duo Marvin and Sheryl Mariñas, this meant working on what's supposed to be a retirement plan ahead of schedule. "We've always wanted to develop a farm project that we can tend to on weekends. When our daughter was born, our vision also shifted towards providing a place for her to experience what we experienced growing up—playing and spending more time outdoors, in nature," shares Sheryl.
The pandemic has pushed the couple to move back to Carmen, Cebu where their house among the trees is slowly taking root. "The current house is just the first phase which is why the materials used in some areas are semi-permanent. We're looking forward to the next phase where we'll be using the same natural materials and look, but with more space for other functions like an additional bedroom, a library, and a study room, to name a few," Sheryl explains.
ADVERTISEMENT - CONTINUE READING BELOW
Since Marvin is an architect and Sheryl is an interior designer, exchanging ideas for the home is a breeze. The overall design is vernacular which is characterized by a look that highlights a home's location while paying respect to the existing landscape. "There are three mature native trees in our chosen location and we're excited to live with them. They became a major consideration when Marvin did the space planning," shares Sheryl. True to its design, the trees became an integral part of the house. Take a peek inside this wonder of a home below:
Façade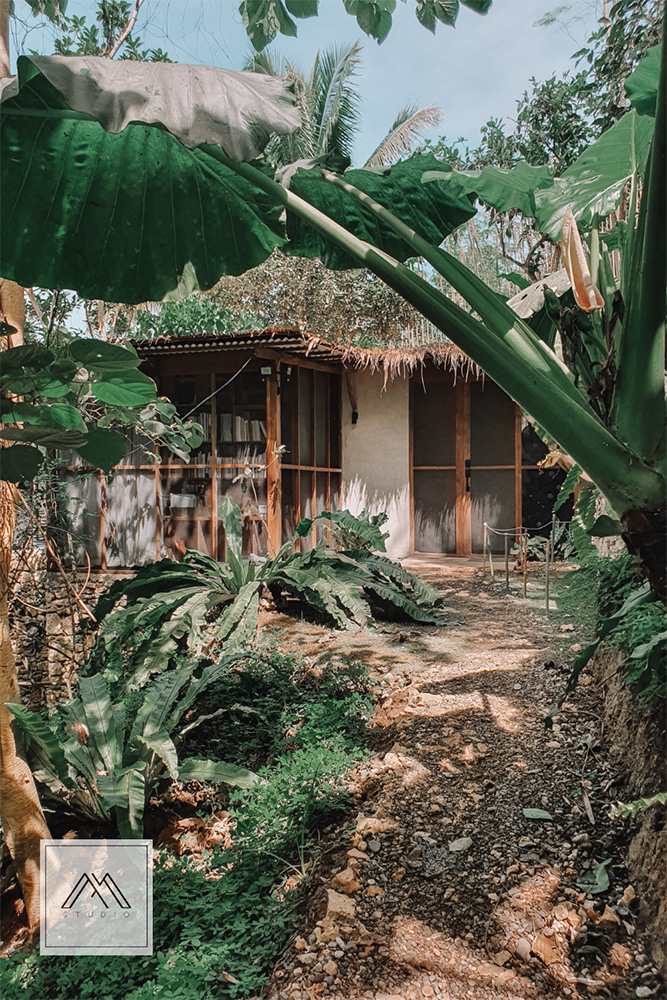 Two skilled laborers and three farm labors helped build the house which has a tropical aesthetic. The location is secluded and found in an uphill mountain.
Outdoor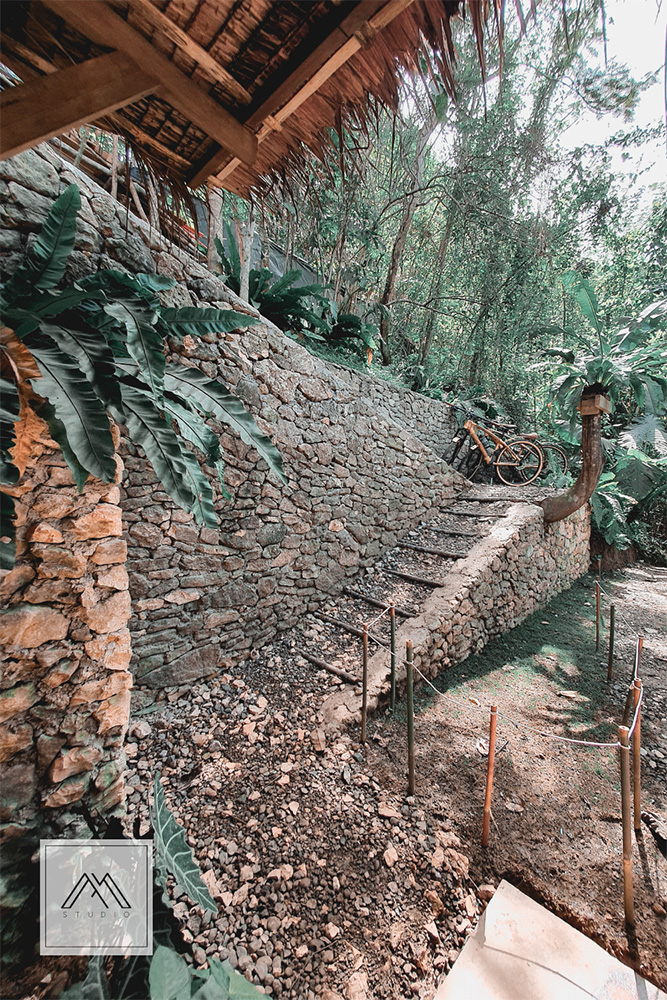 The sloping terrain proved to be challenging but once they figured out what to do, construction went smoothly. "We used the cut and fill method, and the available rocks scattered in the area as our retaining wall in some areas that needed to be filled since we don't have the resources to build major structural elements like posts and beams," explains Sheryl.
ADVERTISEMENT - CONTINUE READING BELOW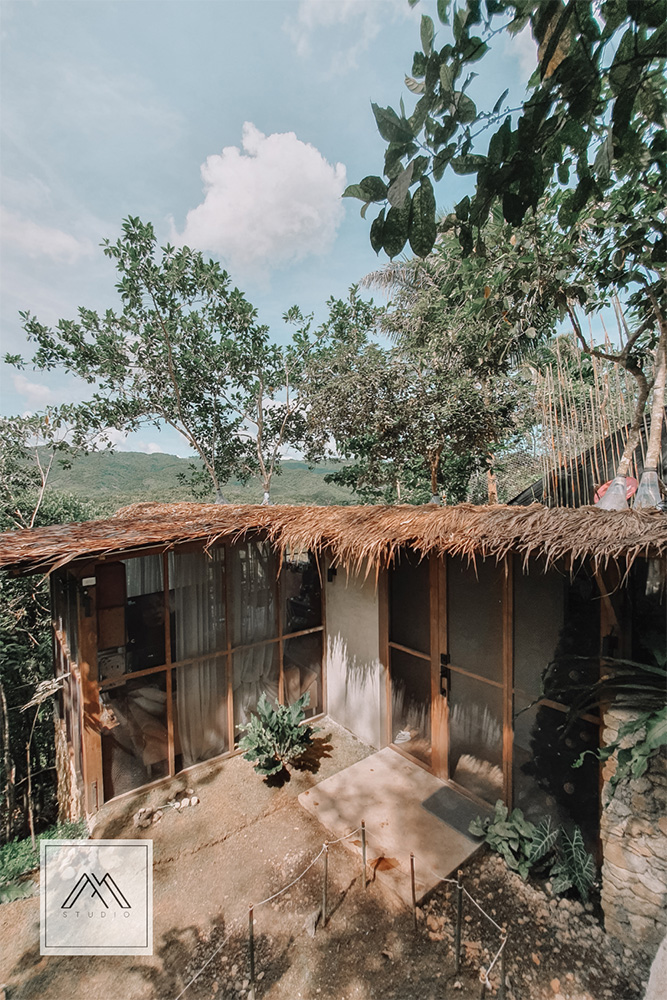 Can the house withstand harsh weather conditions? Being familiar with the area enabled the couple to come up with a design and a list of materials that can guarantee this. "We're familiar with the amount of rainfall, wind directions, and strength of typhoons. We are located in a cove formation of a hill side, thus we don't get affected that much and most of the strong winds dissipate due to natural buffers surrounding the farm," says Sheryl.
ADVERTISEMENT - CONTINUE READING BELOW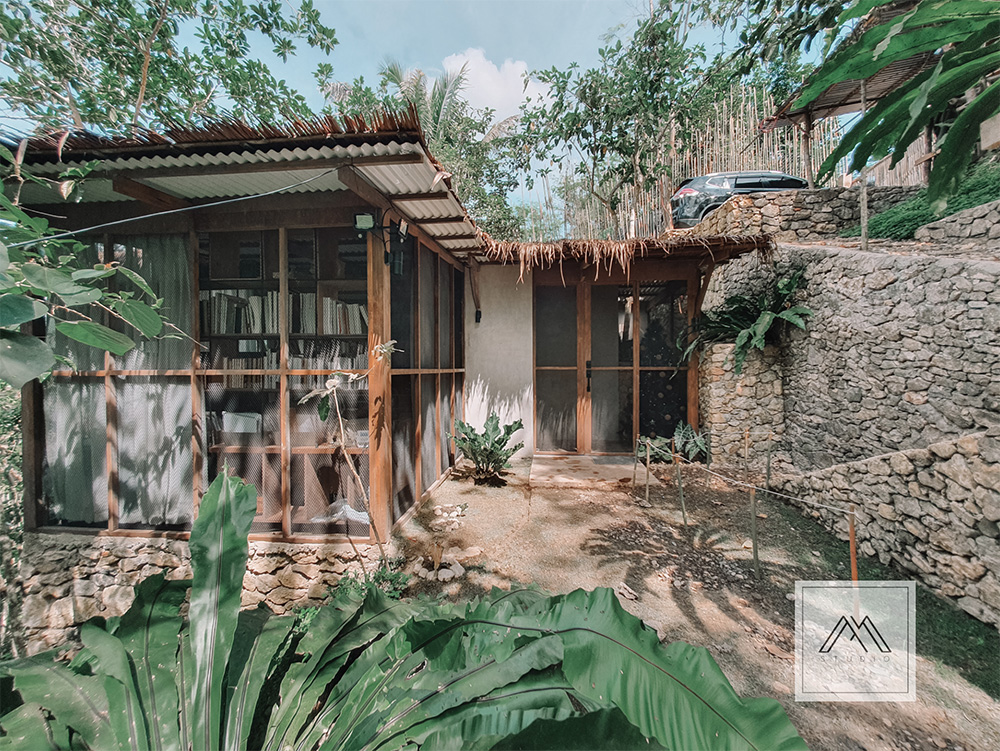 Most of the home's perimeter windows and doors have aluminum screens that allow cross ventilation. They don't even have AC units! Sheryl refers to the breeze as natural AC. They only have electric fans in the home which are seldom used. What about insects? "It's pretty normal to have insect visitors since we live in a farm but surprisingly, there's no issue or major concern about it," Sheryl adds.
ADVERTISEMENT - CONTINUE READING BELOW
The home's roof features pre-painted white roof since they plan to build a second level in the future. The GI sheets were insulated by adding a natural nipa roof.
Living Area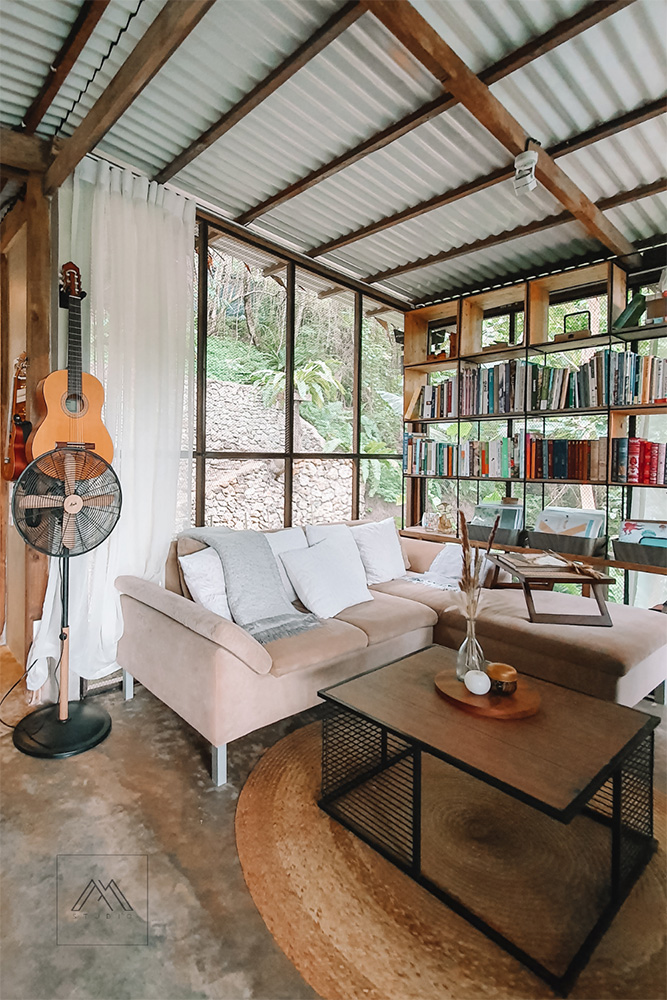 ADVERTISEMENT - CONTINUE READING BELOW
The living area has a relaxed, probinsya vibe that's very inviting. "We chose to have an exposed ceiling to save on costs, plus choosing pre-painted roof helped us save on labor, too," says the interior designer. Most, if not all, of the furniture came from their apartment and their old café. "This area serves as an extension of the dining area. The shelf came from the old café. We just can't be minimalist when it comes to books," she adds.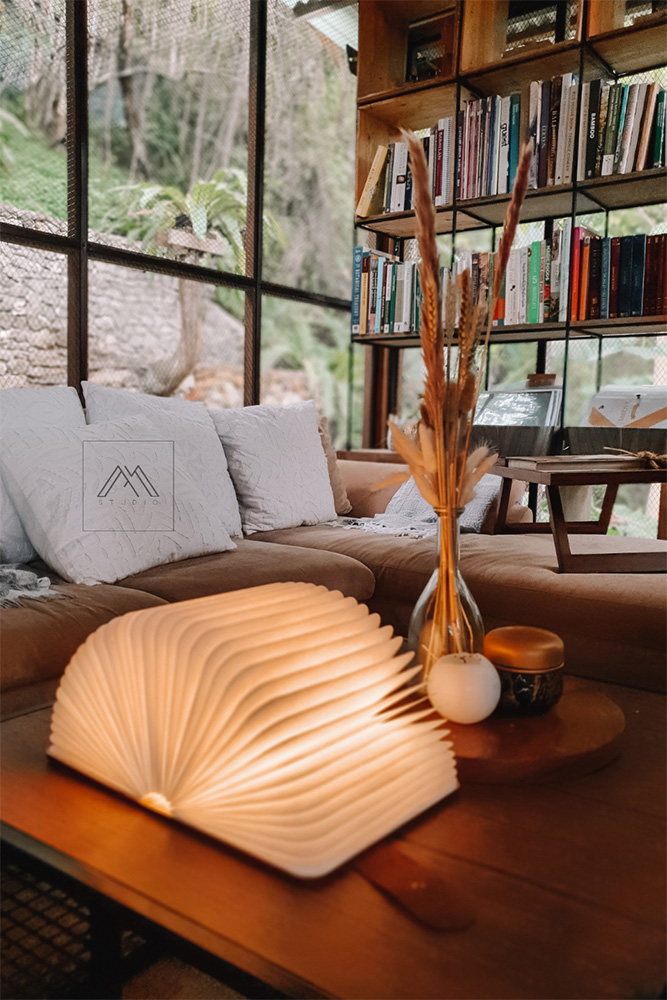 ADVERTISEMENT - CONTINUE READING BELOW
"We love this book lamp from Paliwanag which is very useful during brownouts," says Sheryl. The round wooden tray that serves as a catchall also doubles as a chopping board.
Dining Area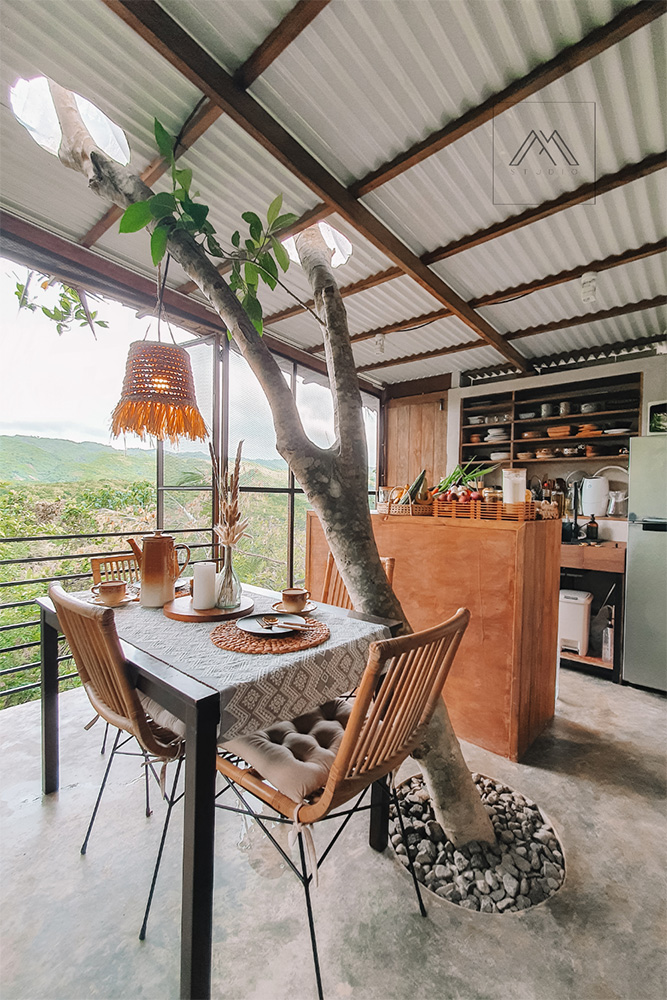 Dining with a view? Count us in! Rafters add to the aesthetic and come in handy to hold up the roof. The tree in the dining area perfectly blends into the home. "We planned the space around them, to incorporate ourselves in between and not the other way around," explains Sheryl. "We are not the ones saving them, we are squeezing ourselves among them. We'd like to think of it that way," she adds.
ADVERTISEMENT - CONTINUE READING BELOW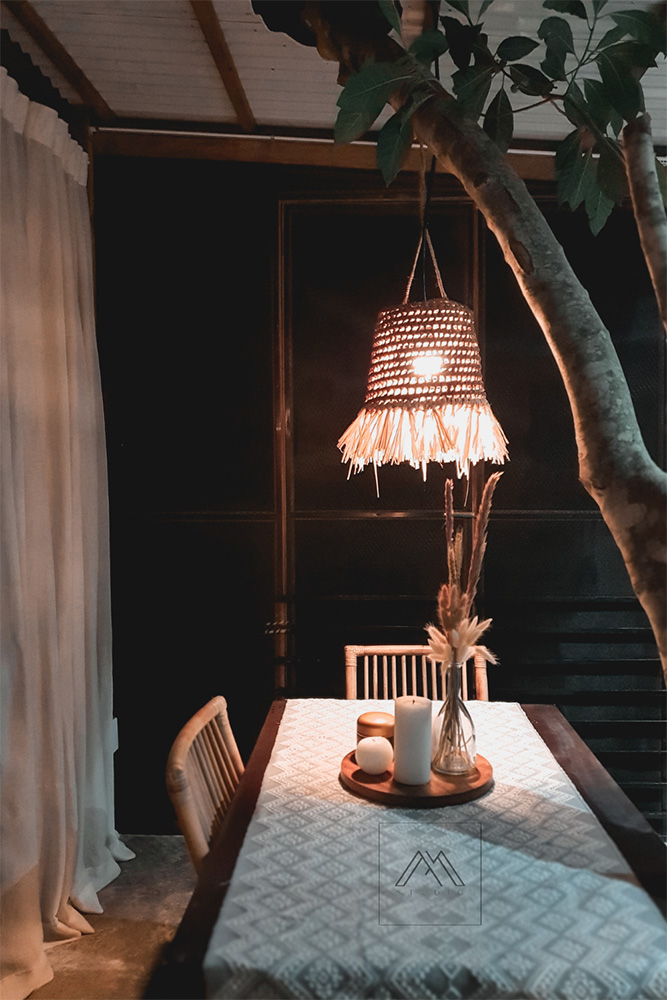 At night, the dining area looks equally magical – with the lamp adding to the homey feel.
Kitchen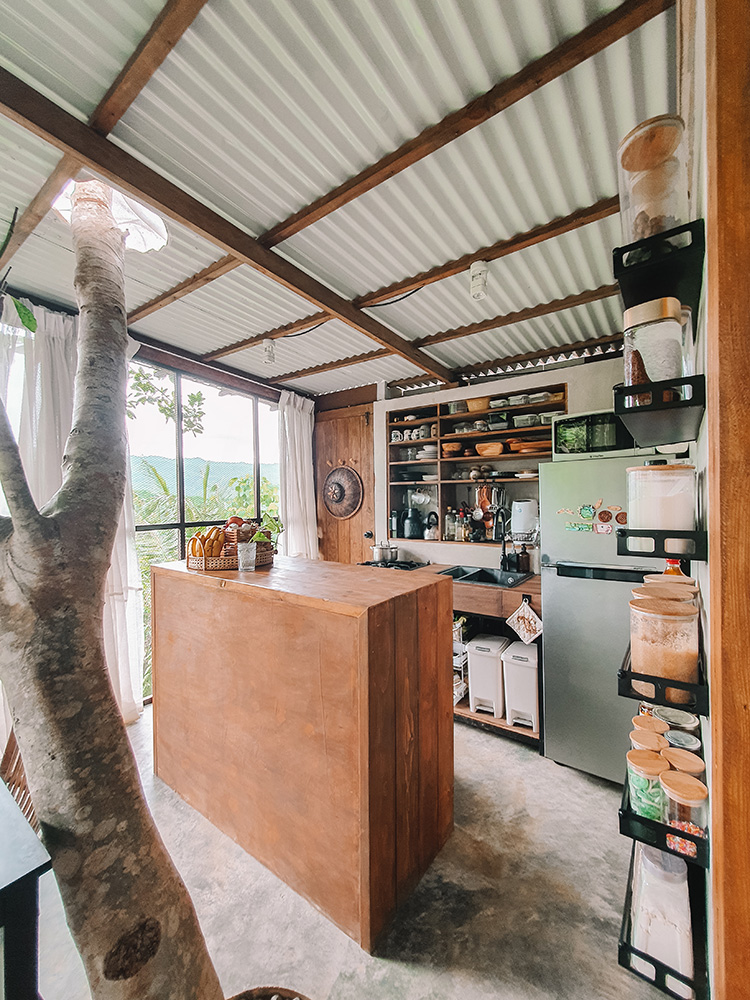 ADVERTISEMENT - CONTINUE READING BELOW
The kitchen looks compact, but it is very well-organized. Since the family lives in the mountains, they stock up on supplies—choosing multipurpose items and ingredients they can use in different ways.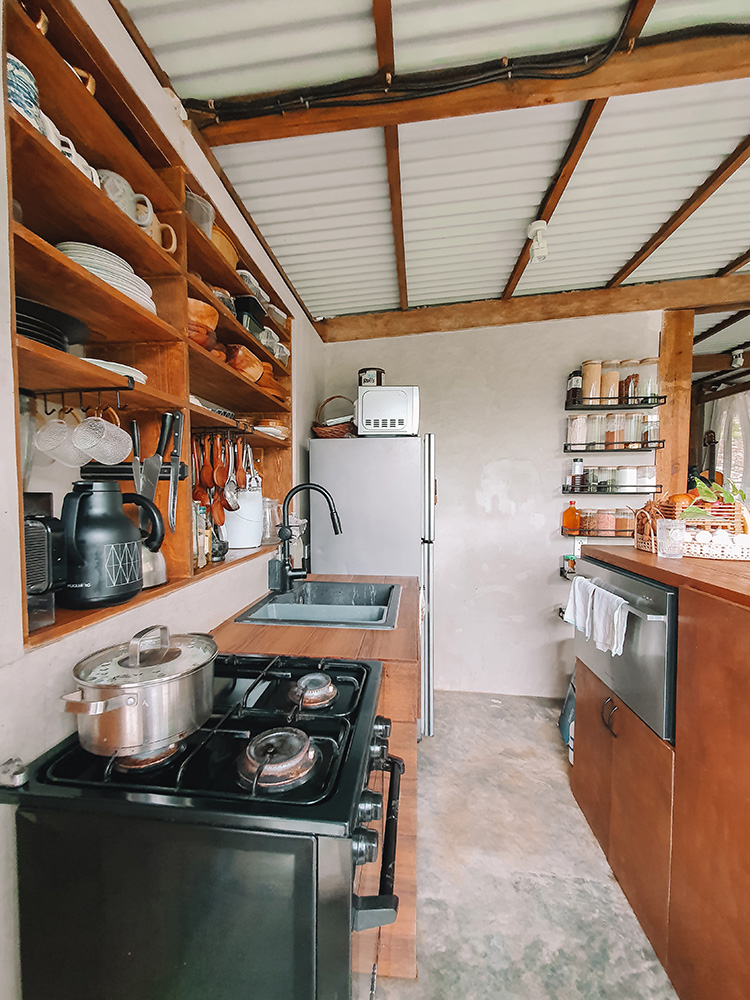 Cooking and dining essentials are neatly stacked, while a wall-mounted shelf holds jars of ingredients. The kitchen island can serve as an extra workspace when cooking while separating the kitchen and dining areas.
ADVERTISEMENT - CONTINUE READING BELOW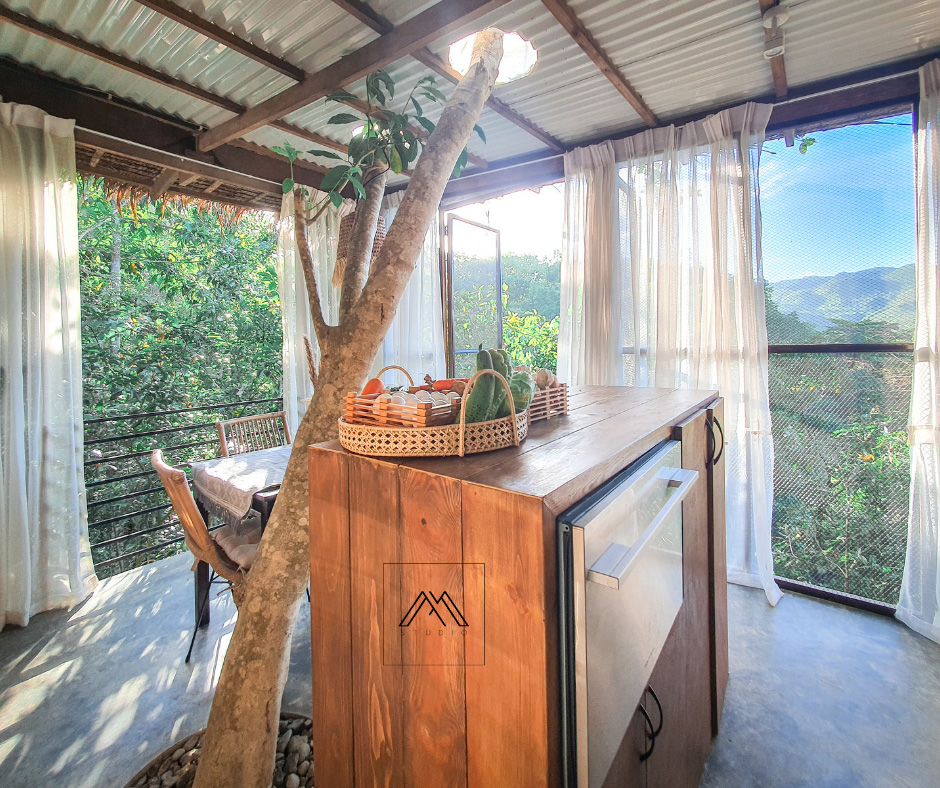 Who wouldn't feel inspired to cook with a view like this? Screen panels separate the family from the elements. "We spent less for these than solid walls and regular windows. It works better for us," says Sheryl.
Work Area
ADVERTISEMENT - CONTINUE READING BELOW
Every inch of space counts in this tiny home. The couple was able to carve out a working area complete with a table, a chair, and a shelf. "We get inspired to work when we get to look at the mountains once in a while," muses Sheryl.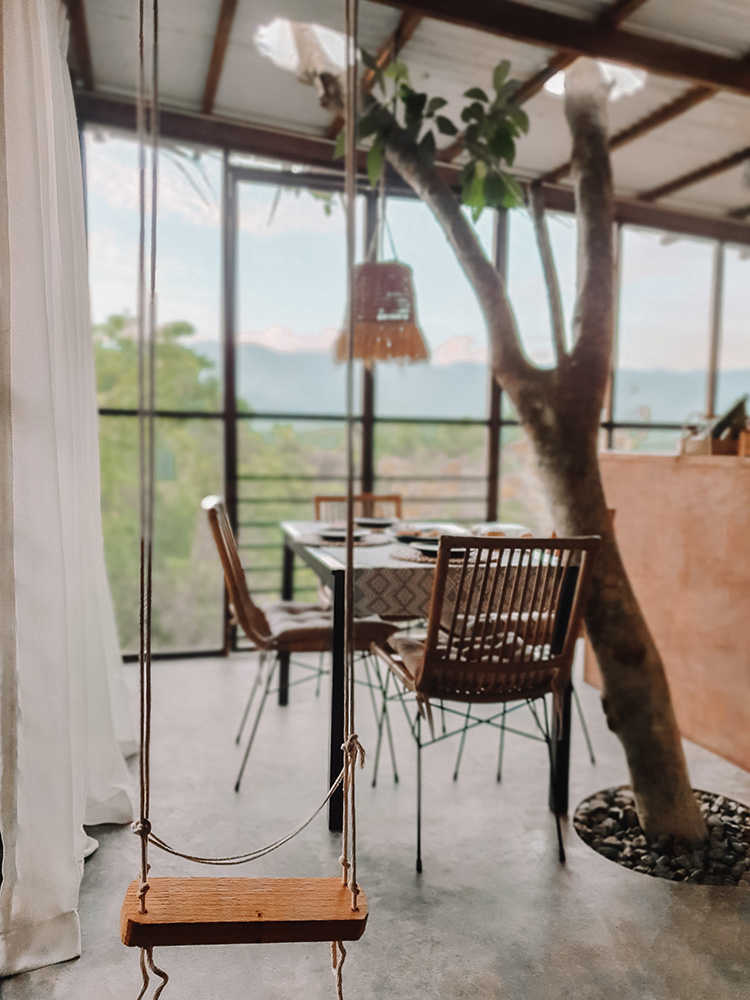 ADVERTISEMENT - CONTINUE READING BELOW
Marvin recently put up a swing for their six-year-old daughter, Khena. This can be hooked to one side when not in use, allowing them to marvel at the view.
Bedroom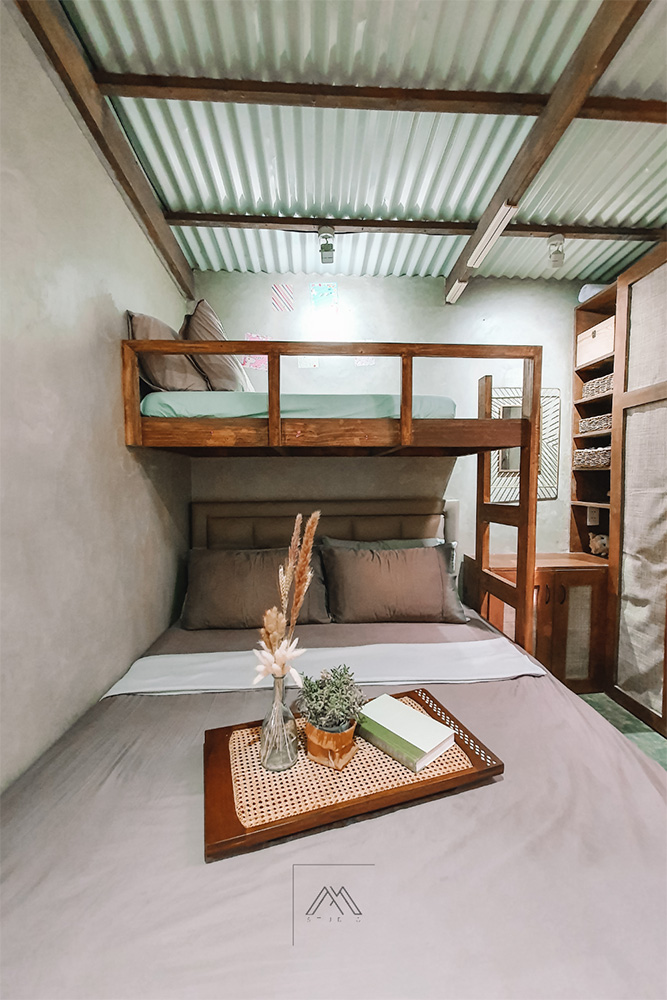 The family shares one bedroom with a double-deck bed that's efficiently designed. To match the overall look of the home, neutral-colored furnishings dominate the areas.
ADVERTISEMENT - CONTINUE READING BELOW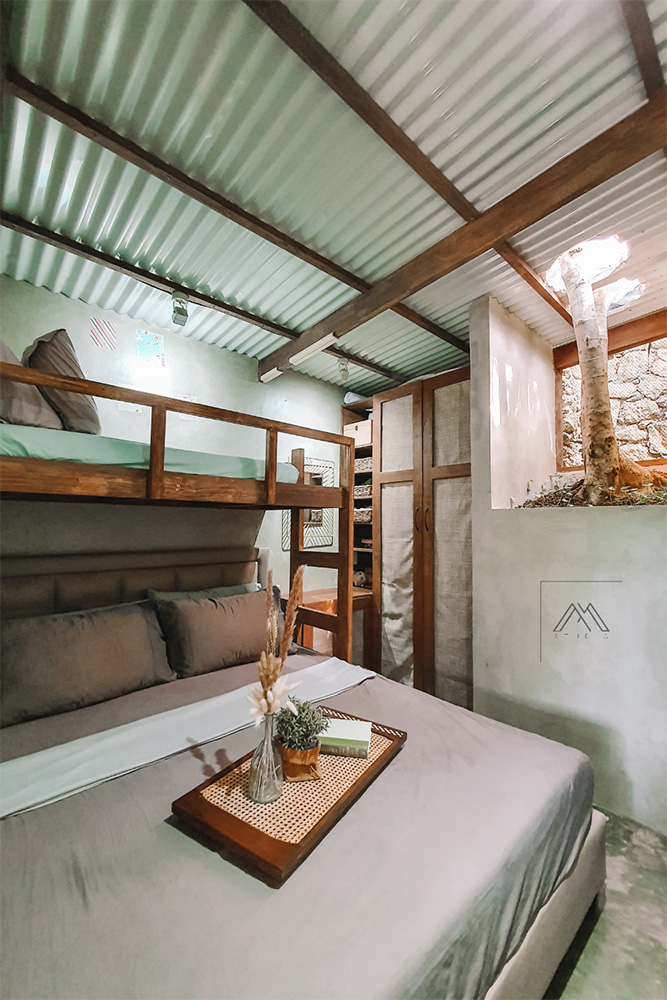 The family shares one compact closet as well since they're slowly leaning toward minimalism. "We used removable/washable fabric for the closet doors instead of our dream solihiya weaving for now," says Sheryl.
Bathroom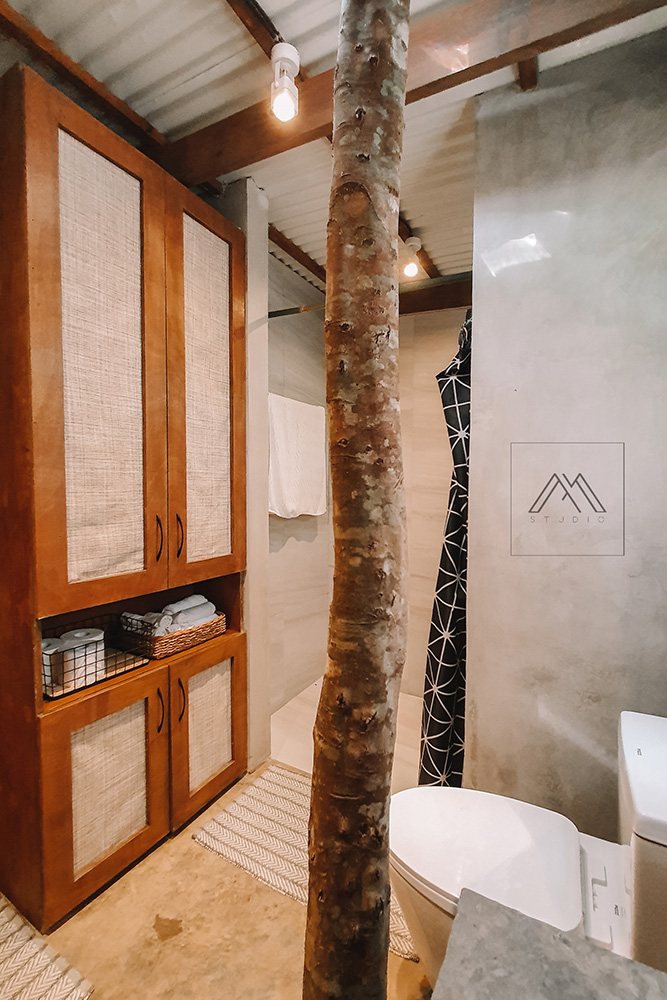 ADVERTISEMENT - CONTINUE READING BELOW
The bathroom has a shower area and a linen closet. Similar to the closet door, this closet also makes use of washable fabric. According to Sheryl, this is a canvas type that can be bought in any fabric shop and can be attached to wooden frames using Velcro.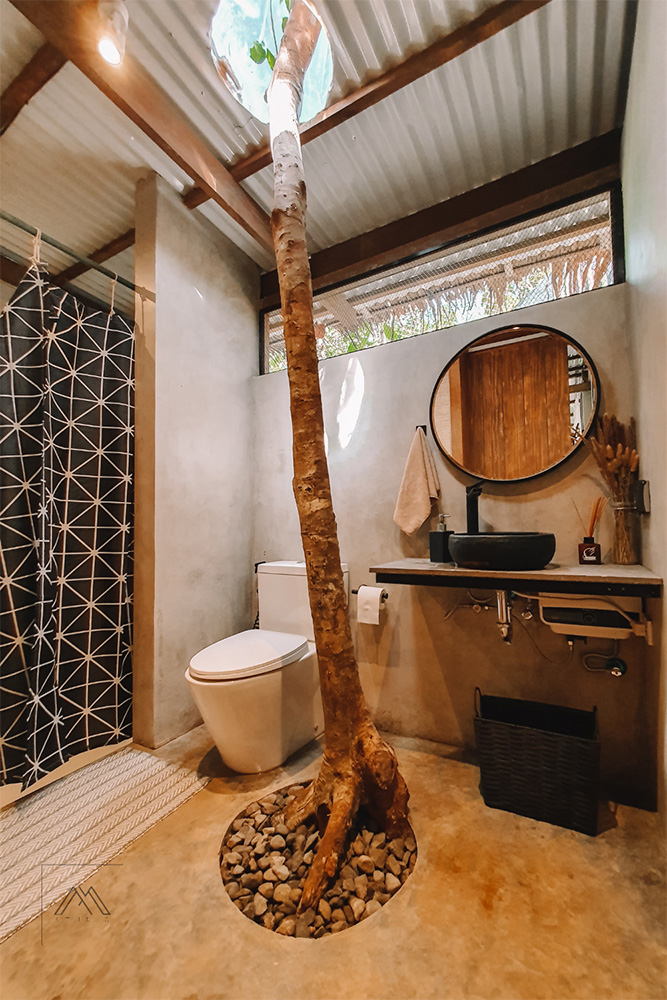 ADVERTISEMENT - CONTINUE READING BELOW
A DIY heavy-duty plastic is attached to the roof and tree trunk to prevent water from getting inside. This allows them to enjoy the perks of a skylight or natural light during daytime, too.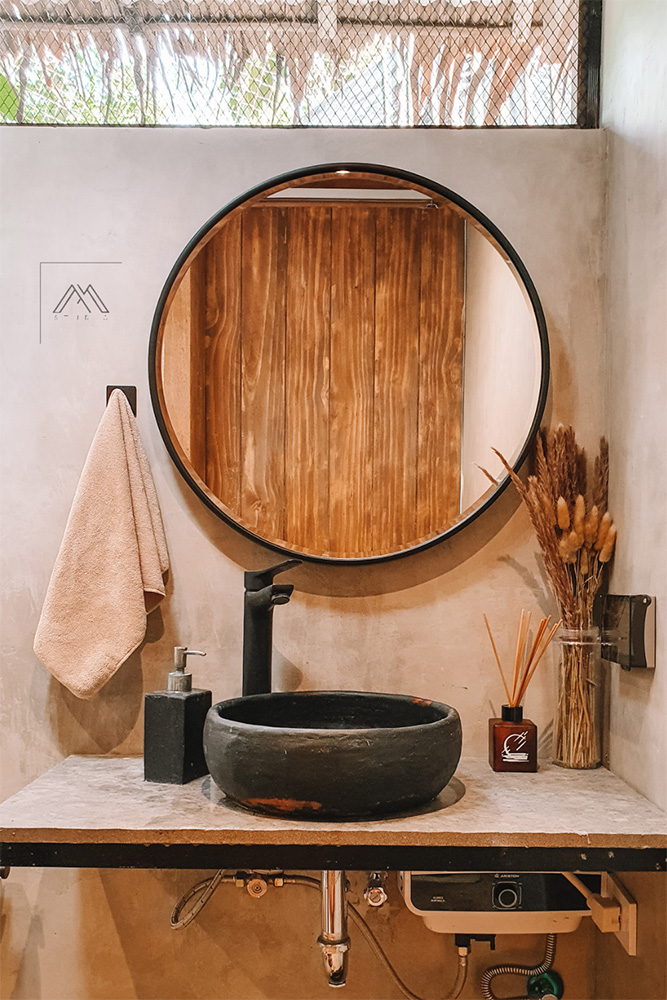 The black basin is a handpainted red clay sink with black tile grout that they bought from a local potter. It works seamlessly with the rest of the fixtures in the bathroom, adding to the tropical-rustic aesthetic.
ADVERTISEMENT - CONTINUE READING BELOW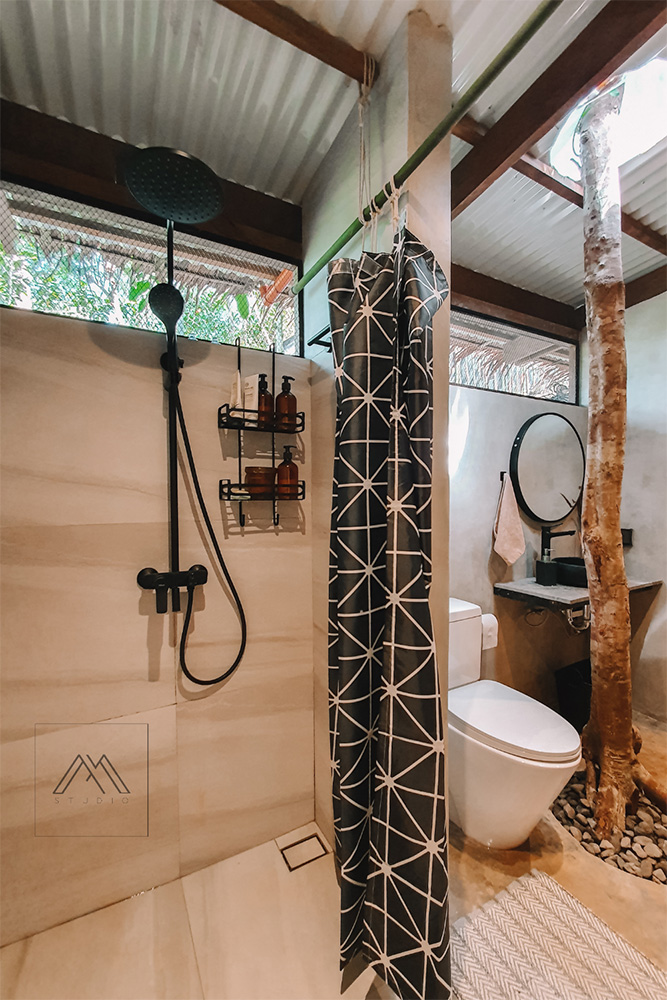 The couple invest in new bathroom fixtures for the house because they want to have matte black brass. "Light-colored tiles, aside from helping you achieve an airy looking bathroom, always seem clean even if you haven't cleaned it for a month. Our shower curtain rod is from a small bamboo specie called bagakay – a type of bamboo that's locally believed to ward off 'aswang,'" Sheryl explains.
ADVERTISEMENT - CONTINUE READING BELOW
Do you want to work with M+S Studio Co.? You can visit their website at www.msstudioco.com or follow them on Instagram @msstudioco.
* * *
Have you recently spruced up your room or renovated your home? We'd definitely love to see the result! Send clear photos (with your full name, city address, and accompanying kuwento) to [email protected] with the subject "DIY Makeover" and we may just feature your DIY project!
More on Realliving.com.ph
Load More Stories