Houses
This Tiny Modular Home Will Only Cost You Around P8k a Month
If you spend this much monthly for rent, why not invest in your own house instead? Photography: Cubo Modular (main)
A lot of young professionals and small families today say owning a home, apart from having financial freedom and peace of mind, is the ultimate dream (and goal). 
However, if you're earning just enough to pay the bills and put food on the table, owning a home is probably at the back of your mind and will stay there until you have enough, at least for the down payment. The entire process of buying a property can be intimidating too. 
But what if there's a home that costs as much as the amount you pay for monthly rent? Enter CUBO Modular. It's a Filipino company that makes sustainable and affordable homes from engineered bamboo.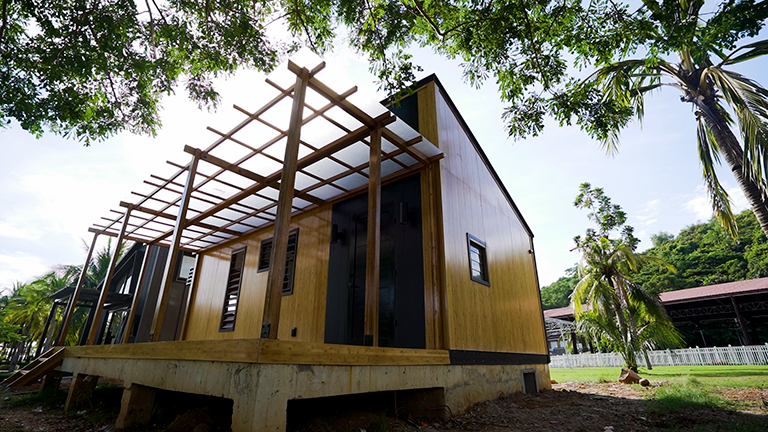 ADVERTISEMENT - CONTINUE READING BELOW
Summit OG got a chance to have a conversation with CUBO's co-founder and CEO, Earl Forlales. "CUBO is a manufacturer of engineered bamboo house kits," he said. "We produce the houses off-site, deliver them on the project site by trucks, and assemble them very quickly."
In a nutshell, think tiny homes, but Pinoy-style. "The main goal of CUBO is to help transition to sustainable building," he explained.
Since more and more companies, including those in engineering and homebuilding industries, are starting to find more environmentally-friendly ways to deliver their products, it's safe to say modular homes are the next big thing. 
Modular homes are houses delivered to your lot either already built or by panels. These kinds of homes cut the construction time in half and prevent any unforeseen or additional costs. 
"Usually, there are a lot of problems that can arise when you build for one or two years, but with our modular system, the construction period can only be as short as one to two months, depending on the site or the size of your CUBO home," Forlales explained.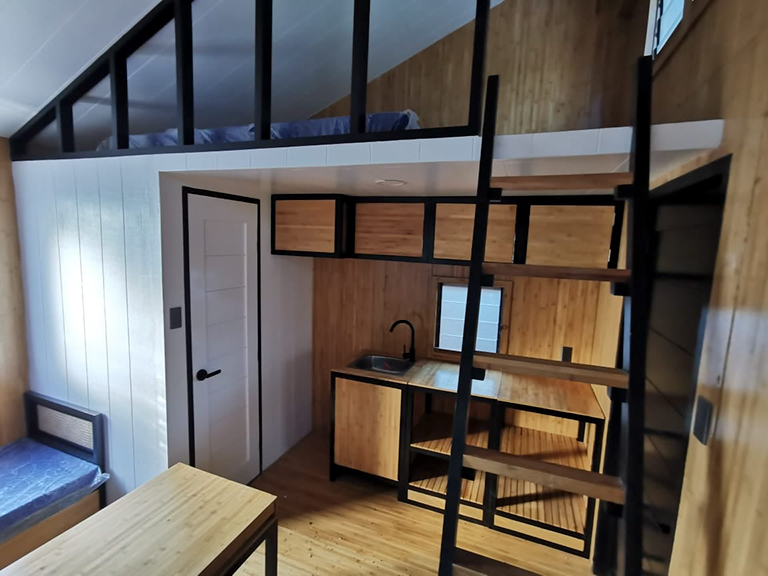 A lot of curious homebuyers who inquire about CUBO's designs wonder if their homes are built to last. Forlales highlighted the capacity of engineered bamboo to withstand storms and other natural calamities.
Bamboo is also more heat resistant compared to other materials, which makes it great for building homes in tropical countries like the Philippines.
ADVERTISEMENT - CONTINUE READING BELOW
"One of the top causes of fires is faulty electrical wiring," Forlales said. 
"To prevent that, we invest in a top state-of-the-art electrical system. Hindi 'yan nakaka-kuryente kahit mabasa because we know it's a risk for children," he pointed out.
Forlales shared that he grew up in a bahay kubo with his lola, which is where the inspiration to build affordable and sustainable housing came from.
"We just released our Buhay CUBO Plan," he said. It's CUBO's in-house financing program, which aims to help homeowners afford their own house. "Right now, we have them available between P5,000 to P8,000 per month." 
If you've never been inside a tiny house, you've probably wondered if that amount of space is enough for a young professional with plenty of things or a typical Filipino family of four.
Forlales took Summit OG in an exclusive tour inside one their Sarangani model, which is currently in Amaya Coast Beach Resort in Mariveles, Bataan.
ADVERTISEMENT - CONTINUE READING BELOW
Watch the tour here and see for yourself. A typical CUBO home can actually fit more than the number of people you expected. There's a lot of space for storage too and a work-from-home space just in case. 
Have you ever been in a tiny house? How was the experience? Do you see yourself living in a tiny home soon? Share your thoughts in the comment section! 
Watch more Summit OG videos here.
More on Realliving.com.ph
Load More Stories