A Farmhouse-Inspired Home in Quezon City
Welcome to Portland French, a renovated two-storey home built on a couple's meticulous planning and DIY ethic
by
Cielo Anne Calzado
Oct 15, 2018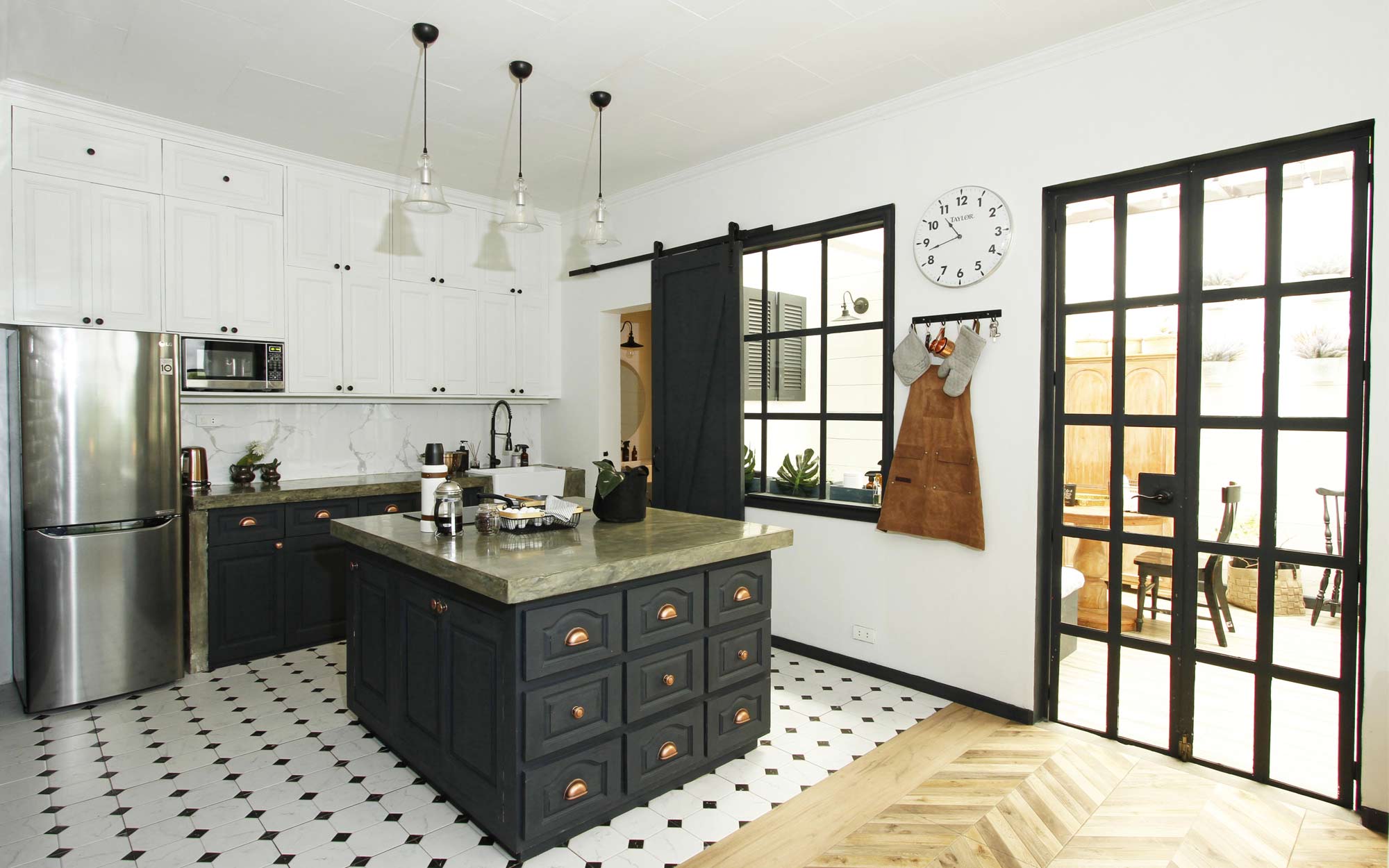 "It's a home that makes you forget you are in the heart of Metro Manila's chaotic streets and a place you'd never even want to leave."
Found along a busy street in Diliman, Quezon City is a modest gate that leads to Kai and Cyrus's two-storey home. Five years ago, the couple welcomed Real Living into the 40-year-old house which they successfully renovated into a bright and modern haven. "When we first renovated, we kept buying stuff to the point na, it's getting cluttered. Before, tight budget and tight timeline so madalian talaga. It was cute, it was a good renovation, pero hindi namin sya na-all-out," Kai exclaims. The house ended up gracing the cover of the magazine in 2013, too.
Fast forward to 2018, we're back in the same house, and much to our surprise, it's sporting an awe-inspiring new look. Without professional help and only with a couple of skilled workers on their team, Kai and Cyrus embarked on a renovation journey, only this time, they decided to go all-out. From having a colorful modern theme, the house now highlights a charming farmhouse-like aesthetic that takes inspiration from their numerous travels abroad. They specifically picked Portland, Oregon, and France as their main sources of inspiration.
ADVERTISEMENT - CONTINUE READING BELOW
Like a well-oiled machine, the two were very hands-on and they personally bought the materials. "Every single day, we go to the hardware or depot. Our day isn't complete if we didn't go there at least twice," Cyrus shares. Since Cyrus has work and Kai had the freedom to work from home, she was the one who monitored the progress of the project. "The vision was definitely Kai's. We'd talk about it, we'd discuss it, and she'd plot it on Powerpoint. To translate it to the workers, it's a completely different element. A lot of the stuff they were doing here, they never heard of or did before. We had to explain it piece by piece," adds Cyrus. After carefully sourcing what goes into the house, patiently ordering materials abroad, and surviving inevitable setbacks, the two are ready to showcase the result of their creativity and hard work which they fondly call Portland French.
ADVERTISEMENT - CONTINUE READING BELOW
CONTINUE READING BELOW
Recommended Videos
In finalizing the look of their home, Kai and Cyrus have put together elements commonly seen in Portland, Provence, and Paris. Subway tiles, shiplap, warehouse windows, distressed furniture, wainscoting, and vintage-inspired details take the spotlight in their home, giving it a distinct farmhouse vibe. "It had to look clean, uncluttered, practical, and functional, but still visually creative and inspired. It's a home that makes you forget you are in the heart of Metro Manila's chaotic streets and a place you'd never even want to leave," shares Kai. True enough, stepping inside the lovely house will transport you to a farm in a faraway land.
Sunroom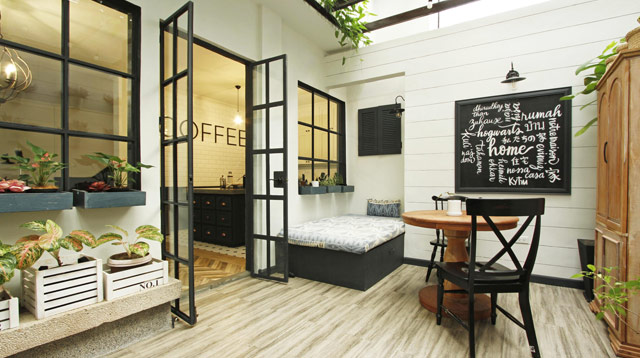 ADVERTISEMENT - CONTINUE READING BELOW
A sunroom welcomes guests into the space, giving them a taste of what to expect inside. Bathed in natural light, it's a place where the owners can entertain guests, spend time with their dogs, get some work done, or simply relax. "Our goal was always to make our home feel like a secret haven amidst all the craziness outside," adds Kai. Since they didn't have furry companions before, the owners had to take into consideration their pets when sourcing materials and shopping for furniture this time around. The tiles in the sunroom, while resembling wood, are waterproof and scratchproof. Completing the look are potted plants, a daybed, a dining set for two, and a cabinet for storage.
The couple's favorite design piece serves as the focal point in the sunroom, a commissioned calligraphy artwork that highlights the word "Home" translated into the different languages spoken in the countries they've visited in the last 10 years.
ADVERTISEMENT - CONTINUE READING BELOW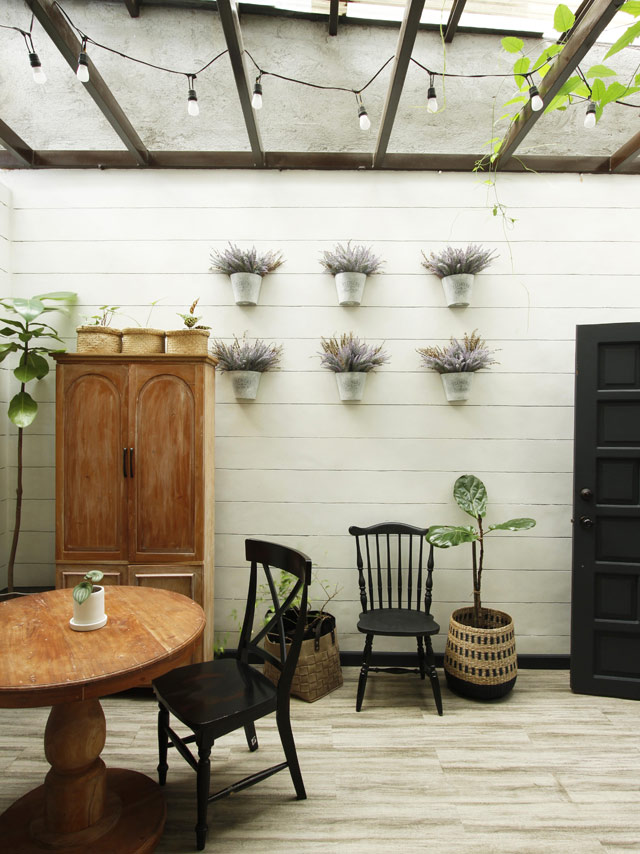 Tiny bulbs and vines add a whimsical rustic touch to the sunroom. "The lavender wall is inspired by our travels in France and all over eastern Europe where it's bountiful. We looked at our travel photos for inspiration," explains Kai. They also chose not to paint the cabinet to keep within the theme.
ADVERTISEMENT - CONTINUE READING BELOW
Kitchen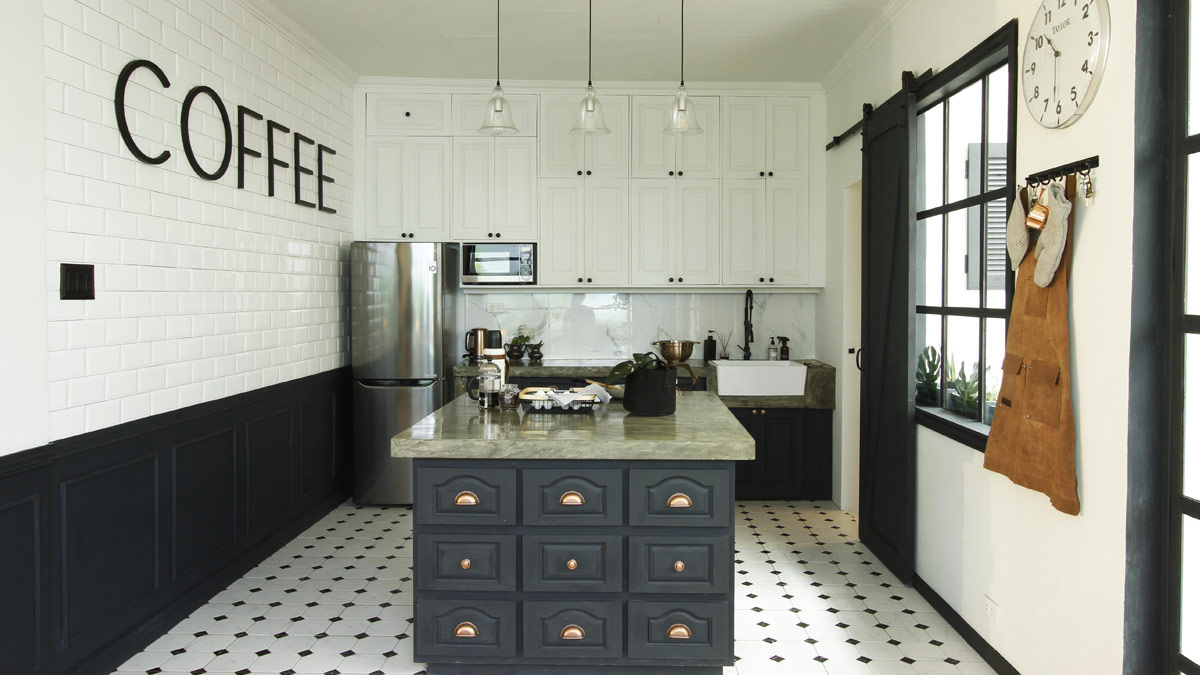 PHOTO: Vincent Coscolluela
Who wouldn't fall in love with this kitchen? "Our kitchen with the 'Coffee' sign and subway tiles pays homage to Portland's restaurants and cafes," Kai says. The cooking area is Cyrus's domain as he is the chef of the house and given his work as a restaurant consultant, he knows how to make it efficient.
Honestly, we want to stay in this kitchen for hours just to marvel at its beauty and details. Before they were able to achieve such a picture-perfect kitchen, a lot of work was done. "We spent a month sa kitchen palang, yung cabinets nilagari isa-isa. Our workers did everything from scratch and by hand because they didn't have power tools. This renovation is a DIY, handcrafted project every step of the way," Kai explains.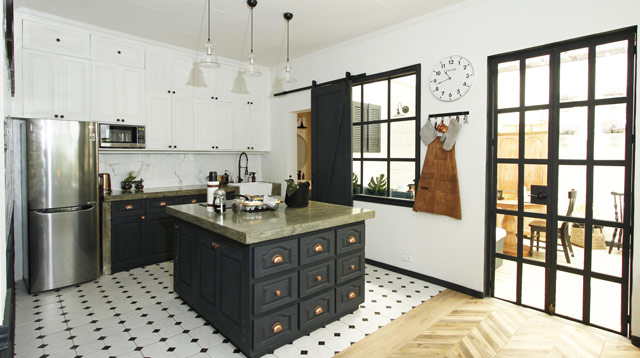 ADVERTISEMENT - CONTINUE READING BELOW
Some of the noteworthy elements in the cooking area include the concrete countertops and kitchen island. It has a smooth, shiny finish that complements the cabinets and other little details. "The workers haven't done anything like this before. After they polished the cement, they applied an epoxy sealer to give it shine, and of course, to sanitize and to keep bacteria from seeping into the countertop, adds Cyrus.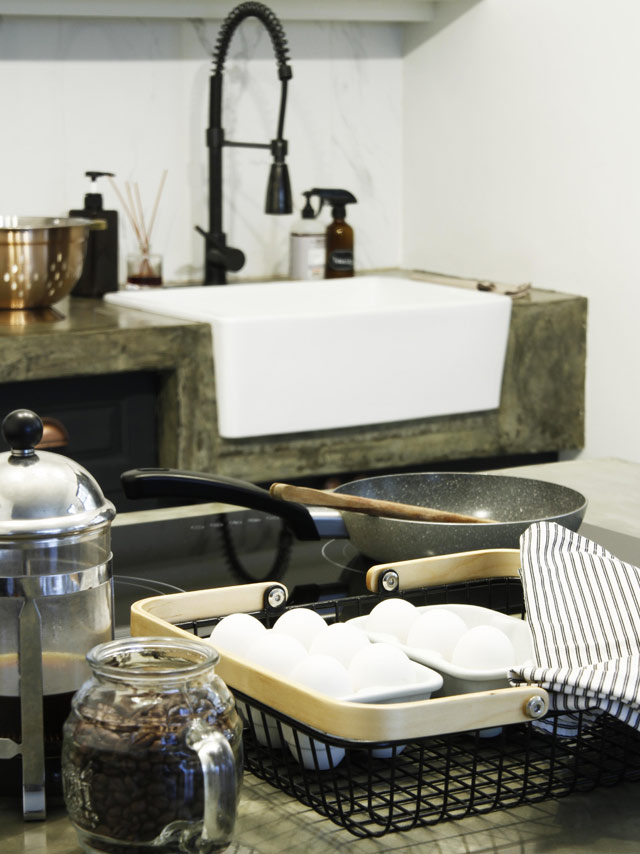 ADVERTISEMENT - CONTINUE READING BELOW
What's a farmhouse-inspired home without a farmhouse sink? The owners got the sink from Vintage Hardware Manila. To complete the look, they paired it with a spring-coil pull-down sprayer kitchen faucet.
Dining Area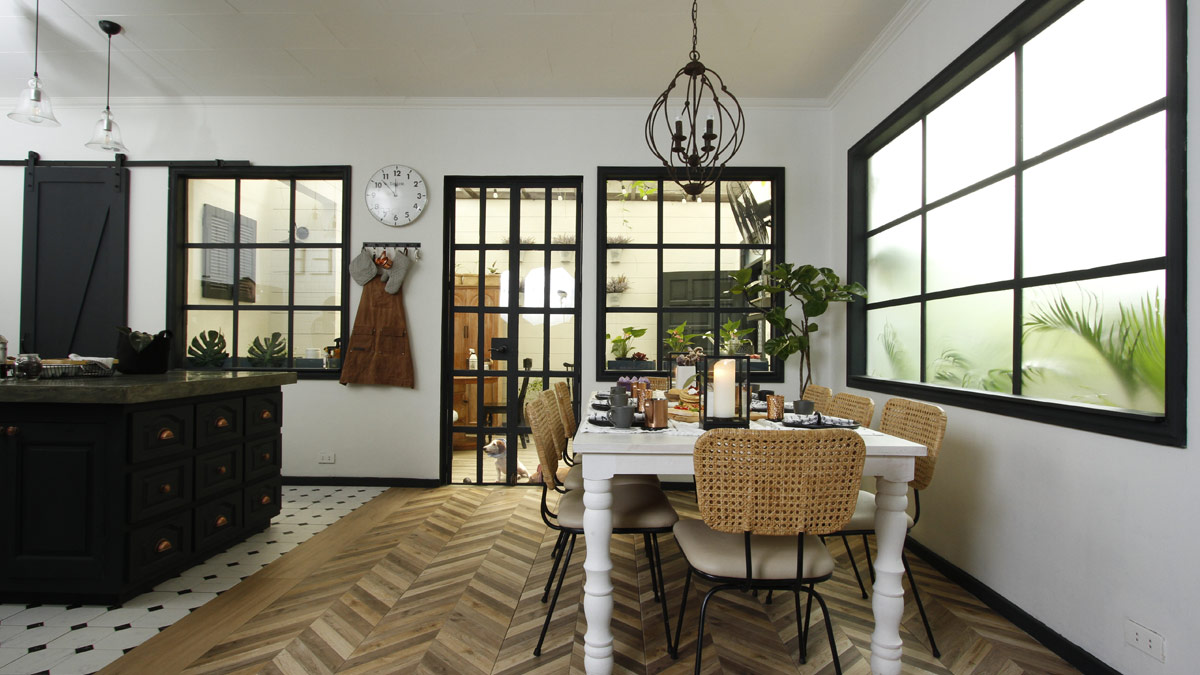 PHOTO: Vincent Coscolluela
Kai and Cyrus chose the tiles well—as a mix of patterned tiles livens up the floor. Even the installation of these pieces shows how they paid attention to details—the tiles in the dining area highlight a herringbone pattern.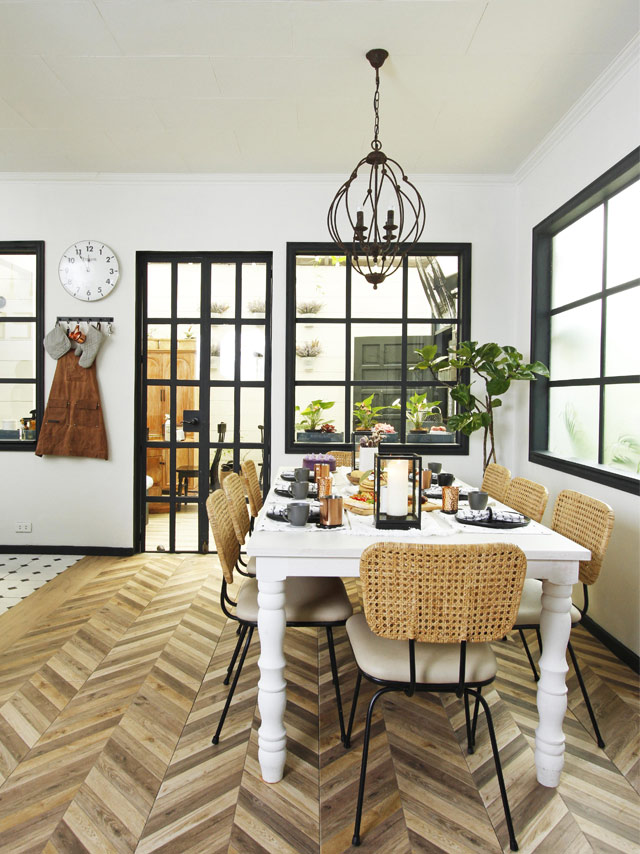 ADVERTISEMENT - CONTINUE READING BELOW
The kitchen and dining areas share an open space, making entertaining guests a breeze. "We also have warehouse windows, these are very French and very Portland," says Kai. In the dining area, a vintage chandelier hangs above the dining set, complementing the furniture.
The couple had the dining table made in San Mateo, Rizal. "It's mahogany, 100 percent wood, then kami nalang nag-paint na white," says Kai. It looks pretty yet sturdy and complemented well by the chairs with solihiya backing.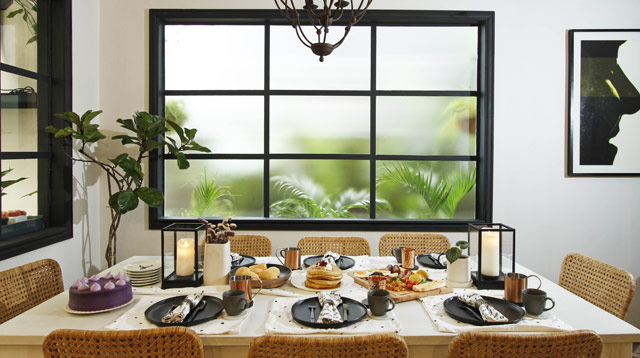 ADVERTISEMENT - CONTINUE READING BELOW
"The chairs were donated by one of Cyrus's clients. These are from one of their old restaurants. Designed sila ng isang architect and were custom-made for the resto. When they didn't need it anymore, dinonate nila," the lady of the house relates.
Living Area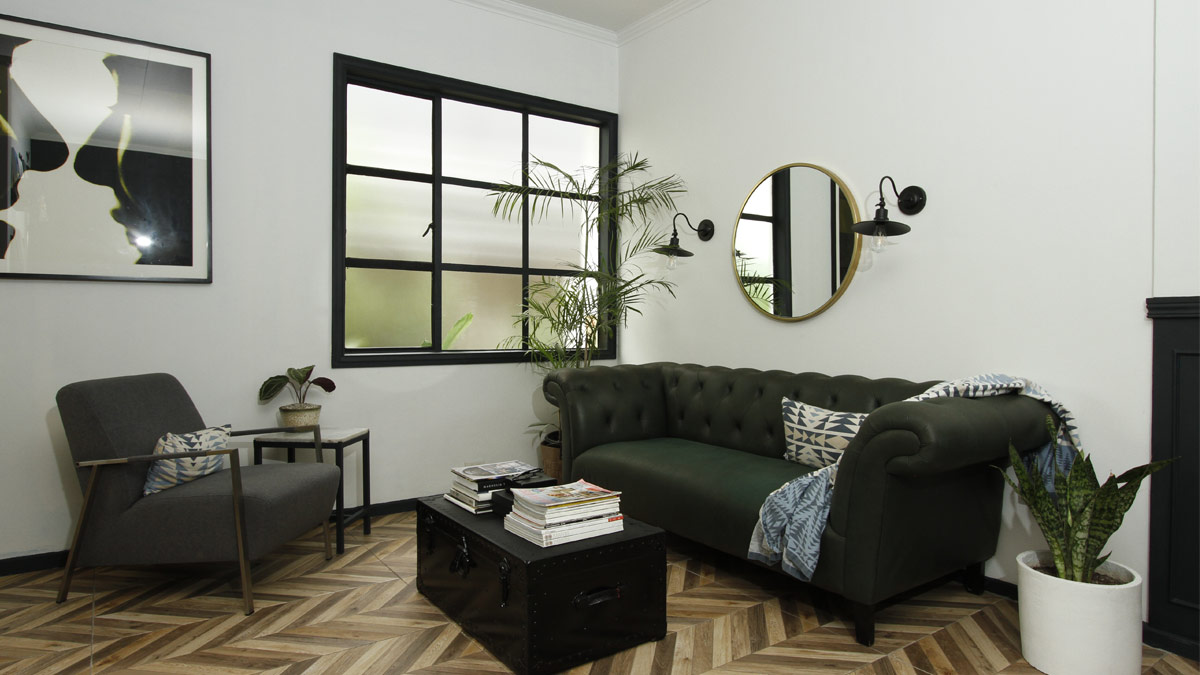 PHOTO: Vincent Coscolluela
The white walls serve as the perfect backdrop for the dark-colored pieces seen in the living area. Compact yet snug, the area is ideal for reading, quiet time, and bonding with the dogs. Kai and Cyrus chose tiles and furniture that are easy to clean and maintain since they share the home with pets.
The moss green tufted sofa is from Our Home, while the mirror is from West Elm. "The look is old-fashioned, laidback chic. We are kind of stuck in the 1900s, but it still feels modern," says Kai.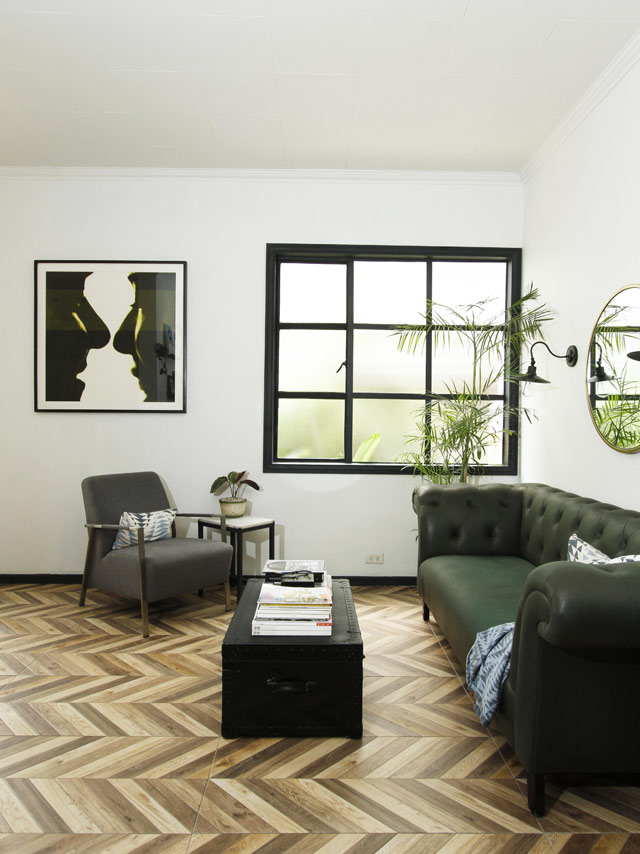 ADVERTISEMENT - CONTINUE READING BELOW
Sprucing up the space are the framed close up photo of the owners and potted plants. Kai has around a hundred plants inside and outside the house.
Staircase
To achieve the look they're going for, the owners went the extra mile. "We never settled. We really curated every piece from dozens of stores and what we couldn't find locally, we ordered and had it shipped from the States via LBC," Kai exclaims. Since they had a hard time finding the paint that would complete their vision, the couple purchased Magnolia Home Premium Interior Paint by Joanna Gaines, the other half of the Fixer Upper duo, and had it shipped overseas.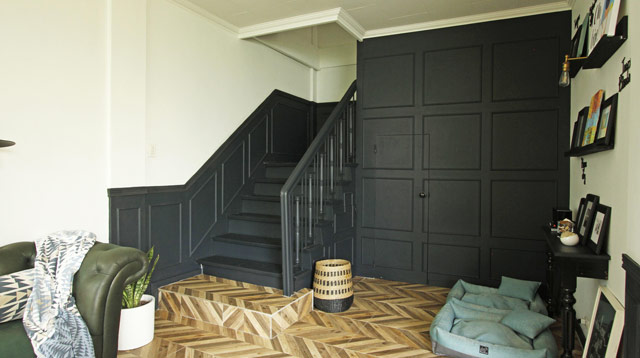 ADVERTISEMENT - CONTINUE READING BELOW
We love the almost black paint used on the staircase and secret room under the stairs—it exudes class and elegance. Yes, you read that right—a concealed door opens to a cozy maid's room. Aside from the pet beds found in the area, the wall-mounted shelves also feature framed photographs from the couple's travels—from snapshots of Paris to candid pics of Portland, it's also their mood board for the home's renovation.
Laundry Area/Pet Shower Area
A barn door near the kitchen opens to a common bathroom and a laundry area that doubles as a pet shower area.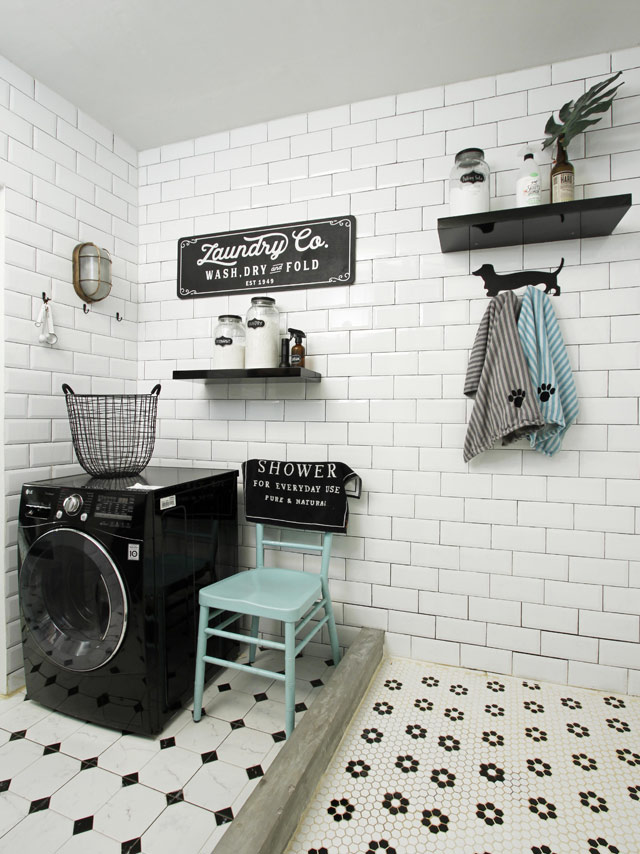 ADVERTISEMENT - CONTINUE READING BELOW
The space follows a black-and-white aesthetic as seen on the chosen finishes and fixtures. To keep the area dominated by subway tiles from being boring, they worked with patterned tiles for the flooring. The owners also brought in accessories in black.
Guest Room/Daughter's Bedroom
An all-white guest bedroom can be seen at the far end of the second floor. Since this room gets abundant sunlight, most of Kai's indoor plants can be seen on a shelf near the window. Even the beds and side tables match the pristine theme.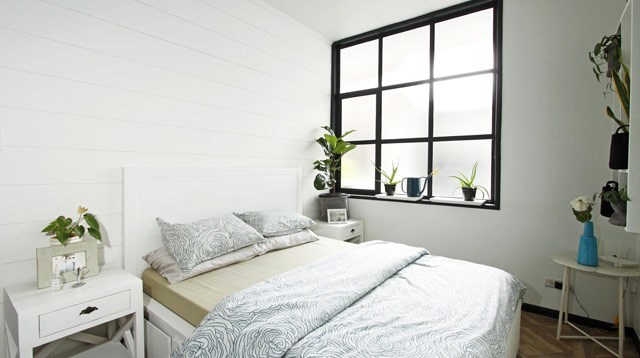 ADVERTISEMENT - CONTINUE READING BELOW
"80 percent of our furniture is custom-built by our team, headed by Mang Toto, who was also with us during the first renovation. From the cabinets and four-posted bed in the master bedroom to the bedside tables and plant stands—these are customized," shares Kai.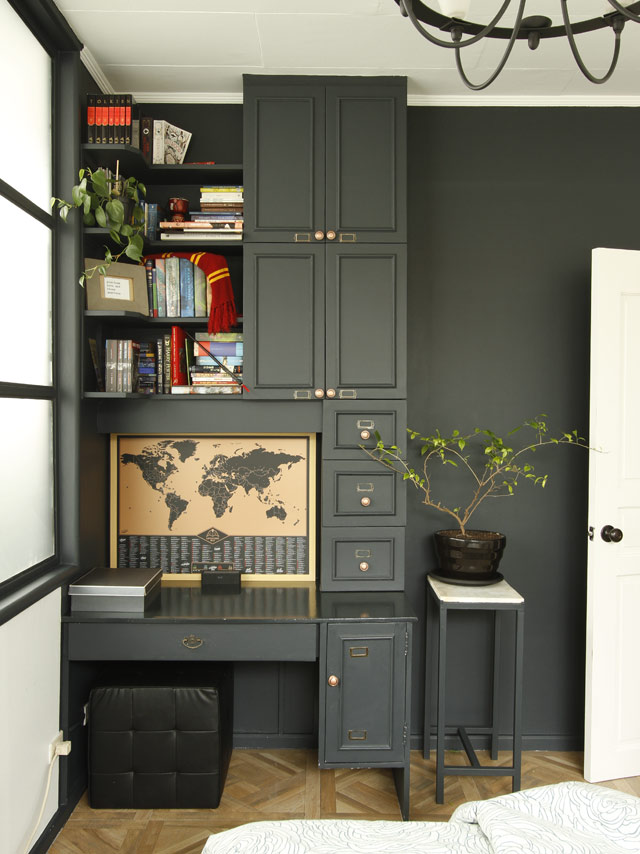 A beautiful storage piece in dark gray with vintage-inspired knobs occupies a corner in the bedroom. Several books, Harry Potter memorabilia, and other knickknacks add character to the shelves.
ADVERTISEMENT - CONTINUE READING BELOW
Master Bedroom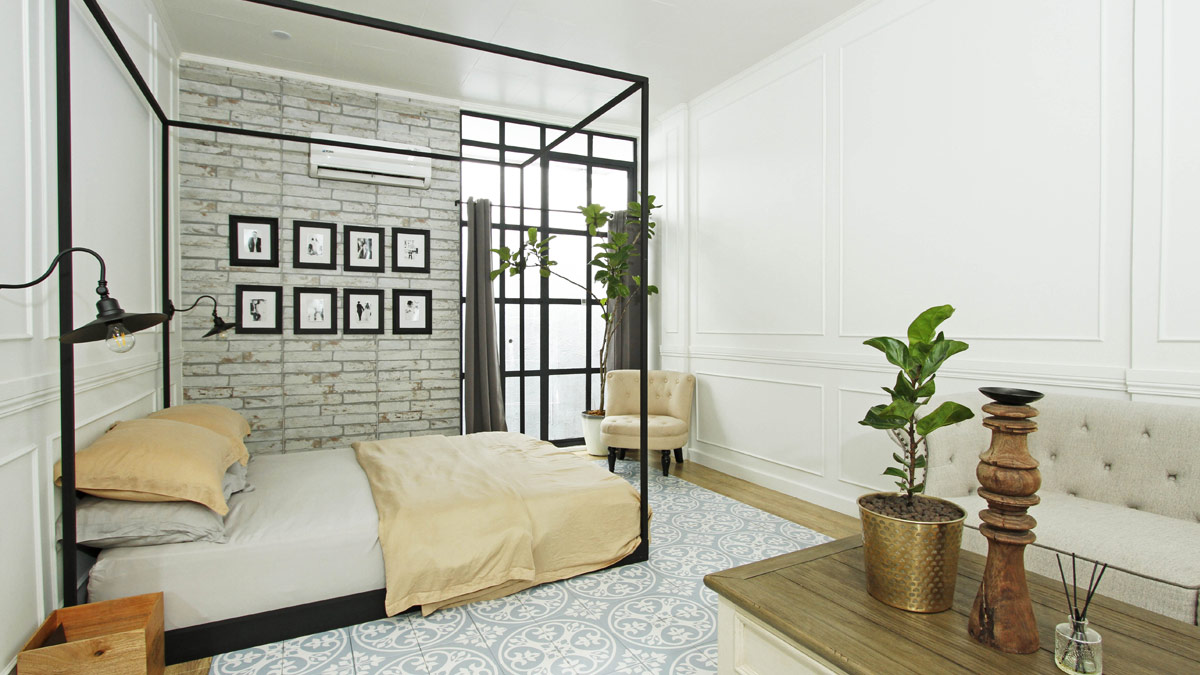 PHOTO: Vincent Coscolluela
As a couple, Kai and Cyrus consider the master bedroom as their favorite area in the house. "Our master bedroom is a spacious 20sqm area which is already a size of a condo! We included an entertainment, chill area, with a coffee table that transforms into a small dining table. The brick walls and the warehouse windows transport us back to Paris and the South of France," shares Kai.
The sleeping area is bright and airy during daytime; and cozy and inviting come nighttime. We noted how the couple has a low four-poster bed. They chose a customized piece to make sure it's roomy enough to accommodate their daughter, who sleeps with them, and their furry companions, too.
The transforming table from Ashley Furniture comes in handy during dinner time. Kai shares that it has become their tradition to watch TV while having dinner.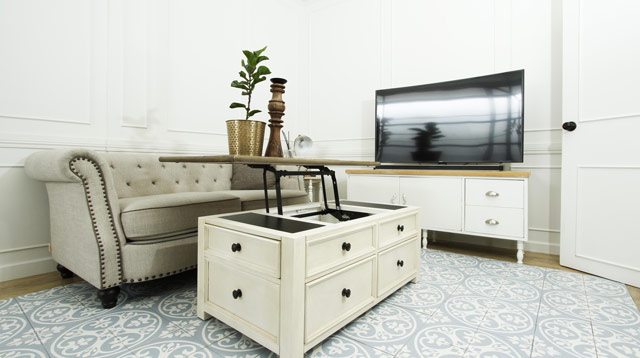 ADVERTISEMENT - CONTINUE READING BELOW
The table conveniently transforms into a table meant for meals when needed, allowing the family to gather and spend time together. Notice the patterned cement tiles in light blue? According to Kai, they had these installed to look like a carpet or area rug so they don't have to add one since they share the room with pets.
Walk-in Closet/Master Bathroom
The third bedroom in the house was transformed into a walk-in closet and spacious master bathroom. Prior to the renovation, the couple shared a compact T&B.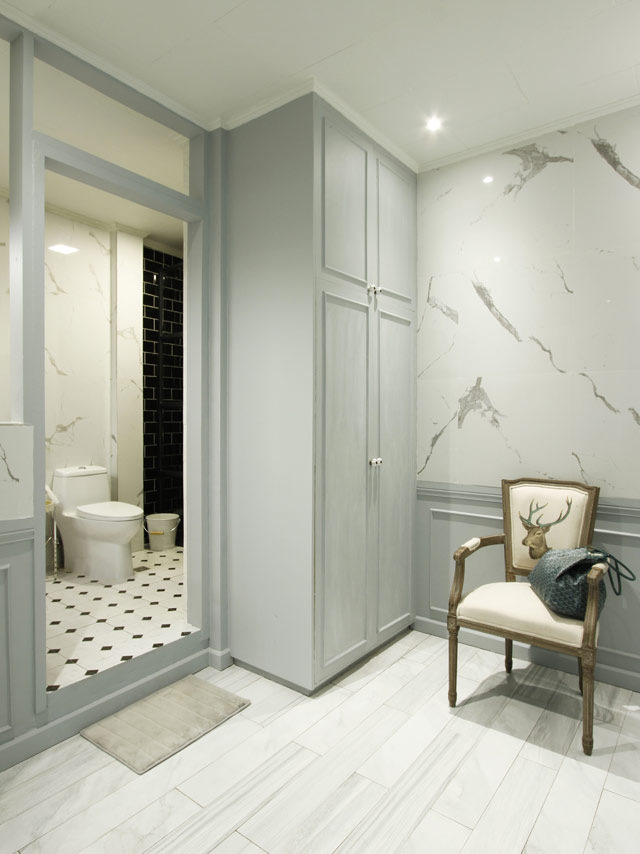 ADVERTISEMENT - CONTINUE READING BELOW
"We had a lot of exposed shelving space and an exposed walk-in closet. Over time, this made us feel like our space was cluttered so we now have a rule of thumb that everything has to be hidden in cabinets and drawers," says Kai. The walk-in closet feels like a posh boutique with its light ash-colored flooring, marble tiles, and cabinets in light gray.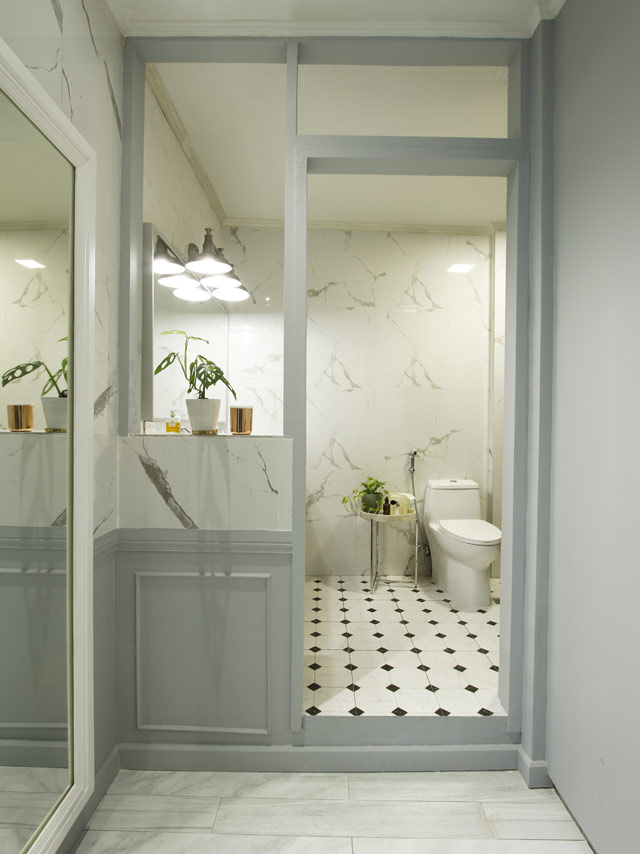 ADVERTISEMENT - CONTINUE READING BELOW
To separate the T&B from the walk-in closet, the sink, toilet, and shower areas are elevated by a step. "Cyrus loves our bathroom because he loves having his own space now. Guys usually take the girl's leftover space. But now, he has his own sink and he has his own cabinets in the closet," she muses.
The same marble tiles liven up the walls in the bathroom. "Our shower with black subway tiles takes inspiration from the Nike flagship store in Downtown Portland," Kai shares.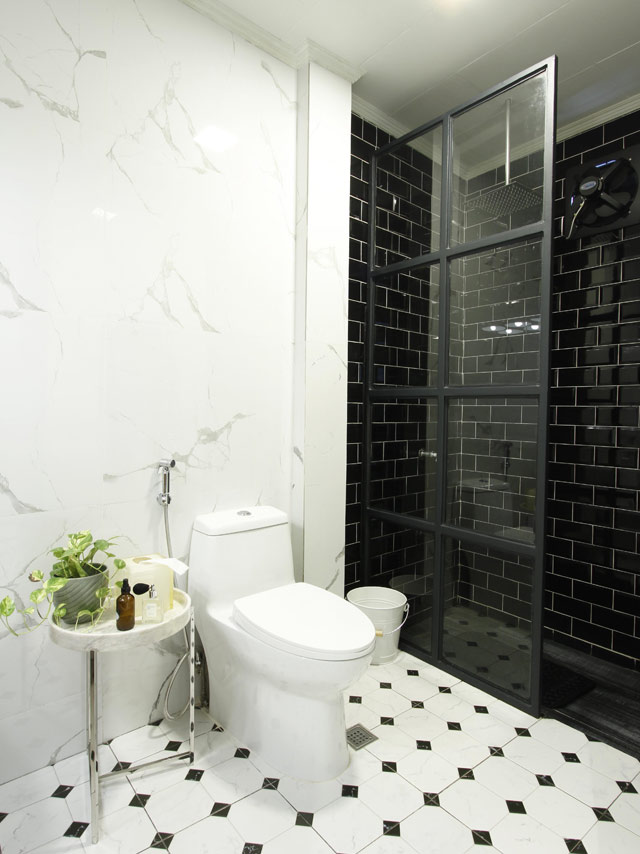 ADVERTISEMENT - CONTINUE READING BELOW
Opting for white fixtures and black subway tiles create a nice contrast that's still within the theme they're working on. The couple used a warehouse window to serve as a shower enclosure. Like the chairs in the dining area, this was also donated by Cyrus's client. "We love stories and how it has imperfections. We didn't want it sobrang pulido or perfect kasi yung peg—distressed wood and lived in," she adds.
Do you also have a Real Living-inspired home? Send photos and message on Facebook. We might feature you next!
PHOTOS: Vincent Coscolluela
PICTORIAL DIRECTION: Kamila Arianna Garcia