See How This TV Producer's 90sqm Condo Rocks the Vintage Industrial Style
Catch these amazing details: an accent brick wall, acacia hardwood floors, and treasured art pieces
by
Bubbles Salvador
Sep 12, 2018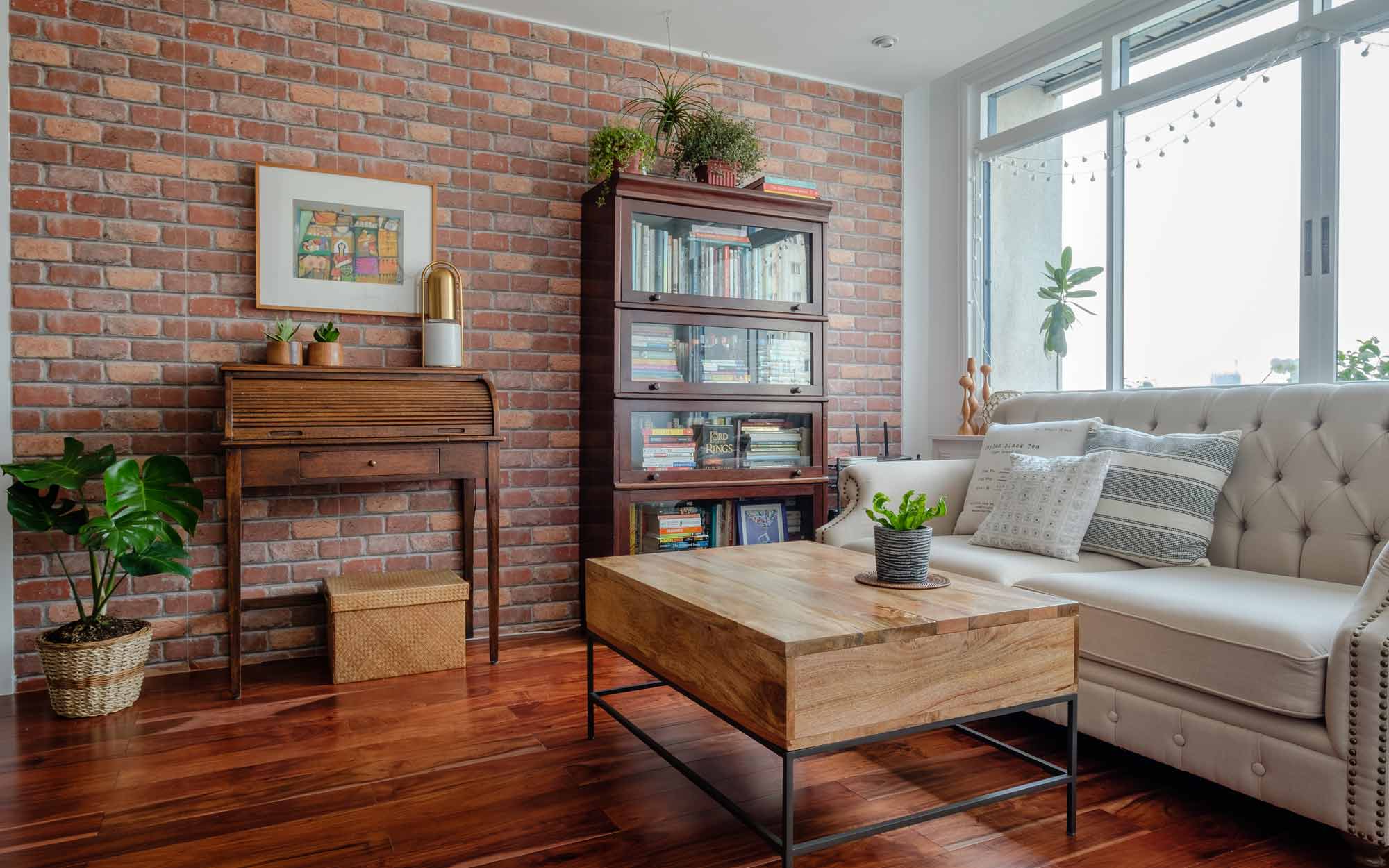 "Discovering local artists and furniture makers from everywhere is such a fascinating part of the process of decorating a home," according to Nessa.
A motorcycle-riding husband, a precocious toddler, and her craving for peace and white space led TV producer Nessa Valdellon to design this industrial vintage condo for her family. After having designed her previous condo unit, Nessa thought she could do better this time.
"TV is such a stressful job. I just want something to do that's quiet and chill, and there's a sense of order. When you see everything organized, you feel at peace," says Nessa. Designing has always been her favorite thing to do, and when she and her husband Gil Balderas chanced upon this 90sqm unit in a decades-old building in Quezon City, she knew she had her work cut out for her.
The kitchen cabinets were falling apart, and the ancient-looking parquet from the '80s dated the space, yet Nessa had an instinct of "what the space wants." That started the transformation of the space into one that resembles "a motorcycle showroom with some antique touches."
The natural light streaming in from the windows highlights every detail in every nook of this space, as if to say, "Come, take a look!"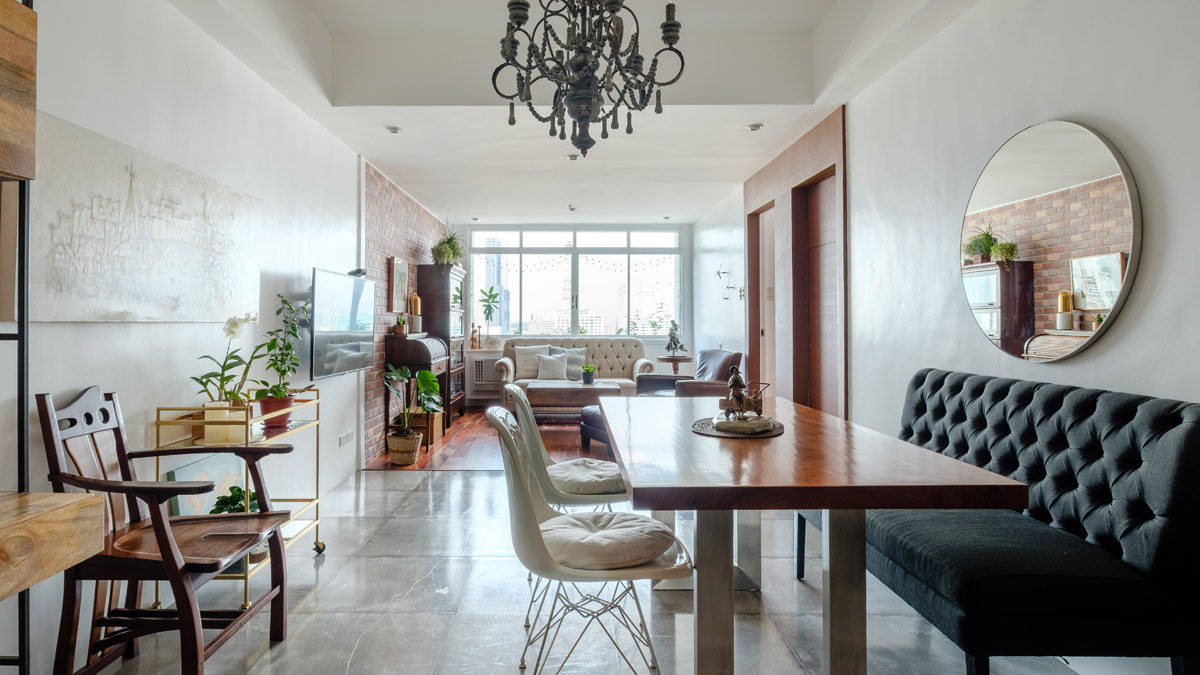 PHOTO: Michael Angelo Chua
Nessa describes the look of the home as industrial vintage, with plants and art and vignettes in unexpected places: bird sculptures hidden among the plants, a collection of camera pendants on the bookshelf, a flock of three brass birds. "But more than anything," she says, "it's a practical home."
ADVERTISEMENT - CONTINUE READING BELOW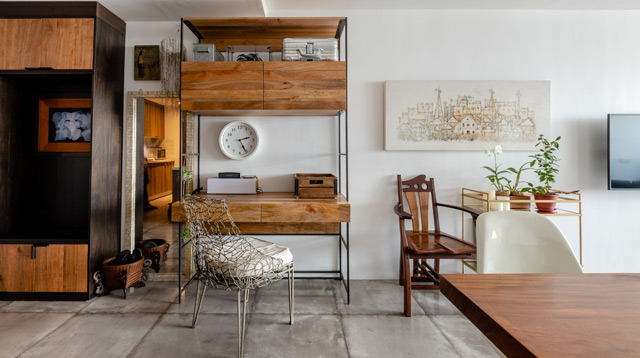 Entryway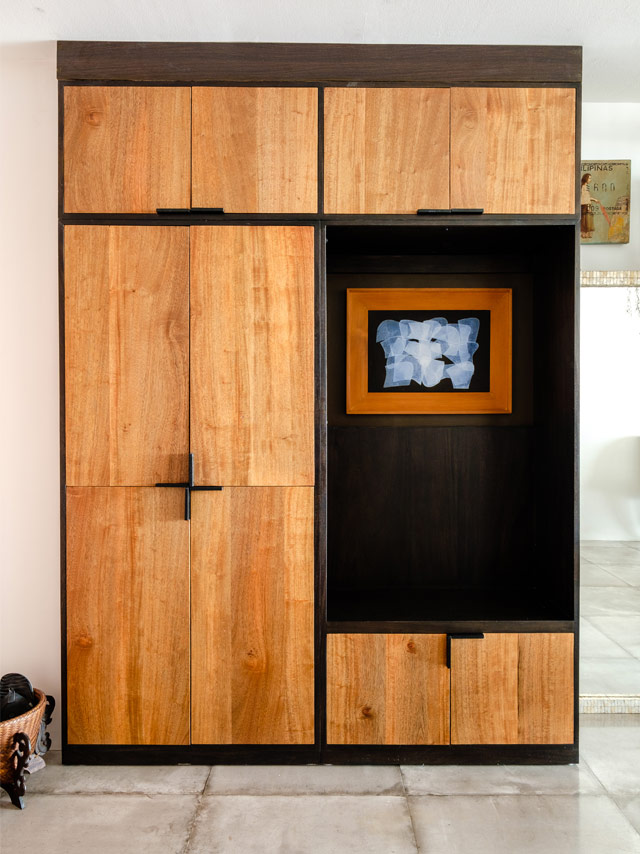 In the entryway is this custom-made cabinet which Nessa designed herself. Made from acacia and dau wood with a modern treatment, the lovely piece was executed by Sason Shop in Bacolod and  houses Gil's motorcycle helmets and jackets, and also his riding boots. The bench is for him to sit on while pulling on his boots. "It ended up being my favorite corner in the condo—from the outside, you can't tell it hides all his stuff inside," Nessa adds.
ADVERTISEMENT - CONTINUE READING BELOW
Living Area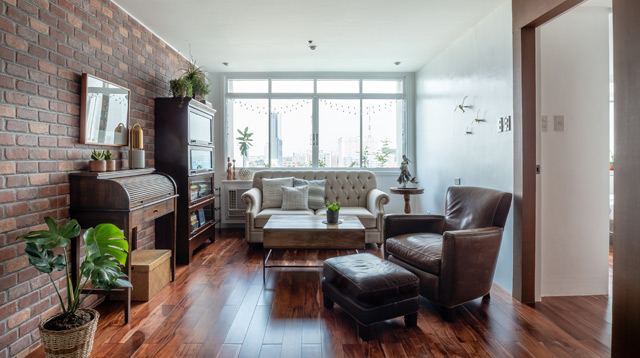 "The condo has such a nice view we decided not to cover the windows," says Nessa, who enjoys looking out any time of the day. At night, battery-operated lights sparkle on the windowsill, jazzing up this cool space.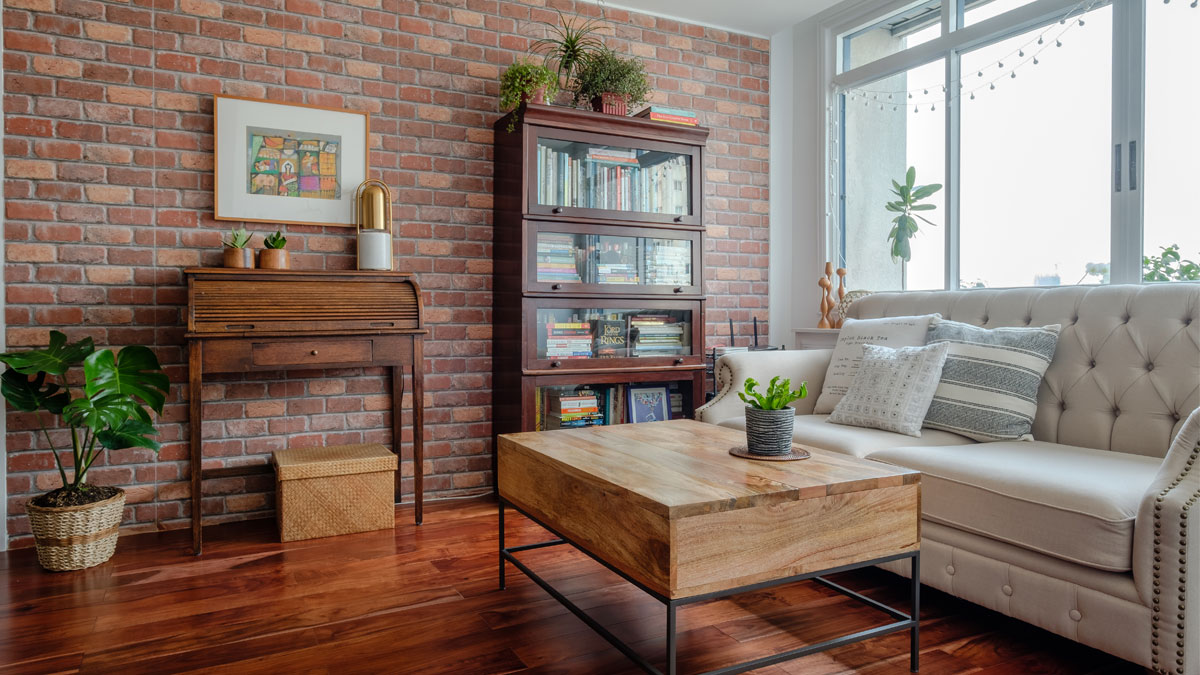 PHOTO: Michael Angelo Chua
A self-confessed avid Real Living magazine reader and online follower, Nessa chanced upon a sofa maker that does custom-made chesterfield sofas: Charmed by Vintage Hub. Her choice of this timeless classic sits in the living room, complementing the acacia hardwood floor and accent brick wall.
An indoor plant breathes life into this corner, which marries industrial style features beautifully with vintage details.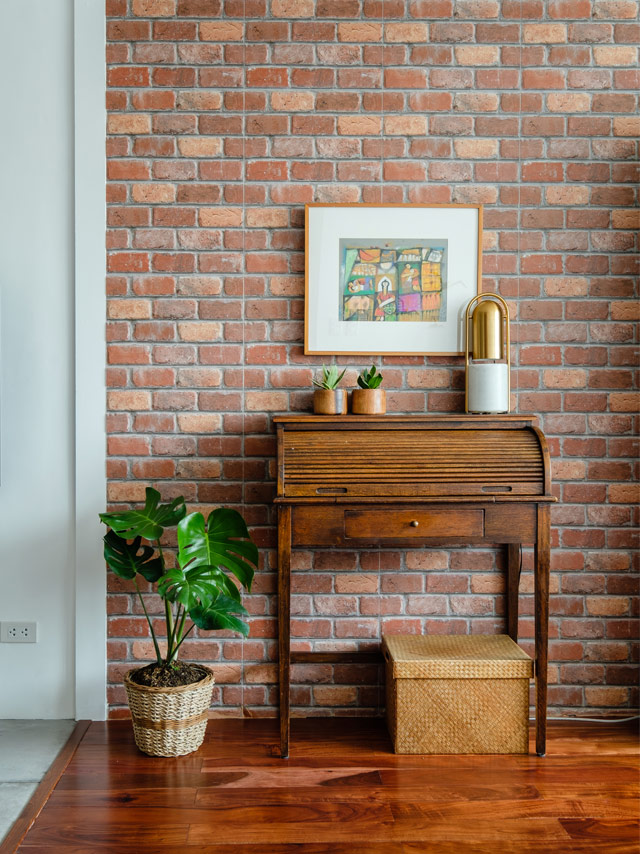 ADVERTISEMENT - CONTINUE READING BELOW
A small ledge behind the chesterfield sofa in the living room looks like a console table, but is actually a remedy for a problem with the aircon installation. "I wondered, 'what can we do?' Let's make a fake table," Nessa says.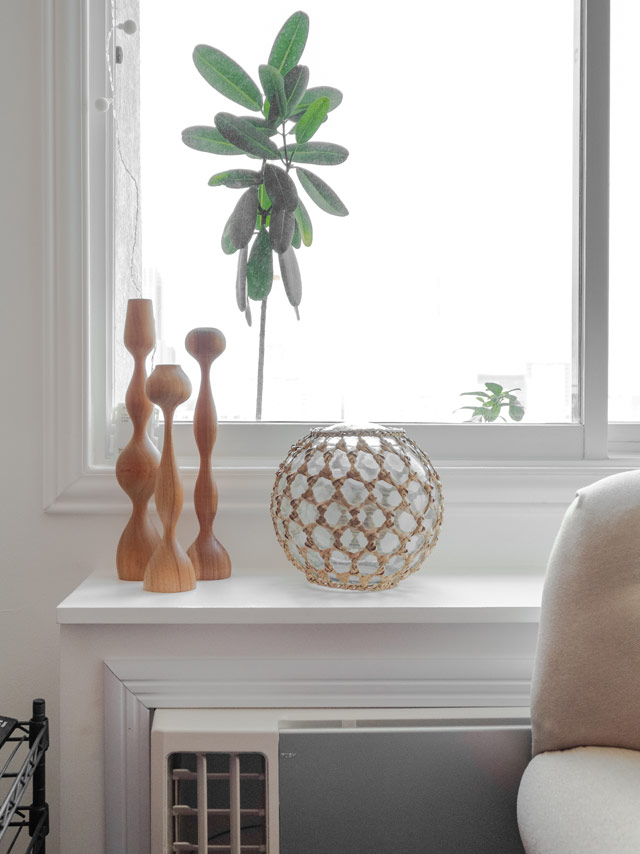 For years, Nessa was in love with Daniel Dela Cruz's "Life's Longing" statue displayed in Pinto Gallery in Antipolo. But because she couldn't afford it, Nessa begged the artist to make her a smaller piece with a very similar design. Dela Cruz named it, "Life's Longing 2." Nessa shares, "The surprise in this piece is you can actually see a little baby hidden inside the statue's pregnant belly."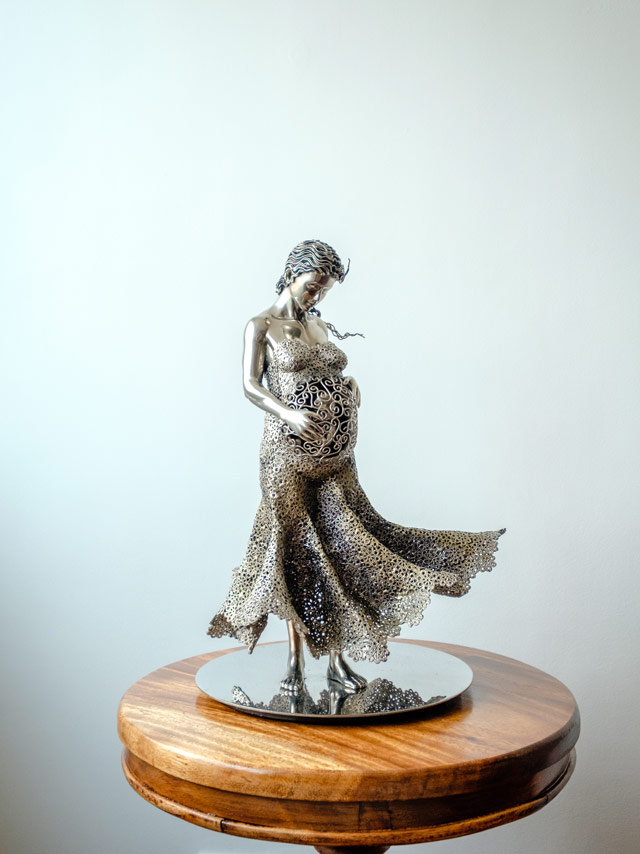 ADVERTISEMENT - CONTINUE READING BELOW
"Discovering local artists and furniture makers from everywhere is such a fascinating part of the process of decorating a home," according to Nessa.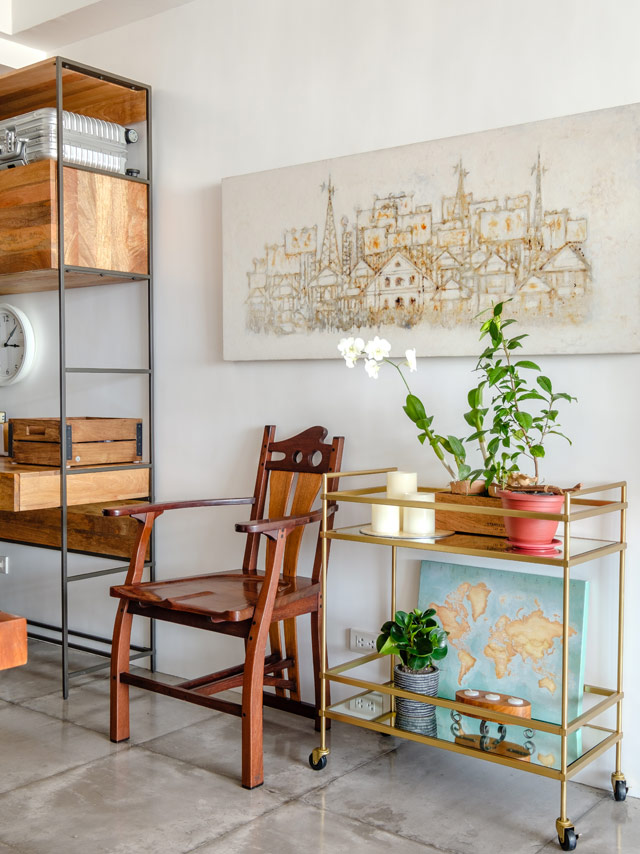 The cityscape acrylic by artist Ferdie Montemayor couldn't have found a better spot above Nessa's bar-turned-plant cart. Beside it is a coveted Benji Reyes chair, which Nessa picked out and bought straight from the artist's house in Antipolo.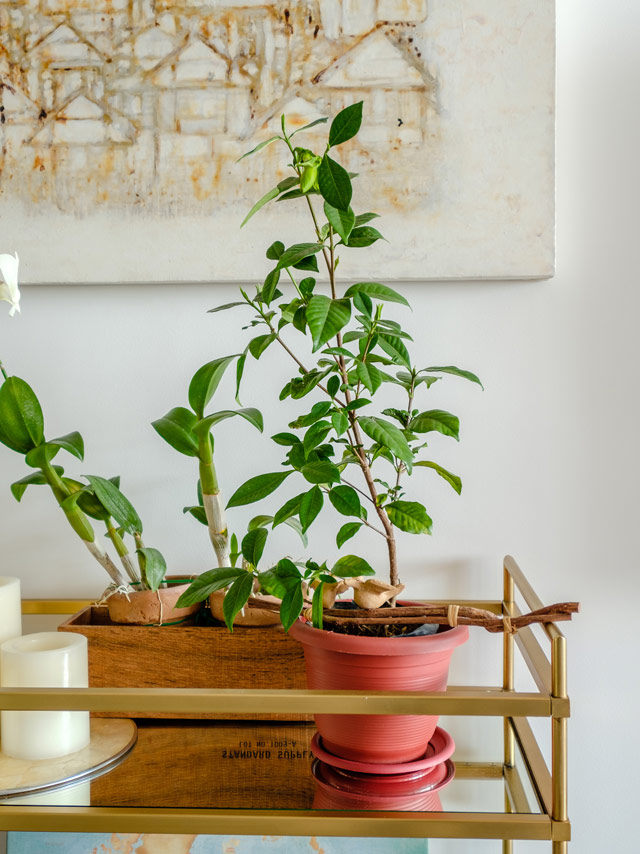 ADVERTISEMENT - CONTINUE READING BELOW
"I love plants so much!" exclaims Nessa. She gets them from Kate dela Cruz, whose day job is running a newscast but also grows lovely indoor plants on the side. Nessa laughs, "My friends also give me plants now that they know I won't kill them."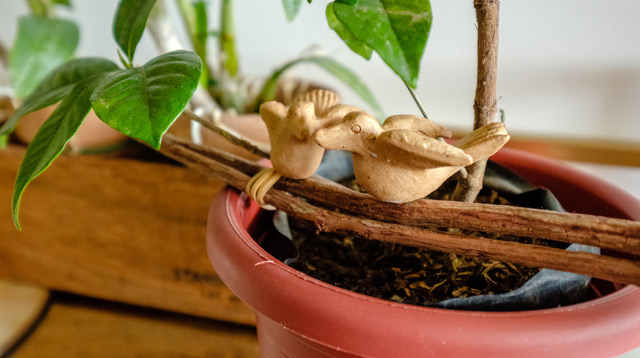 If you look closely enough, one of Nessa's potted plants has two wooden birds perched on a broken tree branch. This detail is actually from an Ugu Bigyan soap dish that accidentally broke.
Dining and Kitchen Areas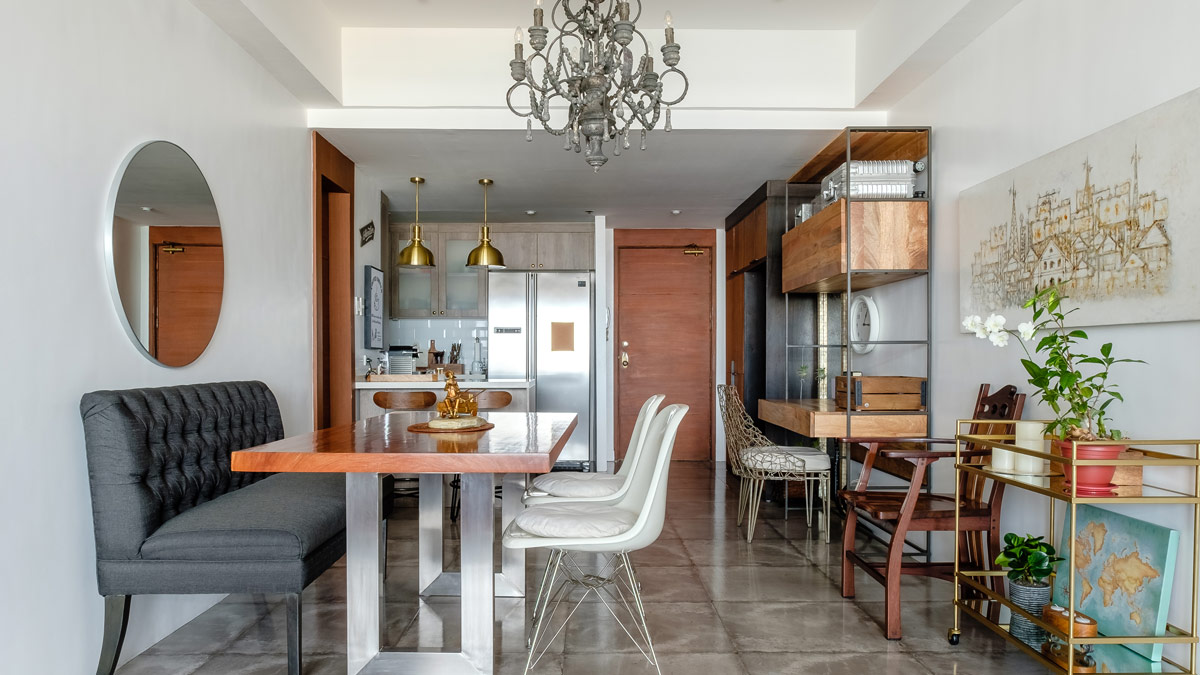 PHOTO: Michael Angelo Chua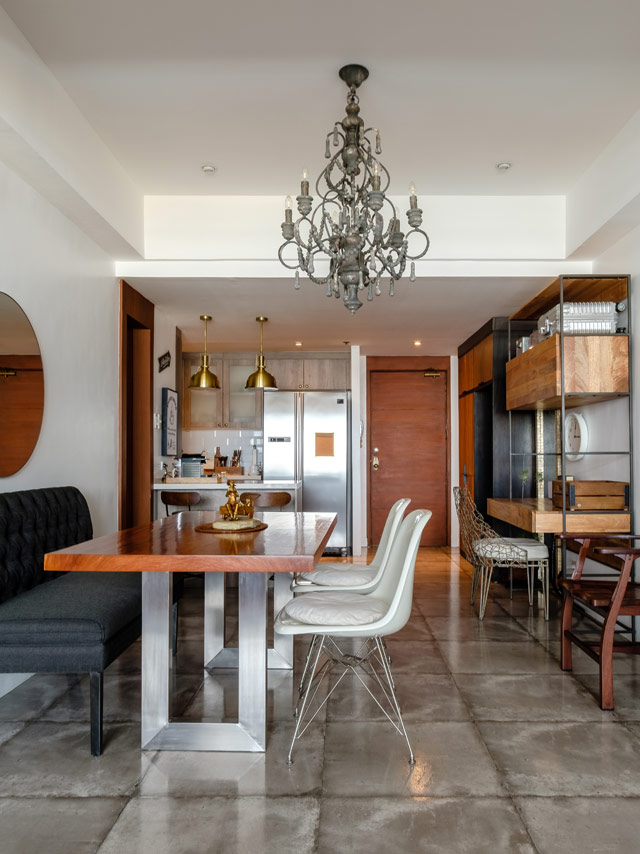 ADVERTISEMENT - CONTINUE READING BELOW
The couple had long dreamed of having a one-piece narra-top dining table. This piece from Restoration in Shangri-La has a metal base which gives it a modern vibe that goes well with the intricate chandelier from Lady Scott Jones and the cement floor tiles (where her son Gavin can bike and race his cars without worrying about scratches).
Kitchen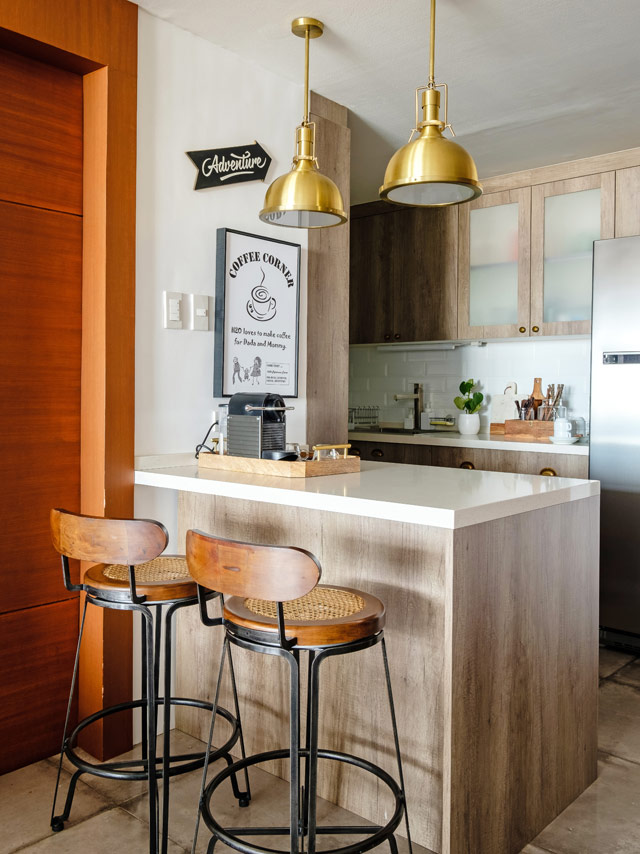 "Gavin does his painting and school projects on this quartz countertop in the kitchen," Nessa says, but it's easy to clean no matter the mess. The brass kitchen lamps by Keystone Lamps tell another of her amazing stories where she would be inspired by gorgeous pieces online, and she would then ask local makers to create versions of them. A field trip to Pampanga yielded these solihiya bar stools from Venzon Lighting.
Master Bedroom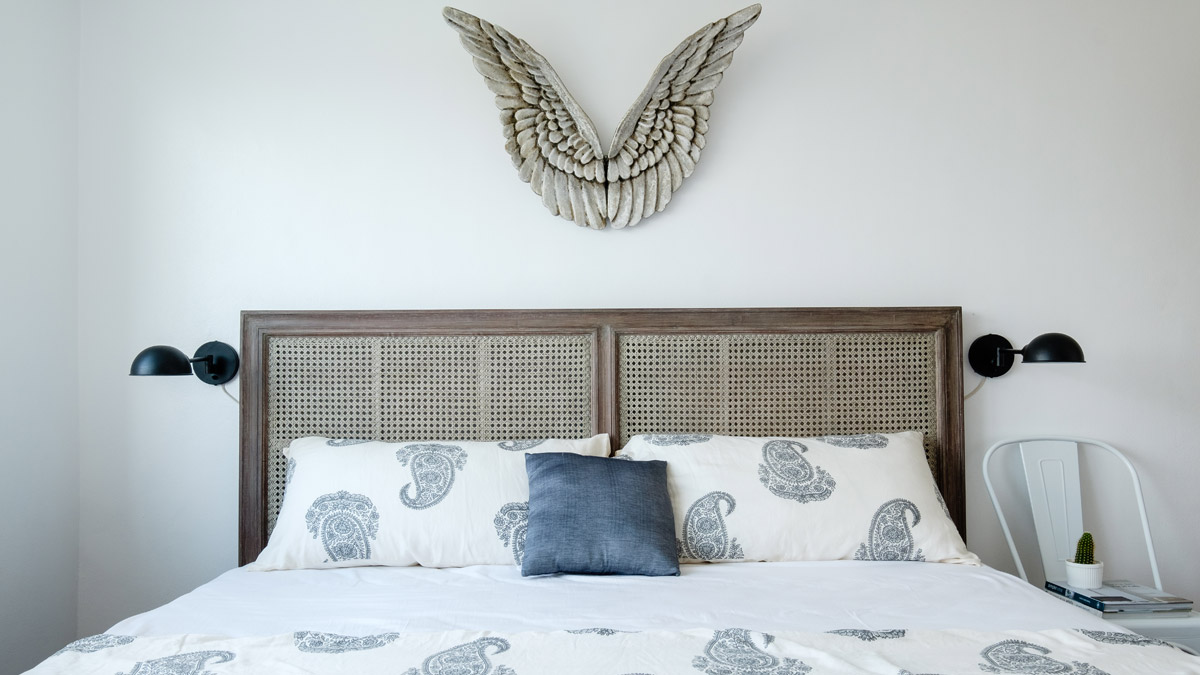 PHOTO: Michael Angelo Chua
ADVERTISEMENT - CONTINUE READING BELOW
The simple, white-themed master bedroom, Nessa says, is meant for "peaceful dreaming." The wings created for her by production designer Nick Roman Natividad was inspired by an image on the cover of a catalog Nessa once saw.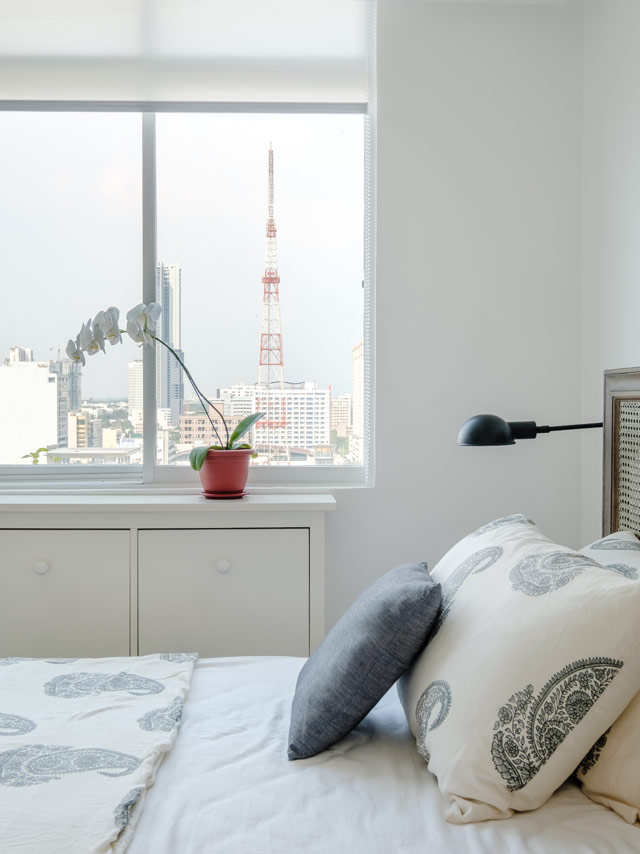 Nessa's previous condo was also in the same building, but she never noticed the view until she moved a few floors up. Without the curtains, she can pretend the nearby broadcast tower is the Eiffel Tower in Paris. Of the bedroom, she says, "When I saw that room, I wanted it all white. I never had a white bedroom before with so much light pouring in. That's what [the room] was asking for."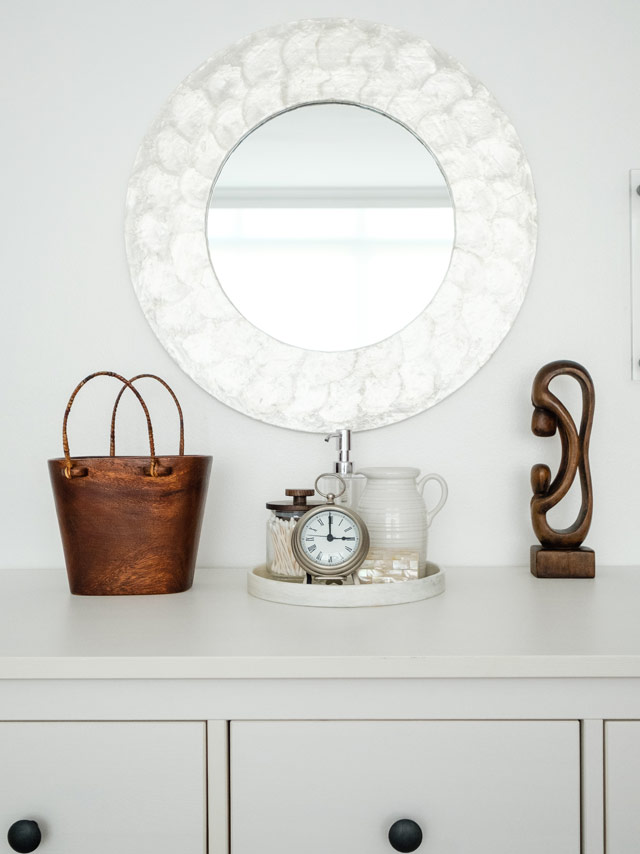 ADVERTISEMENT - CONTINUE READING BELOW
Nessa's goal has always been to find practical design solutions for her family's concerns. This, combined with her penchant for white space, resulted in a functional space not just for Nessa but for her husband and son as well.
Find similar accessories at Our Home.
A typical condo would have plain white cabinets, but Nessa didn't want to spend her days staring at cabinet doors that were too plain, especially when they're directly across their bed.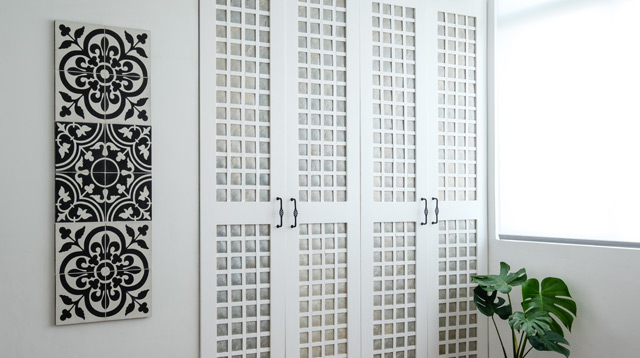 She decided on this Pinoy detail: capiz. Google led her to a sash factory that makes capiz doors, called Capili Sash Factory in Bataan. The pairing with cement tiles is not unusual, but still lovely to look at.
Find similar tiles at Machuca Tile, 867 Gen. Solano St., San Miguel, Manila.
Bathroom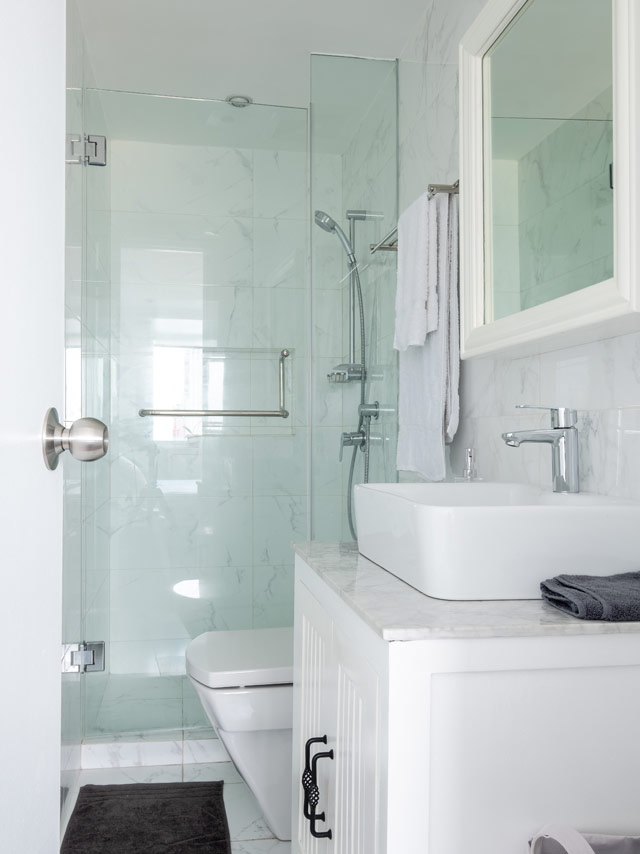 ADVERTISEMENT - CONTINUE READING BELOW
Despite limited space, Nessa managed to fashion a comfortable, white marble en-suite bathroom.
Do you also have a Real Living-inspired home? We might feature you next! Message us on Facebook and send photos for review.
Photos: Michael Angelo Chua
Styling | Pictorial Direction: Dagny Madamba