Neutral Colors Complete This Bi-Level Unit in BGC
Architect Angelo Siochi paired classic touches with modern elements to create a cozy family home
by
Cielo Anne Calzado
Jun 20, 2018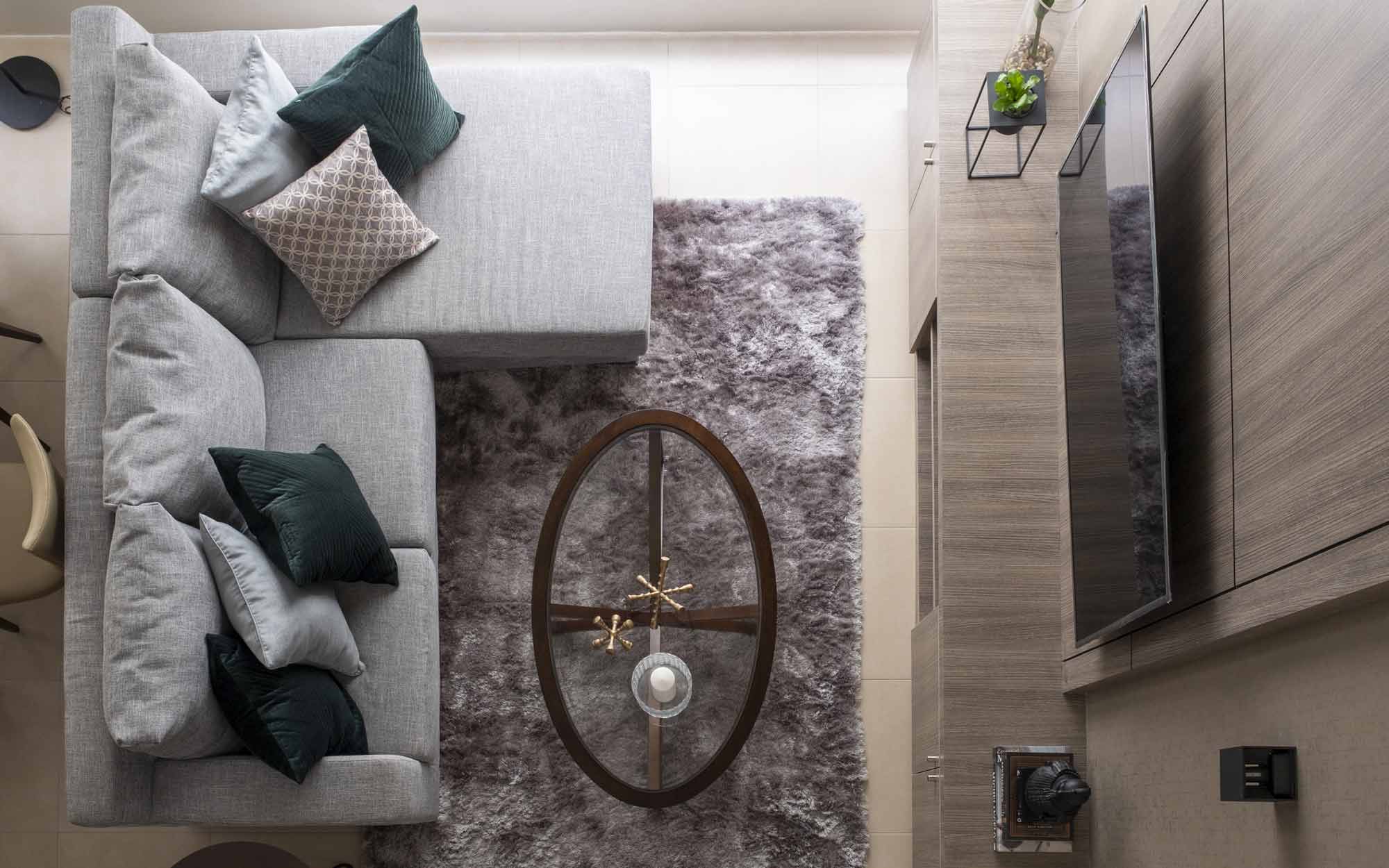 "The owners gave me freedom in designing the space. Something simple and not too quirky kasi mga bata pa yung kids."
It's no longer surprising to see homes with similar themes and color schemes. From industrial-inspired units to homes with completed with soothing neutral colors, we're sure you've seen quite a number, too. How do you define one space from the next? The chosen details speak for themselves. Whether it's a striking wallpaper, a nifty storage solution, or customized pieces you can't see anywhere else—designers and homeowners have mastered the art of creating unique spaces.
In designing this bi-level condo unit, architect Angelo Siochi had free rein in terms of the look and feel. "The owners gave me freedom in designing the space. They wanted a space that can fit four to five people. Something simple and not too quirky kasi mga bata pa yung kids," he shares. The owners only had two simple requests—they wanted a home that can cater to a family, to guests, and kids; plus, they don't want bright colors. It took around two to three weeks for Angelo to work on the design, while actual construction took around two and a half months to finish. 
ADVERTISEMENT - CONTINUE READING BELOW
The final look is elegant yet inviting, like you've booked a hotel room for a staycation. "It's a mix of modern and traditional touches since the owners wanted something that's modern yet still classic. For this project, the challenges we faced included how to play around with the high ceiling and finding the right pieces within the budget," explains Angelo. Aside from visiting different stores to source for furniture, Angelo also made sure that the owners will come home to a polished space. "We allotted time for the refinement of our work. It's not just a finished space but a refined space," he adds.
CONTINUE READING BELOW
Recommended Videos
Main Door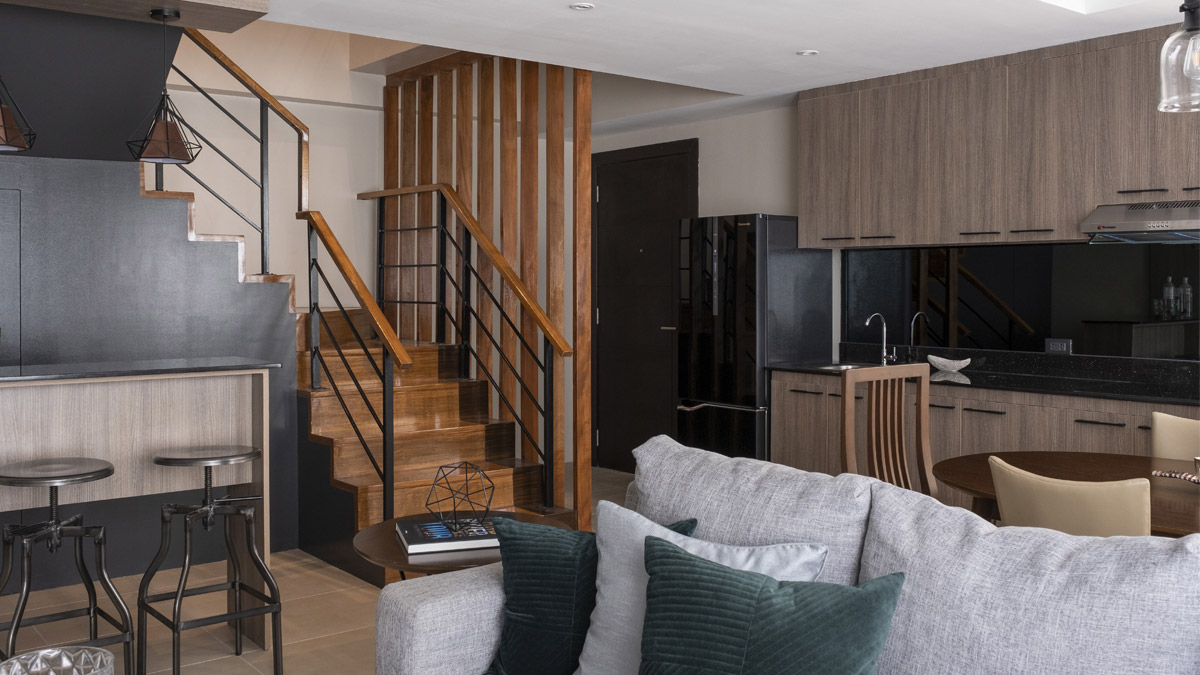 Since the door opens to the staircase, Angelo had to take into consideration the privacy of the owners. A slatted wood partition was installed to create privacy. The vertical lines also make the space look and feel taller. A few steps on the left is a compact kitchen defined by laminated kitchen cabinets, a black glass backsplash, and a granite countertop. The owners wanted a simple yet functional kitchen as they don't cook often.
ADVERTISEMENT - CONTINUE READING BELOW
Bar Area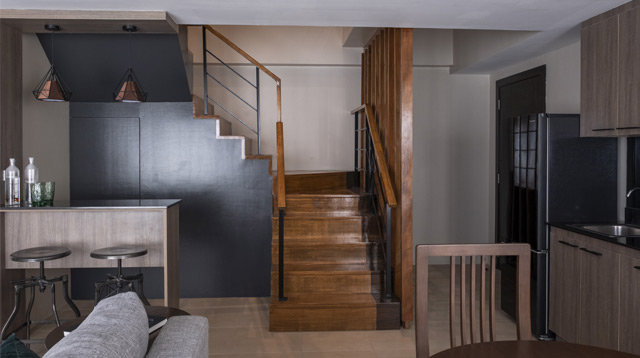 The bar area with the same aesthetic as the kitchen was incorporated to fully maximize the available space. To give it a modern feel, industrial-inspired stools and lamps complete the nook. The mini bar is an ideal addition, especially when the owners are expecting guests or hosting parties. Behind the bar is a tiny closet that can be used when storing cleaning supplies, shoes, and other belongings.
ADVERTISEMENT - CONTINUE READING BELOW
Find similar stools at Match Contract. Shop for industrial-inspired lighting pieces at Home Cartel.
Dining Area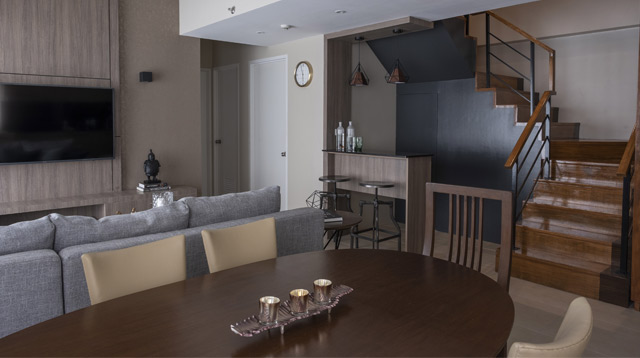 Given the open layout, the kitchen, living, and dining areas are connected—allowing the owners and their guests to move around the space freely. In the dining area, a wooden oblong dining table is surrounded by matching upholstered chairs. To keep it from being too bland, two slat back dining chairs are placed on both ends of the table.
ADVERTISEMENT - CONTINUE READING BELOW
Find similar pieces at BLIMS Fine Furniture.
Living Area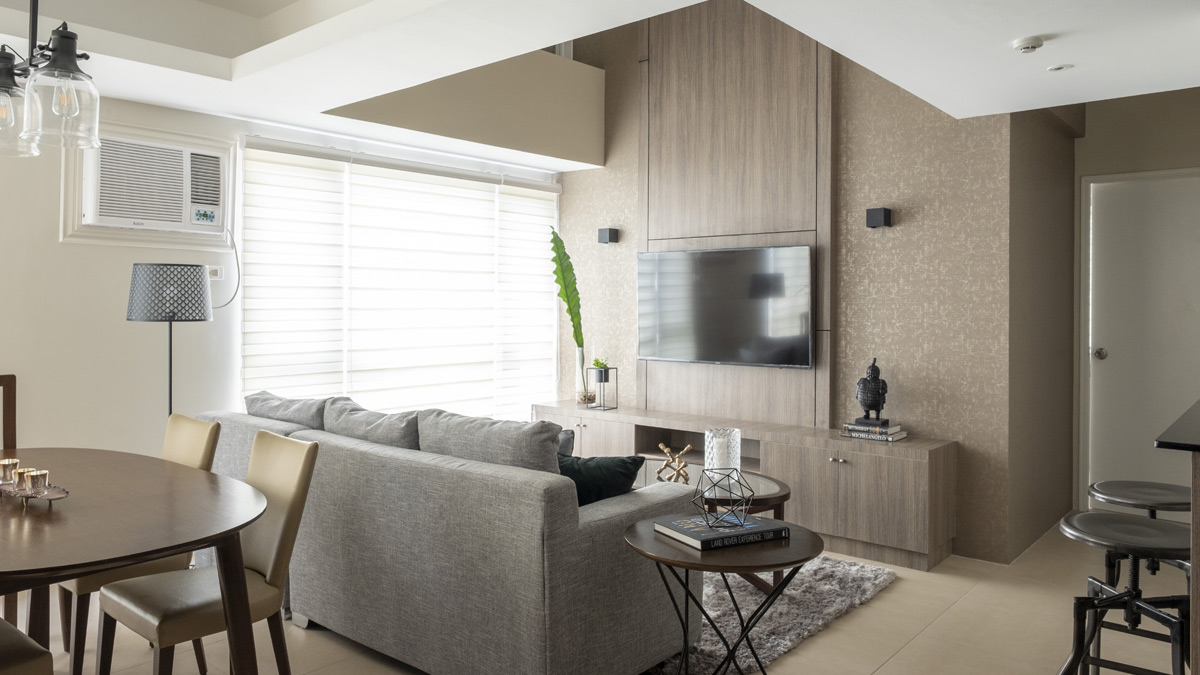 Bathed in natural light, living area is bright and comforting, with the play of neutrals making it even more relaxing. A built-in wall panel and storage piece serves as the focal point that livens up the wall. Paired with a lovely wallpaper in taupe that complements the furniture and laminate finish, the setup can be likened into a posh hotel lobby.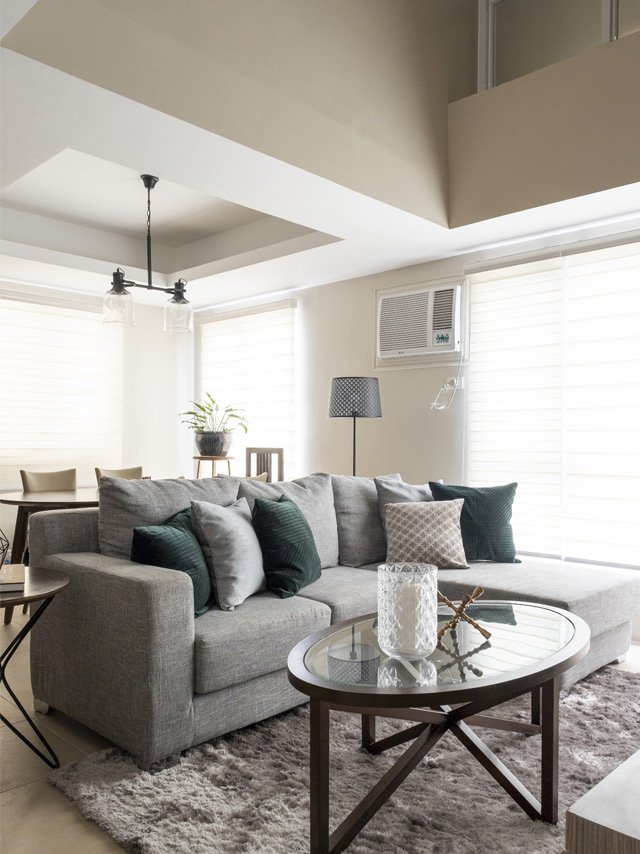 ADVERTISEMENT - CONTINUE READING BELOW
Though compact, the living area is still inviting with a gray-colored sofa and pillows in muted colors sprucing it up. The chosen colors and furniture pieces give it a sophisticated classic vibe.
Find similar pieces at The Landmark, Makati City.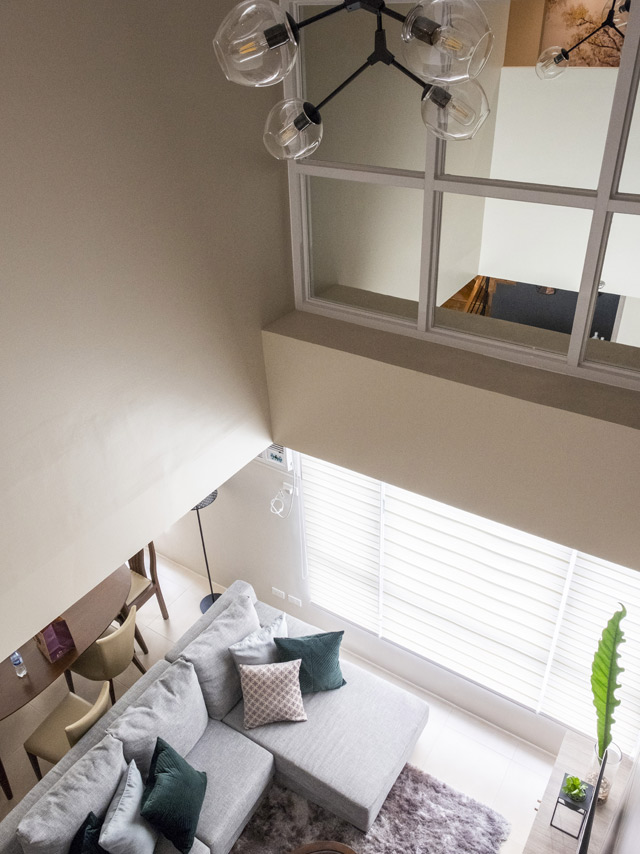 From this view, one can best appreciate the unit's high ceiling which adds to its airy and spacious appeal. According to Angelo, the wall above the living area used to have a small operable window. "It's too high, how can they open and close it? We also thought, since it's beneath another floor, there's a possibility of leaks from an AC unit. We decided to cover the window then had mirrors installed to serve as fake windows," explains Angelo.
ADVERTISEMENT - CONTINUE READING BELOW
The mirrors liven up the wall and add depth to the space. Modern vintage lighting pieces draw the eye upward and further highlight the unit's height.
Staircase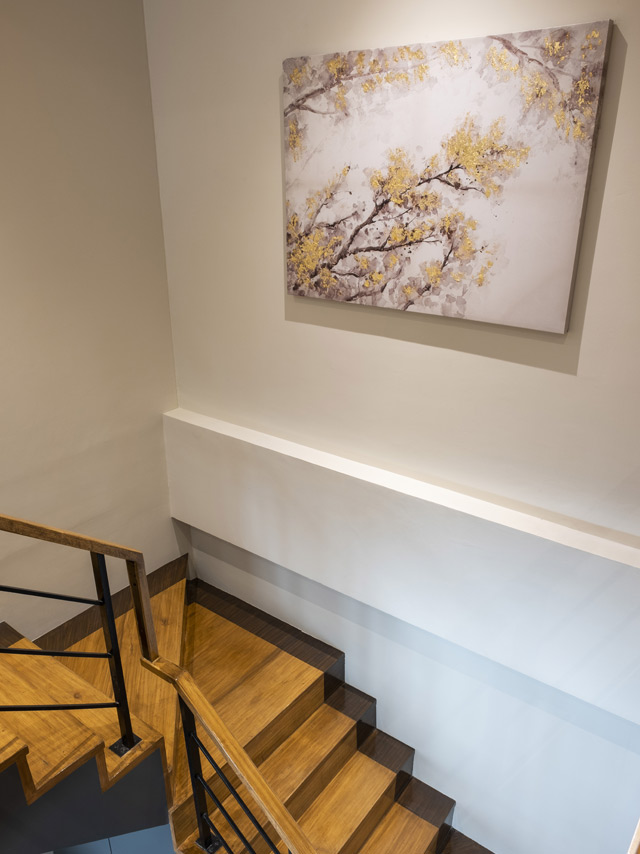 Upon turnover, Angelo noted that the staircase had gaps near the edges. To ensure the safety of the owners and their kids, wood was installed to fill the gaps. The extensions added were painted a darker shade of brown, creating a border that somehow livens up the flight of steps. A lovely work of art spruces up the blank wall.
ADVERTISEMENT - CONTINUE READING BELOW
Work/Study Area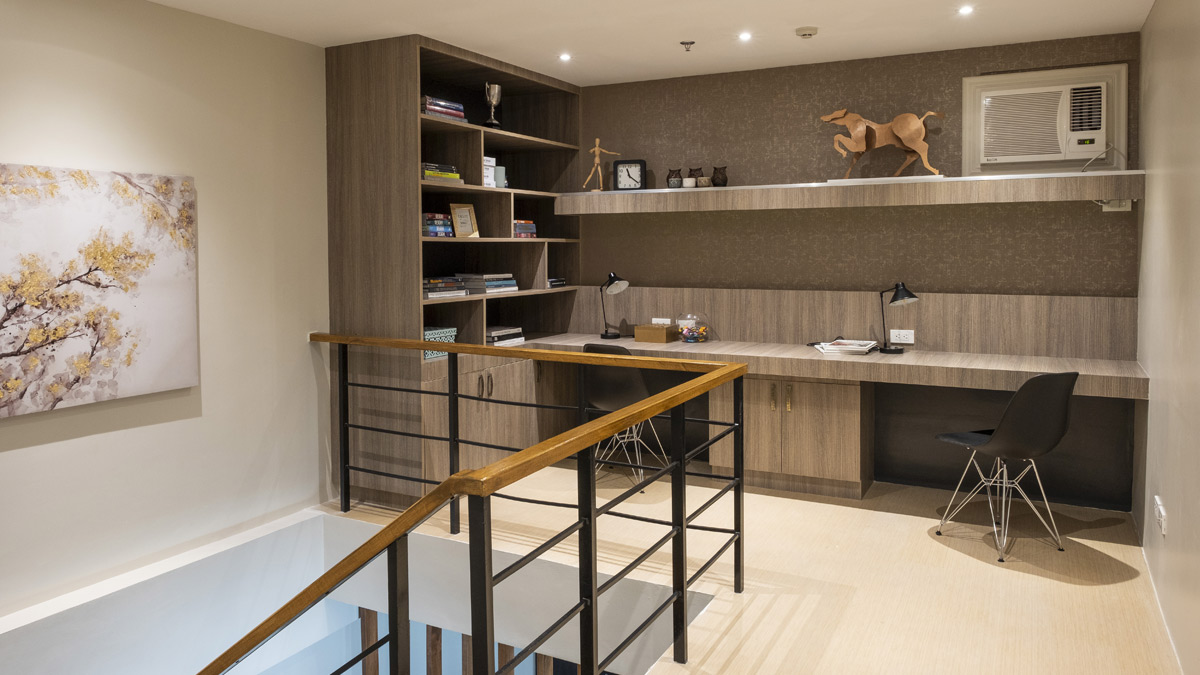 Angelo transformed the second floor landing into a work/study area with a built-in desk and shelves for books and essentials. For a cohesive look, it features a muted wallpaper and similar laminate finishes seen on the ground floor. To keep clutter at bay, cabinets were incorporated into the desk as well.
Find similar chairs at EDIA.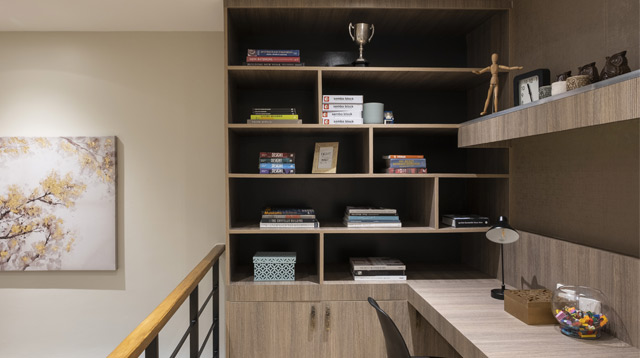 ADVERTISEMENT - CONTINUE READING BELOW
The shelves can be used to store books, décor, and important documents. Since the niches have different sizes, the owners have the freedom to decorate and personalize it according to their liking.
Master Bedroom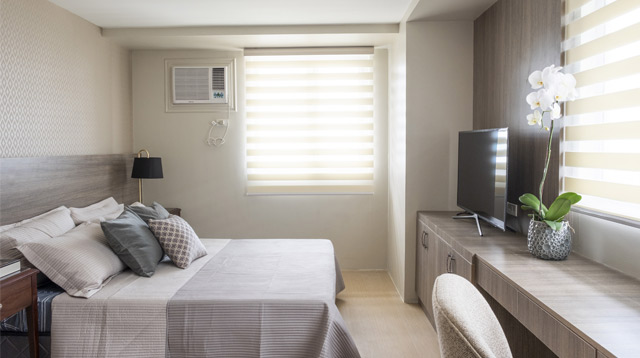 Calming colors and a patterned wallpaper define the master bedroom. Angelo completed the space with built-in pieces to maximize the space and give the occupants enough room for reading and work tasks. Instead of having a bed with a headboard, a laminated panel that conceals mood lighting was installed behind the bed.
ADVERTISEMENT - CONTINUE READING BELOW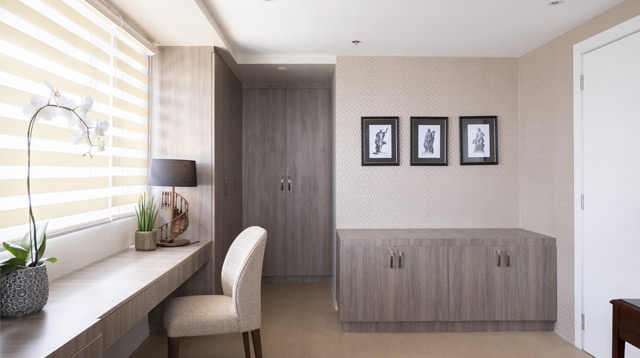 Built-in closets and cabinets keep the room neat and orderly. The finish of the storage pieces complete the room's hotel-like look.
Second Bedroom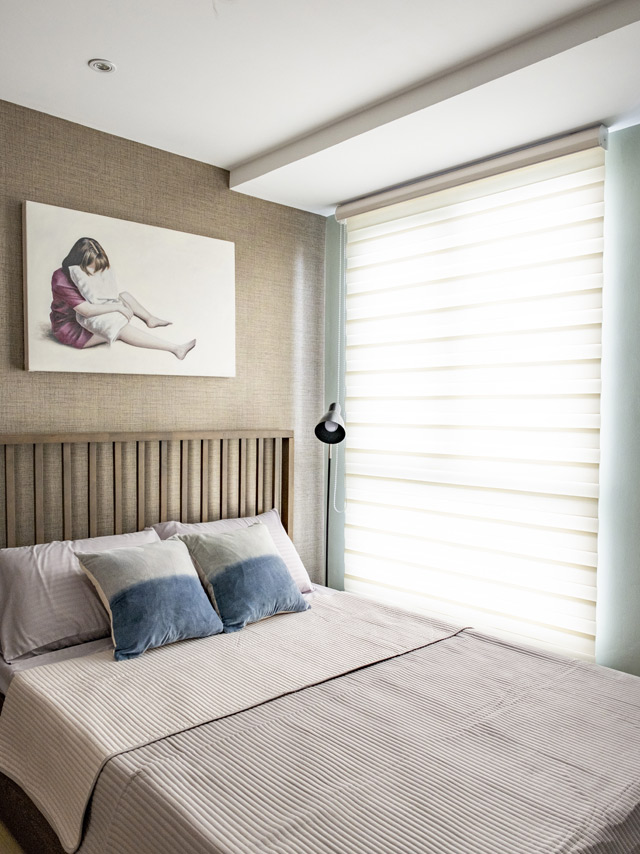 ADVERTISEMENT - CONTINUE READING BELOW
Homey with a country-inspired feel, the second bedroom is furnished with a comfy bed with a sleek headboard, a well-chosen wallpaper, and a charming artwork, to boot.
Find a similar bed at Uratex.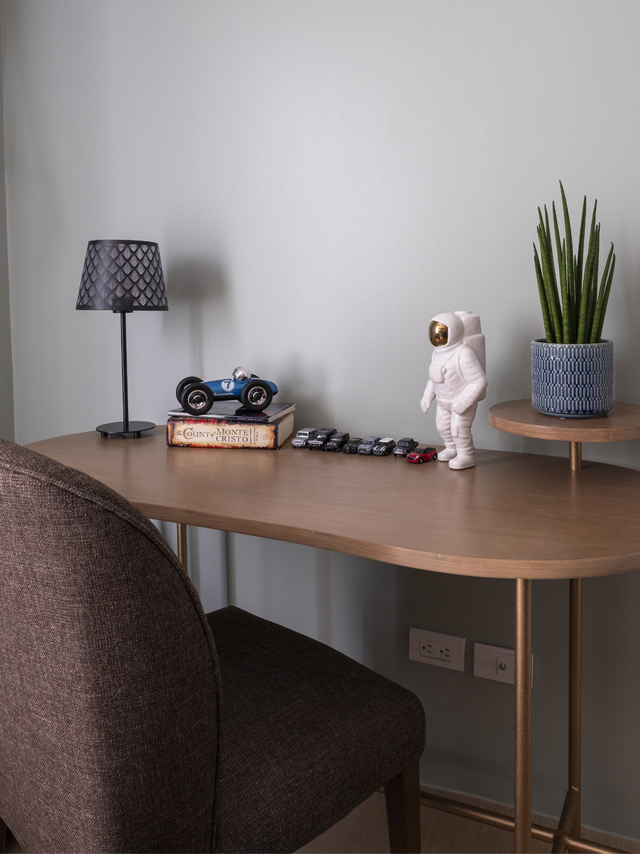 At the foot of the bed is a study/reading nook completed with a customized table designed by interior designer John Vigilia and a comfy accent chair.
ADVERTISEMENT - CONTINUE READING BELOW
Find similar pieces at Crate & Barrel.
Ready for your own home makeover? Get in touch with architect Angelo Siochi through email at angelo.agsdesign[at]gmail.com.
Photos: Hans Fausto | Styling: Kamila Arianna Garcia