How Traffic Motivated this Homeowner to Create a 13sqm Halfway Home and Office
He achieved a comfy coffee shop-inspired space defined by a picture-perfect combination of concrete, wood, steel, and bricks
by
Cielo Anne Calzado
Jul 16, 2018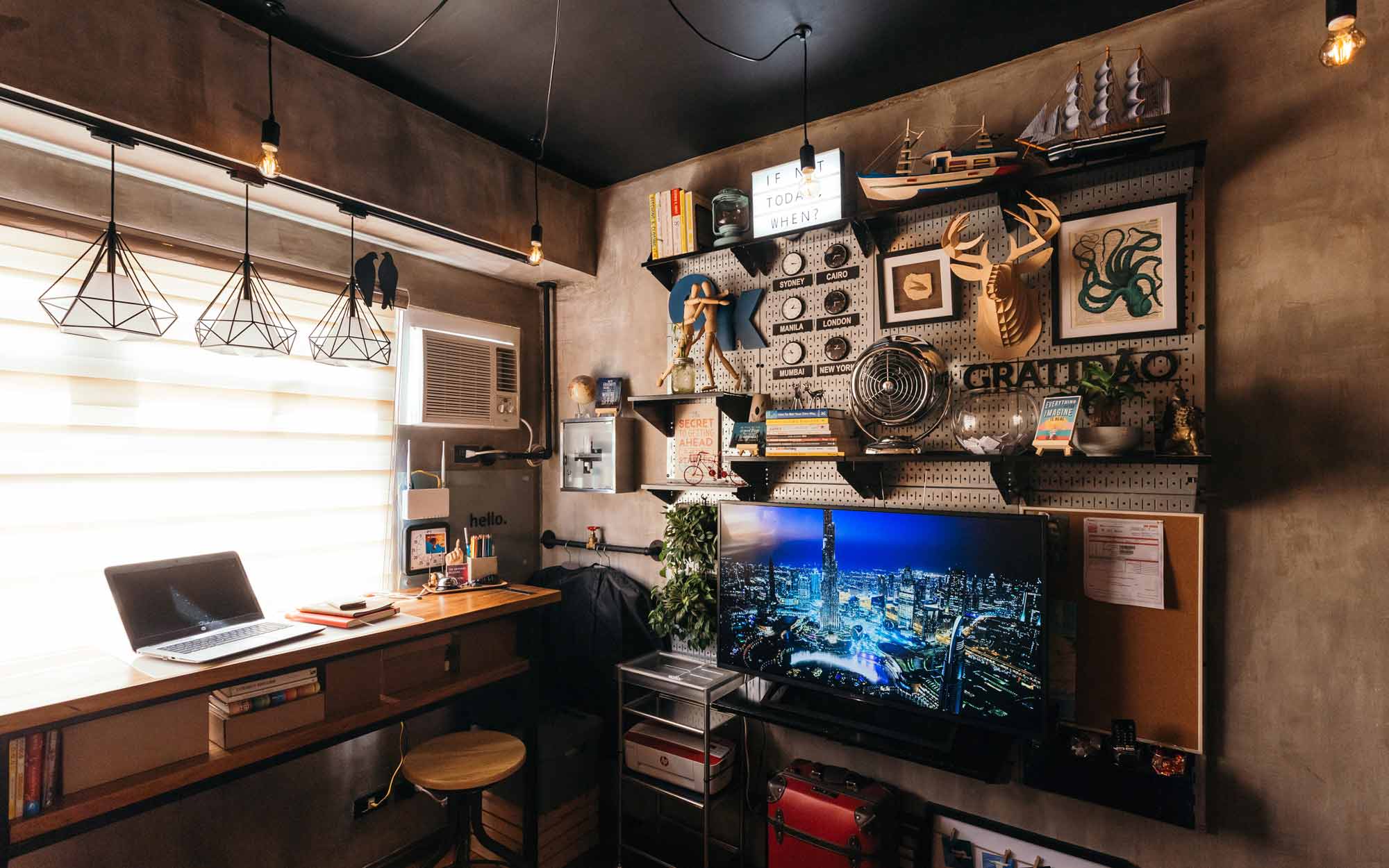 "It's always nice to work in a space that you have all for yourself and where everything you need is within reach."
Nowadays, you're considered lucky if you get from one place to another in minutes. There's no denying how traffic has changed our lives, with many tweaking their routines and travel routes just to avoid getting stuck in congested roads. Some took a big leap by opting to rent a place near work or school and there are a few like Christian who chose to invest in a unit they can call their own.
"Some three or so years ago, it would only take me between 30 to 45 minutes to drive to work from another condo I own in the south. It then gradually took me longer to drive to work because the traffic situation in Metro Manila got worse. I decided to have a halfway place during weekdays which will make it more convenient for me to reach work," Christian explains. Fortunately, he found a property offering compact units at an affordable price. The space was officially turned over in 2017 and it took three weeks to complete the renovation, a process that involved careful planning and perfect timing. In terms of the look and feel of the unit, Christian opted for an industrial, coffee shop vibe. "I find industrial design practical and low-maintenance, which means I can spend my time in more productive endeavors," he shares. After designing his other condo in the south, working on a smaller space seems easier. "It presented a unique challenge to transform something small into something comfortably spacious," Christian exclaims.
ADVERTISEMENT - CONTINUE READING BELOW
CONTINUE READING BELOW
Recommended Videos
The 13sqm condo is a Pinterest board come to life. You won't feel like you're in a teeny-tiny space because you'll instantly marvel at the concrete walls, the wooden touches, and the brick accent wall that add to its appeal.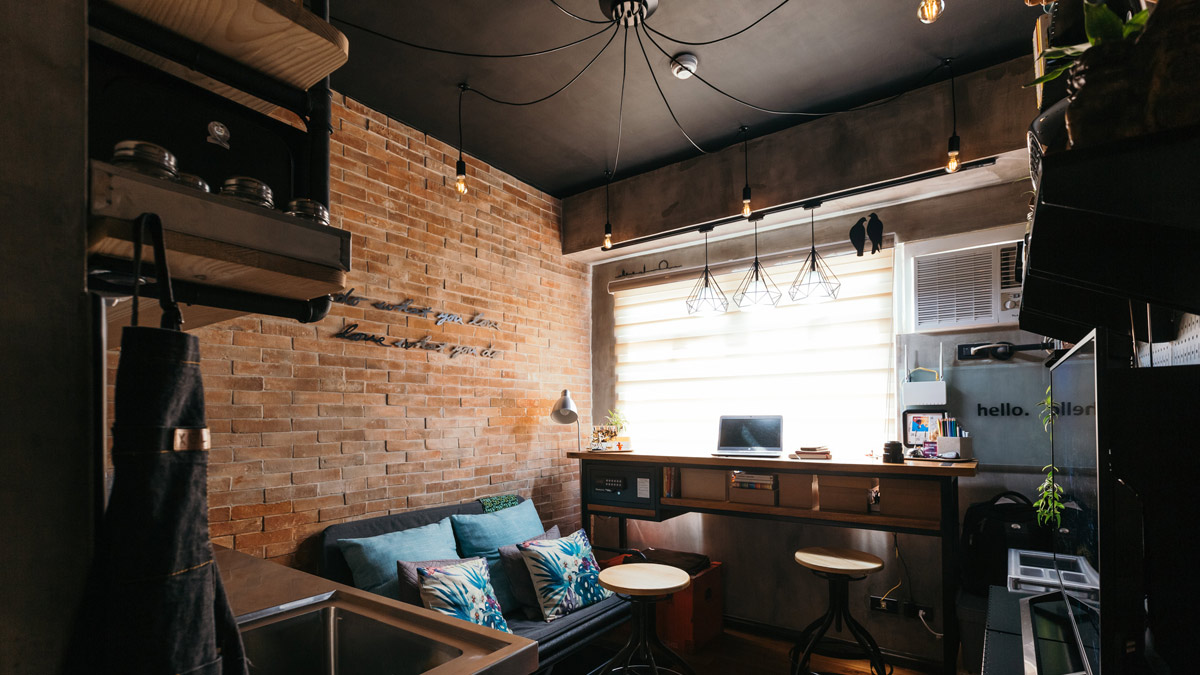 The cozy vibe is reminiscent of quaint coffee shops and it will surely motivate you to get things done efficiently. A customized bar table with a built-in safe and shelf underneath functions as the main work area where Christian can set up his laptop and get to work. Matching barstools complement the table and can be easily tucked under it after use. Edison bulbs and geometric pendant lamps give off a warm glow that adds to the feel of the unit.
For a similar table, follow @dekko.ph on Instagram. Shop for similar stools at Match Contract.
Little details tie to the unit's industrial aesthetic. A short hallway defined by bare concrete walls leads to the main space.
ADVERTISEMENT - CONTINUE READING BELOW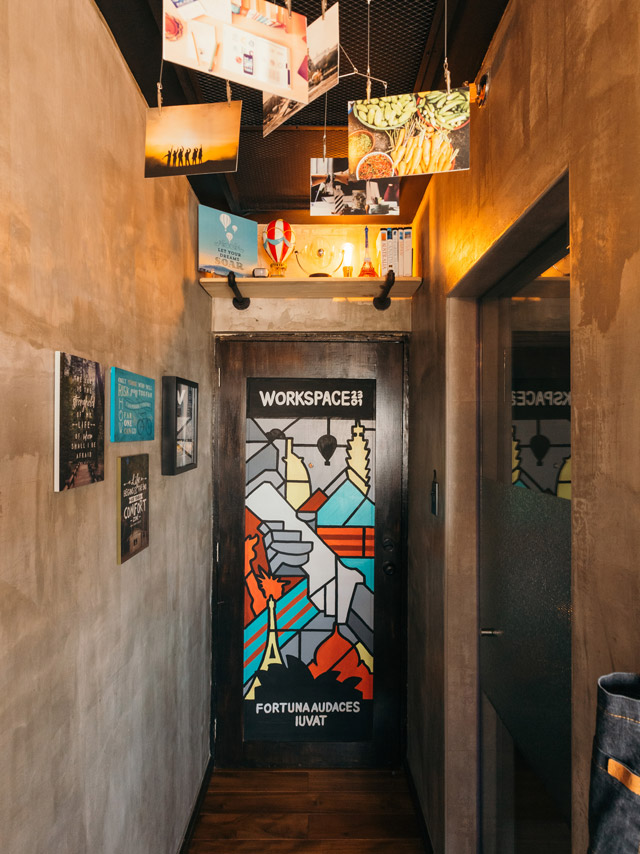 Wall accents showcasing motivational quotes add character while a wall-mounted shelf above the door holds books and more décor. Not wanting to leave the ceiling plain, Christian decided to install an aluminum door with screen and spraypainted it in black. Adding punches of color are the hanging photographs and a mural by artist JP Pining that's seen on the door. The said work of art depicts teamwork, travel, and the adage "Fortune favors the bold."
ADVERTISEMENT - CONTINUE READING BELOW
Find similar pieces at Papemelroti and Quirks Novelties and Curiosities. For similar lighting pieces, follow Home Cartel.
To bring his vision to life, Christian hired four full-time builders and a part-time electrician. The renovation went smoothly because he had the timeline planned out from start to finish.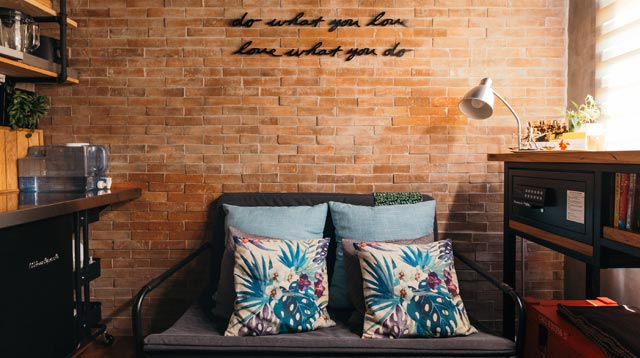 ADVERTISEMENT - CONTINUE READING BELOW
"I wanted to welcome the New Year in my new home office to I made sure that work is confined only to three weeks to give me time to clean and spruce it up. Two years before the expected turnover, I started visiting interior design and construction exhibits. I'd also visit DIY and furniture shops and spend some time online to find inspiration about the would-be look of the unit as well as the materials to use and fixtures to buy. One year before the turnover, I made up my mind about the industrial look. The succeeding months were invested in finalizing the online and on-shop orders for materials and fixtures. Six months before turnover, most of the materials needed were either delivered, pre-ordered, or at least ready for ordering. Four months before turnover, I actively contacted the property management to confirm the turnover and to arrange the necessary permits," he relates. Given his well-thought-out plan, Christian was able to mobilize the workers quickly, even allotting enough window for adjustments and checking.
ADVERTISEMENT - CONTINUE READING BELOW
While he acquired and designed the space with work in mind, we seriously think we can live in the unit, too. A seating piece that transforms into a bed sits in the middle of the space and in front the IG-worthy brick wall. It's conveniently placed near the kitchen and work areas, allowing Christian to take a breather and perhaps enjoy a bit of TV in between deadlines.
Find a similar sofa at Mandaue Foam.
The compact kitchen makes use of vertical space and is ideal for minimal food preparation.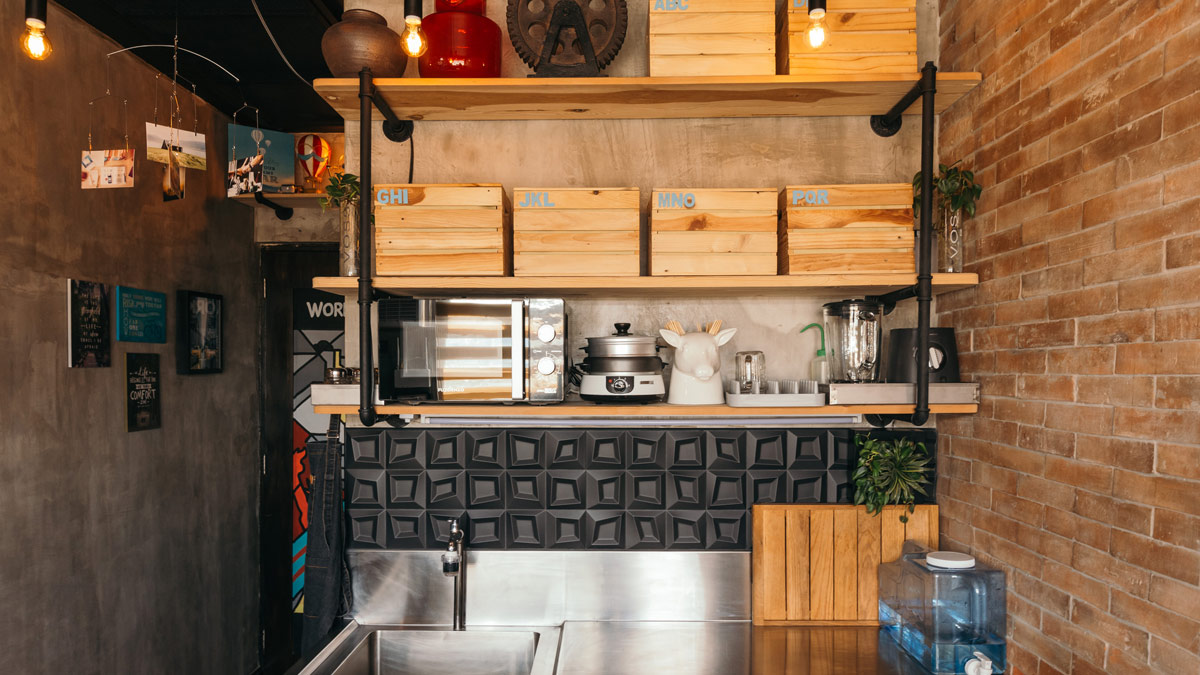 The custom-made stainless steel counter works well with the wood and metal shelf where small appliances and labeled wooden organizers are kept. To avoid clutter and to enable him to find what he needs easily, all items are grouped alphabetically. This storage hack adds to the office feel of the unit, as if documents are neatly filed in each wooden box. Meanwhile, unique tiles serve as backsplash and work in contrast against the steel and wooden touches.
ADVERTISEMENT - CONTINUE READING BELOW
It's difficult not to take a photo of this metal pegboard that holds a variety of knickknacks and décor.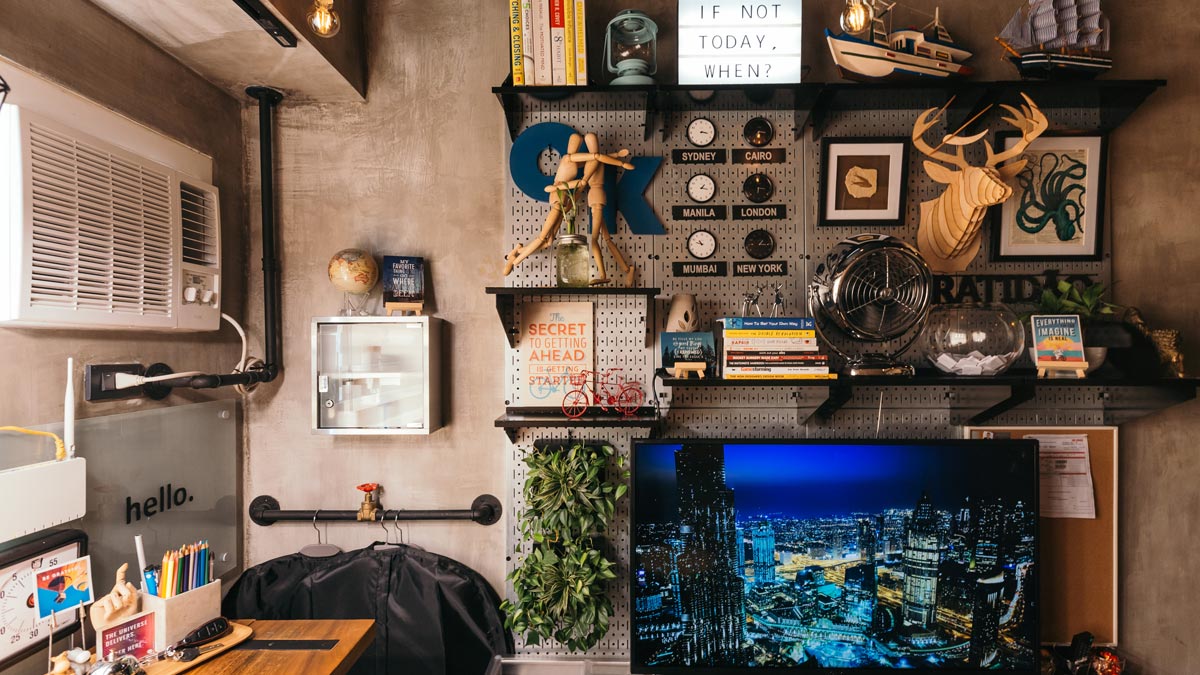 Purchased via Amazon, the said piece allows Christian to maximize the walls, display his collections, and showcase his personality in the unit. "Some of the items on display are the scale model of a colorful fishing boat from Brazil and a framed fish fossil which I got while fossil hunting in the Jurassic Coast in Devon, United Kingdom," he shares. He also made sure that there's a space meant for indoor plants to add a refreshing touch to the theme.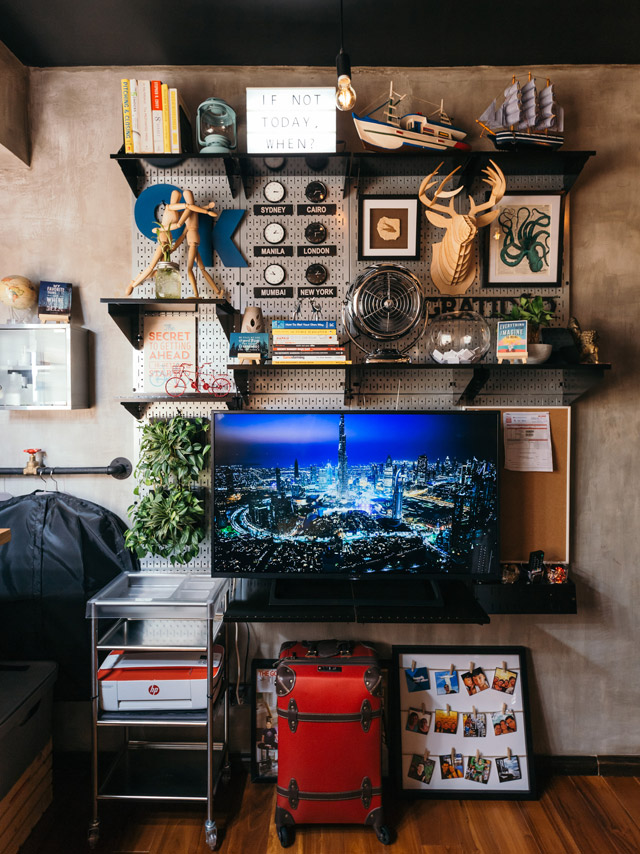 ADVERTISEMENT - CONTINUE READING BELOW
 "A tidy space, however small, will always look brighter and bigger compared to unkempt ones. So store, stow, and stash away your stuff," the owner suggests. Beneath the pegboard are more belongings and a storage unit with wheels. Opting for pieces you can easily move can make it easier for you maximize small spaces.
Find a similar storage unit at The Landmark, Makati. Shop for a similar pegboard at Wilcon Depot.
In this workspace, each corner looks neat and photo-ready. You won't see tangled wires and items out of place.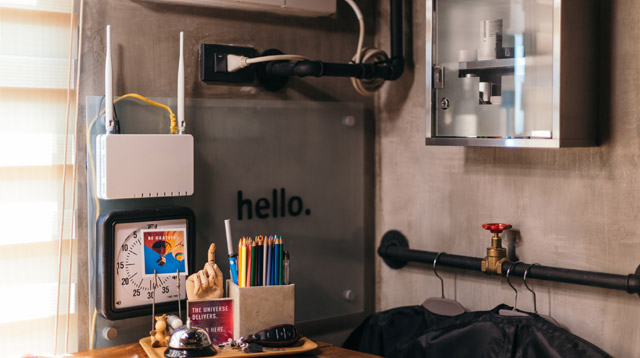 ADVERTISEMENT - CONTINUE READING BELOW
This corner serves as a closet of sorts where Christian keeps his clothes for work. He keeps some of his essentials in a stainless steel medicine cabinet that also doubles as a wall accent.
A well-placed lamp comes in handy whenever the owner wants to read a book while seated on the couch.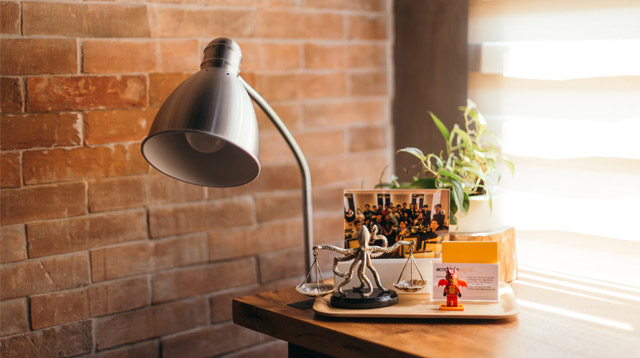 ADVERTISEMENT - CONTINUE READING BELOW
On days when the blinds are up, Christian has a view of the frenzy outside. The sunset gives the unit a different kind of warmth, turning it into a safe refuge after a long day.
Find a similar lamp at Habitat.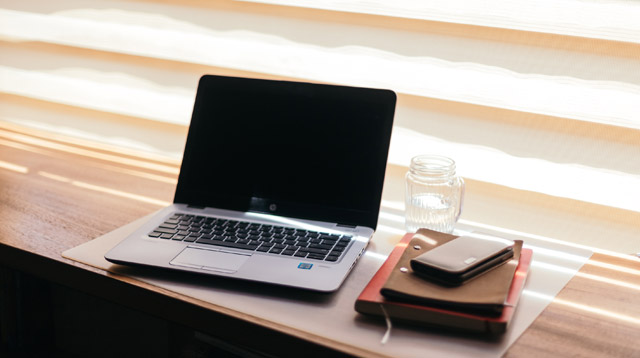 A touch of Zen defines the bathroom completed with bare walls and wooden flooring.
ADVERTISEMENT - CONTINUE READING BELOW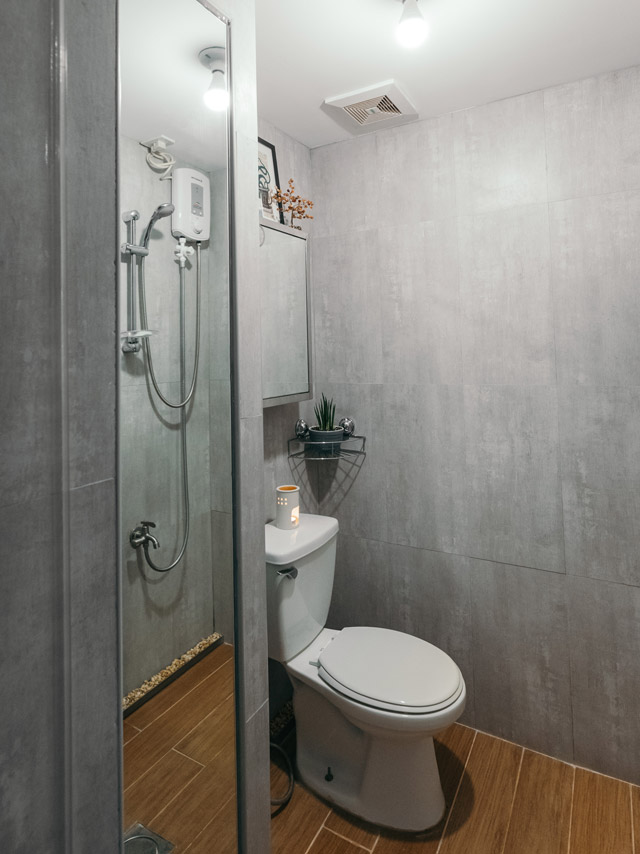 It's furnished with a tall mirror, storage for toiletries, and a high-tech feature. If Christian steps inside the bathroom while the TV is on, the sound automatically plays in the T&B, allowing him to follow whatever he's watching or enjoy a couple of tunes while going about his routine. A glass door provides privacy and separates the bathroom from the rest of the unit, a welcome break from all the concrete.
ADVERTISEMENT - CONTINUE READING BELOW
With a workspace as picture-perfect as this, we won't mind bringing home a couple of to-do lists. "It's always nice to work in a space that you have all for yourself and where everything you need is within reach," Christian shares.
Photos by Jilson Tiu.