Celebrity Homes
Take A Peek Inside JC Santos' Organic, Bali-Inspired Kitchen
This kitchen renovation is all about raw, natural textures. Photography: Courtesy of JC Santos Architect: Architect Justine Amor Garcia of Innovarc
For many, the kitchen is more than just a place where meals are prepared; it's where families come together for casual morning conversations over cups of coffee or lazy Sunday afternoons while waiting for cookies to bake. This concept of "a living kitchen" is what Architect Justine Amor Garcia of Innovarc went for in renovating and setting up a collaborative space for JC Santos and his family.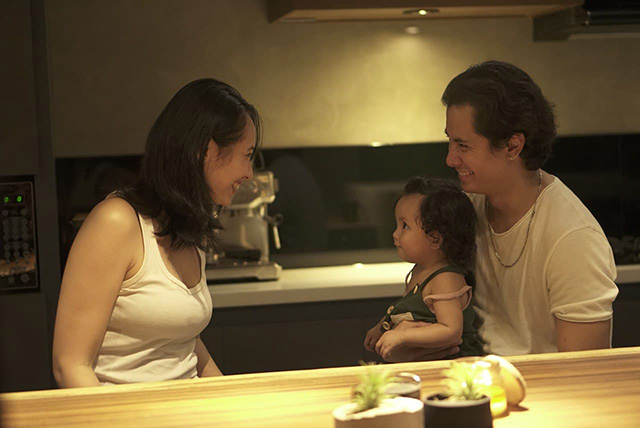 "Bie Cucina (a Kapampangan term translated as 'Life in the Kitchen' or a 'A Living Kitchen' as we call it) is just approximately about 20 square meters of kitchen space including the dining area," he tells Real Living. To allow for a connection between the outdoors and the indoors, he went for a Bali-inspired design,which, he says, "is being in harmony with nature."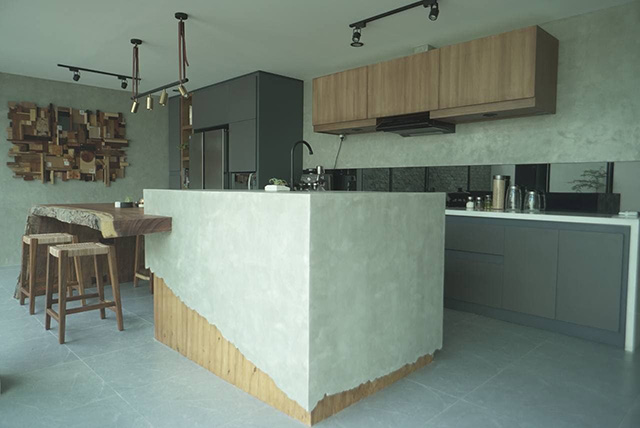 ADVERTISEMENT - CONTINUE READING BELOW
"The palette used was basically the combination of the natural color of the wood, the rawness of the concrete-finished wall and surfaces, and the subtle color of dark gray for the cabinets." The result is a clean, organic-looking space that exudes coolness during daytime and warmth at night.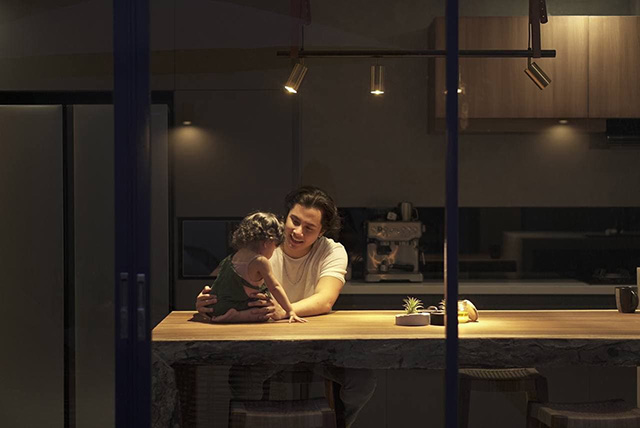 Wood is a prominent material used in the space. A quick glance offers a natural roughness that gives character to the tables and chairs connected to the center console, which is blended with concrete.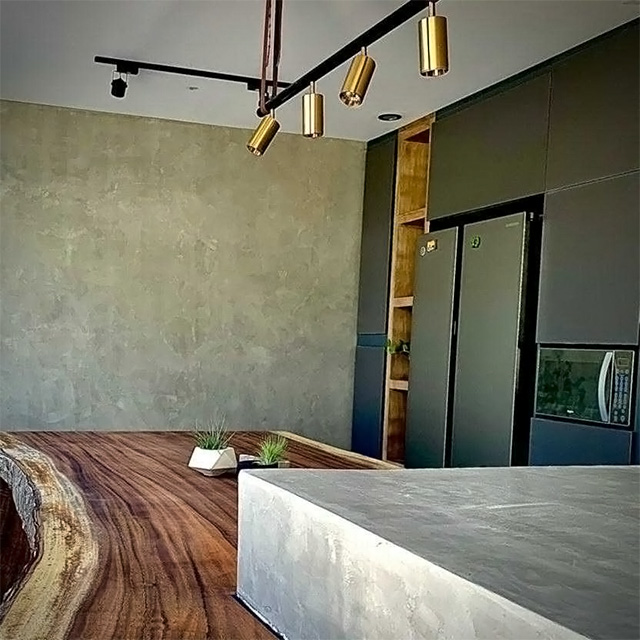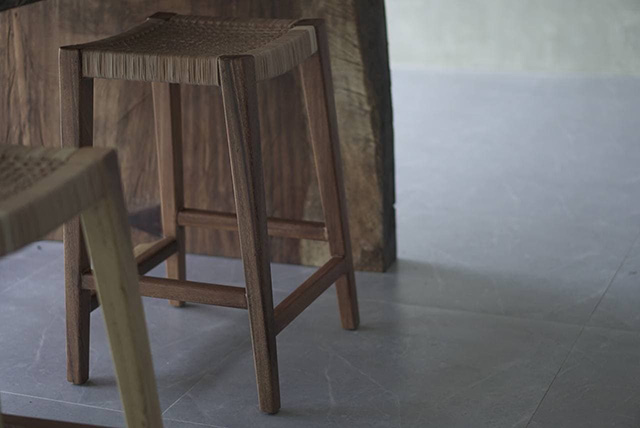 ADVERTISEMENT - CONTINUE READING BELOW
Justine explains: "The use of concrete-finished texture was formulated to look organic and natural… Solid acasia wood [for the dining table] was curated and treated by one of the best teams here in Betis, Pampanga. We take pride in what is ours and innovate ways to showcase them to everyone." The artwork, that's made from diverse types of woods, is an export-quality product. The patterns were carefully paced to look as if it were seamlessly curated."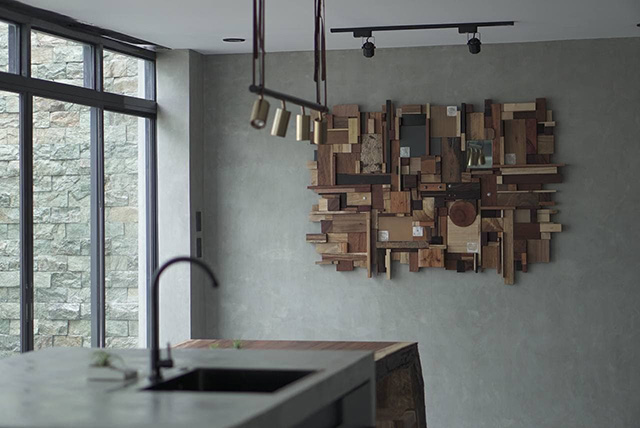 ADVERTISEMENT - CONTINUE READING BELOW
For the counter tops, Justine decided to go with quartz. "One of the best materials to use as a counter top is quartz," he says. "It is non-porous and it resists stains better than any other material."
To one side are glass panels that give the area a view of the outdoors, allowing natural light to come in and offering breathing space to balance out the raw textures of the kitchen. At night, strategically-placed light sources give a warm, almost dramatic glow, which is especially inviting when seen from the outside.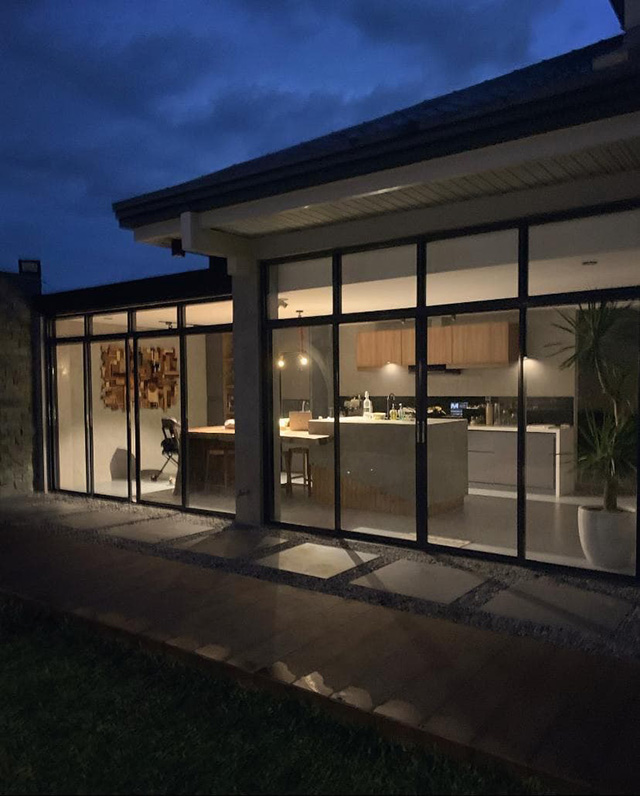 ADVERTISEMENT - CONTINUE READING BELOW
For Justine, the most important part of reimagining spaces is working with professionals who can manifest your ideas and having fun with the journey. "We should put in mind that our homes are our long-term investments, thus, they should be well-planned and well-thought of.
"Just enjoy the process every step of the way in building your dream bedroom, kitchen, or home! At the end of the day, it's nice to live in a house that you yourself know you've done your part [in]."
More on Realliving.com.ph
Load More Stories