Celebrity Homes
A Look Inside Baby Baz Go's Playroom
Hand-painted details and captivating colors complete the room's whimsical woodland theme Aside from having a glam jungle-inspired nursery in Cebu, Divine Lee-Go's firstborn, Baz, also has a charming special room in their Manila home. Designed by decorator Bambi Hernandez-Cruz, the spacious bedroom features a woodland theme defined by delightful touches of orange, yellow, and green.
"A playroom is really for the kids. It's a place that could spark their imagination so it should be something that wows and make their eyes go big. This playroom was planned when Baz was born. It takes inspiration from the artwork entitled "Mecca" by the artist Jean-Michel Basquiat where Baz's name came from.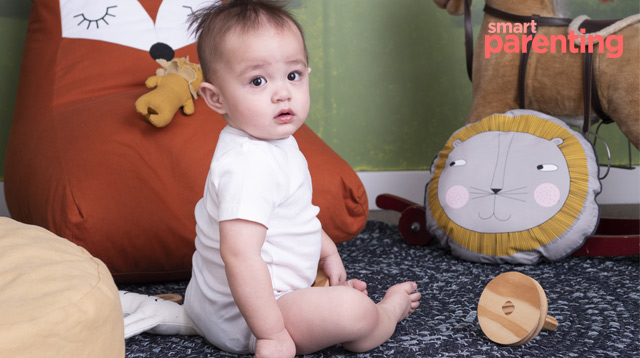 Baby Baz enjoys play dates in his cozy playroom. PHOTO BY Pat Mateo
ADVERTISEMENT - CONTINUE READING BELOW
"This was designed not really as a nursery because there's no crib. It's more of a playroom for Baz, his friends, and for the new baby as well. It's designed to be space where kids can move around," adds Bambi. Since safety is of utmost importance, Bambi made sure there are no sharp edges that could hurt curious toddlers, and that the furniture – including the swing are securely bolted to avoid accidents.
For moms who want to create a special area for their little ones as well, Bambi suggests setting a budget and being open to mixing and matching different pieces to create a unique space. "If it's a playroom or a nursery, let your imagination run wild! The kids are only young once and you'd want them to grow in a space that tickles their fancy and imagination. It's a place where they can be away from their gadgets and where their imagination can grow," the decorator explains.
ADVERTISEMENT - CONTINUE READING BELOW
Take a tour of Baby Baz's woodland-inspired playroom below:
The room has a woodland theme – with animals and vibrant colors completing the look. Bambi took inspiration from the colors used in Basquiat's Mecca artwork in choosing colors for the room. The artwork features neutrals and touches of orange, which can be seen in the pillows, bean bags, and décor.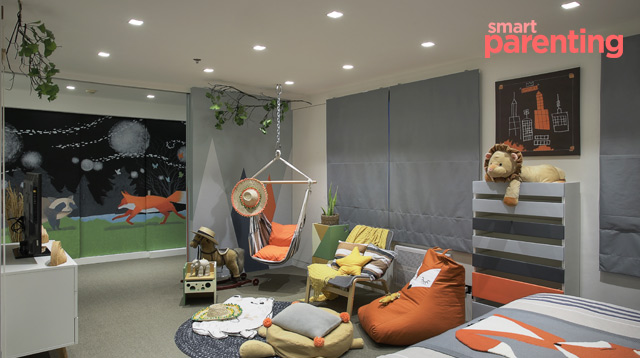 The spacious room is divided into two areas, separated by a sliding door. PHOTO BY Pat Mateo
ADVERTISEMENT - CONTINUE READING BELOW
Once you enter the room, there's a bed and a round shelf on the right and an inviting setup in the middle filled with soft furnishings where kids can gather and play.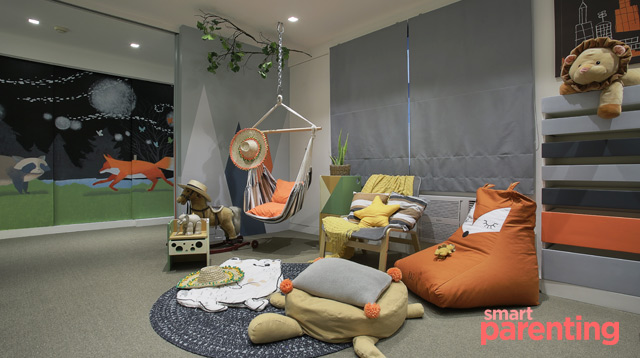 The main play area is filled with comfy bean bags, rugs, and plushies to make sure Baz and his friends can move around without bumping into sharp corners. PHOTO BY Pat Mateo
ADVERTISEMENT - CONTINUE READING BELOW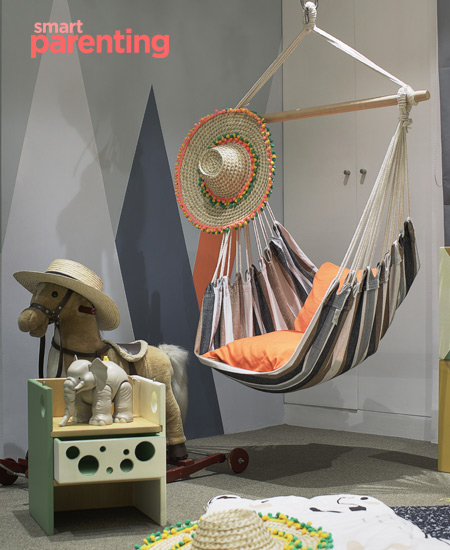 One of the room's interesting features is the indoor swing. According to Bambi, parents enjoy it more than the kids! PHOTO BY Pat Mateo
According to Bambi, the swing can handle the weight of two adults. "The swing is bolted very safely to the ceiling on a metal grid. All cabinets are mounted and secured as well," she explains.
ADVERTISEMENT - CONTINUE READING BELOW
Baz's playroom is divided into two areas – the play and sleeping areas and the storage/bathroom area. "When you close the sliding door, it features geometric mountains – all triangles in colors that are included in the design," she shares.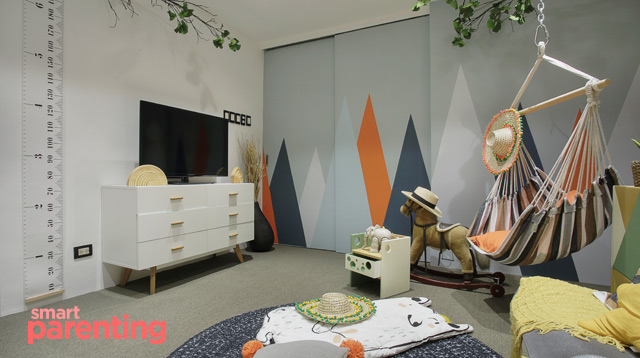 A growth chart can be seen beside the TV area. Bambi plans to mount the TV to the wall as well. PHOTO BY Pat Mateo
ADVERTISEMENT - CONTINUE READING BELOW
When you slide the door, a surprise awaits – a long closet that highlights a captivating mural by illustrator Felix Taaka.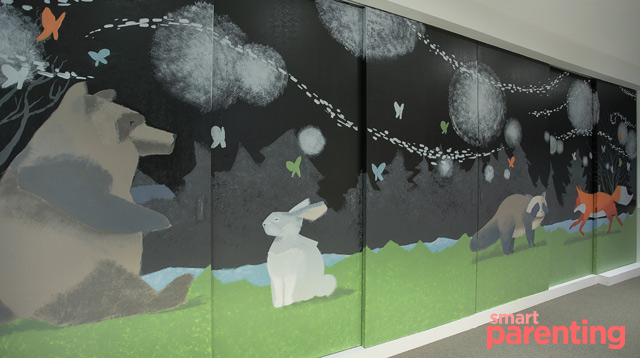 The mural follows the woodland theme, featuring animals in the forest. PHOTO BY Pat Mateo
Felix rendered it first on the computer before proceeding with the actual painting. With a closet as roomy as this, it can be easier to organize Baz's belongings – from clothes and shoes, to toys and other essentials.
ADVERTISEMENT - CONTINUE READING BELOW
Just like in the Cebu nursery, Bambi made sure to add indoor plants to make the space more relaxing.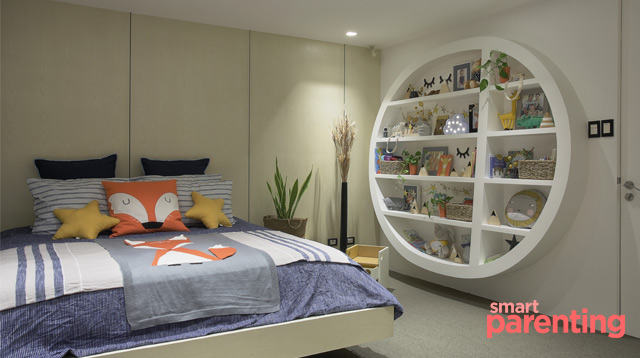 The huge bed is inviting with plushies, pillows, and blankets. PHOTO BY Pat Mateo
The round shelf was done when Divine got the unit years ago. To make sure it will go with the current look of the room, it was repainted and filled with Baz's belongings.
ADVERTISEMENT - CONTINUE READING BELOW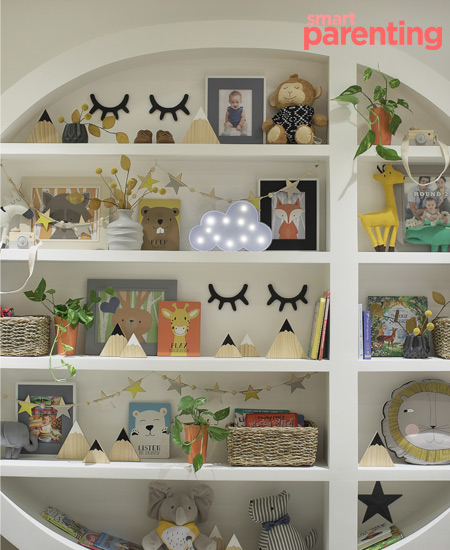 Aside from framed family photos, Bambi spruced up the shelf with cute decor pieces, books, and toys. PHOTO BY Pat Mateo
This story originally appeared on Smartparenting.com.ph.
* Minor edits have been made by the Realliving.com.ph editors.
More on Realliving.com.ph
Recommended Videos
Load More Stories
---