Bring Nature Into Your Home with These DIY Landscaping Ideas
Being surrounded by plants can be therapeutic We've long established that plants have special powers – from brightening up the home and purifying the air, to helping us sleep better at night and bringing in luck into a space. It's safe to say these are some of the reasons why many homeowners are decorating every corner of the home with a pot or two and considering landscaping ideas to further improve it. Have you ever considered working on a few landscaping ideas? The concept of landscaping can be intimidating at first as it calls to mind sprawling gardens, vast open spaces, and big homes. While it's common to see beautifully planned gardens in bigger homes, this doesn't mean it's not possible in smaller spaces, including condo units.
 What is landscaping and why should you pursue it?
While landscaping generally pertains to modifying outdoor areas, this shouldn't stop you from working on a few ideas that can improve your entire space. "Landscape design, for me, is not just about the plants. It's about designing outdoor spaces with a mix of natural, architectural, and interior elements. Plants play a huge part in our design, but the other elements like groundcovers, wall treatments, furniture, and accessories make a big difference in defining a space," explains landscape architect Erick Yambao of Plontur. 
Aside from helping define a space, working on landscaping ideas allows you to reap the benefits of being surrounded by greenery. "It can be therapeutic, especially in our current situation of being cooped up at home most of the time," says landscape architect Vincent Lim of Balcony & Gardens. Erick echoes the same sentiment believing that landscaping offers intangible benefits that improve one's overall wellbeing. "We have a natural inclination to commune with nature and I believe having living things around you makes you feel a little bit better," he adds.
ADVERTISEMENT - CONTINUE READING BELOW
Easy DIY landscaping ideas you can work on
 1. Explore potted planting.
According to Vincent, potted planting is considered a landscaping idea. "For condo dwellers, potted plants are perfect because these flexible in terms of maintenance and mobility. You need to be able to move your plants so they can get proper sunlight requirements," he suggests.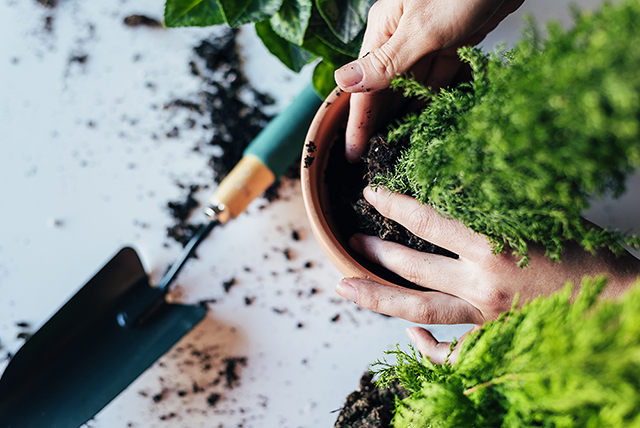 2. Try vertical gardening.
Whether you have a balcony or an unused vertical space, vertical gardening is nice idea to work on. You can hang some ferns and small plants in lightweight containers to spruce up a wall.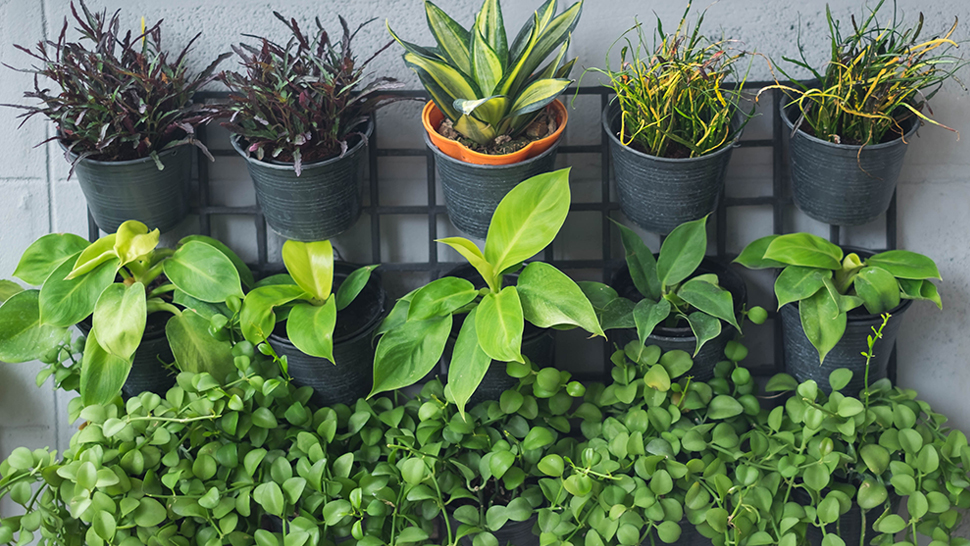 3. Create a focal point that you can build upon.
A landscaping idea that's ideal for small spaces can start with one feature plant that serves as a focal point. "Make sure you buy something that you really like and resonates with your personality," suggests Erick. "You can slowly add more plants to spruce up different areas in your house, then make the balcony the highlight where most plants are," he adds. Look into easy to care for plants you can incorporate to your space. There are houseplants that thrive with minimal sunlight and care.
4. Channel your chosen interior style or theme.
If you're going for interior landscaping, you can work with plants, water features, and other elements to create a relaxing indoor ambiance. If you're set on the interior style of your space, you can choose plants that complement it. For example, if you have a Scandi-inspired home, you can look into bringing wooden or macrame planters. Meanwhile, if you're into Boho or eccentric features, you can opt for plants with different colors and different varieties.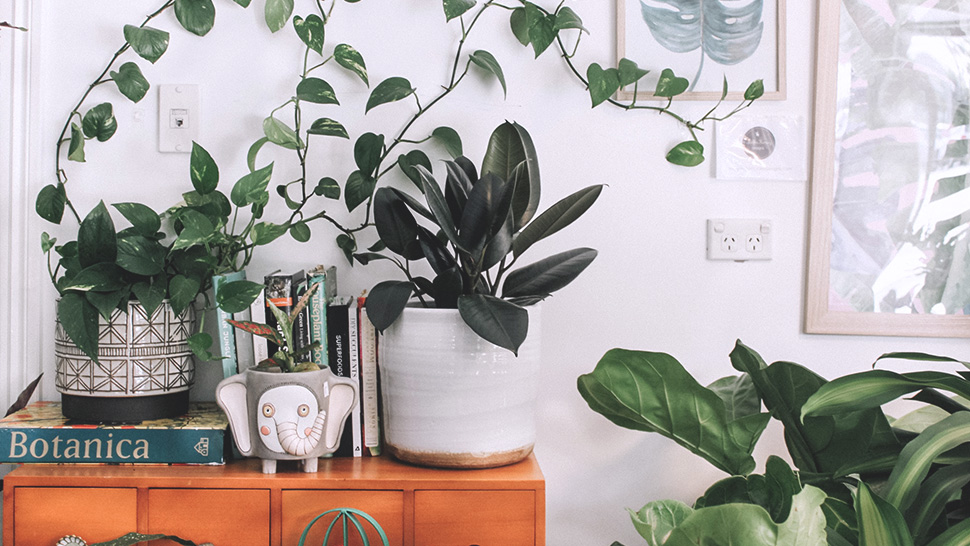 ADVERTISEMENT - CONTINUE READING BELOW
5. Invest in the right extras and furniture pieces.
When exploring landscaping ideas, don't just focus on the plants. "Allocate a budget that you would want to spend on a room if you want to complete the experience. You should be able to add some artificial lawn or wood deck on your balcony, some outdoor furniture pieces, and nice lighting to define the whole area," shares Erick. Having a small table or a seating piece allows you to interact with the space, too. "Imagine it as your little escape from the hustle and bustle of the city," the architect adds.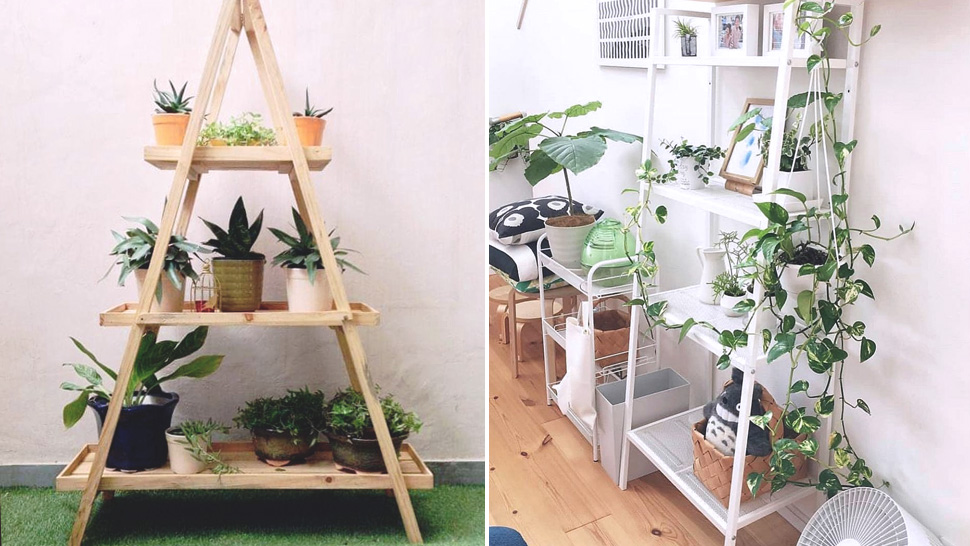 6. Get creative with pots.
Pots and planters contribute a lot to the overall look of your space. Make your landscaping idea work by choosing pots that go well with your interiors. You can always stick to neutral-colored ones, but where's the fun in that? Experiment and don't hesitate to showcase your creativity.
7. Pick your plants wisely.
An easy landscaping idea would be to choose colorful plants that would instantly brighten up a corner or unused space. Aside from choosing plants with touches of color, make sure you look into its care requirements. Erick suggests starting with low-maintenance plants like cacti, air plants, Devil's ivy, and Rhapis.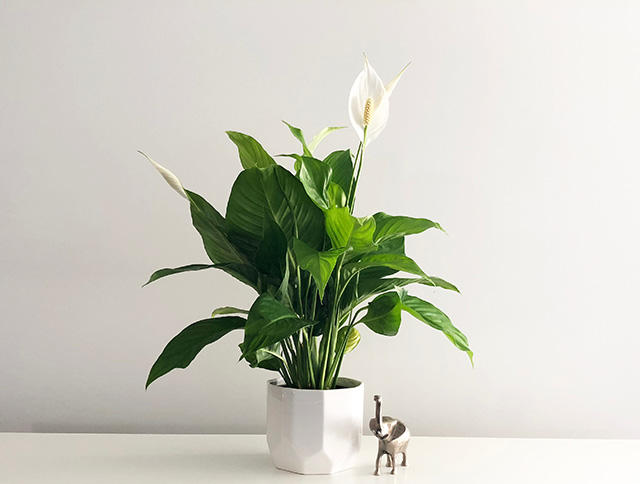 8. Start an edible garden.
If you have ample outdoor area to work with, you can create an edible garden where you can plant herbs and vegetables. This landscape idea is easy on the pocket, too – you can simply purchase seeds or seedlings then research on the best soil for it.
ADVERTISEMENT - CONTINUE READING BELOW
9. Add a water feature.
Another easy landscaping idea worth looking into is adding a store-bought water fountain. If you're focused on interior landscaping, you can get a tabletop fountain that you can place on a table. A bigger piece will be perfect for an outdoor area or balcony.
10. Create a pathway.
If you have an outdoor area or garden, you can spruce it up with a pathway you can DIY using pallet wood or any wood plank cut to size. This is a rustic alternative to the stone pathways we often see in other homes.
Before you turn any landscaping idea into reality, do some research and look up forums where you can gather a few inputs. It's easy to search for pegs online, but nothing beats sound advice from those who have worked on it before. There are tons of landscaping ideas you can work on, but if you are unsure, you can always consult with a professional for tips.
Special thanks to landscape architects Vincent Lim and Erick Yambao. Follow Balcony & Gardens and Plontur on Facebook for inquiries. 
* * *
Do you have a space that you've DIY'd? Share it with us! Send your story and your photos to [email protected] and we may just feature you next!
More on Realliving.com.ph
Load More Stories