Decorating
Plantitos and Plantitas, Here's a Plant that Won't Die on You
As long as you keep it away from the sun! Photography: courtesy of Marimo MNL
When it comes to adding plants to our homes, we always take into consideration how low-maintenance each green wonder is and if we have enough space to accommodate it. Fortunately, there's a plant that's not only easy to care and ideal for small spaces, it's also an instant conversation-starter. The best part? It won't die on you.
ADVERTISEMENT - CONTINUE READING BELOW
In photo: Aside from being cute décor pieces, the moss balls are also perfect as housewarming gifts as they are known to symbolize love and good luck.
Marimo moss balls are gaining fans recently and for good reason. This rare form of algae is not only interesting to look at, it can brighten up any corner of your house, too. "The Marimo grows in specific lakes around the world, with the most popular one being the Lake Akan in Japan," shares John Henry Luces, the founder of Marimo Manila, the pioneer in offering Marimo moss balls in lighted jars in the Philippines.
ADVERTISEMENT - CONTINUE READING BELOW
Recommended Videos
Sustainably rolled and naturally round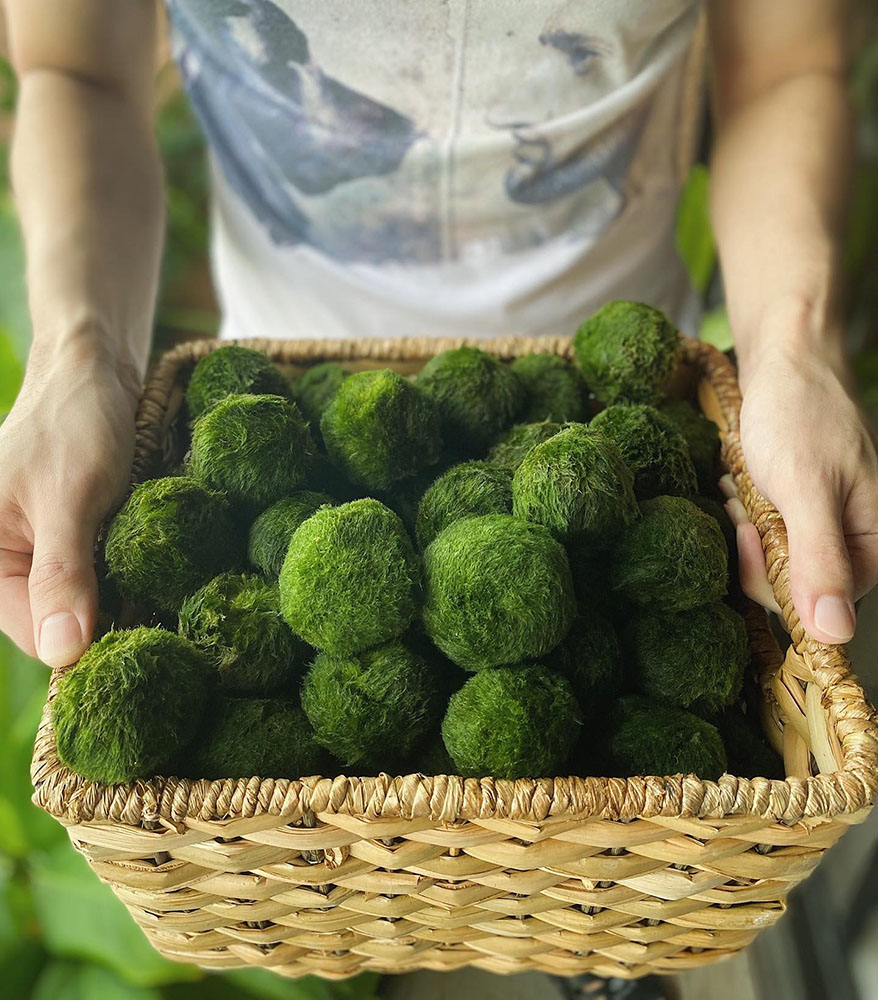 ADVERTISEMENT - CONTINUE READING BELOW
At first glance, you won't think the moss balls are actually living things as they look like plushies. According to John, slow moving currents roll the algae filaments through rocks and the lake bottom, hence the shape. "These orbs can live up to 200 plus years. They grow very slowly up to a maximum of 5mm a year so they are often passed through generations as a family heirloom," he adds.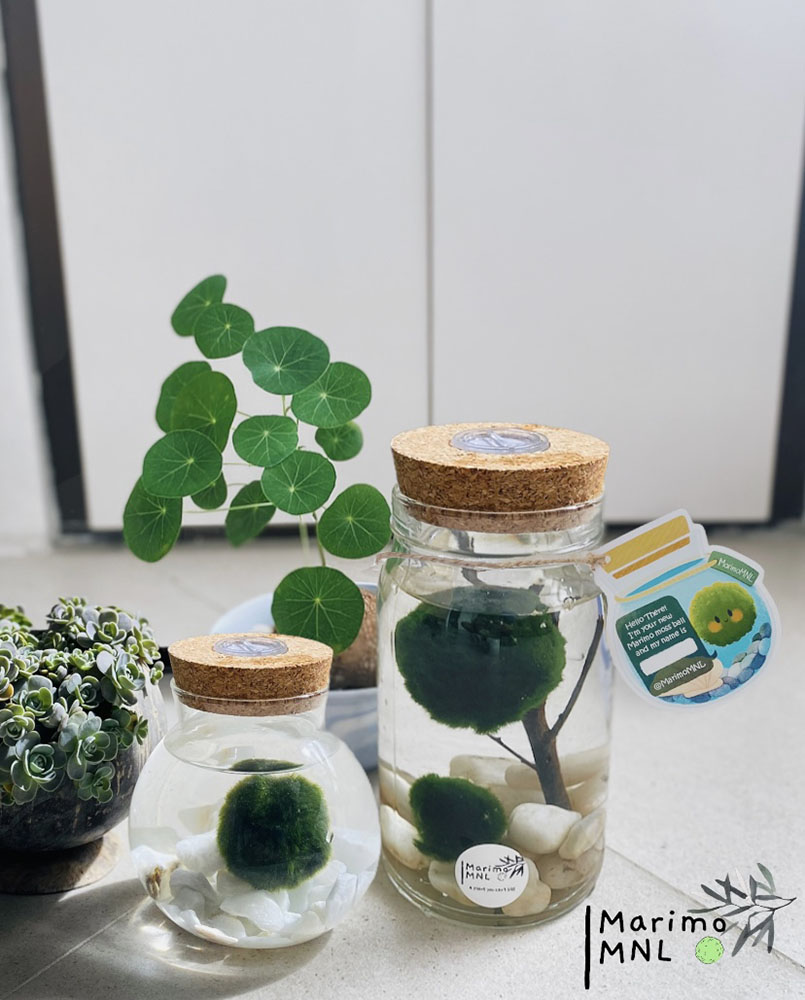 ADVERTISEMENT - CONTINUE READING BELOW
In photo: Working from home? You can add a Marimo jar on your desk! According to John, many Marimo parents love having moss balls as desk buddies. It's also refreshing, don't you agree?
Marimo Manila offers moss balls you can buy as is or as a set that includes a moss ball, some pebbles, and a lighted jar where you can keep your plant pet. Having your moss ball in a jar makes it a tabletop or shelf décor. "The premium moss balls we offer are sourced from farms in Thailand and Hong Kong. We are very particular in the quality of our produce, hence, the reason why it took a while to find the best supplier for us. We cultivate and roll the moss balls with great care and attention to quality," the founder explains.
The shop coined the term "sustainably rolled" to help raise awareness about the decline in number of the species. Their moss balls are artificially cultivated to help keep the naturally occurring Marimo thrive in its native ranges.
ADVERTISEMENT - CONTINUE READING BELOW
A plant that won't die on you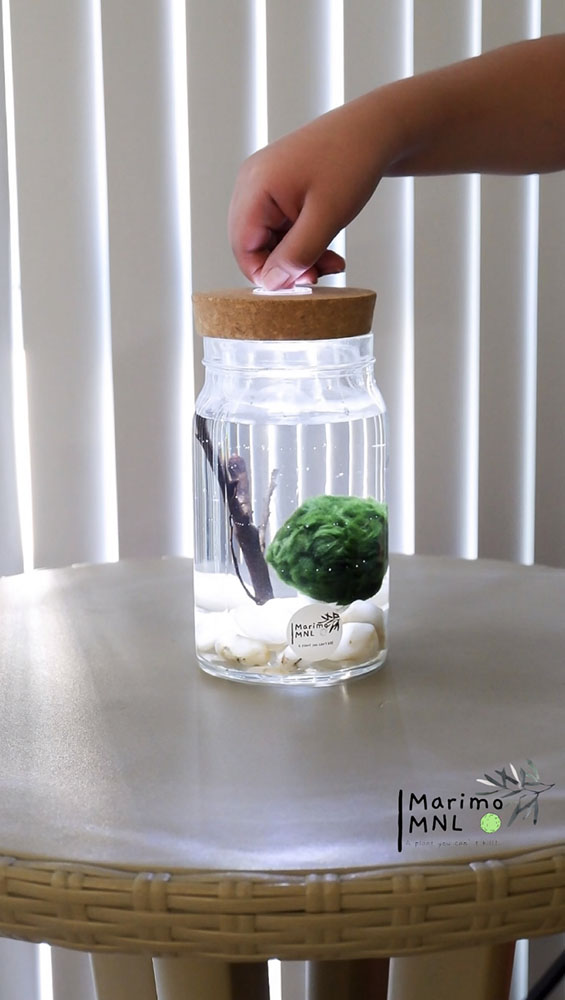 In photo: Each jar comes with a cork stopper where a LED light is embedded. Aside from elevating the aesthetic of the jar, it can also work as a night light.
If you've been caring for plants for quite some time, we're sure there were instances when some of your houseplants just won't thrive. It can be frustrating, especially if you've been giving it the TLC it deserves. Don't give up just yet because the Marimo may just be the green wonder you need at home. It's a tough algae that won't die on you and as John puts it, "it takes more effort to kill it than to keep it alive."
ADVERTISEMENT - CONTINUE READING BELOW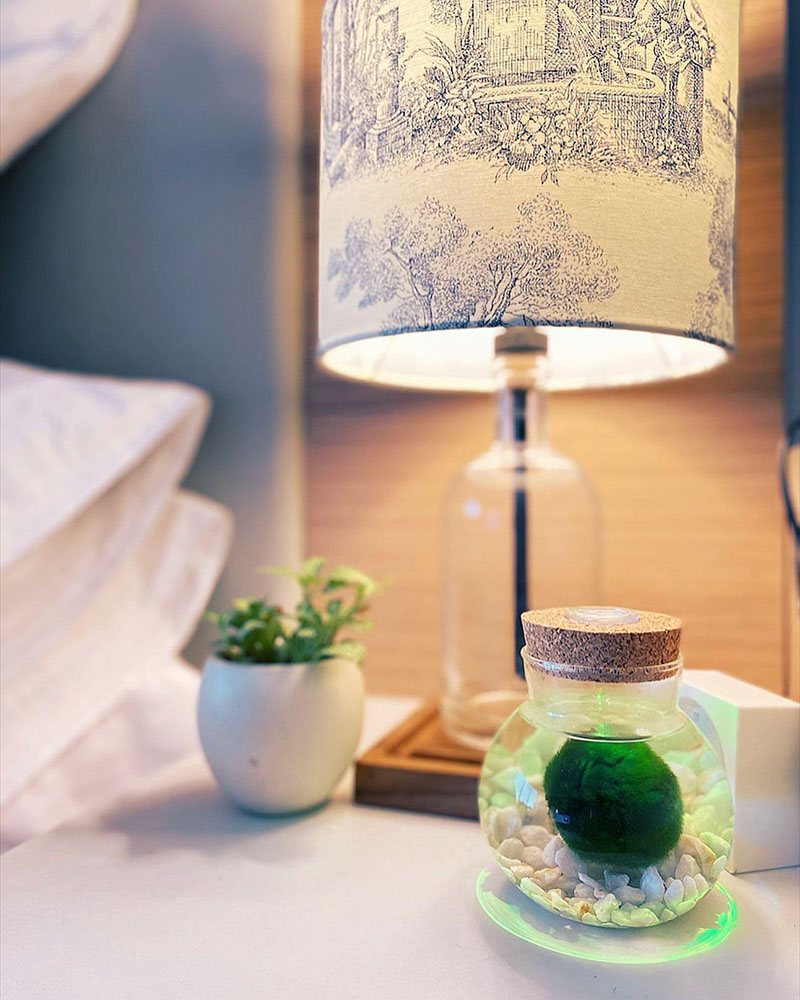 To keep your moss ball green and healthy, John shares the following tips:
Change the water twice a week or every two weeks. The trick is to always check the water inside the jar or container. As soon as it gets cloudy, change the water as soon as possible.
Place your Marimo jar away from direct sunlight as doing so may cause brown spots. "They thrive in low light. Some owners, including myself, get concerned about brown spots but these are normal. Although it is indeed a problem, the filaments will eventually grow new ones," says John. To remedy brown spots, keep doing regular water changes and place it away from sunlight. John also recommends adding a pinch of salt to the water, too.
Dirty water and sunlight are big no-nos when caring when caring for moss balls. Remember that these green balls usually stay at the bottom of the lake away from the sun so to keep them green and healthy, keep them in a spot with low light.
If you're using tap water, make sure you add a drop of water conditioner (also available at Marimo Manila) to make sure it's suitable for your moss ball.
Got an aquarium? Moss balls make for perfect additions to a big aquarium. As John shares, "aquarium hobbyists and enthusiasts have started placing moss balls inside their aquariums with their pet fish and other creatures such as shrimps and snails." The Marimo helps filter the water aside from being a lovely addition to the aquarium.
ADVERTISEMENT - CONTINUE READING BELOW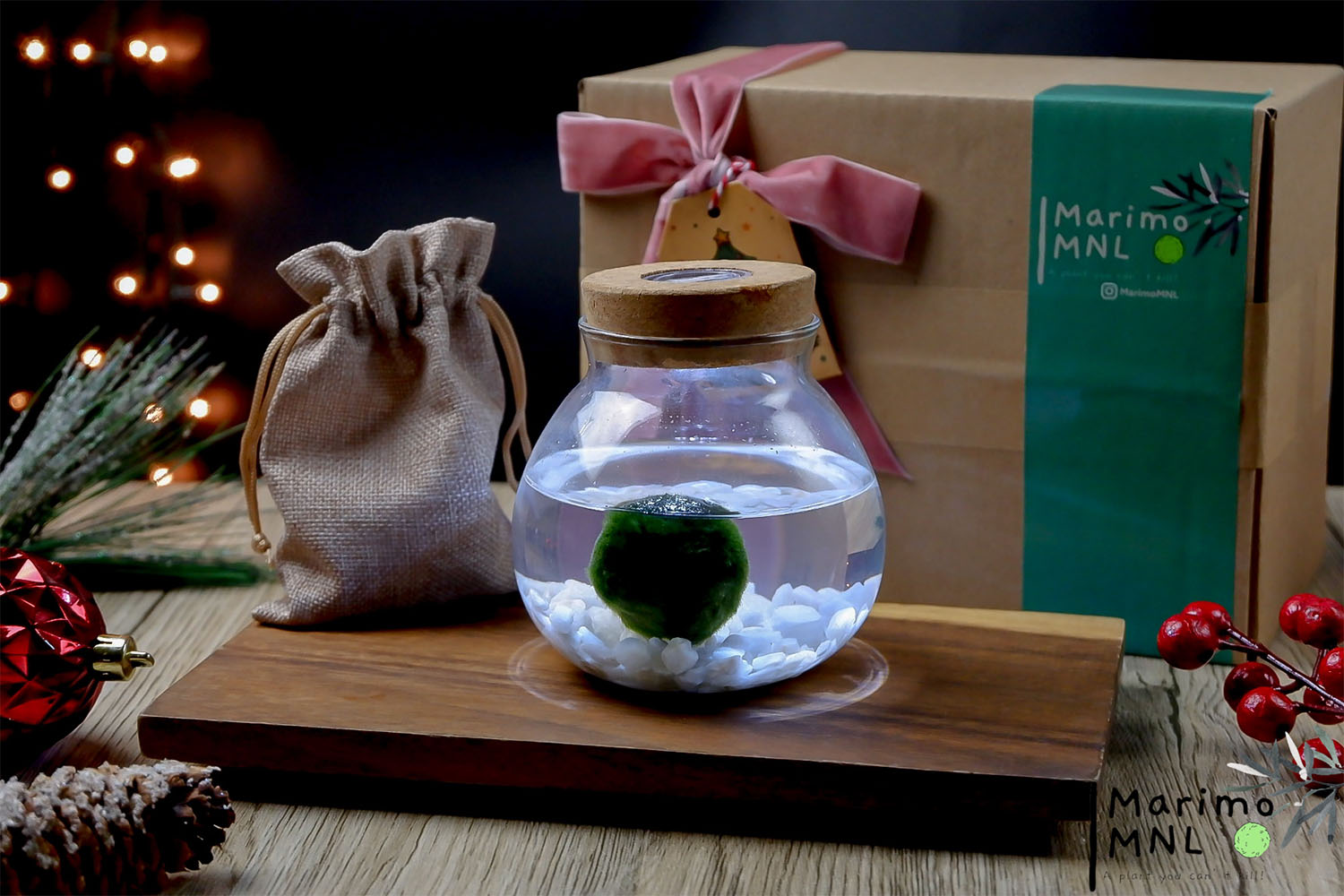 Curious as to how easy it is to care for moss balls? Follow Marimo Manila on Instagram to learn more: @marimomnl. The store has an on-going promo just in time for the holidays! You can get 5 percent off of your total order when you use the code XMASPREORDER when you shop at www.orderbasket.app/shop/marimomnl. These moss balls are perfect as Christmas presents so make sure you reserve a slot as early as now.
ADVERTISEMENT - CONTINUE READING BELOW
More on Realliving.com.ph
Real Living is now on Quento! Enjoy more of our stories by clicking here to download the app.
Load More Stories