Decorating
11 Home Offices of Real Living Readers You Can Relate to and Get Inspired By
From adding plants to converting party beer storage into a desk. Photography: Courtesy of (L) Anika Punzalan (R) Abigail Angeles [main]
Many people have now either transitioned to working from home, or have started their own businesses at home. This means having to create a space conducive for focus, where one can be both creative and functional.
A good home office must have all the tools and equipment that you need, but more than these, it's also important that you have ample lighting and ventilation, an effective layout, and good ergonomics, especially since you'll most probably spend long hours in it.
The thing is, while it helps to have aesthetically pleasing nooks, what matters is how functional it is and how productive it makes you. Below are real work areas of Real Living readers you can use for inspo--or  simply relate to while you're still planning to your own space. 
A small area can be shared on shifts
"My fiancee and I are both working in the IT industry, and working from home is one of the best benefits we were enjoying even before the lockdown. I work at night and she works in the daytime." The couple has converted a corner of their master bedroom into a mini office.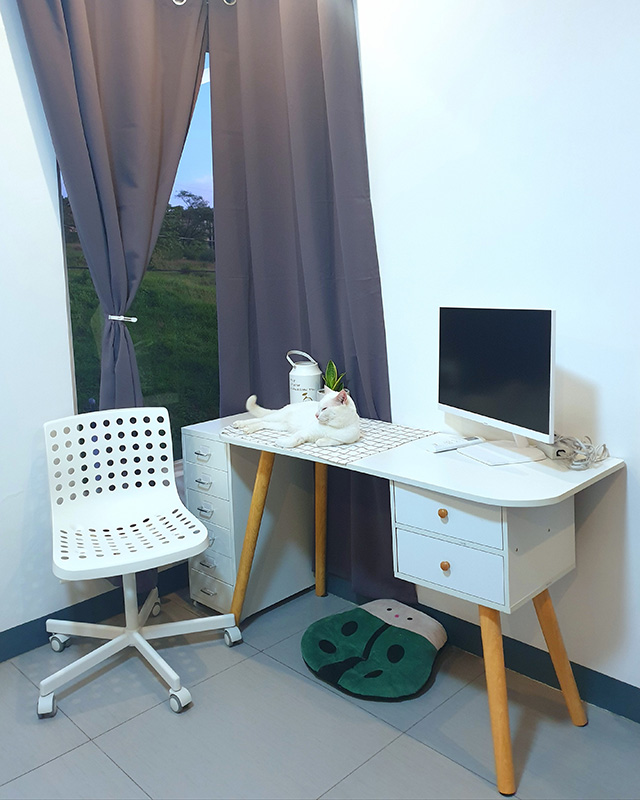 Making use of what you already have is good for your budget 
Marivic Peñano of Makati City shares that she simply made do. "My table is a party beer storage from SNR. Got it as a gift at the wedding. My chair is a part of a dinning set  added our wedding pic on the side because I don't know where to hang it."
ADVERTISEMENT - CONTINUE READING BELOW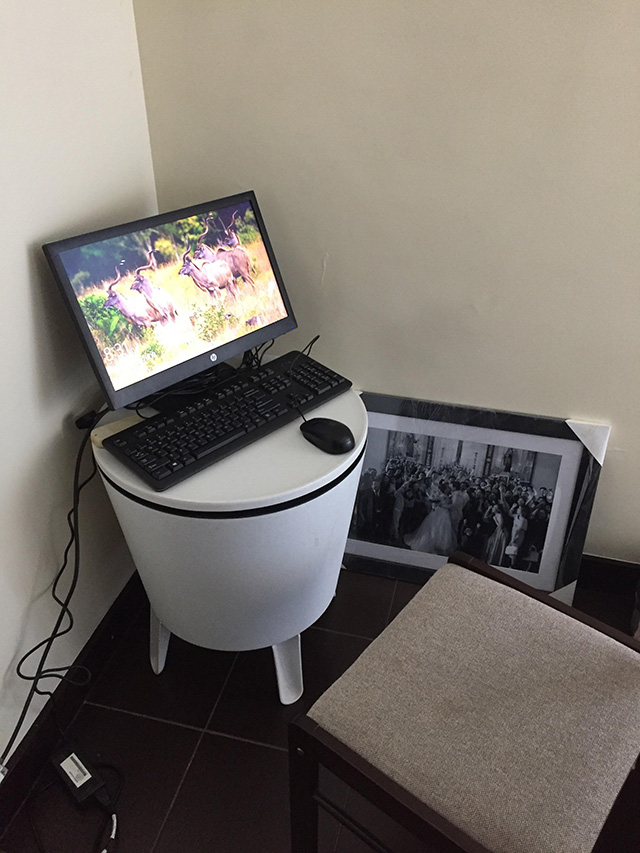 Having plants in your work area have been proven to help reduce stress
Angelica Dumalus of BGC, Taguig City prefers a green workspace. "I think the best thing about working from home is that I can be with my plant babies!" She also explains how the right chair can help boost productivity.
"Before, I was using a stiff chair to do all my work but that gave me back problems. So, I swapped it out for an ergo chair to support me thru the long hours. It was definitely a good investment which made me more productive. I then re-arrange some of the indoor plants to be situated beside me, since going out wasn't allowed. This was the closest thing I had to walking in the park. It did help a lot in boosting my morale and keeping me motivated."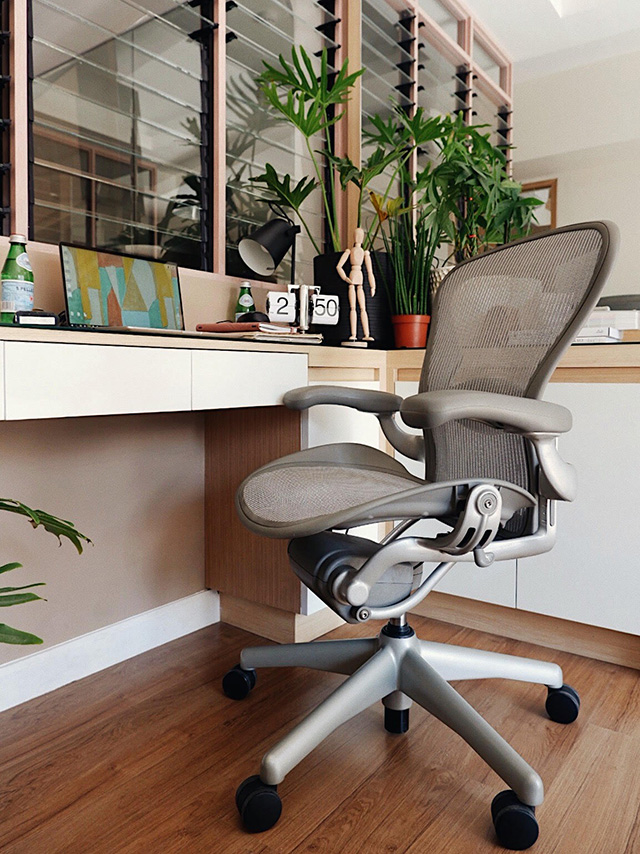 ADVERTISEMENT - CONTINUE READING BELOW
Creating a space soley for work can help in cultivating work-life balance
For Gelene Talosig of Imus, Cavite, creating a home office helps her balance and integrate her work life with her personal life, without having to sacrifice time with her family. 
"I came up with a home office in one corner of our living room.  I put together old stuff and purchased an office table and was able to set up a now fully functioning home office.  This way, there's still a sense of boundary, a separation of work and home.  I love my home office so much, I think i would keep it even after COVID-19."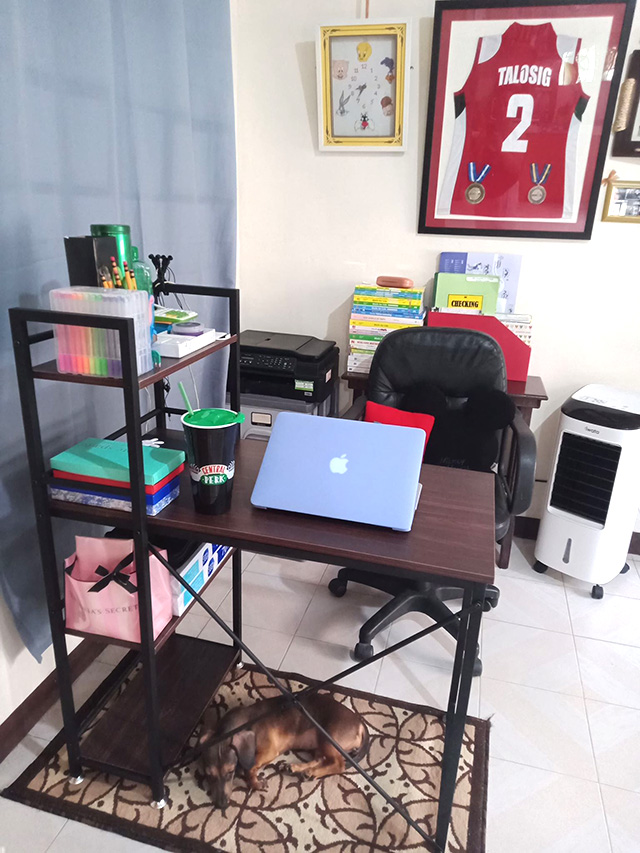 ADVERTISEMENT - CONTINUE READING BELOW
A home office can help you fall into a healthy work routine
Tricia Mangubat of Pasic City says that making a DIY project out of an extra room in their home helped them adjust to the current situation. "This space...has been supporting us as we transitioned into the new normal. We believe that this period is the start of new ways of working and our decision to turn it into a fully functioning home office is something we are both very happy with."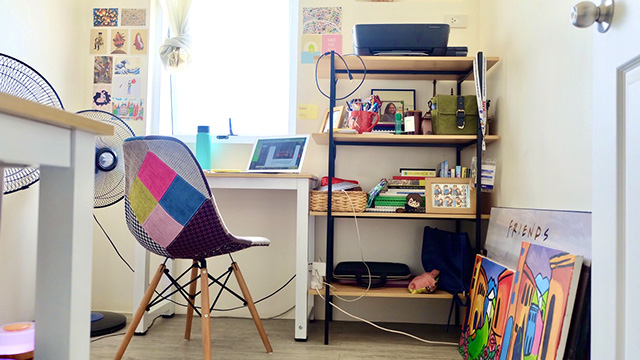 ADVERTISEMENT - CONTINUE READING BELOW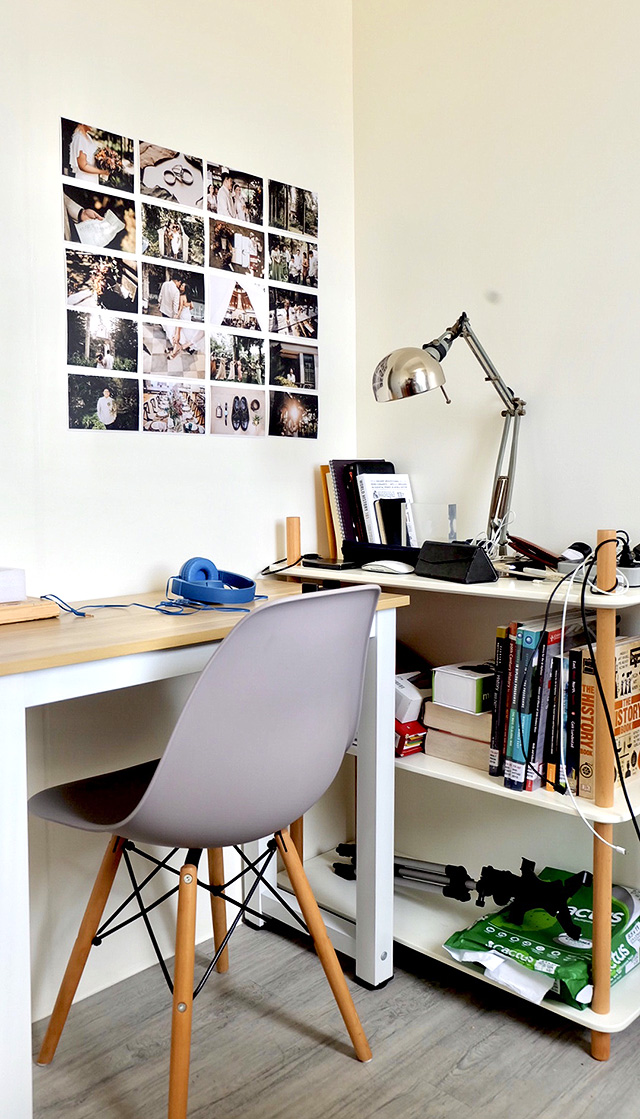 Repurposed appliances and furniture can create an efficient area
Eunice Cleofas from Merville, Parañaque was initially holding office on their dinner table, but as working from home will be the norm for a while, she has chosen to revamp a part of her room which offers a calming view.
ADVERTISEMENT - CONTINUE READING BELOW
"I have converted our TV to my second screen by placing a bracket and HDMI cable. I have repurposed our party table to office table, placed a seat cover on a second-hand chair, and used beer bottles as vases to add accent to my workspace."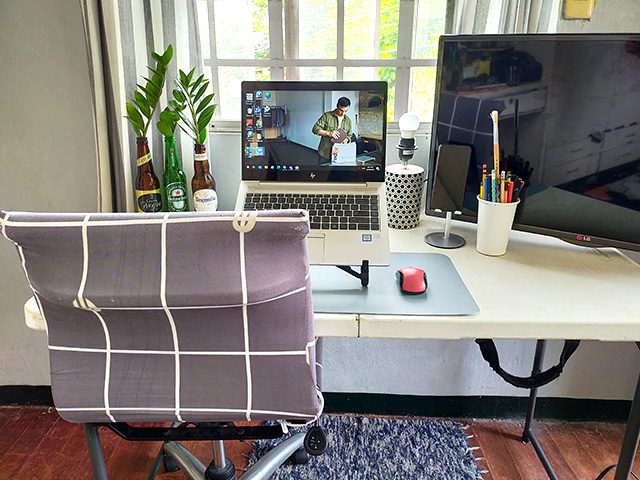 ADVERTISEMENT - CONTINUE READING BELOW
Don't be afraid to use pegs for your space
Boleyn Villamore, a retail manager from Project 7, Quezon City, decided to create her Pinterest-inspired home office as she knew she won't be going back to the office in the near future. "I created my Pinterest work-from-home dream corner to inspire me everyday to finish all my tasks and to make me happy,  that's why I added more pink (a happy color). Except for the table, everything here are all re-used from the old study room of my daughter."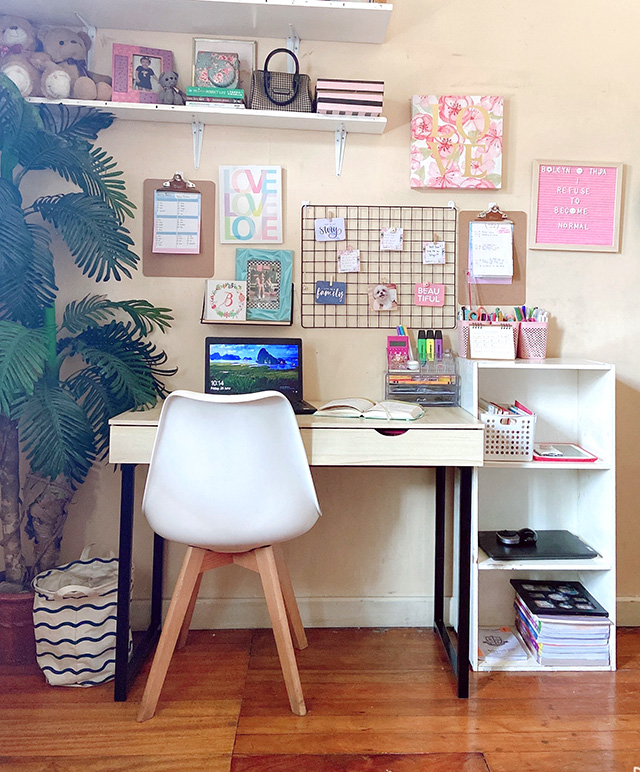 ADVERTISEMENT - CONTINUE READING BELOW
A corner can make for a comfortable work nook
Abigail Angeles, an artist from Palatiw, Pasig City has been working as a freelance designer for almost eight years, but the pandemic created the need for a more organized space, especially since she was having a lot of Zoom and Skype meetings.
"I've been working everywhere, name it—officing in every coffee shop near my place, working while on vacay—as long as I have my laptop and a good WiFi connection, I was  good. But during the lockdown, I had no choice but to work within the four corners of my room... I remember a time when I got so burnt out because of long hours of sitting and my back hurt so bad because of the chair that I was using. That's when i finally decided to make time for fixing and upgrading my work area. 
"I never really realized how much impact indoor plants make. They literally brought life to my space. I don't feel like I  am missing out on nature since I got them. I also upgraded my work chair to a more back-friendly and more work-suitable [option]. My floating shelves were the last ones that arrived, I got them from an online store and it gave me enough space for my paintings and little stuff that I used to keep in my cabinets. "
ADVERTISEMENT - CONTINUE READING BELOW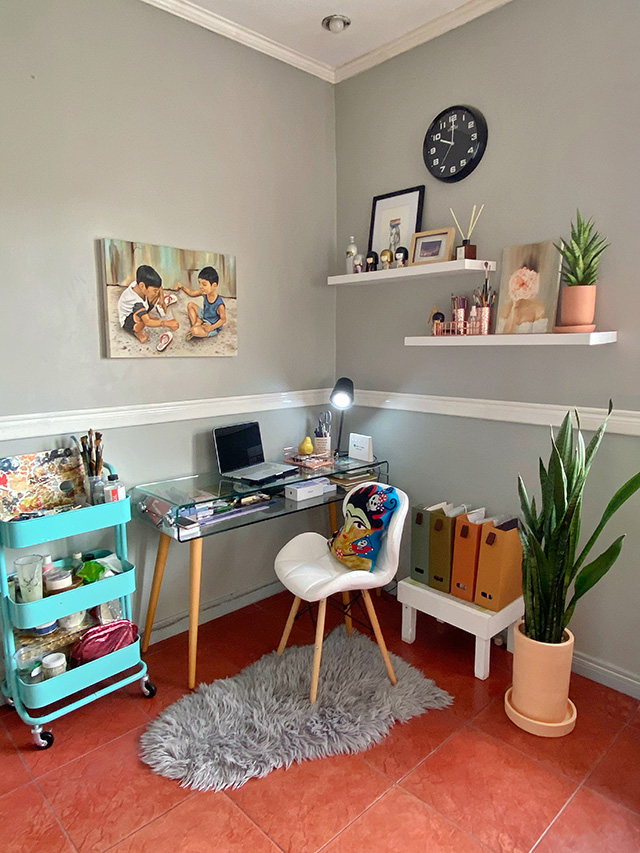 Accent a neutral base with splashes of color 
Anika Punzalan's work space offers a cozy vibe highlighted by playful colors and patterns of displayed photos and art pieces.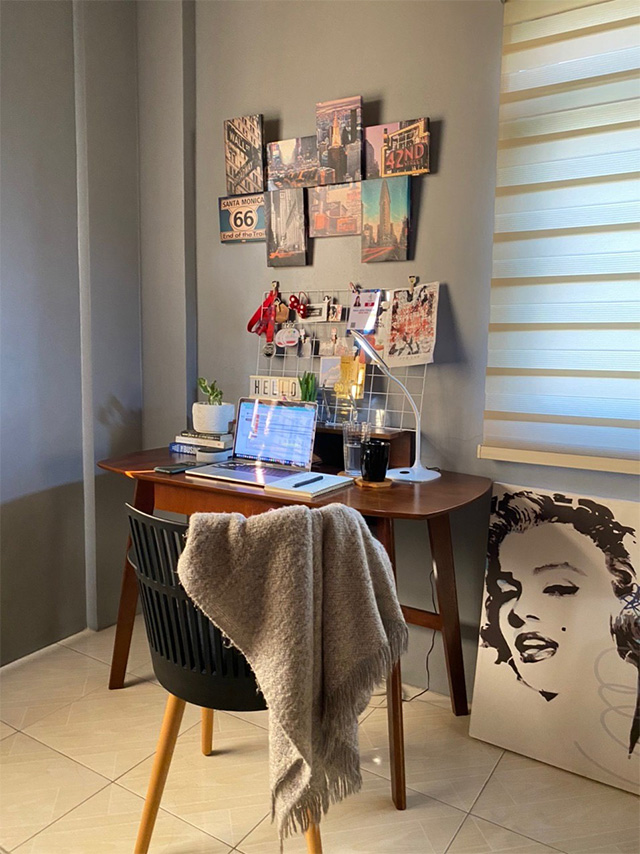 ADVERTISEMENT - CONTINUE READING BELOW
Go for areas with ample natural light 
Kyle Besinal of Mandaluyong City tried upgrading to a better home office. "Trading the old and messy workspace with this corner home office that brings in the light and beauty of the outdoors. With just a few moves, we managed to turn our filing pedestals into 'legs' that we used for our makeshift table.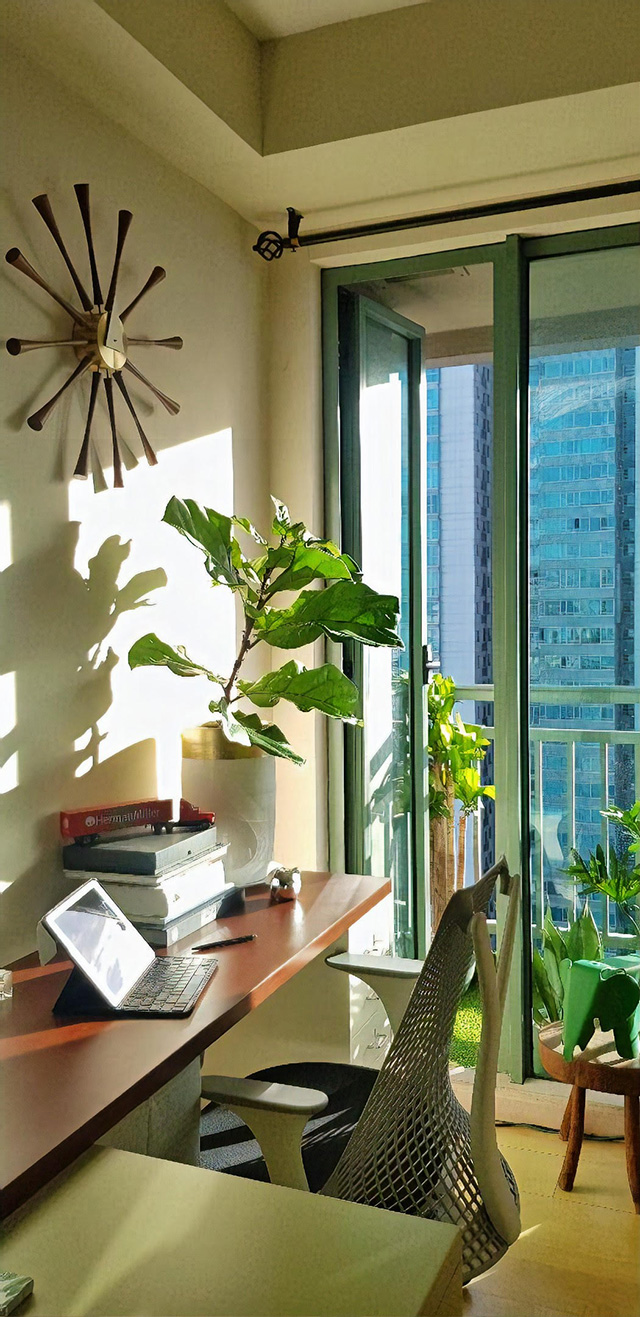 ADVERTISEMENT - CONTINUE READING BELOW
Don't forget to add a touch of fun
Jill Kristine Laqui-Escobin of Imus, Cavite added unique statement decor to her home office. "[We made] use of an elephant wall decal with Solihiya detail as an accent to fill the blank space and to make it interesting. I drew inspiration from loads of home renovation shows."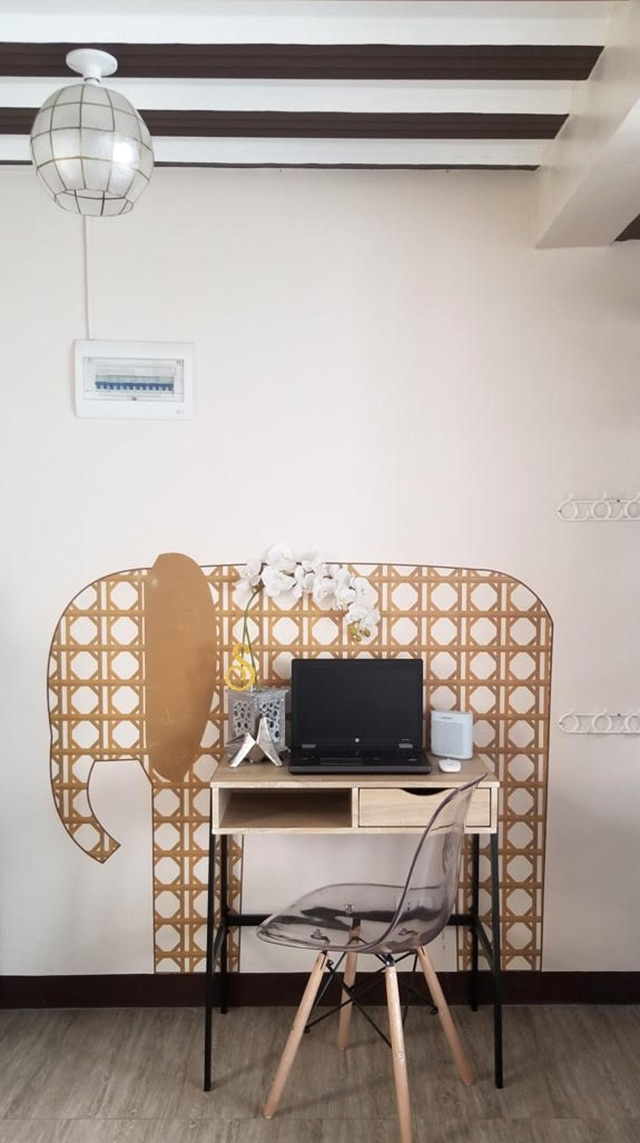 ADVERTISEMENT - CONTINUE READING BELOW
More on Realliving.com.ph
Load More Stories