Decorating
Simple Tweaks That Can Improve Your Home Office, According to an Interior Designer
These changes can do wonders for your workspace. Photography: Instagram/wilsonmaggie
With many Filipinos now working from home, it's important for us to create a space that's more than just aesthetically sound. Your work area should also be conducive to your productivity, and how you decorate and organize everything in it can definitely help you out. 
Maggie Wilson's recently shared her own home office transformation on her YouTube channel Acasa Living, and it's proof that small changes can do wonders for a home office. With the help of interior designer Carla Leonor, the room became perfectly fit for professional use while maintaining a fresh, airy vibe. Keep scrolling for the design tips they used to achieve the final look:
1. Make sure you have enough moving space.
The interior designer says that there's something called "comfort area," which relates to the amount of personal space you need to function efficiently. When you join your hands in front of your chest and check the distance between your elbows, you can get an idea of how much space you need. This is important to consider especially if you share a work area with someone else.
2. Face your workstation away from windows.
"It's better to not face the window because the tendency for that is that you receive too much glare from the sun, the glass, or [other] surfaces," explains Carla. Not only would the glaring sunlight be distracting, it's also not ideal for those who have sensitive eyes. That said, if you have no choice but to face a window, add blinds or a curtain that can control the light that enters your room.
ADVERTISEMENT - CONTINUE READING BELOW
3. Organize your things to maximize accessibility.
It's not enough that your workspace is clean and organized. You should also tailor its arrangement for your convenience, such as having the items that you use the most closest to you. It helps to place these in their own containers as well, like having a different holder for pencils and for markers. This way, you don't have to rummage your desk for a minute straight when you need something urgently.
For her home office, Maggie shares that she moved things that she doesn't use often into storage boxes to minimize clutter while still allowing easy access to those essentials.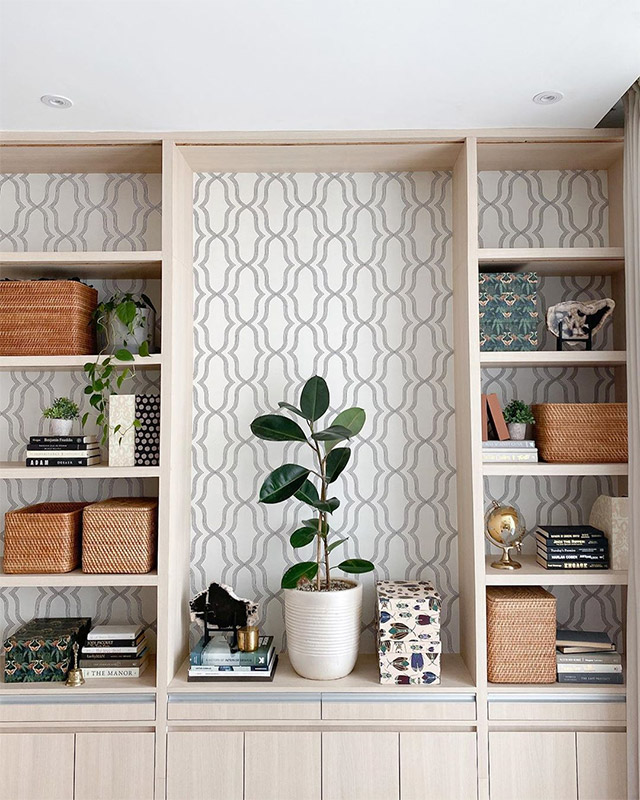 4. Have the space showcase both your professionalism and personal style.
When designing your home office, Carla says that it's essential to give the space a professional vibe, but you also have to balance it with your personal style.
As an example, Maggie shares that she customized the look of her workspace by adding elements true to her style like plants. She also added boxes with floral prints for herself, and ones with bug prints that her son would like. For a chic yet professional-looking touch, she opted for a light wallpaper without an overly busy pattern. "We just wanted to make sure that the space is neutral enough that everyone using it can appreciate it but also very much my style," she says in the video.
For more design tips, watch the full video on Acasa Living below:
More on Realliving.com.ph
Load More Stories