Decorating
5 Reasons Why Refurbished Vintage Furniture Is Worth Buying
Don't be quick to dispose of that old tocador from your lola Photography: courtesy of Architect Allen Oblena | Rescued Furniture
Your solid wood, six-seater dining table already looks worse for wear after more than a decade of use. Is it time to get a brand-new replacement from your go-to department store, or should you give that table a new lease on life?
Buying brand-new, off-the-floor furniture is often the easiest answer, whether you're furnishing your new home or revamping your space. But have you considered refurbished items instead?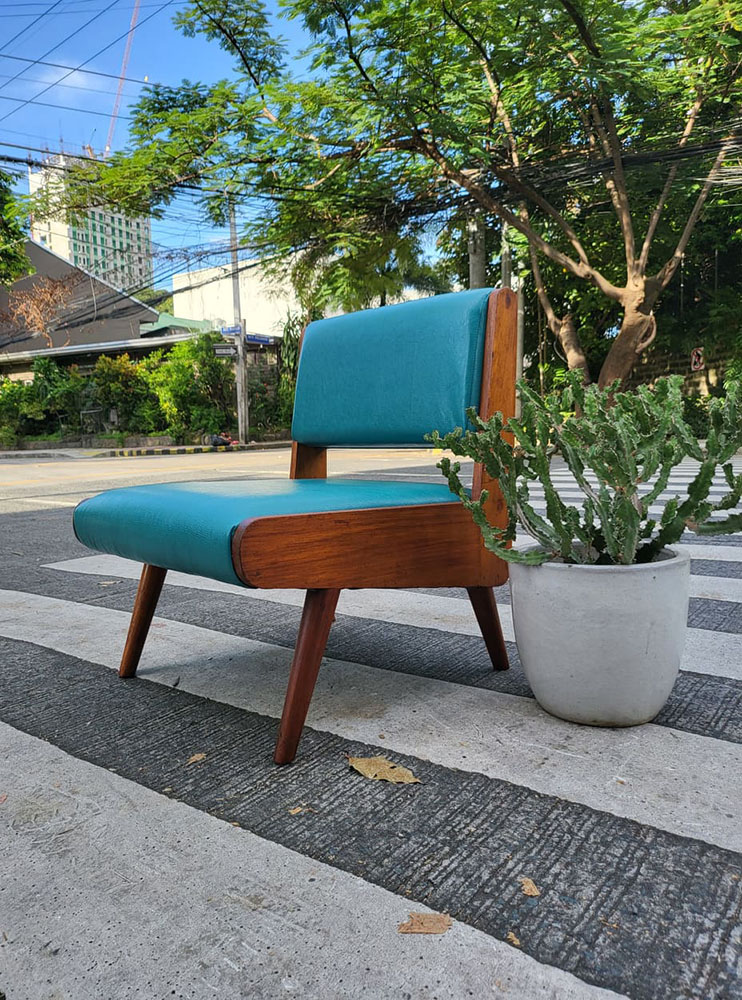 ADVERTISEMENT - CONTINUE READING BELOW
In photo: This is a local interpretation of the iconic Jeanneret chair designed by Swiss architect Pierre Jeanneret in the 1950s.
ALSO READ: 
ADVERTISEMENT - CONTINUE READING BELOW
Recommended Videos
10 Online Stores Where You Can Shop for Vintage and Upcycled Furniture
5 Online Stores Where You Can Shop Vintage Furniture
Architect Allen Oblena of Rescued Furniture has been revamping old furniture pieces since 2007. "I first tried refurbishing a vintage French settee that I bought from a surplus shop near our condo," he relates. "Actually, my mother held on to it." Here, he shares why refurbished furniture is worth considering.
Why should you consider buying refurbished vintage furniture?
1. They're more durable.
"Vintage furniture pieces are more durable [because] they are made from better materials," says Allen. These items are usually made of hardwood like teak, narra, and mahogany—exceptionally tough materials that can last years when cared for properly.
"If you'll compare vintage pieces with items of the same price range, the former trumps the latter," he further explains. That's because majority of the production cost of department-store pieces are from administrative and logistics expenses, not from the actual raw materials.
ADVERTISEMENT - CONTINUE READING BELOW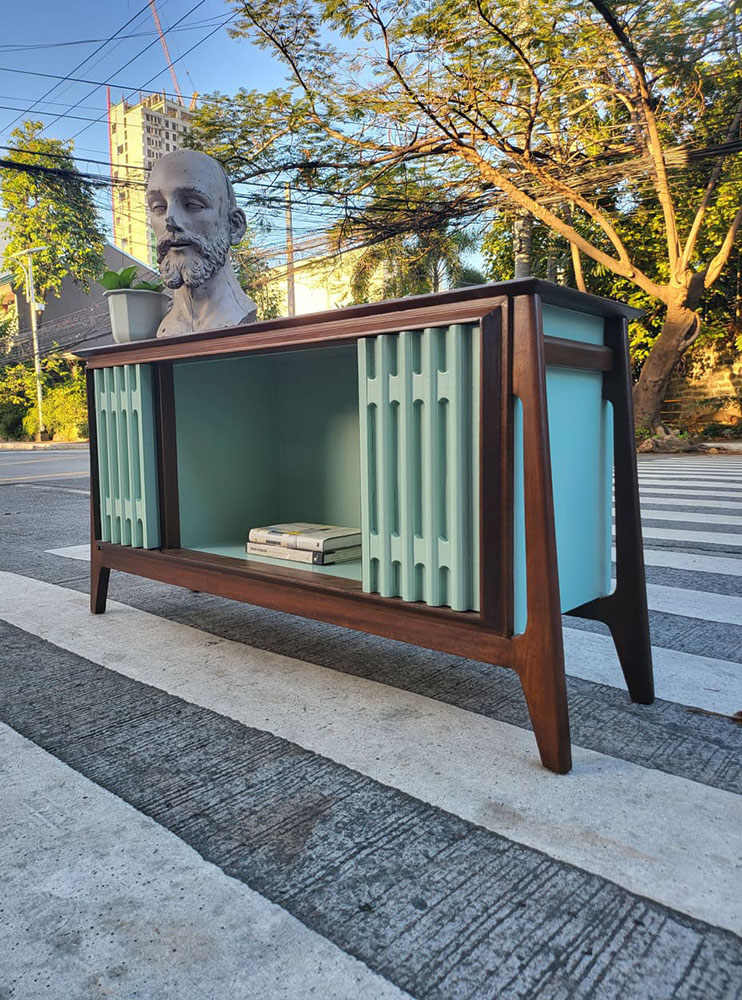 In photo: Repurposed TV cabinets like this one is a Rescued Furniture staple, according to Allen.
READ: 5 Extremely Satisfying Furniture Makeovers
2. There's more value for your money.
Buying refurbished pieces or having your old furniture revamped may cost more than what you can get from department stores. "They may be more expensive at the onset. But if you factor in the number of years in terms of lifespan and usage, vintage pieces will come out cheaper than mass-produced pieces."
ADVERTISEMENT - CONTINUE READING BELOW
So instead of discarding that 15-year-old narra chair from your lola, why not have it repainted (you can go the DIY route, too)? Doing so can extend its life for another decade or more, versus getting a run-of-the-mill replacement that will eventually give out in just a few years.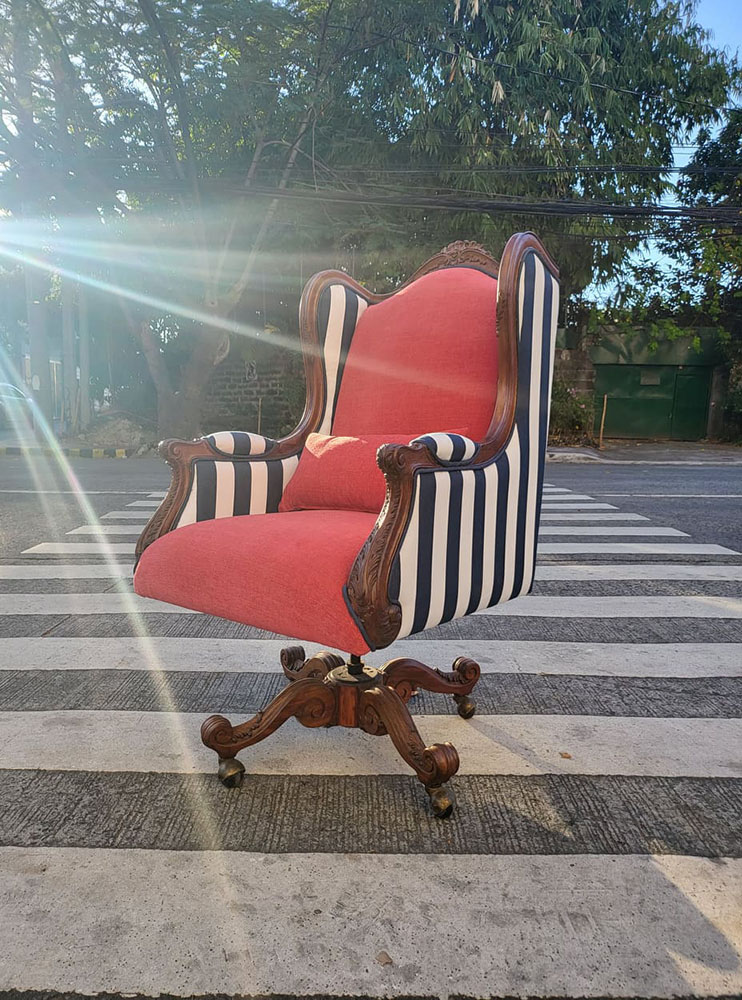 ADVERTISEMENT - CONTINUE READING BELOW
In photo: The Kakampink Movement of Vice President Leni Robredo inspired this seating piece, a wingback office chair.
3. It's an ethical choice.
Giving new life to a vintage piece or buying a refurbished item means less trash ending up in our landfills. Sure, an old sofa needs new upholstery, but you still get to keep the sturdy bones instead of discarding the entire furniture. "Vintage pieces have less carbon footprint, hence [minimal] impact on the environment," says the architect.
READ: This Homeowner's 40sqm Home in Cavite Is Filled With DIY Furniture
4. They have more character.
Old pieces of furniture, when repurposed or restored, have more character. Consider that hand-me-down baul your grandparents have treasured all these years. That may have been their wedding gift, where they stored your mom's or dad's baby clothes. Meanwhile, a storage box from a famous furniture store is only just that—one of the many items that came straight from the factory.
ADVERTISEMENT - CONTINUE READING BELOW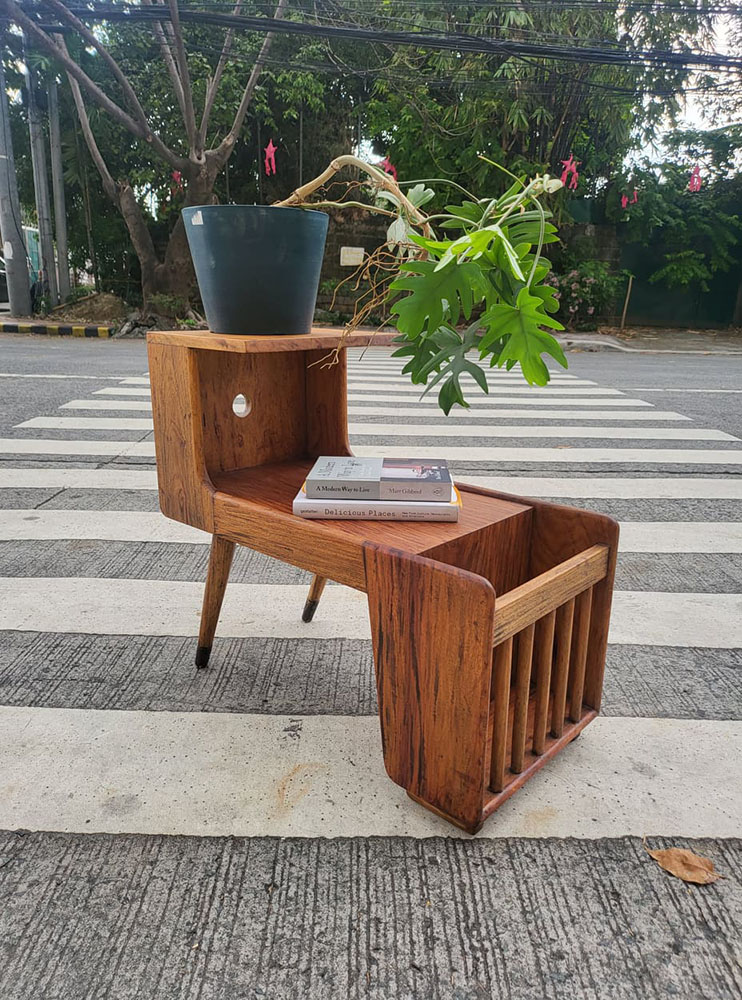 In photo: This refinished side table—a very rare piece, Allen says—was originally painted in white.
You might think refurbished furniture may be limiting because they fit only a specific interior style. On the contrary, they're very flexible. A revamped vintage furniture can be an accent piece in any home no matter the style. In fact, Allen ventured into "rescuing" old furniture because he couldn't find what he was looking for from among cookie-cutter selections. "[There's] lack of available options with respect to my aesthetic preferences and the client's financial capacity," he relates.
ADVERTISEMENT - CONTINUE READING BELOW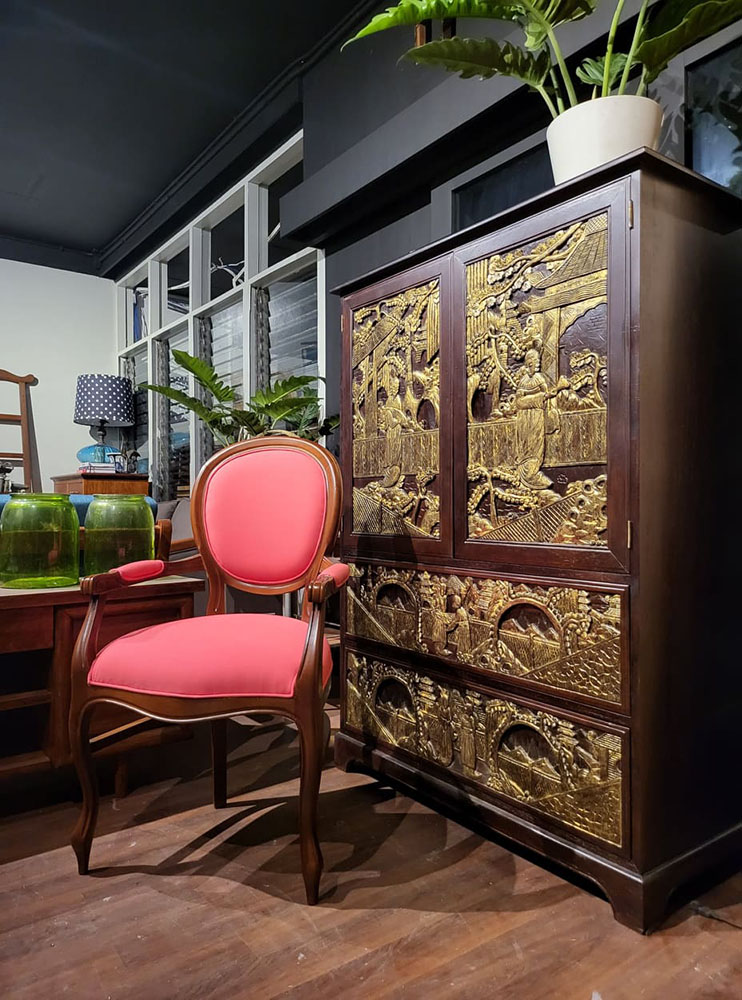 In photo: The intricate details make this oriental cabinet a conversation piece. "I had to work on the gilding myself because my workers weren't confident with aged finishes," recalls Allen.
5. Their sentimental value is priceless.
You can't really put a price tag on a family heirloom, especially if the piece has been handed down from generation to generation. When having such kind of furniture refurbished, Allen advises to not scrimp on budget. "These pieces will last for at least a couple of generations and may perhaps outlive you." If they're over 100 years old, Allen sticks to restoration so as not to sacrifice their original look. "I am partial to pieces done in the '50s to 70s because the quality of work and materials are more consistent compared with pieces from the '80s and '90s," he adds.
ADVERTISEMENT - CONTINUE READING BELOW
READ: Your Old Things Can Be Transformed Into Unique Furniture Pieces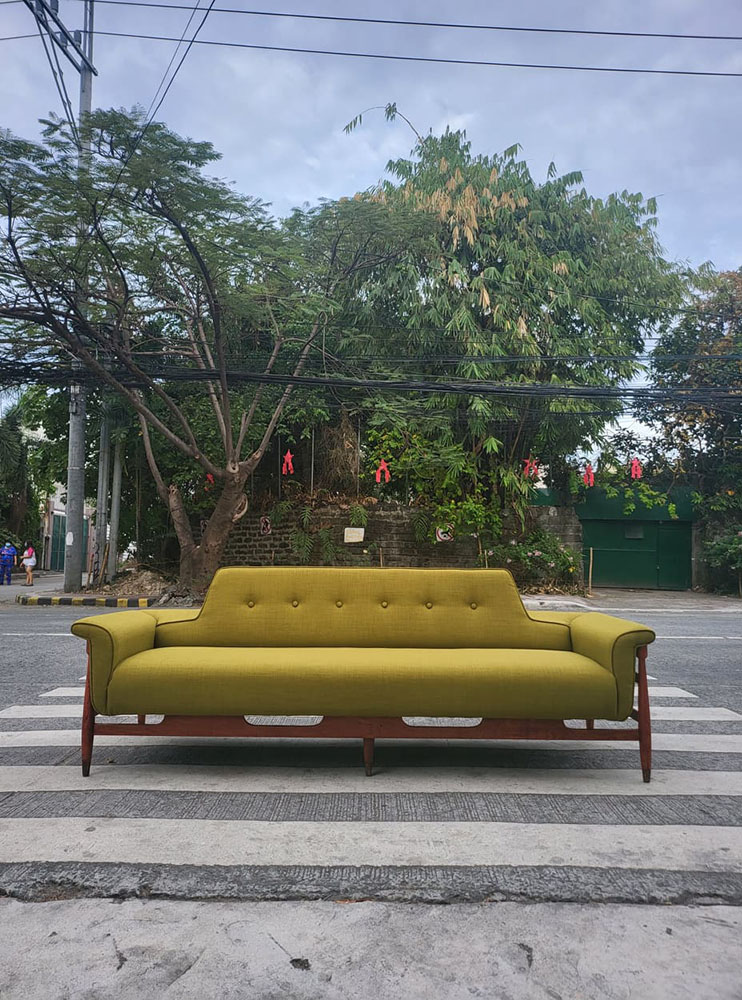 In photo: This handsome four-seater is a bestseller.
When buying refurbished furniture, heed these tips from Allen: "Narra is the currency of vintage furniture. Check the edges to make sure that you're buying solid narra pieces and not plywood-based furniture" because plywood easily disintegrates. "Tanguile, although okay, tends to bend." Hence, he cautions against going for tanguile cabinets with big doors like a comoda or an armoire.
ADVERTISEMENT - CONTINUE READING BELOW
So next time you find yourself itching to buy a brand-new cabinet or chair, look around your place first (or your lola's). You might just find a treasure that's worth keeping.
For inquiries, message Rescued Furniture through its Instagram account.
More on Realliving.com.ph
Load More Stories