Building & Renovating
This Burned-down Family Home is Now a Beautiful Greenhouse
Lots of plants breathed a new life to this 1970s house Photography: courtesy of Villa Emerita Greenhouse
It was December 2019 when Wilmer Lopez's family home in Nueva Ecija burned down. No one was hurt—this Wilmer was very much thankful for—but there was barely anything left of the simple, modern bungalow built in the '70s.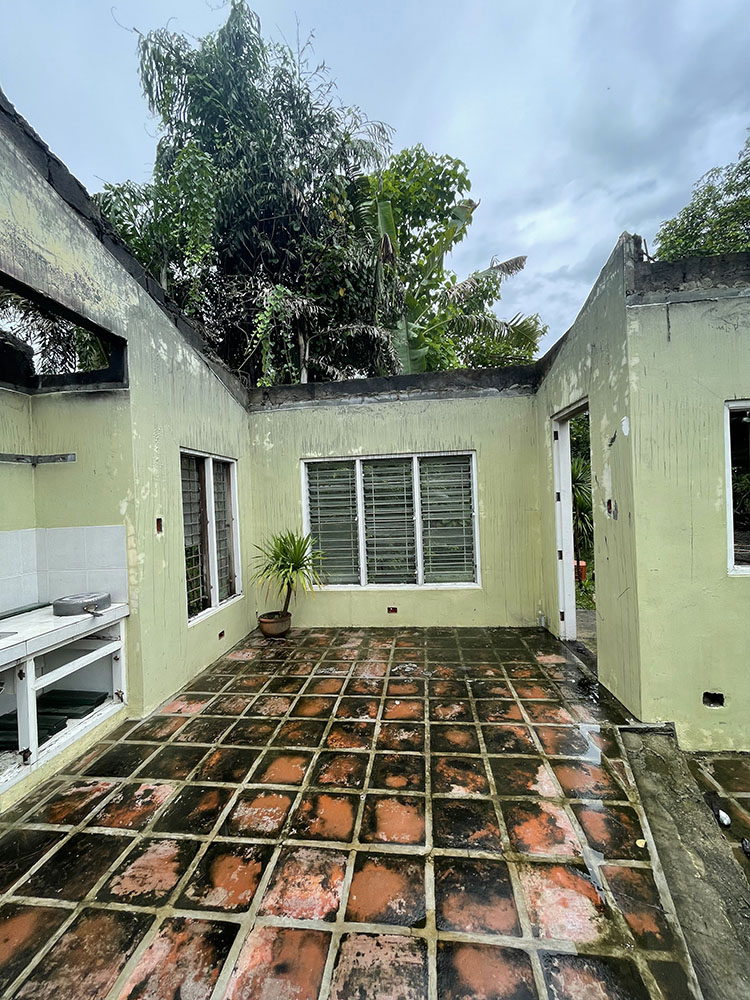 In photo: Only the Vigan tiles, jalousie windows, and concrete walls were spared from the fire that consumed the Lopez's family home in 2019.
ADVERTISEMENT - CONTINUE READING BELOW
ALSO READ:
A Complete Makeover for an Old Apartment in Marikina City
From Tambakan to Tambayan: This Family Spent P120K to Renovate Their Roofdeck
Once the initial shock wore off, Wilmer's family started discussing what to do next. "After the fire kasi, hindi namin alam talaga ano ang gagawin because blangko ka. But during that time, when my brother arrived, we thought na bakit hindi natin gawin into something, which is a greenhouse nga," Wilmer recalls. It was just a casual conversation without any concrete plans yet. Then the Taal Volcano eruption happened in January 2020, and this was quickly followed by the pandemic. "So parang 'di mo siya priority na gawin muna kasi nga ang dami mong iniisip," adds Wilmer, an interior designer who heads interior design firm Space Encounters and its offshoot art space, Space Encounters Gallery.
CONTINUE READING BELOW
Recommended Videos
Community affair
On the same compound is the family's other house, a modern bahay kubo that was once featured in Real Living magazine. Whenever Wilmer would stay here with his family, they couldn't help but notice the sad remnants of the other house a few feet away. "Tapos  yung nanay ko, pumupunta pa rin siya. Tumatabi siya doon sa house," he relates. That's when they decided to actually do something about the burned-down structure.
ADVERTISEMENT - CONTINUE READING BELOW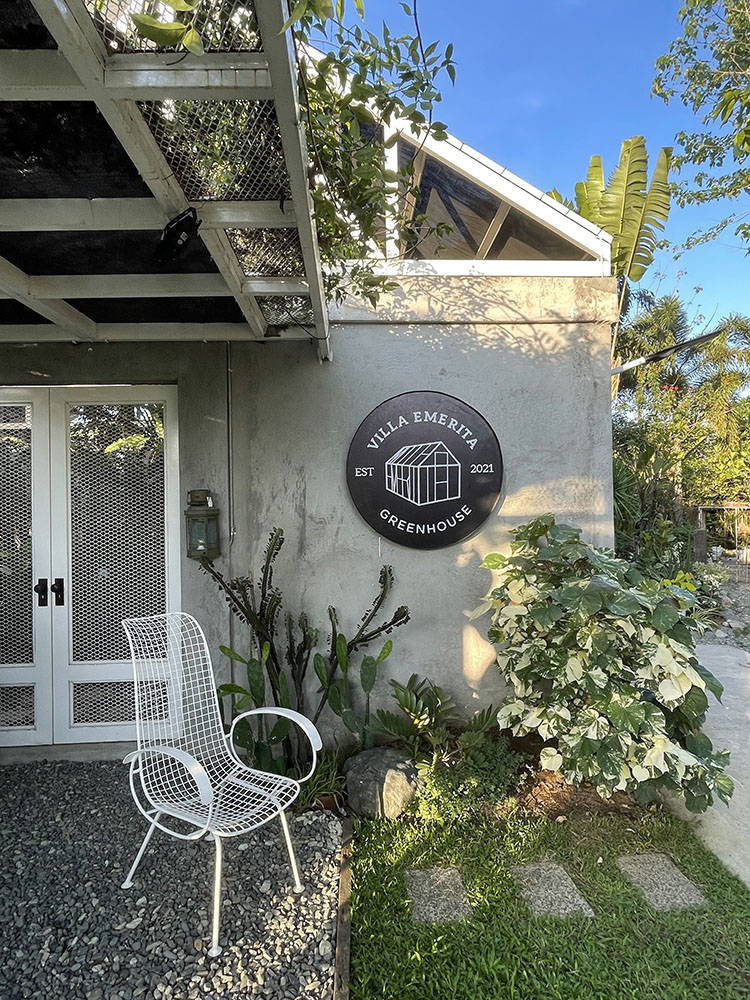 In photo: Villa Emerita Greenhouse is a perfect example of a well-designed, multifunctional space that's home to both people and plants.
READ: A Filipino Bahay Kubo With Modern Industrial Touches
Renovation started in July 2021. Since Wilmer's family loves caring for plants, the decision to build a greenhouse was a no-brainer. And since urban gardening became popular during the pandemic, they thought of selling potted greens as well. Adds Wilmer, "There's a community kasi supporting us—relatives tsaka neighbors—who are there, nagbabantay sa bahay. So might as well, habang nandoon, we do something about the greenhouse and the property."
ADVERTISEMENT - CONTINUE READING BELOW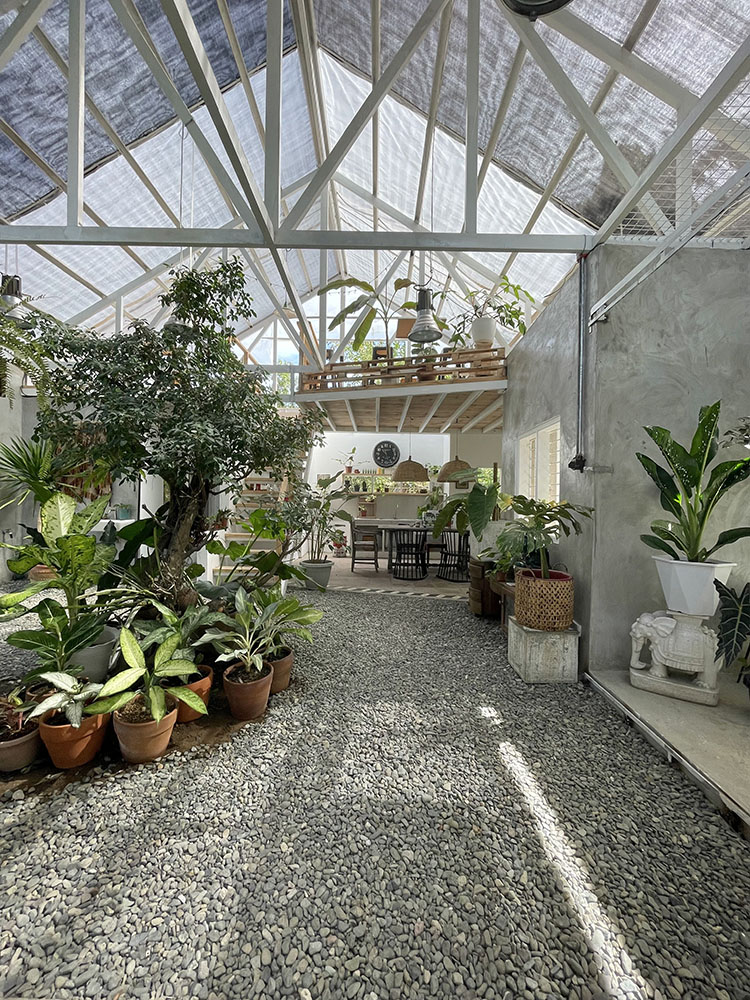 In photo: Aside from planning the renovation of this family home, Wilmer also had to do a lot of research to make sure everything is conducive for growing these greens.
READ: The Best Indoor Plants for Beginners, According to Our Readers
This same community helped rebuild the Lopez's family home from ground up. Whatever was saved from the fire, like the Vigan-tiled flooring and jalousie windows, were incorporated into the new structure. The challenge was not so much about renovating during a pandemic, but about creating a functional space that's home to not only Wilmer's family but also to plants. Relates the interior designer, "Nag-research kami about air flow, sunlight, water supply, tsaka kung how the plants inside will survive. Nag-research kami ng mga materials for the roofing that can filter the [right] amount of light. So, learning din siya."
ADVERTISEMENT - CONTINUE READING BELOW
An indoor oasis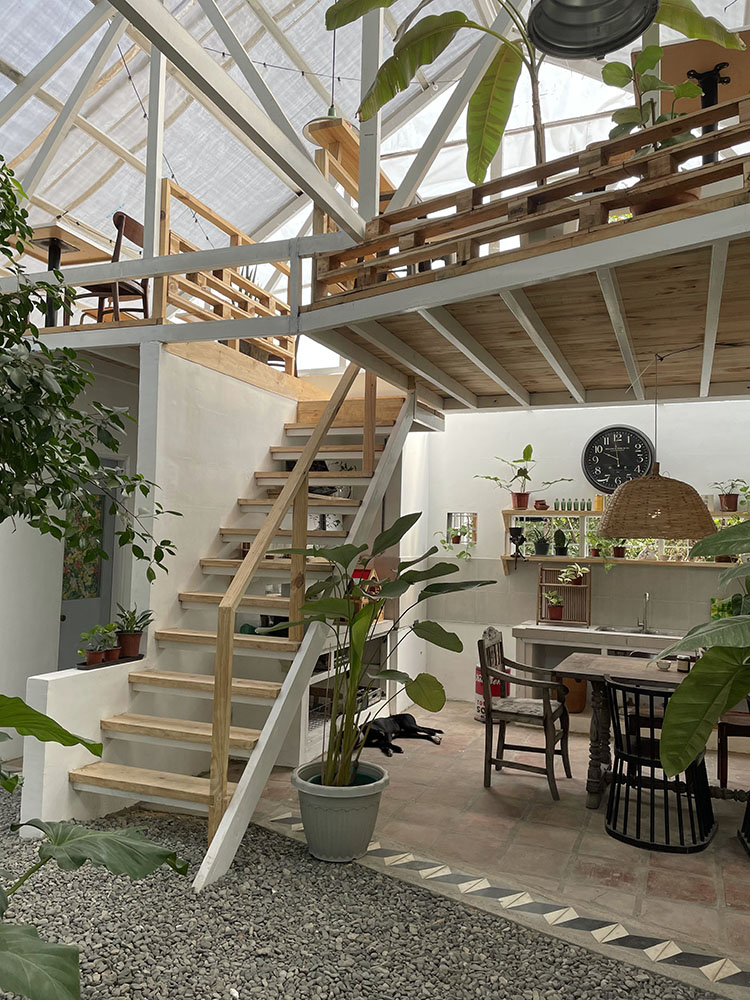 In photo: The attic, which houses the café, is a new addition to this newly renovated home-slash-greenhouse. Below it are the kitchen and dining area, which now sport a breezy ambiance.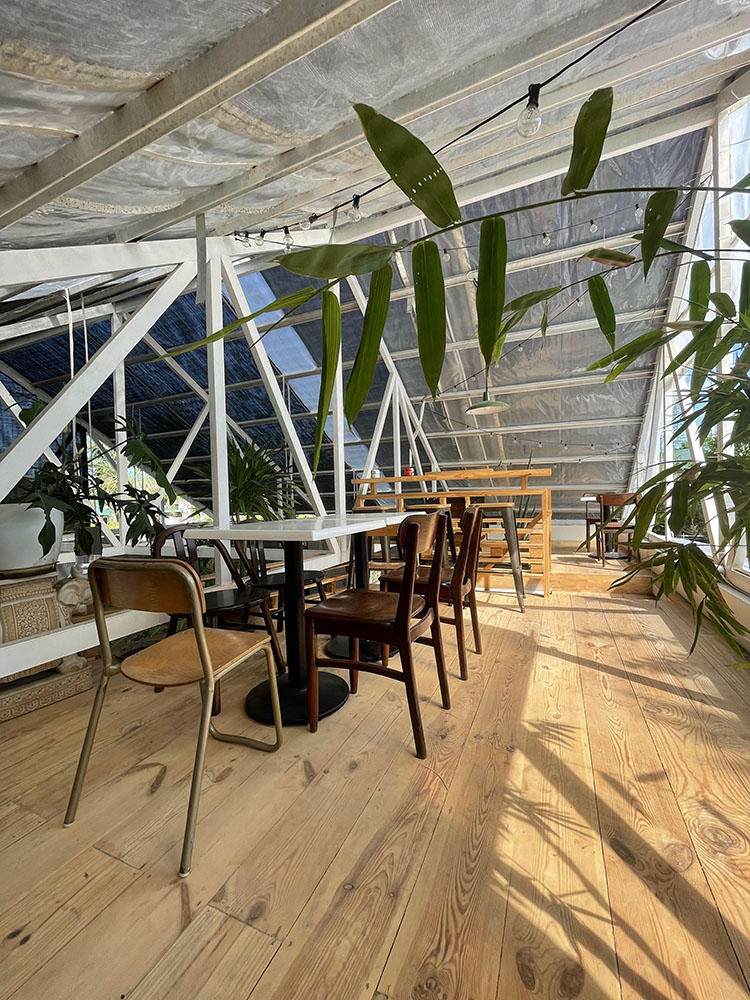 ADVERTISEMENT - CONTINUE READING BELOW
In photo: Light fills this cozy café, featuring pine wood flooring and tubular trusses.
Villa Emerita Greenhouse, named after Wilmer's mom, is a refreshing 180sqm space that's both functional and pretty. Mommy Emerita's favorite is the egg-shaped swing chair made of rattan. The bedroom, which now sports a modern tropical Spanish vibe, is also a strong contender. On the other hand, Wilmer favors the newly added attic that houses a bright and airy café open to visitors. Glorious sunlight bathes this area at daybreak, serving as a perfect spot for some morning stretches, says Wilmer.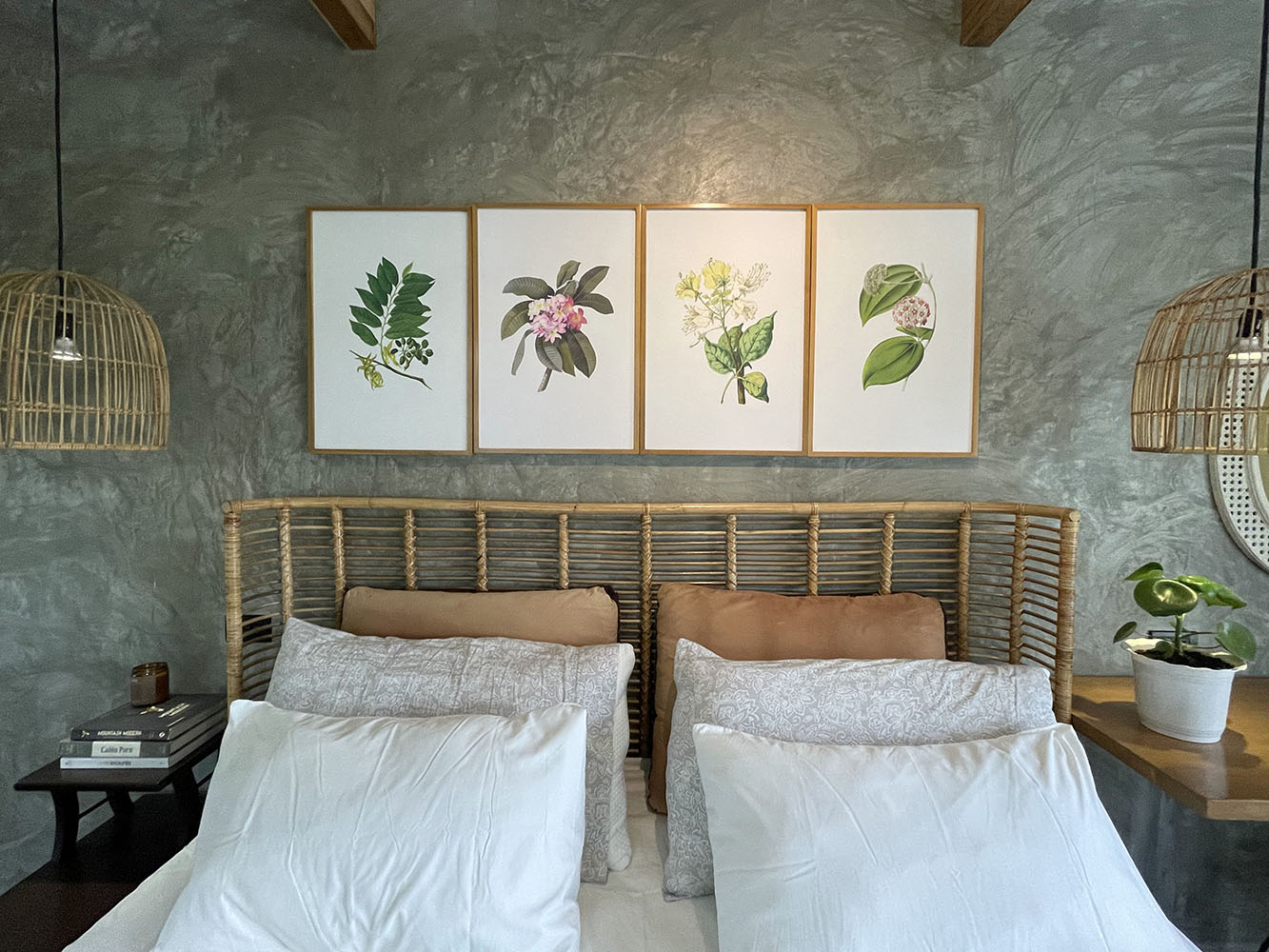 ADVERTISEMENT - CONTINUE READING BELOW
In photo: This once overwhelming bedroom has been transformed into a chic, tropical haven.
White walls and furnishings create a clean contrast to bare concrete and pale pine wood. Meanwhile, numerous plants make the entire home lush and inviting. Among these are monstera, auriculata, philodendron billitae, alocasia, red banana, and various ferns and succulents—all for sale. The pièce de résistance is a 15-year-old balete tree. Relates Wilmer, "Nilagay namin yun in the middle of the greenhouse. So, parang yun yung center—[like] a new life is growing inside the house."
READ: 10 Big and Small Garden Ideas with Unique Touches
Not just another plant shop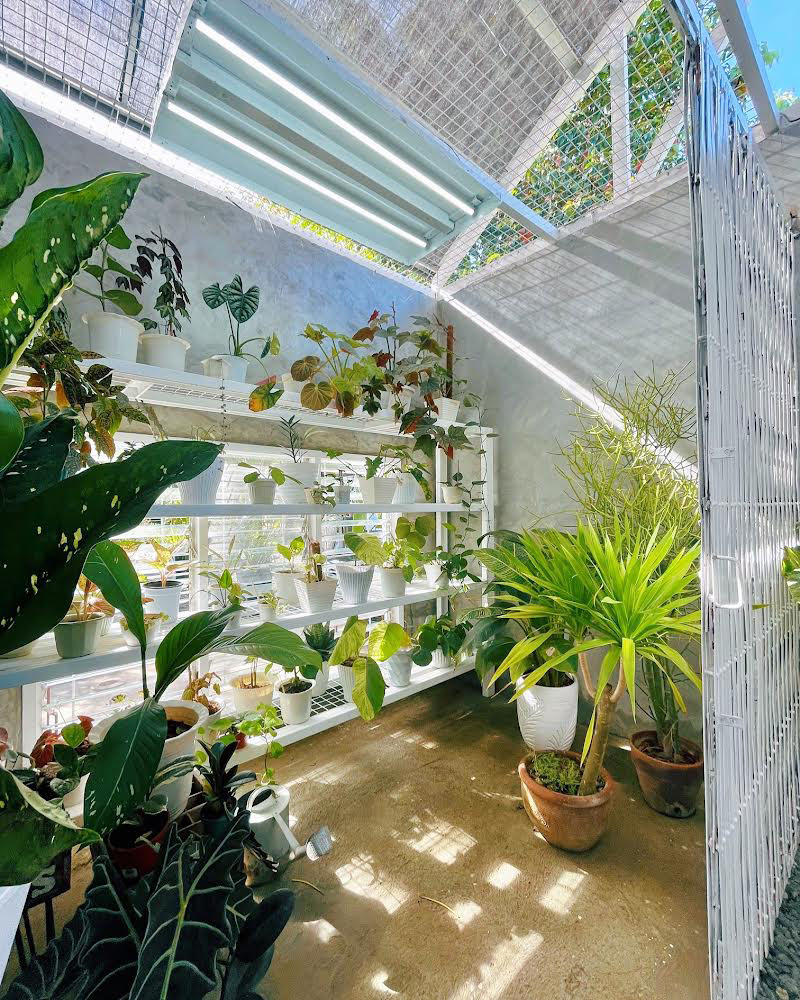 ADVERTISEMENT - CONTINUE READING BELOW
In photo: Guests can choose from among a variety of indoor and outdoor ornamental plants.
To better cater to visitors, Wilmer will be hiring a barista from Metro Manila to train the small community in making coffee. The greenhouse will also be serving sandwiches and desserts, as well as comforting Pinoy breakfasts. Also in the works is a full dining experience, the ingredients of which will be sourced from within the Nueva Ecija locality. Villa Emerita will also be open to intimate events like photo shoots and small gatherings.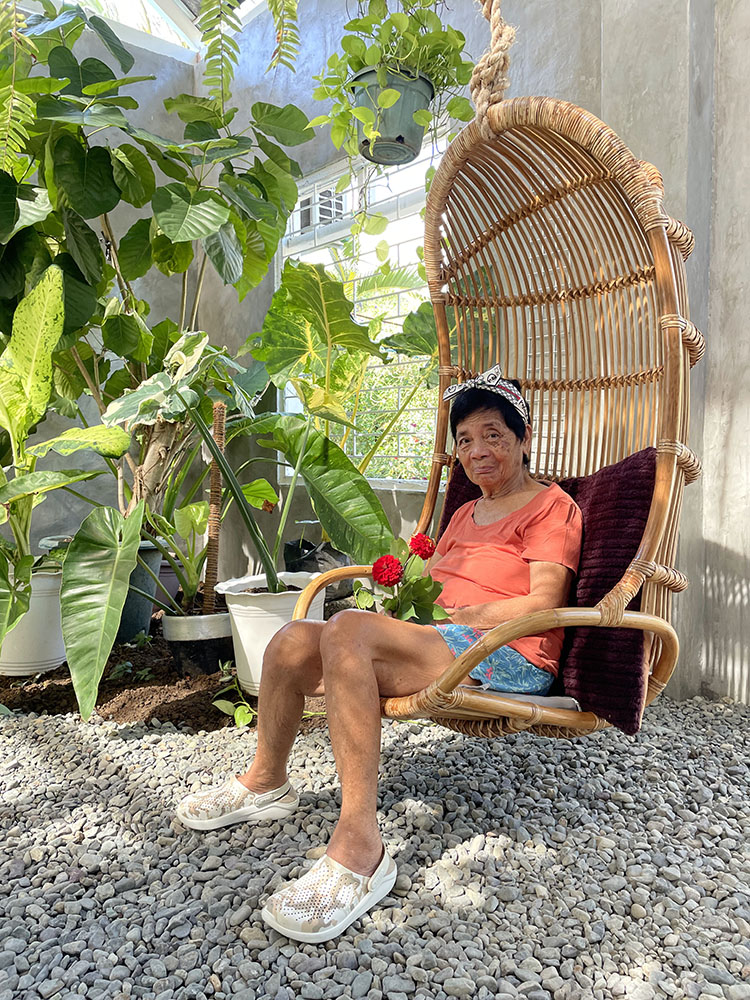 ADVERTISEMENT - CONTINUE READING BELOW
In photo: Wilmer's mom, Emerita, loves to relax in this part of the house.
A lot of exciting plans are in the pipeline, but Wilmer is in no hurry. "We play it by ear," he says. Right now, his family, relatives, and neighbors are enjoying this "new" space that also serves as an extra source of livelihood for the community. Working on Villa Emerita Greenhouse brought them together during a challenging time. "It was very pleasant," Wilmer describes the entire renovation experience. "The pandemic [stress] kasi at that time, nabawasan. Hindi yun yung iniisip mo because you're focused dun sa ginagawang project."
Villa Emerita Greenhouse is located in Sto. Cristo Elementary School, San Isidro, Nueva Ecija. For details and inquiries, visit its Facebook page.
More on Realliving.com.ph
Real Living is now on Quento! Enjoy more of our stories by clicking here to download the app.
Load More Stories