Building & Renovating
Expert Advice: Building A Powder Room Under The Stairs
Learn the basics�"from measurements to note, fixtures to invest in, and the materials you can use Photography: Decor Pad and Arch Zine France (Main Photos)
You've probably heard and read about it once, twice, or more—the space under the stairs holds different possibilities as long as you are creative and ready to experiment. Aside from using it as a home office, a reading nook, or a storage closet, did you know that it can be transformed into a compact powder room, too? Take note that this area can be used based on its proximity to the other areas in your home. While all the different options have their own pros and cons, going the powder room route will not only increase the value of your property, it can be very useful as well—especially if you have guests around.
Choosing to build a powder room is possible for both big and small homes, however, you need to note that your house needs to be in the planning to the early construction stage in order to accomplish this. Renovations may entail a lot of work, but you can still work on it with the help of an engineer, an architect, or a contractor. If you're exploring this idea, here are basics to take note of:
ADVERTISEMENT - CONTINUE READING BELOW
Standard Measurements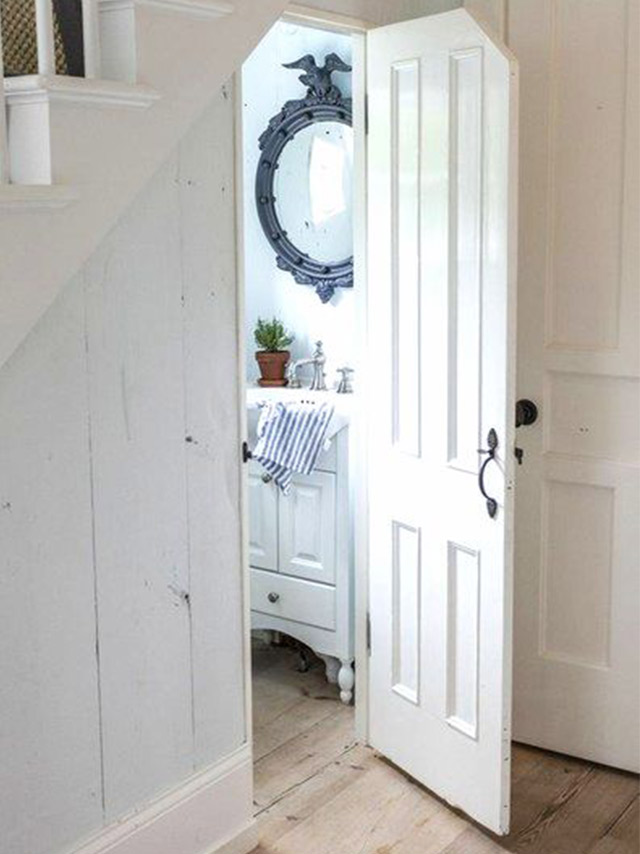 CONTINUE READING BELOW
Recommended Videos
According to our National Building Code, bathrooms in general should have a minimum size of 1.20sqm with at least .90m in width. The length of your powder room can go from 1.33m to the entire length of the underside of your stairs to the landing.
ADVERTISEMENT - CONTINUE READING BELOW
Standard ceiling height should be 2.4m, but of course your ceiling will turn out sloped so this can apply to the highest point. For spaces that lack height, anything just above the line of your door at 2.1m is acceptable as well. In most cases, the lavatory/wash area is placed at the end of the bathroom where the wall is higher. On the other hand, the lowest point should be at 1.5m to achieve enough clearance when using the water closet, which should be located against the said lower wall.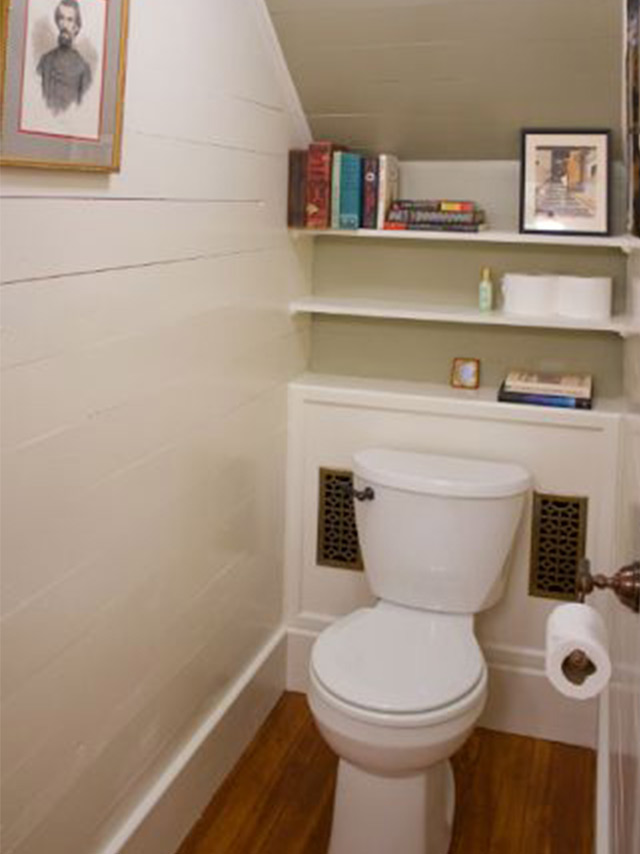 ADVERTISEMENT - CONTINUE READING BELOW
If applicable, windows should at least take up 1/10 of the room's floor area. This is to allow ample air and sunlight in for lighting and ventilation purposes. An exhaust fan and additional proper lighting can serve as alternatives, too.
Basic Fixtures
To furnish a powder room, you would need a water closet, a lavatory, and a mirror. It is advisable to use a pedestal or a wall-mounted sink to save on space, but the additional storage nooks in lavatory counters may come in handy as well.
Water closets come in all shapes and sizes so pick one that doesn't take up too much space and stay away from the elongated and rounded types. A mirror should be hung .25m to .30m above the line of your bathroom sink. You should be able to see below your chest area and above your head when using the mirror. A bigger mirror is recommended to make the bathroom look wider, too.
ADVERTISEMENT - CONTINUE READING BELOW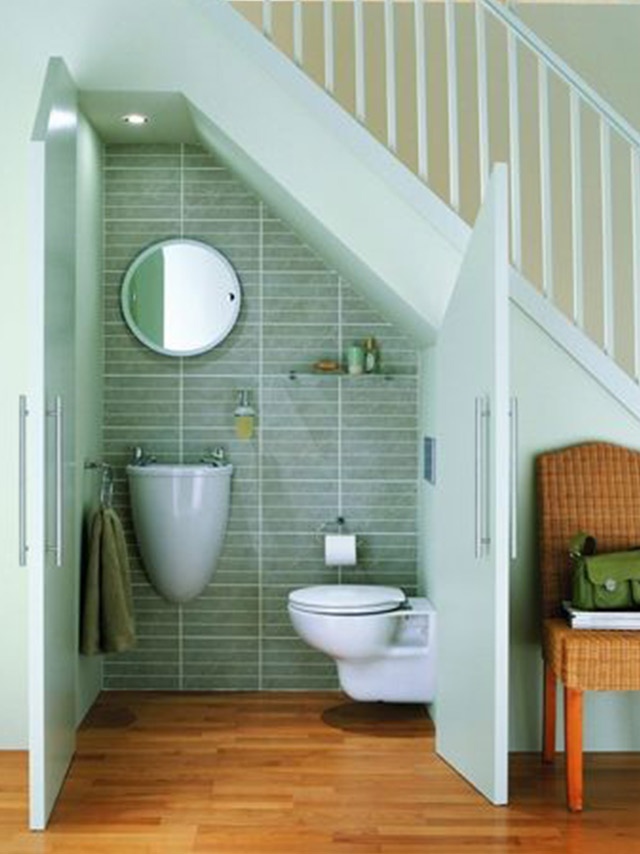 For the bathroom furniture, keep measurements at a bare minimum—especially if you're working on a small area. Vanity counters/wash cabinets can be at .45m in width and .60m in length. Some lavatories are designed to protrude from your built-in counter in order to save space on one or both sides. The height can remain at a standard of .85m to .90m for countertop sinks. This does not apply to vessel type sinks as you will have to adjust the height of the cabinet based on the height of your sink. The top of your vessel type sink should be at .85m to .90m and the countertop just below the sink.
ADVERTISEMENT - CONTINUE READING BELOW
Aside from your bathroom cabinet, shelving units can be placed above your water closet but keep them at a narrow .15m to .25m width. The length can span from end to end.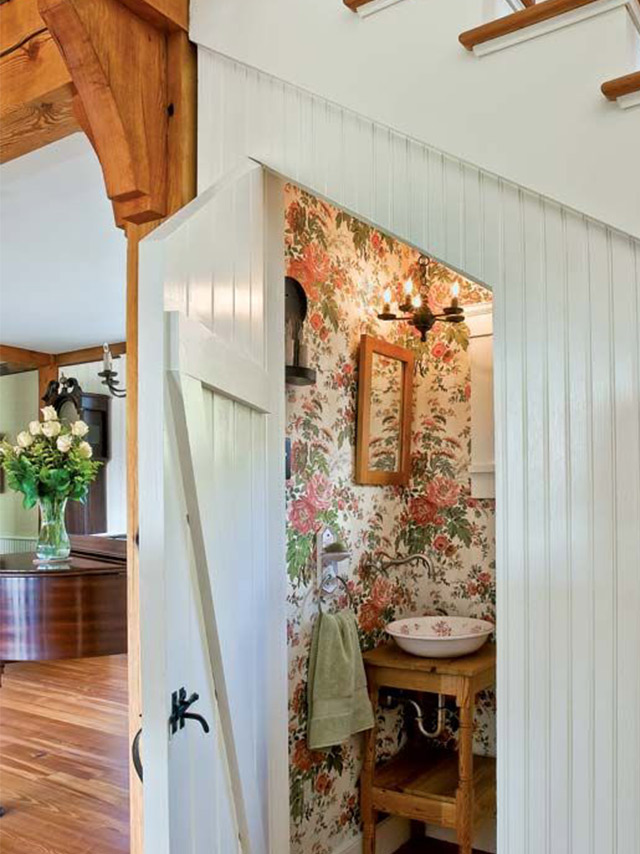 In some cases, when the powder room also serves as an additional bath, the shower head and faucet are placed on the wall between the water closet and the lavatory.
ADVERTISEMENT - CONTINUE READING BELOW
Materials To Use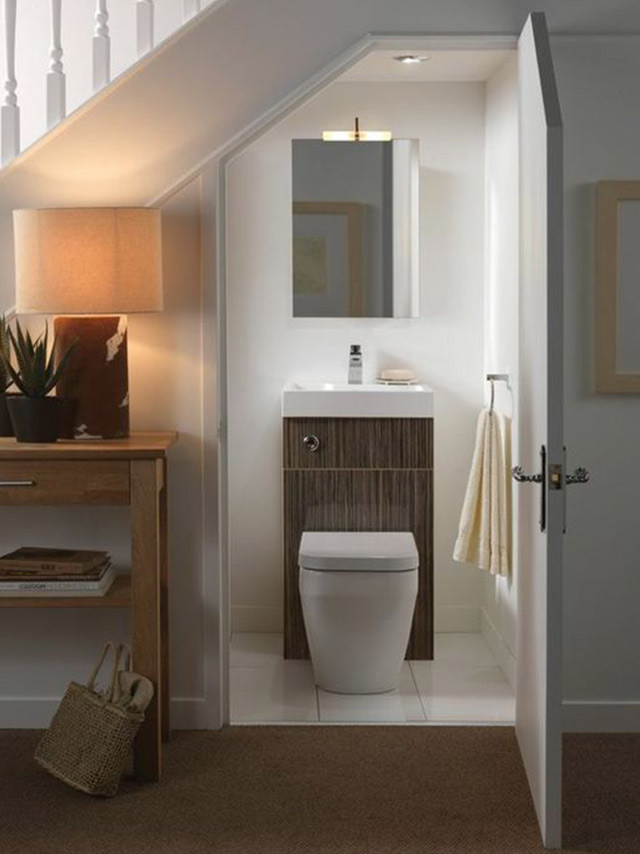 Just as in other bathrooms, skid-proof or slip-resistant tiles are the preferred materials for the walls and floors. You can choose from a wide array of designs in both ceramic and porcelain materials. For bathrooms that don't require a shower area, you can combine tile and paint finishes for your walls, where the tiles are only up to the .90m line and the remaining surface is finished in semi-gloss paint. The ceiling should be in flat white paint finish while built-in bathroom furniture (under cabinets, shelves) should be around ¾"-thick marine plywood material in your preferred finish (paint, laminate, veneer, to name a few).
ADVERTISEMENT - CONTINUE READING BELOW

Interior designer Vera Villarosa-Orila is an alumna of the University of the Philippines and is one of the go-to designers for the Real Living Makeovers. You can get in touch with her through e-mail: vera.villarosa[at]gmail.com.
Do you have questions or concerns about your home's layout, furniture, and color scheme? Send your questions to reallivingonline[at]gmail.com with the subject: Expert Advice. We might answer and feature your queries online.
ADVERTISEMENT - CONTINUE READING BELOW
Main Photos: Decor Pad and Arch Zine France.
More on Realliving.com.ph
Load More Stories