Building & Renovating
How to Choose the Right Tiles, According to an Architect
Ceramic or porcelain? Aside from checking the price, make sure you go for the durable option. Photography: Screenshot from Youtube/Oliver Austria
Just like any other material you choose for the home; tiles can make or break the look you have in mind for your space. Gone are the days when homeowners just pick which pieces are budget-friendly as these days, it's a must for a tile to be cost-efficient while adding value to the house.
To help homeowners buy the best tile for their spaces, architect Oliver Austria posted a short vlog focusing on commonly used tiles. "Knowing the correct tiles could save your life," he muses in the video as he underlines the importance of going for tiles that aren't slippery.
READ MORE STORIES ABOUT TILES:
Porcelain or Ceramic for Bathroom Tiles: Which One Will Save You More Money?
7 Ways to Use Cement Tiles Around the Home
Neutral Wall Tiles For An Easy-to-Decorate Home
Whether you're planning a home construction or renovation and you're planning to work with tiles, architect Oliver gives tips you need to keep in mind below.
ADVERTISEMENT - CONTINUE READING BELOW
Architect Oliver Austria's tips on choosing tiles:


1. Do your research.
Ceramic or porcelain – which do you buy? According to the architect, ceramic tiles are cheaper but these are porous and can be penetrated by water. These tiles aren't meant for outdoor use as well as for areas that seldom get wet like the bathroom and kitchen.
ADVERTISEMENT - CONTINUE READING BELOW
ADVERTISEMENT - CONTINUE READING BELOW
Recommended Videos
On the other hand, porcelain tiles use clay as the main material and as the architect explained, "typically cooked under high temperatures." These tiles are less porous, more durable, and water-resistant. The only factor you need to consider about porcelain tiles is the price point as it's 60 percent more expensive compared to ceramic tiles.
The advantage? You get your money's worth as architect Oliver Austria notes that lifespan and versatility of porcelain tiles. It can be used outdoors, in the bathroom, and in the kitchen.
READ: Choosing The Right Grout For Your Tiles
2. Familiarize yourself with the sizes of the tiles.
If you've chosen the type of tile you want to buy, the next step would be to decide on the size. Architect Oliver often uses tiles that measure 60x60 or 30x60 as bigger cut tiles can make areas look bigger. However, keep in mind that big tiles are more expensive and challenging to install.
ADVERTISEMENT - CONTINUE READING BELOW
Those who prefer using smaller tiles must be ready to use more grout, too. Opting for smaller tiles means allotting time for cleaning and grout maintenance.
3. Make sure you choose anti-slip tiles.
Slippery tiles can cause accidents so it's important to always check the COF of the tiles you're eyeing. Architect Oliver explains that COF refers to the coefficient of friction or how slippery the tile is. In his video, the architect explained that the lower the COF, the "less force required to slide an object on top of the surface." This means that slippery tiles have lower COF.
The architect further explains that glaze affects the COF of a tile. Glazed tiles have coating on top that make it more durable and stain-resistant but also more slippery.
READ: Expert Advice: What You Need to Know About Cement Tiles


4. Pick between glazed and unglazed tiles.
Unglazed tiles aren't as readily available as glazed tiles. While these are perfect for rustic-inspired spaces, the architect shares that unglazed tiles aren't as durable as glazed ones. These can be used outdoors or in the bathroom as well.
ADVERTISEMENT - CONTINUE READING BELOW
If you're set on unglazed tiles, architect Oliver suggests going for the unglazed porcelain tiles or what others call "full body porcelain or homogenous tiles" as these are durable and water-resistant.
5. Don't hesitate to ask questions.
It's easy to be captivated by pretty tiles, but make sure you ask questions when shopping for materials to make sure you get the correct one for your house. Remember that porcelain tiles are more expensive and heavier than ceramic ones.
If you're unsure, you can always double and triple-check with the store attendant. Architect Oliver says you can also check with the manufacturer for the specifications of the tiles you want to buy.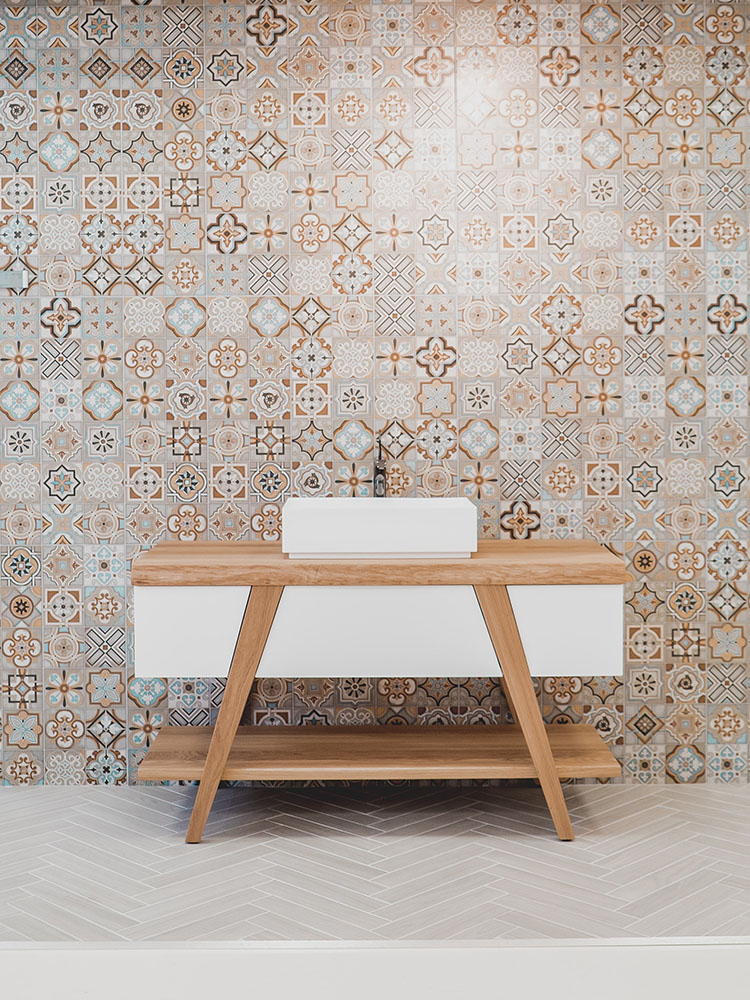 ADVERTISEMENT - CONTINUE READING BELOW
6. There are different tiles you can use around the house.
Consult with a design professional about the different kinds of tiles you can use in your home. Aside from ceramic and porcelain, there are also glass or mosaic tiles that are often seen in kitchens you can look into.
READ: 10 Ways To Use Patterned Tiles Without It Looking Too Crazy
Natural stone tiles like marble, granite, and travertine are high-end options you can consider, but keep in mind that these are pricey and would often require meticulous installation using special tile adhesives.
As an option, you can also work with cement or Machuca tiles. These come in different colors and patterns which can instantly liven up your space.
Get more tips from architect Oliver by watching his video below:
More on Realliving.com.ph
Load More Stories