Building & Renovating
10 Chic and Elegant Small Homes
We give you our latest roundup of condos and small homes that are stylish and classy, and all under 150sqm! Photography: Ocs Alvarez & Dairy Darilag
There is this immediate notion that a small home or condo unit should be designed in an industrial, modern way. But a limited space should not restrict you to just one style or personality. In fact, you can have your home designed in any way you want.
Here are ten examples of condo units and small homes decorated in elegant, feminine, or glamorous ways—proof that style is what you make of it, regardless of floor area.
A dark and beautiful 112sqm condo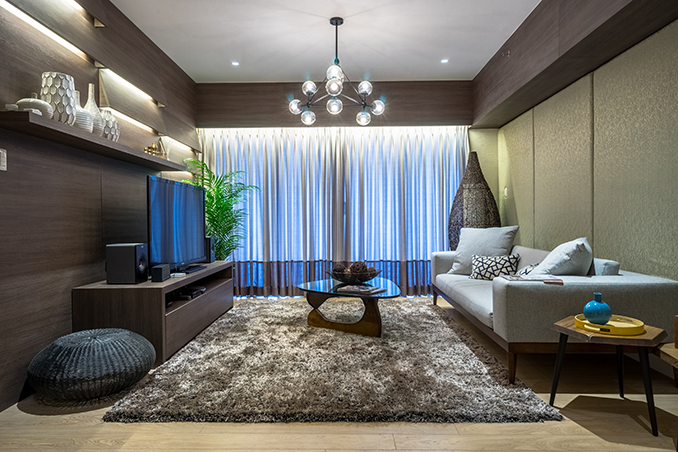 This stylish condo unit achieves a luxe, hotel-like feel with its use of dark wall veneer from Lamitek, custom-padded fabric wall panels, and subdued lighting. Designer Jiselle Yu took her cue from the luxurious amenities of the condo development it was in—One Shangri-La Place—and infused this luxury into the unit's interiors.
To see more of this home, click here. 
A bright and tropical unit that uses Greenery
ADVERTISEMENT - CONTINUE READING BELOW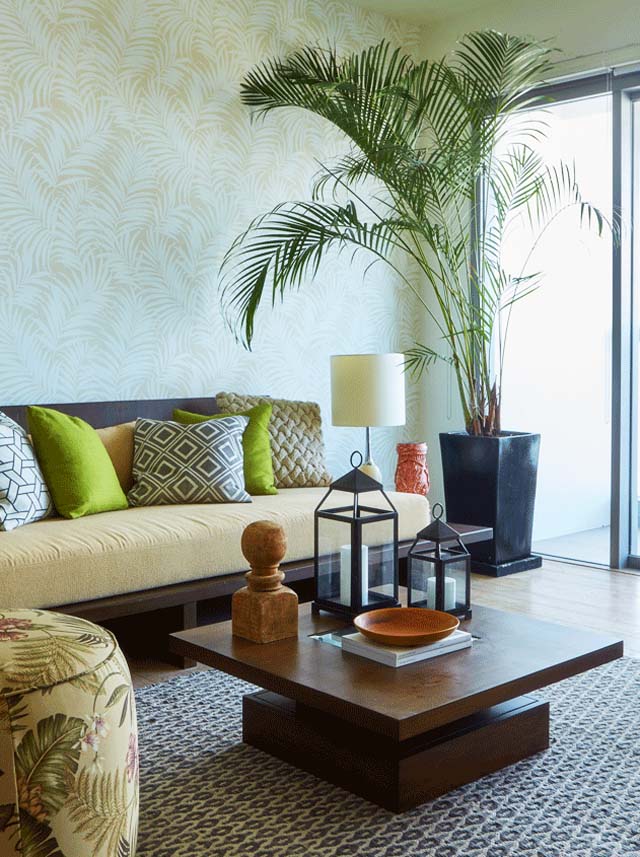 Greenery, a light green hue that borders on Chartreuse, is Pantone's Color of the Year for 2017. It might be a bright and almost-shocking color for some, but interior designer Kristine Neri-Magturo used Greenery in a relaxed way by pairing it as an accent to muted neutrals in this 131sqm two-bedroom unit. The palm-leaf-patterned wallpaper, pouf, (and actual potted palm) add to its tropical-urban vibe.
To see more of this home, click here. 
A glam, 31sqm bachelorette's studio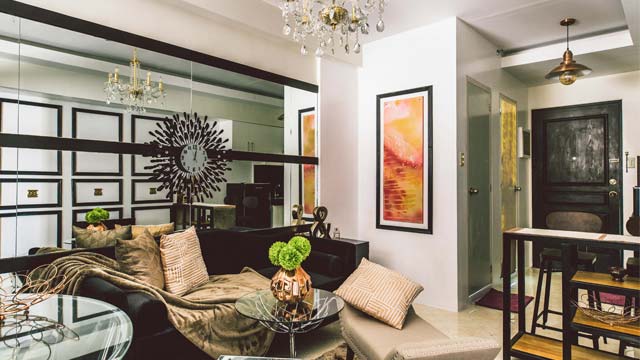 ADVERTISEMENT - CONTINUE READING BELOW
Magara Designs' Grace Moslares used a monochromatic base palette of black and white to give a sophisticated feel to this bachelorette pad. She added doses of glamour in the form of mirrored surfaces and furniture, and touches of peach and camel accents.
To see more of this home, click here. 
A serene, 118sqm home with a gray and silver palette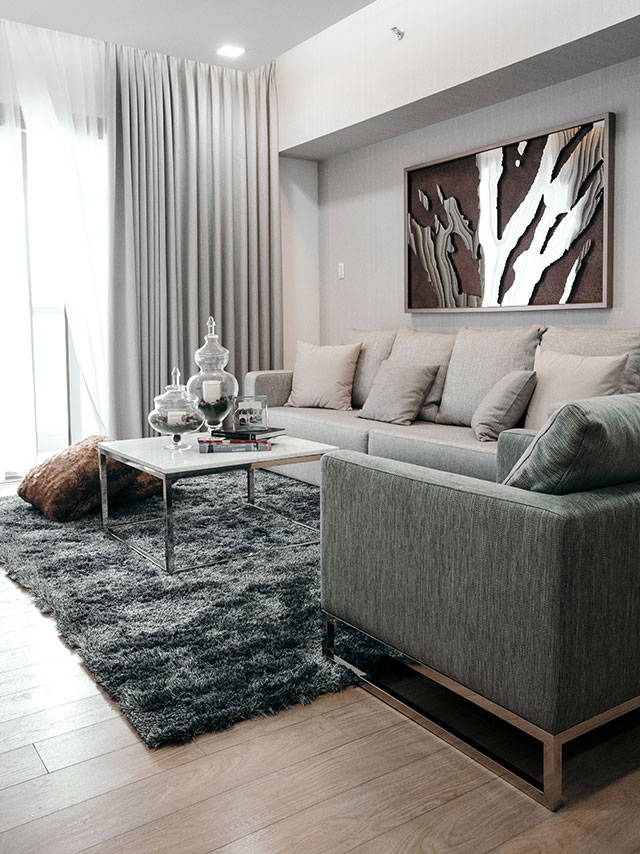 Designer Iris Ocampo works with an entirely gray palette in this two-bedroom unit, but it is not boring at all. This is because several shades of gray are used—from light oyster gray, to grayish beige, to a dark tweedy gray—and these shades are accented with walnut wood stain on the furniture, and patinated silver accessories.
To see more of this home, click here. 
 45sqm studio with an open layout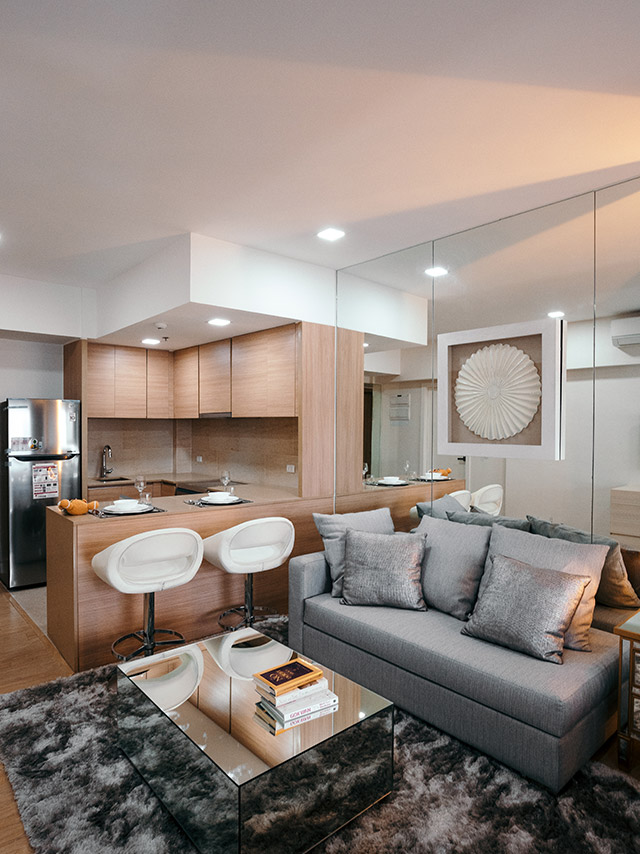 ADVERTISEMENT - CONTINUE READING BELOW
In another condo unit by Iris Ocampo, the combined living area looks bigger than its 45sqm space, and the eating, sleeping, and entertaining areas all look cohesive with its elegant palette of light walnut, beige, and gray. Mirrored furniture and wall accents add to the airy feel.
To see more of this home, click here
A family home with romantic, arched windows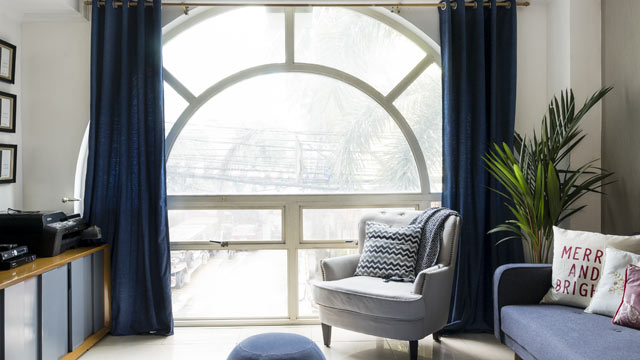 Interior designer Catherine Cena's condo unit came with a wonderful bonus: big, beautiful, arched windows, which add a touch of classicism and romance to the home. "Big windows are an asset to any space because of the natural light they allow—anything looks better with natural light," says the designer.
To see more of this home, click here. 
A contemporary-deco space with rustic French touches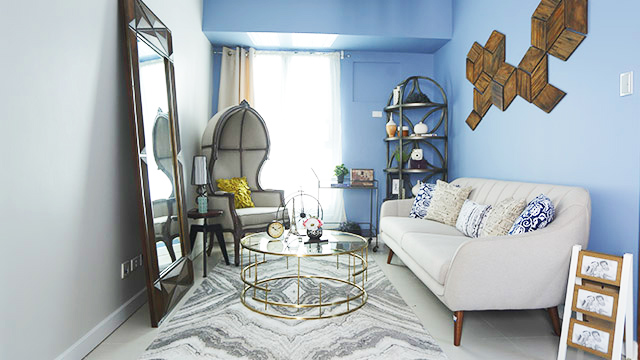 ADVERTISEMENT - CONTINUE READING BELOW
In this 36sqm one-bedroom unit in Sapphire Bloc, designers Miah Gomez and Chino Carlos of Carlos+Gomez did not do the usual modern-white look found in small condos. "We took modern-day France as inspiration: current and up-to-date, but without losing elements of elegance and charm," says Miah. Diverse but classical-themed furniture pieces from MAV, Blims, Wilcon, and Design Armoire fill the space.
To see more of this unit, click here. 
A glamorous, jazz-era-style living area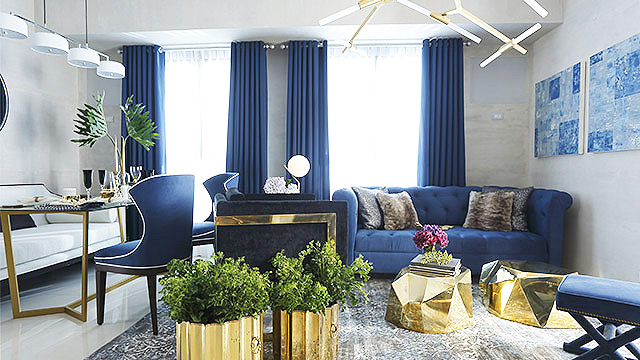 Empire Designs used modern pieces with art deco details, mostly from their own furniture store Harver Hill. "The accent color blue breaks the coldness of the black and gold accents. The finishes are very high-end and luxe, achieved through the use of metals, glass, and lush fabrics," the designers explain.
To see more of this unit, click here. 
A warm and cozy unit with Pinoy designer pieces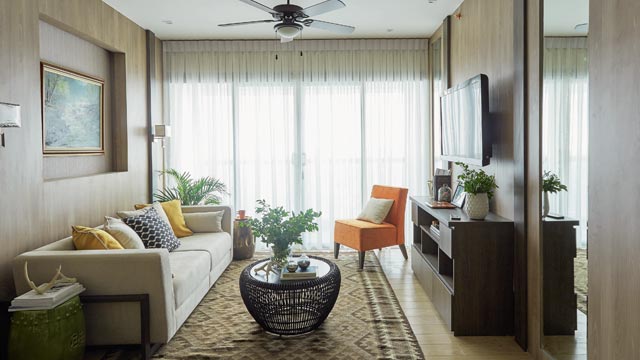 ADVERTISEMENT - CONTINUE READING BELOW
Subtle, pale-colored wood veneer and classy Philippine-made furniture pieces from A. Garcia Crafts and other stores in Pampanga give a quietly elegant feel to this condo unit, which was to be leased out. "[The owner] wanted it hotel-like, gender-neutral, and appealing to foreign clients," says its interior designer Pam Tan.
To see more of this unit, click here. 
A hotel-like home in a neutral palette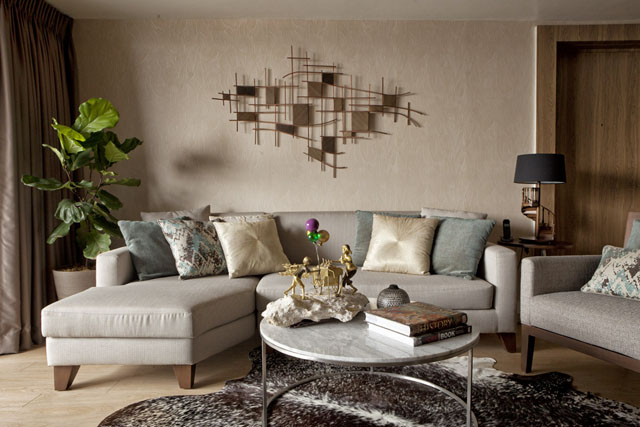 "We want to feel like we are always on a staycation whenever we stay at our unit," says the homeowner of this tasteful, camel-colored home. "We specifically told [architect] Angelo [Siochi] to make our unit sophisticated, parang hotel talaga." Aside from defining the condo's spaces, Angelo also removed all unnecessary clutter and furniture to maintain the hotel-like feel of the place.
To see more of this home, click here.
More on Realliving.com.ph
Load More Stories
---