Shopping Guide
7 Vanity Mirrors to Shop for Your Bedroom's Glam Corner
There are options for small spaces, too! Photography: INSTAGRAM/rikilovesriki, Suesh
A vanity area is never complete without a mirror, but if you want yours to be both aesthetically pleasing and functional, then it might be time to upgrade to something a little more modern. Instead of having just reflective glass in your space, for one, you can shop for a vanity mirror that also doubles as its own light source. Not only will it make putting on your makeup easier, you won't have to worry about having a good lighting for taking self-portraits either!
Read more: We Shopped For An Entire Bedroom For Less Than P1,500
Here are seven kinds of vanity mirrors to consider for your home:
1. Glamcor Riki Skinny
P10,800, Suesh
This portable and rechargeable makeup mirror is slim and lightweight, making it perfect for traveling and small vanity areas. It has five different lighting modes for easy adjustment, and comes with a magnetic phone clip and bluetooth capabilities that'll make taking selfies a breeze.
ADVERTISEMENT - CONTINUE READING BELOW
CONTINUE READING BELOW
Recommended Videos
2. Glamcor Riki Tall
P26,000, Suesh
Standing at 28 inches, the Riki Tall is a functional find for larger spaces. Like the Riki Skinny, it has five-stage lighting and bluetooth capabilities, except the Tall can be controlled with a remote control and comes with a handy magnifying mirror attachment.
ADVERTISEMENT - CONTINUE READING BELOW
3. Suesh Vanity Mirror with 12 Dimmable LED Lights
P4,500, Suesh
This vanity mirror has 12 bulbs that can switch between warm and white light. The stand is also adjustable, so the user can easily tilt it to suit your perfect viewing angle.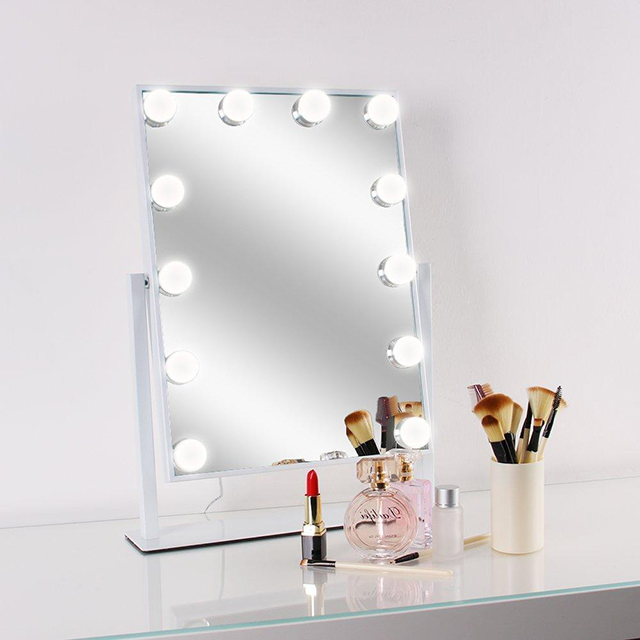 4. Gladking Dream Room Vanity
ADVERTISEMENT - CONTINUE READING BELOW
P7,500, Gladking
This standing mirror's design has a vintage powder room feel that'll suit a minimalist interior. It can be displayed on a vanity table, or mounted on a wall with the built-in hooks.
5. Donnab Belle Vanity Mirror
P2,899, Donnab
If you want to save space without sacrificing quality, this 18 by 20-inch makeup mirror is perfect for you. With a total of six lightbulbs, it can mimic the effect of a larger light source without taking over your entire table.
ADVERTISEMENT - CONTINUE READING BELOW
6. Gladking Touch Screen Dim Light Mirror
P300, Gladking
Unlike your typical handheld mirror, this budget-friendly device lights up through a touch screen mechanism. It also has three lighting tones: yellow light, daylight, and cool white.
ADVERTISEMENT - CONTINUE READING BELOW
7. Gladking Vanity Trolley
P8,500, Gladking
Makeup hobbyists will love this vanity trolley that comes with a sizable mirror and decent beauty lighting. It's the ultimate travel-friendly kit that's subtle enough to be displayed in your home as well.
More on Realliving.com.ph
Load More Stories