Shopping Guide
Order Food, Buy Groceries, and More with Just One Delivery Fee at These Malls Photography: Courtesy of Robinsons Malls
In the past year and a half, pretty much everyone has turned into an online shopping expert and while the process has become easier and more efficient since early 2020, there's one nuisance that still plagues us all (say it with us now): Delivery fees. Now, we're not against paying for shipping, especially when it comes to booking a courier in real-time, but when you need to buy many different items from various stores, the cost can quickly stack up.
Pre-COVID, you could easily hop to and from various shops in one place, buying essentials and more in one fell swoop with the only necessary payment being—aside from your actual purchases—the parking fee. Nowadays, shopping from several different stores and brands—which is pretty much unavoidable if you're buying necessities for the whole household—often leads to a mountain of delivery fees. Thankfully, it looks like more and more online platforms and shopping centers are aiming to make that process easier and more affordable. Case in point: Robinsons Malls' personal shopper service, which they call Robbie and Rosie.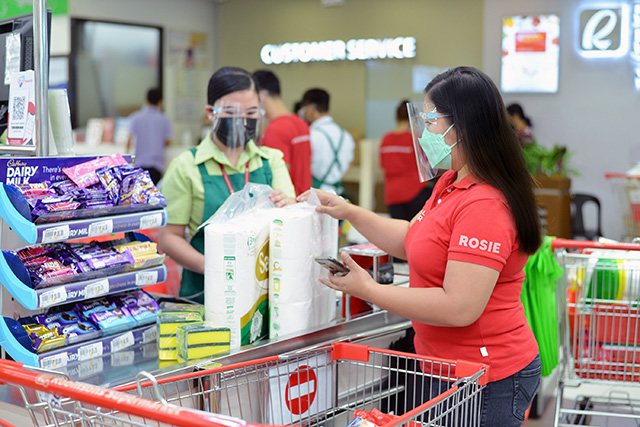 ADVERTISEMENT - CONTINUE READING BELOW
Here's everything you need to know about the Robinsons Malls personal shopper service:
Imagine, for example, that at the start of a new month you need to purchase pantry items, pharmacy essentials, toiletries, and appliances, among other things. That means you'll likely be ordering those items from different shops, each with its own shipping fee and delivery service. Now, instead of having to separately purchase your necessities from a variety of merchants and sellers, pay several shipping fees, and track various deliveries, you can now get everything you need from inside the mall in just one go. Well, technically Robinsons Malls' personal shoppers can do it for you.
Here's how it works: All you have to do is contact any of the Robinsons Malls that offer the Robbie and Rosie service—in Metro Manila, that's Robinsons Galleria, Robinsons Magnolia, and Robinsons Place Manila. From there, you can ask your personal shopper to pick up everything you need to buy inside the mall of your choice. You can choose from seven categories to shop from: Food and beverages, essentials, fashion and accessories, connectivity and gadgets, beauty and wellness, specialty shops, and specialty services.
And yes, the service applies when ordering food for takeout. Say, for example, your household can't agree on a restaurant to buy a meal from. Instead, you can ask your personal shopper to stop by every single diner of your family's choice inside the mall to make sure each person has what they want to eat. It's the closest virtual option to actually shopping in the mall yourself. You can even get items gift-wrapped for you and use your discount cards when shopping through Robinsons' personal shopper service.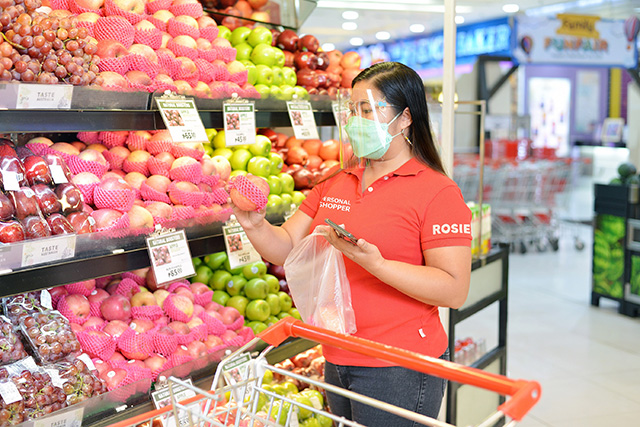 Should there be any issues with your shopping list—the variant of milk you needed is sold out, for instance—then you can speak to your personal shopper through a live video call to make the necessary changes and see the alternative options. To ensure that everything is in order before you finalize your purchases, the personal shopper will send you photos of every item for approval before checkout.
Once everything is ready, you can pick up your items yourself or arrange for a courier service, which means just one quick and wallet-friendly delivery fee for all your purchases—just make sure the rider you book will be able to carry the volume of items you've ordered. You can even ask your personal shopper to book the courier for you!
Aside from your purchases and your delivery rider, you won't have to pay for anything else with the Robbie and Rosie service. That makes availing the service a great way to minimize how much you spend each month on delivery fees and even gas—not to mention, it's a huge time saver!
ADVERTISEMENT - CONTINUE READING BELOW
To avail the Robbie and Rosie service, send a message to any of the following Robinsons Malls branches:
Robinsons Galleria - 0968-294-9444
Robsinsons Magnolia - 0921-499-2958
Robinsons Place Manila - 0919-430-5887
 
See a list of stores and merchants included in the personal shopper service online.
* * *
This story originally appeared on Spot.ph.
* Minor edits have been made by the Realliving.com.ph editors.
More on Realliving.com.ph
Load More Stories