Neighborhoods
Here Are the New Train Lines in the Works for Metro Manila
Can we finally say goodbye to spending hours in cars? Photography: Shutterstock (main)
Commuting in Metro Manila isn't exactly at the top of the list of fun things to do—especially if we're talking about trains. We have a grand total of three main train lines serving the Metro's citizens as of writing and it doesn't take actual research to know that it is definitely not enough. Still, there's hope! There are a couple of new train lines coming within the next decade. Nope, not just extensions or upgrades to the existing ones but train routes that didn't exist before! Here's what you should know.
Prepare to go trainspotting with these upcoming new train lines in Metro Manila and beyond:
Metro Manila Subway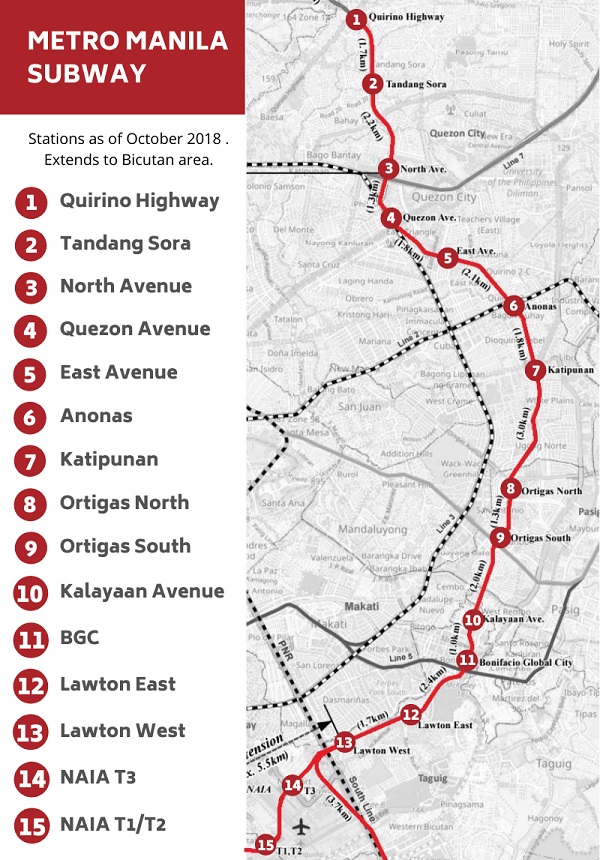 ADVERTISEMENT - CONTINUE READING BELOW
CONTINUE READING BELOW
Recommended Videos
Terminals: Valenzuela City and Parañaque City—with a station at the Ninoy Aquino International Airport Terminal 3 in Pasay City!
Target date: 2025
This massive undertaking will result in a 36-kilometer-long subway that will cut down travel time between the north and south of Metro Manila. Think this will finally be the end to the north vs. south debate? We're not sure. The subway will have 17 stations running through the Metro's underground.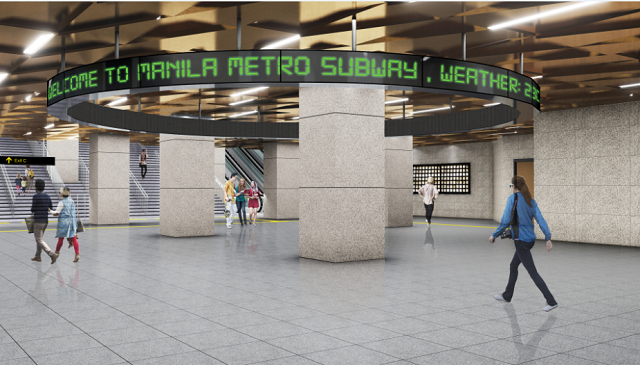 ADVERTISEMENT - CONTINUE READING BELOW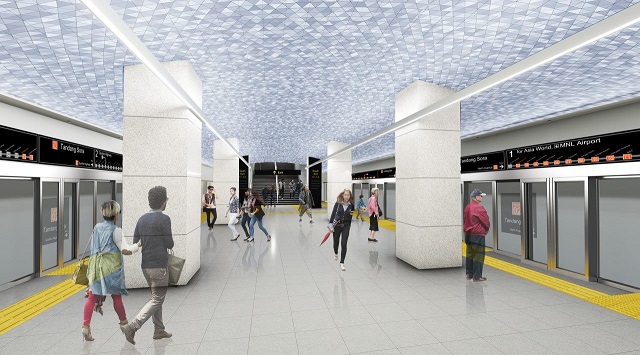 With the gigantic boring machines for the subway's tunnels unveiled by the Department of Transportation in February 2021, they are pretty confident with targeting partial operability by the end of the same year. The transportation department is looking to have the depot and the East Valenzuela station up and running by then. The rest of the stations, running from East Valenzuela through North Avenue, Quezon Avenue, Bicutan, and of course, the Ninoy Aquino International Airport (NAIA) Terminal 3. Base fare is projected to be around P22.
ADVERTISEMENT - CONTINUE READING BELOW
Metro Manila's first subway line has been in the pipeline for a while now. It was first proposed by the Japan Overseas Technical Cooperation Agency in September of 1973, predecessor of the Japan International Cooperation Agency—which is now funding around 85% of the project's cost on loan. The loan agreement was signed in 2017 between President Rodrigo Duterte and Japanese Prime Minister Shinzo Abe and finally broke ground in 2019.
Makati Subway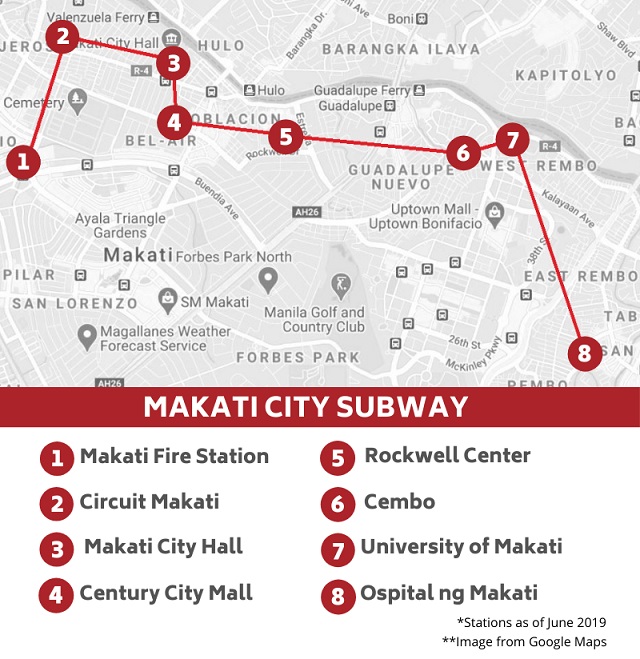 ADVERTISEMENT - CONTINUE READING BELOW
Terminals: Ospital ng Makati and the Makati Fire Station
Target date: 2025
This underground train line is not to be confused with the bigger Metro Manila subway. Talks of the Makati Subway system began in 2018 under Mayor Abby Binay's administration and are being developed under a Public-Private Partnership by Antonio Tiu's Philippine Infradev Holdings Inc. together with Chinese construction firm China Construction Second Engineering Bureau Co. Ltd.
Authorities are targeting a 10-kilometer line with 10 stations—with each one pegged at a cost of U.S. $100 million. As of June 2019, Tiu said that eight of the 10 stations' locations have been finalized. The remaining two are targeted to be somewhere along Ayala Avenue. Construction will start at the Makati Fire Station, and then areas near Circuit Makati, Makati City Hall, Century City Mall, Rockwell Center, Makati Bliss Housing, University of Makati, Cembo, and Ospital ng Makati. Tiu also noted that they are targeting to extend the subway into nearby cities by working with more local governments. Possible links to the Ninoy Aquino International Airport, the Guadalupe Station of the Metro Rail Transit Line 3, and the upcoming Metro Manila Subway are all in the plans as well.
ADVERTISEMENT - CONTINUE READING BELOW
Fare for this subway is expected to be higher than what commuters are used to. Accounting for continued inflation, the fare will most likely "be at a premium over MRT, maybe 20 to 25%," Tiu was quoted by CNN Philippines. The price seems apt for such a game-changing subway line. Stations of the subway are envisioned to be similar to Japan and Korea's popular "transient-oriented" communities and fingers crossed that means a train line at par with these countries' high-tech systems as well.
Metro Rail Transit (MRT) Line 7
ADVERTISEMENT - CONTINUE READING BELOW
Terminals: Quezon City and San Jose del Monte, Bulacan
Target date: December 2022
Commonwealth regulars are sure to be very familiar with this train line. With construction taking up most of this thoroughfare's space in the past few years, it finally broke the halfway mark in February of 2021—just in time to make us truly believe in the December 2022 deadline set by the San Miguel Corporation.
The MRT-7 will link Quezon City and San Jose del Monte, Bulacan. It will span around 22 kilometers with a total of 14 stations, including one under Quezon Memorial Circle. The link between the two urban hubs is expected to serve around 300,000 to 850,000 passengers daily so fingers crossed this cuts down on traffic along Commonwealth Avenue, too.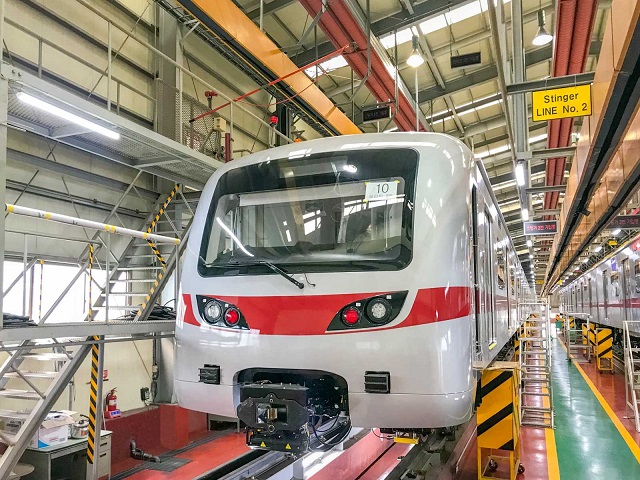 ADVERTISEMENT - CONTINUE READING BELOW
San Miguel Corporation has ordered a total of 36 trains, composed of 108 cars, from South Korea. If all goes according to plan, we may see the train sets being tested on the tracks as early as June 2022. Plus, this train line will be linked with the MRT-3, LRT-1, and the upcoming Metro Manila Subway at the much-awaited Common Station near North Avenue in Quezon City.
MRT-4
Terminals: Quezon City and Taytay, Rizal
Target date: Construction starts 2023
Another upcoming MRT train line is the MRT-4, which will primarily serve the east of the Metro with stations all the way to Taytay, Rizal. It will stretch to around 15.5 kilometers with 11 stations plus two provisional stations, from N. Domingo in Quezon City to Taytay, Rizal. Some of the named stops include Bonny Serrano, Greenhills, EDSA, Meralco, Tiendesitas, Rosario, St. Joseph, Cainta, San Juan, Tikling and Manila East Road. The line will serve around 200,000 passengers daily.
ADVERTISEMENT - CONTINUE READING BELOW
The MRT-4 project was approved by the National Economic and Development Authority in January of 2020. Initially, the Department of Transportation (DOTr) pegged construction to start in 2021 and operations to start in 2025 but that date was pushed back during the quarantine. Fingers crossed the project starts soon enough!
North-South Commuter Railway
This huge project has long been in the pipeline, going as far back as the 1970s. Once finished, it will span around 150 kilometers from New Clark City in Capas, Tarlac all the way to Calamba, Laguna, hence the moniker Clark-Calamba Railway. The route will have 37 stations—some old, some new—across 26 local government units in three different regions. North-South Commuter Railway (NSCR) project has a total of three phases: two in the north and one in the south.
NSCR North Phase 1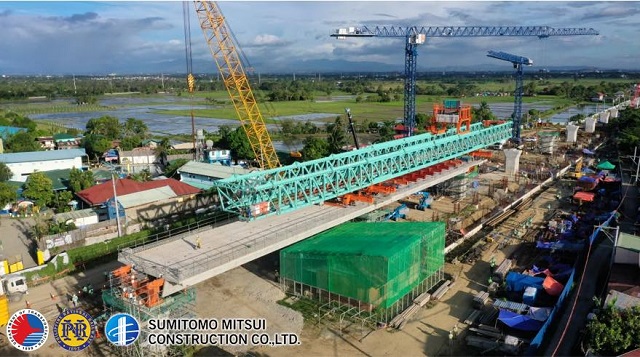 ADVERTISEMENT - CONTINUE READING BELOW
Link: Tutuban, Manila and Malolos, Bulacan
Target Date: Partial operability by December 2021
Also known as the Philippine National Railway Clark Phase 1, this segment will stretch 38 kilometers from Manila to Bulacan. As of February 16, this phase was at 43% complete, according to the DOTr.
NSCR North Phase 2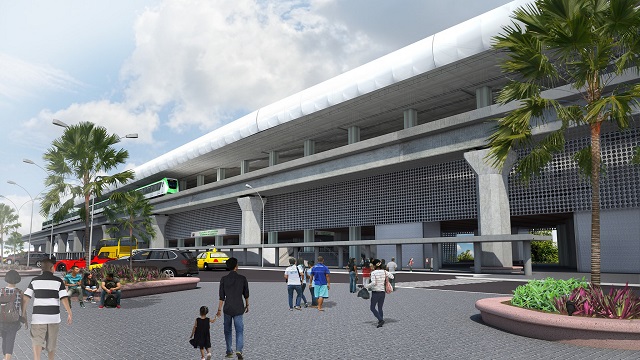 ADVERTISEMENT - CONTINUE READING BELOW
Link: Malolos, Bulacan, and the Clark International Airport in Pampanga
Target date: Partial operability by 2022
The second segment of the massive NSCR project is also called the PNR Clark Phase 2. From the end of the first phase in Malolos, Bulacan, it will stretch all the way to the Clark International Airport, spanning a total of 54 kilometers. Groundbreaking for this segment is scheduled for May 2021, according to the DOTr, with partial operations starting in 2022.
NSCR South Phase 3
Link: Tutuban, Manila and Calamba, Laguna
The final segment of the NSCR project is currently on the drawing board. Contracts for this Manila to Calamba railway are scheduled to be awarded in the middle of 2021. The plan for this phase is a 54.6-kilometer route from Blumentritt Road, Manila, to Calamba, Laguna.
Check Spot.ph out on Viber to join their Community and subscribe to their Chatbot.
This story originally appeared on Spot.ph.
ADVERTISEMENT - CONTINUE READING BELOW
* Minor edits have been made by the Realliving.com.ph editors.
More on Realliving.com.ph
Load More Stories