Neighborhoods
Café Ysabel Reopens in San Juan
How did the institution ride decades of change in a finicky industry? Photography: Majoy Siason
Lasting for 36 years is no easy feat for any restaurant; in an unforgiving dining landscape, many fold quietly after a year or two. But there would be no quiet goodbye for Café Ysabel. When Chef Gene Gonzalez announced that he would be closing the San Juan institution after a good three decades, they were met with loud protests, not just from regulars but from anyone who has memories tied to the restaurant. And there were plenty of them; for many, Café Ysabel had practically been around for nearly half their lives.
Chef Gene's son, chef Gino Gonzalez, recalls how a regular came to Café Ysabel every day without fail since they first opened and had stayed even when the rest of the restaurant started coming down around him. Bare pillars and stripped-down walls could not disrupt this man's routine. "We had to set up a small coffee machine on his table, just for him." Chef Gino recalls fondly. It was only on the very last day, when there was barely anything holding together the old Café Ysabel, that this regular finally realized that he had to go.
ADVERTISEMENT - CONTINUE READING BELOW
Lucky for this loyal customer and for many others, the farewell was short-lived. Chef Gene announced that he would be reopening Café Ysabel in a brand-new location, though their opening date had to be moved several times as they faced one hurdle after another.
CONTINUE READING BELOW
Recommended Videos
"Have you ever lived on a construction site for eight months?" Chef Gene shares with a laugh. "I have. It was like camping every day. But I had to be here because there are a lot of delicate things that have to be taken care of. If not, the rain [and] the mold would just spoil all the paintings and what we have been taking care of really well."
ADVERTISEMENT - CONTINUE READING BELOW
Part of the challenge came from a last-minute switch in their relocation spot, though Chef Gino thinks that their shift to the new and bigger location, an ancestral home on M. Paterno Street, is a blessing in disguise. "We transferred the iconic façade here. We added it to the house and it blended well with the cute angel [statues] and the water element out front," he shares. "Dad just rehabilitated those carvings recently."
Though Café Ysabel has moved to a new location a short drive away from the original, they have maintained their Old-World charm, largely because of the paintings and fixtures that chefs Gene and Gino have carefully transplanted from their old location. "We still have the paintings of Carlos Ygoa, Bien Flores, and Gina Bucar on the walls and ceilings," says Chef Gene. "We were able to bring in and preserve a lot of the antique lamps, the furniture that have lasted for 36 years, the antique tables and the antique chairs that have been in existence since Café Ysabel started."
ADVERTISEMENT - CONTINUE READING BELOW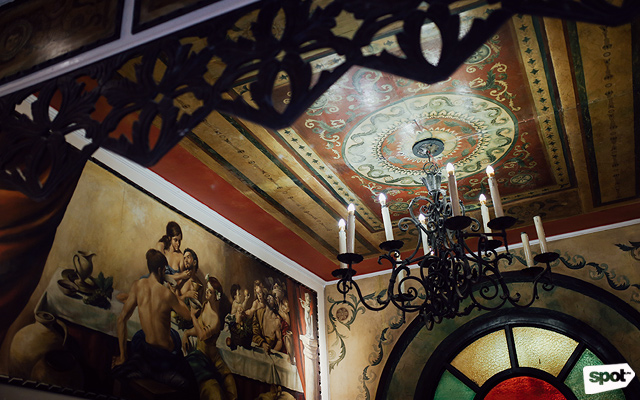 One of the most unmistakable pieces is the so-called Billionaire's Table. "That table became very well-known for contract signings," says Chef Gene. "All the stars: Vilma Santos, Nora Aunor, Richard Gomez, [and] Gary Valenciano, they all signed their contracts there. Eventually, companies got a hold of this, and they told us 'Our president wants to sign contracts on that table because it must be a lucky table.'"
ADVERTISEMENT - CONTINUE READING BELOW
It isn't the only memorable fixture at Café Ysabel. The chefs have also transferred the Yes Row, with its distinctive balcony, to the new restaurant. Named such because of all the proposals that have happened in the special row, the Yes Row witnessed another successful engagement on its first day in the new mansion.
"Two days before we went on a dry run, the son of my classmate did his proposal here," shares Chef Gene. "He told me, 'This is a new leaf of a new restaurant, so I want to propose here. Because we're going to be starting and building our lives together.' They had a very good dinner with wine because I forced the issue and served dinner."
"They've started posting pictures," adds Chef Gino. "It was nice, very heartfelt."
ADVERTISEMENT - CONTINUE READING BELOW
With the immense breadth of their new location, there is space for newer things. Chef Gino shares that they have a cellar and more dining spaces in the basement, and they're rehabilitating the vintage pool to create a "Dip and Dine" area.
The surrounding land, too, adds Chef Gene, will be converted into fruit farms and a greenhouse. "We're going to have lots of exotic [trees]," he shares. "There are a lot of forgotten trees that have been taken for granted because they are not commercially viable. But we will plant them here in the perimeter. It's going to take me another year, and maybe two or three years for all the trees to start bearing fruit. But we will be able to do it."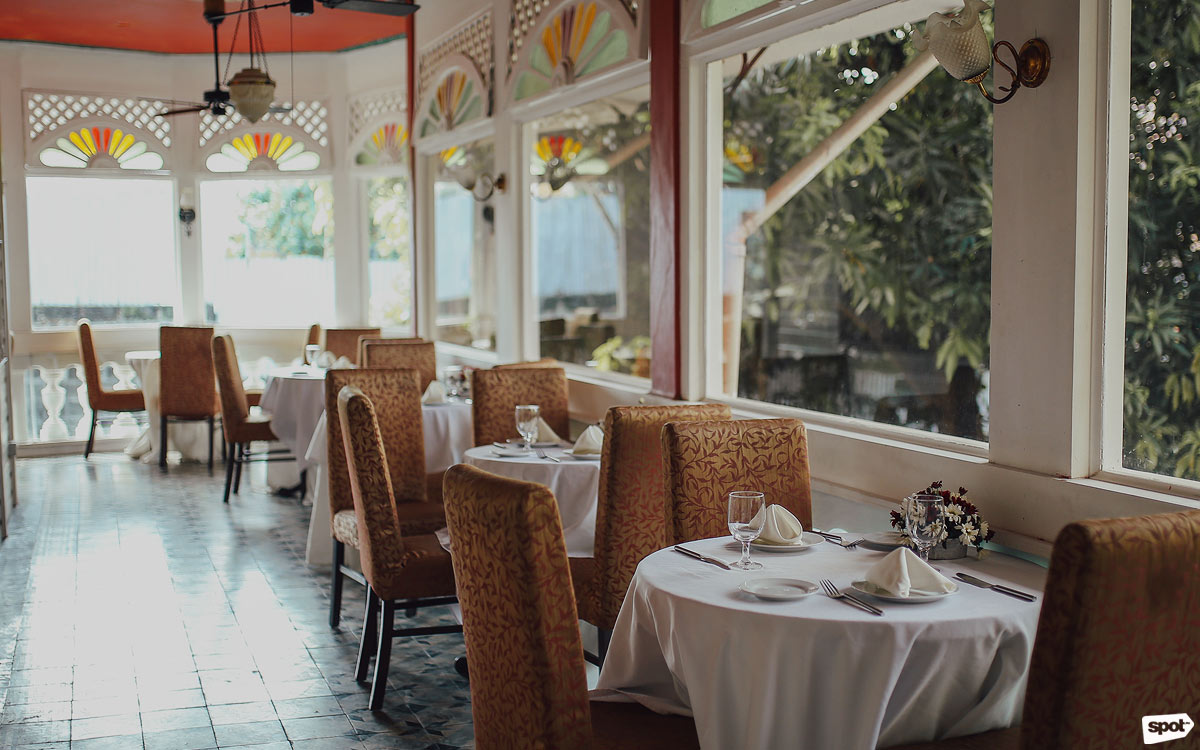 ADVERTISEMENT - CONTINUE READING BELOW
If this is spoken with easy confidence, perhaps it is because it comes from a man who has withstood anything 30 and so years in a demanding industry can throw his way, and is still able to get what he wants. "I wanted to have [a] small café," shares Chef Gene. "I wanted to be a chef, and I was working for about three years in a bank and eventually I started cooking for friends. And they told me, 'Why don't you open a restaurant?'"
This was easier said than done, especially for a young upstart in the field. "I was continually refused by malls because I had no track record," he adds. "One day, I saw this place owned by Susan Roces on Wilson [Street]. I showed her some of the drawings I made, and she said, 'How nice. Pretty soon, you won't rent only my frontage. You'll rent my whole house.' And I said, 'No, your whole house? That's too big!' But we did."
ADVERTISEMENT - CONTINUE READING BELOW
While Chef Gene shares that their menu started with, and still has, Franco-Italian specialties, it wasn't long before he started going more out-of-the-box, introducing degustation dinners and tasting menus as early as the '80s, before moving on to what was then considered crazier stuff: Wine-and-food pairings, cigar dinners, a menu that had chocolate in every course. Chef Gene recounts a trip to Europe where several chefs from Barcelona dubbed him "the crazy chef who puts chocolate in everything." "I told them, 'Oh yeah, this is a phase I have. It's a crazy phase." he shares.
The Spaghetti With Angry Sauce (P378) has been around since the beginning of Café Ysabel.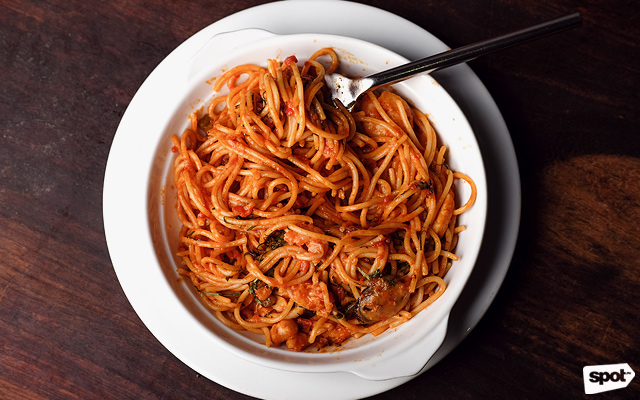 ADVERTISEMENT - CONTINUE READING BELOW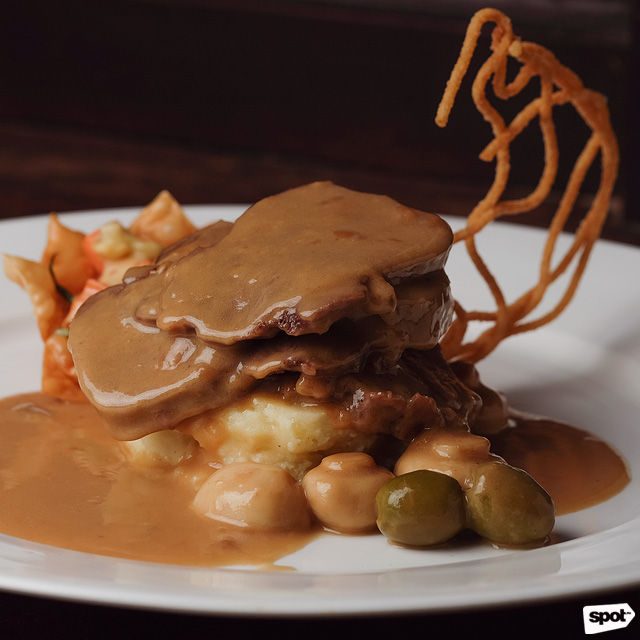 Still, Café Ysabel's core menu has remained almost the same throughout the years, mostly because diners get very attached to certain dishes. "People can get very emotional when you take out an item from the menu," says Chef Gene. "Many of the dishes in the regular menu are always well patronized. In the past 30 years, we've struck one or two out, and we've had to bring them back because people complained."
ADVERTISEMENT - CONTINUE READING BELOW
"Our meatball spaghetti, we took that out thinking they'll be happy with the Italian sausage pasta," recalls Chef Gino.
"Or they'll be happy having in the mall or wherever," adds Chef Gene. "But no, they wanted the meatball spaghetti. We get called from the kitchen and we were asked to explain why we took it out of the menu. So I said, 'Put it in the menu. Bring it back.'"
But, if there's one menu item that has become synonymous to Café Ysabel, it's the Strawberry Shortcake, which has been around since the restaurant first opened in 1982. It isn't difficult to see why it's so popular; it's hard to resist a beautiful mound of strawberries piled high on an elegant white cake, practically glistening with sweet goodness. It's no wonder a customer rushed to order five whole cakes on the new Café Ysabel's first day.
ADVERTISEMENT - CONTINUE READING BELOW
The current version of the Strawberry Shortcake, shares the two chefs, is a hybrid of its past iterations, the original Strawberry Shortcake and the Strawberry Overload. "Strawberry shortcake is basically sponge cake, strawberries, and cream. That's it," narrates Chef Gene. "But we wanted the Filipino taste of condensed milk or yema to go with it, and we wanted an intensely flavored strawberry shortcake."
"By the '90s, we had the Strawberry Overload," he adds. "It's a strawberry shortcake with literally a kilo of strawberries. It was so fragile people rushed to get it into their homes intact."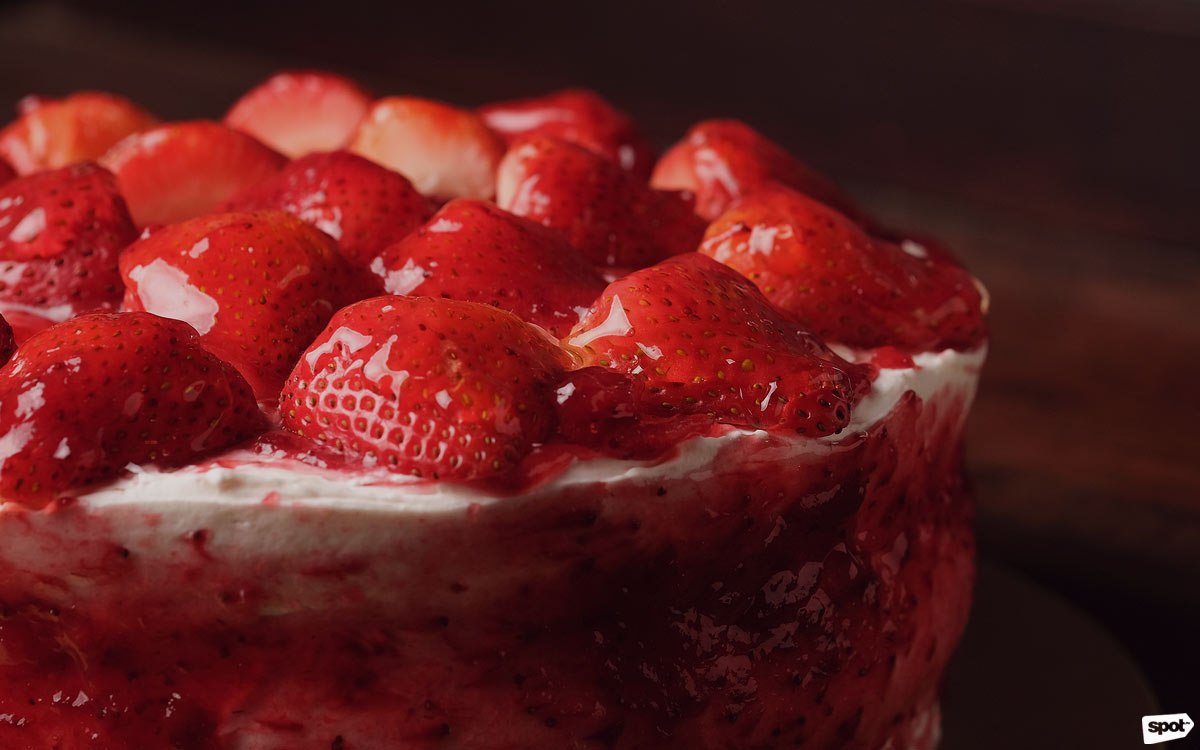 ADVERTISEMENT - CONTINUE READING BELOW
The current Strawberry Shortcake recipe has been refined from its predecessors—not as fragile as the Overload but still stacked high and filled with strawberries. "Now we use a mix of local and imported strawberries," shares Chef Gino. "We use imported strawberries for the topping because they have a uniform size—they're bigger, and they last longer. Then we use local [strawberries] for the filling and the glaze. The formula works so it's pretty much the same as before."
It's this willingness to not only adapt to the changing times but also to be one step ahead of it that has kept Café Ysabel flourishing for as long as they have. And with their being around since the 1980s, they've witnessed how quickly tastes can change. "The turn of the '80s was a very decadent period. People wanted to have ritzy food at ritzy cafés, and it was a nice period to be creative because there were no imports," recalls Chef Gene. "But by the turn of the '90s, you could get anything here. It was a free for all."
ADVERTISEMENT - CONTINUE READING BELOW
"There was a time when we served fresh pasta," he adds. "Then the '90s came and people wanted pasta from Italy. So we had to convert."
Today, diners are going back to fresh, farm-to-table dining, and they've been sourcing ingredients locally as much as possible. "In the '90s, it was all about imported," says Chef Gino. "Now we're back to patronizing the local scene again. We've realized that we have world-class quality ingredients so we're going back to patronizing local as much as we can." For Café Ysabel, this means blackboard specials, made from seasonal produce they'll be growing on their estate and in their planned greenhouse.
The new Café Ysabel has only been open for a week or two, but regulars are already back and claiming their favorite seats. "They've started plotting their turfs," says Chef Gene with amusement. "Some of them are here twice a day. They have two phones and hold office here."
ADVERTISEMENT - CONTINUE READING BELOW
"I guess we hit the comfort spot of many," muses Chef Gino when asked about Café Ysabel's longevity in a finicky industry.
"We serve simple straightforward good food," adds Chef Gene. "It's food that restores." And if you ask Café Ysabel's many loyal regulars, it's all that's needed to keep you coming back.
Café Ysabel is at 175 M.Paterno Street, Barangay Pasadena, San Juan City.
This story originally appeared on Spot.ph.
* Minor edits have been made by the Realliving.com.ph editors.
More on Realliving.com.ph
Load More Stories