Money Matters
Manila is Among Most Expensive Cities in Southeast Asia, Says Research
But it has the lowest average salary. Photography: Shutterstock
Manila is one of Southeast Asia's most expensive cities, given the amount needed to cover living expenses compared to the average salary, according to research from data aggregator iPrice Group.
A person living in the Philippine capital needs P50,798 every month to spend on rent, food, transportation and utilities, according to iPrice. The metropolis also has an average monthly salary of P18,900.
 This means that a person in Manila needs to earn more than twice the monthly average or keep a side hustle to make ends meet.
The research estimated the monthly cost of living in six Southeast Asian mega cities: Singapore, Bangkok, Manila, Ho Chi Minh, Kuala Lumpur, and Jakarta.
Singapore is the most expensive to live in with a minimum P119,732 monthly budget. The Thai capital is second with P51,517, slightly edging out Manila's P50,798.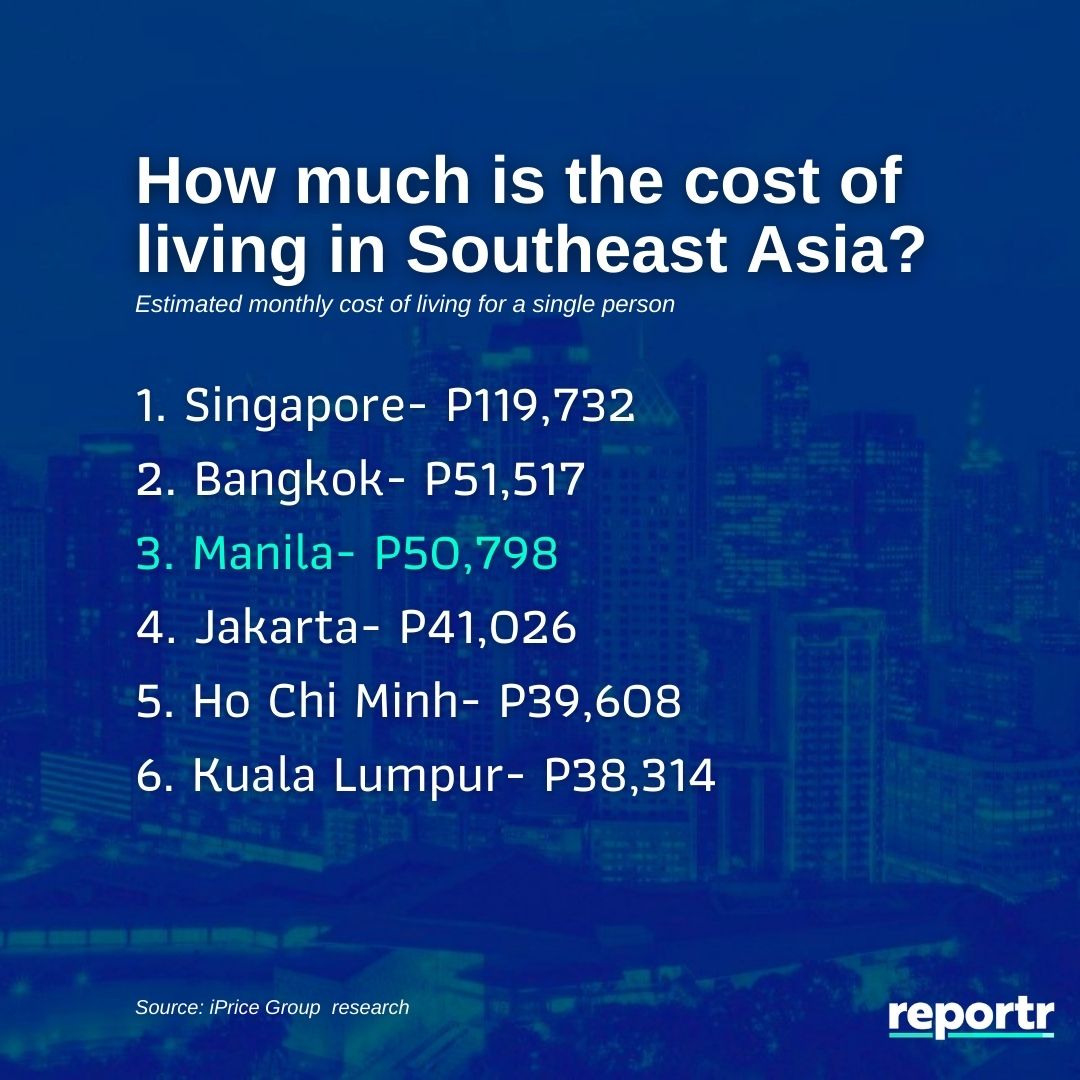 ADVERTISEMENT - CONTINUE READING BELOW
CONTINUE READING BELOW
Recommended Videos
Understanding cost of living
Cost of living refers to the amount of money one needs to cover basic necessities such as food, housing, and transportation in one city versus another.
To picture this, think of the price of a McDonald's Big Mac meal in Manila.
In the Philippine capital, you can get the Big Mac meal delivered starting at P202. But if you're in Singapore, and you choose to have the same meal delivered, prices start at S$8.65 or P315.
This means that your money in Manila can buy you more goods than in Singapore which is why it's relatively cheaper to live in the Philippines.
But if food is cheaper in Manila than in Singapore, why is the cost of living in the Philippine capital deemed as among the most expensive?
It's because the cost of living in Manila is 168% higher than the average salary in the city, iPrice Group said.
ADVERTISEMENT - CONTINUE READING BELOW
"The average cost of living is 168% higher than the average salary, so it comes as no surprise that about 35% of Metro Manila's population is reported to live in unstable, badly constructed shelters in the slums, and 11% of these reside near railroads or garbage dumps," iPrice Group said.
Without rent, the study showed a single person still needs P28,800 to survive in Manila--still beyond the average income in the city.
Manila's cost of living tops the others' by 33% (Kuala Lumpur), 28% (Ho Chi Minh), and 24% (Jakarta).
The bedspacer effect
With high costs and low wages, iPrice Group said this is probably the reason why bed space rentals are more common in Manila instead of renting whole apartments.
iPrice Group said the price of a one-bedroom apartment in the city center of Manila is 56% higher than Kuala Lumpur's, 47% higher than Jakarta's, 31% higher than Ho Chi Minh's even though the three cities have "comparable economic states."
ADVERTISEMENT - CONTINUE READING BELOW
Rent in Bangkok, which has a slightly higher cost of living in Manila, is still 9% below compared to the Philippine capital, it added.
Filipinos aspire for 'comfortable life'
Filipinos aspire for a "comfortable life" that requires gross income of P120,000 per month for a family of four, according to the National Economic Development Authority's AmBisyon 2040 growth roadmap.
This includes P5,000 to maintain the family car, P40,000 for daily needs like food, P30,000 for the upkeep of a house, P10,000 for tuition, P10,000 for leisure and P25,000 for taxes, according to NEDA.
The roadmap is due for revision due to the COVID-19 pandemic that sank the economy into a recession, its worst state since World War II.
* * *
Have you recently spruced up your room or renovated your home? We'd definitely love to see the result! Send clear photos (with your full name, city address, and accompanying kuwento) to [email protected] with the subject "DIY Makeover" and we may just feature your DIY project!
ADVERTISEMENT - CONTINUE READING BELOW
Real Living is now on Quento! Click here to download the app on Android and IOS, and enjoy more articles and videos from us and your other favorite websites!
* * *
This story originally appeared on Reportr.world.
* Minor edits have been made by the Realliving.com.ph editors.
More on Realliving.com.ph
Load More Stories