Ultimate Makeover
How a Makeover Transformed This Home Into a Resort-Like Getaway
Interior designer Dianne Versoza splendidly achieved a luxe tropical-Scandinavian look for the family home. Photography: Courtesy of Interior Designer Dianne Versoza
Homeowners who decide to give their homes a makeover all want the same thing – a better, livelier, and more comfortable space to live in. Whether it's improving one room or saving up for a major revamp – we all want to achieve a home we can be proud of. This family home in Pasig is already beautiful as is – modern and spacious, it's an ideal place to call home in the city. "When I first saw the interiors, it actually looks nice. The client prefers a fresher and new look, something that resonates with them as a family. They want a look that's cozy and gender-neutral to fit every member. It was challenging to enhance something that's already beautiful," relates interior designer Dianne Versoza.
To achieve what her clients wanted, Dianne had to reimagine the space while coming up with a design that would still match the existing furniture. Taking inspiration from nature, the interior designer decided to work on a Tropical-Scandinavian-inspired makeover. "I did this with minimal construction work and just changed some of the elements while making sure everything still matched. If you'll look at the photos, you'll notice that it looks like a different house – it looks bigger and brighter," Dianne shares. See the transformation below:
ADVERTISEMENT - CONTINUE READING BELOW
Outdoor Area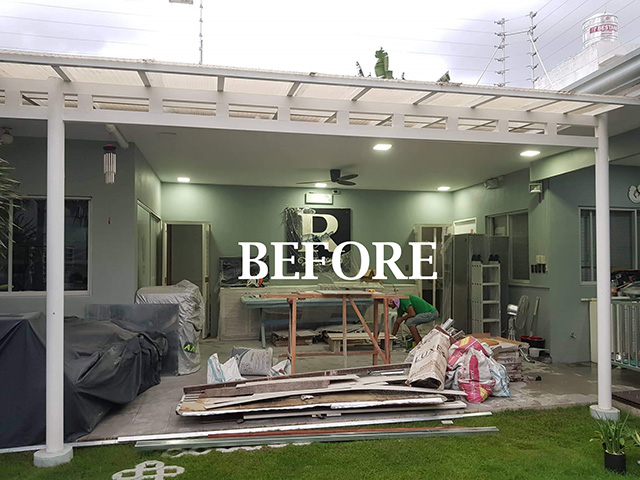 Prior to the makeover, the outdoor area looks a little lackluster – a space that's waiting to be maximized.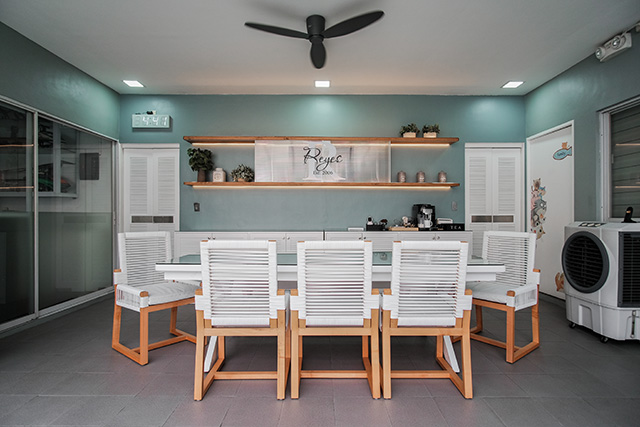 To make the most of the available space, Dianne created an outdoor seating area that's perfect for weekend meals, barbecues, and catching up. The furniture pieces will remind you of luxe resorts! Dianne opted to work with solid wood with leatherette and PVC to ensure durability.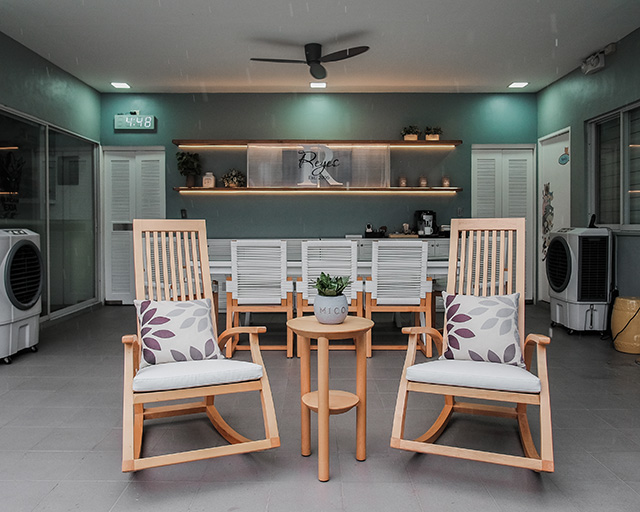 ADVERTISEMENT - CONTINUE READING BELOW
If the owners want to read a book in peace or enjoy some refreshments, this inviting setup is the place to be.
Living Area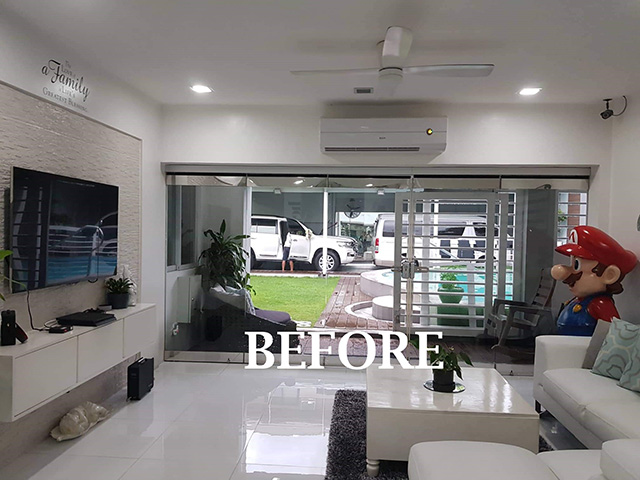 While the living area is already spacious, something is clearly missing – warmth!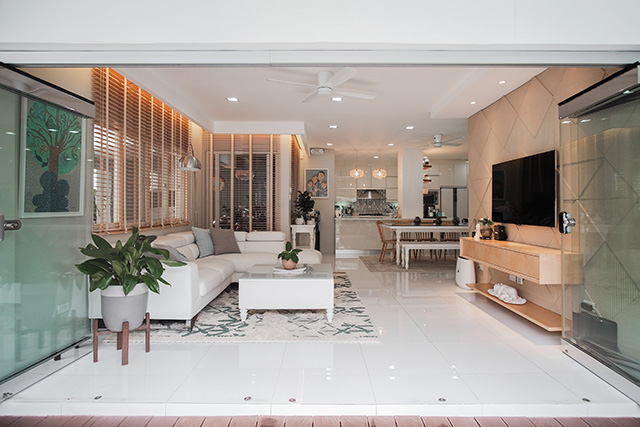 ADVERTISEMENT - CONTINUE READING BELOW
To make the area more welcoming, Dianne brought in finishes that will remind the owners and guests of relaxing beach getaways. Potted plants, touches of wood, and the right window treatment made a huge difference!
Living Area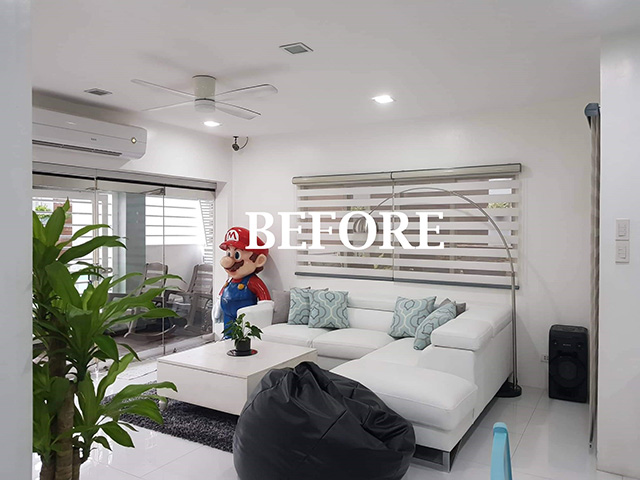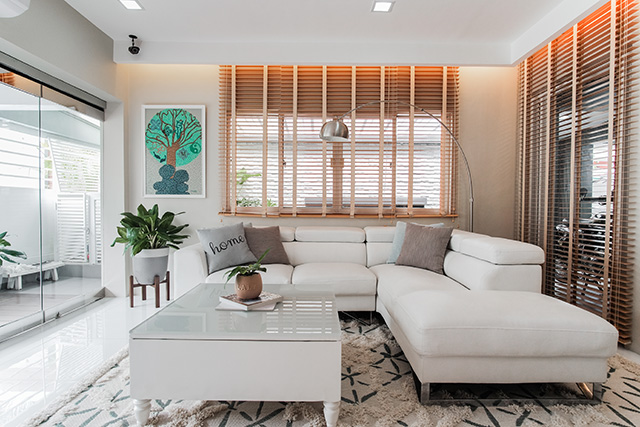 ADVERTISEMENT - CONTINUE READING BELOW
While Dianne retained the furniture, the living area now looks fresher! Changing up the soft furnishings such as the rugs and pillow covers did wonders.
Living Area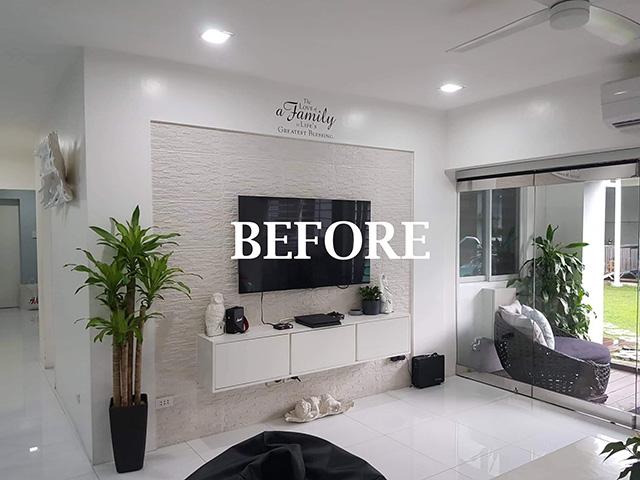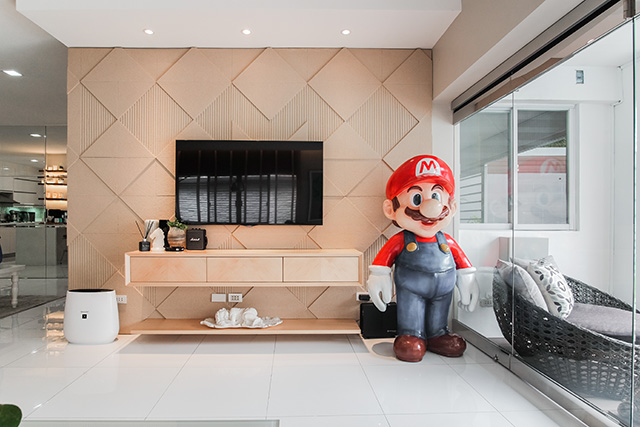 ADVERTISEMENT - CONTINUE READING BELOW
The area's focal point is the wall behind the TV. "It's my favorite wall," says Dianne. "I tried different ways to make it possible. It's a wood panel with real sand," she exclaims. It's a lovely way of bringing the feel of the beach into the home.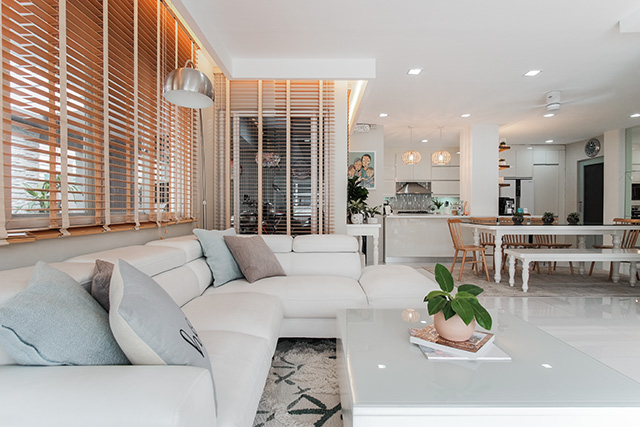 ADVERTISEMENT - CONTINUE READING BELOW
From this angle, the common areas seem to "breathe" and do no look too tight.
Dining Area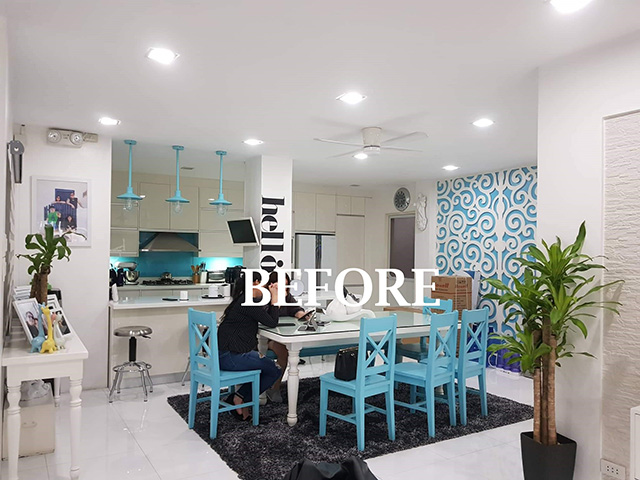 The old look of the dining area already has coastal vibes – with the touches of aqua on the chairs and wall accents. However, it looks a bit cramped.
ADVERTISEMENT - CONTINUE READING BELOW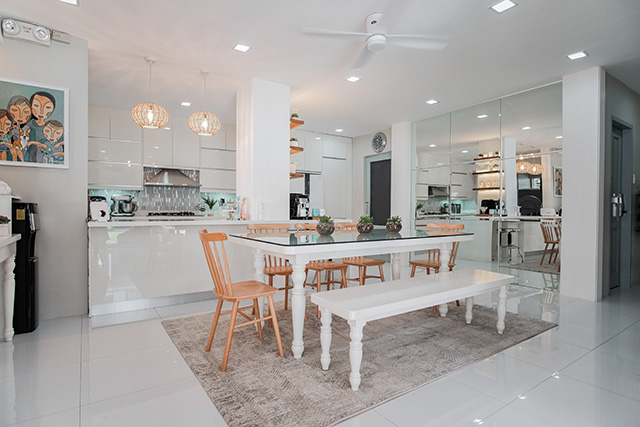 To turn things around, the interior designer brought in new furniture pieces, anchored the space with a new carpet, and worked magic with mirrors. By using reflective surfaces as wall accents, the space now looks bigger.
To be able to accommodate the whole family for meals, Dianne also paired a bench seating with matching chairs which both work well with the old dining table.
ADVERTISEMENT - CONTINUE READING BELOW
Dining Area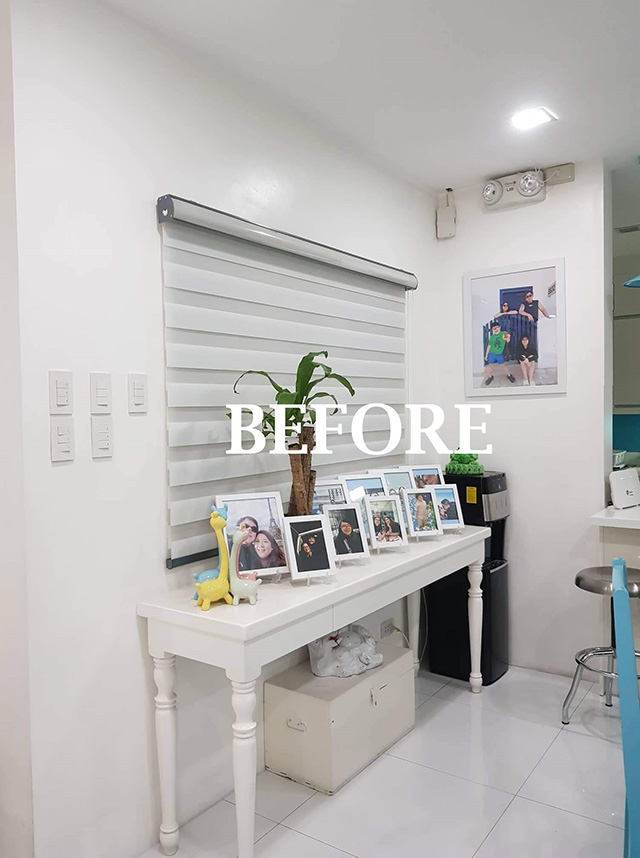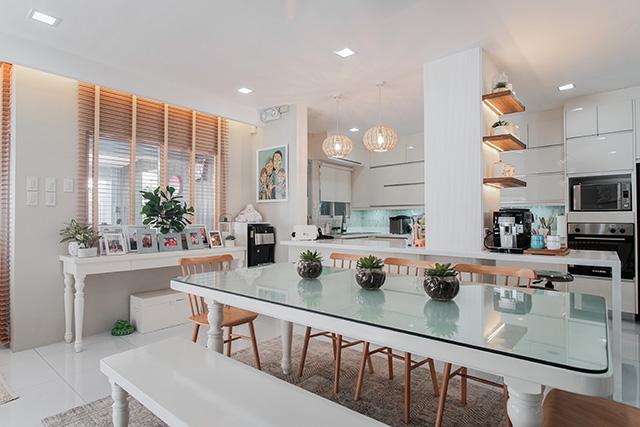 ADVERTISEMENT - CONTINUE READING BELOW
Switching up window treatments, adding the right lights, and decluttering can instantly transform any area at home.
Kitchen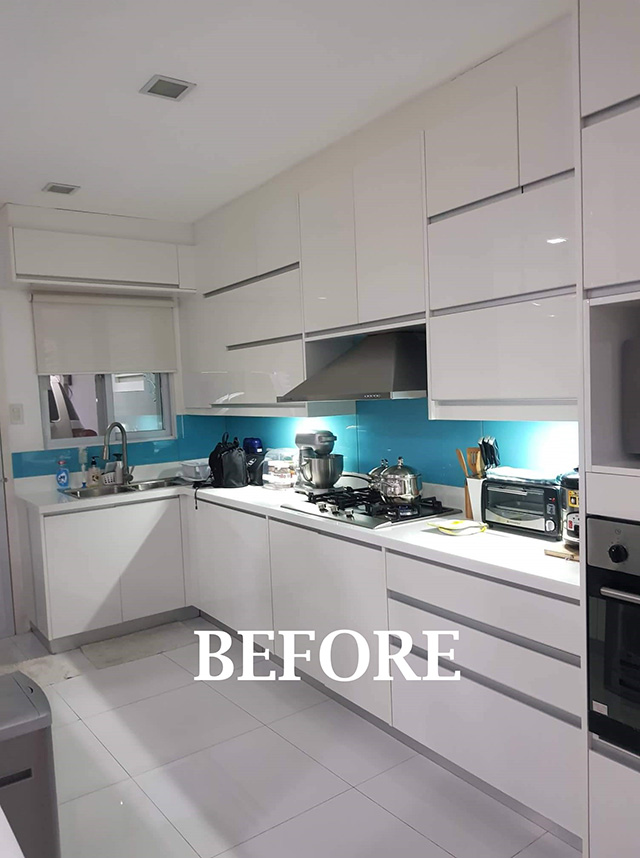 Sleek and spacious, it's easy to assume that there's nothing you would want to improve in the kitchen.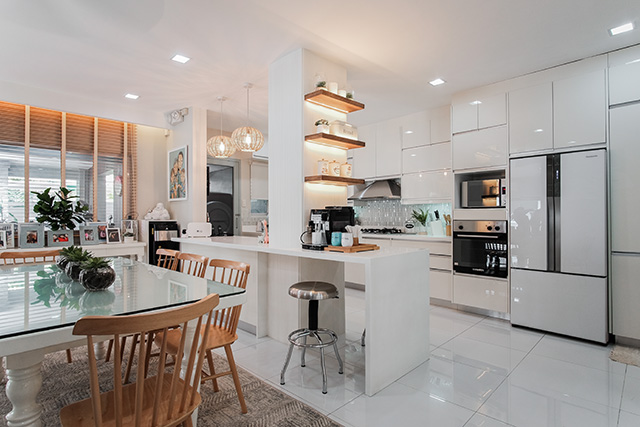 ADVERTISEMENT - CONTINUE READING BELOW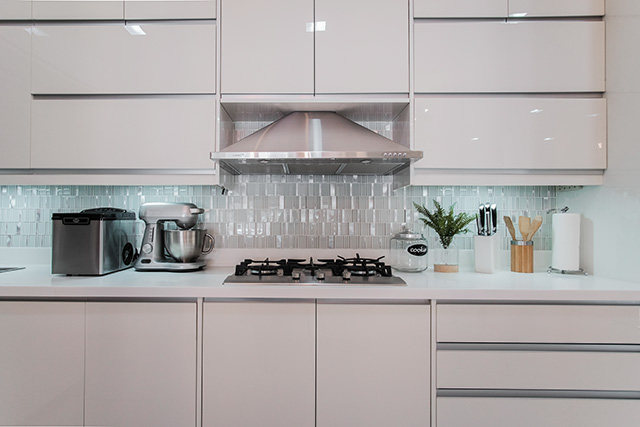 It can look even more spacious and perfect for cooking meals! To achieve this, Dianne replaced the backsplash that work well with the seamless cabinetry. Notice how the designer worked with lights to set the mood in the home? "Play with lights! Warm light can make any room look cozier," she advises.
ADVERTISEMENT - CONTINUE READING BELOW
Bedroom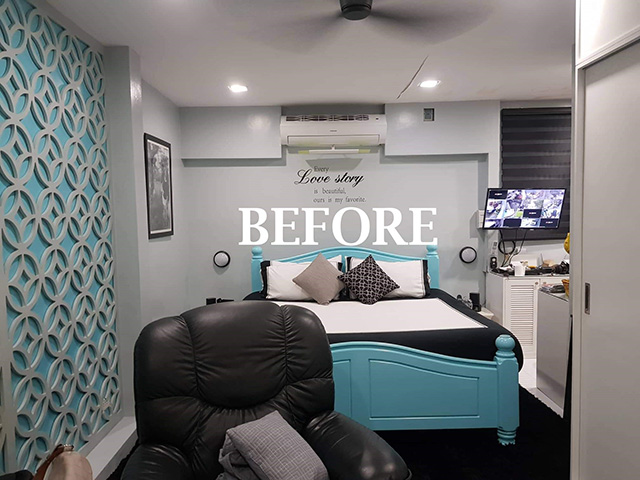 Prior to the makeover, the bedroom has a whimsical feel with the touches of blue and wall decals incorporated into the space.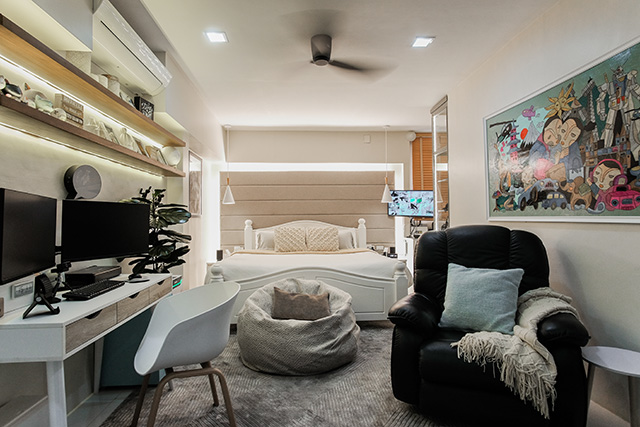 ADVERTISEMENT - CONTINUE READING BELOW
To match the tropical-Scandinavian look, Dianne had the bed repainted white for a more timeless appeal then added a padded headboard to add height to the space. Lighting was also added to create a hotel-like ambiance.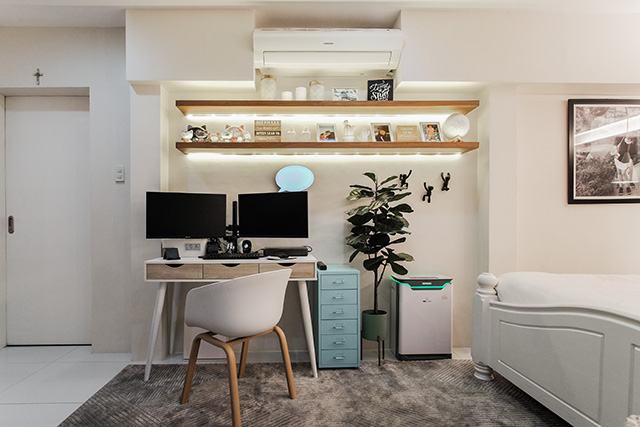 The interior designer was also able to create a functional corner where work can be done and photos can be displayed. The floating shelves with hidden lighting add a luxurious touch to the workspace, too.
ADVERTISEMENT - CONTINUE READING BELOW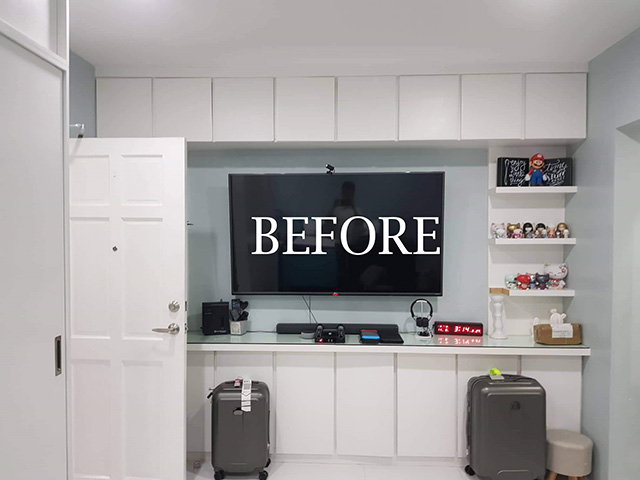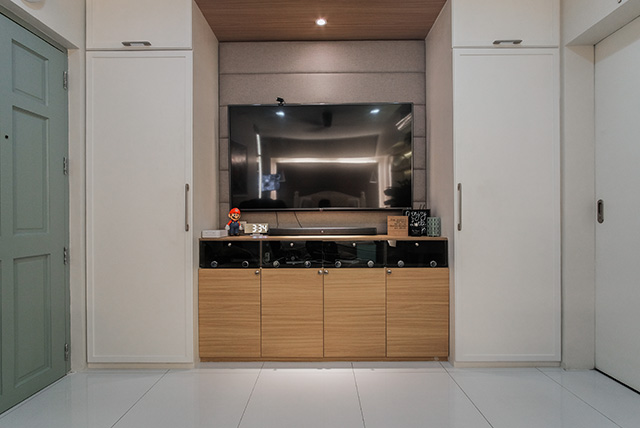 ADVERTISEMENT - CONTINUE READING BELOW
Maximizing storage can help you achieve a clean and sophisticated look for your private space.  In this part of the bedroom, Dianne added storage nooks to conceal the entertainment system and some of the owners' belongings. To give the area an upgrade, she also added an upholstered wall accent.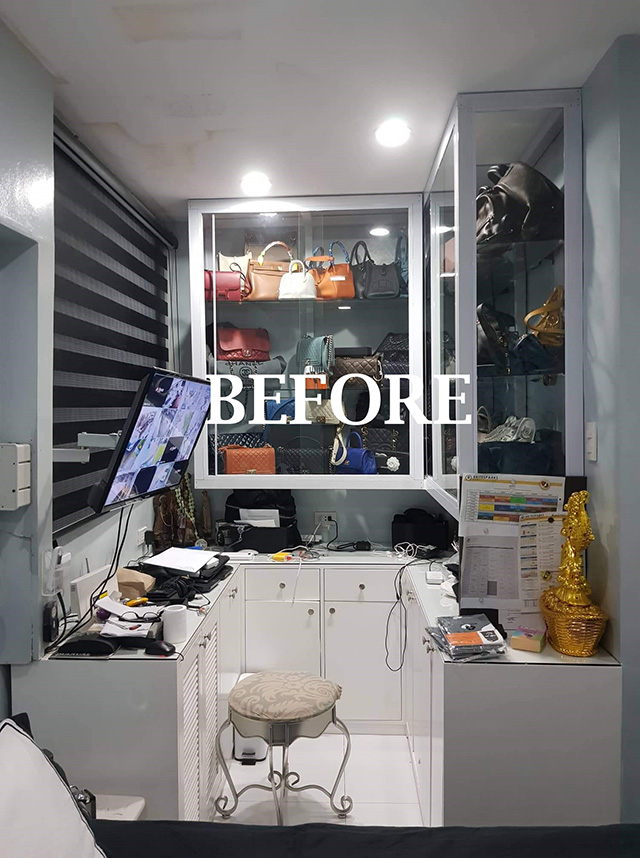 ADVERTISEMENT - CONTINUE READING BELOW
Clutter can instantly take the attention away from one's precious collection.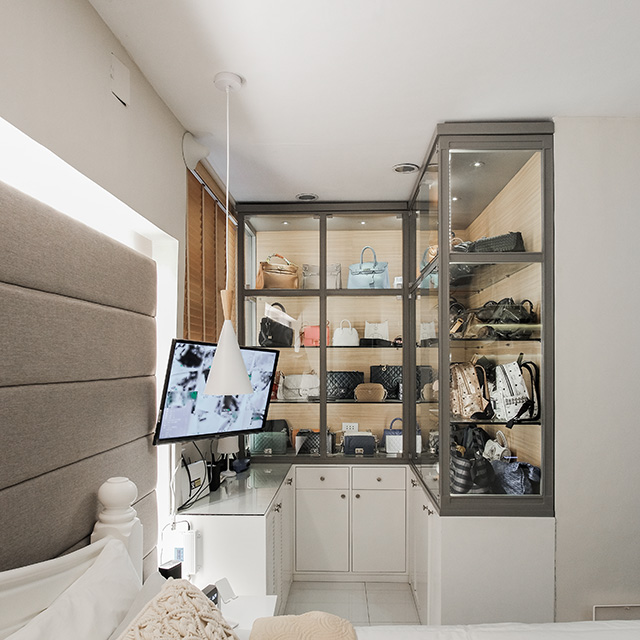 Dianne improved this corner by getting rid of clutter and installing a chic display cabinet. "These are normal shelves made better and turned into a focal point by installing lights inside. The lights also helped showcase the collection further," she explains. 
ADVERTISEMENT - CONTINUE READING BELOW
Have you recently spruced up your room or renovated your home? We'd definitely love to see the result! Send clear photos (with your full name, city address, and accompanying kuwento) to realli[email protected], and we may just feature your DIY project! 
Get in touch with interior designer Dianne Versoza through email at versozadianne[at]gmail.com. You can also follow her on Instagram at @vrsointeriors.
More on Realliving.com.ph
Load More Stories