Ultimate Makeover
With a Budget of Less Than P65K, This Family Was Able to Give Their Condo a Makeover
Interior decorator Jayvee Cruz came on board to supervise the revamp Photography: courtesy of Beejay Malgapo Design Consultant: Interior Decorator Jayvee Cruz
Contrary to popular belief, condo homes can be ideal for small families—provided you know how to maximize the space and keep clutter at bay. This is something Beejay Malgapo and his family can relate to as after four years of living in their condo unit, they finally decided to give their space a needed revamp.
READ: 6 Fantastic Small Space Makeovers
"We've gone through a lot of life changes as we now have two kids. Back then, we would enjoy hours on the couch binge-watching our favorite TV shows and movies. Now, it's all about playing music, playtime, toys, toys, and more toys," Beejay shares with Realliving.com.ph.
As with any welcome change, the family started their makeover journey with the help of Marie Kondo's tips. After five months of letting go of unused toys and belongings, the family felt that while the home seemed "lighter," something is still missing. Beejay says, "it still felt messy and chaotic. For us, a dream home is calm and inviting, with the feel of being in an Airbnb rental or hotel since we enjoy staycations."
ADVERTISEMENT - CONTINUE READING BELOW
READ: A Beautiful Dream House In Cavite That Was Decorated On A Budget
Determined to improve their space, Beejay and his wife started researching about makeovers and how much it would cost to hire an interior decorator. Luck was on the family's side as they found interior decorator Jayvee Cruz's Facebook page. Jayvee brought his expertise to the condo unit and delivered a refreshing space within a short period of time. The best part? He was able to do it all without going over the Magalpos' limited budget.
See the simple yet refreshing transformation below:
BEFORE: Living Area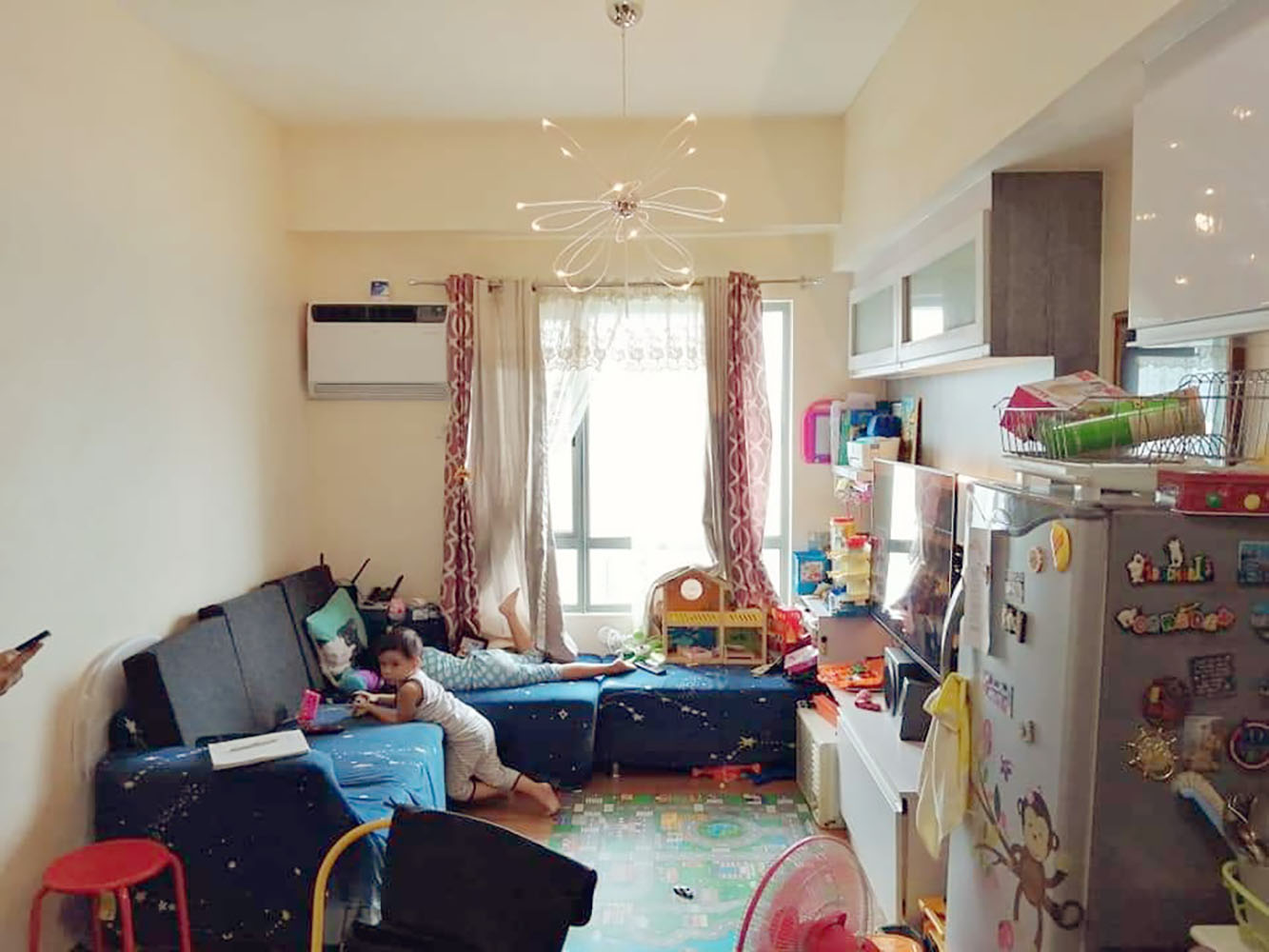 Prior to the makeover, the living area served as an entertainment and play space. Toys are found on the floor and on the seating pieces, making it look cluttered and uninviting.
AFTER: Living Area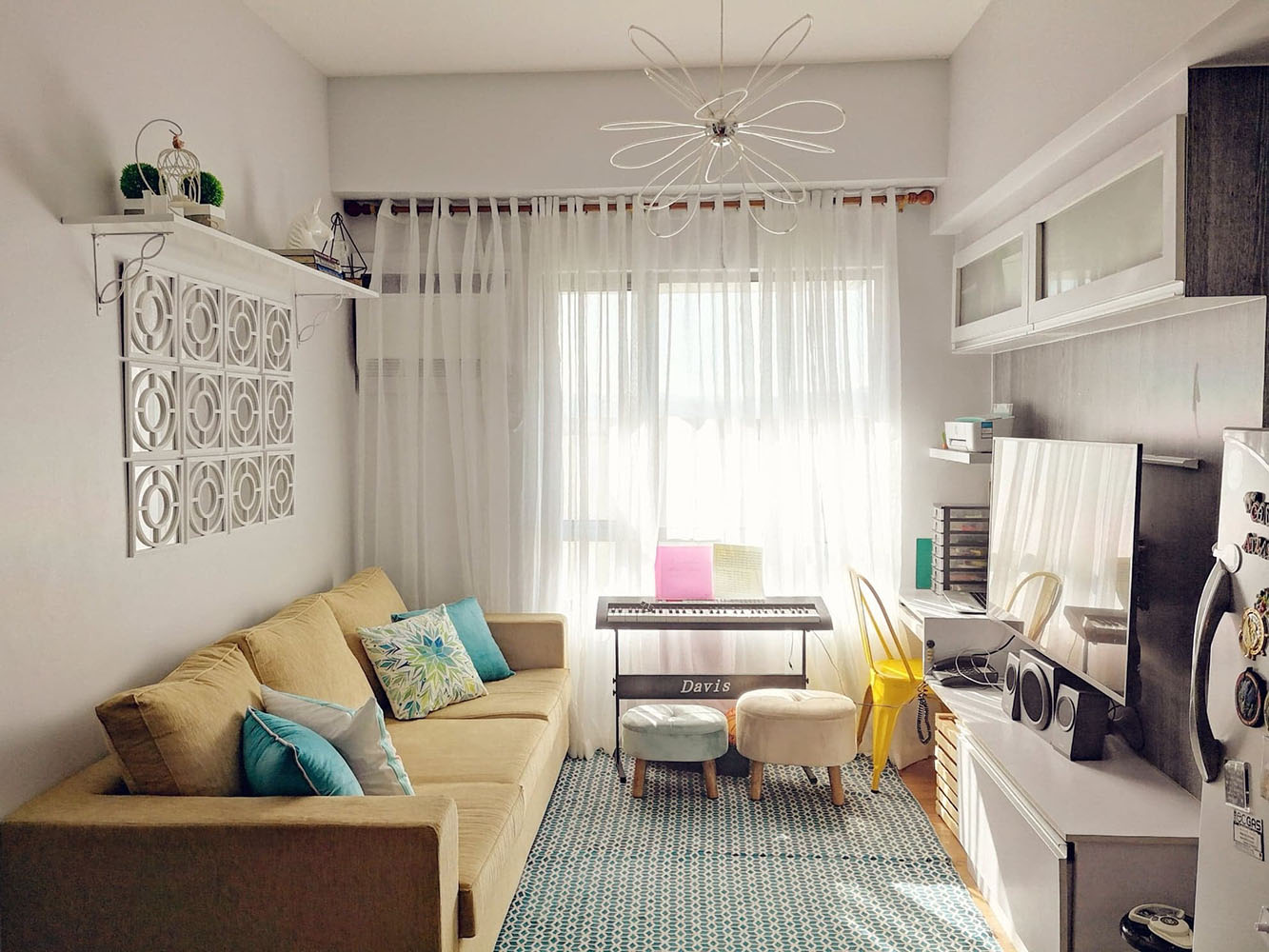 One of the first things Jayvee did to create an illusion of a bigger space was to paint the walls and ceilings in white. The chosen color adds to the airy and open feel of the living area. "We also made it look wider and taller by hanging sheer curtains as high and wide as we can," adds Beejay. The owners also invested in a new sofa that can work as a bed when needed to go with the new look.
ADVERTISEMENT - CONTINUE READING BELOW
BEFORE: Living Area Wall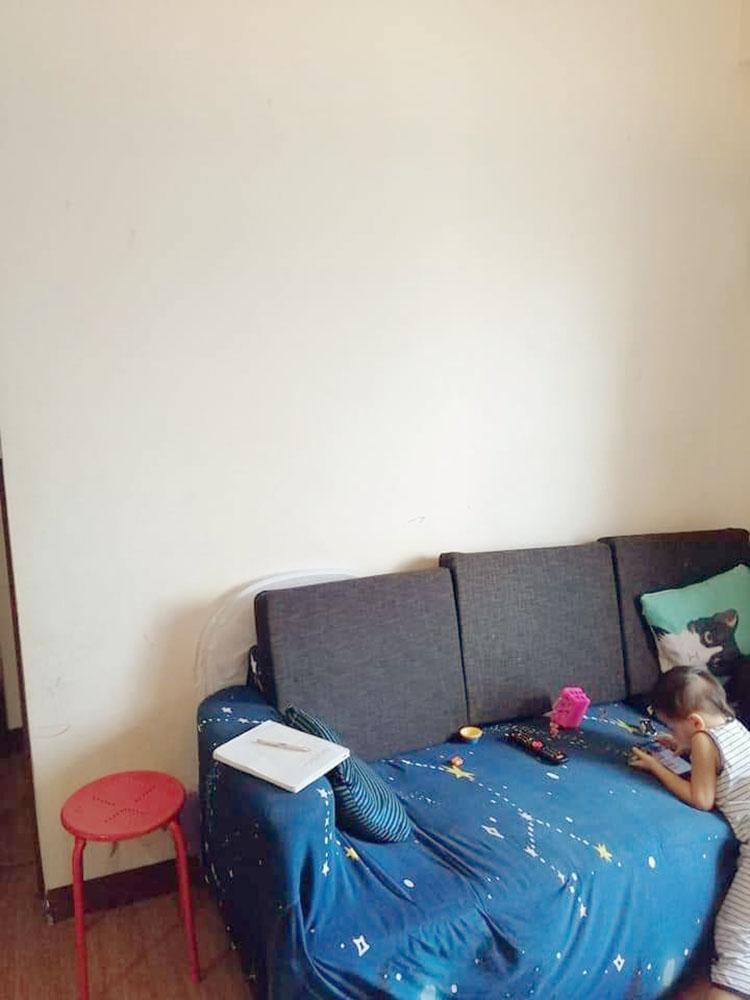 The wall across the TV used to be empty but to add to the living area's new look, a wall-mounted shelf where decor pieces can be displayed was installed.
AFTER: Living Area Wall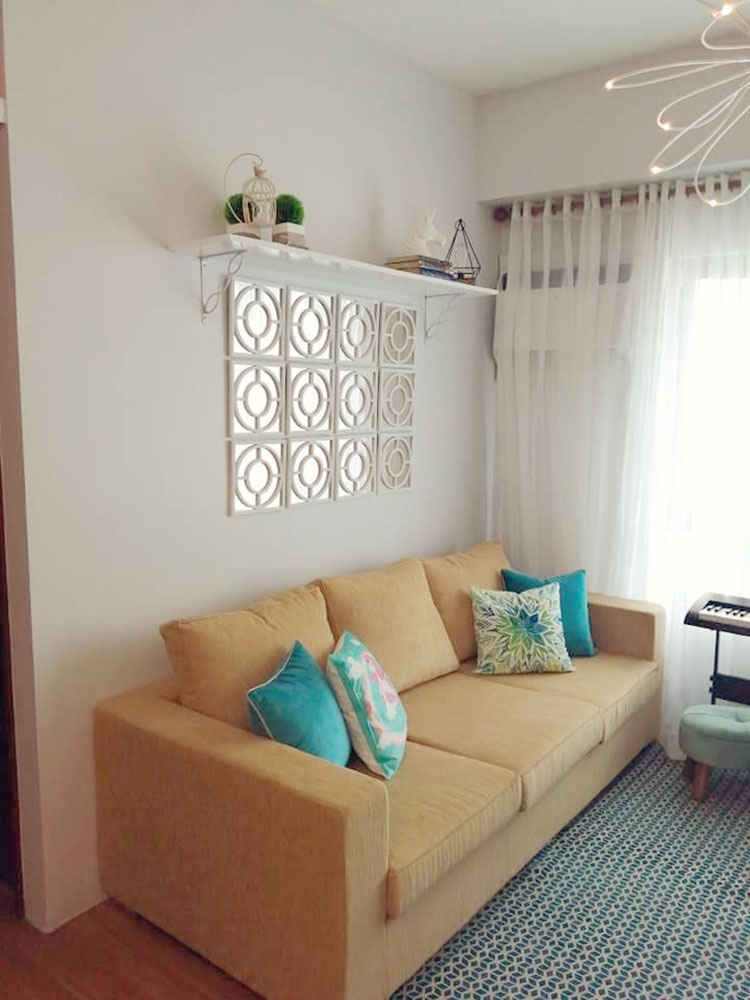 ADVERTISEMENT - CONTINUE READING BELOW
Small square mirrors make up the wall accent/faux mirror. By decluttering the area, the owners were able to carve out a space to accommodate a keyboard and foot stools where the kids can play.
RL Tip: You can achieve your own accent wall using mirrors without having to drill holes on your wall. You can use a strong adhesive as an alternative.
BEFORE: Kitchen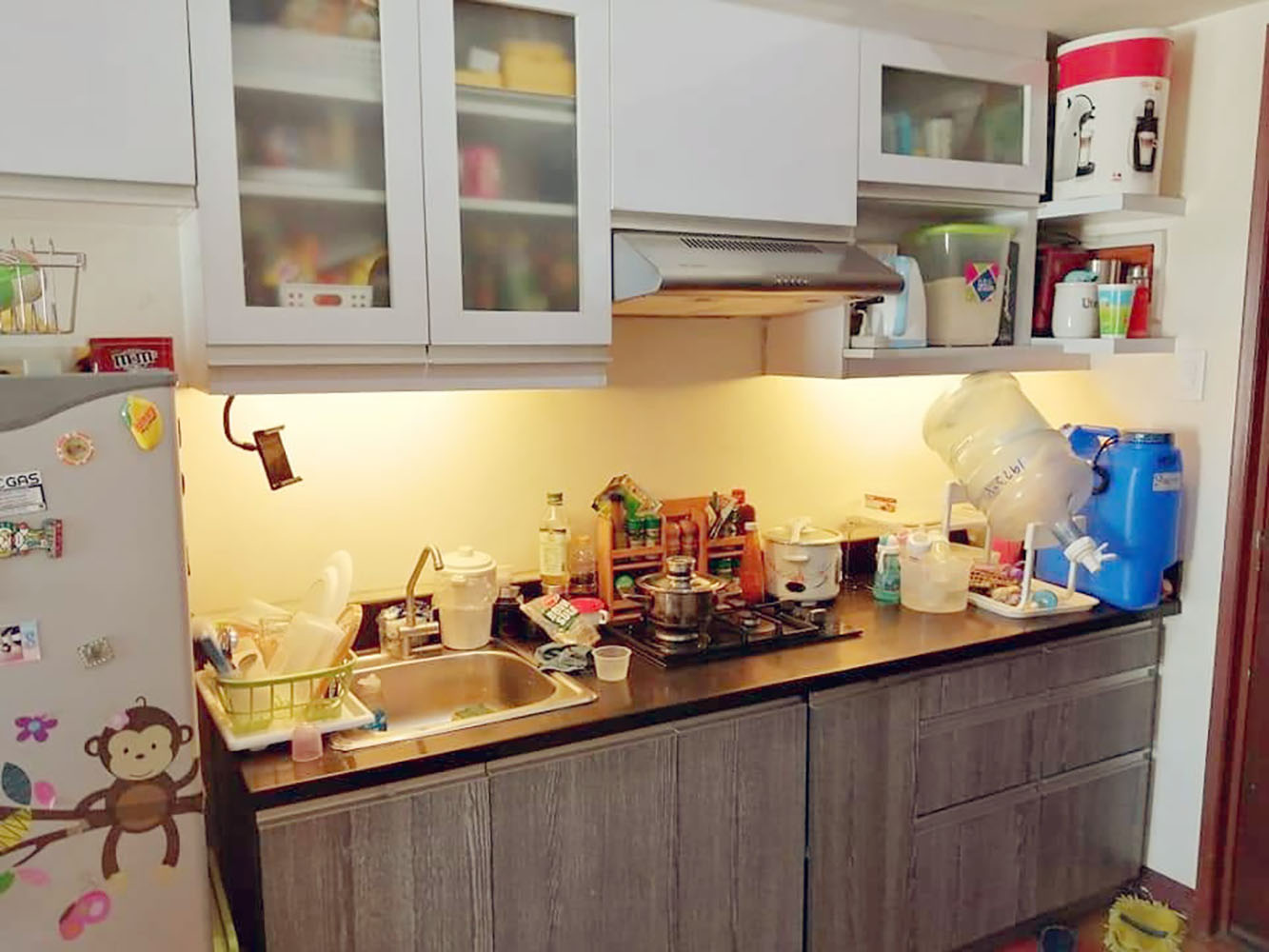 ADVERTISEMENT - CONTINUE READING BELOW
It's no secret that many condo units have tiny kitchens—with a one-wall layout and cabinets under the sink. While the old kitchen has overhead cabinets, the area is still cluttered and lacking oomph.
AFTER: Kitchen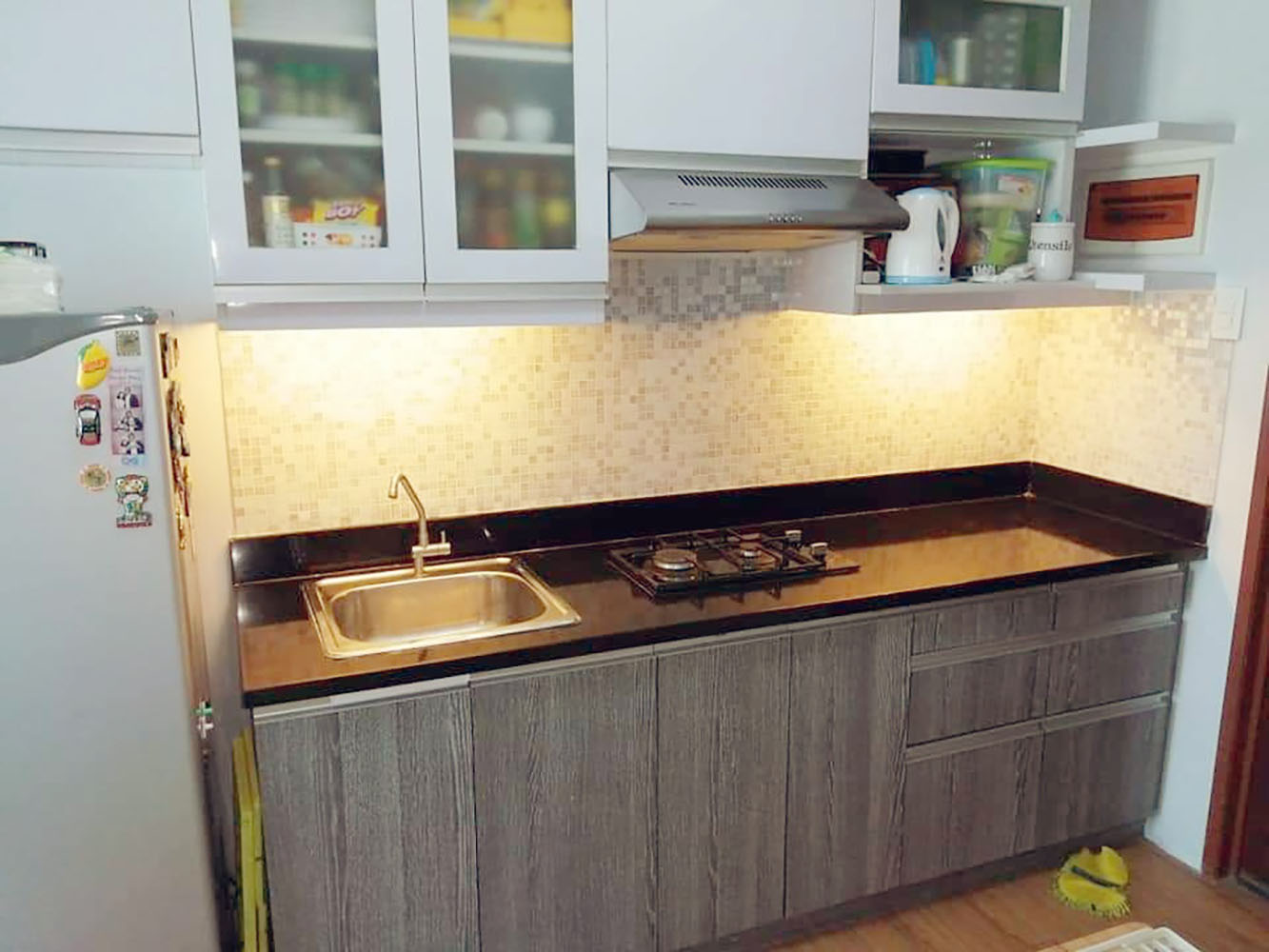 To turn things around, mosaic backsplash was installed to add depth and texture to the space. The owners also cleared the countertop as well as organized the cabinets to make meal prep easier.
ADVERTISEMENT - CONTINUE READING BELOW
BEFORE: Dining Nook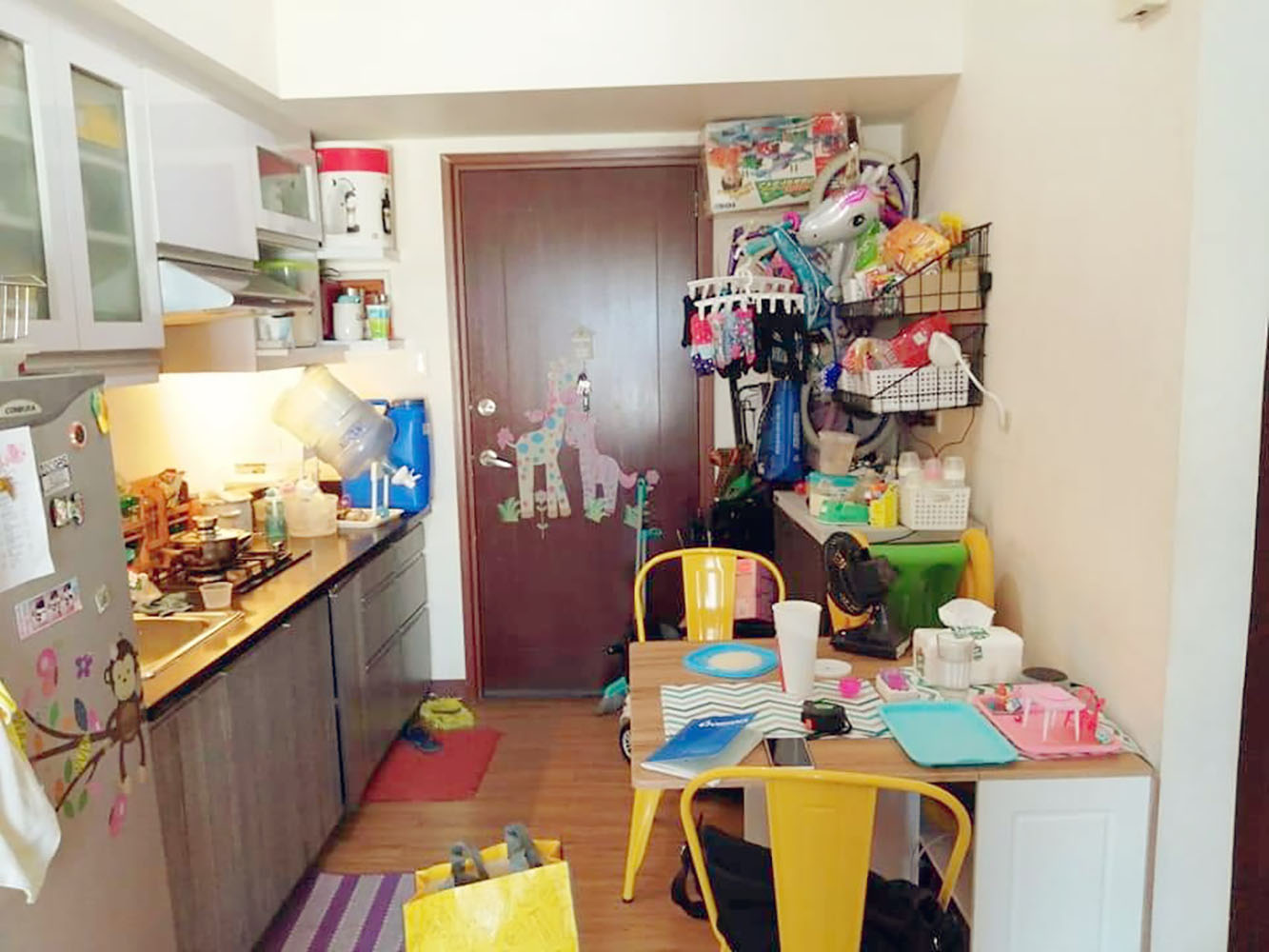 It's hard to enjoy mealtime if you're surrounded by toys, clothes, and other belongings don't you agree? While the family has enough storage essentials, the space still looks messy.
AFTER: Dining Nook and Gallery Wall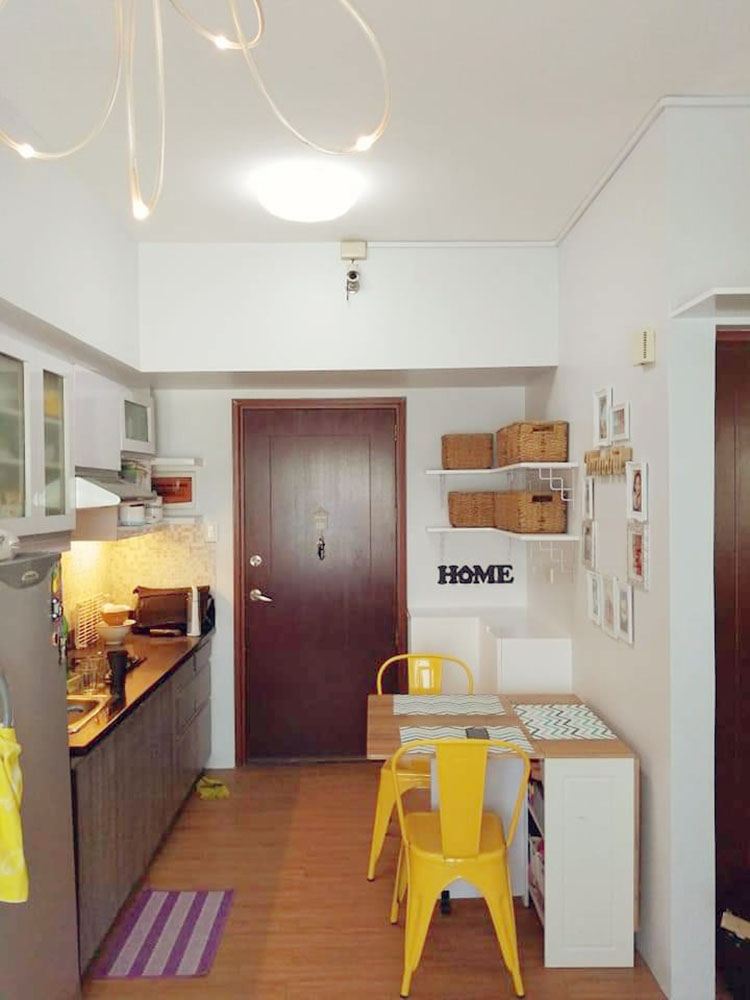 ADVERTISEMENT - CONTINUE READING BELOW
With the help of Jayvee, the Malgapos maximized the available vertical space. "Items previously placed on the floor now have a designated place," shares Beejay. Aside from installing open shelves, a customized shoe cabinet and a stroller dock were also put in place.
To give the owners a place for knickknacks, baskets that double as décor take up space on the shelves.
Notice the gallery wall beside the dining table? It's a special makeover addition! Displaying favorite photos not only add a personal touch to the space, it will also remind the owners of happy memories and milestones.
Thinking of working on a home makeover? You can get in touch with interior decorator Jayvee Cruz on Facebook. Recently revamped your space or built your dream home? We might feature you on Real Living next! Send us a message on Facebook with photos of your home.
More on Realliving.com.ph
Load More Stories