Kitchen & dining
5 Real Living Readers Share Their Quarantine Kitchen Makeovers
Get inspired to give yours an update. Photography: Courtesy of Angela Reyes and Tanya Japitana
We're probably speaking for many when we say that the kitchen has become the most-used part of everyone's home since the pandemic began. That's why it's only natural to have an urge to spruce it up, whether it's by purchasing new appliances or doing small tweaks to make it more functional and Instagram-worthy.
Ahead, five Real Living readers share their kitchens and their quarantine makeover stories. Scroll through to get inspired!
A dark and dreary kitchen turned into a light and function space
Angela Reyes describes the old look of her Quezon City home's kitchen as dark, dreary, with space that wasn't maximized. However, its recent renovation turned all of that around. They rearranged appliances, changed the black counters to white, and the standard cabinets were replaced by beautiful polished wood ones that provided more storage space.
"DM Lorenzo construction and Camyl Besinga did an awesome job in making our kitchen more functional not only for me but for our kids," Angela tells Real Living. "Since the renovation my kids are now able to independently get their utensils, prep some of their food etc. For me, I love to cook hence it has become my creative space and happy corner most especially during this quarantine."
ADVERTISEMENT - CONTINUE READING BELOW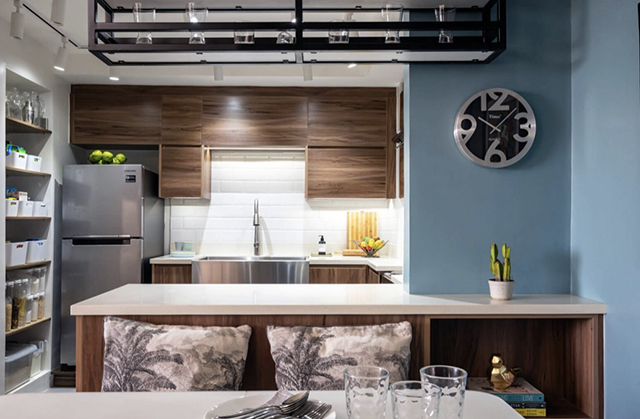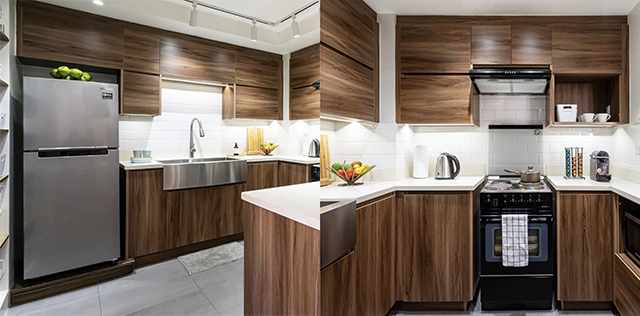 Simple upgrades for a quarantine kitchen
Like many of us this quarantine, Maria Consuelo Garing obtained new kitchen appliances to fuel her renewed love for baking. "Now, my kitchen is equipped with two stand mixers, one is an 18 year old Kitchen Aid stand mixer and the latest is a Kenwood mixer. My husband and I also found ourselves craving for coffee more now as we work from home. And having our Breville espresso maker was very convenient and safe too as it eliminated the need go to a coffee shop," she says. "The kitchen has definitely been a central place in our home especially during this quarantine."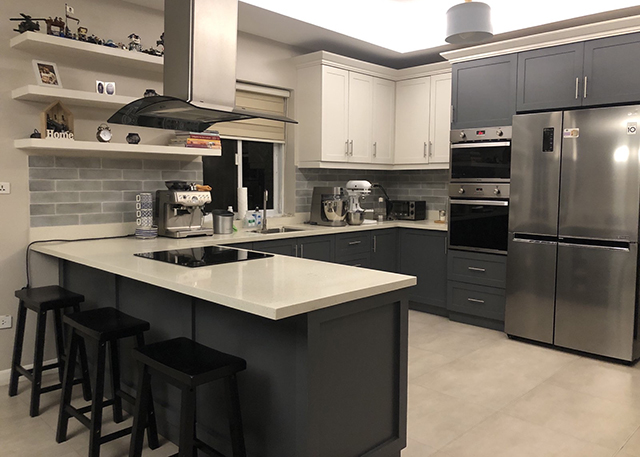 ADVERTISEMENT - CONTINUE READING BELOW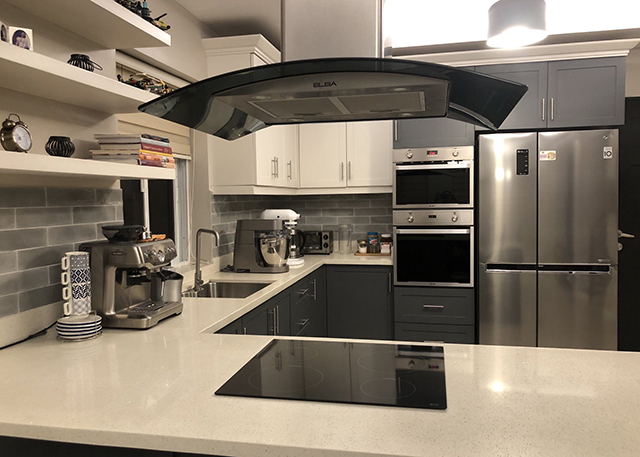 The difference new chairs can make
"My kitchen is actually a personal space for me. When we were planning our house, I requested my husband to build me a good functional kitchen. Not a huge one but something that is just right where I can move around," Sheryl Yerro writes. The result was a fully-functional kitchen, where she can bake and entertain family and friends. The couple chose a wood formica and black granite combination, and added a working space with an elevated bar.
ADVERTISEMENT - CONTINUE READING BELOW
A recent change she made to the space is replacing the bar stools. According to Sheryl, despite their modern design, they were too prone to scratches and toppled over easily. She changed them to steelbar chairs, which she had customized at a welding shop and then painted instead of shopping one online. "It only costed me P7,500 and when I had it upholstered it amounted to P1,500. All in all P9,000 lang yung nagastos ko. I was really happy about it," she shares. The gold-accented chairs didn't just replace the accident-prone stools, but they also added more color to the industralist feel of the kitchen.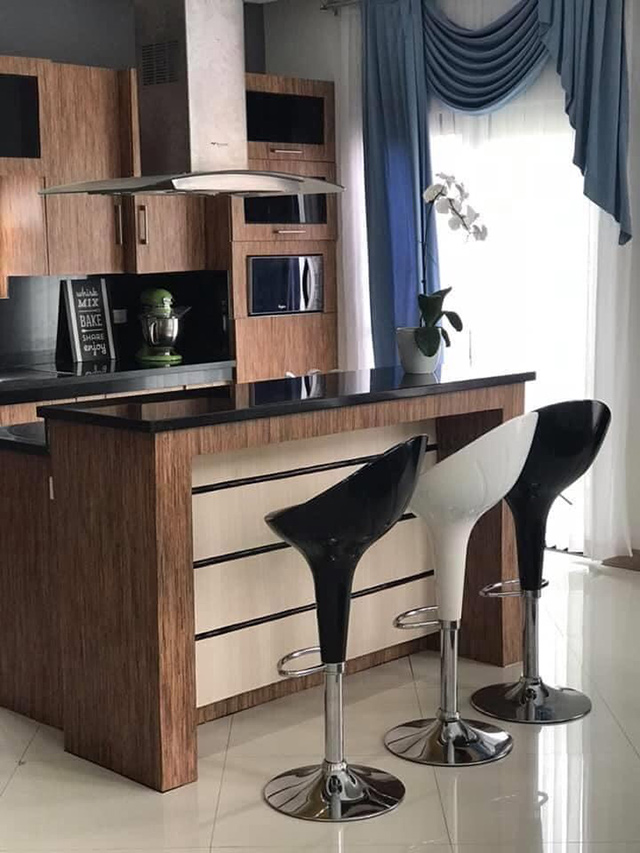 ADVERTISEMENT - CONTINUE READING BELOW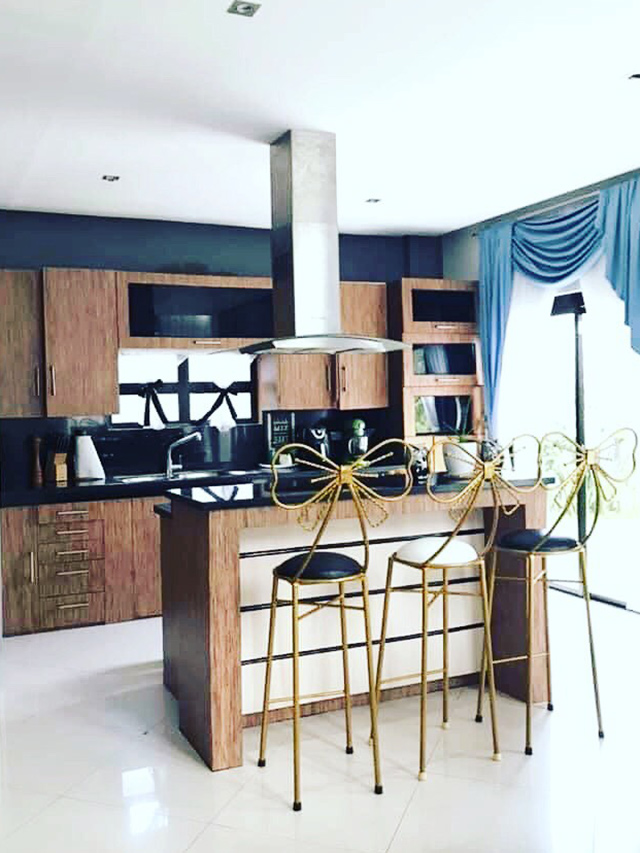 A new paint job and improved lighting for a dim kitchen
"I have a love affair with natural light and have always been frustrated by how dark my kitchen is," Tanya Japitana says. To remedy this, she decided to paint it white, which opened up the space and made her backsplash pop. They also had cabinet lights installed with a P2,000 budget to illuminate the workspace.
ADVERTISEMENT - CONTINUE READING BELOW
As for their center island, it used to be their dining table while they were still renting a home. "I hired a carpenter and asked him to wrap plywood around, enclosing the sides of the table my husband [Andrei] made. We had extra wood we bought for shelves and those are the ones I had asked to put on top for the 'bar'. It continues to be a conversation point to friends today," Tanya adds.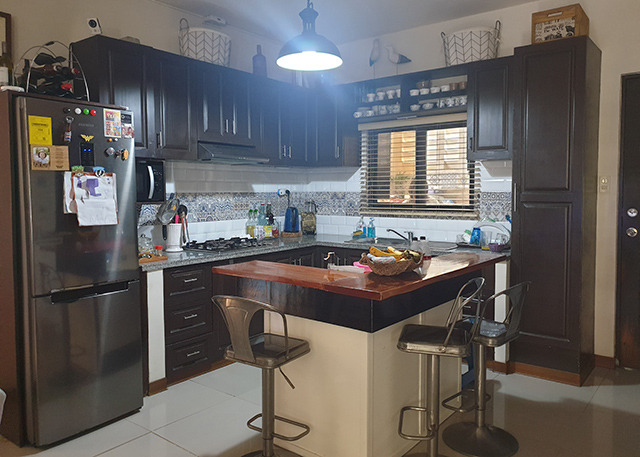 ADVERTISEMENT - CONTINUE READING BELOW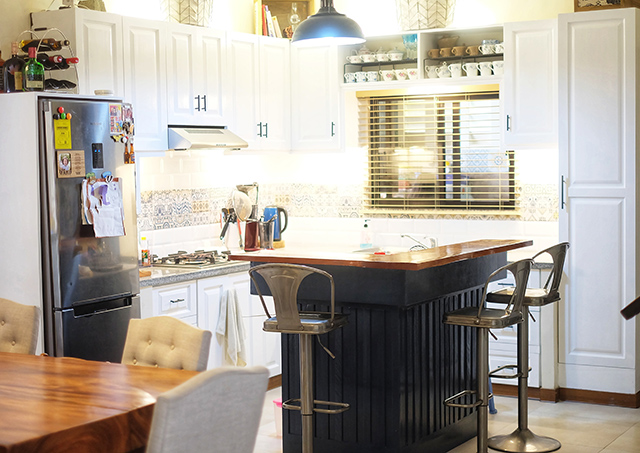 A reorganized kitchen with a more modern feel
Sharon Balido's kitchen was renovated before the quarantine started. They removed the window that broke up the space (it was covered to begin with) and got rid of the wooden shelves. Finishing touches were being made in installments since Sharon works part time, but because of the pandemic, she finally found time to fix things. "Although organizing is still in progress because I am not satisfied with buying organizing stuff online, I am already happy with its current state. And since this is the busiest place on earth these days, we all enjoy cooking and baking while staying at home," she tell us.
ADVERTISEMENT - CONTINUE READING BELOW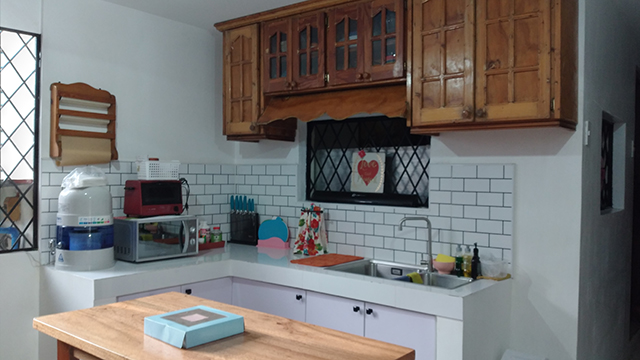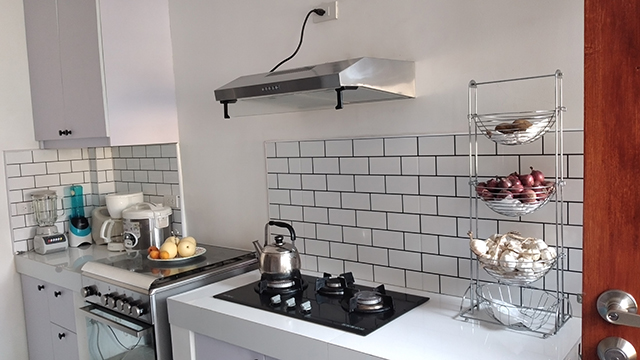 ADVERTISEMENT - CONTINUE READING BELOW
More on Realliving.com.ph
Load More Stories