Makeovers
A Master Bathroom and Walk-in Closet Get a Modern Achromatic Makeover After 15 Years Photography: Courtesy of Studio B & T Designs Styling: Khristle Prado Interior Designer: Bea Dalistan
Going without renovation for 15 years had turned a spacious master bathroom and walk-in closet old, oudated, and no longer functional for its owners. But with the help of interior designer Bea Dalistan and design sylist Khristle Prado of Studio B & T Designs, the interconnected rooms were transformed into modern minimalist spaces that you'd expect to see on magazines.
"Our client wanted a clean, sleek, and minimalist ambience and we delivered and added our take on these requests and came up with an achromatic color scheme," the pair shares to Real Living in an email interview. They demolished everything and started fresh with a design that's more space-efficient.
Here's a quick look at the toilet and bath before the renovation: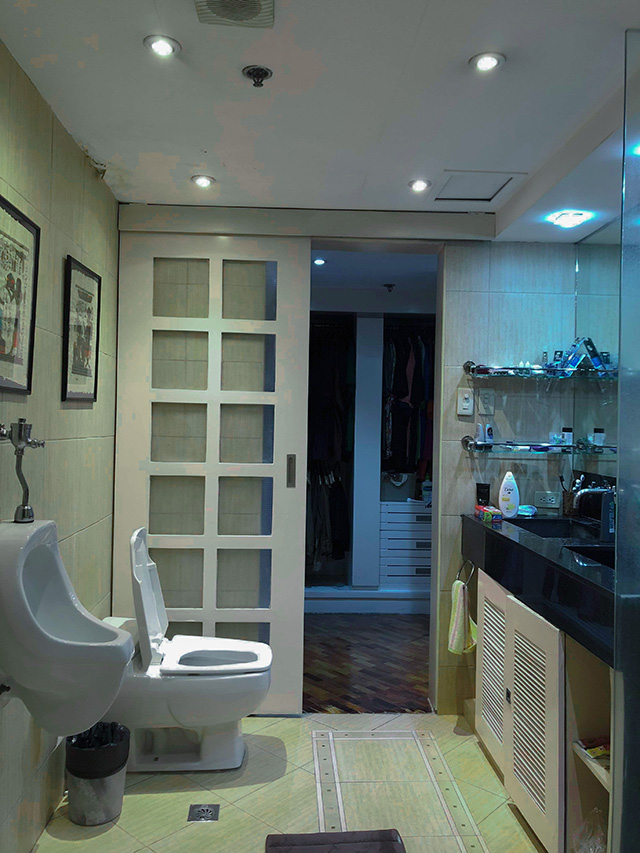 ADVERTISEMENT - CONTINUE READING BELOW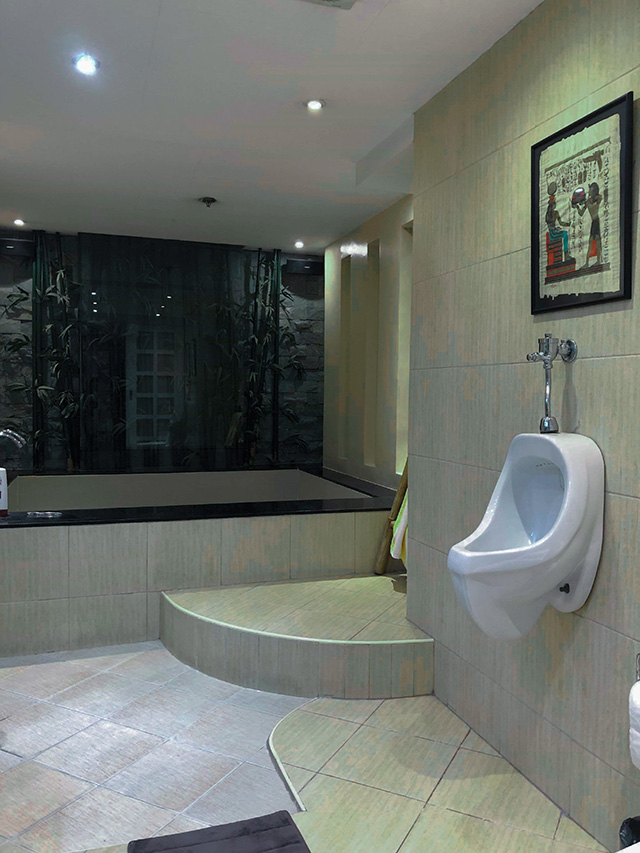 According to Bea and Khristle, the bathtub is the focal point of the room once you enter. That's why they decided to change the built-in one into a stunning white whirlpool tub with marble tile accents. A sliding glass dor was installed between the toilet and tub, too, giving the room more dimension without risking a smaller-looking space.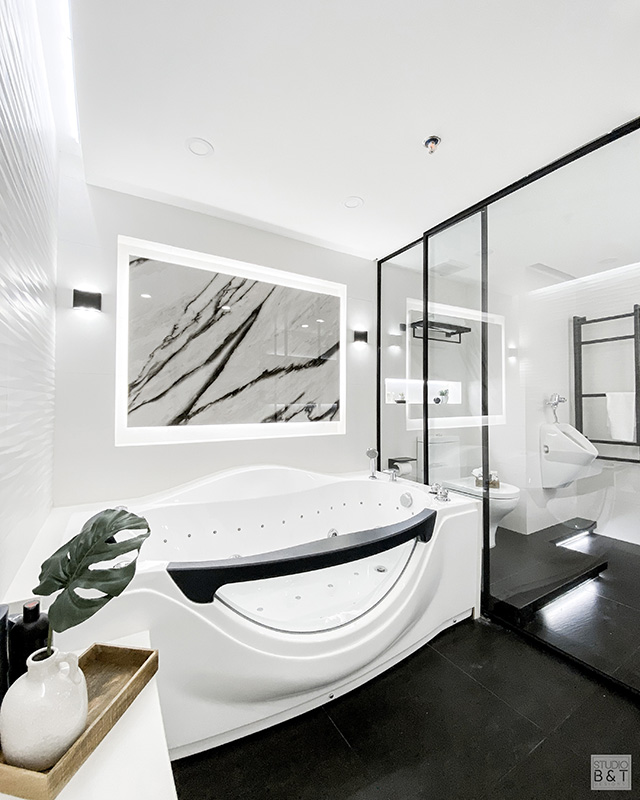 Following the achromatic theme, white wall tiles were combined with dark gray non-slip floor tiles for a more sophisticated feel. "The matte black fixtures paired with white rectangular his and hers sinks make a big statement in the space. Wall niches were also employed for more storage," they add.
ADVERTISEMENT - CONTINUE READING BELOW
Fulfilling the client's request to improve the T&B's lighting, the duo opted for a combination of ambient lighting and accent lighting that the owners can adjust at will. "We made sure to make a lighting layout that will be efficient and will really set the mood for our clients while using their bathroom," they share. "All lighting fixtures were strategically placed to make the space not just aesthetically pleasing, but also functional and practical."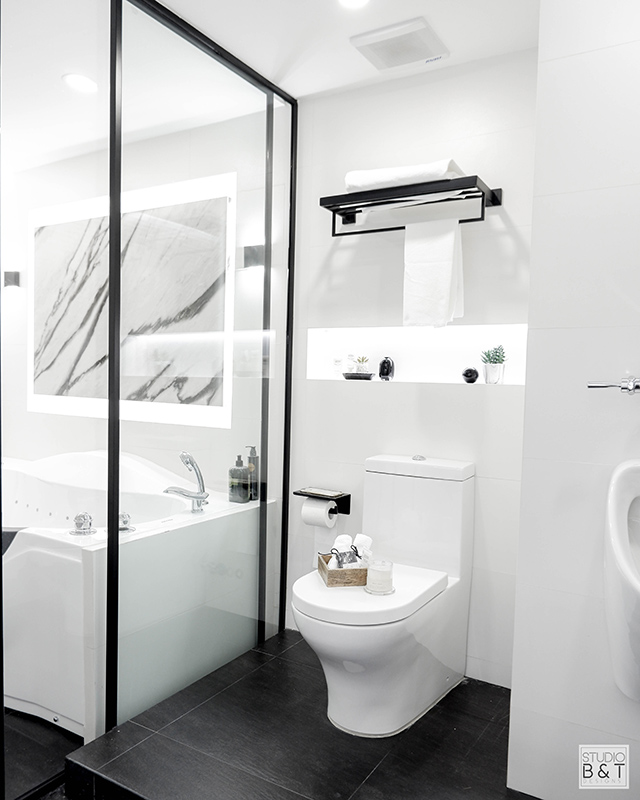 ADVERTISEMENT - CONTINUE READING BELOW
Bea and Khristle also revealed that they had no choice but to elevate the flooring of the water closet area because of the pipings. However, they made it work to their advantage by using an accent marble tile and illuminating it to create a floating illusion.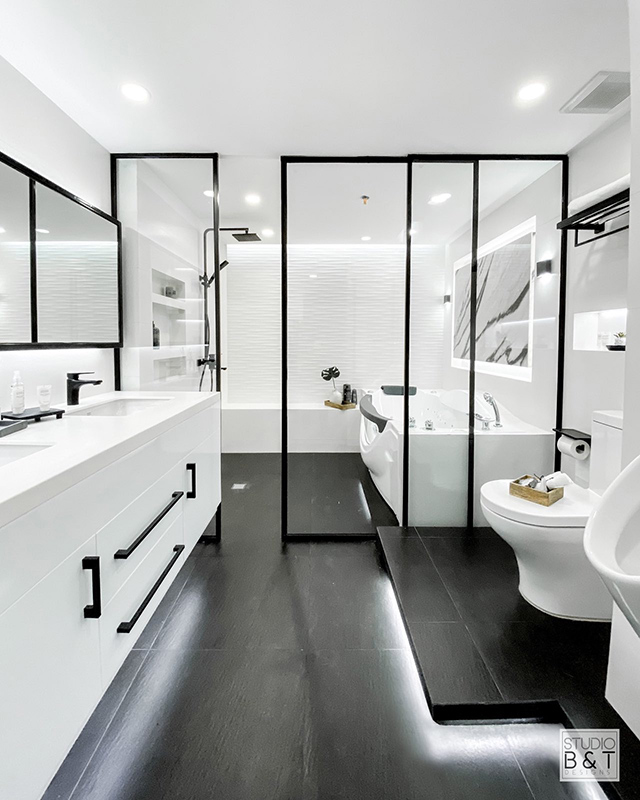 ADVERTISEMENT - CONTINUE READING BELOW
Even if the bathroom had to be made smaller to extend the walk-in closet, its new layout would make a spectator none the wiser. One reason would be the full length mirrors on the sliding doors that divided the two rooms, which gave the feel of a bigger space on the both sides.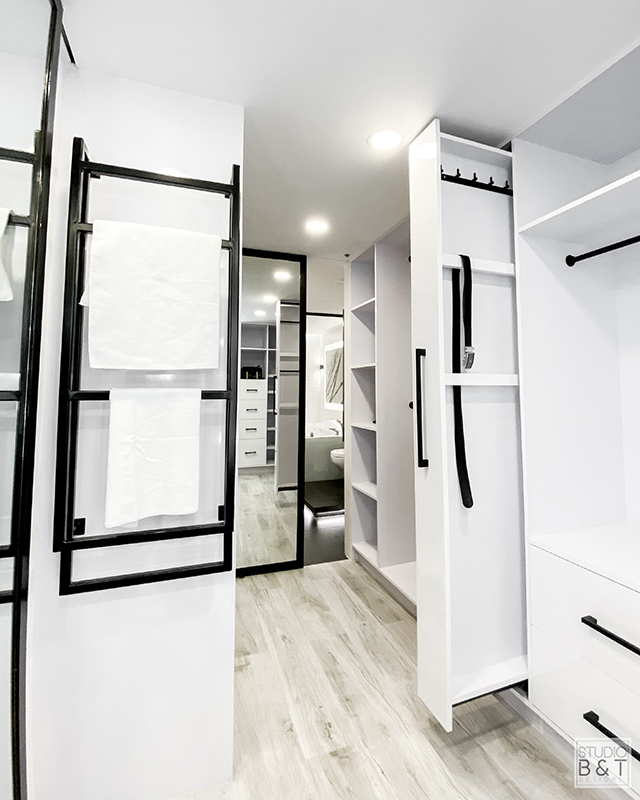 ADVERTISEMENT - CONTINUE READING BELOW
More on Realliving.com.ph
Load More Stories