Makeovers
Before and After: See How This Tiny Condo Turned Japandi-Style
Custom-made modular furniture helps keep this unit from looking cramped. Photography: Courtesy of Isabela Apostol Styling: Francine Reyes Interior Designer: IDr. Kathryn Valdoz
Small-space living is not always easy; there are lots of things to be considered when it comes to what kinds of furniture you can use, what colors you can paint with, and more. Thankfully, there are always lots of projects that prove that though designing a tiny home can be tricky, it is definitely doable. One such project is this Japandi-style 60sqm unit in Mandaluyong City.
The owners of this condo, who currently reside in Laguna, purchased this unit with the intention of turning it into a place for their two teenage children to stay whenever they are in Metro Manila. Because this was an old unit, a lot of construction work had to be done, primarily with regards to the replacement of flooring, knocking down of walls, and addition of bi-fold and sliding doors. Electrical and plumbing lines also had to be enhanced.
The design team, led by IDr. Kathryn Valdoz of Kat Interior Design, had a tight timeline to work with, because the client wanted the unit to be finished within three months. On top of this, the renovation was done during the pandemic, which meant that the building's management only allowed three people to work inside the unit at any given time.
Despite these challenges, IDr. Kathryn's team was able to successfully execute an expertly designed home. In an email interview with RealLiving.com.ph, she shared that the Japandi-inspired style of this condo came from the client's desire for a modern Asian look. You'll see this in the selection of finishes and accessories that were used in this space. At the same time, the design team incorporated contemporary elements to create a unique and timeless aesthetic.
Have a look at this trendy and youthful Japandi-style condo:
BEFORE: Living Area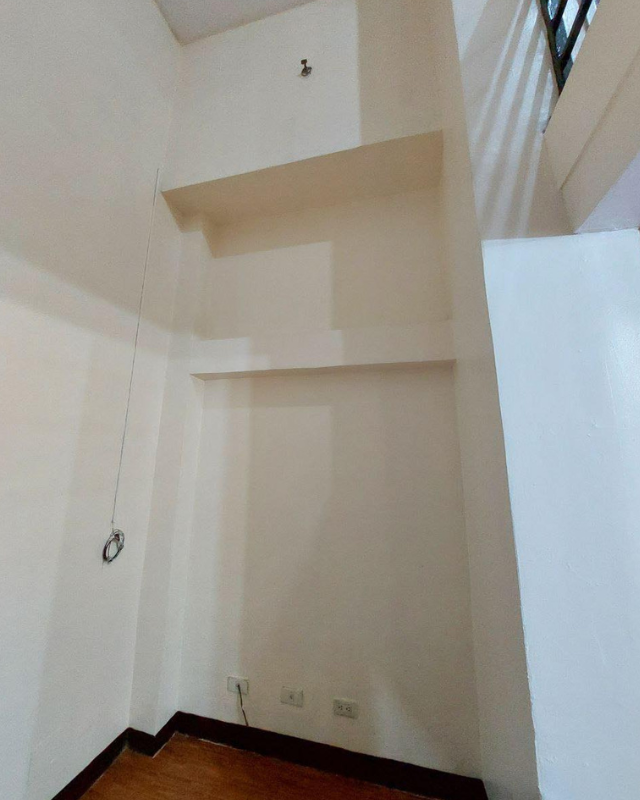 ADVERTISEMENT - CONTINUE READING BELOW
AFTER: Living Area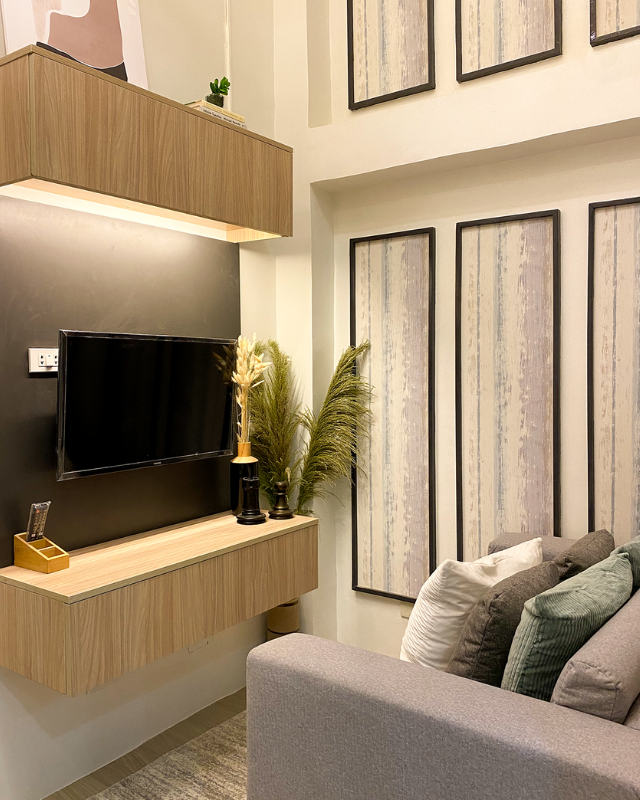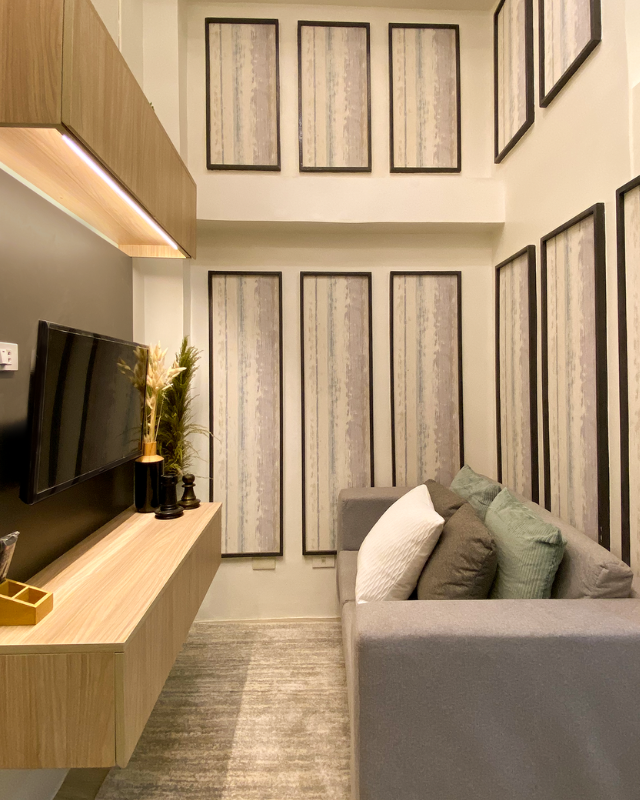 Obviously, one challenge the design team encountered when working on this condo is the limited space. One way they addressed this is by carefully selecting the furniture they used. IDr. Kathryn shared, "We needed to select properly scaled furniture so a certain area will not look too small but also not too [cramped]. A properly scaled furniture is a key to achieve this look, as well as a well-lit area." The styling of this home was done by interior stylist Francine Reyes.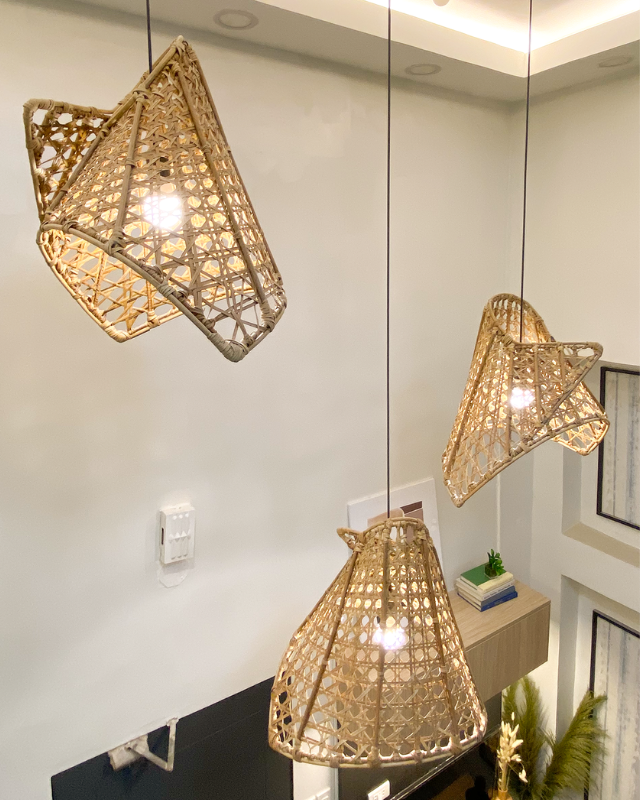 ADVERTISEMENT - CONTINUE READING BELOW
IDr. Kathryn revealed that her and her team's favorite piece in this condo is this set of pendant lighting that was created by designer Jed Yabut. "Since the concept is Modern Asian / Japandi, [a] pendant light in natural finish from a Filipino designer ties the whole look of the space."
BEFORE: Kitchen & Dining Area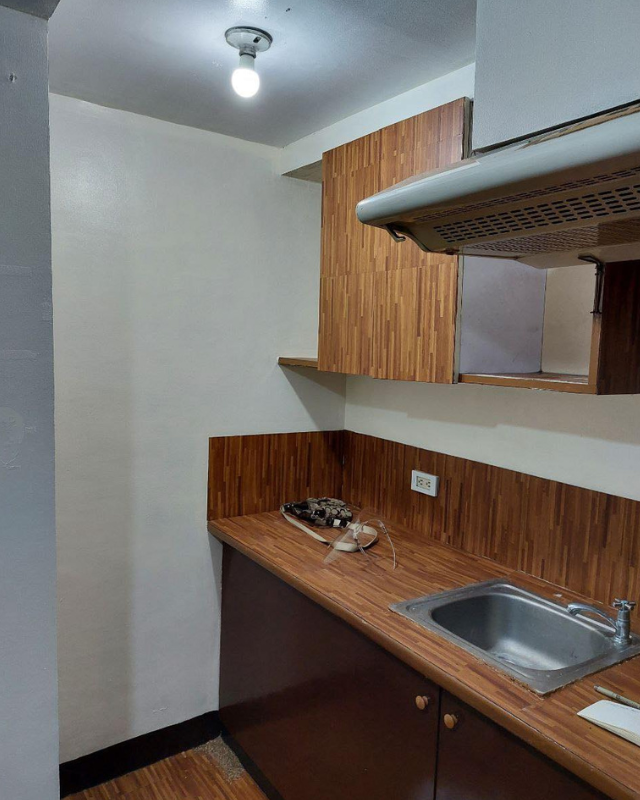 ADVERTISEMENT - CONTINUE READING BELOW
AFTER: Kitchen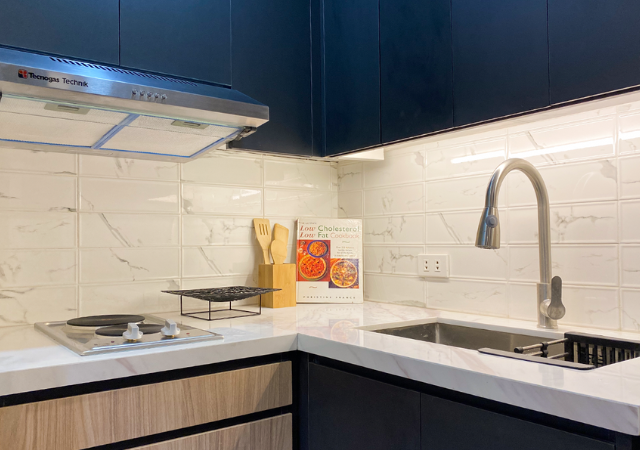 This condo may be home to two teenagers, but this well-equipped kitchen – with a sophisticated backsplash, plenty of cabinet space, and tasteful selection of decor – looks grown-up in every way.
AFTER: Dining Area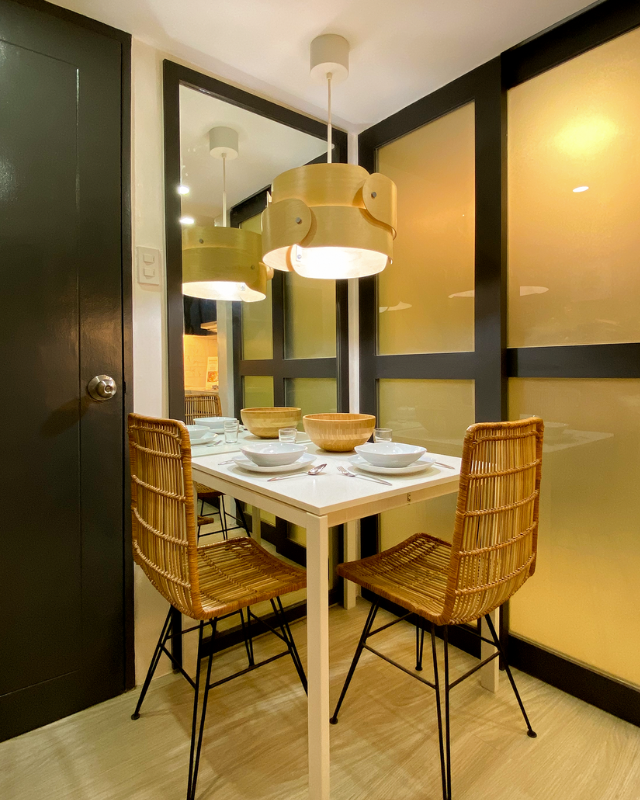 ADVERTISEMENT - CONTINUE READING BELOW
According to IDr. Kathryn, because of time constraints, the design team opted to purchase many of the items in this condo from stores like SM Home and IKEA. "Me and my partner in styling carefully selected items that even though are readily available, we needed to make sure we are still placing a unique and timeless look," she wrote.
BEFORE: Staircase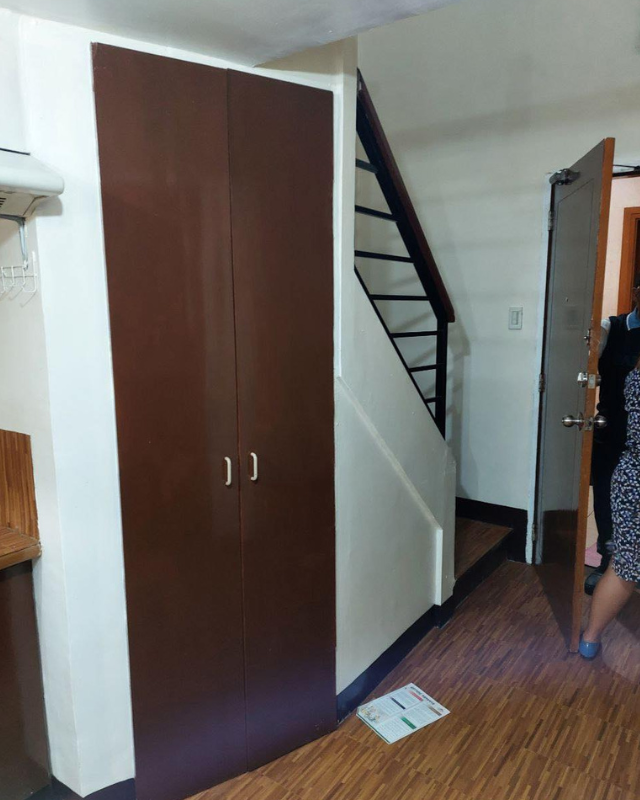 ADVERTISEMENT - CONTINUE READING BELOW
AFTER: Staircase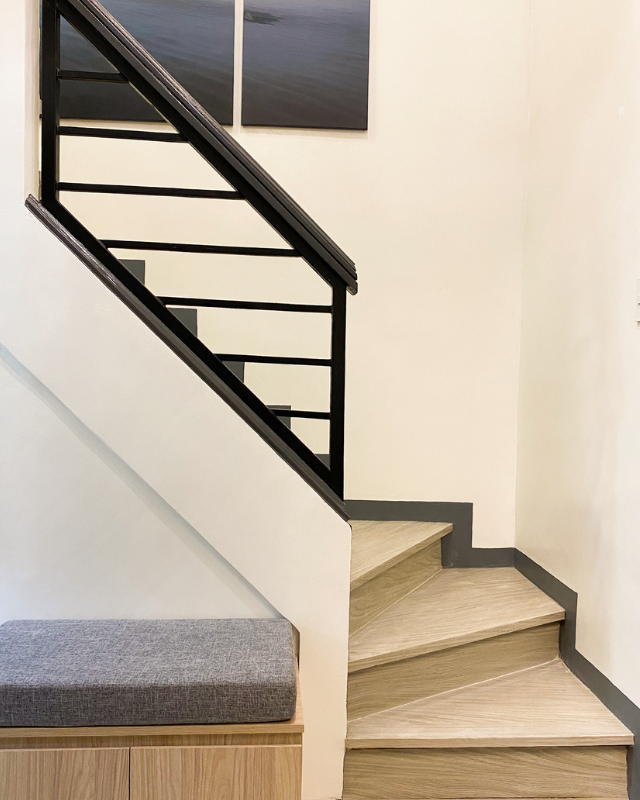 Hanging on the wall by the staircase is an art piece, which helps add interest to an area that might otherwise look bland and boring, and which is also a great example of how IDr. Kathryn's team injected a contemporary vibe into this condo.
ADVERTISEMENT - CONTINUE READING BELOW
BEFORE: Bedroom 1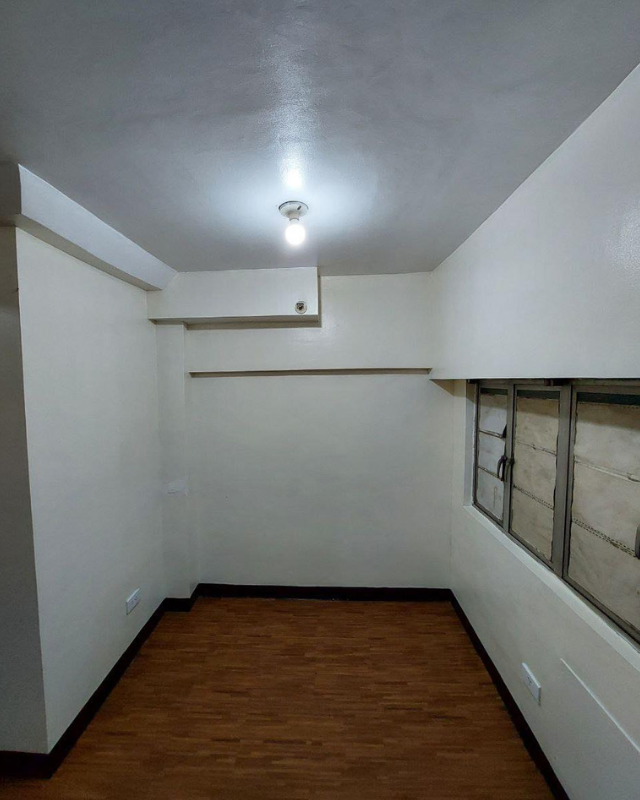 AFTER: Bedroom 1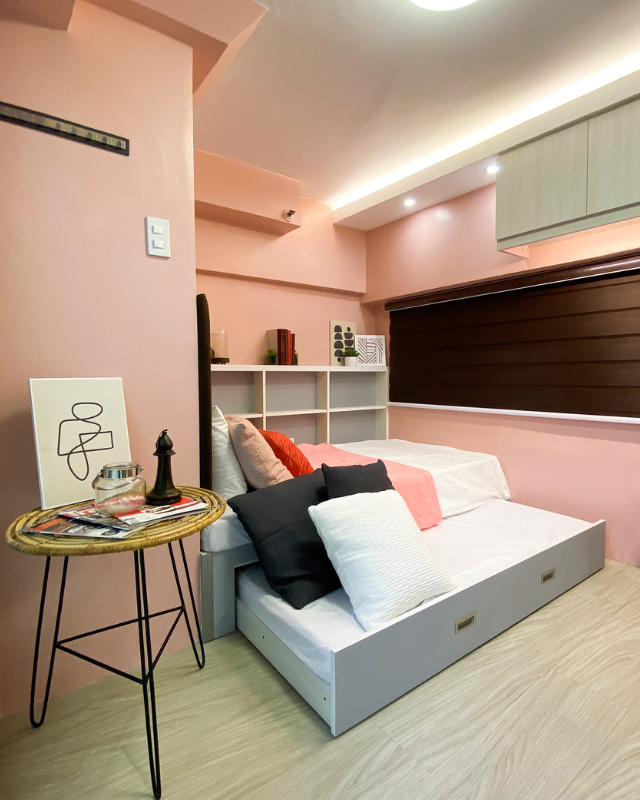 ADVERTISEMENT - CONTINUE READING BELOW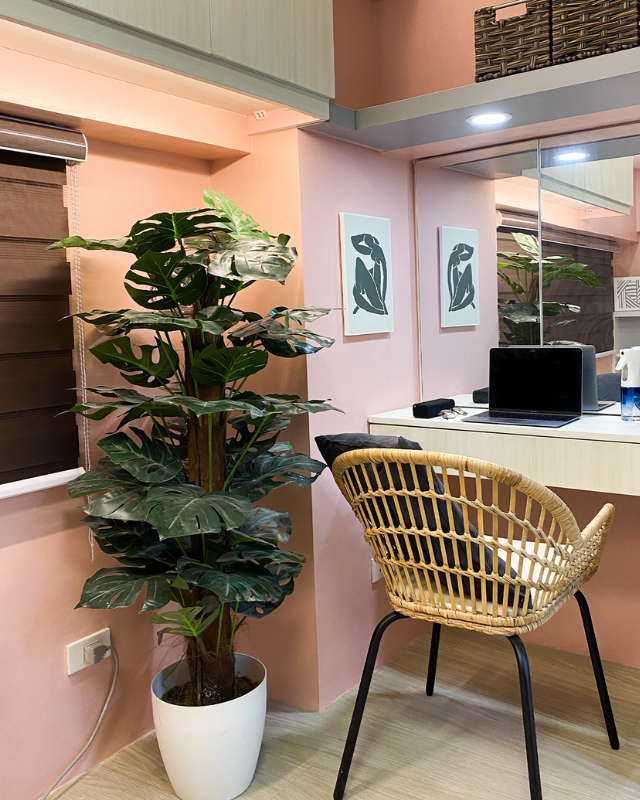 If you live in a small home, custom-made furniture that doesn't take up a lot of space can be extremely useful. For instance, in the first bedroom, there is a pull-out bed that can be easily tucked away to free up floor space as well as a built-in storage unit with lots of cubbyholes. This room also features a refreshing color palette and a bit of greenery.
ADVERTISEMENT - CONTINUE READING BELOW
BEFORE: Bedroom 2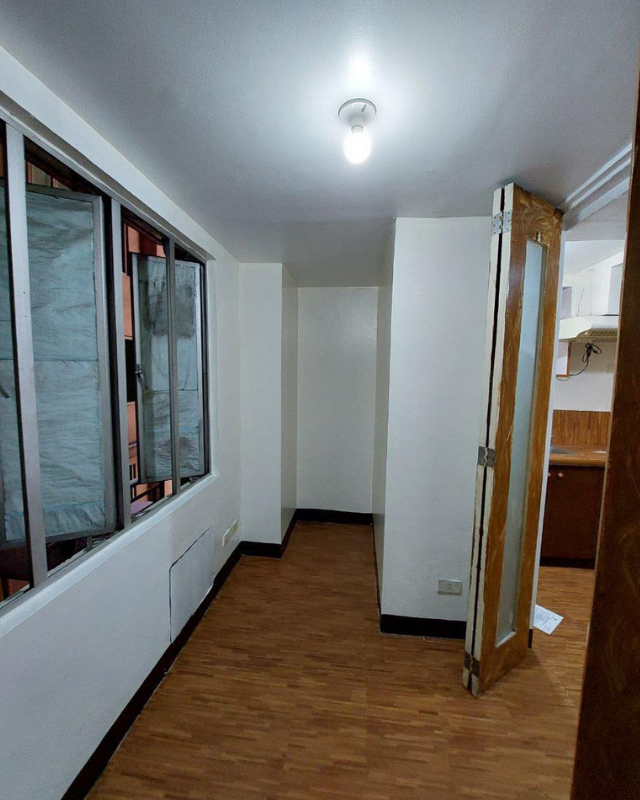 AFTER: Bedroom 2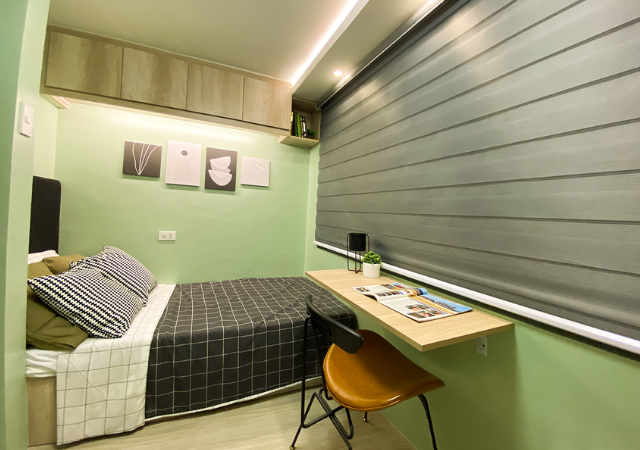 ADVERTISEMENT - CONTINUE READING BELOW
Just like the first bedroom, the second bedroom utilizes a calming color scheme, a neat workspace, and a set of built-in cabinetry that blends well into the space. Who wouldn't want to unwind in a room as cute as this? (Check this out for more ideas of soothing colors you can use in your bedroom!)
BEFORE: Bathroom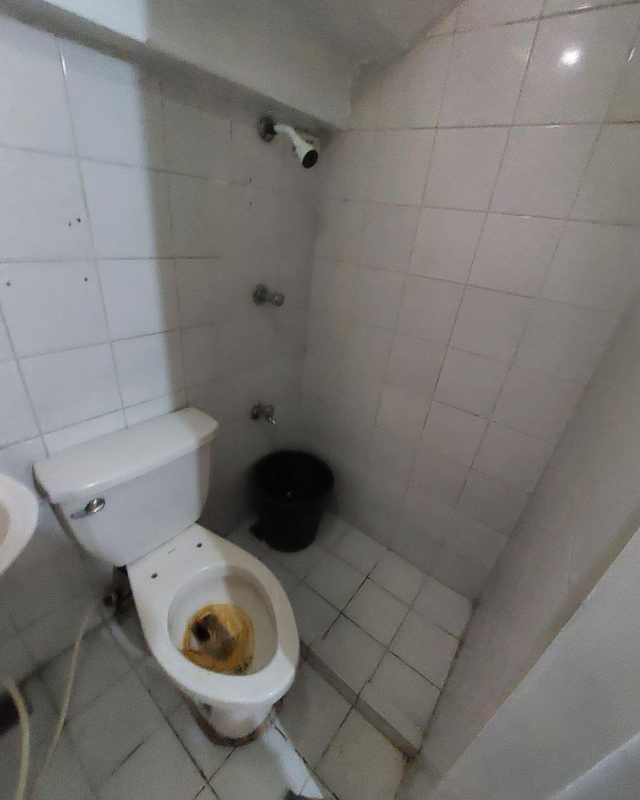 ADVERTISEMENT - CONTINUE READING BELOW
AFTER: Bathroom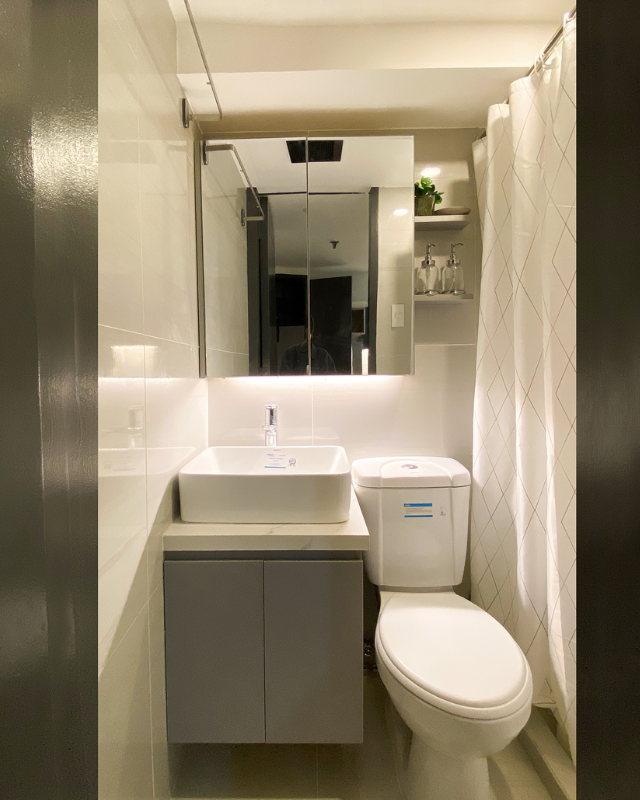 One part of this home that went through a dramatic transformation is the bathroom. Initially, it was plain and unremarkable, but now, it looks sleek and sophisticated, with well-appointed fixtures and storage areas. IDr. Kathryn and her team also made sure the bathroom would be well-lit, which is a tactic to help keep a small space from looking cramped.
ADVERTISEMENT - CONTINUE READING BELOW
Want more home tours? Check this out:
More on Realliving.com.ph
Load More Stories