Lifestyle
More Than Fancy Plates and Cutlery: Why You Should Consciously Consider Food and Drink Pairing this Noche Buena
Experience something new! Photography: Shutterstock (main)
Christmas means having great meals with your loved ones, and if you already have your table set with the best plates and cutlery, then the next thing you need is a good menu. 
When planning out your noche buena, food isn't only the factor you should take in consideration. Beverages have a huge part in one's dining experience, so if you can, brush up on a few pairings for the holiday season. 
Why are food and beverage pairings important?
Some may have the notion that pairing drinks with food is a pa-sosyal endeavor, which is entirely false. Think about it: hot pan de sal and coffee is such an awesome duo, and its something that everyone can do. 
"It's worth taking two seconds to think about whether a particular drink will go with what you're eating, whether it will make the food taste better, and whether it will make the drink taste better, or whether both will be diminished," says Epicurious digital director Maggie Hoffman in an article on Serious Eats. "If you like food, it makes sense that you'd want to improve it with what you're drinking. And that's where the miraculous happens: sometimes, flavors in solid form and flavors in liquid form come together to create a third, delicious, set of flavors, bringing out something you wouldn't taste if you hadn't tried them together."
ADVERTISEMENT - CONTINUE READING BELOW
CONTINUE READING BELOW
Recommended Videos
An interesting pairing suggestion
You probably know basic wine-and-food pairings: red wine goes with flavored meats, white wine goes with fish or chicken, and so on and so forth. But have you ever heard of pairing cake with beer?
In a recently-held event Paired, the San Miguel Foods Culinary Center shared unique food pairings that you've probably haven't heard of yet, but what took the cake (pun intended) was their Moist Chocolate Cake in Sweet Red Dark Ganache paired with Cerveza Negra. 
Who would have thought that a rich dessert would go with beer, right? Interestingly, the ganache eased out the almost caramelly sweetness of the dark lager, adding depth to the taste and the experience.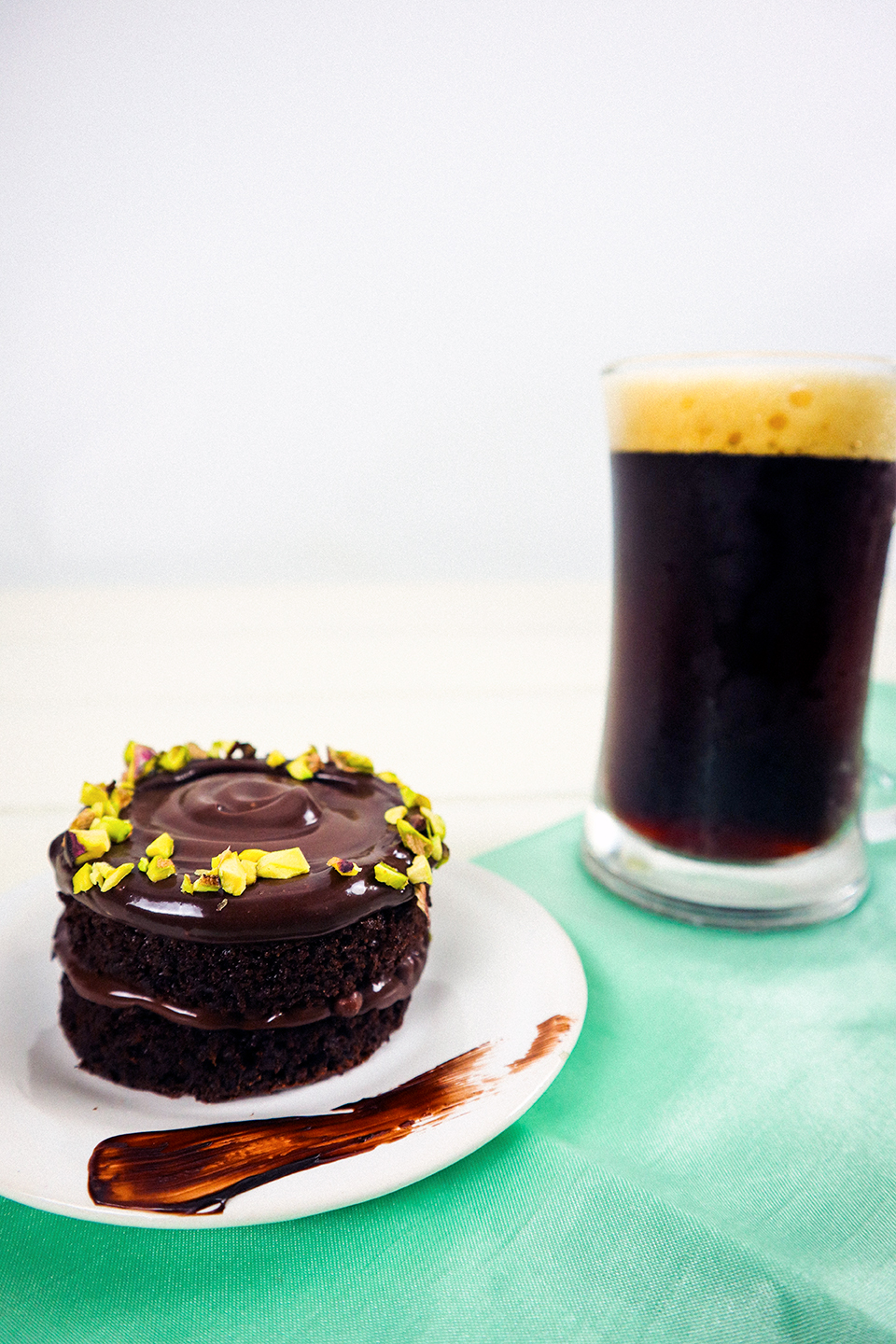 ADVERTISEMENT - CONTINUE READING BELOW
Here's the receipe they provided:
Moist Chocolate Cake in Sweet Red Dark Ganache paired with Cerveza Negra
Cake
1 (500 g) pack Magnolia Devil's Food Cake Mix
1 cup Woomera Sweet Red Wine
1/2 cup vegetable oil
3 pcs brown eggs
Sweet Red Dark Ganache
1 cup Woomera Sweet Red Wine
1 (250 mL)pack Magnolia All-Purpose Cream
1/2 kg dark chocolate, finely chopped
2 tbsp Magnolia Gold Butter (salted)
Garnish
1/2 cup chopped pistachio nuts
Procedure:
Preheat oven to 350°F. Grease and line bottom of twenty 2x2.5 inch diameter round pans with wax or baking paper. Set aside.
In a bowl, combine cake ingredients and mix until smooth. Pour into prepared pans. Bake for 30 minutes until set.
Meanwhile, in a saucepan, combine red wine and cream. Simmer for 5 minutes, add then add chocolate. Mix until smooth. Add butter to finish. Cool and then chill for at least 6 hours or overnight.
Split each cake into 2. Place ganache in-between slices and then spread frosting on top and sides of cake. Pipe extra ganache on top of cake and garnish with pistachio nuts. 
ADVERTISEMENT - CONTINUE READING BELOW
Makes 20 servings.
(Yield:  20 small pc/1 pc per serving)
Need more noche buena recipes? Head on to our sister site Yummy.ph for more! 
More on Realliving.com.ph
Real Living is now on Quento! Enjoy more of our stories by clicking here to download the app.
Load More Stories