Home Tours
Travel Back In Time In These Houses Reminiscent Of The Old Days
Celebrate Filipino culture and history when you stay at these homes inspired by old Spanish houses. g
19-year-old Patty Bufi's dad had always been intrigued with antique Filipino houses. When his family had the opportunity to develop a farm lot they had purchased in 2007, inspiration struck to build two main houses into the old-style structures he had always dreamt of.
"It wasn't until 10 years later in 2017 that they actually started building different leisure properties around the lot," Patty tells the OG team. "Their entire life, my parents were always in the corporate setting and [they] wanted to look for a place to relax and take refuge and they decided that San Juan, Batangas, would be the best place for that."

Step back in time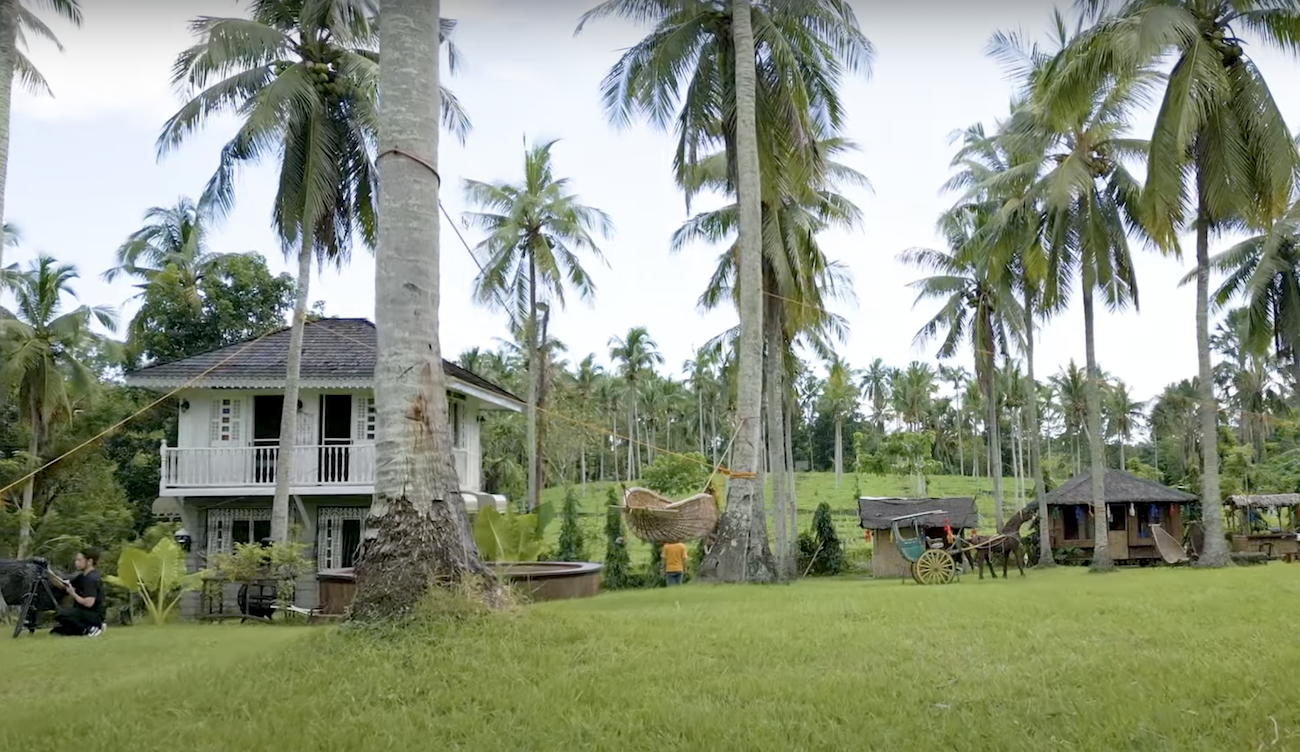 ADVERTISEMENT - CONTINUE READING BELOW
The Bufis' property, which they named Bufi Farm, measures one hectare in size and is dotted with numerous coconut trees their family enjoys harvesting from for their meals. Intended as a family-friendly property, it also houses a swing set and a small bahay kubo for Patty's niece, as well as a pool.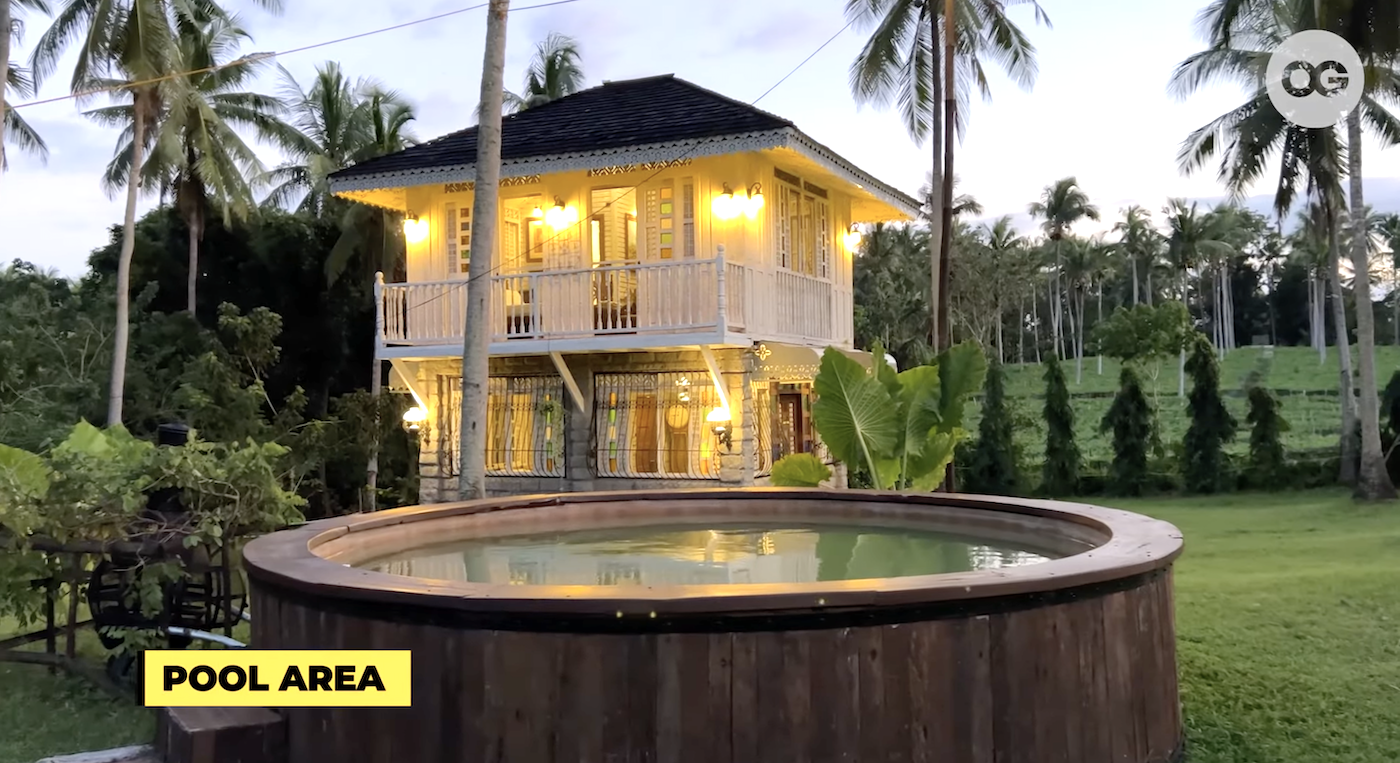 One of the main attractions on Bufi Farm is Bahay Janer, a 50 square meter house which features a mix of Spanish, Filipino, European, and American architectural influences. 
"This is called Bahay Janer, named after my dad, Janer," Patty explains. 
Outside, Bahay Janer is reminiscent of old Spanish houses or bahay na bato, a charming two-story structure with ventanillas or tiny windows that act as a natural air-conditioning system. Unlike the original bahay na bato, however, the ground floor was made with adobe instead of stone and bandeja instead of wood.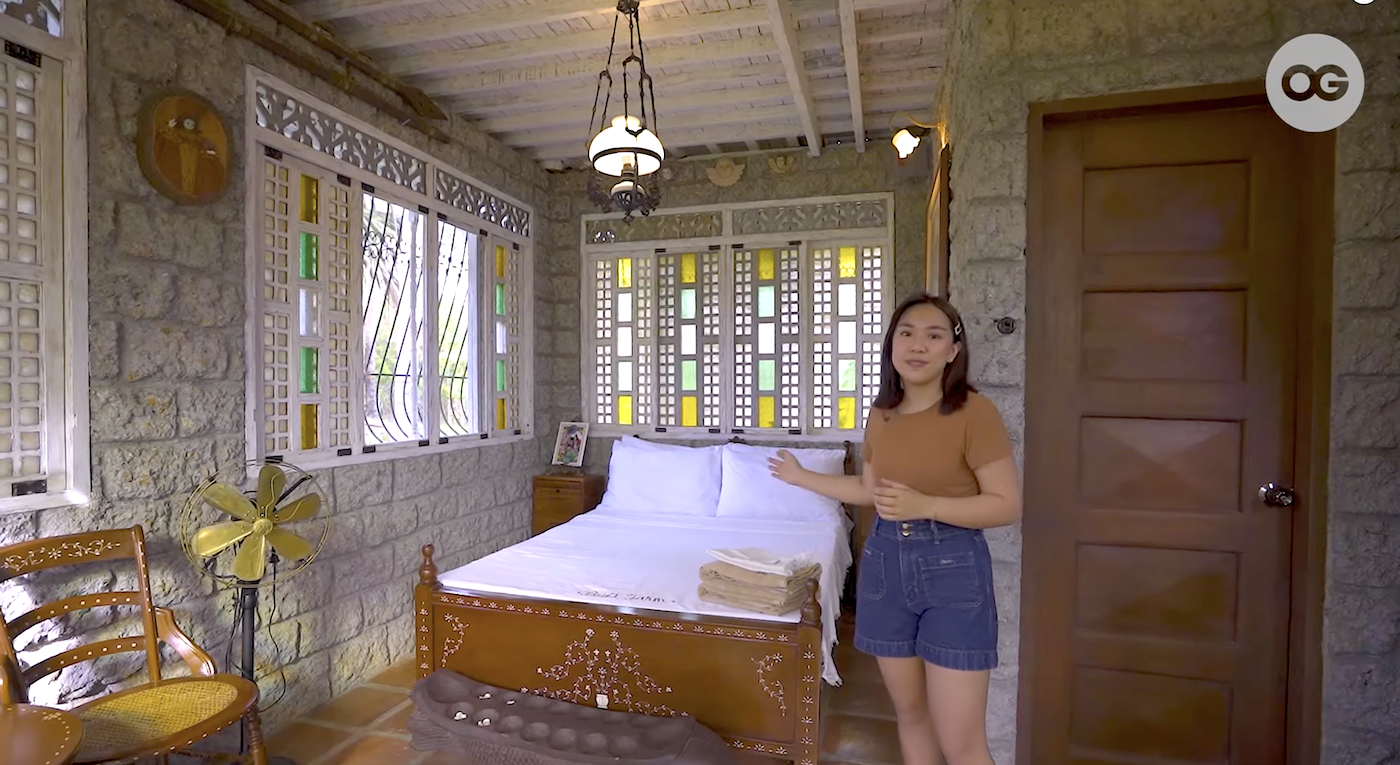 ADVERTISEMENT - CONTINUE READING BELOW
Stepping inside, one is greeted with a bed frame, table, and chairs made out of narra with carabao bone inlays, as well as European bits and bobs such as a tea set and light fixtures. The two bathrooms in Bahay Janer have murals painted at the top, the inspiration for which came from heritage houses in Vigan. Upstairs is a more spacious bedroom with a breakfast nook, with a balcony overlooking the farm.
Fun fact: the great grandparents of Patty's mom were Don Perfecto Jacinto and Doña Trinidad Palma, the latter being the daughter of Jose Palma, the lyricist of Lupang Hinirang. 
"We really wanted to pay tribute to that ancestor of ours through this property," Patty says.

Relive the old days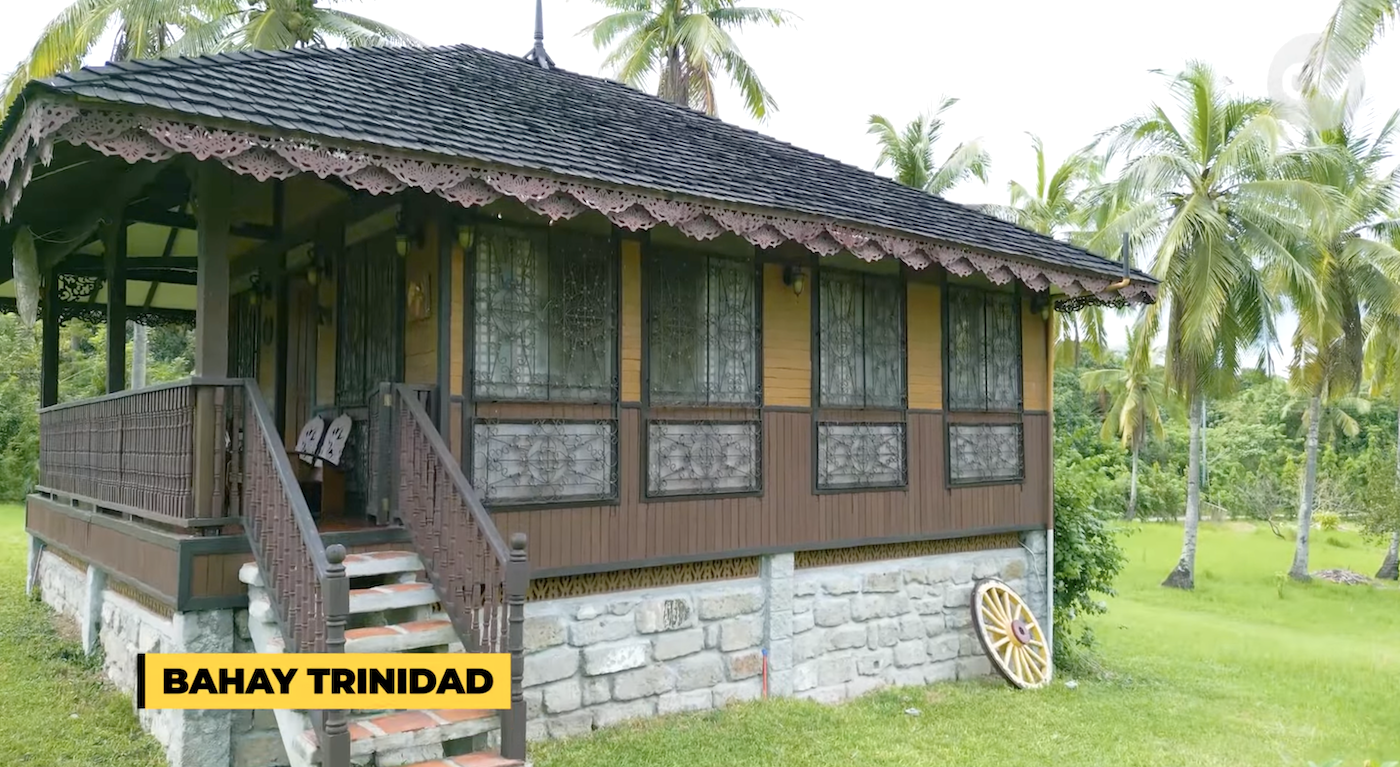 ADVERTISEMENT - CONTINUE READING BELOW
The other main house on the property is Bahay Trinidad, which is bigger than Bahay Janer, standing at 60 square meters' worth of floor area. Unlike Bahay Janer, its silong is made of stone and the first floor is made of wood, and it has a wraparound balcony.
ADVERTISEMENT - CONTINUE READING BELOW
Guests will notice the high ceiling upon entering Bahay Trinidad, made possible with its cathedral ceiling which makes the place look bigger. Similar to Bahay Janer, it also has a fun area with classic Filipino games like jackstone and sungka, along with vintage appliances such as an old radio and vinyl record player.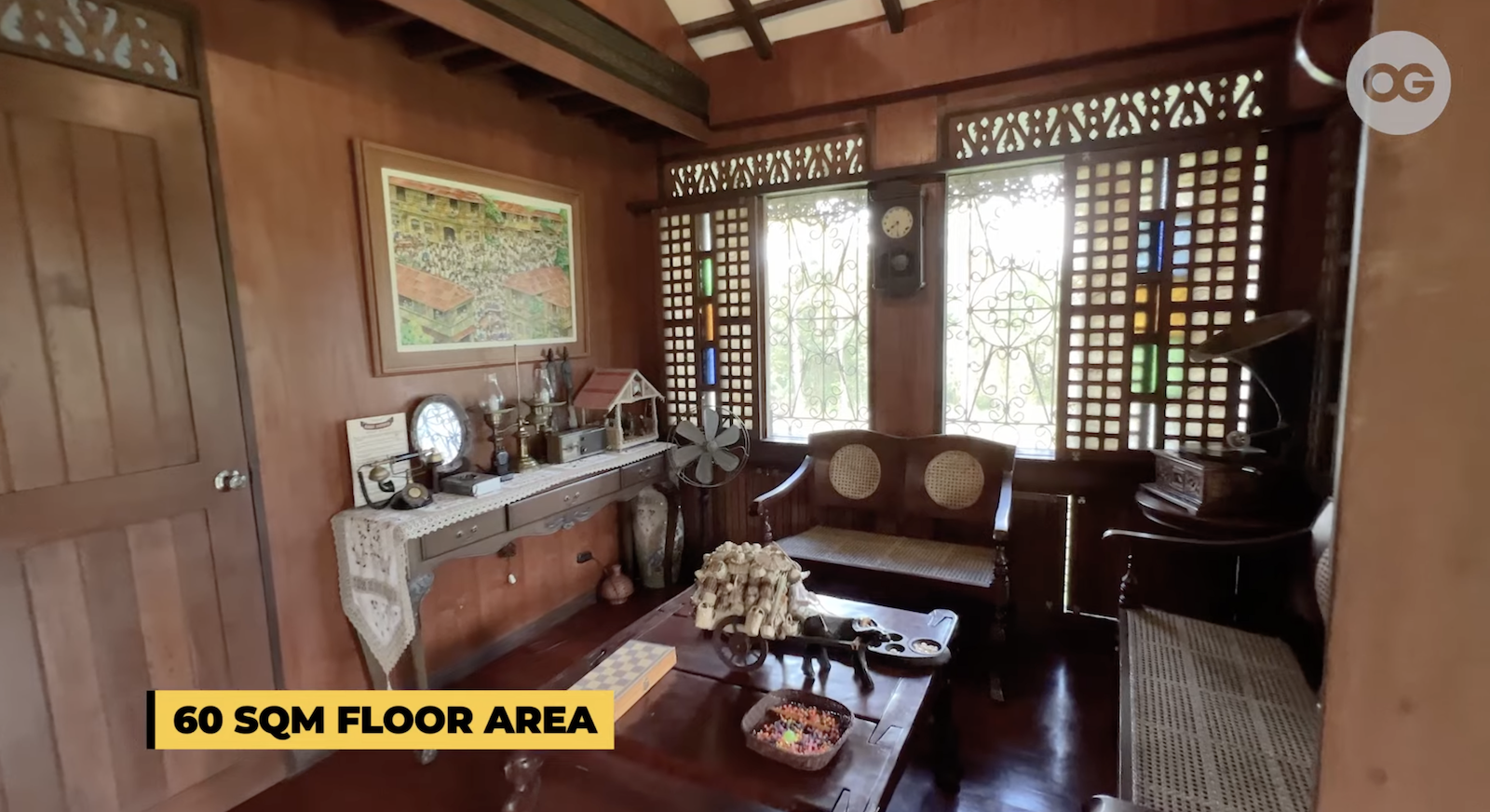 ADVERTISEMENT - CONTINUE READING BELOW
Bahay Trinidad has three bedrooms, one of which is in the loft area. The second bedroom comes with a double-sized bed, with paintings of Filipino artists on display. The third bedroom, meanwhile—connected to the second via an adjoining bathroom—comes with a bunk bed and has access to the balcony.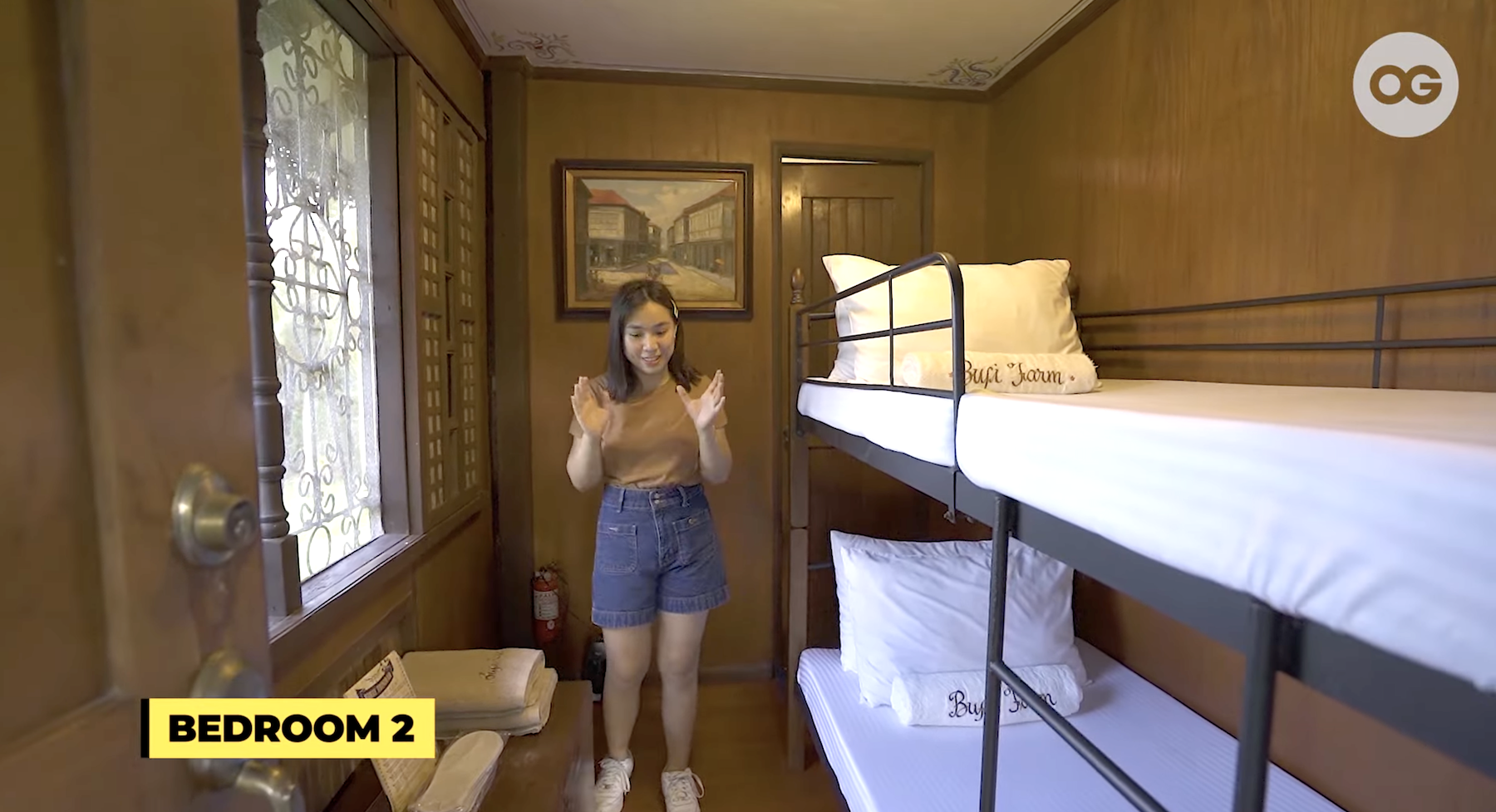 ADVERTISEMENT - CONTINUE READING BELOW



Welcome to Bufi Farm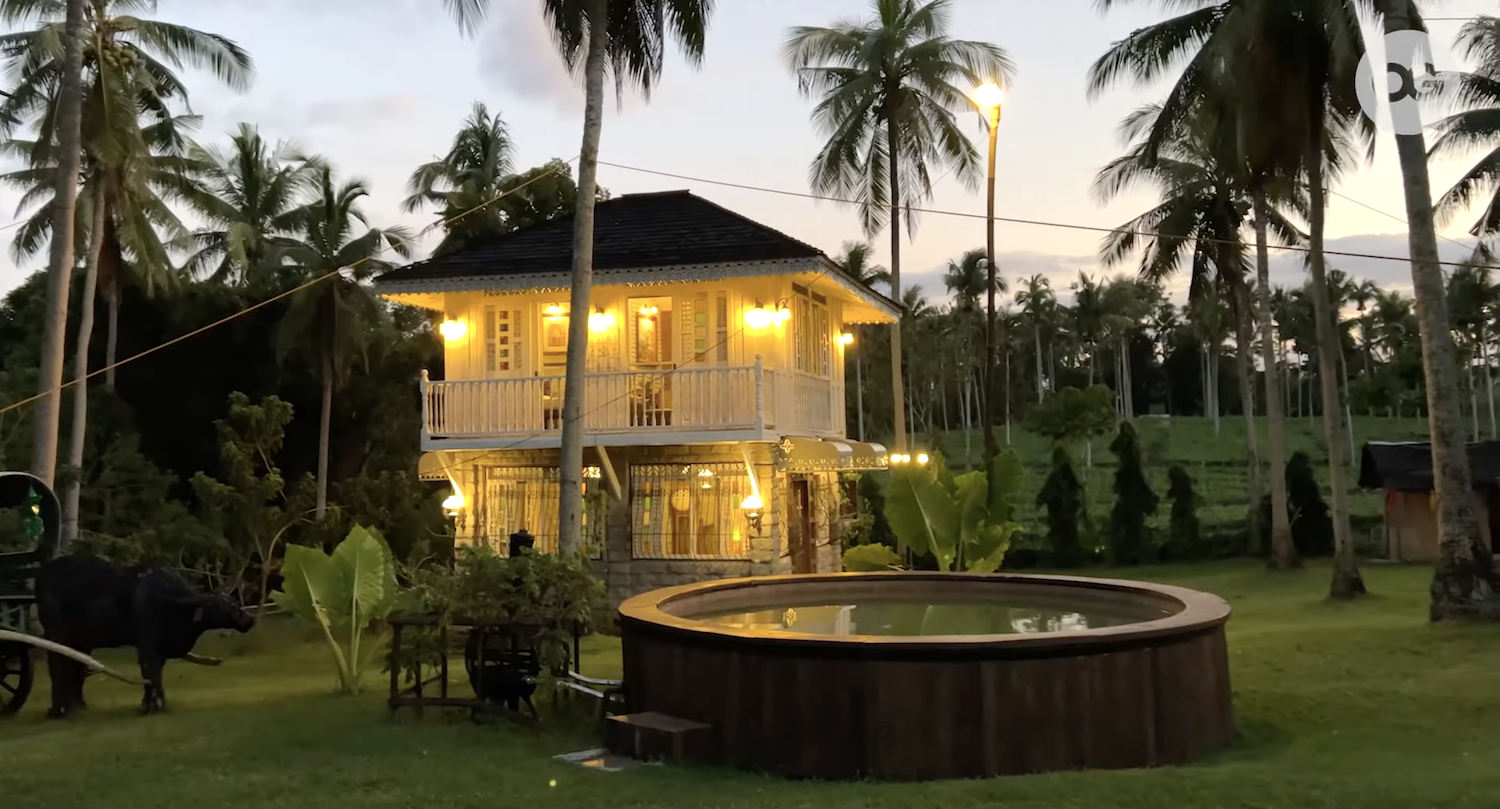 Bahay Janer and Bahay Trinidad are fine tributes to the past with their thoughtful designs that pay homage to the past. With a desire to share the same passion for antique houses, Philippine culture, and Philippine history, Patty's family has proudly opened Bufi Farm to the public.
ADVERTISEMENT - CONTINUE READING BELOW
Want to travel back in time and enjoy laidback life just like the old times? Find Bufi Farm on Airbnb and book your next staycation there. Each night costs P15,000. 

Watch the full video feature here:
OG (Only Good) Channel is Summit Media's first-ever video brand with its own channel on Youtube. OG features content that gives ONLY GOOD vibes with entertaining and informational video series about Amazing Staycation Destinations, Unique Homes, OPM Music, Buhay Abroad, Popular Memes and Trends, and Real Stories about Real People. If you need a dose of good vibes today, visit and subscribe to OG Channel.
More on Realliving.com.ph
Load More Stories