Home Tours
A Cozy, Carefully Planned Studio For a Multidisciplinary Creative
Artistic, sculptural, practical! Photography: Bjorn Michael Bedayo
With a clear vision in mind and a specific color palette, multidisciplinary creative Bjorn Michael Bedayo constructed his photography studio-slash-creative space in Parañaque that truly reflects his style.
The studio harnessed inspiration from postmodern interiors and being a creative space, he reckoned in the process its function as an area for fashion shoots. "I also paid homage to every artist that constitutes a typical fashion shoot," he narrates in an email interview with Real Living. "Having done a hundred shoots for the past decade, it is integral that I create a space that pays respect to every member of a fashion crew."
Aside from the aesthetic and functional aspect, Bjorn also thought of the practical and budget-friendly. Setting budget for equipment, furniture, and accesories, and sourcing them directly helped him save significantly.
One of the most notable features of the space is the sculptural appeal of the décor and paintings mixed with hits of neutral colors. Have a tour of this artist's haven:
Common area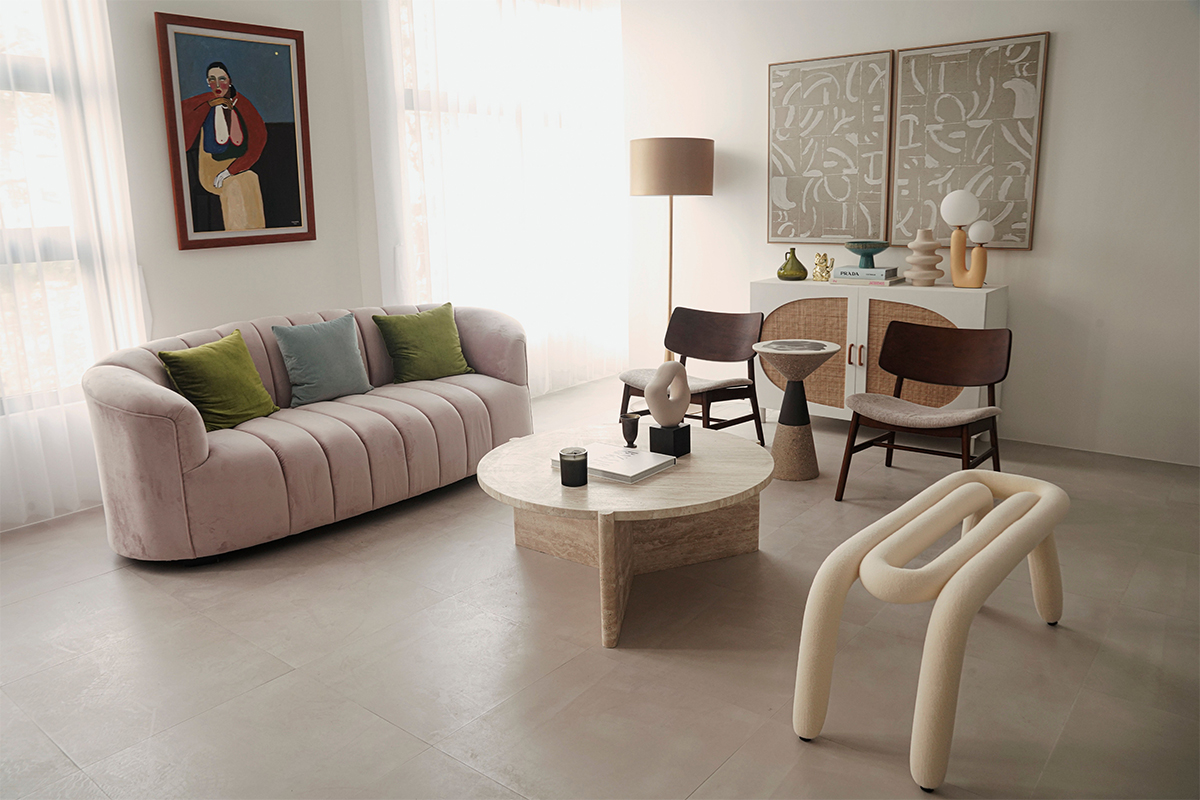 Bjorn wanted the area to be the focal point of his studio. "I want it to be a place where I can entertain friends and colleagues when I am not shooting," he notes. "I also want it to not feel like a typical photography studio hence curating the pieces carefully to also match my personal style in fashion."
ADVERTISEMENT - CONTINUE READING BELOW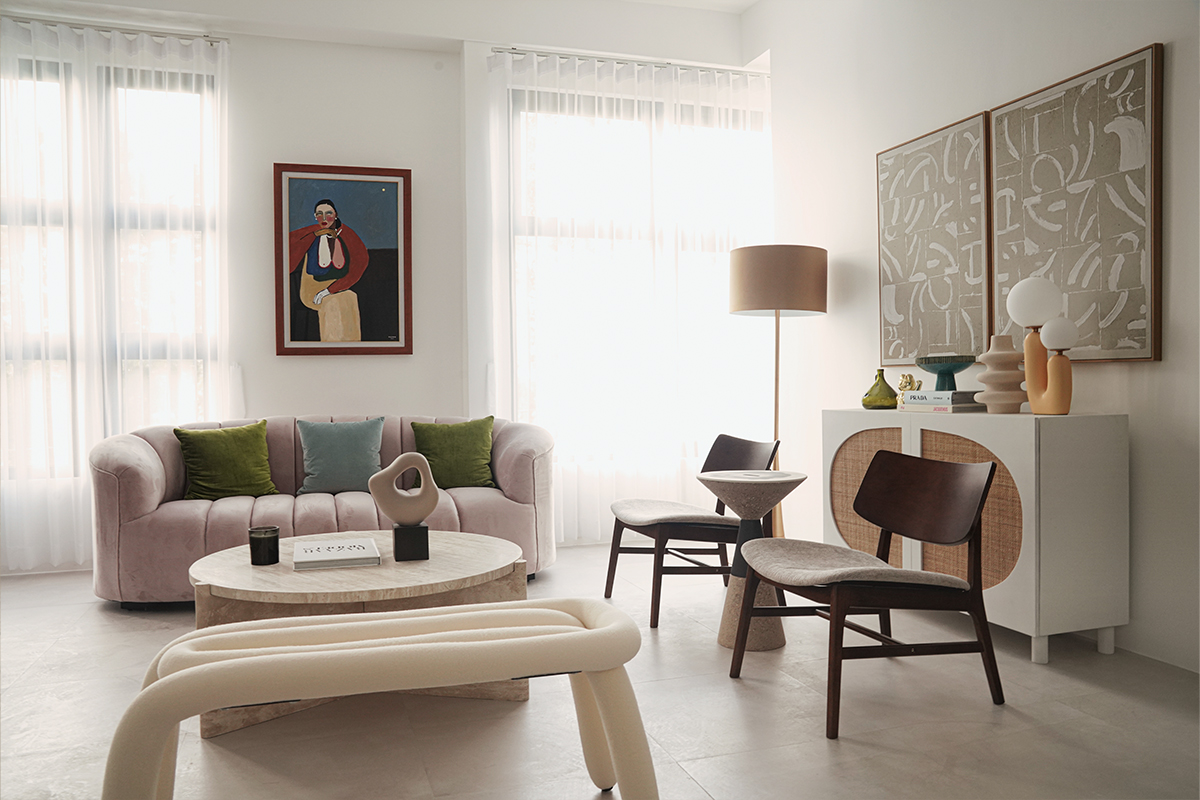 The painting—"Showgirl"—is by rising artist Rommel Cruise Guinto. The three-seater champagne sofa is from Salem, and the custom-made travertine table from China. The accent chairs are from Our Home, while the center table is from Curated Home.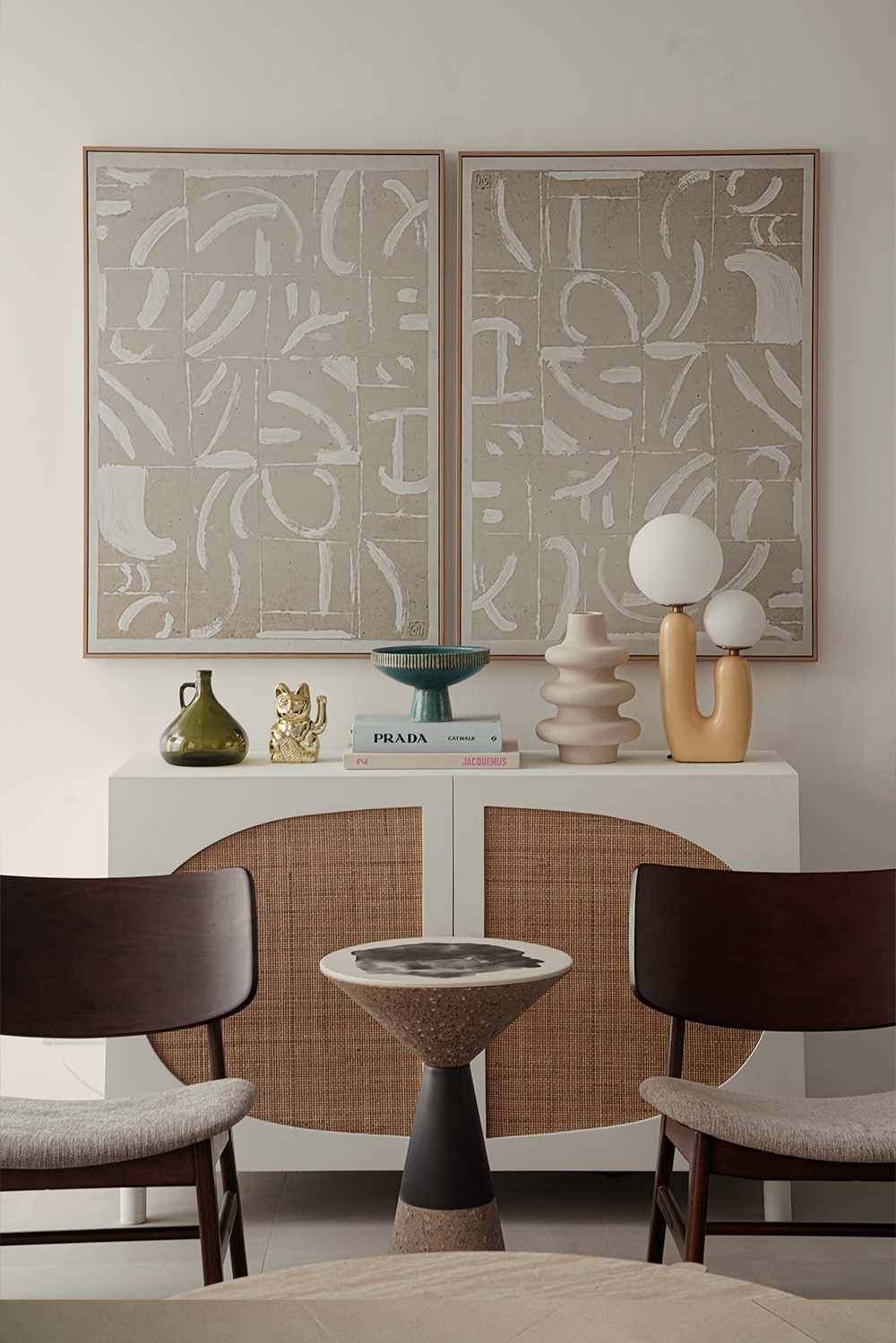 Completing the layout is a customized sideboard cabinet from Belle Home Design, which neutral hues perfectly blend with and contrast against décor in green, beige, and gold from H&M Home and Archipelago Home. The space almost seems like a cozy setup for a home, rather than a place of work.
Reading nook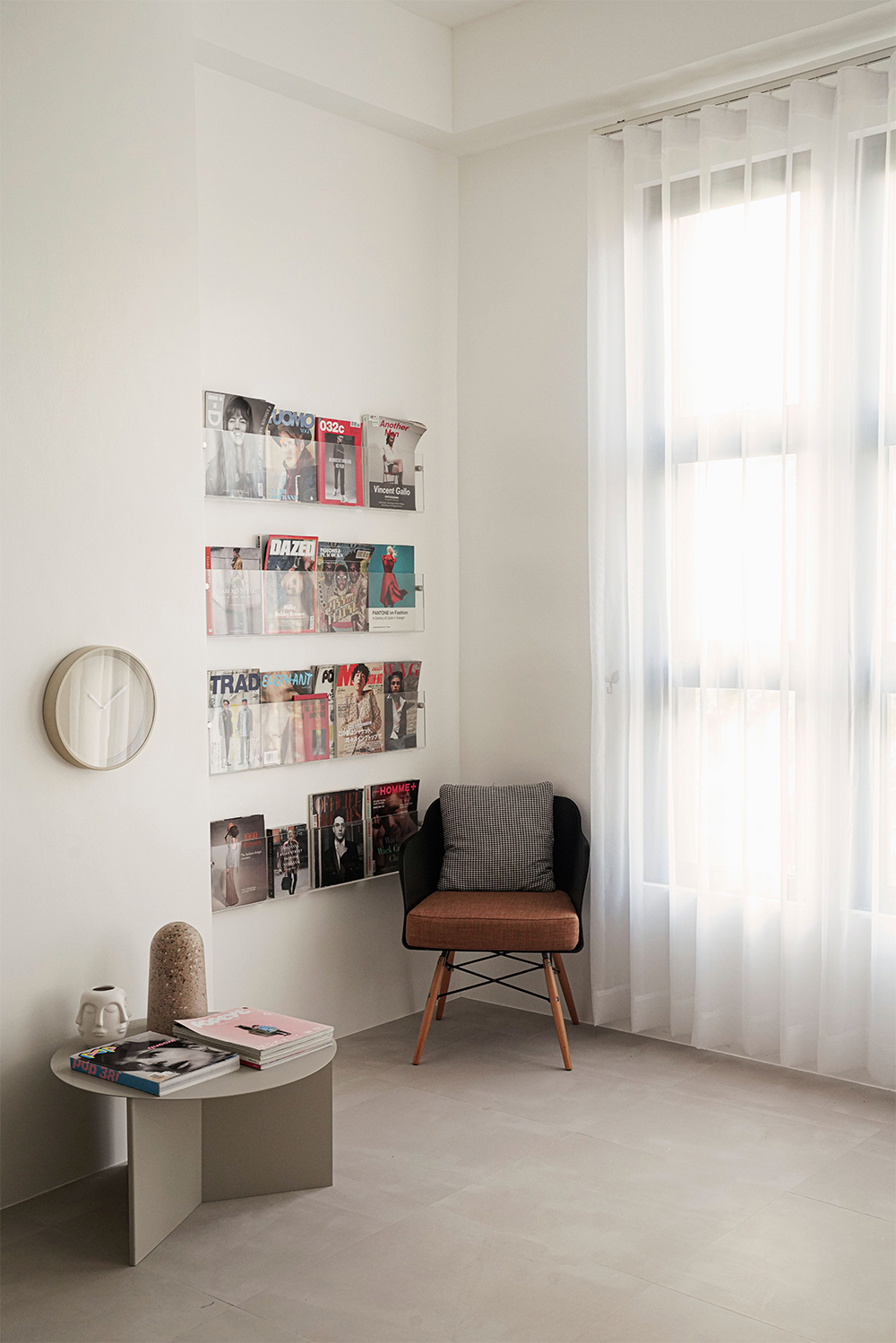 ADVERTISEMENT - CONTINUE READING BELOW
The area is dedicated to fashion magazines and reading in between layouts. Changing a subject's makeup looks and outfits can take time, and this space is perfect for Bjorn or any member of his team to take a breather.
The custom magazine holders are from China, the small gray coffee table from Our Home, and the multi-face vase from Curated Home. The minimalist wall clock is from Heim and, finally, the corner chair from SM Home, with Bjorn musing that it is the only piece from his old studio, "a nice reminder of where I started."
Hair-and-Makeup area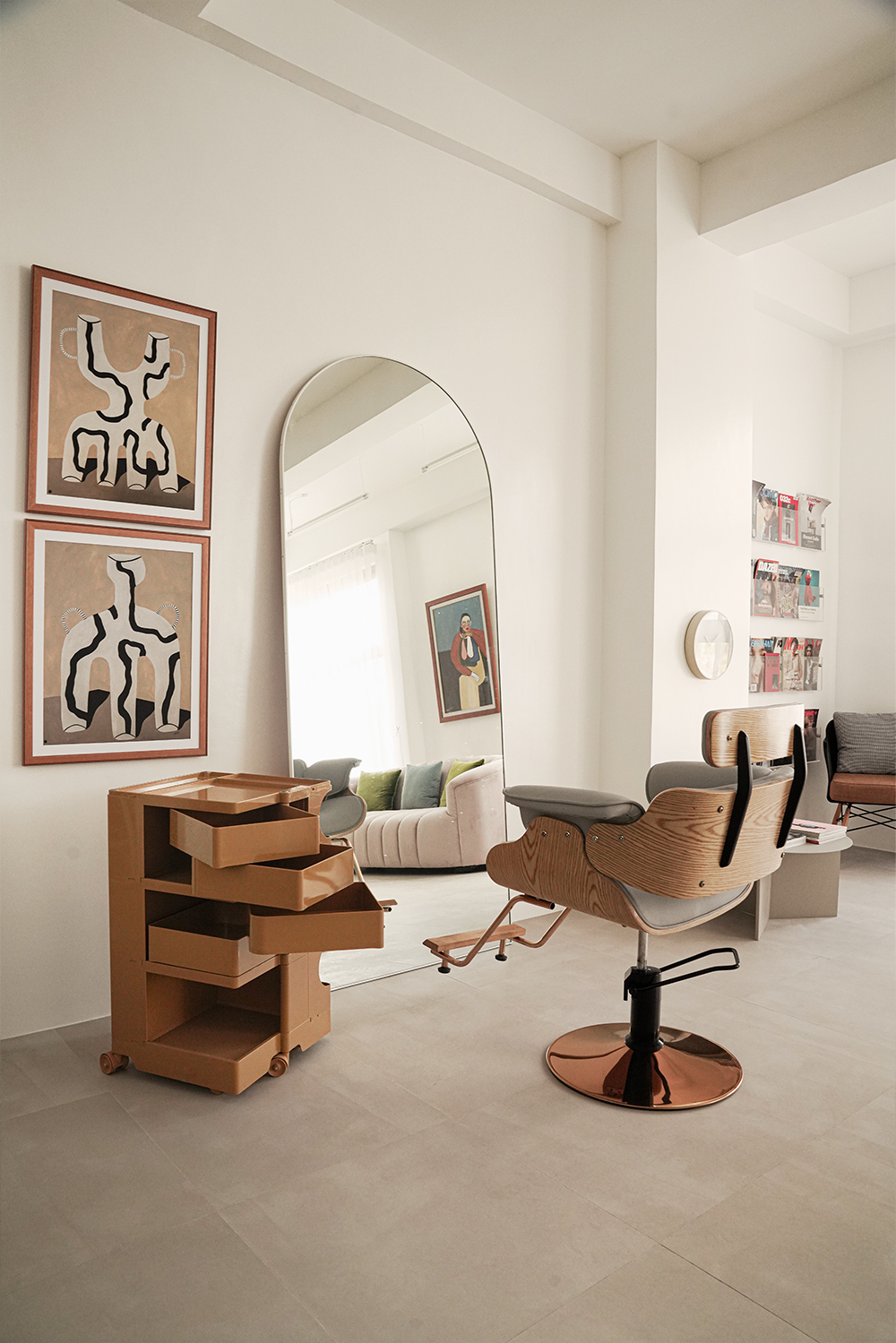 ADVERTISEMENT - CONTINUE READING BELOW
Reminiscent of an old barber shop rather than a modern glam room, the hair-and-makeup area is positioned near available natural light to aid hair dressers and makeup artists with their work. It's also located just beside the reading nook, which is perfect for any waiting family or friends.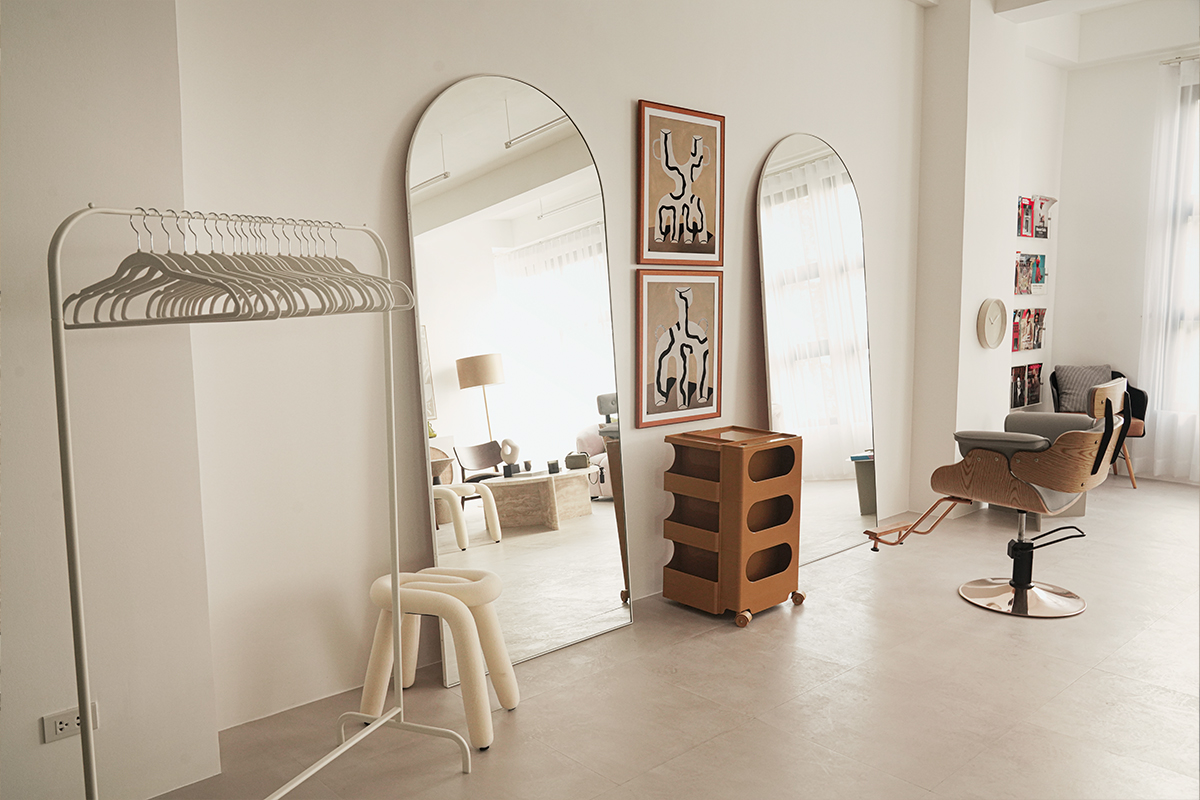 ADVERTISEMENT - CONTINUE READING BELOW
Similar to other parts of the studio, its décor and furniture pieces are well-thought of. "The custom-framed Studio Paradissi artworks were shipped from The Poster Club via Hoom," Bjorn says. The barber chair and utility cart are sourced from China and the two arc mirrors are from Desenio Manila.  
Shooting area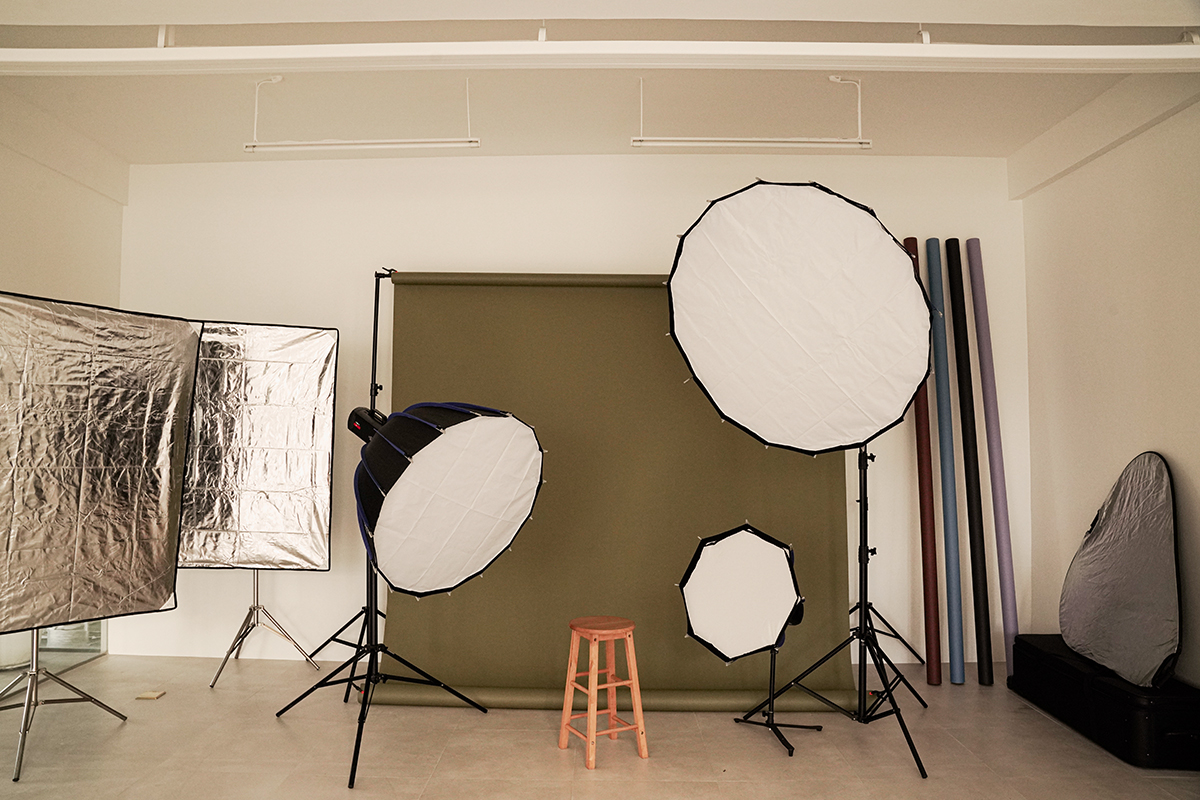 ADVERTISEMENT - CONTINUE READING BELOW
As with any other studio, the shooting area is spartan and strictly functional—after all this is where the magic happens. Bjorn explains: "I try to adhere to the proverbial notion that there should be a place for everything and put everything in its place. I utilize the sideboard and utility cart for the storage of small items. For my other photography equipment and tools, I place them inside a 60sqm storage room (not seen on any of the photos) outside the studio in order to lessen the amount of clutter seen when utilizing the space for shoots."
Bjorn notes that your own creative space is the extension of oneself, and in the process one has to have a mental image that reflects their personality—and in his studio, nothing speaks more than his artistry.
*With additional reporting by Charlene J. Owen
More on Realliving.com.ph
Load More Stories