Home Tours
Want to Learn How to Decorate a Small Space? Check Out This 54sqm Condo
This Pasay City condo highlights lots of small-space hacks you'll want to see. Photography: Courtesy of IDr. Anzella Nichole E. Casica Interior Designer: IDr. Anzella Nichole E. Casica
This 54sqm, one-bedroom condo unit in Pasay City was renovated to function as a transition home for its owners, who both work in well-known banks. Eventually, however, they intend to make it available to rent.
The modern minimalist look of this unit is rooted in the owners' initial requests of integrating ample storage and cove lighting. Interior designer Anzella Nichole Casica shared, "Thus, when I think about interior design, the first thing that comes to mind is a decluttered, seamless modern minimalist style. So, this will enable me to create a pleasant, comfortable, and airy atmosphere that is very reminiscent of a hotel suite."
Of course, designing a small home comes with many challenges. For this home, the issues involved difficulties with installing split-type air conditioning units and coming up with a design for the ceiling. The owners also wanted to have a more spacious bedroom. To cater to this latter issue, IDr. Anzella and her team increased the size of the room by about 10sqm-12sqm, which meant taking up part of the original living area.
ADVERTISEMENT - CONTINUE READING BELOW
With its clever use of space and abundance of well-chosen multipurpose pieces, this condo home is full of great examples of how to decorate a small home.
Have a closer look at this cozy, minimalist condo unit:
Living Room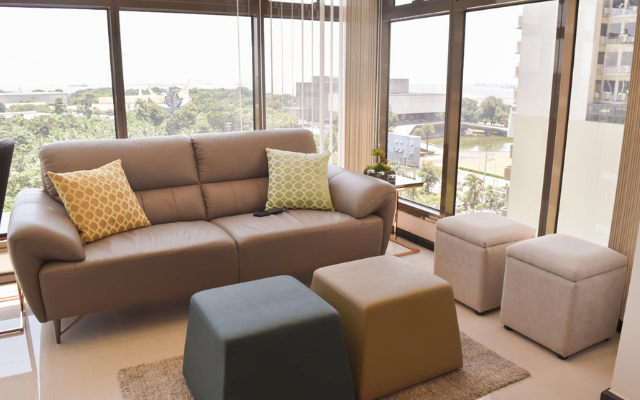 Most of the pieces used in this home were purchased in stores such as Our Home and BLIMS Fine Furniture, while many of the decor was sourced via online shopping platforms. There were also pieces, specifically the cabinetry and the bed and headboard, which were completely custom-made.
IDr. Anzella made it a point to give the owners her recommendations when they bought items for the condo. She shared, "[T]here were times where we had a quick video call whenever they were at the shop and if they found some furniture pieces that they found aesthetically pleasing and functionality wise, comforting, so I could at least see the furniture pieces and give my judgments and comments."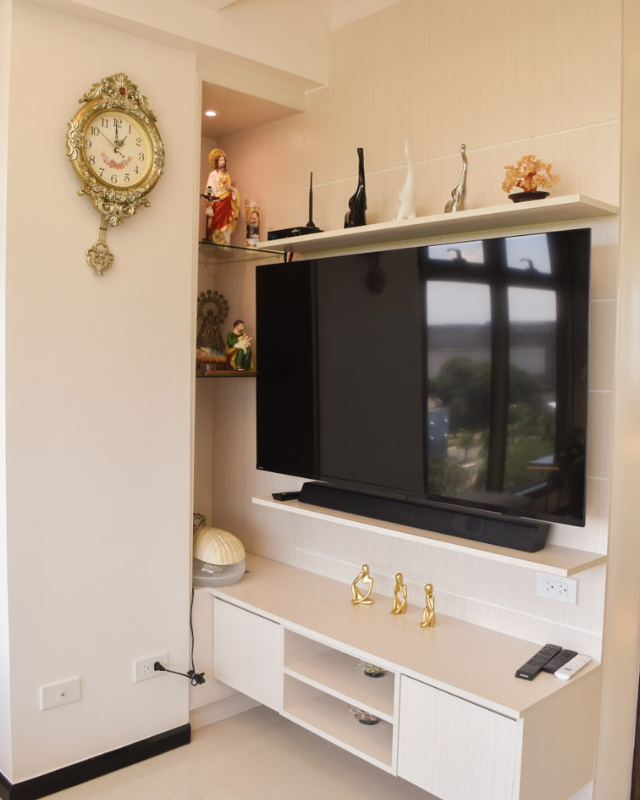 ADVERTISEMENT - CONTINUE READING BELOW
In small homes like this, it is key to maximize every bit of space available and ensure that the whole place is functional. For instance, in the living room, the design team used the empty area next to the TV cabinet as an altar.
Kitchen & Dining Area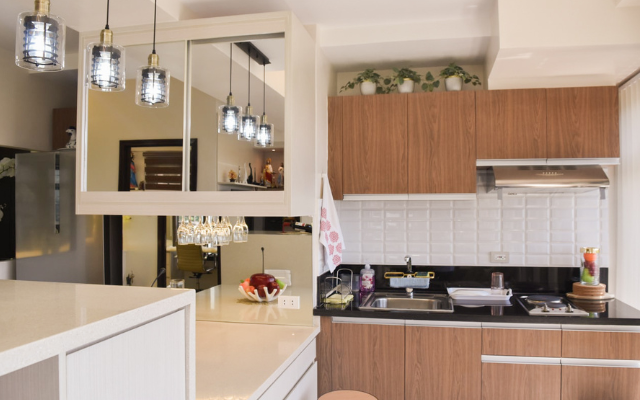 ADVERTISEMENT - CONTINUE READING BELOW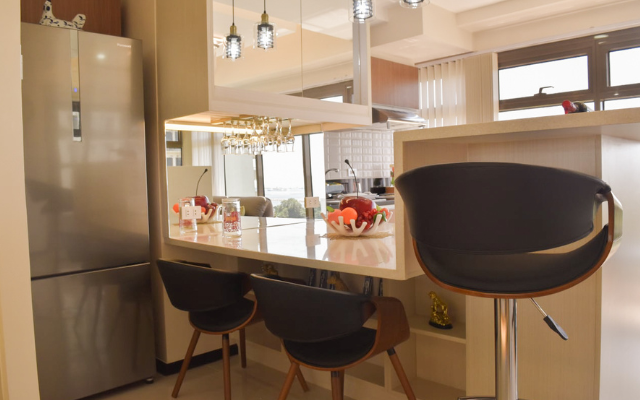 The owners initially requested a large kitchen area, but due to space constraints, IDr. Anzella opted to use pieces that can have multiple purposes (a very useful hack when decorating a small space!). She added a two-level kitchen island counter which can simultaneously function as a dining area, countertop, and bar nook. This is also the reason why the chairs are of varying heights.
ADVERTISEMENT - CONTINUE READING BELOW
Hallway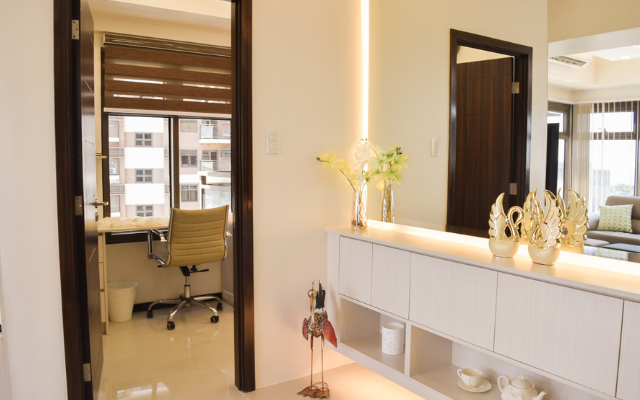 One thing you might notice is that the cabinets in this condo do not have traditional bars or handles. You'll see that in the storage unit in the hallway leading into the bedroom. IDr. Anzella shares that she did not want to utilize such items, so instead, she opted for 45-degree finger-open cabinet doors that would allow for a more seamless look.
ADVERTISEMENT - CONTINUE READING BELOW
Bedroom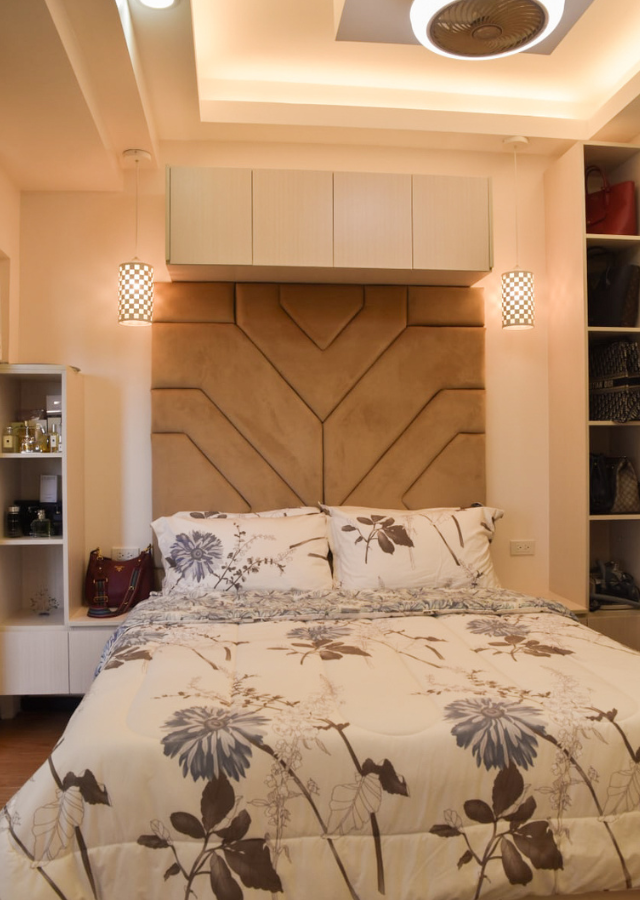 The frame of the queen-size bed is functional "in a way that it also serves as a storage for the bedding sets," explained IDr. Anzella. Aside from this, the headboard features a chic geometric design that stays true to the overall theme of the condo's look.
ADVERTISEMENT - CONTINUE READING BELOW
The design team also added built-in cubby holes next to the night table where the owner could store their collection of luxury bags. "We did not include a glass door for the cubby holes because it will only moist and accumulate dust which might destroy the beauty of the luxury bags," IDr. Anzella explained.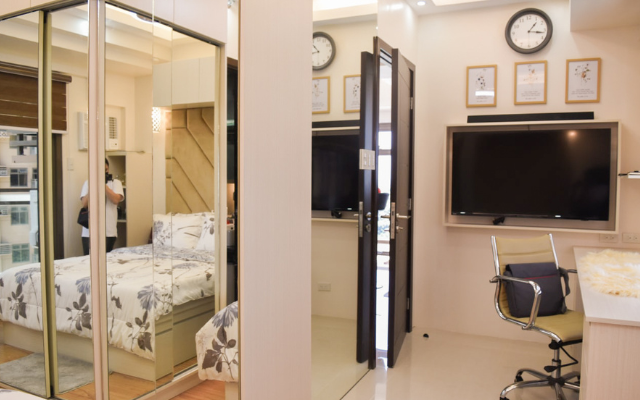 ADVERTISEMENT - CONTINUE READING BELOW
Mirrors were used to make the space look bigger than it really was. This technique is a common trait of IDr. Anzella's designs. "I can consider utilizing mirrors as a trademark for most of my projects because it not only serves its purpose but it helps in having a light and airy space, especially in this project since there are a lot of cabinetries and it somehow made it look crowded and tight without the presence of the mirrors."
Study Area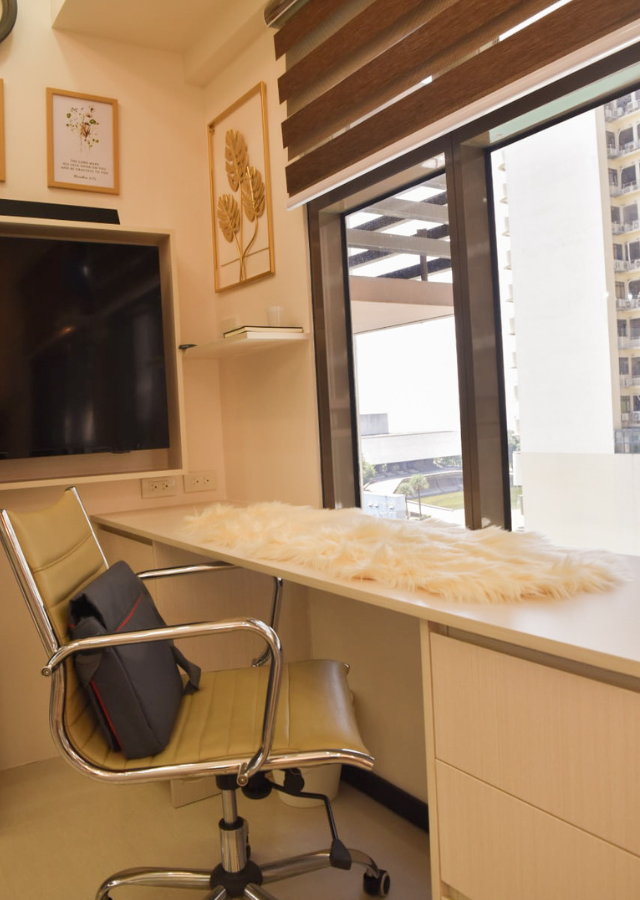 ADVERTISEMENT - CONTINUE READING BELOW
The desk area may be compact, but it provides ample space to work or study. It also faces a large window which affords the owners a view of the outdoors.
Bathroom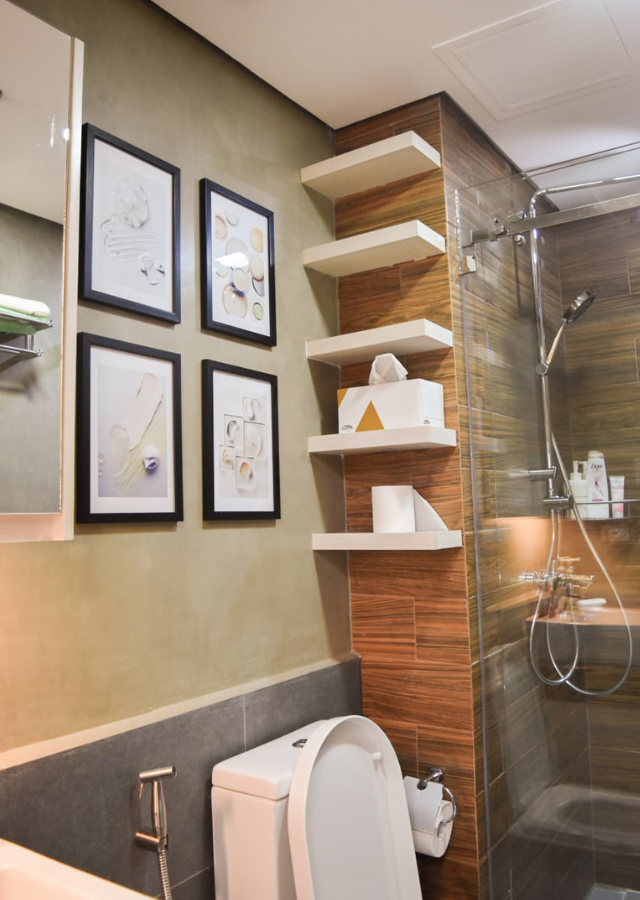 IDr. Anzella made sure to honor the owners' wish to incorporate plenty of storage space in every part of this unit, including the bathroom, which features open shelving and a mirrored medicine cabinet.
ADVERTISEMENT - CONTINUE READING BELOW
Want to see more home tours? Check this out:
More on Realliving.com.ph
Load More Stories