Home Tours
Wooden Finishes Transform This Condo Into the Ultimate Bachelor's Pad
The owner requested for "a modern design with dark wood accents." Photography: Courtesy of Kwatro Architectural Photography Interior Designer: IDr. Jasmine Ancheta
Many of us aspire to have our own homes someday. But beyond just dreaming of being a property owner, there are also those who already have a clear vision of the look they want for their dream abode. One such individual is the resident of this ultra-modern 92sqm condo in Greenhills, San Juan, Manila.
The owner, who is in his 30s and who works at a well-known e-commerce company, was very specific with how he wanted his home to look. In an email interview with RealLiving.com.ph, IDr. Jasmine Ancheta explained that her client asked for "a modern design with dark wood accents" and aimed for a hotel-like ambiance. He also wanted a complete overhaul of the unit. This involved changing the flooring of the living and dining areas, the installation of custom-made cabinets, and a top-to-bottom revamp of the bathroom.
Take a tour of this modern, contemporary Greenhills condo:
Living and Dining Rooms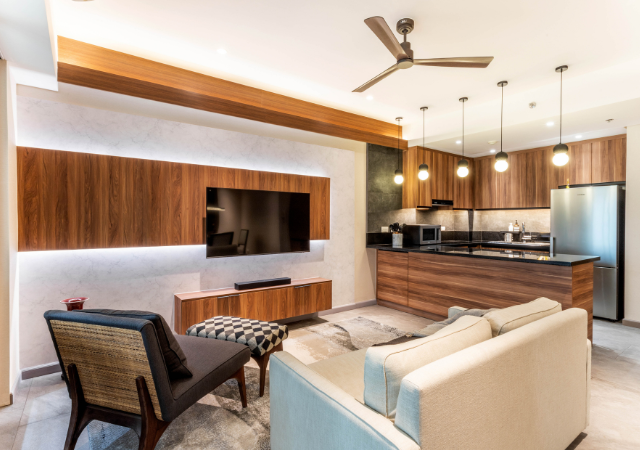 ADVERTISEMENT - CONTINUE READING BELOW
The owner often entertains guests, so he wanted to make sure his living room would be inviting and conducive to conversation. He also wanted lots of cabinet space to showcase family heirlooms, photographs, and other knick knacks. The sofa and ottoman are from Philux.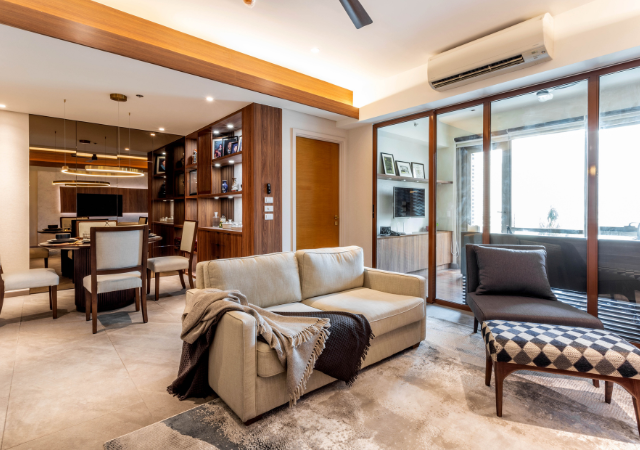 Right next to the living room is the dining area, which features a bronze-tinted mirror that helps make it look larger than it really is. The placements of these two areas were interchanged during the design process, shared IDr. Jasmine. The dining table and chairs are from South Sea, while the chandelier is from Ambient Lightings.
Kitchen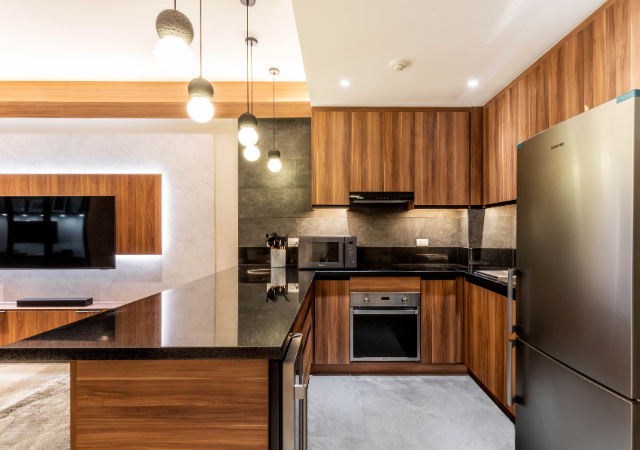 ADVERTISEMENT - CONTINUE READING BELOW
According to IDr. Jasmine, one design challenge she and her team encountered involved the custom cabinetry. She shared, "[F]or the kitchen, we were trying to fit a built-in trash bin under the sink. However, the existing grease trap occupied most of the space. We had to look for a trash bin that [would] fit a cabinet near the sink." To address this issue, they had to retrofit the cabinets without altering any of the existing dimensions allowed for the space. The pendant lights are from Shadows and Patterns.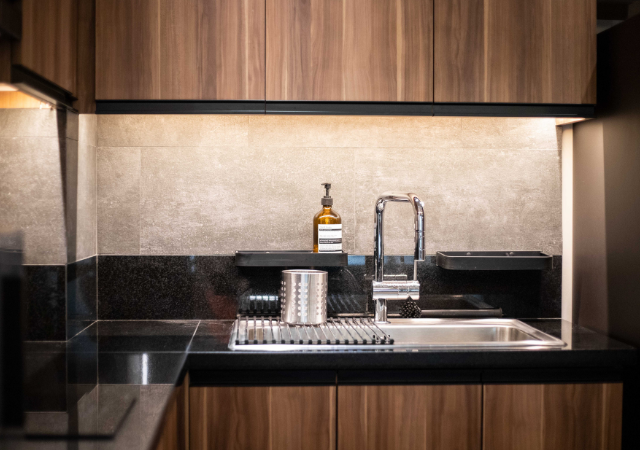 ADVERTISEMENT - CONTINUE READING BELOW
Initially, the kitchen had painted glass doors. The owner wanted those to be removed, so instead, the design team added touches of wood to help give this area a bit of warmth. They also installed a built-in stovetop, cooking range, and wine chiller.
Bedroom
ADVERTISEMENT - CONTINUE READING BELOW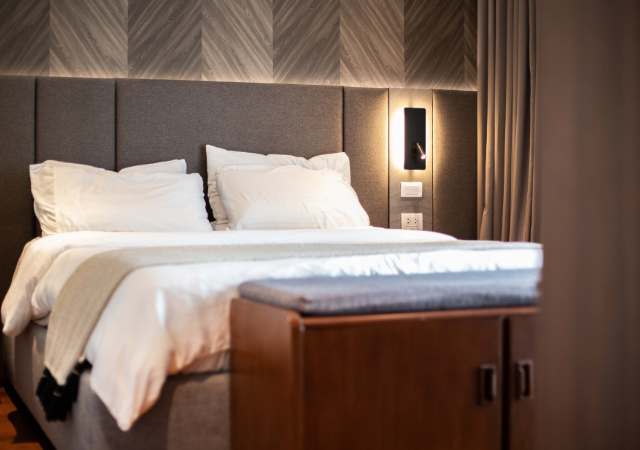 The owner, who often experiences insomnia, wanted his bedroom to be "conducive for rest and relaxation, a sanctuary and a place of retreat," IDr. Jasmine wrote. To achieve this, the design team incorporated, among others, a comfy bed and soft textures into the room, and removed the TV entirely. Next to the bed, there is a built-in LED mirror which serves as a vanity area.
ADVERTISEMENT - CONTINUE READING BELOW
Office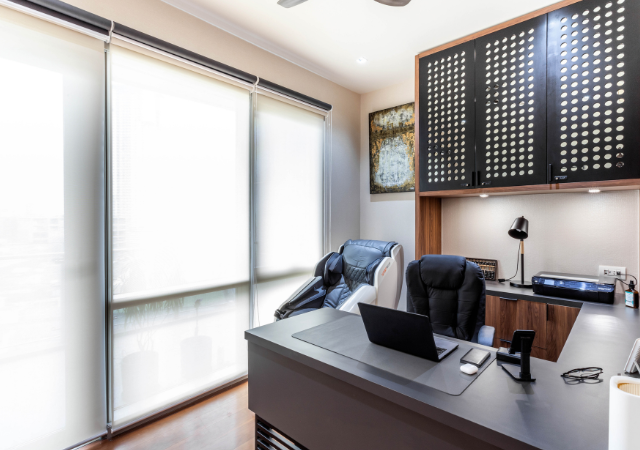 This room is one part of the condo that saw a lot of changes–it actually used to be a second bedroom! During the design process, it was converted into a place where the owner could work. Part of this transformation was the addition of a custom desk, storage units for the owner's belongings, and a good backdrop for video calls. IDr. Jasmine's team also made sure to create space for a TV, since the owner likes to watch the news when he is working.
ADVERTISEMENT - CONTINUE READING BELOW
Bathroom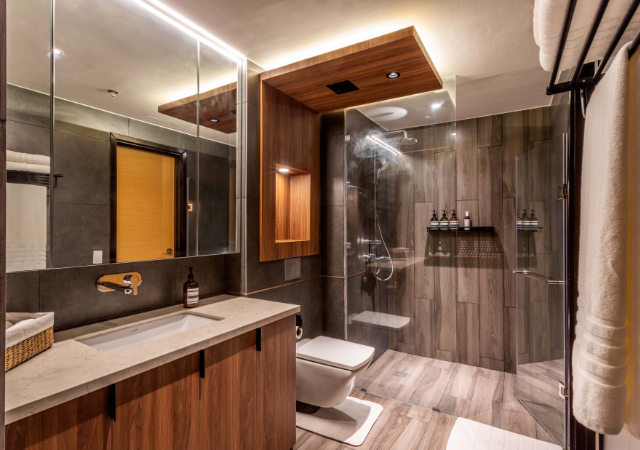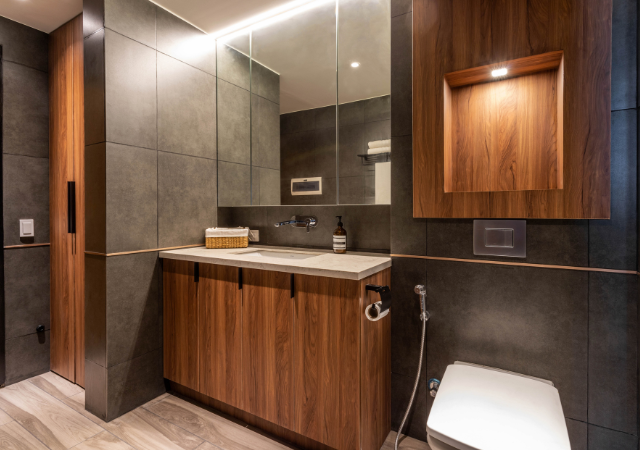 ADVERTISEMENT - CONTINUE READING BELOW
For the bathroom, the owner wanted a medicine cabinet to be installed. This area also has an enclosed shower area and lots of storage space for the owner's essentials.
Want more home tours? Check this out:
More on Realliving.com.ph
Load More Stories