Home Tours
Mid-Century Meets Tropical in this Sprawling Resort-Like Home in Calamba
It is located at the foothills of Mt. Makiling and surrounded by lush greenery. Photography: Courtesy of Karlo Panti Interior Designer: Jinn Pauline Calasara-Panti
While city living certainly has its perks, there are also many of us who aspire for the slower pace of a life in more rural areas. That seems to be the case for Karlo Panti, who is the proud owner of an expansive home that features a design style that marries the mid-century and tropical styles.
The construction of this dream home was rooted in the family's desire for more space, especially when the pandemic commenced. In an email interview with RealLiving.com.ph, Karlo shared, "[W]e were really thinking of building a resort in Pansol and [having] it rented out. But because of the pandemic (and all the changes that came with it), we decided to flip the switch and take a leap of faith. We moved back to Calamba to try out resort (and provincial) living."
Originally, the property was meant to be converted into a pool resort, which is why the pool was one of the first features the homeowners worked on with their chosen contractor, Minimalist Architects. Eventually, however, they decided to switch up their plans: the Calamba property would become the family's home, while their Parañaque home would be turned into a rental.
ADVERTISEMENT - CONTINUE READING BELOW
From the beginning, the homeowners already had a clear vision of what they wanted the design and layout to look like. Karlo, who described himself as a "frustrated architect," began drafting the floor plan on the page of an old notebook and then collaborated with his wife, who is an experienced interior decorator, to bring the design to life, "And the rest, as they say, is history," Karlo wrote.
Here's a look at this sprawling resort-inspired home in Calamba:
Facade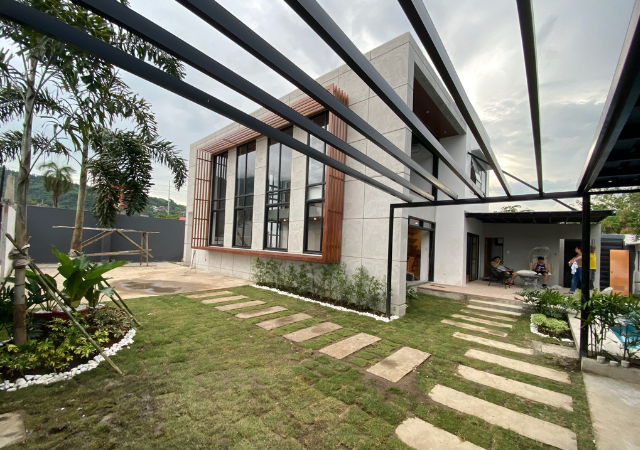 According to Karlo, the design style they focused on when working on this home was "mid-century meets Bali." He wrote, "We love the functionality, the simplicity, and the vibe of Mid-Mod and its timeless look."
Living Room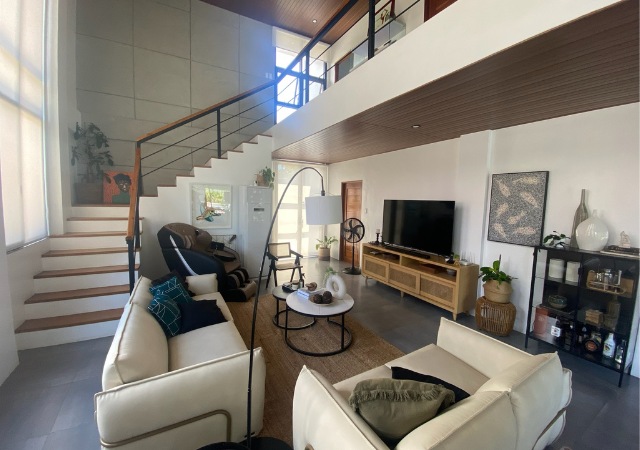 Karlo's wife, Jinn Pauline Calasara-Panti, who is an interior decorator, took over the look of the interiors of this home. He shared that she enjoys mixing the old and the new in her works: "Her consistent mission for all her projects is to create spaces you would never want to leave."
ADVERTISEMENT - CONTINUE READING BELOW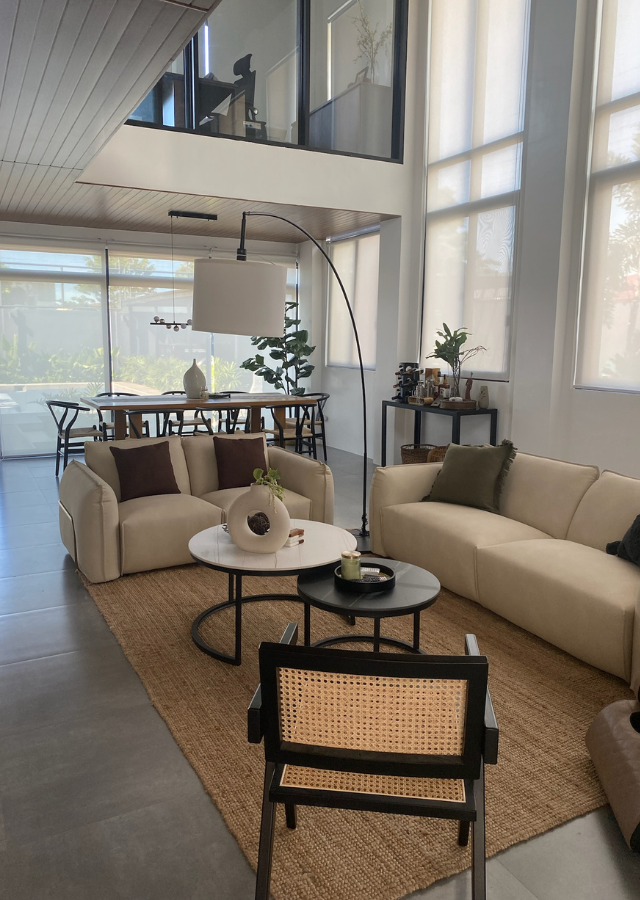 We get a taste of Jinn's design tastes in the living room, which features plush sofas and modern decor as well as woven textures for the rug and the solihiya chair. Other decorations were sourced from the family's past international trips, heirlooms, and local stores. For instance, the wooden furniture was custom-made by The Old Wood PH, while the chairs were purchased from IPW Furniture and Fixtures and Furniture Source.
ADVERTISEMENT - CONTINUE READING BELOW
Dining Room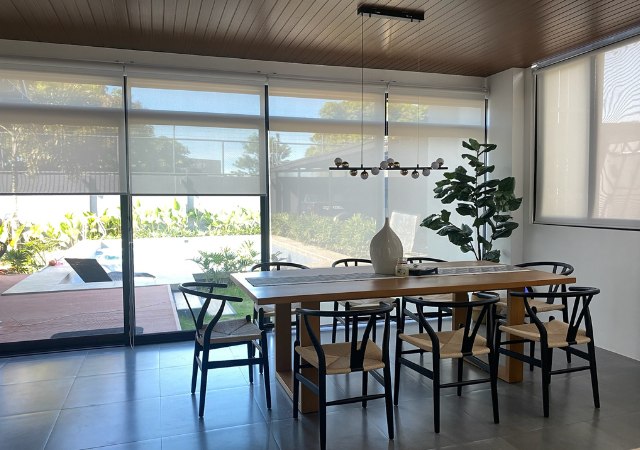 Though simple and modest, the dining room still holds true to this home's mid-century-meets-Bali aesthetic with elements like woven textures, greenery, and furniture that has clean lines and organic shapes. It also gives the homeowners a wonderful view of the outdoor pool and jacuzzi area.
ADVERTISEMENT - CONTINUE READING BELOW
Kitchen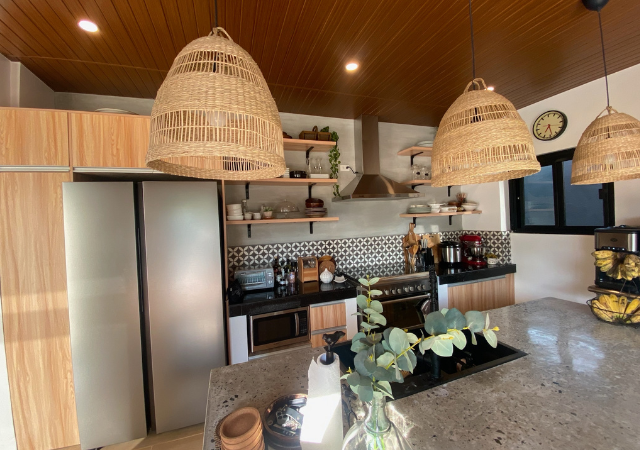 This kitchen looks straight out of a resort catalog with trendy woven lighting, high-end equipment, wooden finishes, and spacious natural stone countertop. Another notable element is the patterned backsplash made of machuca tiles, which gives the space another layer of coolness.
Staircase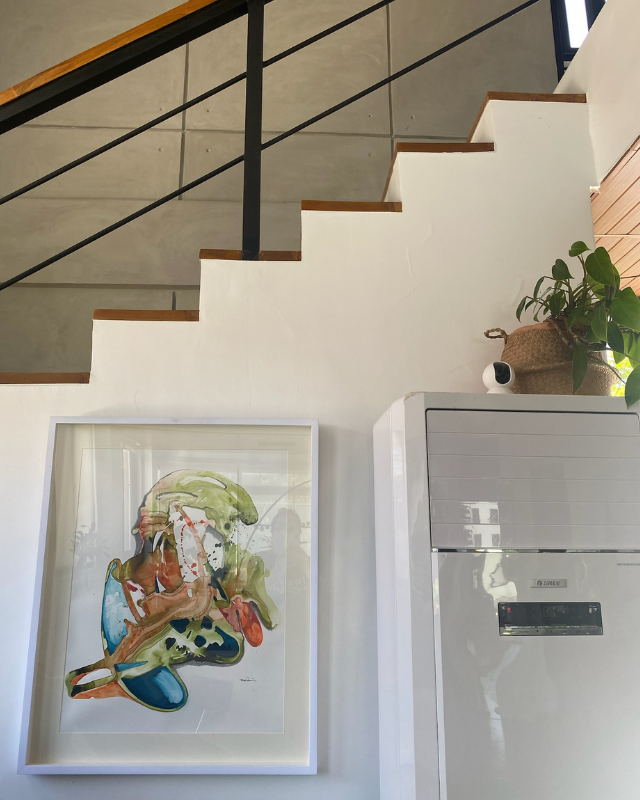 ADVERTISEMENT - CONTINUE READING BELOW
This home also features a lot of interesting art pieces, many of which were created by Filipino artists like Oliver Olivete, Faye Pamintuan, and Elberto Caballero. These pieces, again, were curated by Karlo's wife.
Office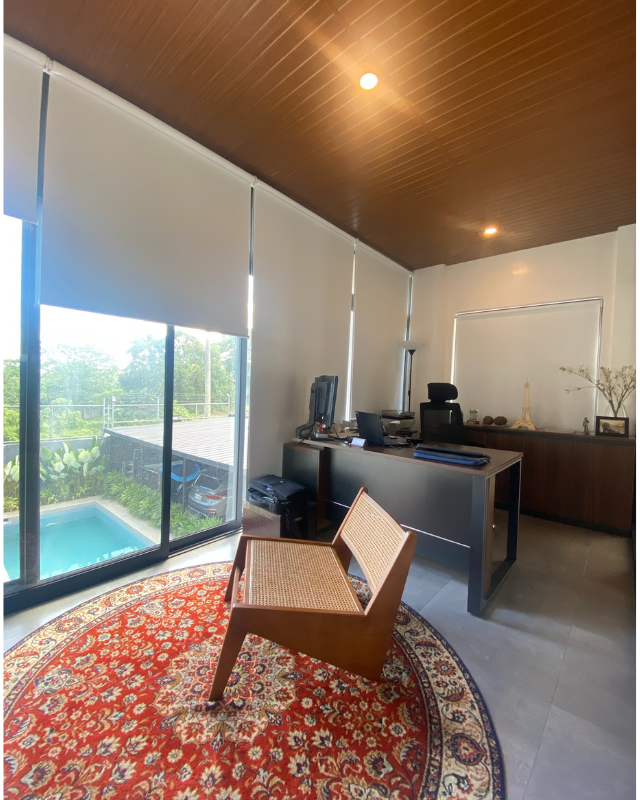 Karlo primarily works from home, so naturally, a home office was included in the design of this home. Though sparsely decorated, this space is classy and sleek–the perfect place to focus and get down to business. And, of course, we can't ignore that awesome, expansive view of the pool!
ADVERTISEMENT - CONTINUE READING BELOW
Pool Area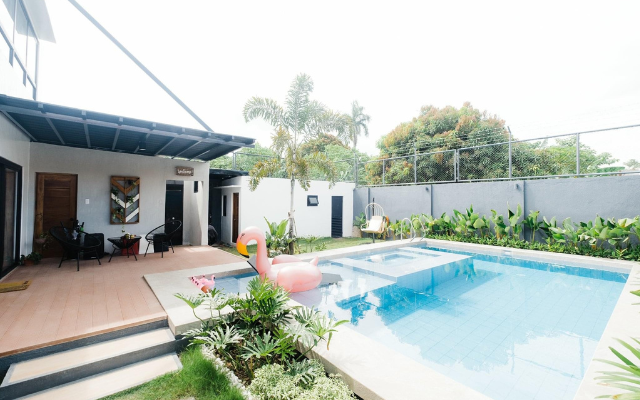 The home is located at the foothills of Mt. Makiling, which is known for its abundance of natural hot springs. In order to take advantage of this, and also to build on the theme of indoor-outdoor living, the design team built the pool and jacuzzi area right outside the dining area, with a tropical-inspired style that would complement the modern and organic look of the house. They also built a view deck that overlooks the mountain and surrounding greenery.
ADVERTISEMENT - CONTINUE READING BELOW
Want more home tours? Check this out:
More on Realliving.com.ph
Load More Stories